About the powerful Lord Hanuman at Sidhbari, Pujya Gurudev Swami Chinmayananda himself has said, "Here, Hanuman is the deity of strength and health… under the multi-starred sky, open to the embrace of his beloved father, the High-winds."
Every five years since the installation by Pujya Gurudev happened on 10th October, 1982, Lord Hanuman has been showered with the collective love and prayers of the Chinmaya family at the Mastakabhishek programme, an important event on the calendar of Chinmaya Tapovan Trust (Sidhbari) and indeed the entire Chinmaya Mission.
This year was no different. A grand scale camp, with more than 500 seekers in attendance, highlighting Lord Hanuman and His inspiration and altar of dedication, Lord Shri Ram, was organized from 2nd to 7th October, 2017. The campers were delighted to be in the immensely sacred and beautiful ashram and gurukul that was so dear to Gurudev, indeed his abode, his resting place. Devotees from around the world gathered together to listen to the beautiful talks delivered by Pujya Guruji Swami Tejomayananda (on Sundarkand from Valmiki Ramayana), global head Pujya Swami Swaroopananda (on Sankat Mochan Hanuman Ashtakam), and Swami Subodhananda (on Shri Ram Charitra). The perfect lead up to the momentous occasion all had been waiting for.
Preparatory kalash pujas and havans took place on 8th and 9th October, with yajamans, kalash donors, campers, Sandeepany students and ashram residents coming together to invoke the grace and blessings of the Lord of boundless strength and devotion. The entire ashram resounded with the powerful Vedic chants of Subbarama Sastrigal and his team from Delhi, who so beautifully conducted all the rituals. Bhajans and keertans by Guruji and other Swamins, Brahmacharins and devotees also filled the air with love and joy. A particularly memorable highlight was the open air Anjaneya Sahasranama Archana at sunset, with hundreds of people participating together, against the stupendous backdrop of the Dauladhar range of mountains in the Himalayas.
On 10th October, a dynamic team of volunteers guided devotees up a specially created ramp, all the way to behind and above Lord Hanuman's head (mastak), to perform the Abhishek of holy waters with their very own hands. All the while, the chanting of "Om Shri Ram Dootaya Namaha" happened non-stop. That close proximity in such a spiritually charged atmosphere had an energizing and empowering effect on one and all. Once all kalashs had been poured out, Sastrigalji and his team climbed to the feet of Lord Hanuman for the final steps of the puja and aarti. A devoted crowd stood overwhelmed and awestruck as endless petals were showered on the Lord, colour after colour, and then clothes were offered followed by a long pearl necklace and flower garlands. It was simply breathtaking.
Thus concluded, with great success and enthusiasm, the 8th Hanuman Mastakabhishek programme at Sidhbari. Gratitude to all yajamans, sponsors, volunteers and indeed all attendees, for the tremendous support and for being part of such a wonderful event. Gratitude to the great visionaries and inspiration behind it all – Pujya Gurudev, Pujya Guruji and Pujya Swami Swaroopananda. Ultimate gratitude to Sankat Mochan Pavansut Hanuman, for allowing us to pour out our love unto Him.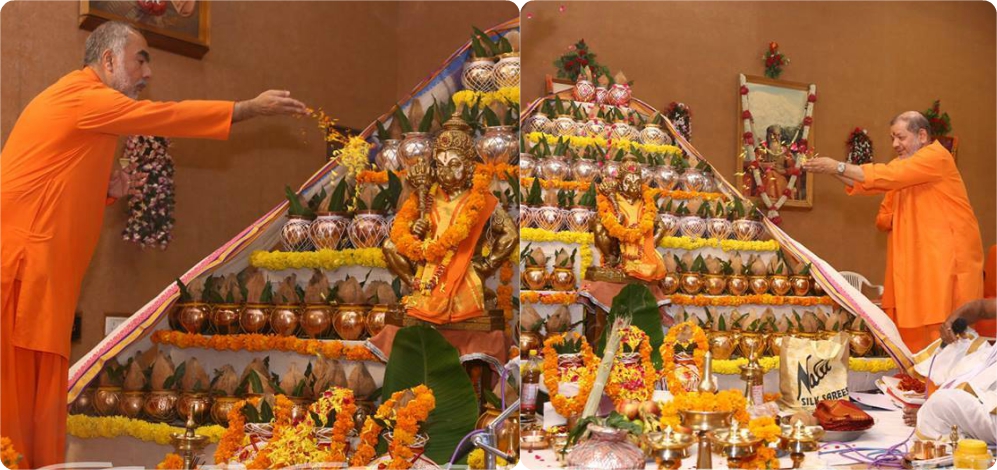 Please click the links below to find more pictures.
https://photos.app.goo.gl/4HLHsqoaZMBs6Bv33
https://photos.app.goo.gl/NKBHkSb1PFlbJqTd2
 Jai Hanuman! Jai Shri Rama!