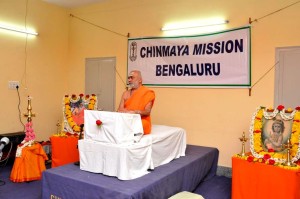 Bhagawat Jnana Yajna
Swami Dattapadananda of Chinmaya Sandeeepany, Chokkahalli, Kolar conducted a Jnana Yajna in Kannada at Sant Kabir Ashram, Kengeri Satellite town from 15/12/2014 to 22/12/2014 taking Gopika Gita from the tenth chapter of Srimad Bhagawat Purana. The gopikas unable to bear separation of Lord Krishna sing His glory seeking His grace to get rid of their deep rooted false attitudes and tendencies and fill their hearts with eternal peace and joy. The Lord grants devotion and true knowledge of the Self to a devotee who surrenders to Him with an unwavering mind. Attachment to the body and worldly objects gets dropped with the clear and firm understanding that the Self illumining all living beings is one and the same. The Yajna also marked the sixteenth anniversary of the Kengeri Devi group.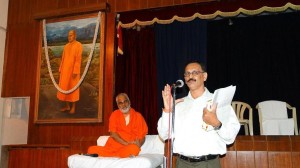 Sadhana Day of Chinmaya Study Groups
Over 100 members of Chinmaya Study groups of Bangalore observed Sadhana Day on Sunday the 7th December 2014 at Deenabandhu Devasthanam, Indiranagar between 10 AM and 2 PM to contemplate on Bhagavad Gita Chapter 9.
The day started with bhajans, followed by chanting of Guru Stotram, Dhyana Shloka and all the verses of Chapter 9. After brief introduction of the chapter the participants were divided into 7 groups allotting specific shlokas and asked to discuss allotted points. Each group had a moderator and a presenter. All the members actively participated in the discussions and the thought provoking presentations were appreciated not only by the participants but also the acharyas present.
Swami Brahmananda, who was present during all presentations appreciated the sadhana of all study group members. In his concluding address he explained that this chapter is called Raja Vidya since it is a Subjective science. It reveals that I am not the body, mind or intellect, but the Brahman who is Satyam, Jnanam and Anantam. All our experiences are in His presence and He is the substratum for all things and beings which appear as true but in reality Mithya only.