Gita Jnana Yajna by Pujya Guruji Swami Tejomayananda
Pujya Guruji Swami Tejomayanandaji conducted a Gita Jnana Yajna in Engish from 11th to 21st  November, 2017 at Mangala Mantapa, NMKRV College for Women, Jayanagar . The Yajna was inaugurated by Dr M K Panduranga Setty, president of the R V Trust running the college.
Pujya Guruji explained that it is important to remove the wrong notions one has on Sanyasa, Tyaga, Yajna, Dana and Tapas. Only when we understand the terms they blossom in our lives leading to a meaningful existence. It is necessary to perform action renouncing the fruits associated with it even when the action is done for a very noble cause. The character of Sri Rama in Ramayana is a towering example of such attitude.
Dwelling into depths of Gunas, happiness and karma Pujya Guruji emphasised that perfection is possible only when one pursues activities in tune with the inherent tendencies. The real fact is that happiness as experienced by the sense organs can never be permanent. It is necessary to withdraw from the world giving up all likes and dislikes and not getting disturbed by pleasant as well as unpleasant situations. Total surrender is the only means to overcome the power of Maya when true knowledge dawns revealing our true nature – Sat Chit Ananda.
Thoughts soaked in love become bhakti and when there is total surrender to the goal and entire life is dedicated to the cause, success is bound to be achieved. Whenever true knowledge guides the actions, success is assured.
The Yajna was a grand success with more than 1000 sadhaks attending every day.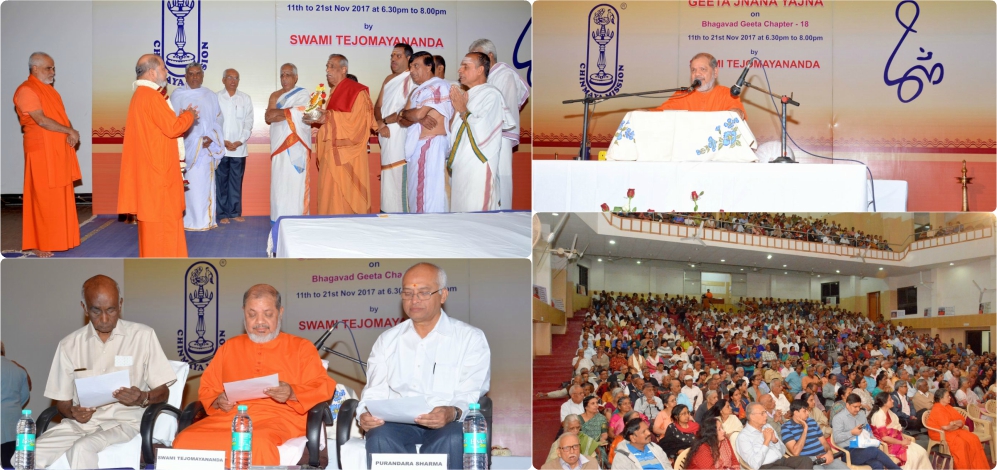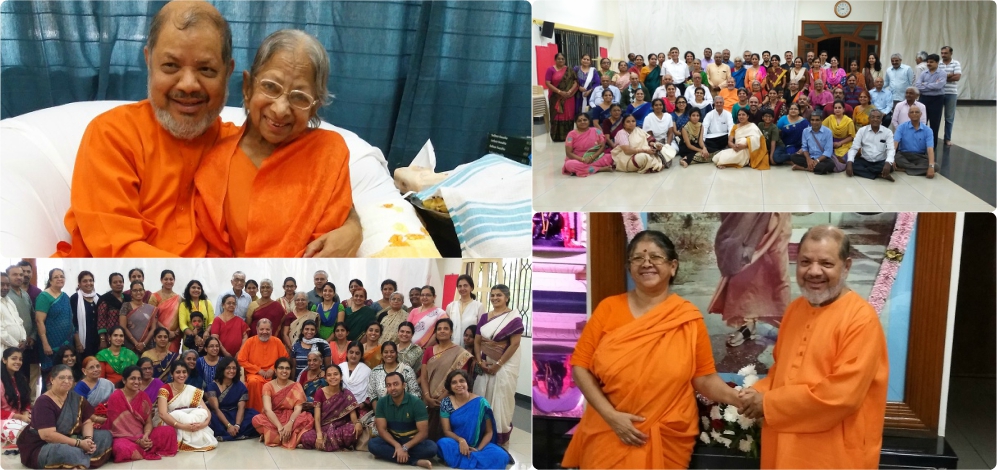 Gita Jnana Yajna by Pujya Swami Adityananda
Pujya Swami Adityananda of Mandya centre conducted a Gita Jnana Yajna in Kannada from 22nd to 28th Nov, 2017 at Sri Shirdi Sai Mandir, Tyagarajanagar on Bhagavad Gita for Daily Living. The Yajna was inaugurated by Sri R Seshadri, trustee of the temple.
Pujya Swamiji covered all the chapters enumerating the various tips involved in the Gita for peaceful living. He laid stress on the fact that the greatest mistake man does is forgetting his true nature of infinite happiness and runs behind the outer world seeking momentary peace. We should develop the art of self inquiry which is the only way to remove ignorance and understand the true meaning of life. This is possible only through selfless work without expecting anything in return when chitta shuddhi occurs leading to peace and tranquility.
The Yajna was very well attended.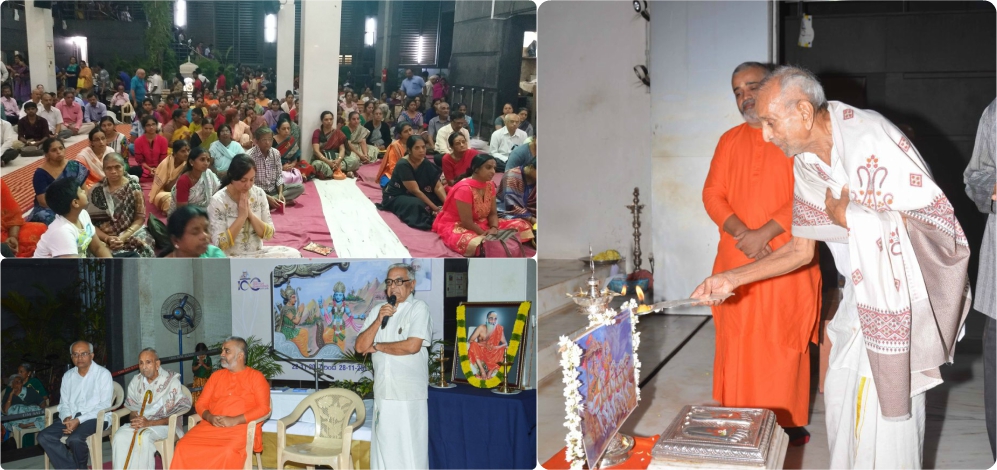 Gita Jayanti Celebrations
Gita Jayanti and Tapovan Jayanti were celebrated on Wednesday, 29th November, 2017 at all centers in Bengaluru with the chanting of all the 18 chapters of the Bhagavad Gita along with Tapovan Shatkam and Paduka Puja.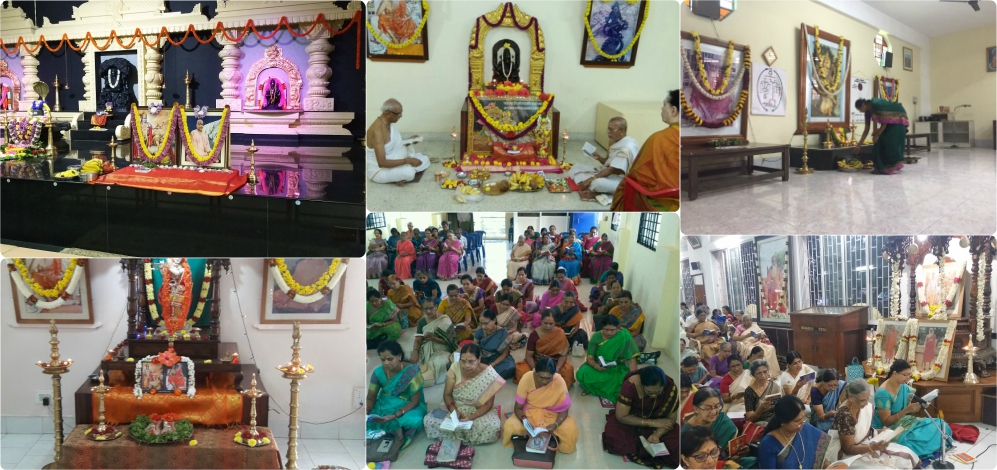 Kartika Masa Celebrations
The Kartika Masa celebrations that began last month with daily colourful lamps decoration, archana and special puja followed by the evening keertans, bhajans and devotional rendering concluded on 18th November, 2017. The highlight of this year's celebration was the divine presence of Pujya Guruji Swami Tejomayanandaji who enjoyed the lighting and devotional renderings daily. He was in Bengaluru conducting a Gita Jnana Yajna from 11th to 21st Nov 2017.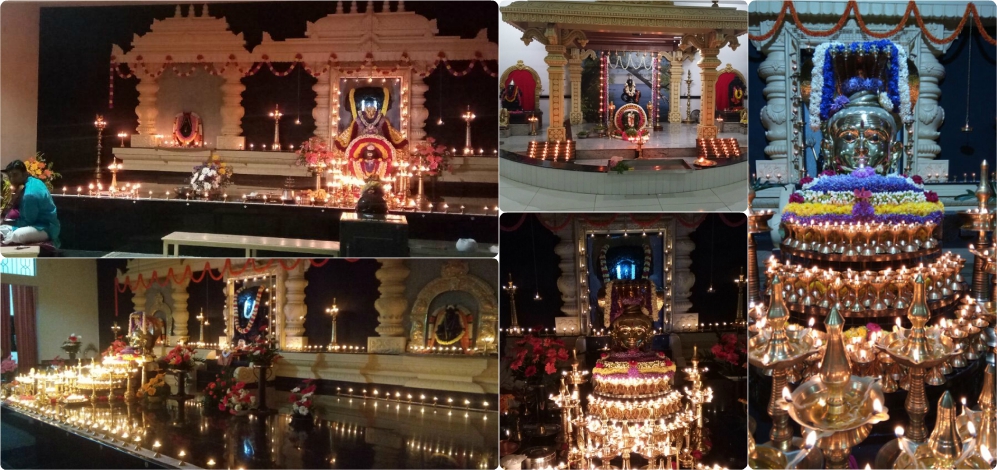 Balavihar Sub-Junior Competitions
The all Bengaluru Balavihar competition for sub-juniors was held at Chinmaya Vidyalaya, Koramangala on the 26th of November 2017 in the holy presence of Pujya Swami Brahmananda. More than 500 children who participated were judged for chanting –  Dainika Prarthana, Guru Stotram, Rama Stotram, Madhurashtakam and Storytelling in Kannada and English. There were 23 First prizes, 27 Second prizes, 32 Third prizes and 93 Consolation prizes. Smt Aruna Shadakshari gave away the prizes to winners.