Activities in Bengaluru during April 2019
Jnana Yajna in HSR Layout
Pujya Swami Krutatmananda of Hubli Dharwad centre conducted a Jnana Yajna in Kannada on Kulashekara Alwar's MUKUNDA MALA from 21/04/2019 to 27/04/2019 at Sri Vinayaka Temple, HSR Layout. The Yajna was inaugurated by the Vice President of the temple, Prof. M V Satyanarayana.
Pujya Swamiji highlighted the devotion of Kulashekara Alwar who although being a king capable of leading a luxurious life chose to be a benevolent emperor inspiring his subjects by his very living. A real devotee has clear understanding of the impermanency of outer world and does not run behind them for his mental calmness always reveling in the glory of the Lord. The mind always revels in pleasures of the outer world; true devotion is bringing the mind inwards trying to fix on the Lord. Real devotion is remembering the Lord wherever we are placed – whether in the hell of deep pain or heaven of supreme pleasure. All our rituals – puja, japa, tapa and bhajan help in silencing the turbulent mind and dissolve the ego when the seeker and the sought merge into one. This is Bhakti in its purest form when the mind becomes still and what remains is the supreme Lord alone.
The Yajna was well attended on all days.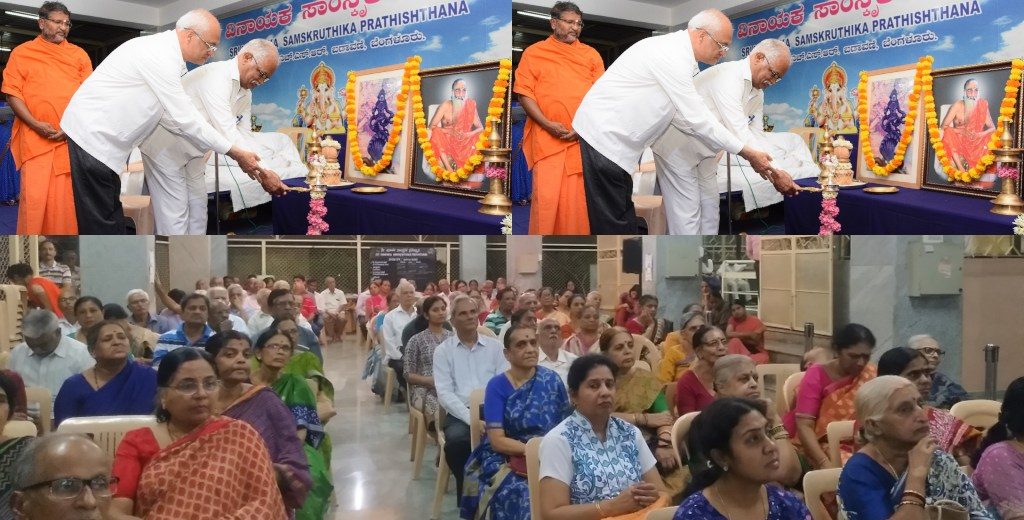 Balavihar Summer Camp
Balavihar summer camp organised in various areas of the city attracted not only our Balavihar children but also new children giving tremendous exposure to Balavihar activities. The theme of the camps was Glory of Lord Rama, Shiva, Krishna, Bala Ganapa and Dwadasha Jyotirlingas with main focus on imparting the values of brotherhood and how the three gunas manifest in the different characters of our great Epics.
The children learnt various Suktas & Stotrams, Pooja vidhi, bhajans and Bhagavad Geeta Chapter – 7. The Srimad Bhagavatam sessions were enjoyed thoroughly by the children. The children had various creative sessions of art & craft by various teachers and involved in solving few puzzles, crosswords and other activity sheets based on the theme of the Camp. The cultural programmes consisting of mesmerizing dance performance on the stories of Shabari, Ahalya & other incidents from Ramayana and the skits by children were appreciated and enjoyed by all. More than 400 children from different parts of the city participated in the camp.