Jnana Yajna in J P Nagar
Pujya Swamini Sampratishthananda of Coimbatore centre conducted a Jnana Yajna in English on Bhagawan Shankaracharya's Maneesha Panchakam from 30/12/2018 to 06/01/2019 at Sripaadakshetra, J P Nagar. The Yajna was inaugurated by Sri Purandhara Sharma, president of the Mission. The Yajna was organised as a part of the anniversary celebrations of Sripaadakshetra which completed 14 years of service to the spiritual fraternity on 01/01/2019.
Pujya Swamini Sampratishthananda explained how all differences that we perceive are because of delusion where the vision of divinity & oneness is absent and only division is seen. The realised Master sees the whole universe as Brahman alone where He and Brahman are complete – paripoorna with no limitations – The knower, known and knowing form the integrated combination to realise the supreme Truth. Brahman is the canvas on which Maya paints her creation using the three Gunas – Satwa, Rajas and Tamas. Maneesha Panchakam forms the essence of all Upanishads giving a complete analysis of Jiva, Jagat and Ishwara and the relationship through the four Mahavakyas giving complete clarity of the ssssSupreme Truth.

The Yajna was very well attended on all the days.
Gita Jnana Yajna in Nagarabhavi
Pujya Swami Gahanananda of Tumkur centre conducted a Gita Jnana Yajna in Kannada on Bhagavad Gita Chapter-12 at Twinklers' Vidaniketan, Nagarabhavi from 07/01/2019 to 13/01/2019. The Yajna was inaugurated by noted social reformist and writer Smt Hemalata.
Pujya Swamiji explained that the Bhagavad Gita acts as a manual showing the right path to be followed when confronted with cross roads in life. A sadhak who is confused with respect to choice regarding paths of knowledge and action is given confidence with the fact that both lead to the same Ultimate Truth but prescribed for individuals with different temperaments. What is needed is sincere attempt and attitude of mind with a strong sankalpa to realise the Self. This will calm the mind and the sadhak will view the world with equanimity never getting disturbed by the dualities.

The Yajna was well attended on all days.
Gita Jnana Yajna in N R Colony
Pujya Swami Brahmananda conducted a Gita Jnana Yajna in Kannada on Bhagavad Gita Chapter – 5 from 21/01/2019 to 27/01/2019 at Sri Rama Mandira, N R Colony. The Yajna was inaugurated by well known philanthropist and tabala player Vidwan Sri Venkatatanarayan.
Pujya Swamiji stressed the fact that happiness can never be achieved from the outer world but a state of our own inner Self which is the experience of a calm and serene mind. It is a wrong notion that renunciation of action will lead to realisation. It is necessary to only renounce the feeling of doership and continue performing action benefitting mankind. All Mahatmas led such a life of intense action without being attached to the fruits standing rooted in the fact that they are separate from the body, mind and intellect.
The Yajna was a grand success with several sadhaks deriving benefit.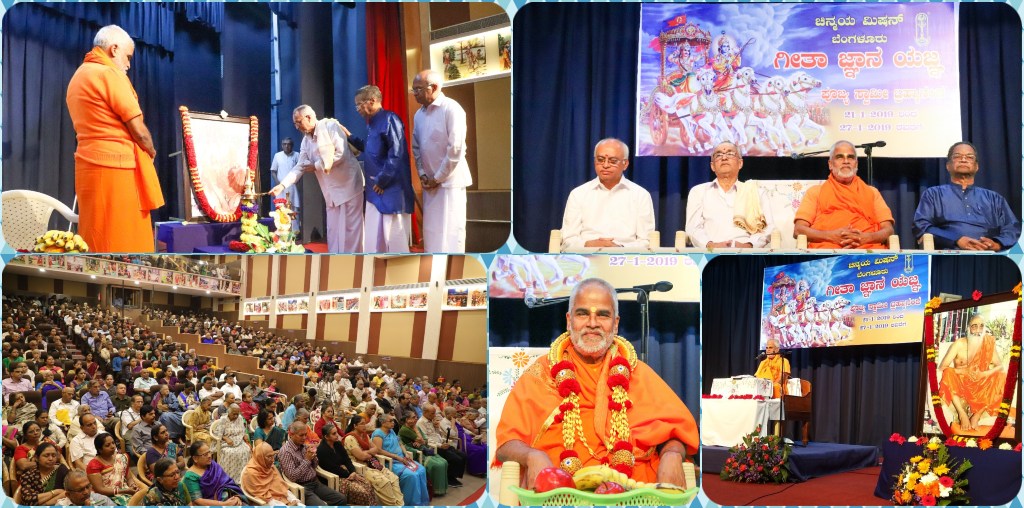 Annual Balavihar Competition
The Annual Chinmaya Balavihar competition for junior and senior children was held at Chinmaya Vidyalaya, Koramangala on January 6, 2019. Pujya Swamini Sampratishthananda from Coimbatore lit the inaugural lamp for the Junior & Senior competitions. Smt Saroja Sridharan, Principal, Chinmaya Vidyalaya Koramangala graced the occasion.
In her Inaugural address, Swamini Amma spoke about the importance of learning shlokas and Stotrams in our daily life. She stressed that chanting the Shlokas and Stotrams given to us by our Gurus helps us to become pure.
The topics for the competition were Krishnashtakam, Suryashtakam, Pratah Smaranam, Shiva Shadakshara Stotram, Bhagavad Gita Chapter-9, Achyutashtakam, Totakashtakam, Chinmayananda Shatkam,  Shivaparadha  Kshmapana Stotram,  Mankutimmana Kagga and Mantra Pushpam along with Storytelling both in English and Kannada. About 1200 children who participated in all these items left the Judges spellbound with their renditions, chanting and captivating stories.
In the holy presence of Pujya Swami Brahmanandaji, Smt Ranjitha Palanivelu and Smt Jyothi Krishnan, senior Mission members distributed the prizes.