Gita Jnana Yajna in Rabindranath Tagore Nagar
Pujya Swami Aparajitananda of Mangalore conducted a Jnana Yajna in English from 13th to 18th January 2020 at Sri Vinayaka Cultural Trust, R T Nagar taking Bhagawan Ramana Maharshi's Upadesha Saram. The Yajna was inaugurated by Smt and Sri Belani, senior devotees of the Mission.
Pujya Swamiji explained that we give unnecessary importance to action based on the assumption that happiness can be gained from the outer world through actions aimed at attaining them. Only when we drop the doership and enjoyer ship attitude and totally surrender to the Lord all actions and results, permanent joy and peace will prevail. We should try to efface ourselves considering Lord as supreme when what remains is God alone who will reveal Himself and impart the highest knowledge. This is the sure way to happiness beyond bondage and liberation is possible in the world here itself when Ego is completely removed and the real 'I' shines forthwith and the seeker stands rooted in the knowledge that his true nature is Sat Chit Ananda.
The Yajna was well attended.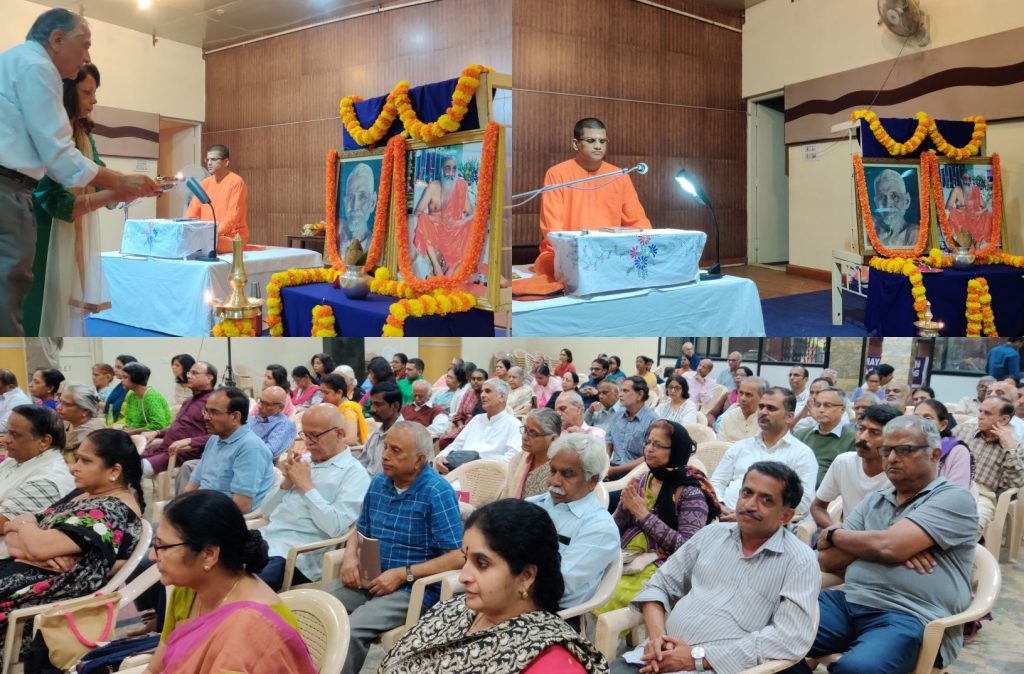 Annual Balavihar Competition – Junior and Senior Group
The annual Balavihar competition for junior and senior Balavihar children conducted on 5th January 2020 in Chinmaya Vidyalaya, Koramangala in the holy presence of Pujya Swami Brahmananda witnessed presence of over 1500 children participating in various events – Chanting of Bhagavad Geeta Chapter 9, Tapovana Shatkam, Shivamanasa Pooja, Narayana Suktam, Bhaja Govindam, Lakshmi Narasimha Stotram, and Manku Timmana Kagga. Smt Radha Krishnakumar, a senior devotee of Pujya Gurudev gave away the prizes to nearly 230 children.