Jnana Yajna in Vijayanagar
Pujya Swami Brahmananda conducted a Jnana Yajna in Kannada taking Narada Bhakti Sutra  at Bunts Sangha, Vijayanagar  from 15th  to 21stJul, 2019. The Yajna was inaugurated by Sri Bhojaraja Shetty, Vice President of Bunts Sangha.
Pujya Swamiji explained that sage Narada has demonstrated the true meaning of devotion and how it can be practised in our daily life through simple sutras. Bhakti is perhaps the easiest way to purify the mind so that it can fix with single pointed attention on the Lord that will help in losing body consciousness paving way for realising the ultimate Truth. All dualities vanish with the realisation that the entire universe is enlivened by the same Self that illumines the sadhak. This paves way to understand that true peace is not in the outer world but our own inner nature. Namasmarana is the single time tested path that removes all Ego and frees the sadhak from bondage.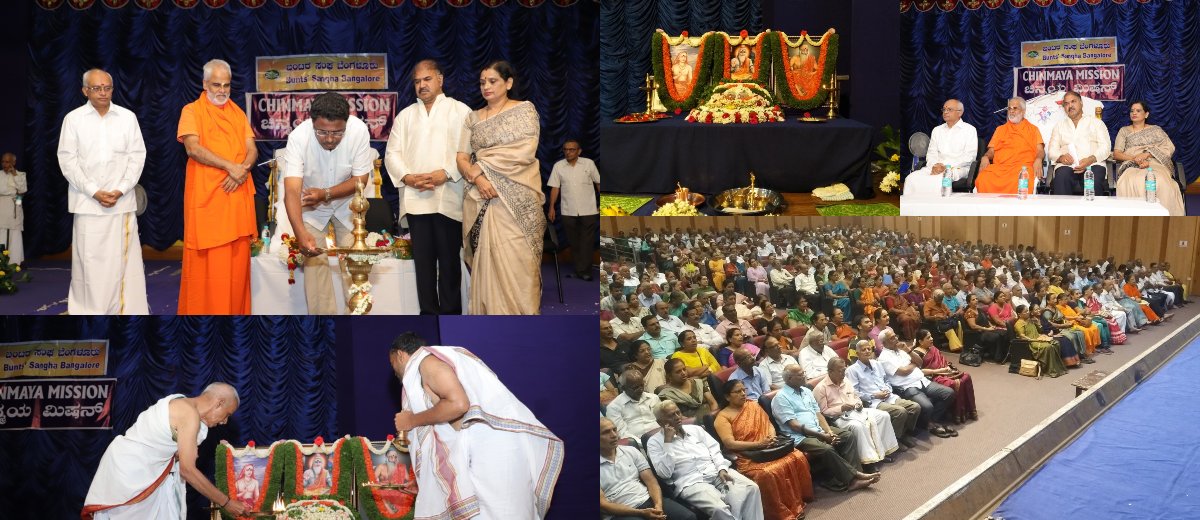 The Yajna was a grand success with participation of several sadhaks.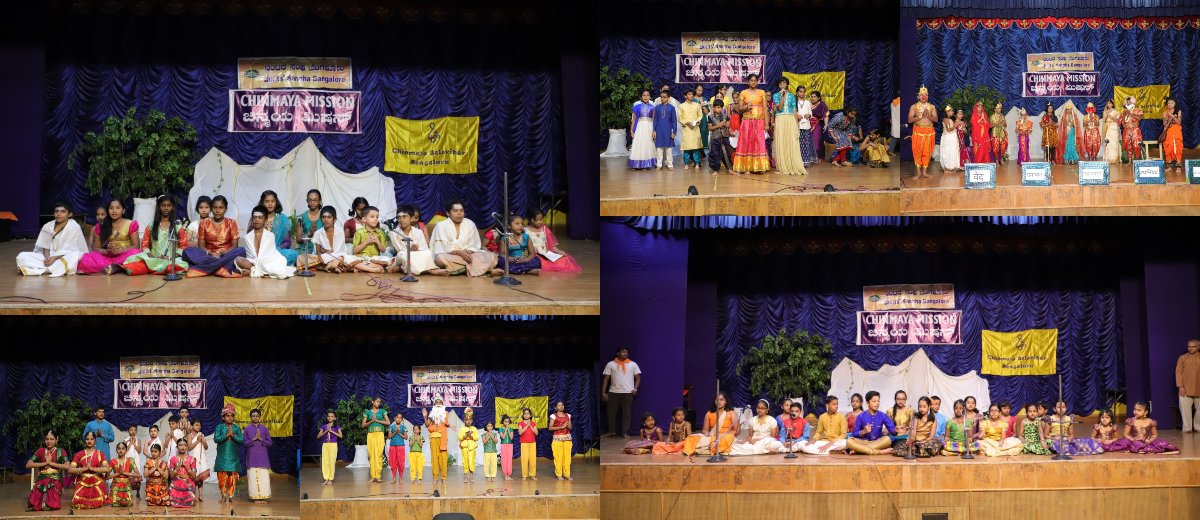 Guru Poornima was observed on 21st July with the Balavihar children showcasing a special programme on Guru Parampara covering the entire linage from Lord Dakshinamurthy to Pujya Gurudev followed by Vyasa Ashttottara and Guru Paduka Puja.
Aradhana Yajna in Indiranagar
Pujya Gurudev Swami Chinmayananda's  27th Aradhana was observed through Geeta Jnana Yajna in English on Bhagavad Geeta Chapter – 5 by Pujya Swami Gahanananda of Tumkur centre from 28th Jul to 3rd Aug, 2019 at Deenabandhu Temple, Indiranagar.  The Yajna was inaugurated by Smt Nirmala Menon, senior member of the Mission.
Pujya Swamiji explained that the Bhagavad Geeta is a handbook indicating how to lead a noble and peaceful life without running away from duties and external situations. All confusion and sorrow in life is due to not knowing our true nature which is a source of infinite joy. A realised person has the firm knowledge that all actions are performed by the inert body in the light of the same universal Self enlivening the entire world that actually is not involved in any action. Self knowledge will help in dissolving all fear, attachment, delusion, hatred and anger paving way for an integrated personality full of noble qualities like love, compassion, detachment and forgiveness when he sees the Lord as his best friend guiding safely through the rough sea of life.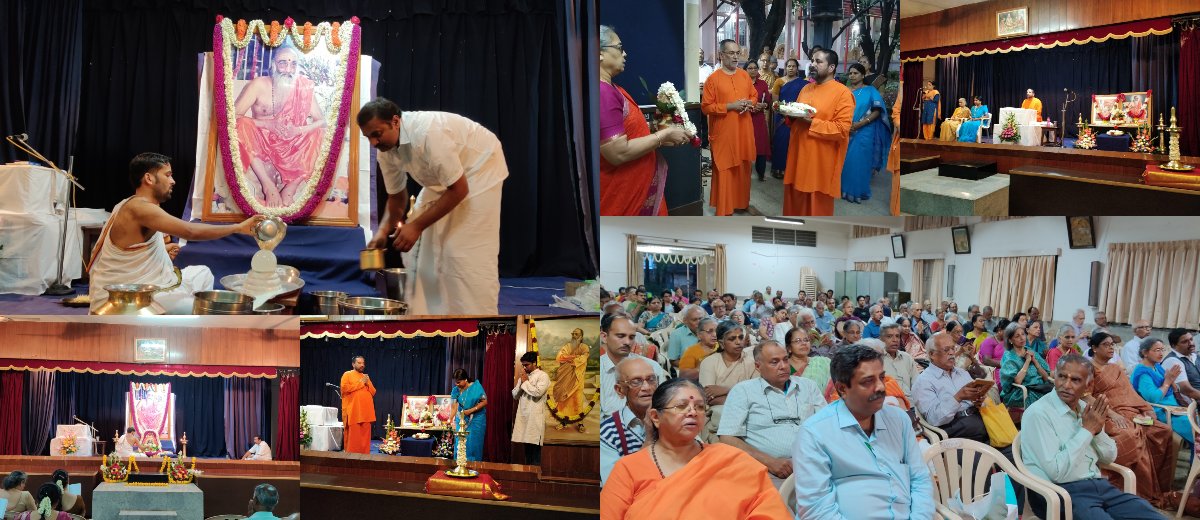 The Yajna was a grand success with a number of devotees getting their doubts cleared from Pujya Swamiji. Gurudev's Aradhana was observed on the last day of the Yajna – 3rd August, 2019 through Bhajans, Rudrabhisheka, Paduka Puja and Aarati.
Guru Poornima Celebrations in J P Nagar
Guru Poornima was celebrated in Sripaadakshetra, J P Nagar from 7th to 14th July, 2019 with various programmes daily consisting of daylong Guru Charitre Parayana followed by evening Bhajans and Satsang by Pujya Swami Dattapadananda of Mysore centre on various saints.
Guru Poornima was observed on Sunday, 14th July, 2019 in the holy presence of Pujya Swami Brahmananda and other Swamijis. The programme commenced with soul stirring bhajans by Devi Group members followed by Vyasa Ashtottara, Paduka Puja and Satsang by Pujya Swami Brahmananda who paid glowing tributes to the Guru Parampara commencing from Lord Shiva as Dakshinamurthy, Bhagawan Veda Vyasa, Acharya Shankara and Pujya Gurudev Swami Chinmayananda. He stressed on the importance of seeking the Self knowledge which is the only means of transcending the body, mind and intellect to realise our true nature that is Sat Chit Ananda. Once we stand rooted in this knowledge all fear of birth and death vanishes enabling us to transact in the outer world without any attachment leading a meaningful life of peace and gratitude.
The programme was attended by hundreds of devotees from all parts of the city.