News


To understand anything is to find in it something which is our own.
-Swami Chinmayananda
Archival News/Other News
e-Balavihar, a Solace for the 'Quarantined' Soul
Dated : 2020/03/15

---

"The U.S. confronts a new reality…" and spreads" are the kinds of headlines most
Twin 1st Graders of Chinmaya Mission Boston attending first 
e-Balavihar
 class from their home!
e-Balavihar, a solace for the 'quarantined' soul
"Americans urged to stay home as coronavirus common in our media these days. With grade
schools closed, universities moving to online teaching for the rest of the school year, and gatherings of more than 25 people prohibited, we are all no doubt confronting a new relative reality!
Enter e-Balavihar!
With in-person Bala Vihar classes having to be cancelled, we at Chinmaya Mission Boston had to quickly come up with an effective alternative in order to minimize the disruption to our most precious members, our Bala Vihar children. The remote learning technology was available, and thanks to Chinmaya Ramdoot (Bridgewater, NJ) an approach had been defined and tried out. But with just 4 days until Sunday, our team had very little time to adapt it to our needs, train our sevaks & sevikas, and inform our parents about
the new format. We are extremely happy to report that with His grace and blessings we
were able to make this happen, with our first classes going online on March 15th.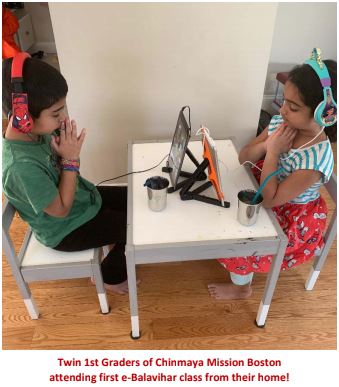 CM Boston, including our 3 satellite centers, held more than 70 online sessions on day one! We were able to move from in-person classes to online classes without missing a beat. Dr. Shashi Dwarakanath ji, the Spiritual Guide of Chinmaya Mission Boston, was able to conduct 5 Adult Satsang sessions that day! Teachers reported outstanding attendance! From our 3-year old Shishus to our 18-year old J-CHYKs, there were reports of excellent engagement and participation. Parents expressed their appreciation: "It is nice to continue the routine amid the chaos. Our boys loved the idea of being on the screen like 'Office meetings'."; "Thank you for making Vidwath's morning extra special with the Birthday wishes. I was wondering how to keep him at the desk for an hour but you guys had it covered. Kudos Teachers!!!"; "It has been a wonderful past few weeks with ShishuVihar, and thanks for the initiative in keeping continuity". And kids said "…everyone was sooooo focused, no distractions or unnecessary side conversations", "this was so awesome!".
All sevaks and sevikas came together in true Yagna spirit, as envisioned by our dear Pujya Gurudev, to carry out His work. After all, as Shashiji said, this is an opportunity to put Vedanta into practice: to appreciate our many blessings, to remind ourselves to be humble, and to spread positive energy. With several weeks of social distancing in our near future, we are grateful to have e-Balavihar as an oasis amid the chaos, a solace for our 'quarantined' souls.
---
Activities in Bengaluru during Feb 2020
Dated : 2020/02/01

---

Gita Jnana Yajna in Sahakaranagar
Pujya Swami Adityananda of Mandya conducted a Geeta Jnana Yajna in Kannada from 1st to 7th February 2020 at Sneha Bhavan, Sahakaranagar on Bhagavad Gita for Daily Living. The Yajna was inaugurated by Smt Tangam Nambiar, a senior devotee of the Mission.
Pujya Swamiji explained that the study of Bhagavad Gita develops a vision of oneness accepting everyone as they are. The Lord is worshipped in different forms depending on one's maturity but our scriptures declare that the entire universe is enlivened by the same Jyoti. All our puranic stories aim at supporting this universal principle and help in calming the mind to understand that the Truth that real happiness is our own true nature. It is only ignorance and delusion that gives a false notion that the outer world provides joy. It is necessary to work towards self-improvement through positive thoughts instead of vainly trying to bring a change in society. This is only meant to live in peace and harmony without disturbing the balance in nature.
The Yajna was well attended.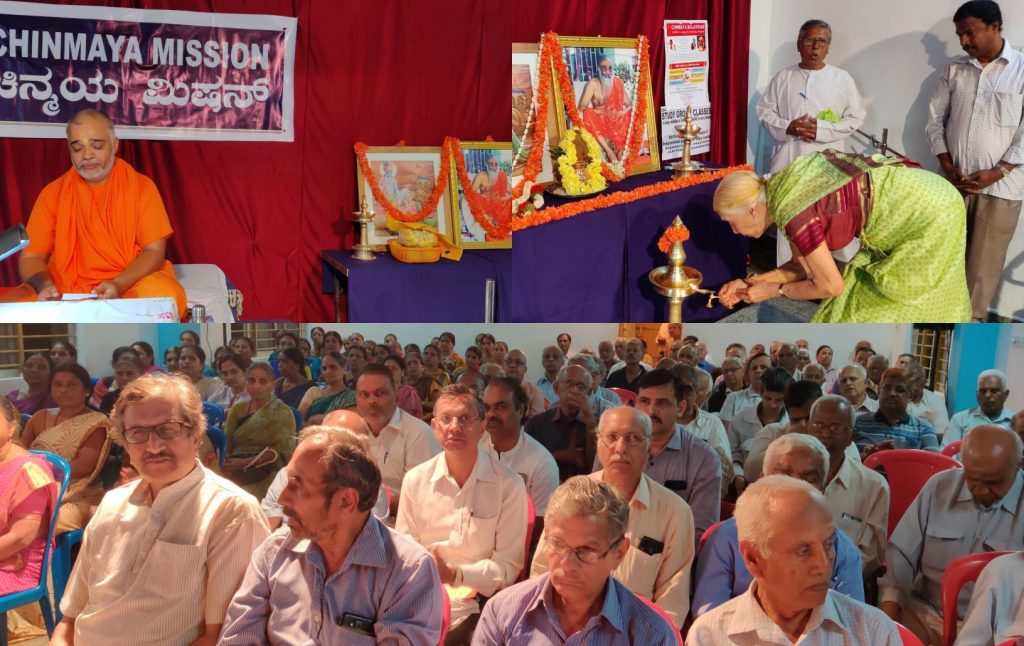 Mahashivaratri Celebrations in Sripaadakshetra
Maha Shivaratri was observed with all religious fervor in Sripaadakshetra, J P Nagar on Friday, 21st February 2020 with Mahanyasa Poorvaka Ekadasha Rudrabhisheka in the morning from 6.00 am to 11.00 am followed by bhajans from different devotee groups till 6.00 pm. Ekadashi Rudrabhishaka was again performed till 9.00 pm followed by devotional songs till 11.30 pm and concluding with half-hour Japa and midnight Aarati. Thousands of devotees performed abhishekam throughout the day to the Spatika Linga specially brought out and decorated for the day. The entire temple complex wore a festive atmosphere with beautiful flower decoration and special lighting. The celebrations actually commenced on 14th February itself with daily morning and evening Abhishek aims followed by devotional rendering of bhajans and music by devotees from all parts of the city.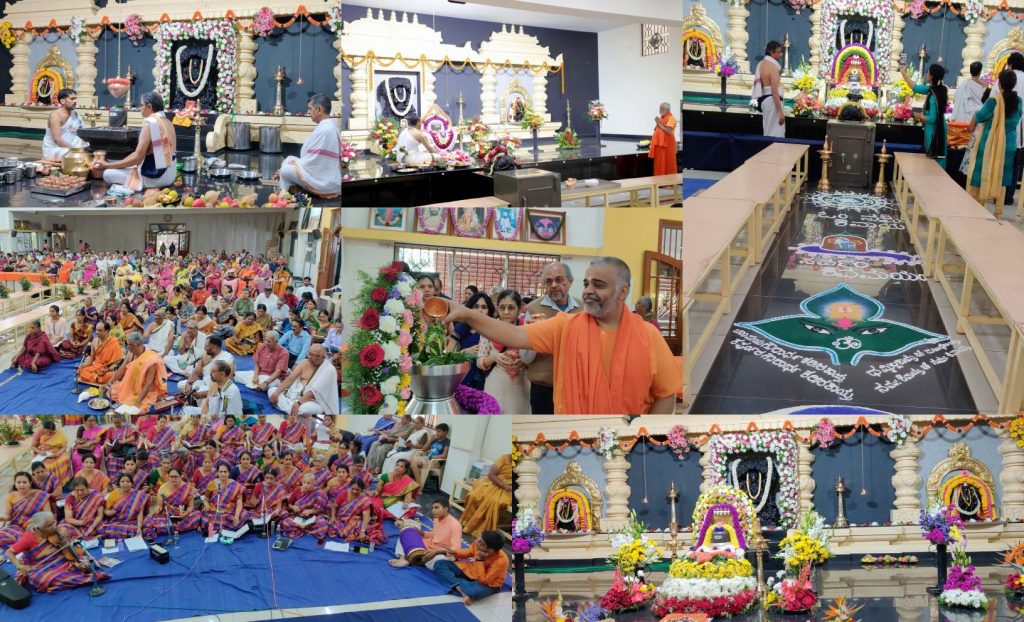 Sadhana Day in Deenabandhu Temple Indiranagar
Sadhana Day was observed in Deenabandhu Temple, Indiranagar on 16th February 2020 between 10.00 am and 1.30 pm with nearly 230 Study Group members from different parts of the city participating in the holy presence of Pujya Swami Brahmananda who recollected the beginning of Sadhana Day sessions (Symposium) in Mumbai way back in 1970's by Pujya Gurudev Swami Chinmayananda and the importance given by Him for Sravana and manana by sadhaks through attending study classes.
Later the entire gathering was divided into 12 groups and each group was given a set of shlokas from Bhagavad Geeta Chapter-14 to discuss for about one hour and present their understanding. All the groups had a very lively discussion and their views presented by a representative. It was clearly evident that each member had not only thoroughly studied the subject for the past three months but also tried to live the wonderful values as understood by him/her. All the groups had very thought-provoking points and Pujya Swami Brahmananda appreciated the sincere efforts put by each member not only to study, discuss and interpret but also the honest attempt in trying to live the values. This he said is as important as a study because the purpose of Bhagavad Geeta is to bring about individual transformation.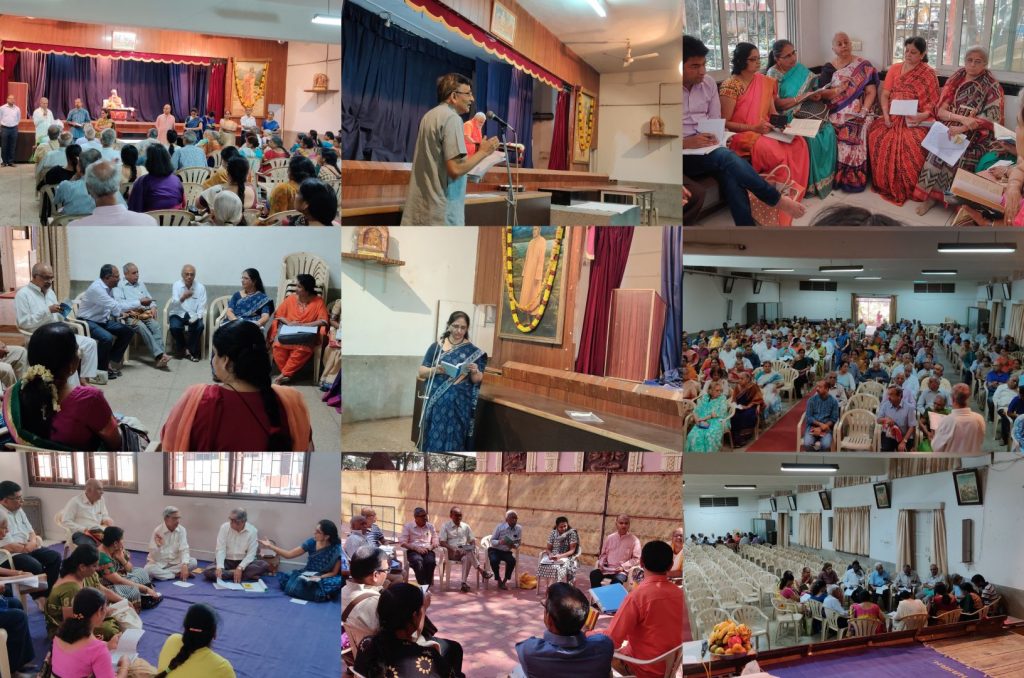 ---
Jnana Yagna on Sundara Kanda from Tulsidas's Ramcharitamanas
Dated : 2020/03/02

---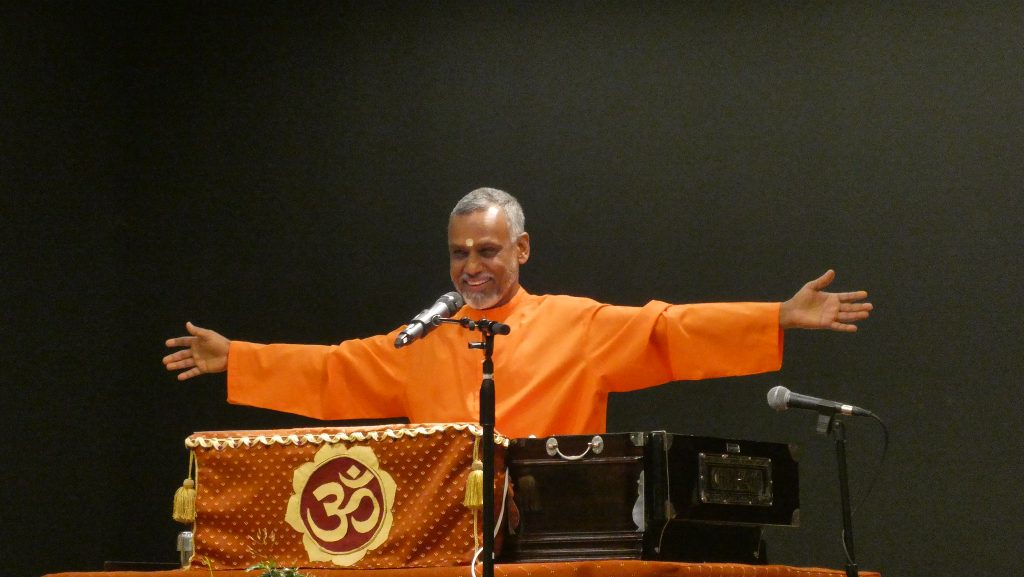 Swami Prakashananda from CM Trinidad and Tobago educated and delighted Chinmaya Mission devotees at San Jose during his Jnana Yagna on Sundara Kanda from Tulsidas's Ramcharitamanas from March 2nd to March 7th. Swamiji, of course, covered the well-known story of Hanumanji's feats in the search for Sitaji as well as Vibhishana's surrender to Lord Shree Rama. Along the way, Swamiji pointed out several subtle points and provided practical tips for sadhakas.
All other chapters of the Ramayana are named after the location where most of the story takes place or the stage of Lord Shree Rama's life. Why is this called Sundar (beautiful)? These are some of the reasons Swamiji listed:
The most beautiful relationship in the world is between a bhakta and Bhagawan. This chapter shows two such relationships with Lord Shree Rama and two of HIS devotees – Hanumanji and Vibhishana.

Sundar = Su+Andar. Inner beauty is a real beauty, not the external skin-deep variety. Hanumanji may look like a monkey outside but inside is a wonderful being. This chapter contains the glory of Hanumanji.
Swamiji covered the obstacles Hanumanji overcame on the way to Lanka and his response to them and drew a comparison to obstacles a Sadhaka faces:
Mainak mountain represents lethargy & procrastination (hard to move or get started). We need Bala (inner strength) and Buddhi (opposite of Tamas) to be able to resist these temptations.

Surasa represents Greed – Hanumanji doesn't kill it but outwits it. Greed is dangerous for a sadhaka but the whole economy runs on greed.

Simhika represents jealousy and a parasitic creature – taking more than what they give. We need to follow Hanumanji's example and kill it with one blow! We need to be happy when we see others being successful.

Tankini represents Delusion – when we don't see things as they are. Delusion needs to be fixed through Satsang – as Hanumanji provided for Tankini. Only in Satsang with a Guru can we remove our delusion.
Seeing Vibhishana's house with auspicious marks and Tulsi trees, Hanumanji determines to meet Vibhishana believing that no harm can come from meeting a good person. The lesson to us is to allow for good to exist in a side dominated by evil. A Vibhishana could exist in Lanka! Vibhishana was very thrilled to see Hanumanji, who gave him encouragement that Lord Shree Rama would accept him as His devotee.
Hanumanji met both Lord Shree Rama and Vibhishan pretending to be a Brahmin but came before Sitaji in his original form. The point is that none of our disguises and pretensions work before our mother!
Swamiji pointed out subtle points like Tulsidasji covering Hanumanji's return journey in a half-line! This is because Hanumanji has now become kritakritya after meeting Sitaji. Nothing is impossible for a realized person once they see the One everywhere.
When the monkeys go back to Lord Shree Rama and HE showers Hanumanji with praise, Hanumanji clasps HIS feet asking to be saved. Saved from what ? the pride of ego. We are all seeking attention normally from the time of our birth. Swamiji mentioned that the asanas of seeking name and fame are actually stronger with us than those of sense-pleasures.
After Hanumanji's departure, Vibhishana speaks up in front of  Ravana asking him to return Sitaji and surrender to Lord Shree Rama. Of course, Ravana was not willing to listen to this advice and literally kicked Vibhishana away.
It is the power of Satsang with Hanumanji that enabled Vibhishana to stand up to Ravana and leave him to go to Lord Shree Rama.
The last episode covered was the surrender of Vibhishana to Lord Shree Rama. Vibhishana is detained by the monkeys, and Sugreeva argues that he should be kept bound and in prison, but Lord Shree Rama says that He will protect the worst of sinners once they surrender to HIM.
Lord Shree Rama addresses Vibhishana as 'Lankesh' – before saying or asking anything else, HE already granted the kingship of Lanka.
Swamiji made a beautiful point here that Hinduism preaches the doctrine of Karma, but once we turn to the Lord completely, there are no sins left to be forgiven. Once we turn to the Sun, how can our face be in darkness?
Swamiji concluded the Jnana Yagna on this wonderful note, leaving the audience mesmerized and hoping for a repeat visit soon.
---
Chinmaya Mission Mahasivaratri 2020
Dated : 2020/02/21

---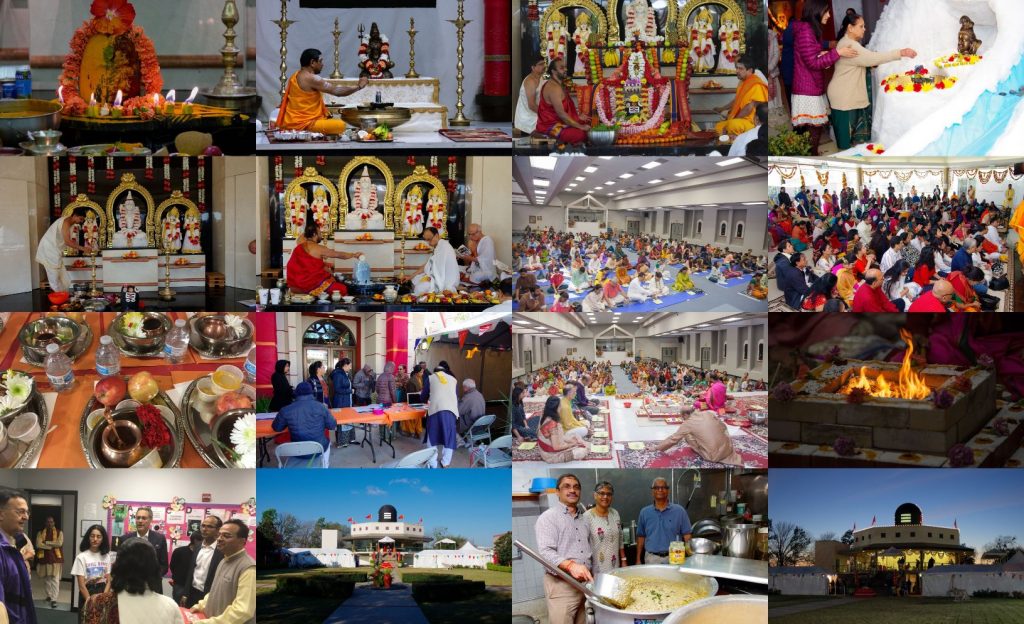 On a cold February 21st, 2020, hundreds of devotees thronged Chinmaya Mission, Houston (CMH) to celebrate Mahasivaratri with warm hearts.  Each year, CMH hosts the biggest Hindu celebration in Greater Houston on the auspicious Mahasivaratri, a day of meditation and devotion for Lord Shiva who is worshipped in the form of Linga, the highest symbolic representation of Brahman in Vedanta. Shiva means auspiciousness and praying to HIM reminds us of our true nature, Atman. Sivaratri is a reminder to get out of the shackles of our body, mind, and intellect.
Every year, the grand celebrations at the iconic linga-shaped Sri Saumyakasi Sivalaya inspire great devotion and spirituality in a backdrop of selfless Seva from countless CMH volunteers. This year too, Sri Ganesh Sathyanarayanaji, Sivalaya's resident priest, began the sacred week of prayer, leading hundreds of CMH families with his Vedic chanting during the Maha Mrtyunjaya Homa on February 15th, 2020. Families had a great opportunity to chant "Om Tryambakam" 108 times with their kids and continue the tradition of praying for the well-being of the entire world.
On Feb.21, devotees stood in long lines to have an opportunity to do Ksirabhiseka to the Utsava Murti of Maheswara in the basement of the Sivalaya which had been transformed into a mini Kailas by the tireless army of CMH volunteers. Vedic chants echoed through the day in the form of Mahanyasa purvaka Rudrabhiseka in the morning and Laghunyasa purvaka Ekadasa Rudrabhiseka in the evening.  The spiritual vibrations of Rudram, Namakam, and Chamakam transported everyone to a timeless realm; devotees also had an intimate devotional experience with the Rudrabhiseka Seva conducted multiple times in Chinmaya Smriti Hall.
The holiest evening culminated in quiet meditation upon Isvara, the Lord of the Universe. The silence inside the Sivalaya dwarfed the quiet outside. It was divine to gaze at the serene face of the Lord of Saumyakasi glowing in the gently dancing light from the many lamps lit on the altar.  In the quiet hour of meditation before the midnight of Sivaratri, all thoughts were stilled. Then, the midnight arati filled the hearts of all devotees with great joy. As the devotees left the temple with the lingering wondrous experience, the prasad shared by CMH's kitchen team tasted heavenly.
Pujya Gurudev Swami Chinmayananda highlighted the wisdom of "giving more than what we take." The spirit of the CMH pledge is most alive at CMH on Sivaratri. The great aura of the event is possible only due to the countless volunteers which include the next generation, the several young Balavihar students who were cheerfully shouldering many tasks this year. The lofty example set by Acharyas Gaurang and Darshana Nanavaty over the decades continues to influence such spirited teamwork.
The great event of Mahasivaratri also reminded the devotees of Greater Houston about the Jirnodhar (temple renovation) project and the upcoming Maha Kumbhabhiseka celebration of Sri Saumyakasi Sivalaya in Aug 2020. To get associated with such an auspicious event will help not only our immediate spiritual growth but also bless the future of the entire Houston community.
A tradition steeped in wisdom, diffused with fun is the norm at Chinmaya Mission Houston, located at Chinmaya Prabha, 10353, Synott Road, Sugar Land, TX-77498. For more information, visit www.chinmayahouston.org or call Jay Deshmukh 832 541 0059.
---
Maha Shivaratri Mahotsavam at Thamaraipakkam
Dated : 2020/02/21

---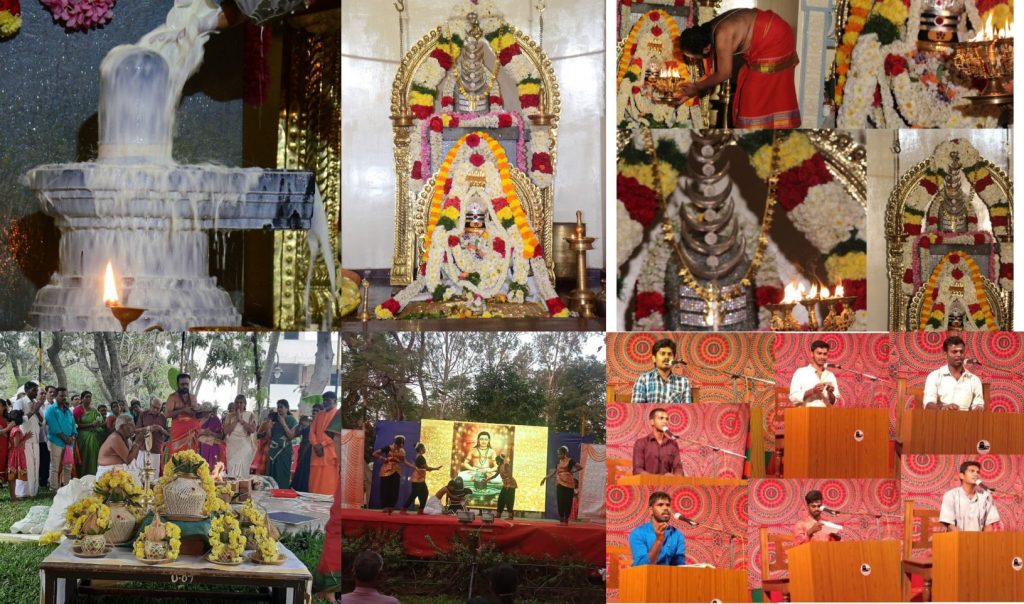 1. Maha Shivaratri Mahotsavam – February 2020
February 21, 2020
Maha Shivaratri was celebrated at Chinmaya Sarveshvara in a grand manner like every year. Lord Sarveshwara temple witnessed thousands of devotees worshipping and participating in various programs right from 5.30 am to 6.30 am the following day. The day started with Ganapati Homam followed by Ekadashi Rudra pArAyanam, Homam and Rudra abhishekam. The temple prAhAram was resounding with divine chants of Om Namaha Shivaya sung by the children of Hari Hara Vidyalaya throughout the day.
On this auspicious day, devotees get to perform KalasA Abhishekam with their own hands to the SphatikaLingam. The Kalsa abhishekam culminated with a Maha Aarathi to Lord Sarveshvara at around 2 pm in the afternoon. Annadanam was also done to all devotees who visited the temple.
The Utsavam continued in the evening from 5 pm when around 150 school children from 4 villages participated in a cultural bonanza bringing out the divinity of Lord Shiva through dances, skits, etc.,
At 9 pm, Lord Sarveshvara was worshipped by devotees who performed Abhishekam with punya tirthams collected from various rivers of India (Ganga, Brahmaputra, Yamuna, Godavari etc.,). This was followed by the 4 Yaama Poojas through the night to morning 6am. Hundreds of devotees stayed awake through the Yama Pooja and witnessed the poojas. Live telecasting of the abhishekam, Pooja and midnight aarathi at the sanctum sanctorum helped the devotees to peacefully revel in devotion.
The Tamaraipakkam Chyks showed their devotion to Lord Shiva by doing a relay Yajna on the NAyanmArs of Lord Shiva which was well appreciated.
All the preparatory work, poojas, Kalasa abhishekam and all other programs could not have been a success without Lord Sarveshvara's Grace and Pujya Gurudev's grace. The vanara sena comprising of HHV
school students, teachers, parents, chyks and other devotees worked together for this great divine festive worship. Thanks to all supporters, well-wishers, sevaks and donors.
---
Mahashivaratri Celebrations at Sandeepany Sadhanalaya
Dated : 2020/02/21

---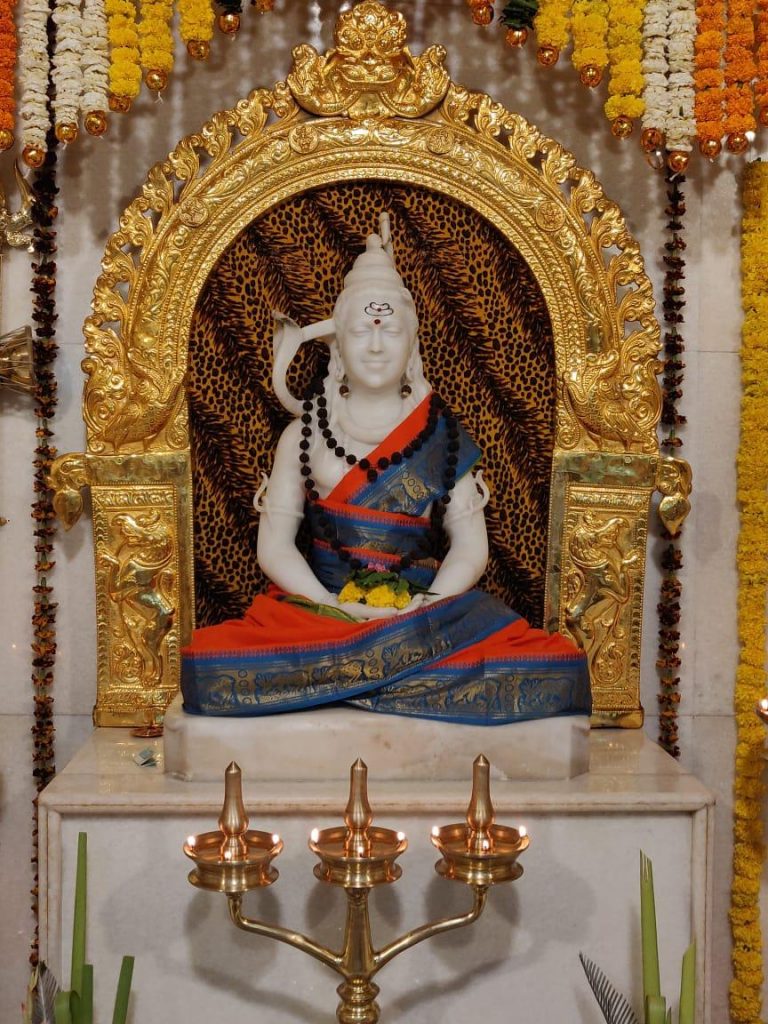 Mahashivaratri, Feb 21st 2020 at Lord Jagadeeshwara's pristine abode in Mumbai was a grand affair. The Lord shone bright and serene, clad in blue and orange as He sat smiling with love at all his devotees pouring in through the day 5:00 AM to 12:30 AM. Pujya Guruji Swami Tejomayananda and Pujya Swami Swaroopananda's divine presence only added to the devotional fervour that seemed to have gripped the Ashram on this day. As the Pujas and Abhishekas went on for Lord Jagadeeshwara, He was also kept entertained and happy by the Akhanda Om Namah Shivaaya chanting. Pujya Swamiji was amongst the first ones to begin the chanting before he proceeded to initiate 4 Brahmacharins to the order of Sannyasa. Many devotees kept the chanting going upto 12:00 AM with complete devotion.
CCMT's staff bustled about selling books and gift items to the large crowd, Sevaks untiringly distributed water to all devotees, CHYKs too had their stall, the day was filled with Nishkama Seva.
Pujya Guruji too played a silent compassionate role as he sold and signed many books and gifts. Special Pujas for the Lord commenced post 7:00 PM by Swami Sharadananda of Chinmaya International Foundation (CIF).
Amidst all this, it was certainly the Aarati at 6:30 PM and 12:00 AM that stole the show. As the lights were turned off, it was the Lord who shone with ethereal beauty as the light, the flame of life in all our hearts! For without Him, what really are we? At these moments, the hustling crowd fell completely silent, every mind absorbed in Jagadeeshwara's infinite love. The great day of Lord Shiva, of spiritual awakening, very aptly concluded with a glorious Shiv-Parvati Vivah – the union of Paramatma and Jivatma.
For more pictures visit link below –
---
Geeta GYan Yajna by Poojya Swami Subodhananda Ji at Jaipur.
Dated : 2020/02/09

---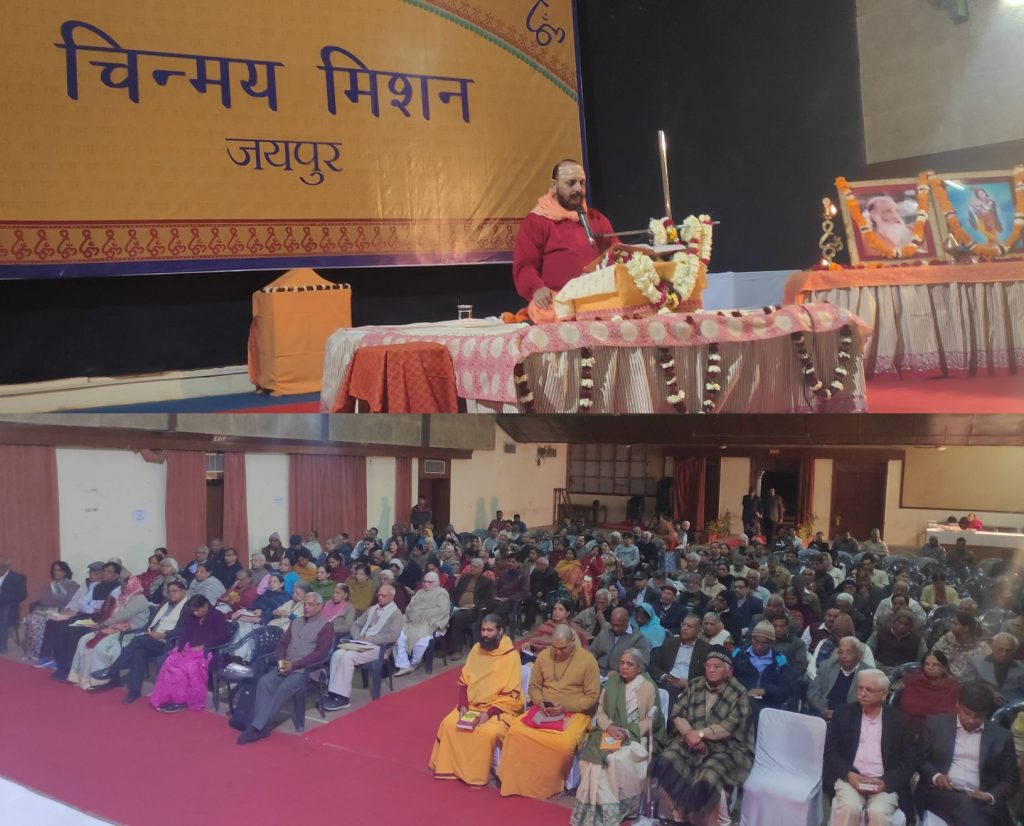 Chinmaya Mission Jaipur organized a seven-days Geeta Gyan Yajna by Poojya
Swami Subodhananda Ji from 9th to 15th February 2020 at Jaipur. This Yajna was
organized in joint collaboration with the Sanskrit Department of Rajasthan University.
Venue for the Yajna was Maniviki Peeth Sabhagar of Rajasthan University.
Yajna inaugurated on 9th February 2020 at 6.30 pm. Dr. M. L. Swarnkar,
Chairperson of Mahatma Gandhi University of Medical Sciences and Technology
was the Chief Guest on the occasion. Poojya Swami Ji inaugurated the Yajna by
lighting the lamp along with Dr. Swarnkar, Dr. Sunita Sharma, Head of the Sanskrit
Department of Rajasthan University, Br. Visharad Chaitanya Ji of Chinmaya
Mission Jaipur, Br. Om Chaitanya Ji of Jodhpur. Swami Ji covered verse number 20
to verse number 40 of Chapter 18 of Bhagwad Geeta as a text for Yajna. On
opening day he inspired all the audience present to transform themselves into a
true seeker. Later he very beautifully explained Saatvik, Raajsik and Taamsik types
of Happiness, Yajna, Actions, Doers, Intellect, and Firmness (Dhriti). It was a fulfilling
experience for all those who attended the Yajna.
Swami Ji's presence rejuvenated and recharged all the committee members and
seekers at Jaipur with spiritual energy.
---
Activities in Bengaluru during Jan 2020
Dated : 2020/01/05

---

Gita Jnana Yajna in Rabindranath Tagore Nagar
Pujya Swami Aparajitananda of Mangalore conducted a Jnana Yajna in English from 13th to 18th January 2020 at Sri Vinayaka Cultural Trust, R T Nagar taking Bhagawan Ramana Maharshi's Upadesha Saram. The Yajna was inaugurated by Smt and Sri Belani, senior devotees of the Mission.
Pujya Swamiji explained that we give unnecessary importance to action based on the assumption that happiness can be gained from the outer world through actions aimed at attaining them. Only when we drop the doership and enjoyer ship attitude and totally surrender to the Lord all actions and results, permanent joy and peace will prevail. We should try to efface ourselves considering Lord as supreme when what remains is God alone who will reveal Himself and impart the highest knowledge. This is the sure way to happiness beyond bondage and liberation is possible in the world here itself when Ego is completely removed and the real 'I' shines forthwith and the seeker stands rooted in the knowledge that his true nature is Sat Chit Ananda.
The Yajna was well attended.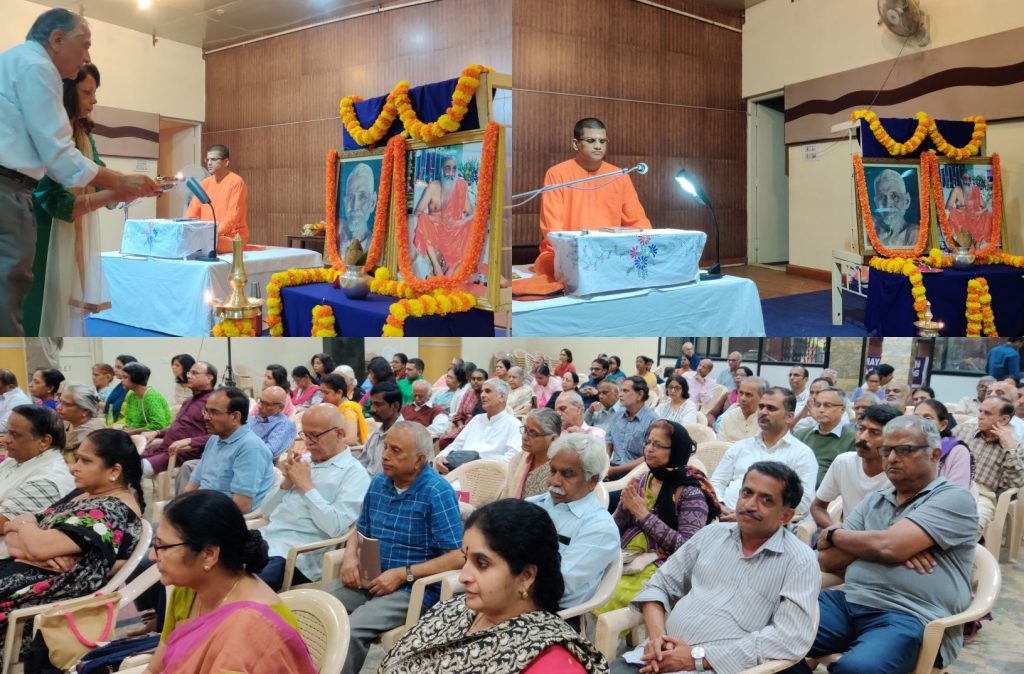 Annual Balavihar Competition – Junior and Senior Group
The annual Balavihar competition for junior and senior Balavihar children conducted on 5th January 2020 in Chinmaya Vidyalaya, Koramangala in the holy presence of Pujya Swami Brahmananda witnessed presence of over 1500 children participating in various events – Chanting of Bhagavad Geeta Chapter 9, Tapovana Shatkam, Shivamanasa Pooja, Narayana Suktam, Bhaja Govindam, Lakshmi Narasimha Stotram, and Manku Timmana Kagga. Smt Radha Krishnakumar, a senior devotee of Pujya Gurudev gave away the prizes to nearly 230 children.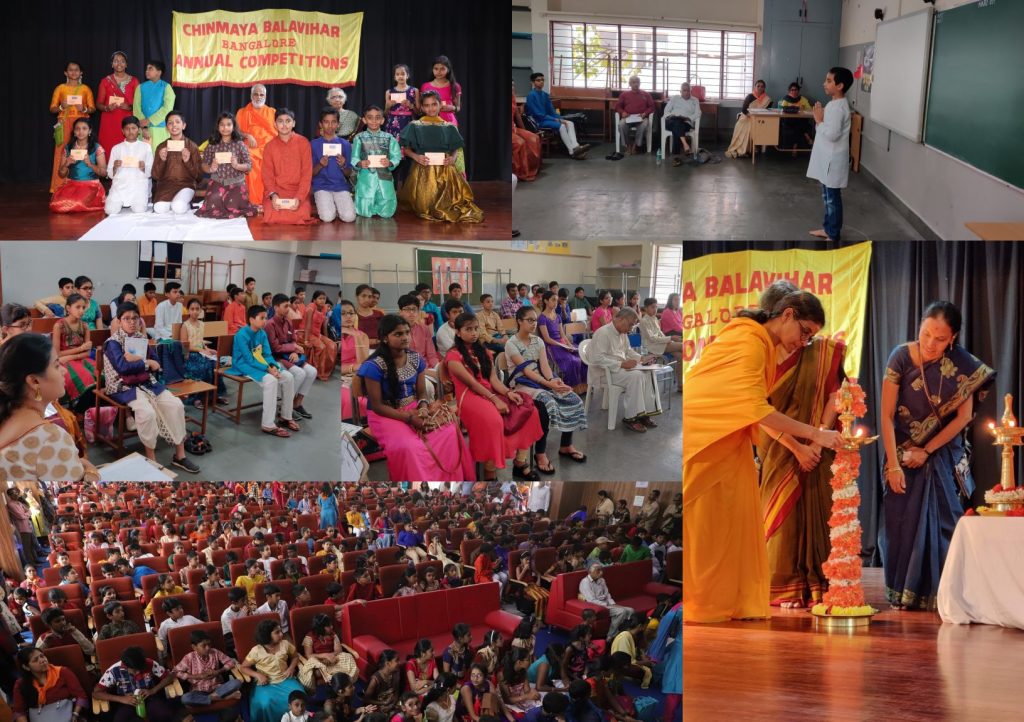 ---
Special Lakshmi Puja and Deepa Danam
Dated : 2020/01/03

---

A special Lakshmi Puja and Deepa Danam were performed on 3rd Friday and 17th Friday in Wavendon Estate organized by Chinmaya Sethukari Members of Chinmaya Kovil, Ramboda. This puja is expected to be performed annually in every estate possible.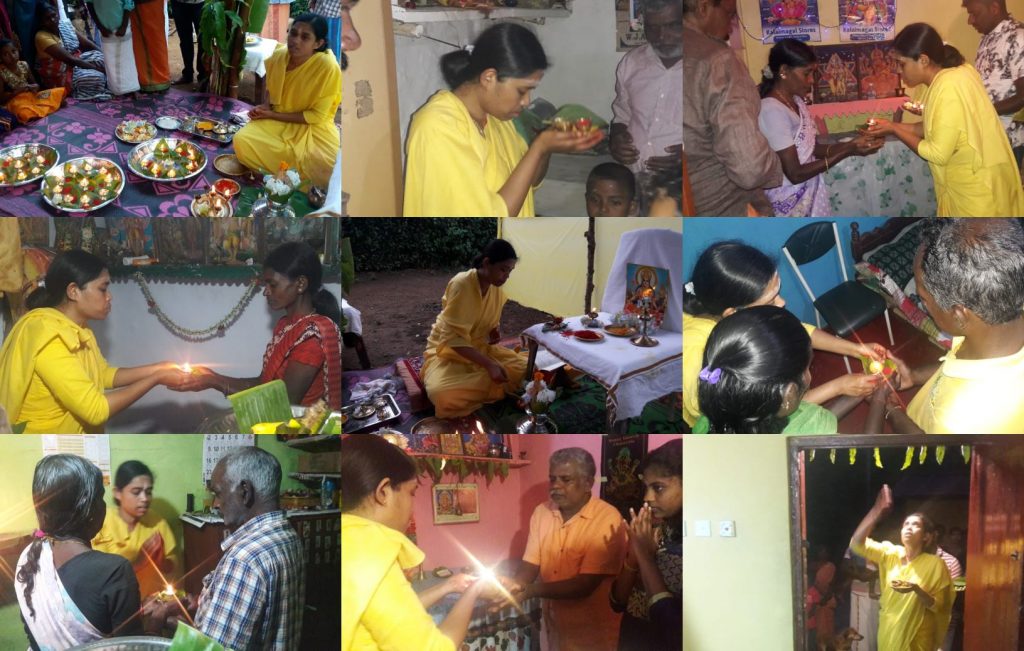 ---
Chinmaya Inspiration Yatra XIII Report
Dated : 2020/02/01

---

In Western society, thirteen is sometimes considered an unlucky number. However, for 21 seekers, the 13th Chinmaya Inspiration Yatra was the most fortunate of times. Over two weeks, Shri Vivek led our yatris from India, Canada, and the U.S. to the holy land of Maharashtra, the outward expression of their inner journey.
They began their time together at Sandeepany Sadhanalaya, meeting Pujya Gurudev at His home. Even amidst the noise of Mumbai, they basked in the peace of the ashram as they let go of their outside lives.
Gurudev then guided them to Chinmaya Vibhooti, where Pujya Guruji so lovingly spoke on Aparokshanubhuti.  During those seven days, Guruji also led daily meditation classes, teaching the yatris the steps needed for tapping into their true potential. Having the younger minds of the group – our Balvihar kids – as part of the Yatra was even more wonderful, as they helped rediscover the wonder of this divine knowledge. Guruji jokingly suggested Vivekji carry a flag to keep the yatris all in order and loved when they took His request seriously!
Trying to discover the first-hand experience within, the yatris engaged in satsanga, sadhana, and seva every day. Children and adults alike spent their breakfast, lunch, and dinner times by serving food to all the camp attendees. Some of the yatris climbed the nearby mountain, pushing themselves to focus on the present, only on their next footstep. Together they welcomed in the new decade with Vishnu Sahasranam, reflecting on the change they wanted to make in the upcoming years.
From the shastras, they were then guided to Bhagavan Himself. Departing Chinmaya Vibhooti on January 1st, the yatris traveled to Dehu, Alandi, and Pandharpur. They found themselves immersed in love for Bhagavan Vittal, manifested through the great Saints, Sant Tukaram and Jnaneshwar Maharaj. Every second was filled with devotion, from singing bhajans in line to actually touching Bhagavan Vittal's feet. With the blessings of Guru and Bhagavan, the seekers completed their Yatra on January 2nd at Chinmaya Mauli.
Throughout these yatras, seekers have journeyed far across several countries and continents, learning and growing along the way. Rather than limiting the spirit of the yatras to only a few weeks, the yatris have taken various Sankalpa to raise funds for various parts of our Mission over the years. Over the course of CIY I – V, 100,000 USD was raised for CORD Siruvani. Following this success, 100,000 USD was then raised by CIY VI – X yatris for the education efforts of Chinmaya Mission Trinidad.
With gratitude in their hearts, on December 31st, Shri Vivek and the yatris present took on a new Sankalpa. Over the next five yatras (XI – XV), together they pledge to offer 100,000 USD for Pujya Guruji, largely for the visionary efforts of Chinmaya Vibhooti. Through these efforts, they hope to transform their two-week yatra into a lifestyle of serving, learning and growing.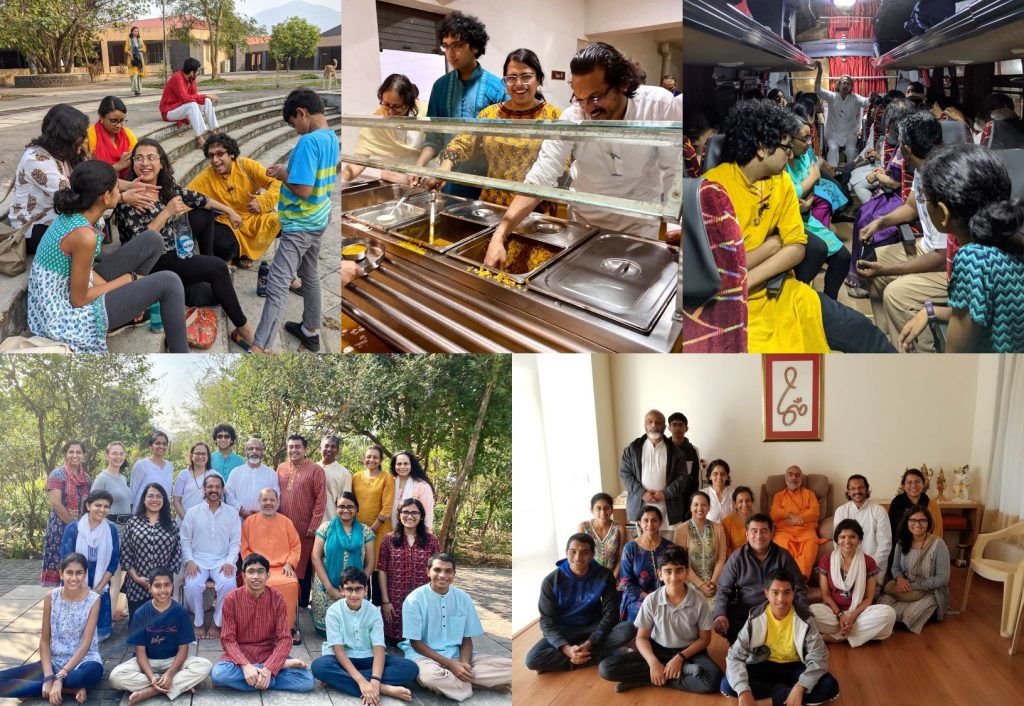 ---