News


To understand anything is to find in it something which is our own.
-Swami Chinmayananda
News This Week
Archival News/Other News
BHAGWTA GYAN YAJNA AT JAIPUR
Dated : 2019/11/10

---

Chinmaya Mission Jaipur organized a Bhagwat Gyan Yajna by Swami Abhedananda Ji from 10th to 15th November at  Devrishi Nrada Sabhagrah at Malviya Nagar, Jaipur. Text for evening sessions was 10th Canto of Shrimad Bhagwat while for morning sessions were third valli of Kathopanishad.
Yajna started on 10th November 6.30 pm. Almost all executive members including president Sh. M. L. Gupta, Mrs. Malti Gupta, Sh. Sobhagya Chandra, Mrs. Prabha Srivastava, Sh. Ashok Sodhani, Mrs. Rekha Bhargava, Dr. R. K. Chaturvedi, Mrs. Vijay Khanna, Mrs. Madhuchanda Sen, Sh. Somesh Bhargava, Mrs. Manorama Anand and Dr. Manoj Khurana were present for inaugural session. About 200 seekers daily attended the evening sessions while morning sessions were attended by about 130 seekers.
Swami ji's typical style of delivering discourses made the audience spell bound during the discourses. He explained in details how Gopis of Vrindavan expressed their love and devotion for Lord Krishna to Udhav. Simultaneously he explained and inspired the present seekers to intensify their devotion towards the Lord.
In morning sessions he very beautifully explained how Lord explained the queries of Nachiketa. Yajna concluded on 15th November with offering of Guru Dakshina by all the attendees and distribution of Prasad Pustika by Pujya Swami Ji.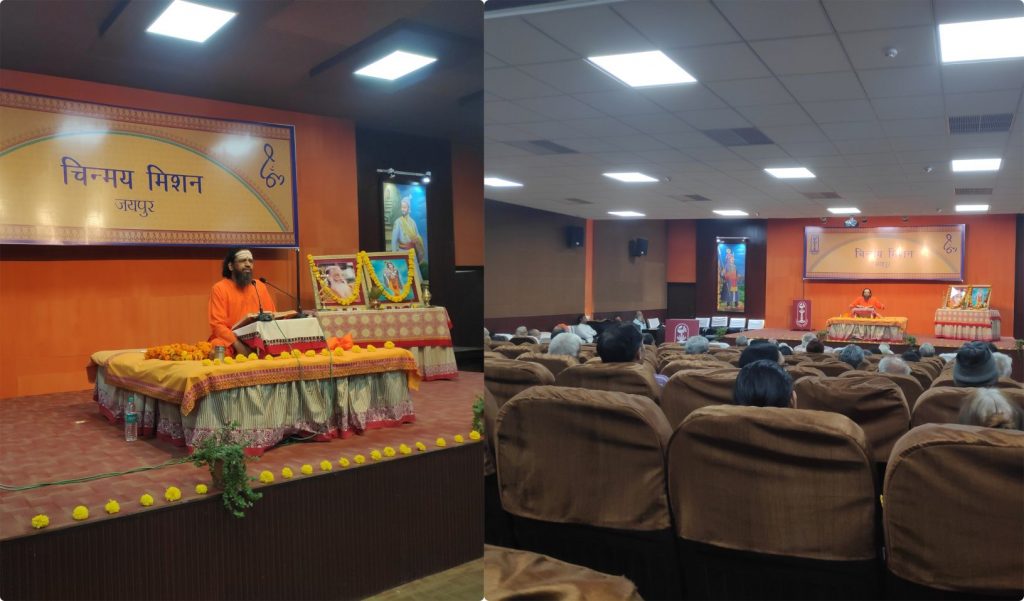 ---
Swami Siddheshananda attains Samadhi
Dated : 2019/12/09

---

Dear All,
Hari Om!
Swami Siddheshananda of Chinmaya Mission Pune, took final refuge at the feet of Pujya Gurudev, today, 9th December, 3:40 am, in the Maauli Ashram, at Pune.
An engineer by profession, Swami Siddheshananda's deep interest in Vedanta brought him to the portals of Sandeepany Sadhanalaya, Mumbai. An alumnus of the Vedanta Course Batch,1998 – 2000, he was given Brahmachari Deeksha in 2000. Posted to Chinmaya Mission Pune, from 2000, Swamiji worked with complete dedication, to spread Pujya Gurudev's message. He received Sannyasa Deeksha from Pujya Guruji, Swami Tejomayanandaji on Shivaratri Day of 2012.
Swami Siddheshananda's missionary zeal was instrumental in establishing Chinmaya Maauli and the Chinmaya Vitthal Rukmini Temple, in Pune. His contagious energy and enthusiasm inspired thousands to live the 'Gita Way of Life' and turned Pune into a vibrant Chinmaya Mission centre.
Known for his smiling demeanour and deep compassion, Swami Siddheshananda was always available to Mission members and devotees.
Our respectful homage to Swami Siddheshananda.
At His Feet,
Swami Swaroopananda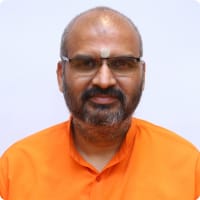 ---
Tulasi Vivah at ParamDham
Dated : 2019/11/08

---

The two day divine wedding celebration of Lord Shri Krishna and Shri Vrunda Devi at ParamDham was full of grandeur, devotion, and bliss.
On 7th November, on the eve of the holy wedding, Chinmaya Swaranjali members organised a Sangeet Sandhya and sang various wedding songs for Lord Shri Krishna who was in the form of the divine groom and mother Tulasi as His bride. As a part of the Sangeet Sandhya, ceremonies like Haldi (nourishing beauty bath with turmeric) and Mameru (a ritual to offer gifts of love) were also performed. As known by all, any celebration in Gujarat is incomplete without Garba, which was thoroughly enjoyed by all.
On the evening of 8th November, devotees dressed up in their wedding finery, thronged the temple to witness the auspicious wedding ceremony of Tulasi Vivah. The baarat (Groom's procession) led by the yajamaans from the groom's side commenced with music and dance, and reached the main temple as the yajamaans from the bride's side welcomed the Lord with Purna Kumbha. Wedding rituals accompanied by Vedic chanting and singing were followed by Shodashopachara Puja of the Divine couple and Bidaai samaroha (sending off of the newly married couple) into the sanctum sanctorum of the temple.  All the devotees carried the divine couple in their hearts as they proceeded for Preeti Bhojan (Dinner of love).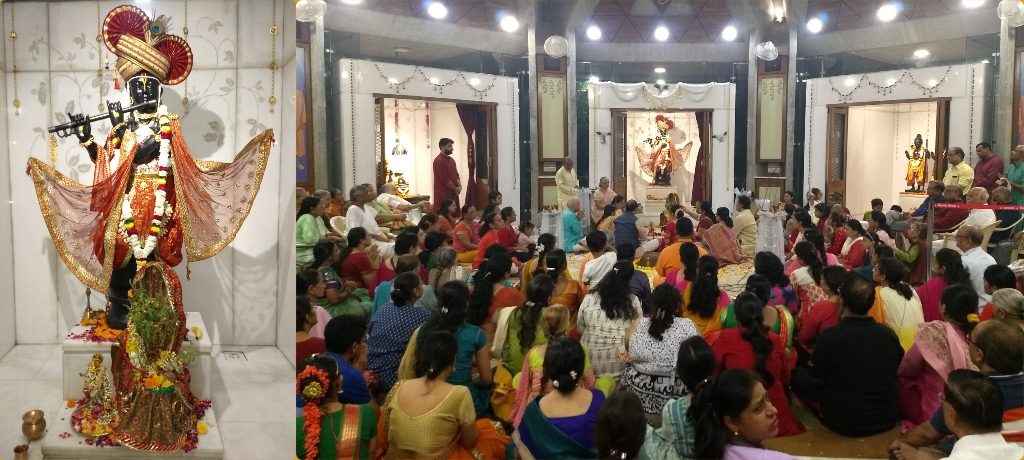 ---
Deepavali celebration By CM Sri Perumbudur
Dated : 2019/11/27

---

Deepavali celebration in our Govt. Hospital. "SERVICE TO THE PEOPLE IS SERVICE TO THE LORD OF LORDS". Collected fruits and biscuits from friends and others and provided as Deepavali gift to the patients. Gave amman photo and kumkum Prasad to them. They felt so happy.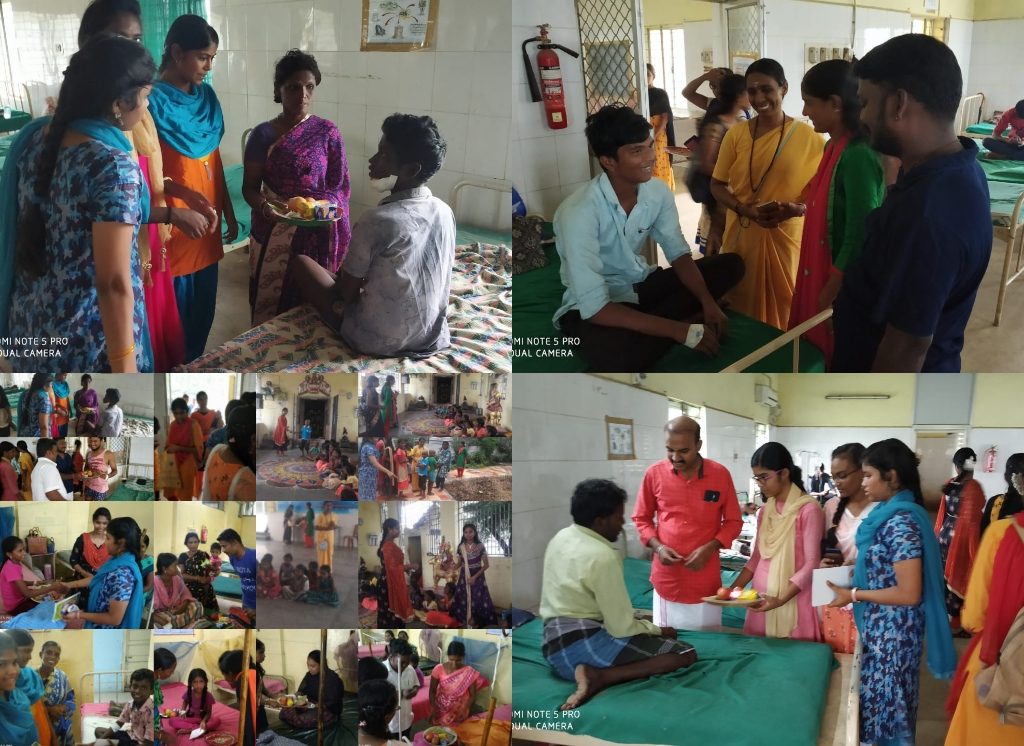 ---
Convocation 12th Vedanta Course Sidhbari
Dated : 2019/11/08

---

The 12th Vedanta Course at Sandeepany Himalayas, Sidhbari from 2017-2019 was successfully completed, on the auspicious Ekadashi day, 8th Nov 2019, under the Resident Acharya, Brahmachari Visharad Chaitanya.
In the august presence of Pujya Guruji Swami Tejomayananda, and Swami Subodhananda, the students received their initiation at the Brahmacharya Deeksha Ceremony.
It gives me great joy to announce their new names below:
Students' Old Name                      New Name
Brahmacharinis
Anita                                 Brni. Kalindee Chaitanya
Ritu                                   Brni. Shambhavee Chaitanya
Brahmacharis
Ravi                                   Br. Anshuman Chaitanya
Manoj                                Br. Ashutosh Chaitanya
Yogesh                              Br. Pundareek Chaitanya
Rasananda                       Br. Aniket Chaitanya
Suyodhan                         Br. Niranjan Chaitanya
Vaishnava Das                  Br. Nandan Chaitanya
Photographs of the students of the 12th Vedanta Course are attached.
May the grace of God and the blessings of our entire Guru Parampara be with them, on their path to the ultimate goal of Self-realisation.  May their selfless, dedicated seva offered at the holy feet of Pujya Gurudev, benefit us all.

---
CHYK Retreat at Ann Arbor
Dated : 2019/11/04

---

Many CHYK's studied Chapter 4 of the Kenopanishad during this year's Ann Arbor CHYK retreat. Retreat-goers learned how to become the Greatest of all Time (G.O.A.T.) by recognizing the infinite within each person, leading one to the Lord, and thus becoming the GOAT. Over the course of 3 days and 4 discourses, Shri Vivekji taught the attendees 9 key actions to help them understand what they can do to get on the path to being Great. These actions were derived from the 9 mantras in Chapter 4 of the Keno Upanishad and are as follows: appreciate, expand, concentrate, internalize, feel, simplify, subjectify, mature, and trust. Those present enjoyed several team activities, lively discussions, and practical applications of the Upanishads to everyday life. The lessons from the Upanishads were integrated into many of the activities of the retreat. While participating in a cooking workshop, groups were tasked to concentrate on their assigned recipes from the new Traditions cookbook and work with teams, while simultaneously chanting. During an escape room team challenge, the groups had to simplify the challenges and hints as they found a way to escape. As teams headed outdoors to play soccer and handball, they had to trust in each other. Most importantly, the participants learned from Vivekji to mature from being Searchers to Seekers; to not just blindly look for information, but to actively seek knowledge from great texts, such as Kenopanishad.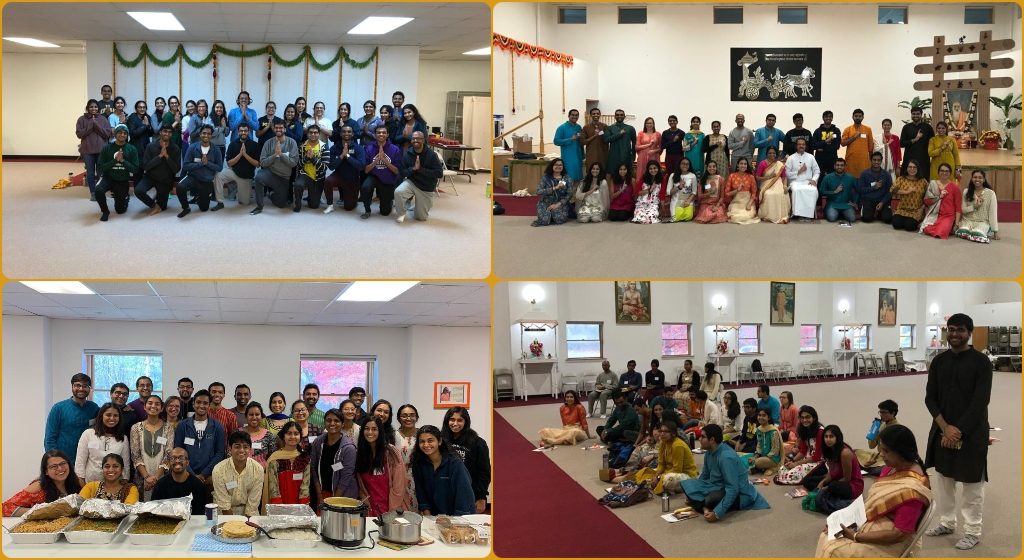 ---
Swami Swaroopanandaji visit to Kadapa
Dated : 2019/11/10

---

Pujya Swami Swaroopanandaji has visited Kadapa for the first time from 10th to 12th Nov.2019. On this occasion Chinmaya Mission Kadapa organised 'Karteeka Deepotsavam', a mega cultural & spiritual event in the Municipal Ground of Kadapa everyday from 6:00 – 9:00pm. The entire venue was decorated beautifully with elaborate arrangements for the grand Deepotsavam to which around 4000 people attended everyday. The stage and the Himalayan backdrop was prepared by the special skilled workers from Kolkata and special lighting was brought from Hyderabad. First day Pujya Swamiji was welcomed with Purna Kumbha along with the music of auspicious instruments by many devotees, Swamins & Brahmacharins of A.P & Telangana. Everyday after the cultural programme, Pujya Swamiji spoke on 'Maha Mrutyunjaya Mantra' followed by the grand Depotsavam programme in which thousands of people lit thousands of lamps. Last day on 'Karteeka Poornima', Pujya Swamiji witnessed the Kalyanotsavam of Lord Siva & Parvati.
At Sri Lalita panchayatana Temple which is the biggest Temple of our Chinmaya Mission, Pujya Swamiji addressed balavihar kids & children from various schools of Kadapa on first  day on the topic 'learning with joy', second day addressed youth on the topic 'How to face challenges of life,  and third day addressed Study group & Devi group members on the topic 'glory of Satsang'. Swamiji also participated in 'Maha Poornahuti' of Chandi Havan on full moon day.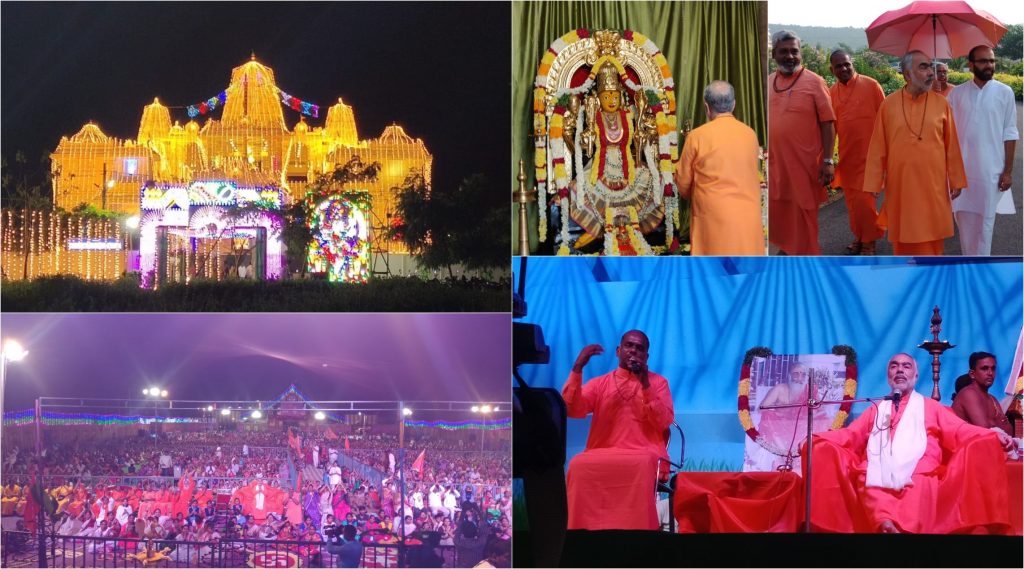 ---
Taking Time Out to Win the Mind & Win the World
Dated : 2019/11/05

---

Take Time Off – The musings of a converted skeptic
It's not everyday that one takes a giant leap of faith and plunges into the depths of the unknown. It takes courage and perhaps discrimination to perceive a gap in one's understanding of Vedanta and its ocean of knowledge. This unfortunately continues to remain an enigma to most in the world; and more so amongst some of us pseudo Indians who so easily gravitate to cultural influences of the western world and fail to look within at this vast repository of knowledge at our doorstep.
At the recent retreat held at the uniquely serene settings of Chinmaya Vibhooti; cradled within an expansive valley surrounded by nature (Kolwan) and solitude; Global Head of Chinmaya Mission Pujya Swami Swaroopananda hosted a 3.5 day camp on the Vibhishana Gita; a guide to understanding the virtues that make us a complete and resolute human being in any setting. The retreat took place from 1 to 4 November 2019 and was attended by 130 adults and 15 children.
'Take Time Off' turned out to be an antonym of sorts with a schedule rivalling our daily lives especially for us who come from a corporate setting; however what was uniquely surprising that making the choice to stay disconnected from our digital obsessions was hardly missed. The programme seamlessly blended guided meditation sessions, discourses, nature walks, musical evenings with Smt. Pramodini Rao, stargazing with Chinmaya Vibhooti's brand new telescope, and many impromptu interactions with Pujya Swamiji, exemplifying the overall experience for us all. One such interaction was the group activity at the amazing Swanubhooti Vatika which helped enunciate the key teachings of the Vibhishana Gita.
The future vision of Pujya Guruji Tejomayananda in creating Chinmaya Vibhooti and the award winning Swanubhooti Vatika, a reflective paradise (a splendorous botanical garden in verdant surroundings) seeded with pearls of wisdom for any seeker. Such creations reinforce Chinmaya Mission's effort in not only spreading this 'jyot' (light) of knowledge with the world but also creating hallmarks of excellence for society.
To encapsulate an experience in a few paragraphs doesn't do justice to all the learnings, interactions, shared moments and importantly the connect with our scriptures which enables a better You and Me on this journey of life.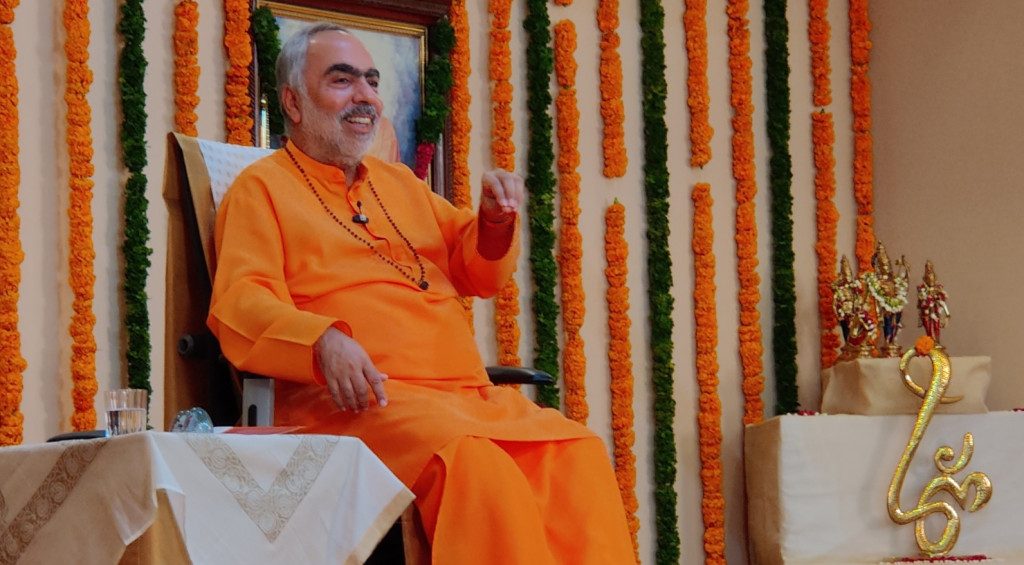 Events like 'Take Time Off' are a must do for anyone, from any sphere or stage of life; to reconnect with our inner selves… to tune in to the higher and more so at a destination like Chinmaya Vibhooti.
---
NO MORE DRAMA @ ParamDham
Dated : 2019/10/14

---

A beautiful psycho-spiritual one day workshop titled "No More Drama" was conducted by Dr. Leena Bahrani, a longstanding member of Chinmaya Mission and a leading psychiatrist from Mumbai on 12th and 13th of October 2019 at Paramdham, Chinmaya Mission Ahmedabad.
The workshop for ChYk and Setukaris (age group of 18 to 45 years) was focused on improving interpersonal relationship through synchronization of thoughts, feelings and behaviour i.e. our Body, Mind and Intellect. Spiritual concepts like 'Panchakosha' and 'Jagrat, Swapna and Sushupti avastha' were co-related with the concept in psychology. The workshop was focused on how one's psychological layer can be utilized to connect to one's deepest and subtlest spiritual layer.
Using role plays on various day-to-day situations of our life, the concepts related to different ego-states were explained. Simple exercises for self assessment of different personality types were also carried out. All the participants could see one's routine transactions from a totally different view point based on psychological and spiritual aspects. This made the knowledge of the "how the mind functions" directly utilizable in daily life.
Overall, it was a fulfilling experience for all as it made each one understand oneself better.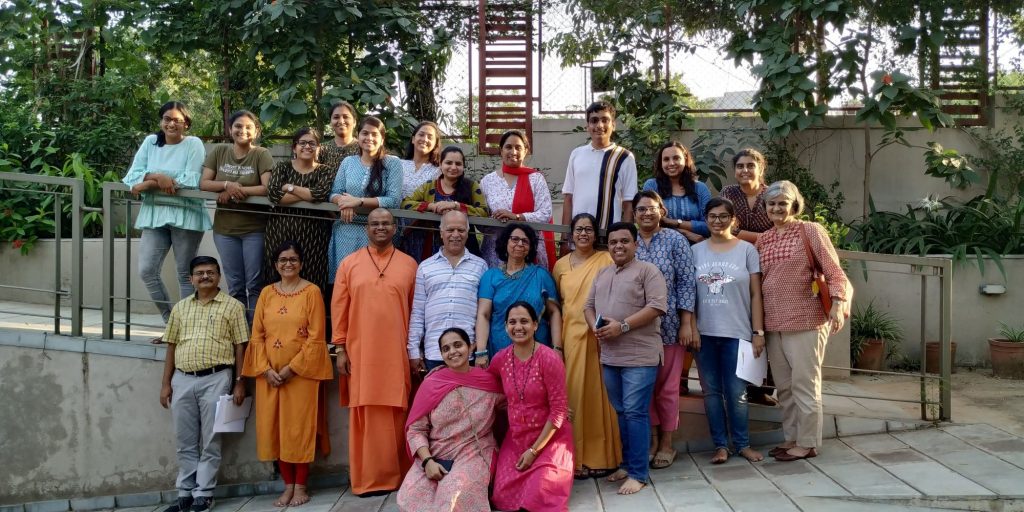 ---
7th Annual Divya Shakti Retreat
Dated : 2019/10/20

---

The 7th Annual Divya Shakti Retreat, held at Chinmaya Mission Orlando i n Florida, was deeplynourishing and i nsightful. Ninety women, thirty from other states, gathered for the three and a half day event from October 17-20, 2019. The theme of "Finding Your Path" i ncluded a balanced program of yoga asana, guided meditations, arts and games, and, most i mportantly, Vedanta discourses and workshops conducted by inspiring teachers Vilasiniji and Vivekji. Adi Shankaracarya's Shiva Manasa Puja was the retreat text. Both Vivekji and Vilasiniji expounded on this stotram i n practical ways. He explained how the offerings made during the puja ritual represent the virtues of the i deal which i s to be i nternalized. The key aspect of any action i s the feeling, or bhaava, supporting i t which makes that action efficient, effective and j oyful. Thus, when any action i s undertaken with the right bhaava, i t i s transformed i nto worship or puja, with Moksha, or Eternal Happiness, as the ultimate goal.
Vilasiniji used the stotram to guide the morning meditations and i nteractive workshops on finding a purpose and path i n l ife. She explained how paths vary, depending on temperaments and phases of life. Through discussions and small group sessions, she encouraged reflection of short-term and long-term goals, as well as the practices which could be undertaken to overcome obstacles along the way. In this fast-paced age of technology, self-inquiry is becoming a forgotten practice. This retreat helped the attendees realize the need to be intentional in thought as well as action. The overall atmosphere
which emerged during this retreat was conducive to spiritual reflection and evolution. Gratitude to the Guru parampara and our teachers.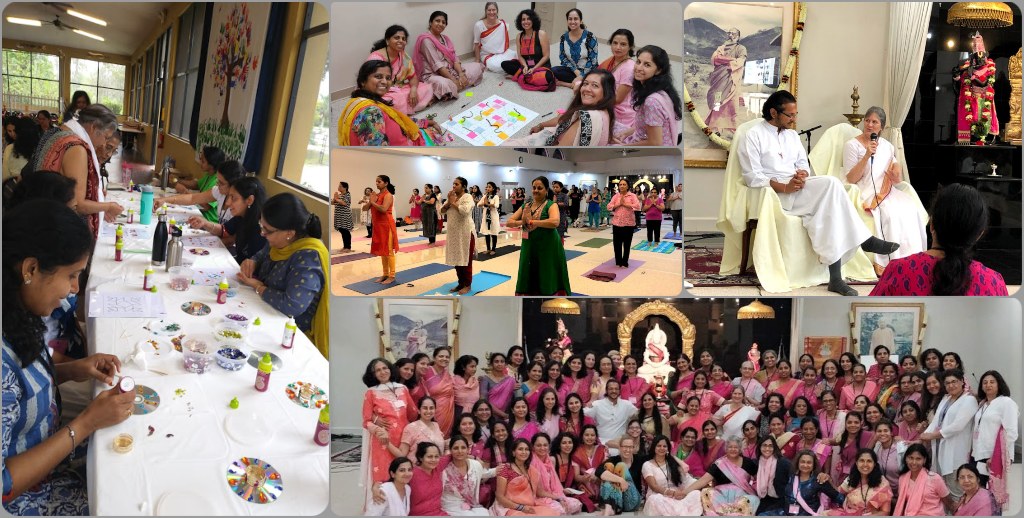 ---