News


To understand anything is to find in it something which is our own.
-Swami Chinmayananda
Archival News/Other News
Activities in Bengaluru during Sep 2019
Dated : 2019/10/01

---

Gita Jnana Yajna in Prashantanagar
Pujya Swami Adityananda of Mandya centre conducted a Gita Jnana Yajna in Kannada taking Bhagavad Gita for Daily Life at Sri Prasanna Ganapati Temple, Prashantanagar  from 18th to 24th Sep, 2019. The Yajna was inaugurated by Sri Purandhara Sharma, President of Chinmaya Mission.
Pujya Swamiji explained that it is important to imbibe the positive thoughts of our shastras in our daily life instead of blindly studying them. We should also cultivate the habit of thinking and analyzing which is the only way to bring a transformation in our attitude leading to mental development. We ought to realise that outer world can never give us peace of mind as it is our own true nature that is camouflaged by ignorance. This realisation that we do not belong to the body is possible only through Satsang, study of scriptures, grace of the Lord and blessings of Guru.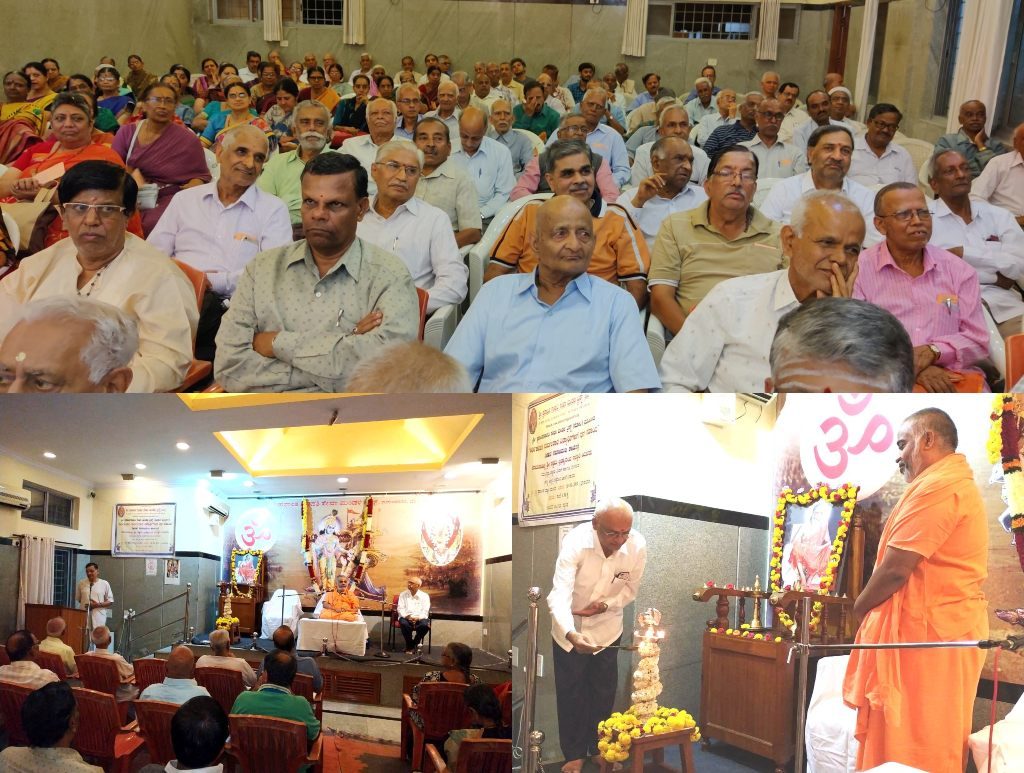 The Yajna was a grand success with participation of several sadhaks.
Jnana Yajna in Rajajinagar
Pujya Swami Krutatmananda conducted a Jnana Yajna in Kannada taking Bhagawan Adi Shankara's Sadhana Panchakam at Sri Sai College for Women, Rajajinagar from 22nd to 28th Sep, 2019. The Yajna was inaugurated by Sri R Anand, Chairman of Sri Sai Mandir Trust.
Pujya Swamiji explained how Adi Shankara has in a scientific and methodical way given out forty simple steps for evolvement in Brahmacharya, Grihasta, Vanaprastha and Sanyasa Ashrams through Sadhana Panchakam. The essence is to conquer the desire of the senses and work selflessly surrendering to a higher altar when positive thoughts blossom through purity of mind and concentration. It leads to avoiding of unnecessary talk and arguments resulting in transcending the dualities and total annihilation of Ego & understanding the truth of the one Reality beyond which nothing else exists.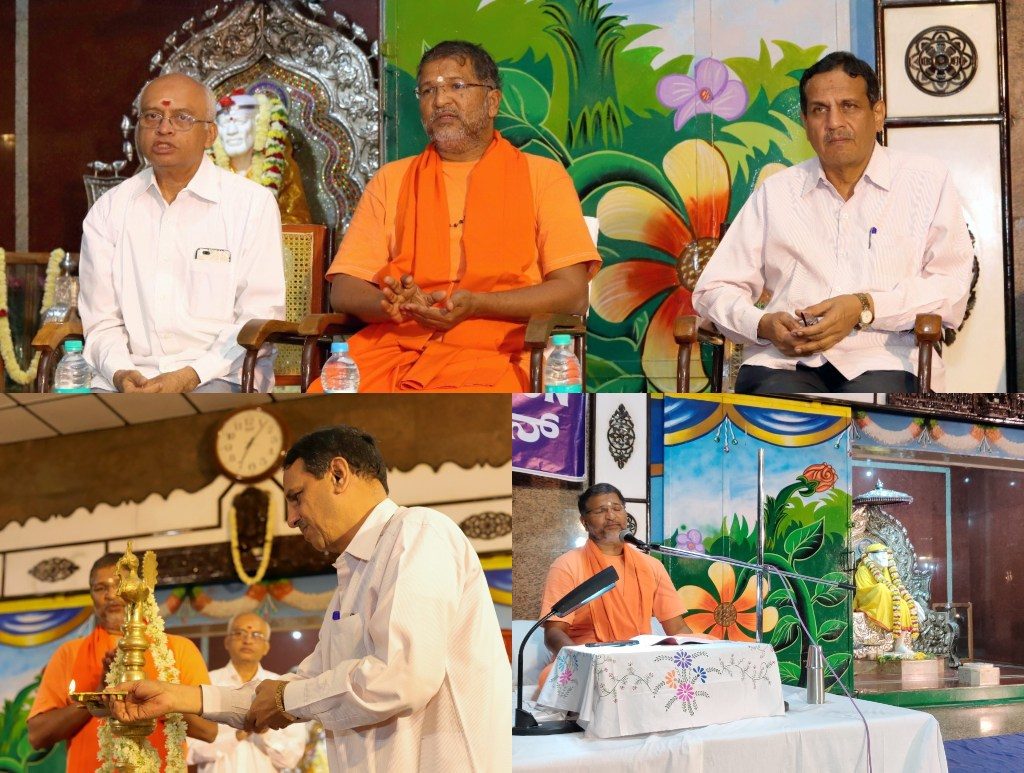 The Yajna was well attended.
SATSANG IN SRIPAADAKSHETRA
Pujya Swami Brahmananda conducted a special Satsang in Sripaadakshetra, J P Nagar on 29th September, 2019 for all study group members answering their queries on various topics. He stressed on following Pujya Gurudev's popular quote, "I have to improve upon myself". Chinmaya Mission is built on the strong foundation with its roots in every house of members where Balavihars, Study and Devi group classes are conducted. Study of scriptures makes us discover our real nature just as a mirror making us realise the Truth as it is. The outer world of plurality is just what we perceive due to ignorance and disturbance of the mind. It is only a calm mind that will have the ability to grasp the reality aided by a well trained intellect. It is important to understand the fact that the light enlivening all the three states of waking, dream and sleep as witness is one and the same.
Earlier Sri Narender Paul, Chief Operating Officer of CORD gave a wonderful presentation of activities in Chinmaya Organisation for Rural Development highlighting the birth, growth and development of rural activities undertaken in several places across the country especially in the field of women development, empowerment and rehabilitation.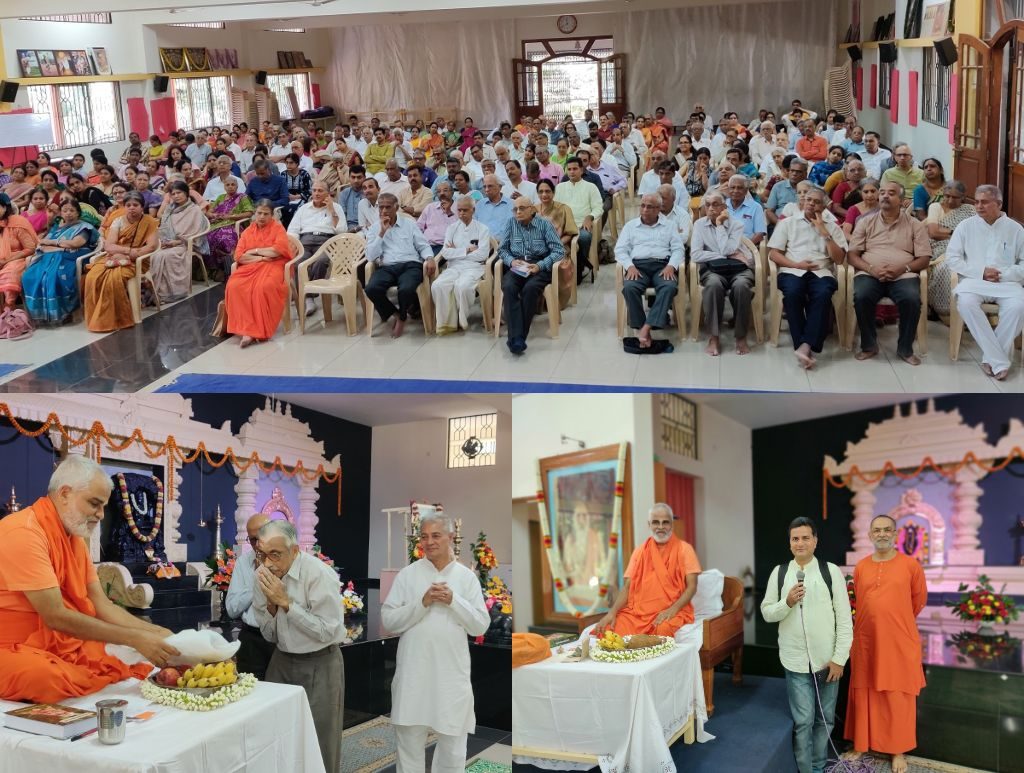 The Satsang was attended by Mission members from all parts of the city.
Annual Balavihar Bhajan Competition
The Annual Bhajan Competition was held on 8th Sep, 2019 in the holy presence of Pujya Swami Brahmananda at Sripaadakshetra, J P Nagar. Twenty two teams from different parts of the city participated taking the audience to heights of devotion by their renderings of bhajans selected from the popular CD Jeevakusuma of Pujya Swami Brahmananda in supreme bhakti bhava. Pujya Swamini Samatananda gave away the prizes to the winners.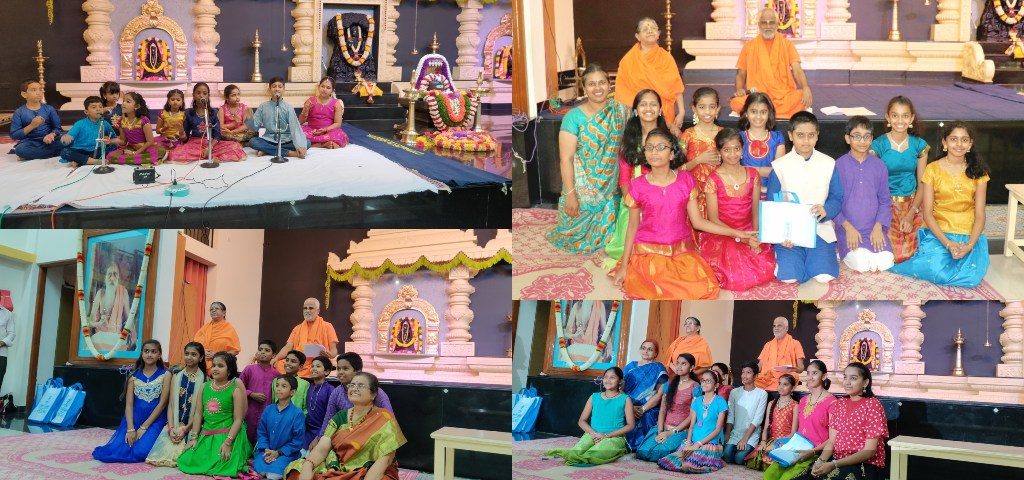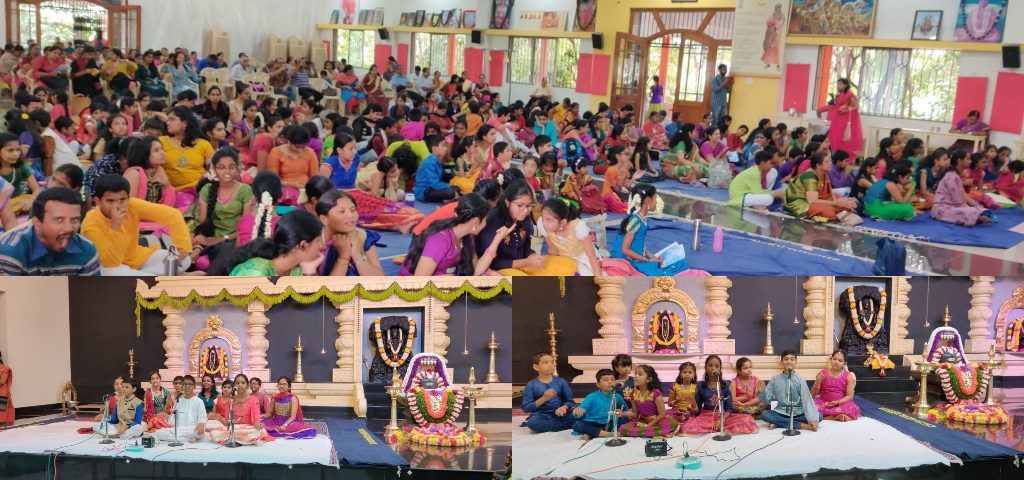 ---
Fun and Inspiring Youth Camp at Chinmaya Mission Boston
Dated : 2019/08/17

---

            Chinmaya Mission Boston successfully concluded a Youth Camp (JCHYK) titled 3D Living. The goal of the camp was to tap into the endless potential of our youth (rising 9th to 1st year college). Our youth can feel stress because their activities do not have direction. Introducing them to the divine and showing them direction will help them live up to their god-given potential and succeed in all walks of life. 3D Living – Dedication, Direction, Devotion was led by Vivekji, Shankarji and Shashiji and was held at the Chinmaya Mission Boston, Andover, MA  Aug. 12 – Aug. 16th 2019.
           The camp was based on 4 shlokas from the Bhagavad Gita, Chapter 12. The youngsters played games, participated in workshops, had group discussions and did seva while memorizing the four shlokas. It was amazing to see the joy in the faces of the children as they played soccer every day and visited Boda Borg, Boston where they were challenged with multiple mental or physical quests and had to learn to collaborate and work in teams. After the camp a young person felt "we all must incorporate God into our lives. God is neither a being nor a physical idol and we can find God all things, alive or non alive, black or white, poor or rich".
              Another said "the very modern attitude of Vivekji and Shankarji while teaching and making the material relate to situations in life" and "I set myself to dedicate my focus and time on the truly important things to me". Inspiring quotes like these validate Chinmaya Mission's mission of bringing maximum happiness to one and all. Helping the youth become confident individuals who do the right thing while achieving success in life is goal of this yearly weeklong volunteer run program at Chinmaya Mission Boston.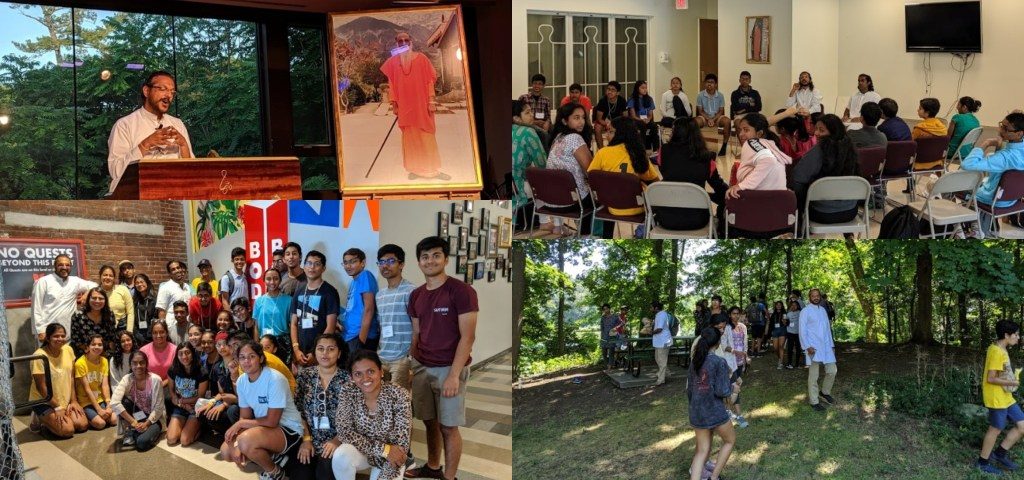 ---
Activities in Bengaluru during Aug 2019
Dated : 2019/09/05

---

Gita Jnana Yajna in Jayanagar
Pujya Swami Adityananda of Mandya centre conducted a Gita Jnana Yajna in Kannada taking Bhagavad Gita Chapter 16 at Sri Jayarama Seva Mandali, Jayanagar  from 26th  to 30th Aug, 2019. The Yajna was inaugurated by Sri R N Swami, President of Sri Jayarama Seva Mandali.
Pujya Swamiji explained that only when we learn to appreciate the vision of oneness in creation all negativities, duality and erroneous assumptions vanish giving rise to positive and constructive thoughts. It is necessary to accept our weakness and live harmoniously in society which is only way to calm the mind reveling in the inner silence and permanent joy. Desire by itself is not a weakness but there should be clarity in what we aspire that is beneficial to society and at the same time do not cause disturbance in our mind.
The Yajna was a grand success with participation of several sadhaks.
Sri Krishna Janmashtami in Indiranagar
Krishna Janmashtami was celebrated with great religious fervor on Friday, 23rd August, 2019. The actual celebrations commenced from 16th August, 2019 with daily morning abhisheka and archana followed by evening archana, bhajans and Aarati till 22nd August, 2019. On Friday, 23rd August, the day started with abhisheka in the morning followed by Gita chanting and Vishnu Homa. The grand flower bedecked chariot procession in the evening spearheaded by Pujya Swami Brahmananda was the highlight of the day. Continuous bhajans and devotional rendering by well known groups gave a divine atmosphere to the entire complex which was given a festive look by wonderful floral decoration. The day ended with midnight abhisheka, alankara and Aarati. Thousands of devotees from all parts of the city visited the temple daily to have darshan of the Lord and received blessings Pujya Swami Brahmananda.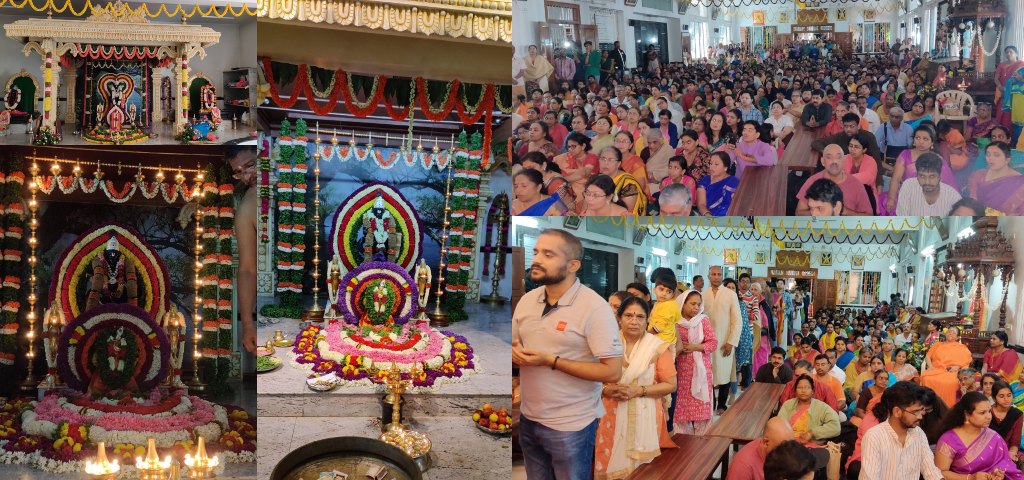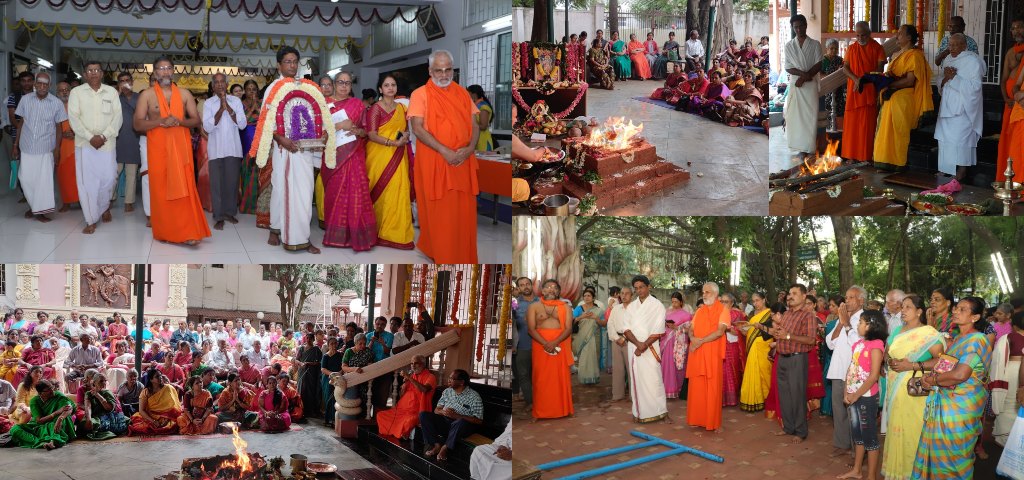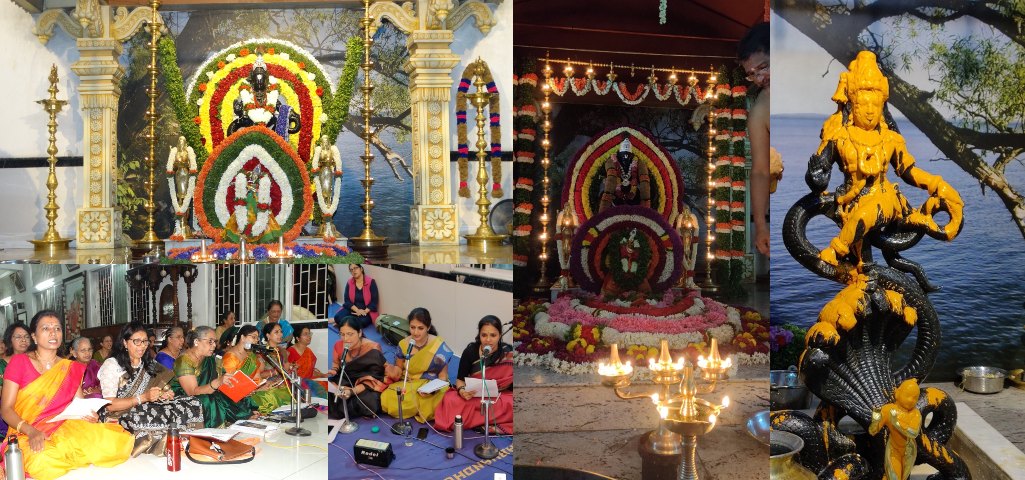 Shravana Masa Satsang in Sripaadakshetra
Pujya Swami Brahmananda conducted a special Satsang in Sripaadakshetra, J P Nagar on Sunday, 18th August, 2019 during the auspicious month of Shravana. The programme commenced with Rudrabhisheka and Bhajans by Devi Group members followed by Pujya Swamiji's Satsang where he laid stress on the message of Bhagavad Geeta to keep the mind calm amidst all ups and downs in life. It is very important to control the senses that have tendency to run after the outer world with the help of a disciplined mind governed by right thinking intellect. Likes and dislikes are the biggest weakness that lead to an individual's downfall. But it is the wise who are able to rise and learn from their mistakes to continue their sadhana and reach the ultimate Truth. Study of the Bhagavad Geeta enables the individual to confront life with a smile maintaining a serene mind surrendering completely to the Lord looking at all happenings as His will. This leads to an integrated personality where all desires vanish and the sadhak is able to revel in his inner peace and tranquility.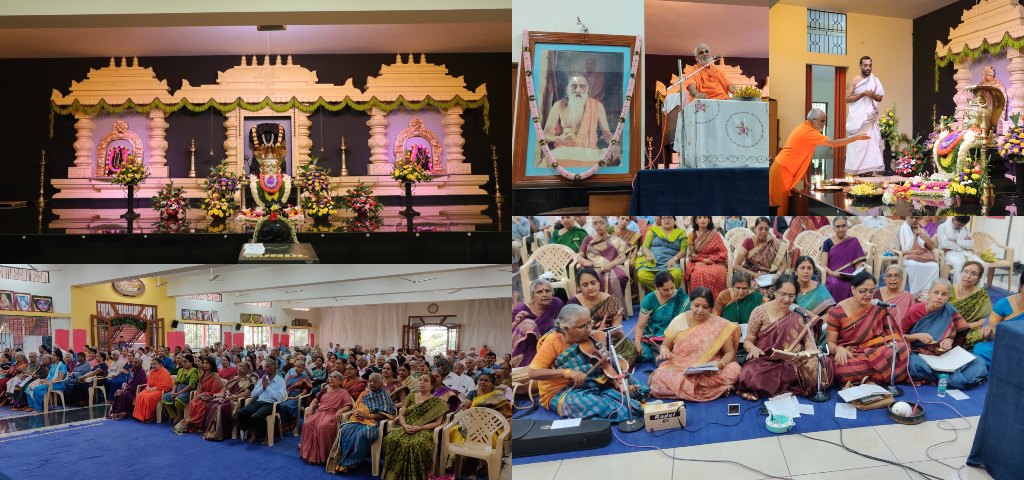 Sadhaks from all over the city participated making the Satsang a success.
---
Activities in Bengaluru during July 2019
Dated : 2019/08/04

---

Jnana Yajna in Vijayanagar
Pujya Swami Brahmananda conducted a Jnana Yajna in Kannada taking Narada Bhakti Sutra  at Bunts Sangha, Vijayanagar  from 15th  to 21stJul, 2019. The Yajna was inaugurated by Sri Bhojaraja Shetty, Vice President of Bunts Sangha.
Pujya Swamiji explained that sage Narada has demonstrated the true meaning of devotion and how it can be practised in our daily life through simple sutras. Bhakti is perhaps the easiest way to purify the mind so that it can fix with single pointed attention on the Lord that will help in losing body consciousness paving way for realising the ultimate Truth. All dualities vanish with the realisation that the entire universe is enlivened by the same Self that illumines the sadhak. This paves way to understand that true peace is not in the outer world but our own inner nature. Namasmarana is the single time tested path that removes all Ego and frees the sadhak from bondage.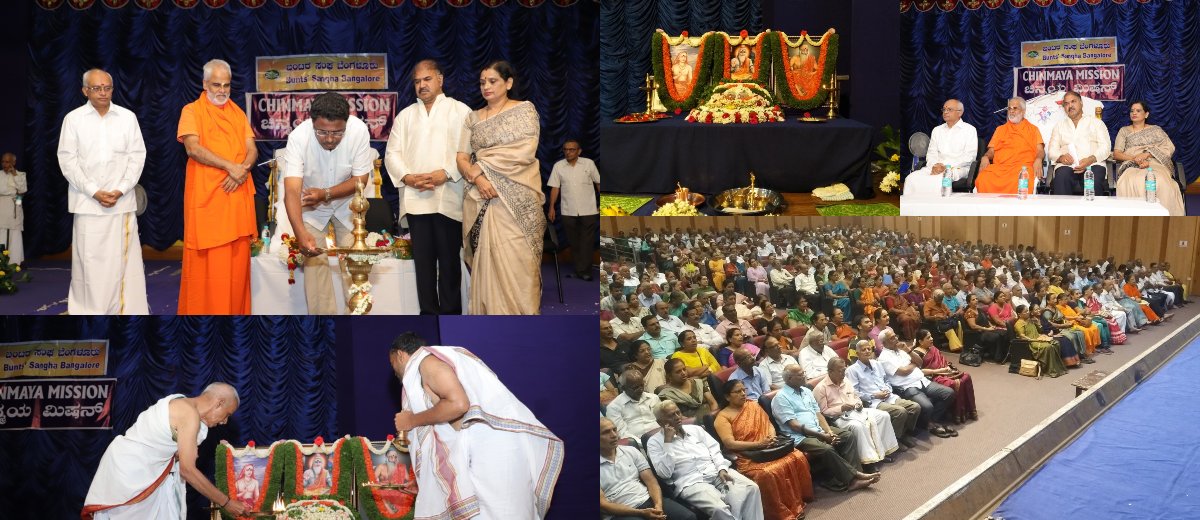 The Yajna was a grand success with participation of several sadhaks.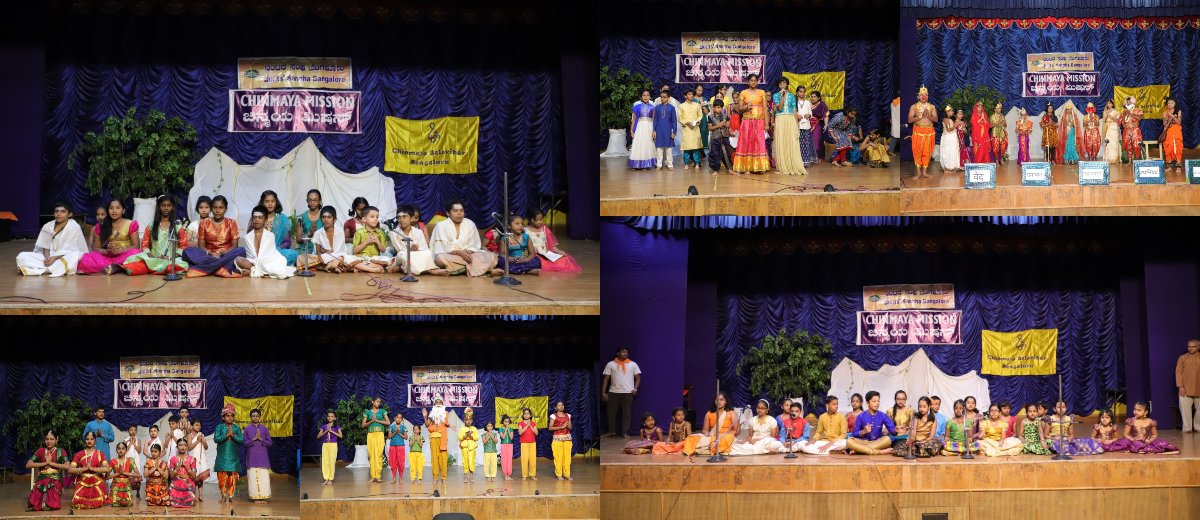 Guru Poornima was observed on 21st July with the Balavihar children showcasing a special programme on Guru Parampara covering the entire linage from Lord Dakshinamurthy to Pujya Gurudev followed by Vyasa Ashttottara and Guru Paduka Puja.
Aradhana Yajna in Indiranagar
Pujya Gurudev Swami Chinmayananda's  27th Aradhana was observed through Geeta Jnana Yajna in English on Bhagavad Geeta Chapter – 5 by Pujya Swami Gahanananda of Tumkur centre from 28th Jul to 3rd Aug, 2019 at Deenabandhu Temple, Indiranagar.  The Yajna was inaugurated by Smt Nirmala Menon, senior member of the Mission.
Pujya Swamiji explained that the Bhagavad Geeta is a handbook indicating how to lead a noble and peaceful life without running away from duties and external situations. All confusion and sorrow in life is due to not knowing our true nature which is a source of infinite joy. A realised person has the firm knowledge that all actions are performed by the inert body in the light of the same universal Self enlivening the entire world that actually is not involved in any action. Self knowledge will help in dissolving all fear, attachment, delusion, hatred and anger paving way for an integrated personality full of noble qualities like love, compassion, detachment and forgiveness when he sees the Lord as his best friend guiding safely through the rough sea of life.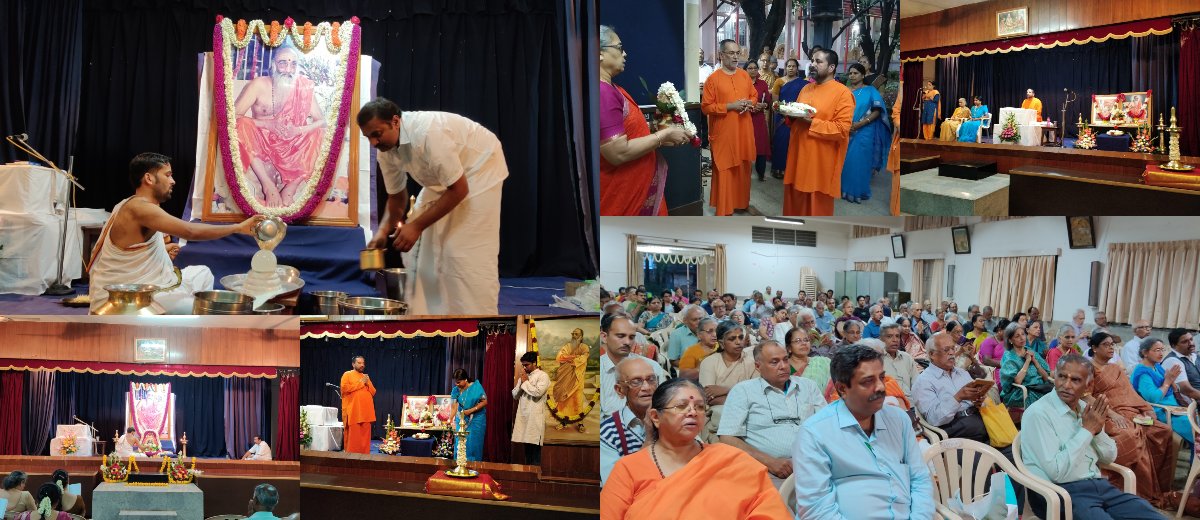 The Yajna was a grand success with a number of devotees getting their doubts cleared from Pujya Swamiji. Gurudev's Aradhana was observed on the last day of the Yajna – 3rd August, 2019 through Bhajans, Rudrabhisheka, Paduka Puja and Aarati.
Guru Poornima Celebrations in J P Nagar
Guru Poornima was celebrated in Sripaadakshetra, J P Nagar from 7th to 14th July, 2019 with various programmes daily consisting of daylong Guru Charitre Parayana followed by evening Bhajans and Satsang by Pujya Swami Dattapadananda of Mysore centre on various saints.
Guru Poornima was observed on Sunday, 14th July, 2019 in the holy presence of Pujya Swami Brahmananda and other Swamijis. The programme commenced with soul stirring bhajans by Devi Group members followed by Vyasa Ashtottara, Paduka Puja and Satsang by Pujya Swami Brahmananda who paid glowing tributes to the Guru Parampara commencing from Lord Shiva as Dakshinamurthy, Bhagawan Veda Vyasa, Acharya Shankara and Pujya Gurudev Swami Chinmayananda. He stressed on the importance of seeking the Self knowledge which is the only means of transcending the body, mind and intellect to realise our true nature that is Sat Chit Ananda. Once we stand rooted in this knowledge all fear of birth and death vanishes enabling us to transact in the outer world without any attachment leading a meaningful life of peace and gratitude.
The programme was attended by hundreds of devotees from all parts of the city.
---
Elevate to Liberate Chinmaya Yuva Kendra (CHYK) Retreat
Dated : 2019/09/02

---

True happiness is a manifestation of infinite, unbridled joy and energy. The idea may seem unattainable, but a three-day summer CHYK retreat, "Elevate to Liberate," shed extraordinary light on the road to such happiness, purpose, and Vedanta. The retreat was held in Boston, MA, under the guidance of Shri Vivek (Niagara Falls), Shri Shankar (Pittsburgh), and Shrimati Shashi (Boston).
Minutes after the retreat began, everyone began cracking jokes and laughing like family. Such instant acceptance and kindness set the tone for the following days. During discourses,  Vivekji guided CHYKS through the poems of the poet Rumi, which focused on liberation. Finding Vedantic philosophy in the writings of a sufi scholar spoke volumes about the universality of spiritual truth. Rumi's beautiful self-reflections characterized the inner self as "shafts of light…always changing."
Later, Shankarji led discussions about how assumptions, personalities, and Vasanas filter human perception, hiding the truth. In addition, he emphasized the constant turmoil of the material world and the limitations of our senses in perceiving reality.
The next day, Shashiji recounted her journey from working as Lowell General Hospital's Head of Pathology to becoming the spiritual guide of Chinmaya Mission Boston. Afterwards, she shared endearing stories from her time with Gurudev, Swami Chinmayananda. Shashiji's expression held a lasting delight rarely found in the eyes of an elder, and her infectious enthusiasm for life spread to all.
During conversations with CHYKs, several people contemplated their sincere struggles trying to apply Vedanta. Afterward, engaging with the outdoors by kayaking and hiking was an opportunity to marvel at nature with fresh eyes.
Heartfelt thanks to all the teachers and organizers of the Chinmaya Mission Boston "Elevate to Liberate" CHYK Retreat. It was an experience that offered wisdom, clarity, and a path to peace for those with an open mind and an open heart.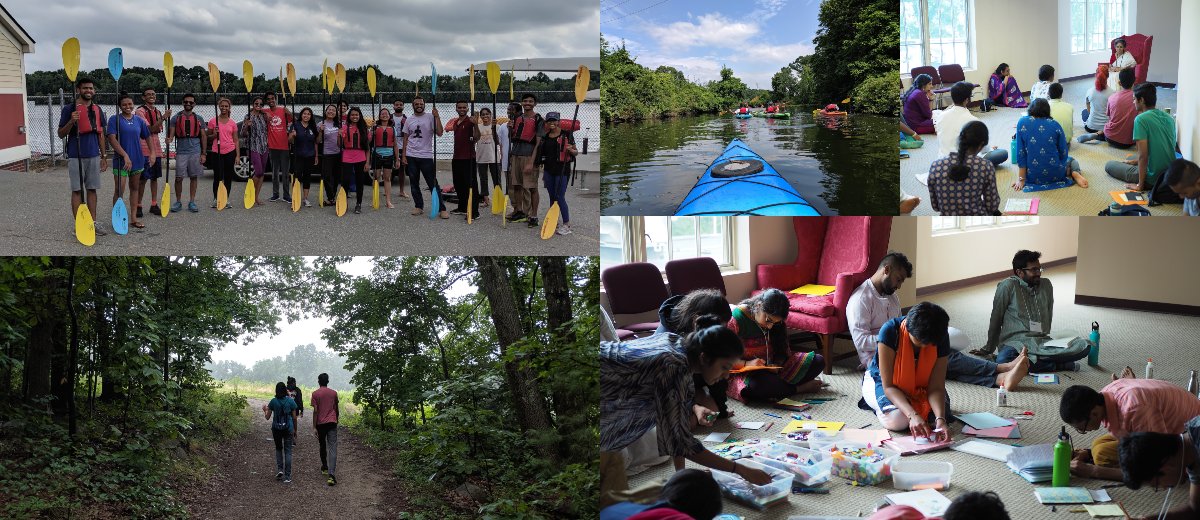 ---
Self Unfoldment Program at Chinmaya Mission South Africa
Dated : 2019/07/15

---

A unique 6-week Foundation Course of Vedanta, conducted by Swami Abhedanandaji at Chinmaya Mission Durban, from 1st June t0 15th July 2019.
The Chinmaya Mission of South Africa conducted a unique first-time-ever 6-week Foundation course in Vedanta called as the Self Unfoldment Program which provided a wonderful opportunity to all sincere seekers to go through an in-depth study of our scriptures, under the most able & inspiring guidance of Pujya Swami Abhedanandaji (Incharge of CMSA). This residential course was conducted from 1st June till 15th July 2019 and it attracted seekers from all walks of life and varied age groups.
Total of 24 seekers from South Africa and India had the blessed opportunity to delve into this life-transforming program as they studied the sacred texts such as Kathopanishad, Bhagavad Gita, Tulsi Ramayan and Valmiki Ramayana.
While thoroughly enjoying their stay at the serene ashram, the students drank the nectar of scriptural knowledge each day through each discourse of Swamiji. By 5.30 am each day, all students were seated in the temple and had the blessed darshan of the beautiful Lord Shiva in the sanctum sanctorum. This auspicious start was intensified by Rudri Chanting by Pujya Swamiji which set the divine course for the day ahead and continued till the evening Arti and Ramayana chanting.
Pujya Swamiji compassionately and effortlessly expounded on the profound text of the Kathopanishad. Whilst revealing the essence of each mantra, Pujya Swamiji revealed the answers to innumerable questions of the seekers. Each of the student's incorrect notions and insistences were broken down as Swamiji patiently repeated each important point till it was clearly understood by all seekers.
To further explore the new-found knowledge and to solidify the understanding, students engaged in group discussions which were conducted daily by the Brahmacharins. Chanting class was conducted by Br. Abhijit Chaitanya. Students who had no prior experience of Samskrit chanting were able to chant Guru Stotram, Medha Sukhtam, Gita Chapter 15 and many other stotras by the end of the course. Every Monday and Thursday, Gayatri Havan and Guru Paduka Puja was conducted.
Due to Pujya Swamiji's great vision of nurturing devoted and holistic seekers, the students had the great fortune of learning Samskrit. The advanced Samskrit class was conducted by Br. Abhijit Chaitanya and the beginners class was conducted by Ruchir Madaree. These classes provided the fundamental knowledge which enabled students to read and write in Samskrit and better understand our Vedantic texts.
After in-depth exploration and contemplation of the Kathopanishad, Pujya Swamiji focused on chapter 12 of the Bhagavad Gita and expounded on Upasana and the qualities of a Gyani-Bhakta.
The students were in awe of the tremendous depth of knowledge and compassion in Pujya Swamiji. The SUP course may have ended but Pujya Gurudev Swami Chinmayanandaji's vision will surely blossoms in these participants as they continue their journey with the glorious Movement of Chinmaya Mission!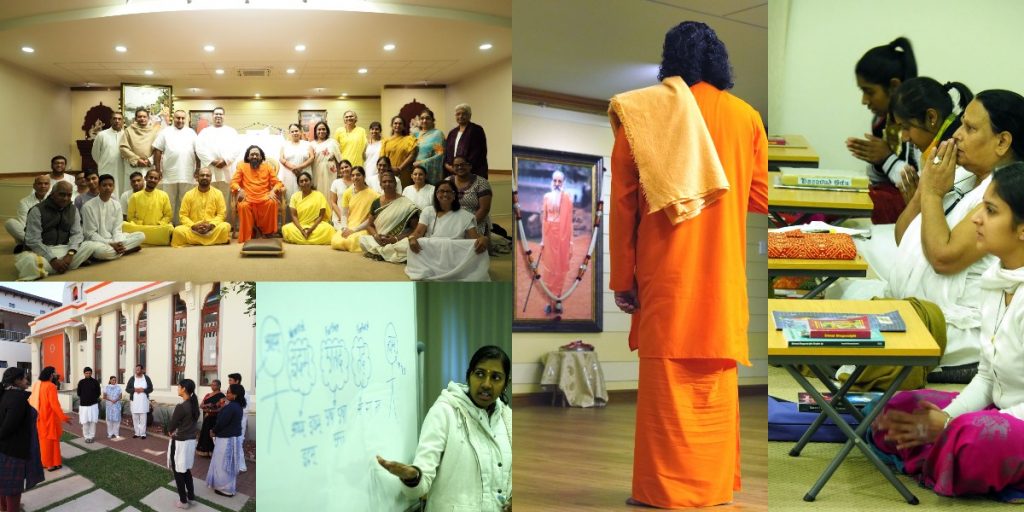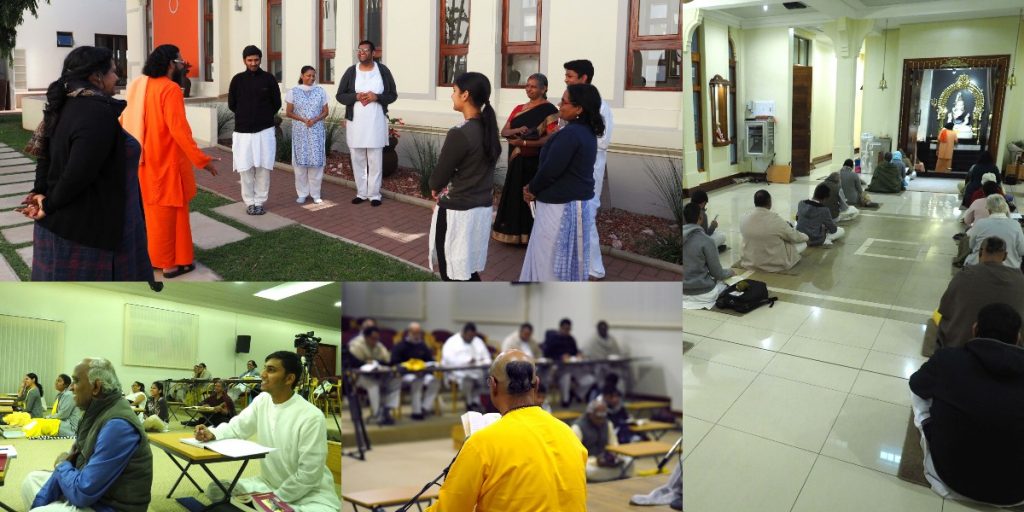 ---
Greetings From Chinmaya International Residential School !
Dated : 2019/08/27

---

I am delighted to share that CIRS has been promoted to No. 2 Rank in the country for the year 2019-20 under the category of 'Co-Ed Boarding School' in the Education World India School Rankings (EWISR). Last year we were in No. 4 position.
Education World ranks India's Top 1,000 schools under three main categories (day, boarding and international) across 14 parameters – teacher competence, academic reputation, leadership, infrastructure, parental involvement, life skills education, internationalism, special needs education etc. For the 2019-20 survey, the analysis was done by using 12,223 sample respondents which includes educators, principals, teachers, parents & students. Once the magazine is released, we will come to know about the details of the parameters and our scores in these.
I seek your blessings and support in all our endeavors.
With all reverence,
Rajeshwari.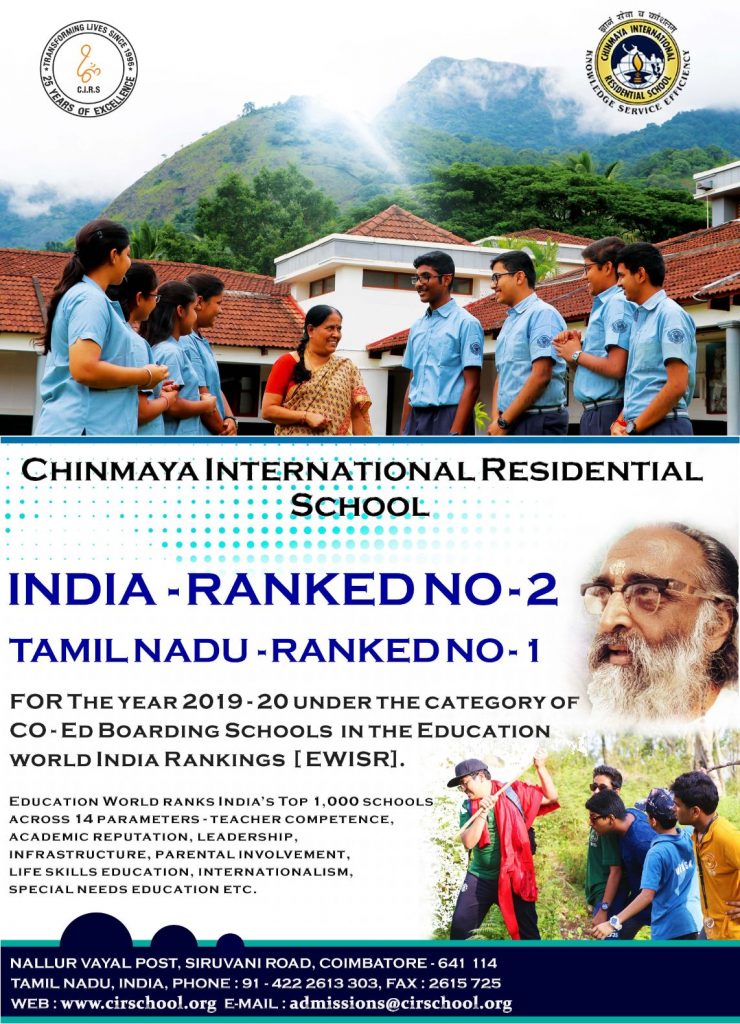 ---
Youth Camp 2019: "The Life Examined: From Asana to Attitude"
Dated : 2019/07/12

---

From July 8th-12th 2019, 84 high school students from seven states, gathered at Chinmaya Somnath (Chantilly, VA, USA) for the largest high school camp in Chinmaya Mission West. The camp's theme was "The Life Examined: From Asana to Attitude."
Through engaging exercises and discussions using Sri Patanjali's Yoga Sutras, Vivekji and Shankarji taught the students how to respond to challenges including social media use, comparison between peers, and high expectations. The students learned how to cultivate qualities of a pure mind while recognizing and overcoming impure qualities. From each chapter, the students received practical tools, which they applied during meals. For example, the students identified that carelessness stems from lack of motivation and directionless thoughts. In Chapter 3 of the Yoga Sutras, the students found that concentration can overcome carelessness; therefore, they practiced "unitasking" by eating their food with different senses blocked at mealtimes.
Further, the students engaged in painting and dance classes, through which they expressed their creativity. Many students' highlight was athletics with Vivekji.
They also performed seva by cleaning and preparing the Ashram for the Chinmaya Summer Immersion Camp. On Wednesday, the students travelled to Silver Spring, MD to serve at A Wider Circle. A Wider Circle helps people transitioning out of extreme poverty by providing household essentials and encouraging self-sufficiency. The campers helped organize household items, clothing, and children's items, followed by a field day at Arrowbrook Park.
Through the camp, the students learned how to use every moment in their lives as an opportunity to purify their minds.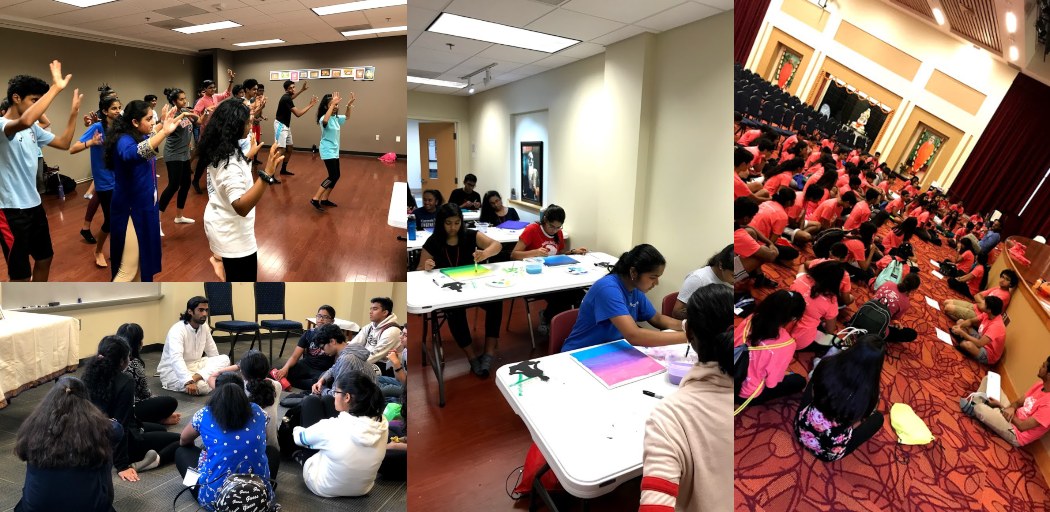 ---
Guru Purnima Celebrations at Chinmaya Centre of World Understanding (CCWU)
Dated : 2019/07/16

---

Gurupurnima – one of the most auspicious days in the life of a sadhak was celebrated on 16 July at  Chinmaya Mission  Delhi, with utmost love and gratitude to the Guru Parampara. The setting could not have been better – after a night of heavy rain the day dawned with a light  cloud cover and a gentle breeze.
The puja began with the blowing of the conch , ringing of the bell and ceremonial arrival of the Guru Padukas carried with great reverence by the yajaman A.T.Reghunath. Swami Prakarshananda began the puja with invocation to Lord Ganesh and chanting of Ganapathiathrvashrisha by Brni. Vrinda Chaitanya. After the abhishek Swamiji himself  did the alankara with so much love and care. Swamiji ensured that every little aspect, the vastra, the tikka , the mala was all perfect just as Gurudev would have wanted. The result was there for all to see. A resplendent Gurudev smiling at the devotees as aarti was performed by Swamini Gurupriyananda.
The celebration continued in the evening in the auditorium. A beautifully bedecked, multi-tiered altar  dedicated to the Guru Parampara awaited the devotees as they came in. Swami Prakarshananda commenced the puja singing one of Pujya Guruji's  bhakti-soaked compositions dedicated to Gurudev  Swami Chinmayananda. Swamiji advised that we too should live in remembrance of Gurudev who is ever available  within our hearts.
He then briefly explained the mahima of Veda Vyas Bhagavan who 'protected' the  Vedas  by systematically compiling them in four parts and then teaching one part each to four of his disciples. Thus, Veda Vyas ji ensured that the knowledge of the Vedas was protected  and available for future generations.   He was blessed by the Lord that his birthday would be celebrated as Guru Purnima.  Next in the advaita lineage, Swamiji paid rich tribute to Adi Shankaracharya whose commentaries bring  out the essence of Vedanta. The next to be venerated in the Guru Parampara that Chinmaya Mission follows is Swami Tapovan Maharaj, the jnana guru of our Gurudev and the very embodiment of sannyas.
After invoking their grace, Pujya Gurudev's paduka puja was performed with great devotion by the yajmans guided by Swami ji. The programmed concluded with Pujya Gurudev's aarti.  All the devotees got the opportunity to  pay homage to the glorious Guru Parampara. Mahaprasad awaited devotees in Tapovan Hall.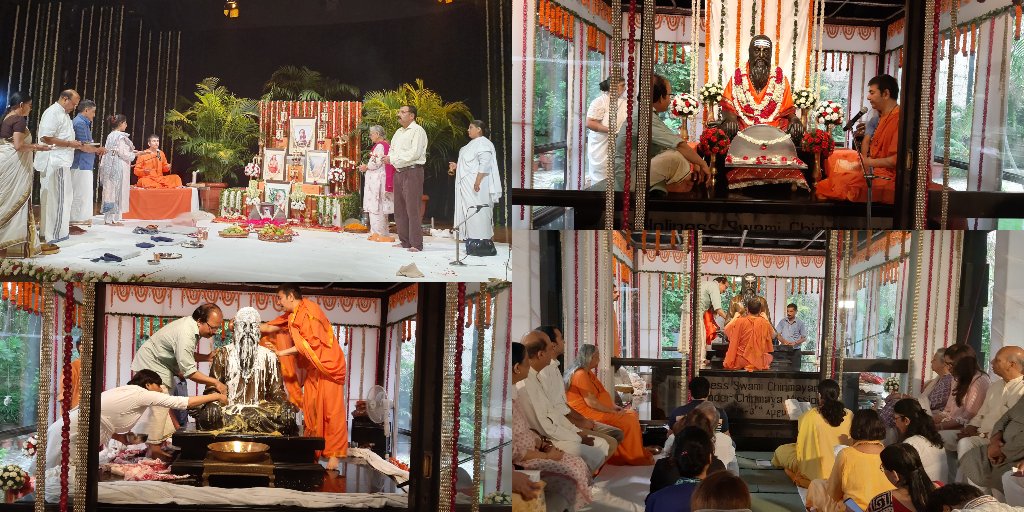 ---
Vedanta Retreat, a 3 day residential camp by Swami Prakarshananda
Dated : 2019/06/23

---

Vedanta Retreat, a 3 day residential camp by Swami Prakarshananda was held at Chinmaya Vibhootifrom 21-23 June 2019.The camp was to introduce new comers, mainly from Pune and nearby areas toChinmaya Mission and Vedanta. With attendance of over 80 people, almost all new comers, theweekend camp was a resounding success.
Each day began with a short meditation session which prepared the mind for receiving the knowledge.The text for the camp was Tattva Bodh. After explaining that Tattva means one and one alone and Bodhmeans -to know, Swamiji began by asking a fundamental question, what is goal of human life? Taking offfrom here Swamiji guided the listeners, first by explaining the four fold qualifications needed by aspiritual seeker then Swamiji went deep into the text and gave the campers a clear picture andintroduction to Vedanta. Jiva, Jagat, Eshwara, Maya, Atma the three kinds of Karma and other relevanttopics were all touched upon. Swamiji concluded by enlightening the participants on result of this Self-Knowledge which is summarized in the quotes of shrutis and smritis. The knower of the self, havingcrossed samsara, attains supreme bliss here itself and the shrutis confirm that he goes beyond all sorrow
Though the camp was short time was given for visits to Swanbhooti Vatika, Chinmaya Jeevan Darshanand a screening of "On a Quest" The arti at Maruti and Pranav Ganesh Mandir saw full attendance. Saidone of the participant "Swamijis bhajans in between the sessions reverberated in our hearts and in theashram."
All the participants had high praise for the Ashram and the way it is managed. They showed a lot ofenthusiasm and a desire to be remain connected with the Chinmaya Mission activities and requestedSwamiji to hold more such camps.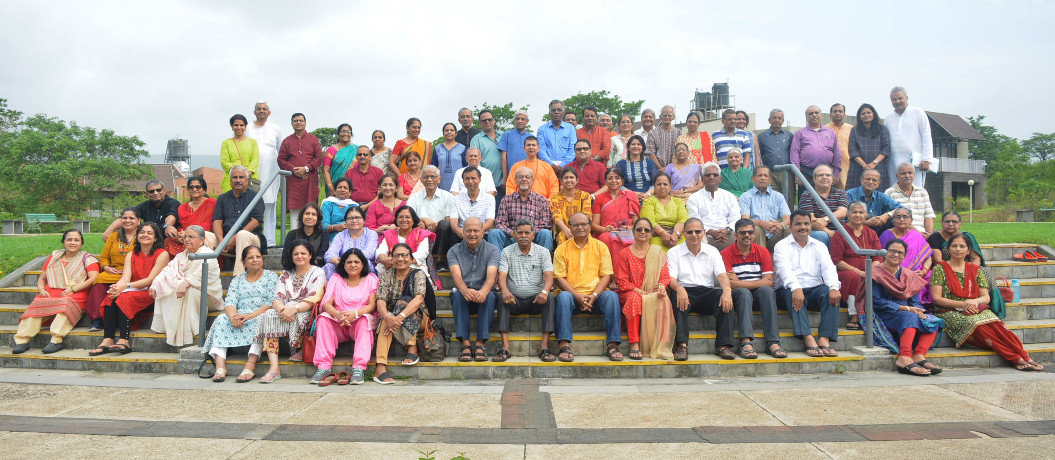 ---