News


To understand anything is to find in it something which is our own.
-Swami Chinmayananda
Archival News/Other News
Mahashivaratri Celebrations at Sandeepany Sadhanalaya
Dated : 2020/02/21

---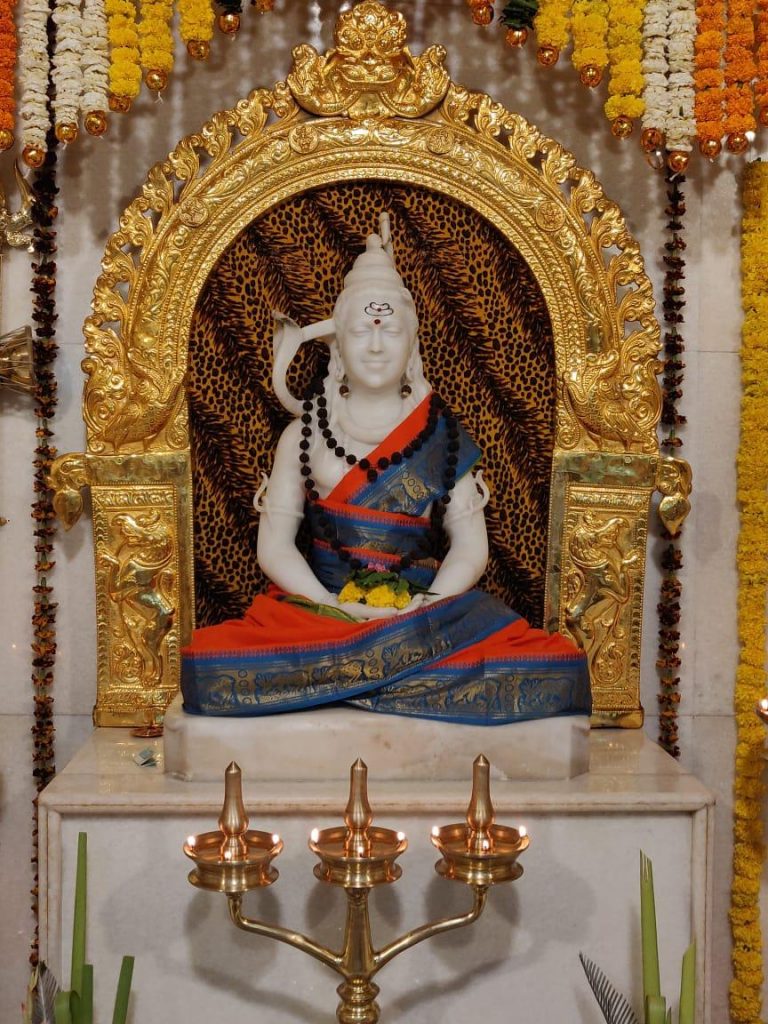 Mahashivaratri, Feb 21st 2020 at Lord Jagadeeshwara's pristine abode in Mumbai was a grand affair. The Lord shone bright and serene, clad in blue and orange as He sat smiling with love at all his devotees pouring in through the day 5:00 AM to 12:30 AM. Pujya Guruji Swami Tejomayananda and Pujya Swami Swaroopananda's divine presence only added to the devotional fervour that seemed to have gripped the Ashram on this day. As the Pujas and Abhishekas went on for Lord Jagadeeshwara, He was also kept entertained and happy by the Akhanda Om Namah Shivaaya chanting. Pujya Swamiji was amongst the first ones to begin the chanting before he proceeded to initiate 4 Brahmacharins to the order of Sannyasa. Many devotees kept the chanting going upto 12:00 AM with complete devotion.
CCMT's staff bustled about selling books and gift items to the large crowd, Sevaks untiringly distributed water to all devotees, CHYKs too had their stall, the day was filled with Nishkama Seva.
Pujya Guruji too played a silent compassionate role as he sold and signed many books and gifts. Special Pujas for the Lord commenced post 7:00 PM by Swami Sharadananda of Chinmaya International Foundation (CIF).
Amidst all this, it was certainly the Aarati at 6:30 PM and 12:00 AM that stole the show. As the lights were turned off, it was the Lord who shone with ethereal beauty as the light, the flame of life in all our hearts! For without Him, what really are we? At these moments, the hustling crowd fell completely silent, every mind absorbed in Jagadeeshwara's infinite love. The great day of Lord Shiva, of spiritual awakening, very aptly concluded with a glorious Shiv-Parvati Vivah – the union of Paramatma and Jivatma.
For more pictures visit link below –
---
Geeta GYan Yajna by Poojya Swami Subodhananda Ji at Jaipur.
Dated : 2020/02/09

---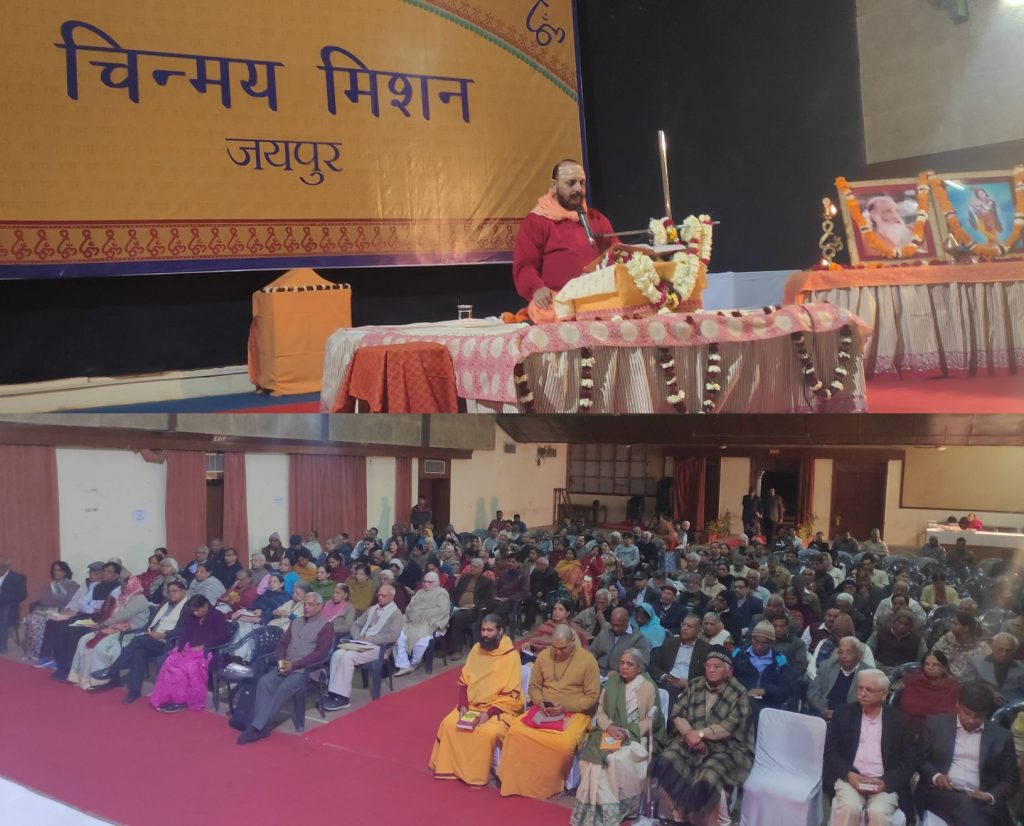 Chinmaya Mission Jaipur organized a seven-days Geeta Gyan Yajna by Poojya
Swami Subodhananda Ji from 9th to 15th February 2020 at Jaipur. This Yajna was
organized in joint collaboration with the Sanskrit Department of Rajasthan University.
Venue for the Yajna was Maniviki Peeth Sabhagar of Rajasthan University.
Yajna inaugurated on 9th February 2020 at 6.30 pm. Dr. M. L. Swarnkar,
Chairperson of Mahatma Gandhi University of Medical Sciences and Technology
was the Chief Guest on the occasion. Poojya Swami Ji inaugurated the Yajna by
lighting the lamp along with Dr. Swarnkar, Dr. Sunita Sharma, Head of the Sanskrit
Department of Rajasthan University, Br. Visharad Chaitanya Ji of Chinmaya
Mission Jaipur, Br. Om Chaitanya Ji of Jodhpur. Swami Ji covered verse number 20
to verse number 40 of Chapter 18 of Bhagwad Geeta as a text for Yajna. On
opening day he inspired all the audience present to transform themselves into a
true seeker. Later he very beautifully explained Saatvik, Raajsik and Taamsik types
of Happiness, Yajna, Actions, Doers, Intellect, and Firmness (Dhriti). It was a fulfilling
experience for all those who attended the Yajna.
Swami Ji's presence rejuvenated and recharged all the committee members and
seekers at Jaipur with spiritual energy.
---
Activities in Bengaluru during Jan 2020
Dated : 2020/01/05

---

Gita Jnana Yajna in Rabindranath Tagore Nagar
Pujya Swami Aparajitananda of Mangalore conducted a Jnana Yajna in English from 13th to 18th January 2020 at Sri Vinayaka Cultural Trust, R T Nagar taking Bhagawan Ramana Maharshi's Upadesha Saram. The Yajna was inaugurated by Smt and Sri Belani, senior devotees of the Mission.
Pujya Swamiji explained that we give unnecessary importance to action based on the assumption that happiness can be gained from the outer world through actions aimed at attaining them. Only when we drop the doership and enjoyer ship attitude and totally surrender to the Lord all actions and results, permanent joy and peace will prevail. We should try to efface ourselves considering Lord as supreme when what remains is God alone who will reveal Himself and impart the highest knowledge. This is the sure way to happiness beyond bondage and liberation is possible in the world here itself when Ego is completely removed and the real 'I' shines forthwith and the seeker stands rooted in the knowledge that his true nature is Sat Chit Ananda.
The Yajna was well attended.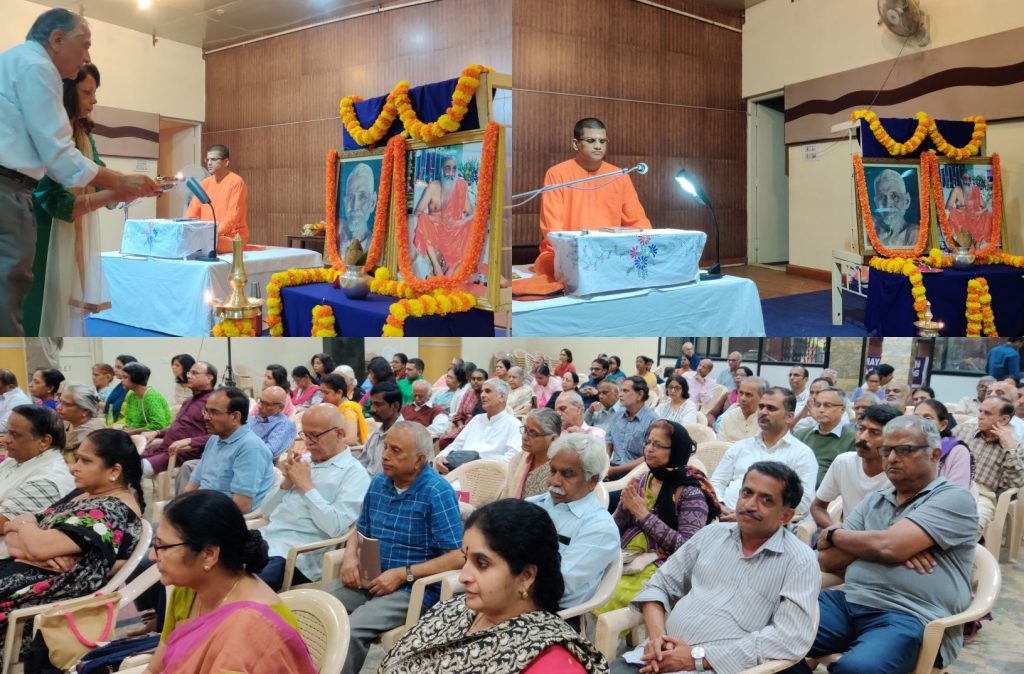 Annual Balavihar Competition – Junior and Senior Group
The annual Balavihar competition for junior and senior Balavihar children conducted on 5th January 2020 in Chinmaya Vidyalaya, Koramangala in the holy presence of Pujya Swami Brahmananda witnessed presence of over 1500 children participating in various events – Chanting of Bhagavad Geeta Chapter 9, Tapovana Shatkam, Shivamanasa Pooja, Narayana Suktam, Bhaja Govindam, Lakshmi Narasimha Stotram, and Manku Timmana Kagga. Smt Radha Krishnakumar, a senior devotee of Pujya Gurudev gave away the prizes to nearly 230 children.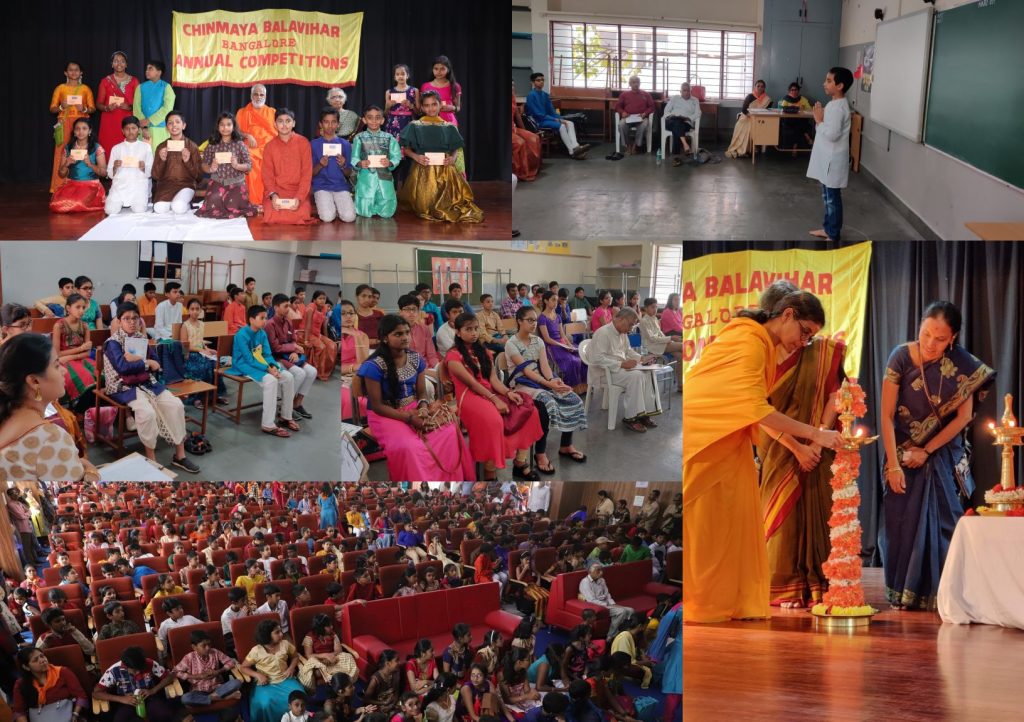 ---
Special Lakshmi Puja and Deepa Danam
Dated : 2020/01/03

---

A special Lakshmi Puja and Deepa Danam were performed on 3rd Friday and 17th Friday in Wavendon Estate organized by Chinmaya Sethukari Members of Chinmaya Kovil, Ramboda. This puja is expected to be performed annually in every estate possible.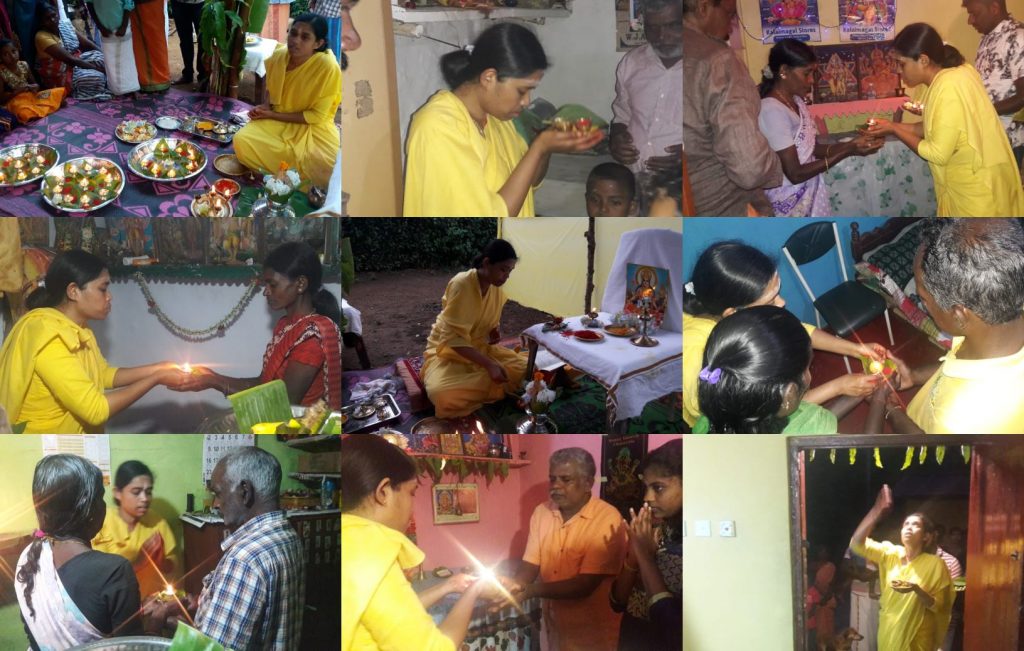 ---
Chinmaya Inspiration Yatra XIII Report
Dated : 2020/02/01

---

In Western society, thirteen is sometimes considered an unlucky number. However, for 21 seekers, the 13th Chinmaya Inspiration Yatra was the most fortunate of times. Over two weeks, Shri Vivek led our yatris from India, Canada, and the U.S. to the holy land of Maharashtra, the outward expression of their inner journey.
They began their time together at Sandeepany Sadhanalaya, meeting Pujya Gurudev at His home. Even amidst the noise of Mumbai, they basked in the peace of the ashram as they let go of their outside lives.
Gurudev then guided them to Chinmaya Vibhooti, where Pujya Guruji so lovingly spoke on Aparokshanubhuti.  During those seven days, Guruji also led daily meditation classes, teaching the yatris the steps needed for tapping into their true potential. Having the younger minds of the group – our Balvihar kids – as part of the Yatra was even more wonderful, as they helped rediscover the wonder of this divine knowledge. Guruji jokingly suggested Vivekji carry a flag to keep the yatris all in order and loved when they took His request seriously!
Trying to discover the first-hand experience within, the yatris engaged in satsanga, sadhana, and seva every day. Children and adults alike spent their breakfast, lunch, and dinner times by serving food to all the camp attendees. Some of the yatris climbed the nearby mountain, pushing themselves to focus on the present, only on their next footstep. Together they welcomed in the new decade with Vishnu Sahasranam, reflecting on the change they wanted to make in the upcoming years.
From the shastras, they were then guided to Bhagavan Himself. Departing Chinmaya Vibhooti on January 1st, the yatris traveled to Dehu, Alandi, and Pandharpur. They found themselves immersed in love for Bhagavan Vittal, manifested through the great Saints, Sant Tukaram and Jnaneshwar Maharaj. Every second was filled with devotion, from singing bhajans in line to actually touching Bhagavan Vittal's feet. With the blessings of Guru and Bhagavan, the seekers completed their Yatra on January 2nd at Chinmaya Mauli.
Throughout these yatras, seekers have journeyed far across several countries and continents, learning and growing along the way. Rather than limiting the spirit of the yatras to only a few weeks, the yatris have taken various Sankalpa to raise funds for various parts of our Mission over the years. Over the course of CIY I – V, 100,000 USD was raised for CORD Siruvani. Following this success, 100,000 USD was then raised by CIY VI – X yatris for the education efforts of Chinmaya Mission Trinidad.
With gratitude in their hearts, on December 31st, Shri Vivek and the yatris present took on a new Sankalpa. Over the next five yatras (XI – XV), together they pledge to offer 100,000 USD for Pujya Guruji, largely for the visionary efforts of Chinmaya Vibhooti. Through these efforts, they hope to transform their two-week yatra into a lifestyle of serving, learning and growing.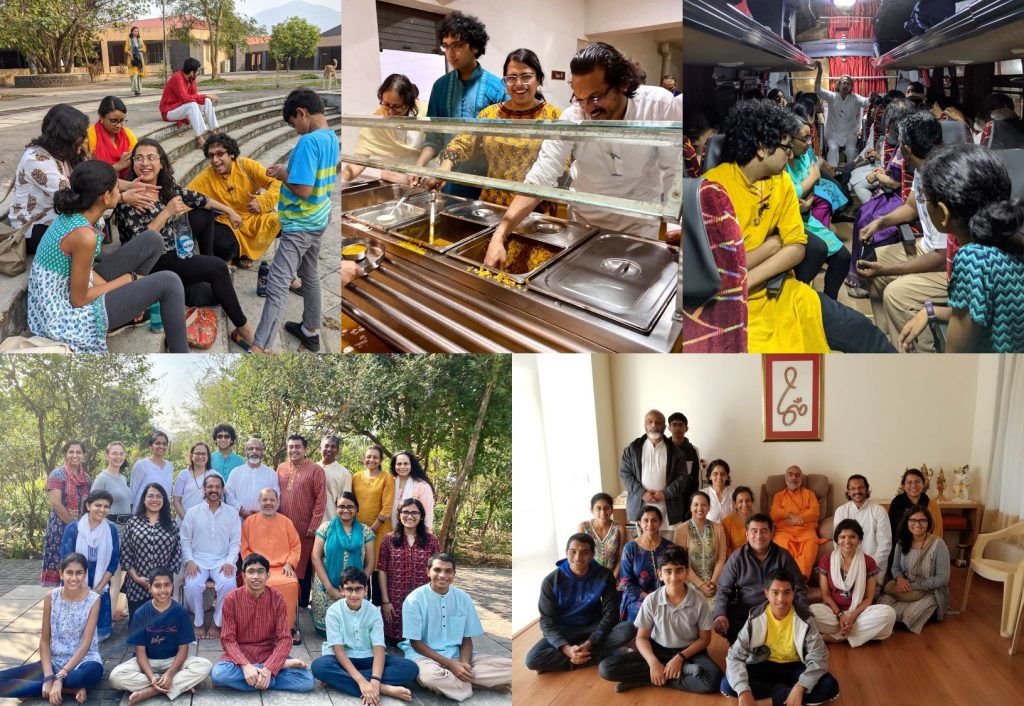 ---
Vrindavan Bhagawat Saptah by Sw Abhedanandaji, Organised by CM Jodhpur in Dec 2019
Dated : 2019/12/07

---

Srimad Bhagawat Saptah by Swami Abhedananda in Vrindavan 
Organized by Chinmaya Mission Jodhpur
7th to 13th December 2019
Chinmaya Mission Jodhpur organized Srimad Bhagawat Saptah camp, conducted by Swami Abhedananda from 7th to 15th December 2019 in the pious Vrindavan Dham. The camp witnessed over 240 participants from all over India and overseas, thirsty to drink the divine nectar which is 'Srimad Bhagavatam'.
To hear the Lord's infinite glories in His Dham from a virtuous exponent on the subject happens only with Lord's blessings and His utmost grace. Even the simple auditorium of an ashram can get gloriously transformed into a shrine when divinity is encased in every particle of a place. Beautifully decorated with peacock feathers, bells and flowers the stage was set to welcome the Lord in the hearts of each and every listener.
Swamiji's soul-stirring discourses transported the listeners to the realm of the divine. From Vedanta to Bhakti, from dispassion to Divine love, the audience was transfixed. Swamiji's life-transforming discourses interspersed with humor took the audience through a myriad of emotions from thought-provoking knowledge to soul-stirring devotion.
The main highlights of the Saptah were the festive celebrations of various Utsavs and leelas including Shri Ram Janmotsav and Shri Krishna Janmotsav. The pinnacle being Krishna Janam where Swamiji literally gave birth to the mysterious, naughty, most beautiful Lord of Vrindavan in the heart of each and every listener. The entire hall pulsated with divine energy and overflowing joy.
Aside from this, Vedic priests performed daily Havans and rituals which were participated by the Mukhya and Utsav Yajamans of Bhagawat saptah. Prior to the commencement of the Bhagawat Saptah, the priests conducted the Sankalp Havan and Pooja where the Yajmaans took Sankalp for inculcating divine virtues of Gyana, Bhakti and Vairagya, and prayers for the prosperity and growth of Chinmaya Mission worldwide. On subsequent days, the priests performed different havans to propitiate the various deities.
The entire event was meticulously planned and executed by the very able members of Chinmaya Mission Jodhpur. All the attendees enjoyed delicious Rajasthani food specially organized by the mission members.
Every evening the devotees had the opportunity to have an informal Satsang session with Swamiji as well as the opportunity to visit the various divine temples of the Lord. After seven days of complete bliss, the attendees had the rare opportunity to partake in the Govardhan Parikrama. Along with Swamiji, the other attendees dancing, singing and doing kirtan did the Parikrama on foot. The culmination was on 14th December with the auspicious Purnahuti Havan.
In the seven days, each and every listener felt the touch of the Divine. From tears of ecstasy to the bliss of belonging to the Lord each their hearts melted. Knowing that it is highly auspicious to listen to a Bhagawat Saptah at least once in a lifetime, the delegates thanked the Mission and Pujya Gurudev and carried back a little bit of Vrindavan with them to keep forever in their hearts.
Om Shri Chinmaya Sadgurave Namah!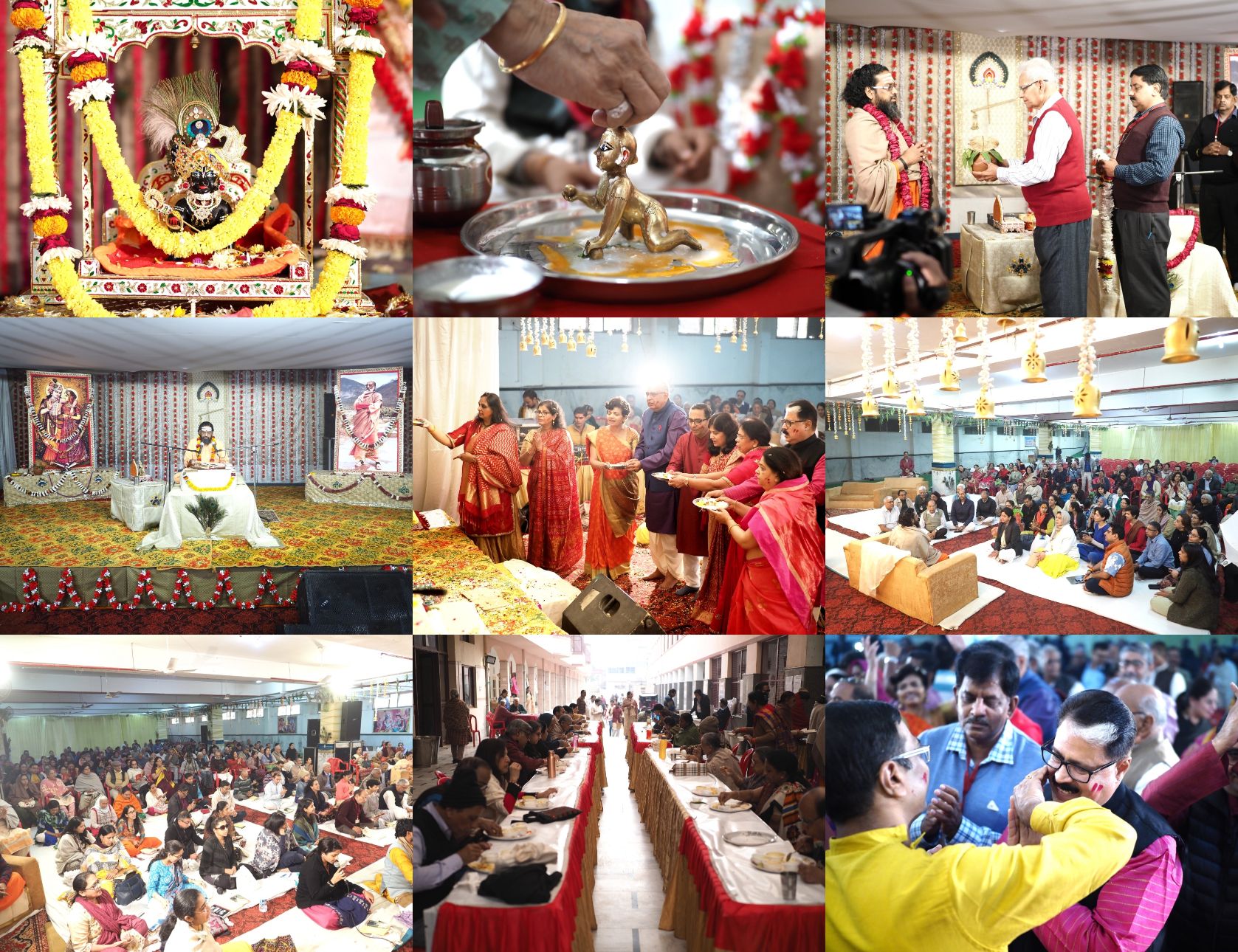 ---
Chinmaya Mission Thamaraipakkam Udates
Dated : 2020/01/02

---

Maha Kumbabhishekam – Nov 2019
By the grace and blessings of PujyaGurudev and Sarveshwara Bhagavan, MAHA KUMBABHISHEKAM of Chinmaya Sarveshvara was performed on 21st November 2019 by Swami Mitrananda and Gurukkal GirishaShivam. The Kumbabhishekam pooja videos started on 18th November with Ganapati Pooja, Homam and Navagraha Homam. Ashtalakshmi Pooja & Homam and Vastu Shanti were performed elaborately on 19th November. First Kaala Kumba pooja and Homam for the deities Lord Ganapathi, Lord Karthikeyan, Lord Sarveshwara, Devi Manonmani, and Goddess Saraswathi were performed on the night of 20th November. The final Maha-kalasa-abhishekam was performed on 21st November. This was followed by abhishekam by the devotees to the sphatikalinga. Devi Saraswati was consecrated in a separate mandapam just outside the temple. The whole ashram and atmosphere were charged with divine fervor. Everyone felt immensely blessed.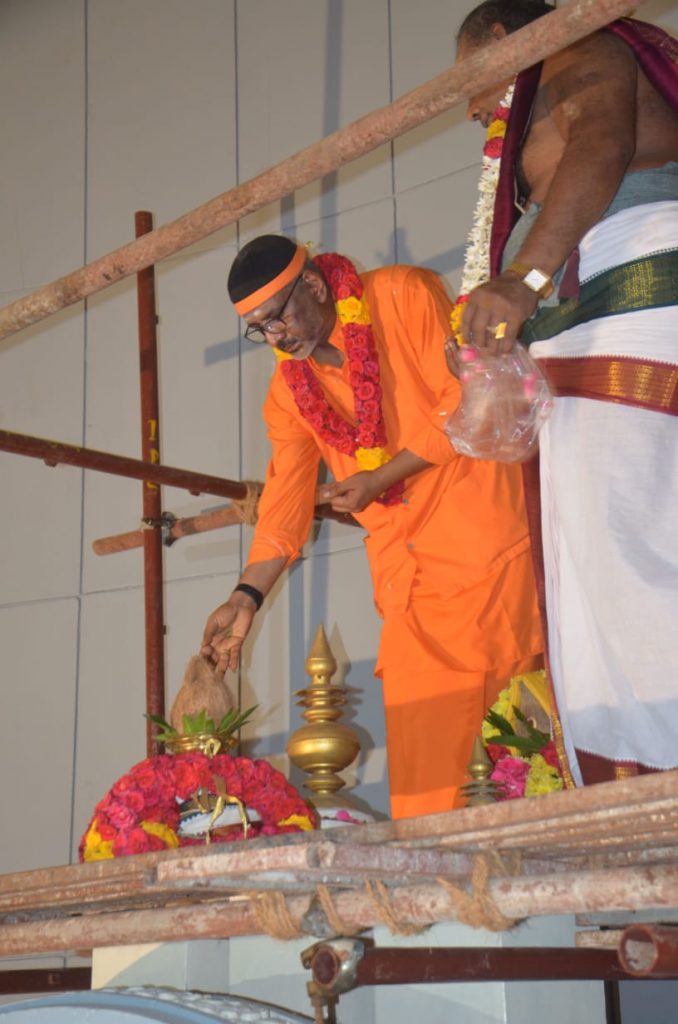 Surasamharam    – November 2, 2019
Kandhasashti worship and the celebration culminated in Surasamharam's depiction at Chinmaya Mission Thamaraipakkam, Tiruvallur district on November 2nd, 2019. About 500 people from 20 villages participated in the kaavadi procession. Following the Surasamharam, abhishekam was performed to the victorious Chinmaya Arupadai Velan by devotees. The programs were organized in a grand manner by a huge team of volunteers. It was a divine sight to see Harihara Vidyalaya school kids dressed up as Lord Muruga, carrying a spear (Vel) in their hands and chanting the name of the Lord. The shiva-vaadhyam, Idukki and Urahara chants by devotees reverberated in the skies creating a devotional fervor. Witnessing the Surasamharam event, people felt that the distance to Tiruchendur, the abode of Lord Murugan was reduced.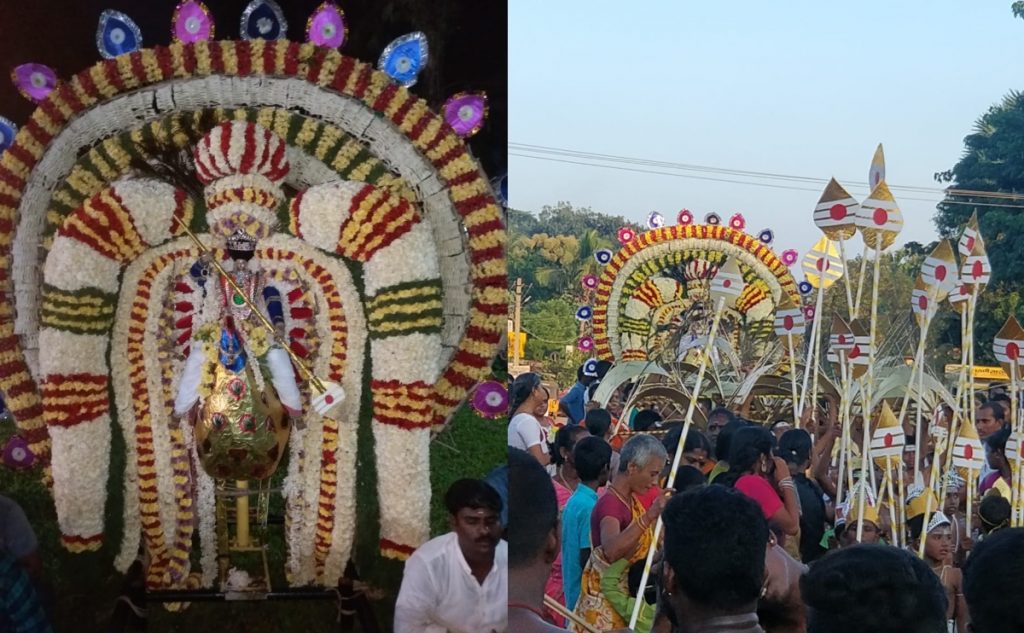 Bharathi Yaar  Sound and Light show by Chyks
Bharathi Yaar? An insight into the life story of Bharathiyar was enacted by the Tamaraipakkam Chyks and pre-chyks, guided and directed by Shri Desikan and Shri Kartheesan. This was staged in Chinmaya Sarveshwara, Tmaraipakkam on 25th Dec 2019.  It was attended by 500+ people. Management, teachers, and students from various schools in and around Tiruvallur district thronged to the show. Swami Mitranandaji blessed the show with his audio recorded speech. The show was successful as a result of good teamwork. The message of the program was well-received by many students and youngsters. India's Bharathi has been awakened in a few hearts and will be welcomed in many more hearts through future shows by CHYKs.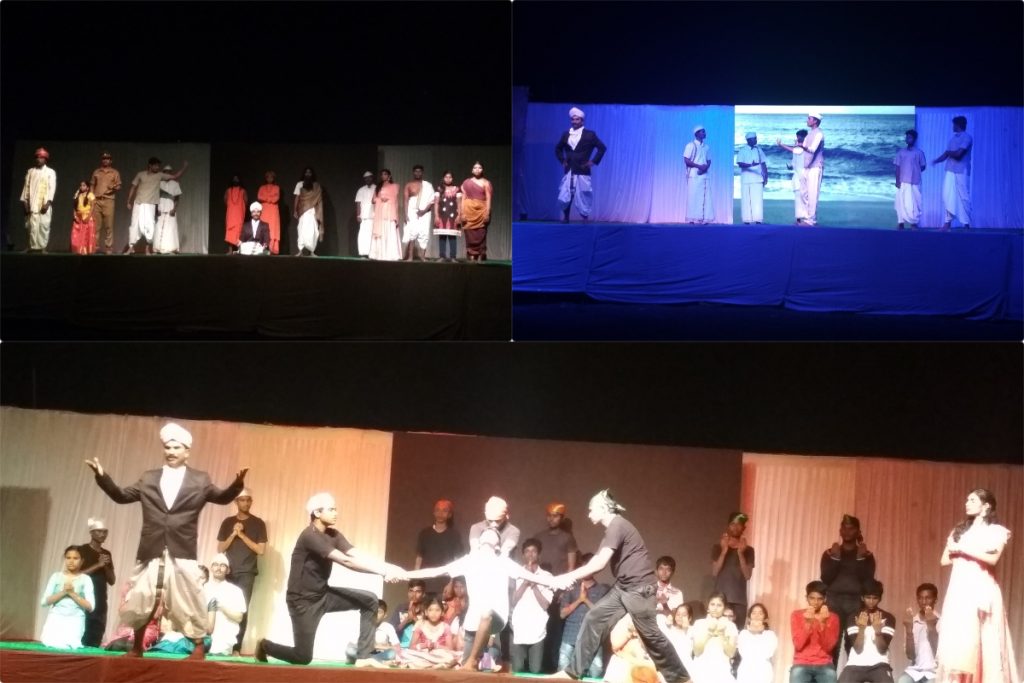 4. Chinmaya Chanting Competition 
Chinmaya Chanting Competition finals held at Chinmaya Sarveshwara, Thamaraipakkam on January 11th, Saturday. Out of 17 schools and 4200 participants, 230 participants appeared for district-level competition. The winners were given balavihar annual subscription as prizes. During the event, parents and teachers were screened On a Quest movie in Thamizh.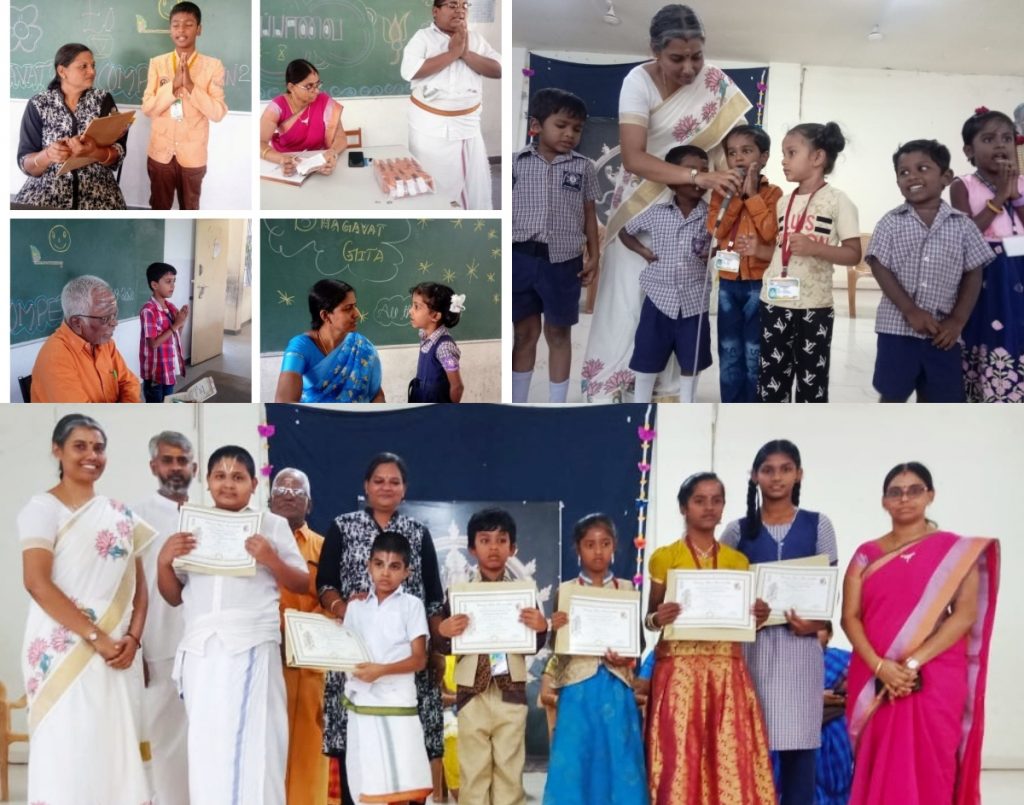 ---
Activities in Bengaluru during Dec 2019
Dated : 2019/12/01

---

Gita Jnana Yajna in Tyagarajanagar
Pujya Swami Adityananda of Mandya conducted a Gita Jnana Yajna in Kannada from 1st to 7th December 2019 at Sri Shirdi Sai Mandir, Tyagarajanagar taking Bhagavad Gita Chapter 15. The Yajna was inaugurated by Pujya Swamiji himself in the presence of Sri Gopinath, secretary of the temple.
Pujya Swamiji explained that the main cause of all misery is our acceptance of the unreal as real and leading an impractical life full of delusion with attachment. It is necessary to severe this attachment with Self-knowledge and leads a life of peace under all circumstances with a vision of oneness. Only then we can transcend the world of plurality and appreciate the fact that nothing other than the Self exists.
The Yajna was well attended.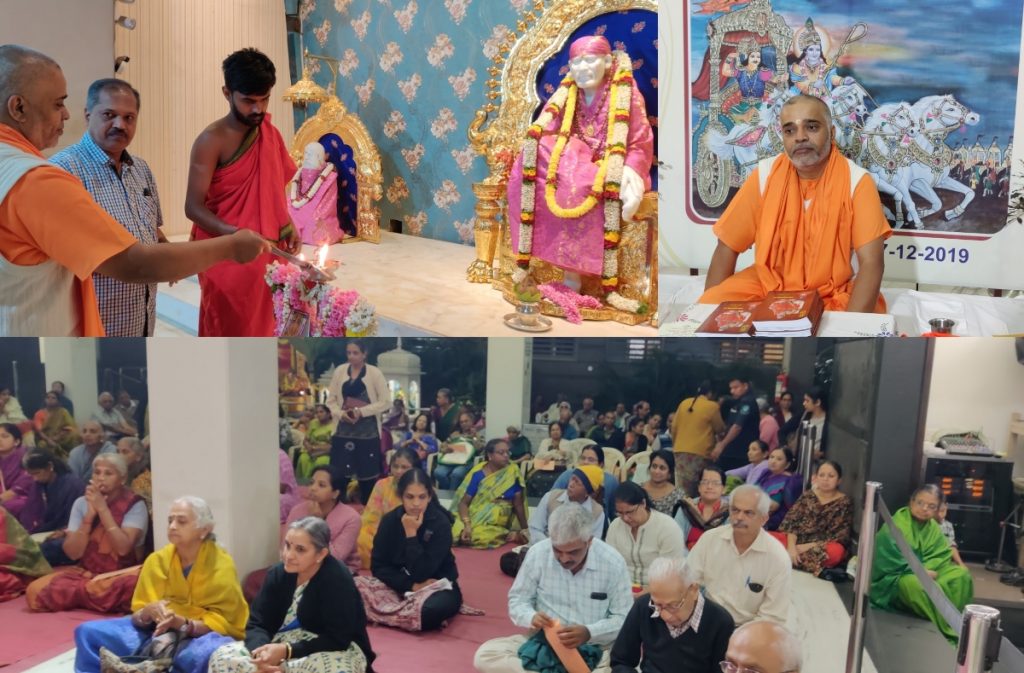 Gita Jayanti and Tapovan Jayanti
Gita Jayanti along with Tapovan Jayanti was observed all over Bengaluru on Saturday, 7th December 2019 with chanting of all the 18 chapters of Bhagavad Gita followed by Tapovan Shatkam and Paduka Puja. Mission members participated in all centers with Acharyas at respective centers conducting Satsang on the significance of the Bhagavad Geeta and contribution of Pujya Swami Tapovan Maharaj in propagating the message of our scriptures to sadhaks.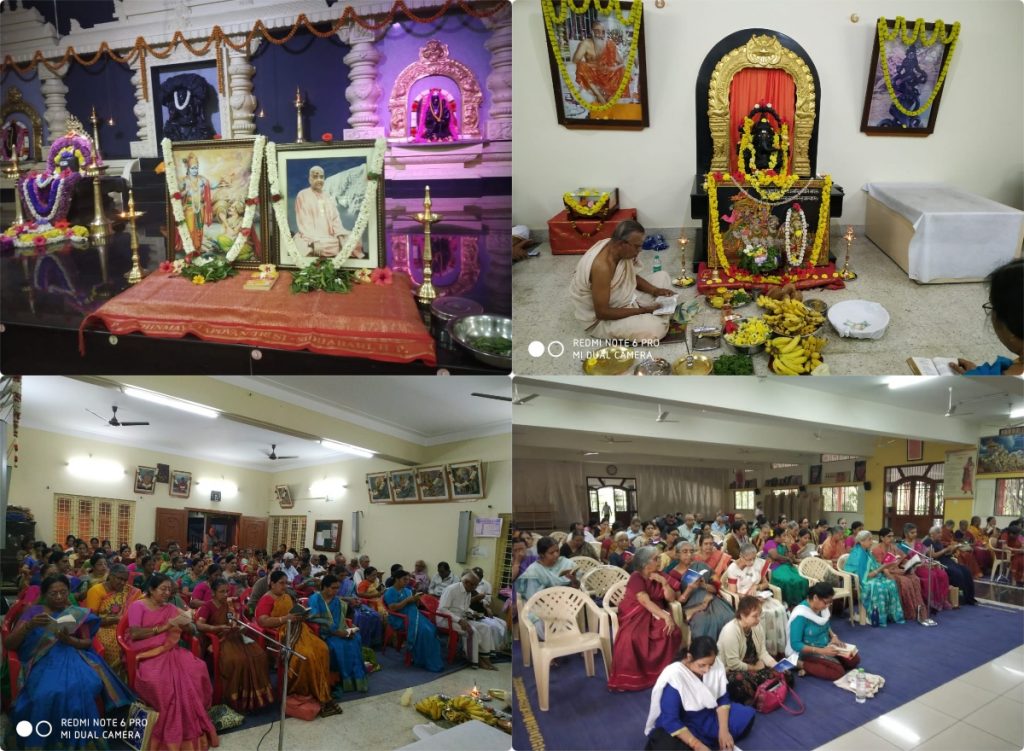 Gita Jnana Yajna in J P Nagar
Pujya Swami Brahmananda conducted a Jnana Yajna in Kannada from 22nd Dec 2019 to 2nd Jan 2020 at Sripaadakshetra, J P Nagar taking Bhagawan Ramana Maharshi's Saddarshana. The Yajna was conducted as a part of the anniversary celebrations of Sripaadakshetra which was inaugurated 15 years ago by Pujya Guruji on 1st January 2005. The Yajna was given a devotional start by the Balavihar children offering flowers to Guru Paduka with the chanting of Guru Paduka Stotram.
Pujya Swamiji took the listeners to ecstatic heights of Ramana's thoughts as he gave a vivid description of how the mind hijacks the sadhaks from reality into an ignorant world of plurality where peace of mind is expected from the finite impermanent ever-changing world. It is only when we go into the reality of the person seeking answers to all his questions that we realize that the questioner himself needs to be destroyed with right thinking when only the absolute Truth that enlivens the entire universe remains. The restless mind can never realize the Truth; the calm mind itself is an ocean of peace and joy where all questions cease to exist.
The Yajna was a grand success with several sadhaks attending daily.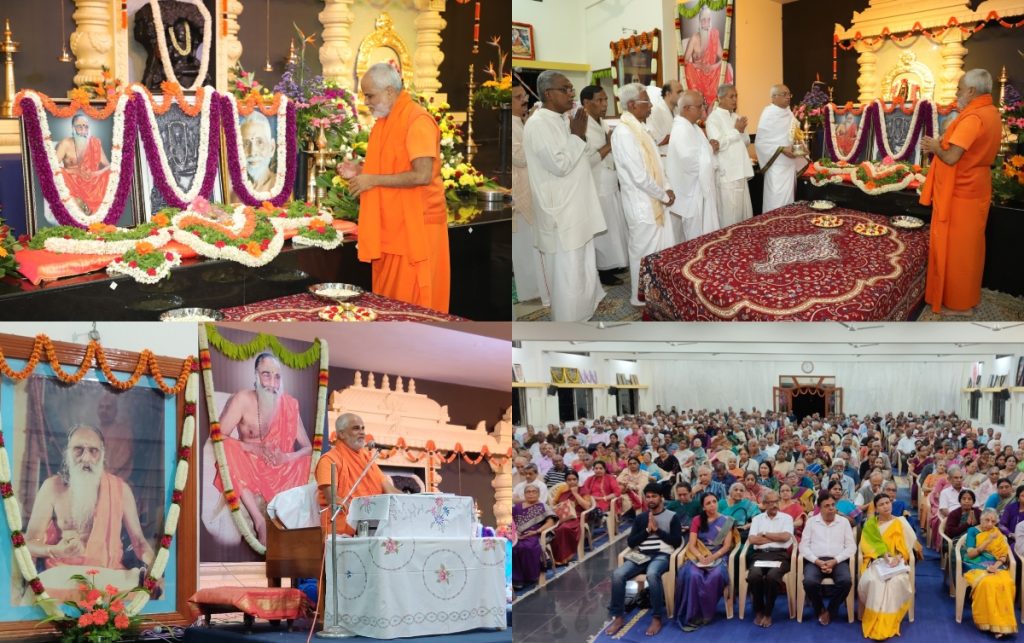 ---
Spiritual Parenting Retreat at CM Sacramento
Dated : 2019/11/09

---

Spiritual Parenting retreat by Vivek Ji and Vilasini Ji, November 9-10, 2019
On Nov 8 and 9 of 2019, families of Greater Sacramento had the fortune of being part of the first-ever weekend retreat at Triveni, Chinmaya Mission, Sacramento. During the weekend retreat, two dedicated Acharyas covered various aspects of parenthood from a spiritual perspective.  In one of his sessions, Vivek Ji presented the 6 sutras of social media usage.  This piece was developed and documented by Vivek Ji himself.  These sutras were written as a guiding principle to prevent overuse/misuse of phone/social media; a growing issue across several age groups in our times.
In another session, Vilasini Ji cross-examined in great detail a few examples from the book 'How to Talk So That Children Listen…' by Adele and Elaine.  In a rush to go through the entire book, sometimes parents rush and flip through the pages without immersing in the book.  This session was quite the opposite.  Vilasini Ji came prepared with her presentation slides listing a few of her carefully picked examples from the book.  She held conversations, directing parents to pause and reflect at the multiple ways to handle each scenario; and the possible gamut of feelings running in the minds of both parents and kids while simulating those scenarios.  These exercises facilitated parents to broaden their myopic view of parenting, to include kids' perspectives into these real-life situations.
During the day, while parents were participating in guided meditation sessions or contributing to the group discussions, several Bala Vihar volunteers were working nonstop throughout the day; (a few since five in the morning); to provide a steady supply of nutritious meals and snacks.  Most items were cooked fresh at the venue.  Care was taken to serve families with dietary needs (such as vegan or other preferences) alternate yet equally super delicious dishes at each meal.
The afternoon soccer sessions were a look forward to as well!  It was an eye-opener how parents could throw a hundred percent of themselves into the strenuous game with no prior experience yet with all their enthusiasm, despite those heavy meals!  Vivek ji would constantly favor the losing team using a mixed bag of strategies.  When all other strategies failed, he would run at the speed of the wind, leap to kick the ball mid-air and make it fly across the entire field, close enough to strike a goal!
Each day would end with a beautiful garland of melodious bhajans strung by Indu Vashist Ji and several Bala Vihar students.
The parenting retreat at Chinmaya Mission Sacramento was extremely engaging and thought-provoking.  That weekend, as the parents immersed themselves in a flawlessly planned and executed memorable retreat; Bharati Ji and the Chinmaya Sacramento Team's months of behind the scenes efforts to put this together clearly showed up in every aspect of the program.
Deepti Sharan is a parent, and sevika at Chinmaya Triveni, Sacramento.  Her family of five, parents and 3 children was active part of the Spiritual Retreat.
Spiritual Parenting retreat by Vivek ji and Vilasini ji, November 9-10, 2019
Parents, sevaks, few Sacramento families, and few families from out of California had the privilege to attend Parenting retreat at Chinmaya Triveni. It was an extraordinary experience to be part of this retreat. This retreat helped parents understand themselves better and what parenting approach work for their family.  There was something to learn for every parent and grandparent. It was an interactive family event, a different approach from Gnana Yajna. Every activity and discourse had a purpose to build this 2-day event. It was a good opportunity to learn from Vivek Ji and Vilasini Ji.
Parents' Retreat started with an interesting ice breaker activity, which was important to come out of one's comfort zone and make the sessions more interactive. Each session was timed well. Discourses reflected on parenting learnings from Ramayana. Real-life parenting lessons by Vilasini Ji could be easily related to day to day activities. Parents pondered how their words were interpreted by kids and how reframing of sentences and actions could help build stronger relationships with kids.
It was a perfect getaway with time planned for sports, breaks and all meals included so that everyone could relax, get best out of the retreat, and not worry about anything else. While parents were in sessions with Vivek Ji and Vilasini Ji, kids participated in Bala Vihar activities with Tejus and Megha. Tejus and Megha graciously offered to drive from the Bay area to teach the kids. It was special for the kids to interact with them. As one of the Bala Vihar students, Anmol Singhal shared his experience "This retreat was a wonderful experience and opportunity to learn the true meaning of friendship. In the two days at this retreat, I was able to enjoy talking with two guest sevaks, Tejus, and Megha. We had Bal vihar classes while the parents were listening to lectures by Vivekji and Valasiniji. In the afternoon, we would go to the park and play soccer together as one big family. I felt relaxed and didn't think about anything else in those two days. I would definitely encourage everybody to come to the next one". Anmol is a freshman and has attended Chinmaya Triveni, Sacramento since he was in KinderGarten.
This was Singhal's family's first parent retreat, they attended. Ranjana describes this as a calm, relaxing, intangible, and knowledge-penetrating experience.
Ranjana Singhal is a parent, sevika, and Bala Vihar Coordinator at Chinmaya Triveni, Sacramento.
---
Media Clippings of Geeta Chanting Competition held on 15th December
Dated : 2019/12/15

---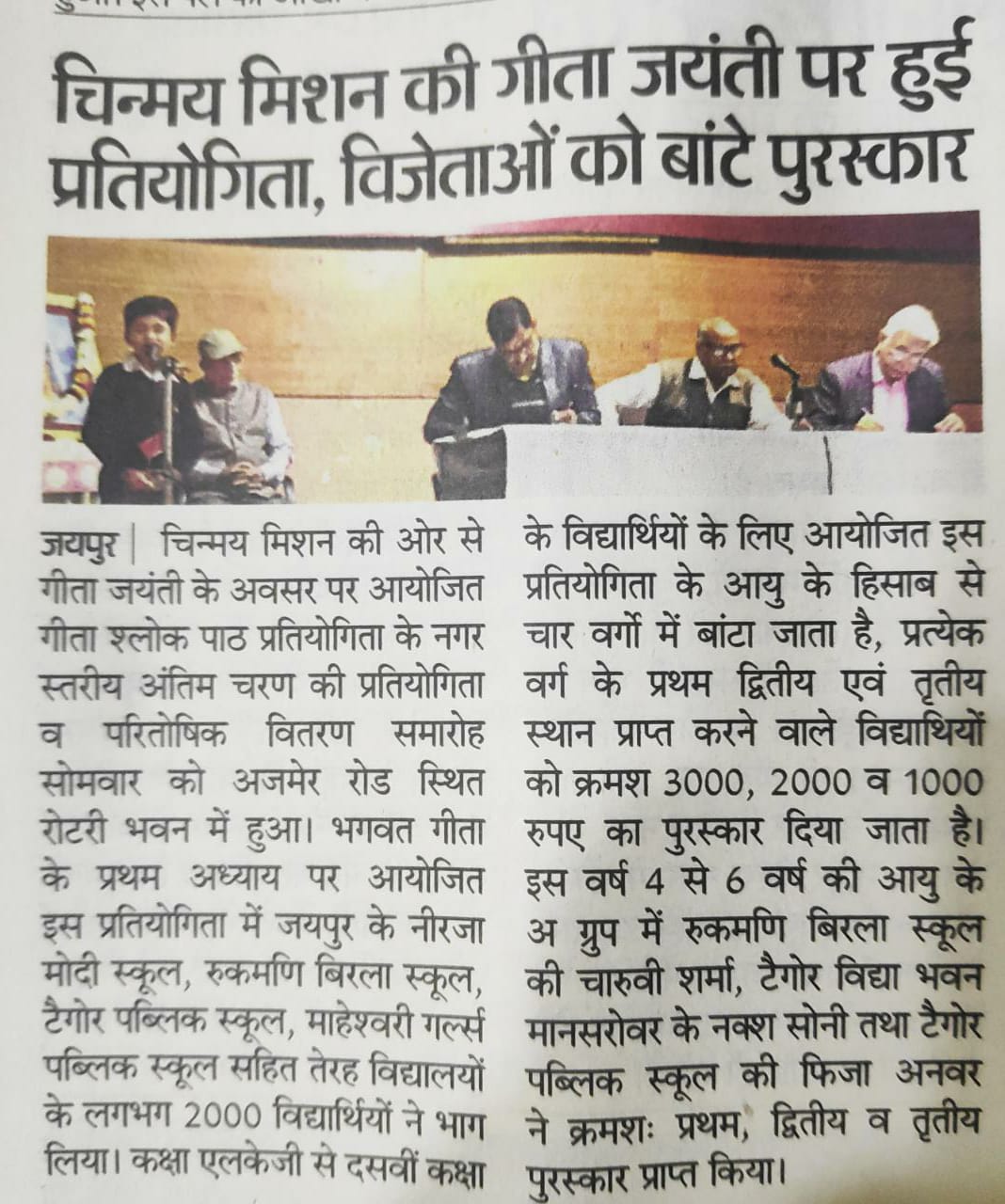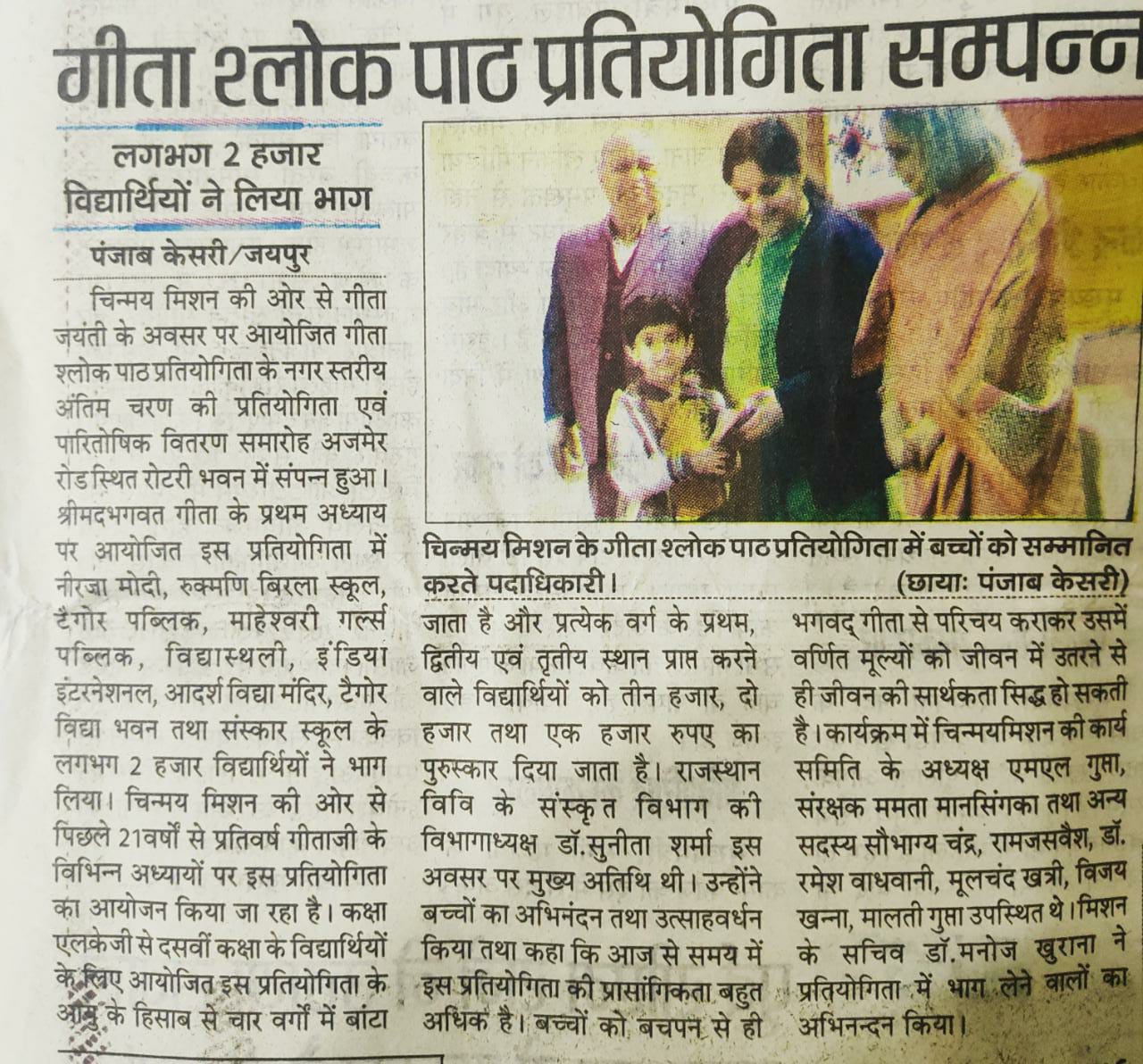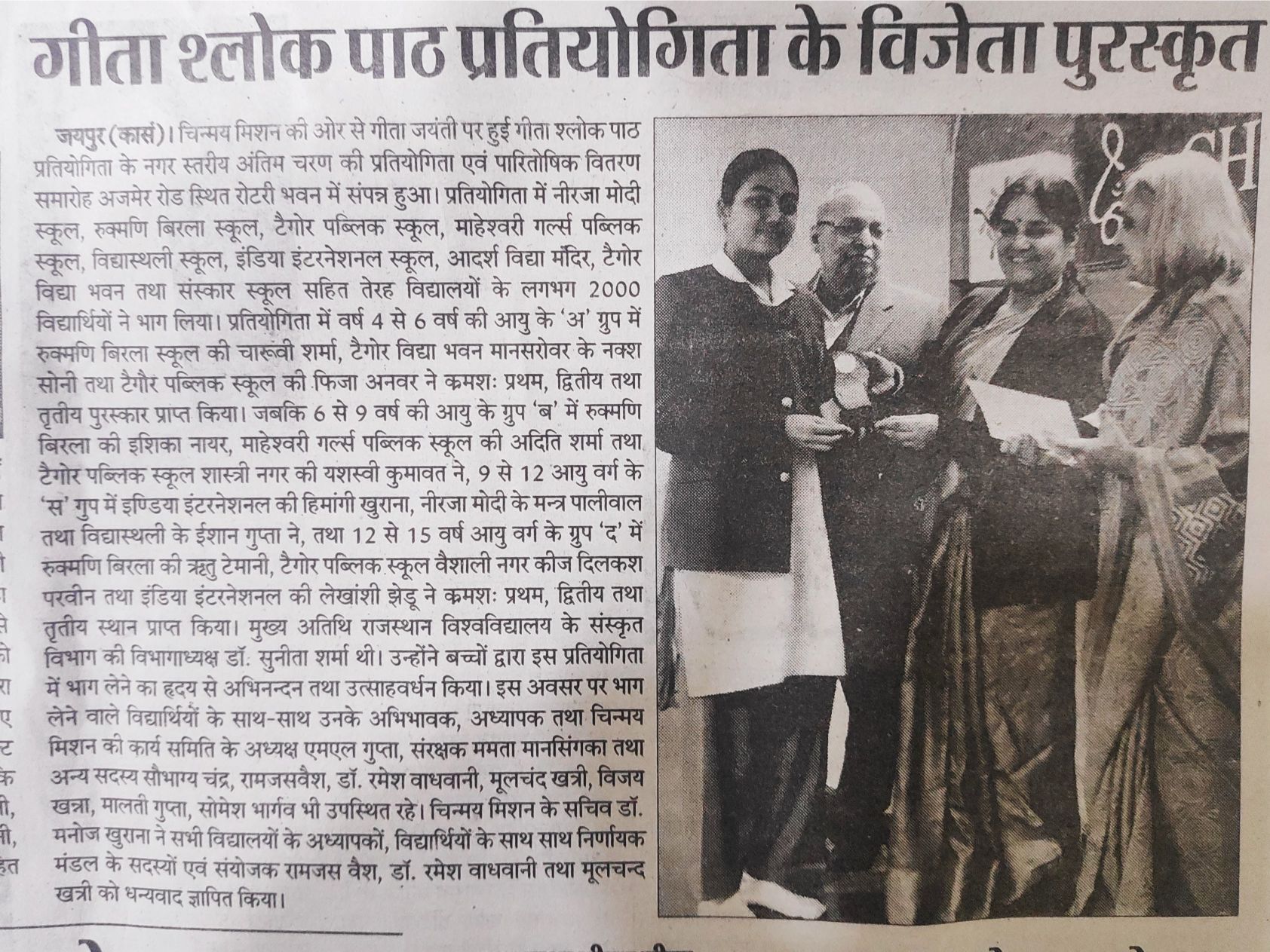 ---