News


To understand anything is to find in it something which is our own.
-Swami Chinmayananda
Archival News/Other News
Achievement in Chinmaya Khel Milan
Dated : 2018/11/17

---

Hari Om! Pranaams!!
We are extremely delighted to share a very happy news that our school has participated in the 8th  Chinmaya Khel Milan – The Badminton Tournament on the 15th ,16th  and 17th November 2018 at Chinmaya Vidyalaya Kunnumpuram (Kerala).
35 schools participated. Our school has won the 2nd  Runner up.
We wholeheartedly thank CCMT Education cell for having given us this wonderful opportunity.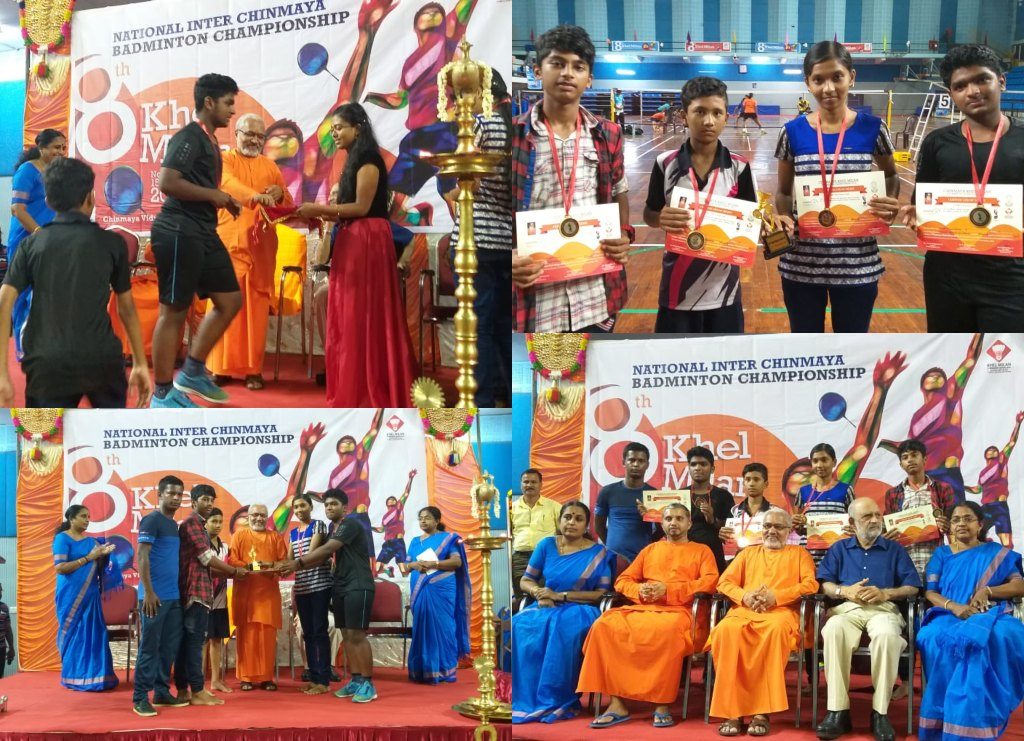 ---
My Happiness spiritual retreat at Chinmaya Vibhooti
Dated : 2018/11/25

---

From 23rd to 25th November 2018, a group of members of Rotary Club Kandivli West (Mumbai), and their friends and relatives, attended a spiritual retreat at Chinmaya Vibhooti, taken by Swami Swatmananda. The retreat was titled "My Happiness" and Swamiji guided the enthusiastic group through thought-provoking interactive sessions, yoga, silence, meditation, a movie workshop, Q&As, and lots of memorable and happy moments of inspired learning. The Rotarians and friends also enjoyed the spiritually-charged ambience at Chinmaya Vibhooti where they visited Chinmaya Jeevan Darshan, Swanubhooti Vatika, and all others areas. They were served sumptuous meals which they relished together, over lots of sattvic bonding and reflection. The group went back home after the retreat with only positive things to say, eager to apply the teachings received, and just as eager for the earliest opportunity to come together for more spiritual retreats through Chinmaya Mission.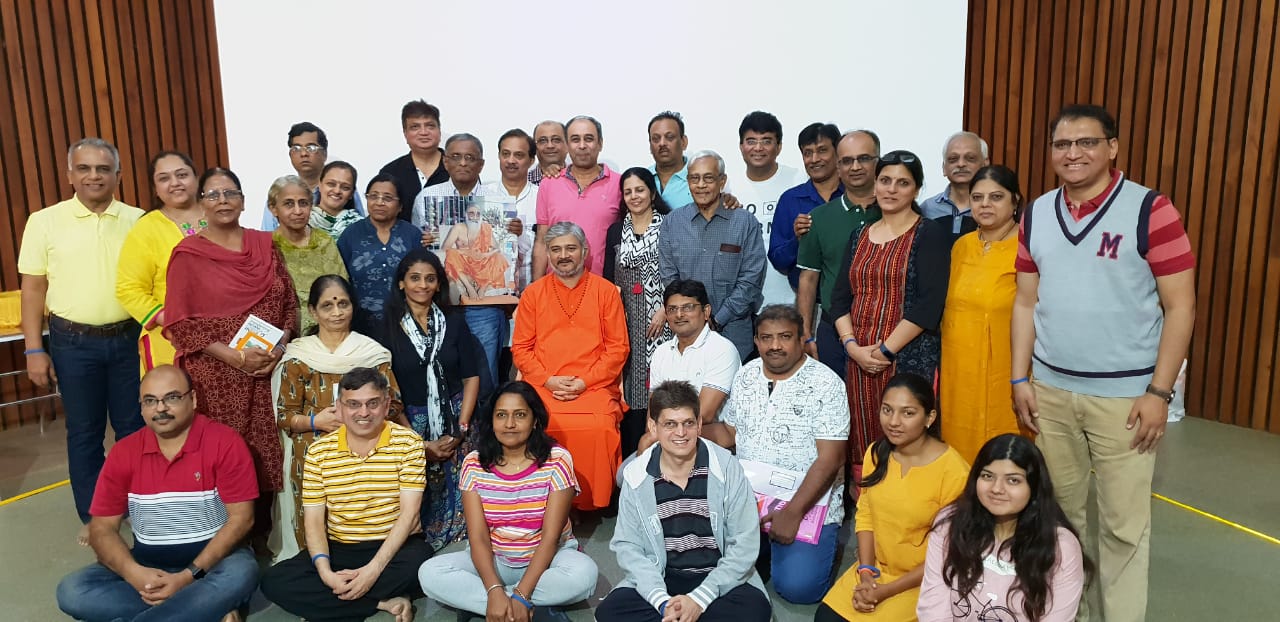 ---
Jnana Yajna at Chinmaya Mission Jaipur
Dated : 2018/11/17

---

Members of Chinmaya Mission Jaipur were transported to the realm of
Divine bliss by Pujya Swami Abhedananda ji, who kept his promise and dates
with us and once again in the Holy month of Kartik, successfully conducted a
7 day Gyan Yajna on Bhagwad Geeta chapter 5 and Kathopanishad Part 2
from 11th November to 17th November 2018.
The Yajna was ceremoniously inaugurated with shanti path and lighting of the
lamp and chanting of Guru Stotram. President Chinmaya Mission Jaipur
Smt.Mamta Mansingh welcomed Pujya Swamiji and all the seekers.
An erudite scholar, known for his lucid and articulate communication
skill,Swamiji began the morning session on the dialogue between Yamraj and
Nachiketa. Explaining the merits of the path of Shreyas as against the parh of
Preyas, he said that Shreyas, without depending on the circumstances takes
us closer to the Divine Self through renunciation. Whereas Preyas takes you
through desires to the world of sorrow.
Nachiketa who had more dispassion than Yamraj himself enquires about that
state which is beyond past and present, where one can remain permanently
focused on the path. Swamiji's exposition on a subject as serious as
Kathopanishad and Bhagawad Geeta was laced with wit and humour that
caught the attention of one and all.
In the evening sessions text taken was Bhagawad Geeta chapter 5. While
speaking about the path to Self-realization, Swamiji extolled the virtues of
Karma Yaga, Karma Sanyas Yoga and Gyan Karma Sanyas Yoga.
The secret of leading ones life skillfully, lies on these virtues. Unselfish action
performed in a spirit of surrender leads a spiritual seeker to a state of bliss.
As circumstances are not always in our hands attachments and expectations
lead to sorrow and helplessness, but when we surrender our effort with faith,
that there is someone behind taking care, our distress reduces. Giving up the
fruit of action is Puja is Karma yoga. Geeta speaks of Karana Yoga, Karma
Sanyas Yoga and Gyan Karma Sanyas Yoga. Without Karma Yoga
renunciation is difficult to attain.
The 7 days spiritual festivities ended on 17th November. On the last day of
Yajna, Secretary Chinmaya Mission Jaipur presented vote of thanks and
expressed gratitude towards Pujya Swamiji and all the seekers.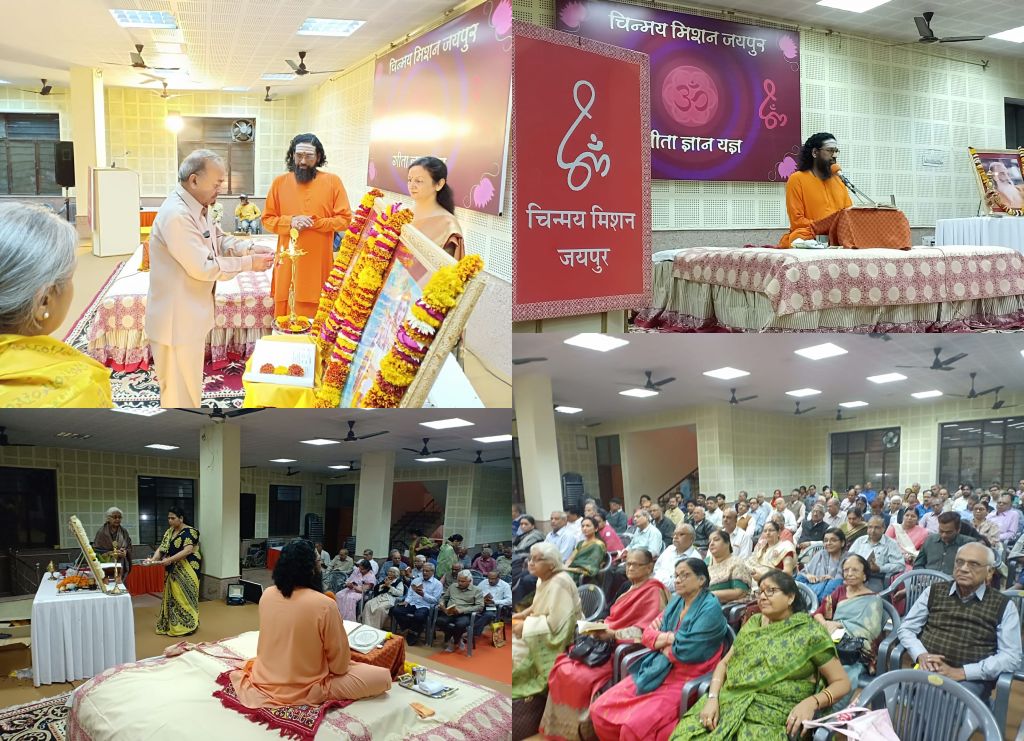 ---
Shraddhanjali For Shri R.L. Manchanda
Dated : 2018/11/26

---

Shri R.L. Manchanda, President Chinmaya Mission Patiala left suddenly for his heavenly abode on 26th Nov morning. He lived a "Life of Contributions". Being a civil engineer by profession, he supervised the construction of "Chinmaya Shatabadi Sabhagar" of Chinmaya Tapovan Trust, Sidhbari, constructed in memory of Param Pujya Gurudev during his Centenary year celebrations. He also supervised the construction of Chinmaya Jagriti Ashram and Shri Ram Mandir Patiala. He was a great personality with humane qualities and will be remembered with respect always by the present and future generations. His departure is a great loss to family, friends, society and Chinmaya Mission. May his soul rest in peace.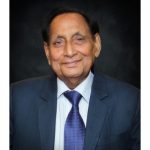 ---
Githa Chanting Competition and Karthika Vana Mahostavam
Dated : 2018/11/11

---

We are very happy to inform you that, with Pujya Gurudev's, Pujya Guruji's blessings, the Chittoor District Level "Chinmaya Bhagavadgitha" Chanting Competition, 2018, were conducted at Chinmaya Mission Ashramam, Yadamvari Palli, on 11-11-2018 with 42/45 students, parents and others around the strength of 120 members, was successfully completed. After competitions, with Cash Prizes, Certificates and Mission Books as prizes were distributed followed by, "Annadanam". The programme was sponsored by Chinmaya Mission Center, Piler
            On 18-11-2018, the "Karthika Vana Mahostavam", was conducted, at Chinmaya Ashramam, Yadamvaripalli. Go Matha, Thulasi Matha, Amalakada Damodara Swamy Poojas were performed by "Litting Kartika Deepas". "Geetha Parayana" and Bhajans were sung followed by pravachanam on Karthika Puranam by Swamy Sri Krishnananda, resident Acharya. "Vanabhojanam" was arranged to the attendants of around 200 devotees with sponsorship of Mission Devotees. It is prayed, Lord Sri Krishna, Pujya Gurudev and Pujya Guruji, to bless to strengthen us to celebrate such programmes again and again.
With Prem & Om!
In "HIS" Service,
At "HIS" Feet.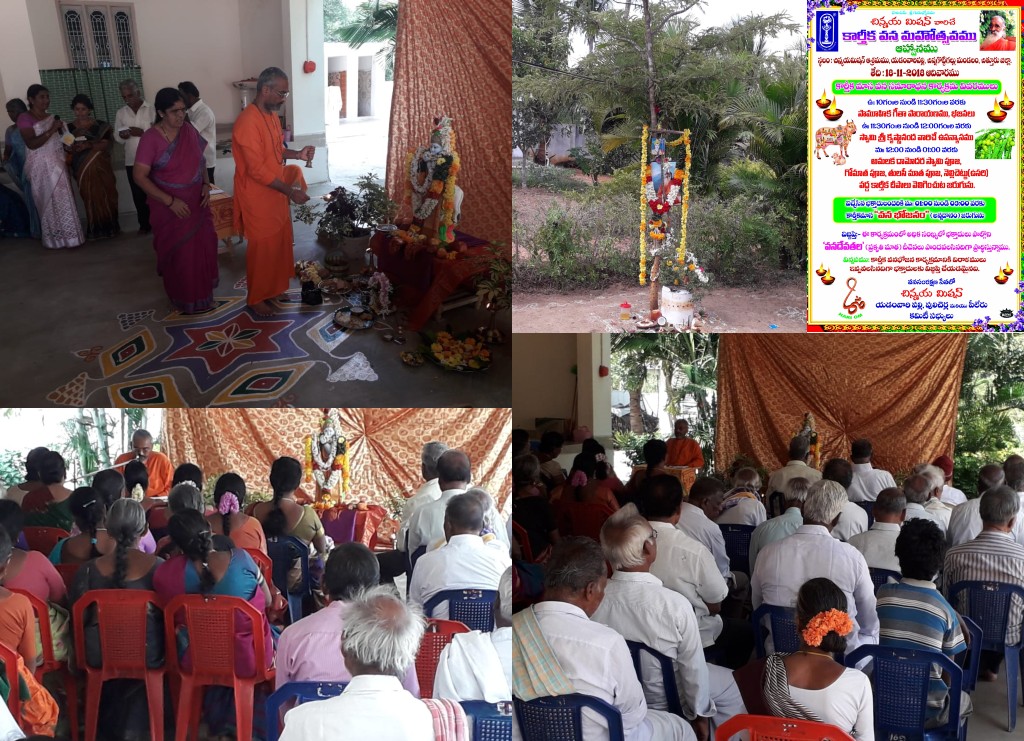 ---
International Peace Award to Chinmaya Mission
Dated : 2018/11/24

---

On Nov. 24, Shri Venkaiah Naidu, Vice President of India, conferred the Dr. Nagendra Singh International Peace Award to Chinmaya Mission for its yeoman's services to the nation since its establishment in 1953.
The special event, hosted by Rastra Nirmaan and the International Goodwill Society of India (IGSI) at Vigyan Bhawan, New Delhi, was attended by nearly 2,000 people. It reflected the deep respect and appreciation of the Indian people for the noble work started by Pujya Gurudev Swami Chinmayananda.
Speakers on the occasion included Dr. Yogendra Narain, National President IGSI, who applauded the achievements of Chinmaya Mission, and Shri Alok Kumar, Working President, Vishva Hindu Parishad, who fondly recalled his time with Pujya Gurudev.
The keynote speech was delivered by the Vice President who stated that Swami Chinmayananda Saraswatiji was very particular about punctuality of time and about upholding India's glorious traditions. He pointed out that Chinmaya Mission was a unique and significant institution. The important thing was not to bestow an award on a great saint like Swami Chinmayananda, but to follow his teachings.  He commended the motto of Mission and stressed that it had rendered service in the fields of spiritual enlightenment, education, environment, culture, rural development and youth empowerment, both in India and abroad.   He applauded the Mission for being "a great ambassador of Indian ethos and values", and "a true embodiment of the virtuousness and the spirit of peace and humanism that Hinduism stands for." He concluded by requesting the audience to take inspiration from the work of this great saint and support and promote the Mission's activities.
Swami Prakarshananda, accepting the award on behalf of Chinmaya Mission, warmly thanked the Vice President and the institutions for choosing the Mission for this year's award. He recalled the Mission pledge, and underlined the immense contribution of the leadership, of all acharyas and devoted members of the Mission.  Swamiji pointed out  that the knowledge of Vedanta alone could bring about universal love and peace. He dedicated the award at the lotus feet of Pujya Gurudev and concluded with the all-inclusive prayer, sarve bhavantu sukhinah …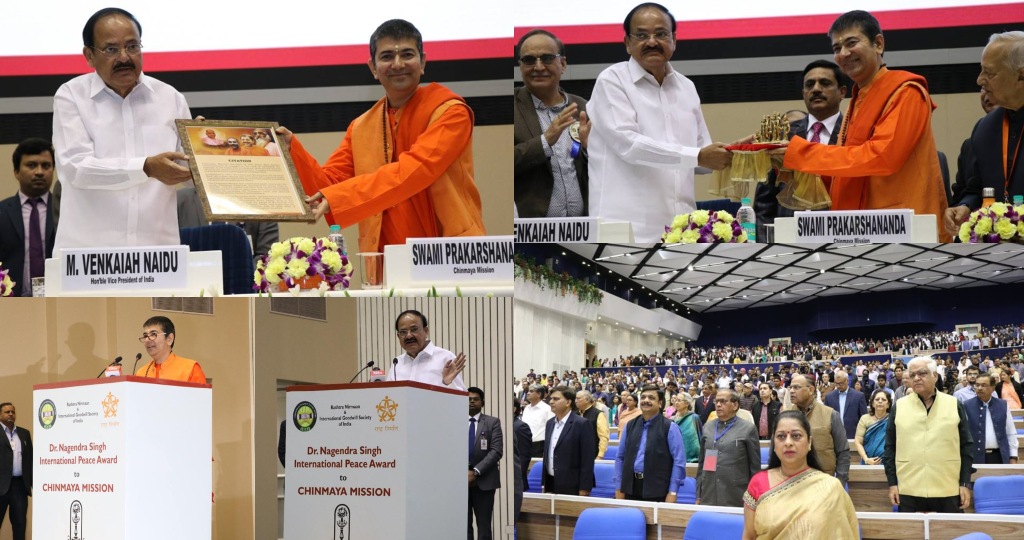 The following is the full text of the speech of the Hon'ble Vice President of India.
I am extremely happy to be present today on the auspicious occasion of the presentation of the Dr Nagendra Singh international Peace Award to the Chinmaya mission.
Justice Nagendra Singh was the only Indian who secured full tenure at the International Court of Justice in the Hague. Early in 1973 he became a Judge of the International Court of Justice, thereafter its Vice President, and subsequently he was elected the President of the International Court in 1985.
He served in the ICJ for more than 11 years and brought laurels to our nation. He was not only a distinguished civil servant but also a great jurist whose knowledge of international law was both profound and deep.
I am told that the international Goodwill Society of India (IGSI), a non-political, social and scholastic association, which is presenting this prestigious Peace Award, was founded by Justice Nagendra Singh in 1982.
The objective behind its formation was the mobilization of the society to oppose challenges of human rights violation, hatred, violence, arms race and exploitation.
This, he felt, was possible only by consciously promoting a feeling of brotherhood amongst men and creating goodwill through the practice of right conduct and the nurturing of a positive attitude.
The Society has earlier conferred these Peace awards on Justice Dalveer Bhandari of the international Court of Justice and on Shri. Ravi Shankar of the Art of Living fame. This year it is being given to the Chinmaya Mission.
I must compliment the Society and its members for choosing individuals and institutions who are promoting peace and goodwill through both their philosophy and their actions.
World peace has been humanity's long standing dream. Since time immemorial, poets have sung about it, philosophers have tried to comprehend its complexities and rulers and governments have tried to find ways to achieve it.
Yet, even at the threshold of the 21st century, world peace continues to elude us, it remains an unfulfilled quest, an unreachable destination.
The achievement of world peace is undoubtedly a slow and painful process.
We can take heart from the fact that we have travelled a long way since the barbaric days of the World War, the holocaust and the tragic times of Hiroshima and Nagasaki.
In 1945, after the world was forced to bear witness to the unimaginable horrors of the Second World War, humanity came together and promised themselves that there wouldn't be a Third World War to lament over. The historic 51 member League of Nations was thus born and later, transformed into the 192 member United Nations Organization.
The countries of the world came to a consensus that the only way to achieve peace was to work together and help each other.
Nelson Mandela once said, "If you want to make peace with your enemy, you have to work with your enemy. Then he becomes your partner."
India has been a beacon light of harmony and peaceful co-existence. For us, the whole world is one large family and the maxim of 'Vasudhaiva Kutumbakam' is firmly ingrained in our consciousness.
I am happy to learn that the Chinmaya Mission, the winner of today's prestigious award was established in India in the early fifties by the devotees of the renowned Vedanta teacher and proponent of Adwaita, Swami Chinmayananda Saraswati.
Let me express my appreciation for the motto of the Mission which is 'to give maximum happiness to the maximum number of people for the maximum time'. Its message is that of peace enabled by a deeper understanding of the self.
The Mission aims to bring about inner transformation of individuals through knowledge of Vedanta, spiritual practices and service to the society, thus creating a happy world around them.
It has been doing yeoman service in the fields of education, empowerment of youth, healthcare, rural development, environment and culture. The Chinmaya Mission is working to spread the message of spirituality, peace and service to all parts of the world. The mission is a great ambassador of Indian ethos and values.
It is a true embodiment of the virtuousness and the spirit of peace and humanism that Hinduism stands for.
The work done by Chinmaya Mission addresses the issues that lie at the heart of unrest and violence, the issues of deprivation, of injustice, of discontent. By educating the youth, it opens up a whole new world of opportunities to them. By focusing on conserving the environment, it paves the way for sustainable development.
Ultimately, if we want world peace, we must transform individuals.
If each of us can think and act differently by keeping the ultimate objective of improving the quality of life on this planet, the world will get transformed. Which is why, Gandhiji also had said, "Be the change you want to see in the world."
Share and care has been the core of Indian philosophy. We need to internalize this spirit in whatever we do. Learning to live together is the essential element of Indian ethos.
This aspect of learning needs constant nurturing in our educational institutions.
I am glad that Chinmaya Mission is propagating these timeless ideas among the younger generation.
Violence has several facets, from physical to psychological, and from emotional to cultural. We must combat violence in all its forms and manifestations. We need a multi-pronged approach to bring in peace.
Unfortunately, very often, the mass media, our movies, our video games, our books, our television programs, the internet, portray violence and sometimes even glorify it. There is a need to exercise restraint in the portrayal of violence.
There are a number of other factors like isolationism, indoctrination, fundamentalism and violent extremism that are fuelling conflict and terror across the globe.
In fact, terrorism has become a major challenge to world peace today. The number of terror related incidents has been on the rise from around 650 in 1970 to nearly 13,000 in 2016. The fatalities in these incidents have risen from nearly 170 in 1970 to nearly 34000 in 2016.
We should aim at a more just and responsive world order and one that is based on multi-lateralism. We should foster a climate of mutual respect and resolve conflicts through dialogue.
Peace is a pre-requisite for progress. We cannot have adequate attention to development if there is tension. We must build an inclusive, harmonious world.
India's message in this regard, taken from the Yajurveda, can prove to be highly inspirational.
"May there be Peace in Heaven and in the Sky,
May there be Peace on the Earth, in the Water and in the Plants,
May there be Peace in All,
May there be Peace within, giving me the Peace which Grows within Me."
I once again congratulate the Chinmaya Mission for being awarded the Dr Nagendra Singh International Peace Award.
I hope it will continue to propagate the best thoughts from the ancient Indian texts that can pave the way for world peace.
---
Swamini Apoorvananda attains Samadhi
Dated : 2018/11/23

---

Swamins, Brahmacharins and Members of Chinmaya Mission Worldwide
Dear All
Hari Om!
Swamini Apoorvananda of Chinmaya Mission Kannur took final refuge at the feet of Pujya Gurudev this afternoon, November 23rd, 2018, at Trivandrum.
Gayathri as she was known, was brought up as a Bala Vihar child. She met Pujya Gurudev, while still at school and joined the Vedanta training course immediately after her graduation. She studied at Sandeepany Sadhanalaya, Powai under the tutelage of Pujya Guruji, Swami Tejomayananda and received Sannyasa Diksha from him in 1997.
From 1991, first as Brahmacharni Maitri and later a Sannyasi, Swamini Apoorvananda served the Kannur centre in Kerala, where she spearheaded Mission activities and programmes. Geeta Jnana Yagnas, Study groups and Bala Vihar classes were a regular feature.
 In connection with the centenary celebrations of Gurudev, Swamini Apoorvananda conducted mass Geeta Chanting in the Police Maidan, which inspired over 1000 people to attend.  Of special note are the classes she conducted for the inmates of the Central Jail in Kannur. Her deep commitment to this cause, helped transform several hearts.
Swamini Apoorvananda's deep compassion for humanity and her unswerving devotion to the Guru Parampara will continue to inspire the thousands of lives she impacted.
Our respectful homage to Swamini Apoorvananda.
At His Feet
Swami Swaroopananda
---
Tree Plantation
Dated : 2018/10/08

---


Whenever children need some freedom to do what they want, like to have someone listen to what they say, and desire to have a person who is ever willing to share their experience and knowledge with them , they  have this tendency  to run towards their grandparents, who through their unconditional love, , humour and patience, , share stories, anecdotes, values, etc.
Likewise, whenever, we face oppressive heat, we run under the shade provided by trees, Today someone is sitting under the shade of a tree because someone planted the tree a long time ago.
Taking the analogy further, Allenhouse Public School, Jhansi in association with Chinmaya Mission, Jhansi, decided to celebrate a day where the seeds of wisdom are sown in young minds so that they grow up and give shade to many. Towards this, the grandparents of the children were invited, and tree plantation was planned on 8th October 2018.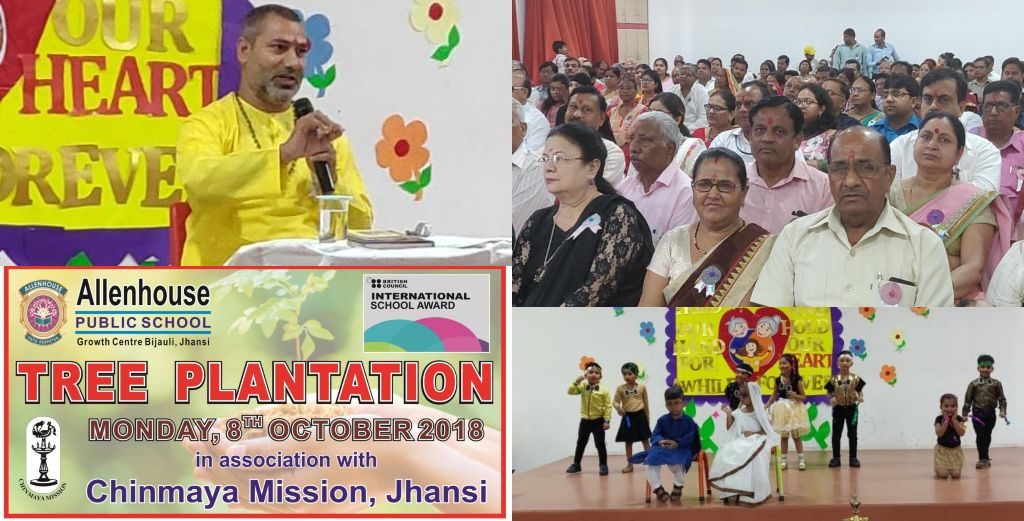 Pujya Brahmachari Raghavendra Chaithanya Ji, Chinmaya Mission, Jhansi, had kindly consented to grace the occasion with his divine presence and also share profound wisdom.
The programme started at 10.30 AM on the 8th of October 2018 by lighting the lamp.
Pujya Brahmachari Raghavendra Chaithanyaji invoked the blessings of Guruji, addressed the group and shared on what Chinmayananda always used to say
"Children are not vessels to be filled, but lamps to be lit" "Children are not careless, but are cared less ".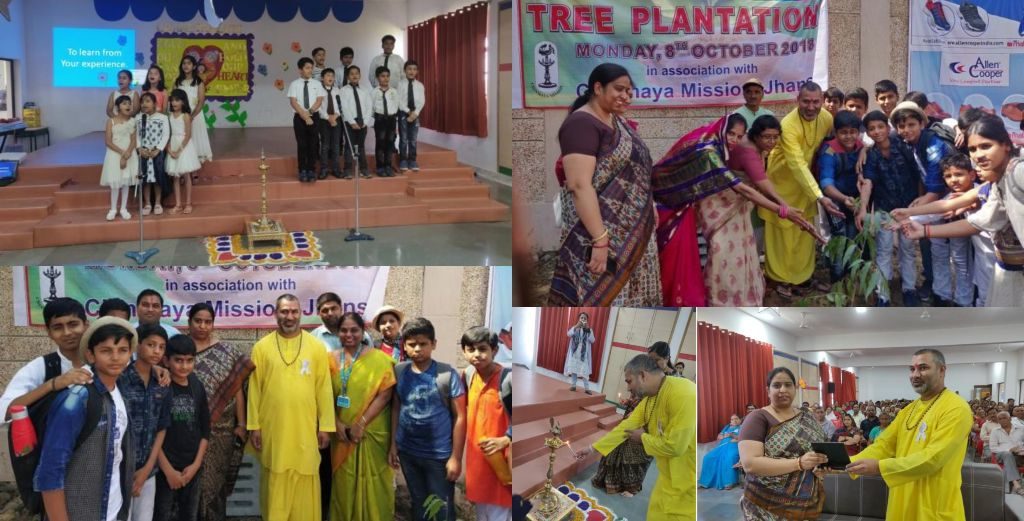 Everyone present was informed of how different aspects of our ancient culture, in terms of moral, spiritual, family and social values; can enrich the lives of children, and how they can move ahead in life, by focussing on core values.
Subsequently, the children performed a skit and showcased the values they had learnt from their grandparents, recited poems to show their love and affection, prepared greeting cards, sang songs, etc.
The programme ended with children planting tree saplings of guava, mango, neem, ashoka, jack fruit, jamoon, etc. around the school.
---
Chinmaya Mission Boston Charity Walk for publication
Dated : 2018/09/30

---

The annual Chinmaya Mission Boston Charity Walk and picnic was held on Sept 30, 2018 at the Great Brook State Farm in Carlisle. It was well attended with over 190 participants. Participants included 4-year-olds, an 84-year-old, and everything in between. The event kicked off with a prayer by Dr. Shashiji followed by stretching exercises. The 3-mile walk/run was flagged off promptly after that. This was followed by a picnic with activities that included face painting, frisbee, and ball games that were enjoyed by everyone present. With generous contribution from the CMB Community, over twelve thousand dollars was raised. Funds collected will be distributed between a global and a local organization/cause.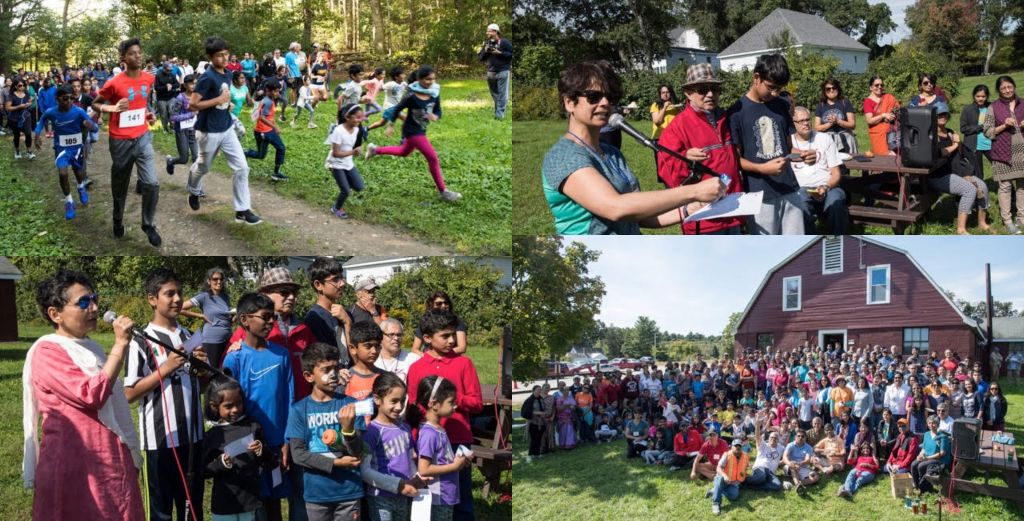 Chinmaya Organization for Rural Development (CORD) and Merrimack valley gas disaster relief fund, have been chosen this year. CORD is an India-based non-profit organization to help the disadvantaged transform their lives through self-help programs. In operation since 1985, under the leadership of Dr. Kshama Metre, who was recognized with the prestigious Padma Shri Award in 2008 by the Government of India. CORD supports over 700 villages in Himachal Pradesh, Andhra Pradesh, Orissa, Tamil Nadu and Sri Lanka, providing help to over 150,000 villagers Merrimack Valley Gas Disaster Relief fund was chosen for local charity this year. The fund was launched to provide short-term assistance for things like shelter, food and health services as thousands of residents in Lawrence, Andover and North Andover who have been without gas since Sept. 13 cope with the circumstances until the restoration of service.
---
Diwali was celebrated in Chinmaya Mission Houston
Dated : 2018/11/04

---

The grand autumnal festival of Diwali, arguably the biggest celebration among Indians the world over, was celebrated in Chinmaya Mission Houston with vibrance and devotion on Sunday, November 4, 2018.
Against the exquisitely decorated backdrop of Lord Rama and Sita Devi, and the row of ashtalakshmi murtis, Sri Ganesh Satyanarayana, Sri Saumyakasi Sivalaya priest, lead the puja with each family seated in the hall following the rituals step by step with their own idols. This was both personal and especially empowering for the children who immediately got involved, and participated with enthusiasm throughout the puja.
"Bring out the divinity in you", was the message Shri Gaurang Nanavaty had for those present. Just like gardens flourish by constant weeding, he said let us allow ourselves to grow, by persistently removing the negativity within us. Wishes from the acharyas on this occasion were to light the diyas within our hearts, be alert to destroy the Ravana within us, and keep the light of knowledge continuously shining within.

In the five days of the rituals of Diwali is a beautifully packaged message worth reflecting upon every day. On the first day the homes are cleaned and new things are bought. On the second, houses are decorated with diyas and rangoli. The third day, Goddess Lakshmi is worshipped. This is followed by the celebration of the New Year. On the fifth day siblings pray for each other's well-being and visit upon each other.  In the microcosmic realm of an individual, our journey to an elevated existence begins with first purging our minds of the clutter. Then we bring in things of value that will equip us to get better at our endeavors. With renewed exuberance and optimism we pray for the light to continuously kindle this spirit. Without the wealth of knowledge and a balanced state of mind, all the worldly joys are evasive to us; hence we seek the grace of MahaLakshmi, the supreme goddess of wealth, for an abundance of knowledge and all worldly comforts to make our progress possible. And lastly, while we work zealously towards our personal goals, the last two days of Diwali remind us to expand our circle of influence, and spread the joy of love and look out for as many lives as we can.
As the glance traverses down the neatly seated aisles of devotees in the hall, the familiar eye would spot some young parents; themselves balavihar children not too long back, passing on the tradition to their little ones. The new brahmacharini Shweta Chaitanya herself was a bala vihar student at this center. As philosopher Rumi said, the lamps are different but the light is the same. Under the guidance of Shri Gaurang and Shri Darshana Nanavaty a dynamic group of volunteers strive to keep the rich philosophy and knowledge of the hindu scriptures relevant and applicable and of interest to all generations and all kinds of seekers.

For more information on Chinmaya Mission Houston and its activities visit www.chinmayahouston.org or reach Jay Deshmukh 832-541-0059 or or Bharati Sutaria 281-933-0233 or better still, stop by Chinmaya Prabha, 10353, Synott Road, Sugar Land, TX-77498.
---