News


To understand anything is to find in it something which is our own.
-Swami Chinmayananda
Archival News/Other News
Swami Swaroopanandaji's Visit to Mauritius and Reunion Island
Dated : 2019/06/07

---

Mauritius was blessed with the visit of Pujya Swami Swaroopanandaji from 31st May to 7th June 2019 during which Swamiji delivered talks based on the Gayatri Mantra titled 'Empower Your Mind' from the 3rd to 6th June.  The series of evening talks commenced with a Sri Ganesh Vandana performed by the CHYKs followed by the address of the Chief Guest for the evening, H.H. Swami Krishnarupanandaji, Head of Ramakrishna Mission in Mauritius.  Over the four evenings, Swamiji unfolded the wonders of the Gayatri Mantra to an attentive audience of more than five hundred, who were spellbound with this universal mantra so lucidly put across, in the context of real life situations and delivered with a tinge of humour.
As part of the visit, Swamiji travelled to Reunion Island, where Swamiji delivered talks on 'Managing the Mind' and 'Managing Love and Relationships' to packed audiences over the weekend.
Swamiji also addressed students and young professionals at the University of Mauritius, leading a lively interaction on the topic 'Born to Succeed', and elaborated on the need to empower one's mind to achieve higher and nobler goals.
On June 5th Swamiji interacted with the CHYKs & Balvihar children at a beautiful function organised by the devotees from the South of the Island.  After cultural programs presented by them, Swamiji emphasised the importance of acquiring vedantic knowledge and smilingly answered their queries.
Swamiji also visited the Folk Museum of Indian Immigration at the Mahatma Gandhi Institute (MGI), and had a discussion with the MGI executive cadre on potential collaboration for programmes with Chinmaya University.
In addition to the talks, Swamiji met H.E. Paramasivum Pillay Vyapoory, the Acting President of the Republic of Mauritius, interacted with the media, and visited other parts of Mauritius to get a glimpse of the scenic beauty of Mauritius. Swamiji also met other segments of the Mauritian community, inspiring everyone to embark on their own quest for further knowledge.
As a fitting conclusion to the series of programs, a Gayatri Havan was organised at the Ashram on the 7th, and Swamiji left in the evening for India, but with a promise to return!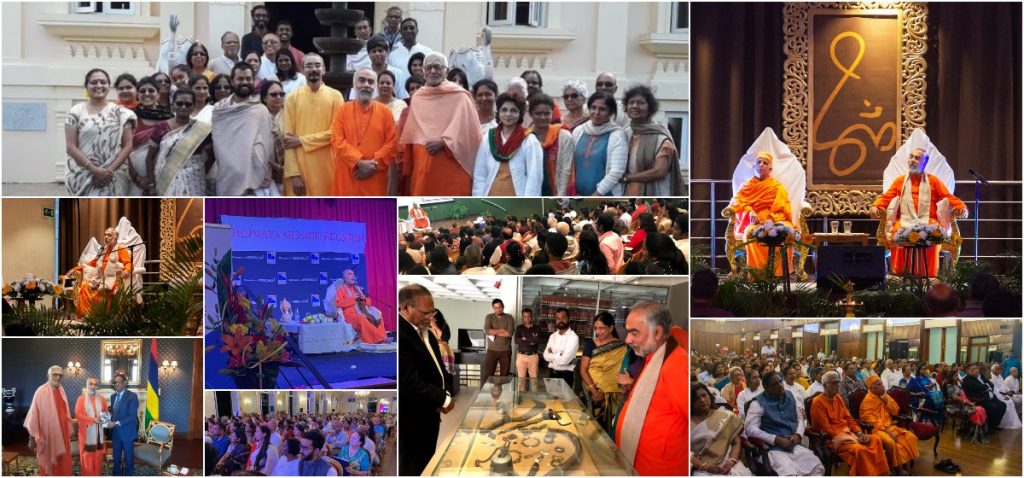 ---
Bala Vihar Sevak Training Camp – 2019
Dated : 2019/05/21

---

The much awaited Bala Vihar Sevak Training Camp at Chinmaya Vibhooti, Kolwan drew over 110+ participants from all parts of India and some from Dubai and Singapore too.
The faculty was none other than Pujya Guruji Swami Tejomayananda, along with a team of senior Bala Vihar sevaks from Mumbai. Pujya Guruji shared his wisdom with the eager sevaks who ranged from the experienced to aspiring beginners.
In the three-day event that began with a prayer dedicated to Pujya Gurudev Swami Chinmayanandaji, Guruji eloquently elaborated on the philosophy behind Bala Vihar after briefly explaining the vision and motto of Chinmaya Mission.
He highlighted how Gurudev had brought the highest spiritual wisdom to the youngest child and how Bala Vihar equips both the teacher and the taught to gradually build a truly meaningful life based on scriptural wisdom.  He also said that sevaks should look at their Bala Vihar class as their field of worship of God. He reiterated that values have to be taught in a fun way no doubt, but the vision should always be in line with the vision of Chinmaya Mission.
The faculty sevaks described various teaching methods which blend in age-appropriate hands-on arts and crafts, singing, chanting, and other fun-filled options to keep every child engrossed.  Being rooted in culture and being compassionate and loving to children is a must if a sevak aspires to be effective. Guruji stressed the need to be mindfully responsible; to walk the talk and to be committed from the heart.
As the faculty sevaks shared their knowledge, the rapt audience busily took notes of the various teaching aids they presented, be they charts, games, bhajans or props used that have been tried and tested. The ease with which they made complex spiritual ideas simple enough to be grasped by children was extraordinary. Guruji provided living proof of Pujya Gurudev's constant inspiration throughout the programme.
Chinmaya Vibhooti provided added highlights to the camp, via visits to Chinmaya Jeevan Darshan, Swanubhooti Vatika, the temples, Chinmaya Vani and Chinmaya Upahar. There were also bhikshas and informal satsangs at Guruji's kutiya. A wonderful feature of this camp is that Brahmacharini Anupama Chaitanya held classes for the children of the participants to keep them occupied, since the camp was held during the summer vacation and many participants could not leave their children at home.
On the whole it was a beautiful experience and one could see Pujya Gurudev working through the sincere teams of volunteers who worked in the yajna spirit and made every aspect of the training camp memorable.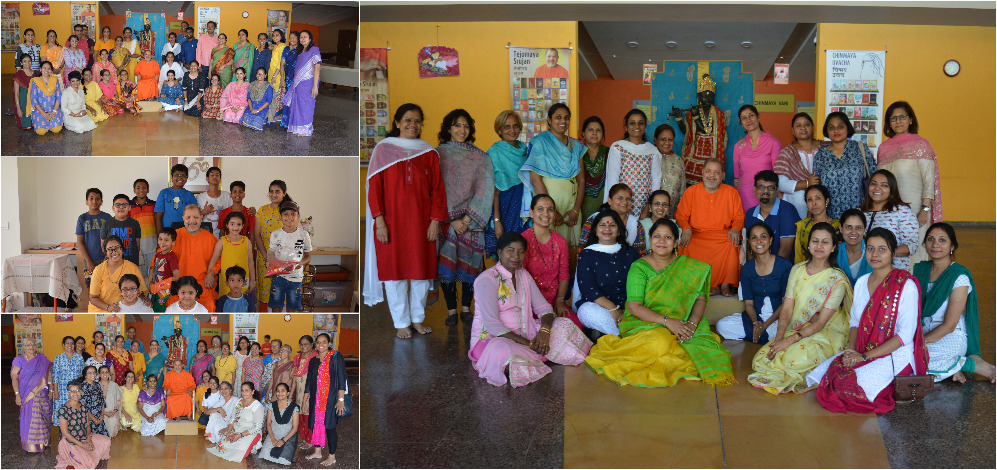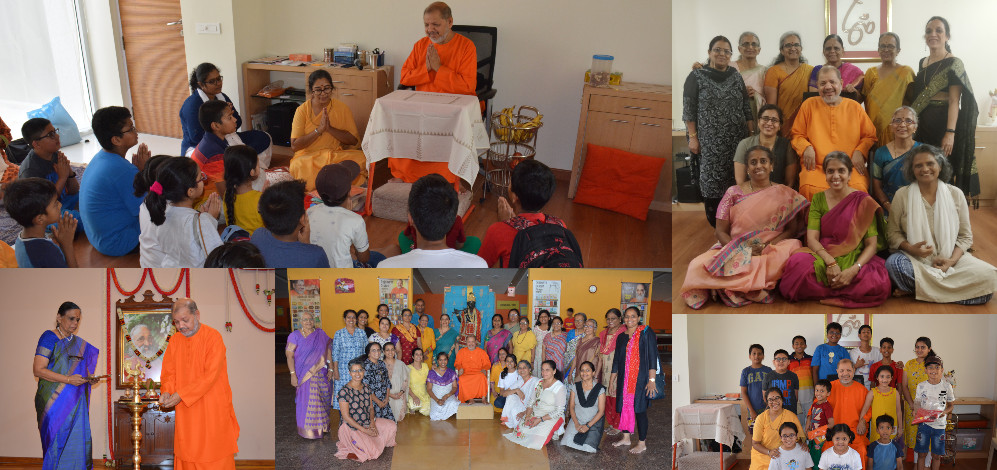 ---
Ramcharitmanas Yagna at Chinmaya Mission of South Africa
Dated : 2019/04/11

---

After months of preparations and much of anticipation, Chinmaya Mission South Africa was blessed to witness one of the most beautiful and rare program – 'Complete Ramayana Yagna' which was conducted at the beautiful Ashram in Durban. Swami Abhedanandaji (Incharge, Chinmaya Mission South Africa) took Tulsi Ramcharitmanas, from the very beginning to the end, in 18 wonderful sessions spanned over 9 Days. At the outset, it was a very unique program in itself for the people of South Africa as they got the opportunity to listen to complete Ramcharitmanas over the span of nine days with three hours of discourses in the morning and in the evening.
Prior to commencement of the Ramayana Yagna, Sankalp Havan and Pooja was conducted on April 2nd  where all the Yajamans took sankalp for inculcating divine virtues of Gyana, Bhakti and Vairagya, and prayers for the prosperity and growth of Chinmaya Mission worldwide. Devotees participated in large number during the sankalp havan as well as during the daily morning havans which sanctified the premises even further.
On the day of commencement, April 3rd, Swamiji began the series of divine discourses on Tulsi Ramayana after expressing his heartfelt gratitude towards Lord Ram and Pujya Gurudev. Swamiji's words were soaked with humility as he said, "To that Lord who made me His instrument, I express my gratitude… Lord alone should be the speaker of Ram Katha here & I should be a mere listener!"
As Swamiji started unraveling the Mangalacharan verses of the Balakand of Ramcharitmanas, the audience were taken to a different realm of bliss and devotion, and then there was no coming back. Swamiji's words transported the listeners to Ayodhya and then to Chitrakoot and to all the places where Bhagavan Shri Ram stepped His foot during His Avatar-kal. Swamiji beautifully explained all the moving episodes from Manas including Shiv-Parvati prasang, manifestation of Lord Vishnu as Lord Ram, exalted character of Shri Bharatji and the touching episodes of Bali Sharnagati and Vibhishan Sharnagati and the impeccable might of Shri Hanumanji and many more.
On the third day of the enchanting Ram katha, the auspicious moment of Shri Ram Janma was celebrated with a lot of cheer along with devotional bhajans and dance performances. On the fourth day, devotees witnessed the divine wedding of Lord Ram and Mother Sita as Swamiji painted the whole picture of Janakpuri in front of everyone's eyes. To explain the subtle import of Ram-Sita vivah, Swamiji said, "The cosmic power of Bhagawan Ram is Sita. Sita-Ram Vivah is the merger of 'Power' with the 'Powerful'… It is the divine confluence of Shakti and the Shaktiman!"
With each day of the mesmerizing Ram katha, hundreds of devotees thronged in the ashram and Swamiji took them deeper and deeper into the oceanic bliss of Shri Ramcharitmanas. Unearthing each doha and chaupai of Ramayana, Swamiji captivated the audience by bringing out the hidden love for the Lord that resides in each heart. The attendees felt extremely grateful as they were able to peek into this treasure called Tulsi Ramayana. And as much as they were enjoying the bliss of the discourses, so much so they were relishing the sumptuous lunch and dinner prasad that was been lovingly served at Anna Shiva (dining hall) every day after both the morning and the evening sessions.
The grand conclusion of this most unforgettable & enlivening nine days of Complete Ramayana Yagna was marked by Lord Ram's coronation on the throne of Ayodhya. Devotees offered their deepest regards to Pujya Swamiji and yearned for more and more such beautiful yagnas where they get to immerse themselves effortlessly in Lord's glories and Lord's katha.
On the following morning, April 12th, Purnahuti havan was conducted in which the devotees thanked all the deities who blessed the listeners with uninterrupted bliss of katha. In the evening, there was a special event organized by Chinamaya Mission South Africa named 'Samarpanam' which was a divine evening filled with soulful bhajans and classical dance performances. It was a platform for expressing gratitude towards Pujya Gurudev and the whole Guru Parampara for bestowing the greatest of Knowledge of the scriptures upon the entire Hindu community.
The culmination of the whole Yagna happened with the most sacred Ram Navami program on the 13th of April where acclaimed vocalist and dancers rendered performances and invoked the grace of Lord Shri Ram. With an extremely fulfilled and joyous heart, the devotees thanked Chinmaya Mission for having organized such a resplendent and awe-inspiring event which left an ever-lasting and spiritually uplifting impression on each heart and soul that it touched.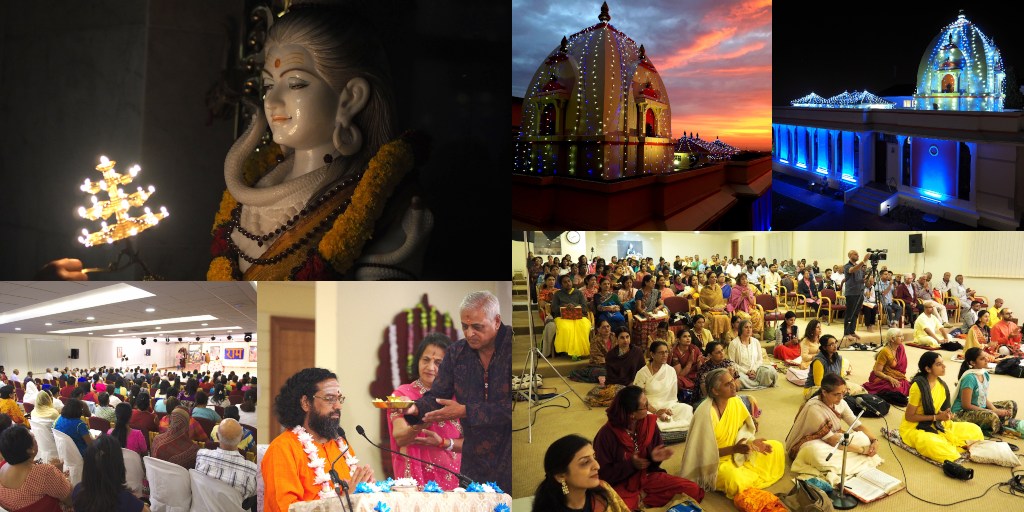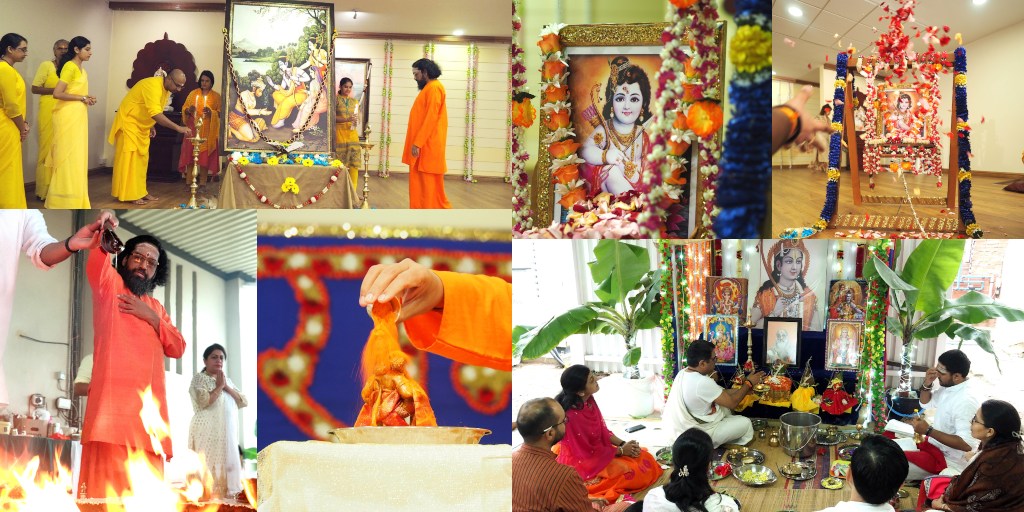 ---
Shri GM Rao, Chairman of the GMR Group visited SandepanySadhanalaya
Dated : 2019/05/15

---

On 15th May 2019, Shri GM Rao, the Founder-Chairman of the GMR Group, the global infrastructure developer and an acclaimed philanthropist who has also founded the GMR Varalakshmi Foundation which serves the various social causes of the nation visited Pujya Swami Swaroopananda.
He visited the temple to seek Lord Jagadeeshwara's blessings and was pleased to see the various publications of Chinmaya Mission and the souvenirs of Chinmaya Upahar.
He met Swami Bodhatmananda, the Resident Acharya of the Vedanta Course at Sandeepany Sadhanalaya and heard the students chant. Spending some quality time with Pujya Swami Swaroopananda, they spoke about how important it is to preserve our ancient and rich culture and had interesting discussions on the work being done by Chinmaya Mission.
Pujya Swami Swaroopananda also gifted Shri GM Rao some of our publications.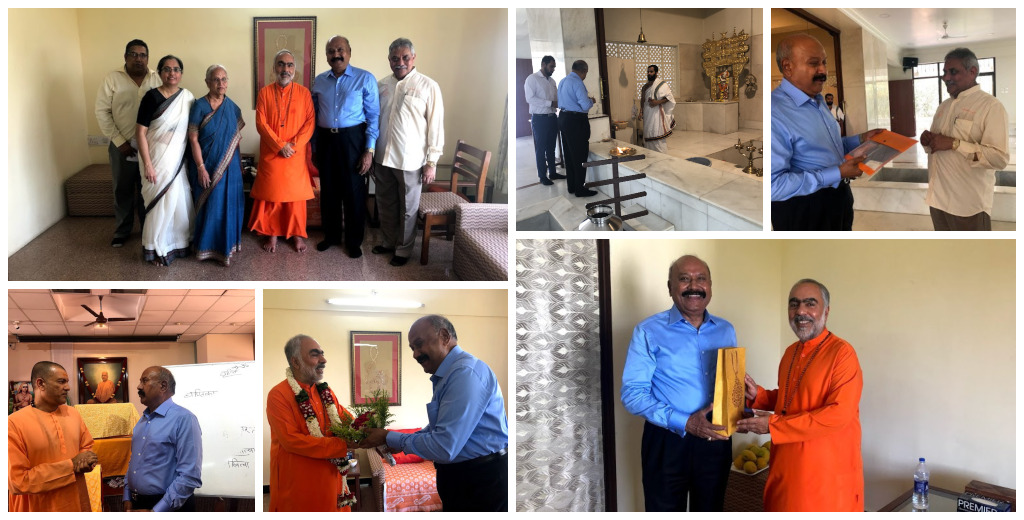 ---
Dasavatara Summer Camp
Dated : 2019/04/20

---

our five days Summer camp  (15th Apr-20th Apr 2019) was inaugurated by Srimaan Trust Sevak.Mrs.Lakshmi. we conducted camp for sixth and seventh standard students of Vivekananda vidyalaya,  around hundred students benefitted by this camp. 15 Chyk chapter volunteers and seven faculties co-ordinated the camp. They learnt the significance of avatar and learnt the value from it. They also learnt about our army, our country Akanda Bharatam, Pulwana, Siachen and the schemes of PM. Narendre Modi. They enjoyed the game session. They are so interested to do art and craft. They have a time to improve their talent like dance, act and sing. Final day they went to Dasavatar exhibition conducted by Kanchi Shankara Matt. They did Matru Pitru pooja for their parents and dedicate their performance to their parents and gifed the basket and art and craft which they prepared by themselves. Parents are so happy by seeing their children love and talent. They volunteerly express their joy and thanks to Chinmaya mission.
New year Celebration
We invited auspicious Vikaari varudam with Maha Thiruvillakku pooja. 160 members did the thiruvillakku pooja. six chyk chapter volunteers  and Devi group members organized the thiruvillakku pooja. Asuri. Sudha amma, Bagavan Ramanujar dynasty gave a valuable speech of villakku pooja and she mentioned that we deligently follow our culture and most importantly we protect our culture by selecting the correct person in the election.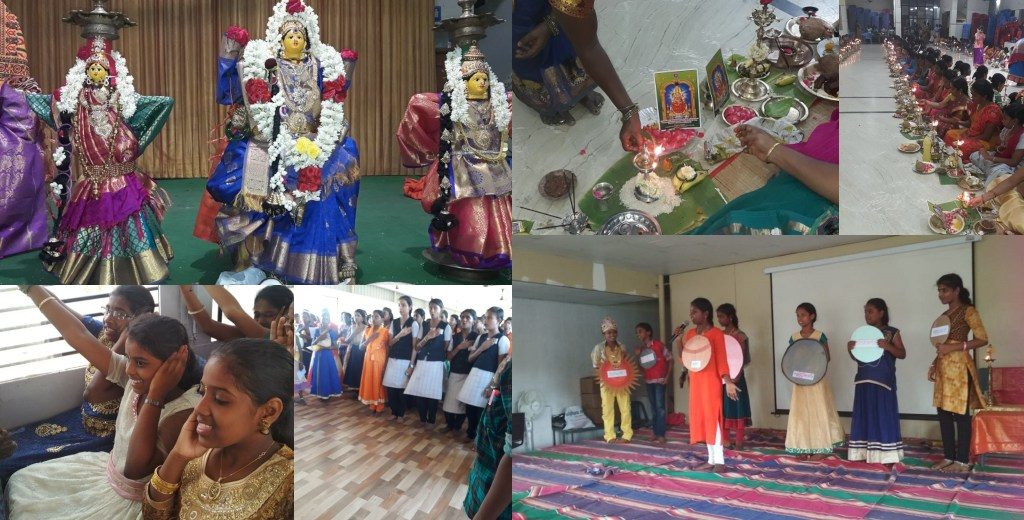 ---
Activities in Bengaluru during April 2019
Dated : 2019/04/30

---

Activities in Bengaluru during April 2019
Jnana Yajna in HSR Layout
Pujya Swami Krutatmananda of Hubli Dharwad centre conducted a Jnana Yajna in Kannada on Kulashekara Alwar's MUKUNDA MALA from 21/04/2019 to 27/04/2019 at Sri Vinayaka Temple, HSR Layout. The Yajna was inaugurated by the Vice President of the temple, Prof. M V Satyanarayana.
Pujya Swamiji highlighted the devotion of Kulashekara Alwar who although being a king capable of leading a luxurious life chose to be a benevolent emperor inspiring his subjects by his very living. A real devotee has clear understanding of the impermanency of outer world and does not run behind them for his mental calmness always reveling in the glory of the Lord. The mind always revels in pleasures of the outer world; true devotion is bringing the mind inwards trying to fix on the Lord. Real devotion is remembering the Lord wherever we are placed – whether in the hell of deep pain or heaven of supreme pleasure. All our rituals – puja, japa, tapa and bhajan help in silencing the turbulent mind and dissolve the ego when the seeker and the sought merge into one. This is Bhakti in its purest form when the mind becomes still and what remains is the supreme Lord alone.
The Yajna was well attended on all days.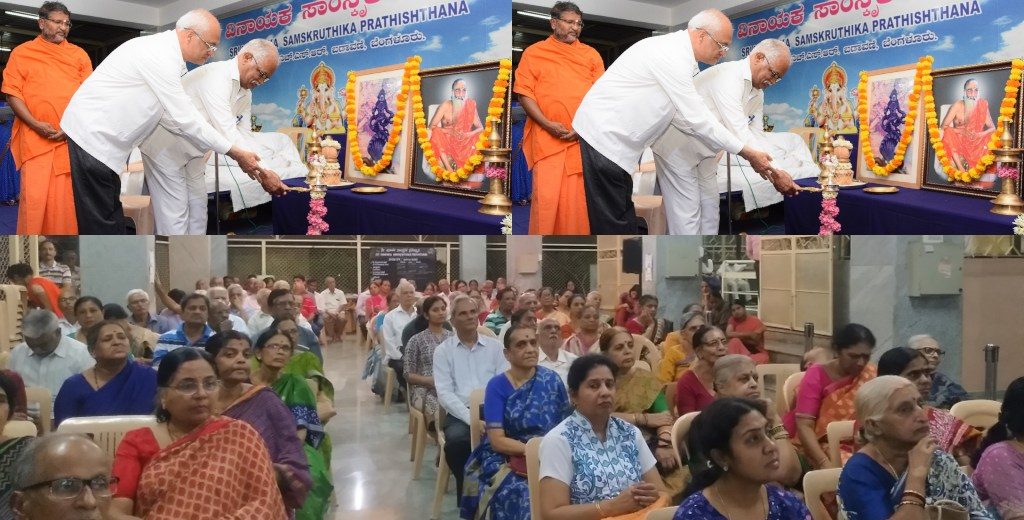 Balavihar Summer Camp
Balavihar summer camp organised in various areas of the city attracted not only our Balavihar children but also new children giving tremendous exposure to Balavihar activities. The theme of the camps was Glory of Lord Rama, Shiva, Krishna, Bala Ganapa and Dwadasha Jyotirlingas with main focus on imparting the values of brotherhood and how the three gunas manifest in the different characters of our great Epics.
The children learnt various Suktas & Stotrams, Pooja vidhi, bhajans and Bhagavad Geeta Chapter – 7. The Srimad Bhagavatam sessions were enjoyed thoroughly by the children. The children had various creative sessions of art & craft by various teachers and involved in solving few puzzles, crosswords and other activity sheets based on the theme of the Camp. The cultural programmes consisting of mesmerizing dance performance on the stories of Shabari, Ahalya & other incidents from Ramayana and the skits by children were appreciated and enjoyed by all. More than 400 children from different parts of the city participated in the camp.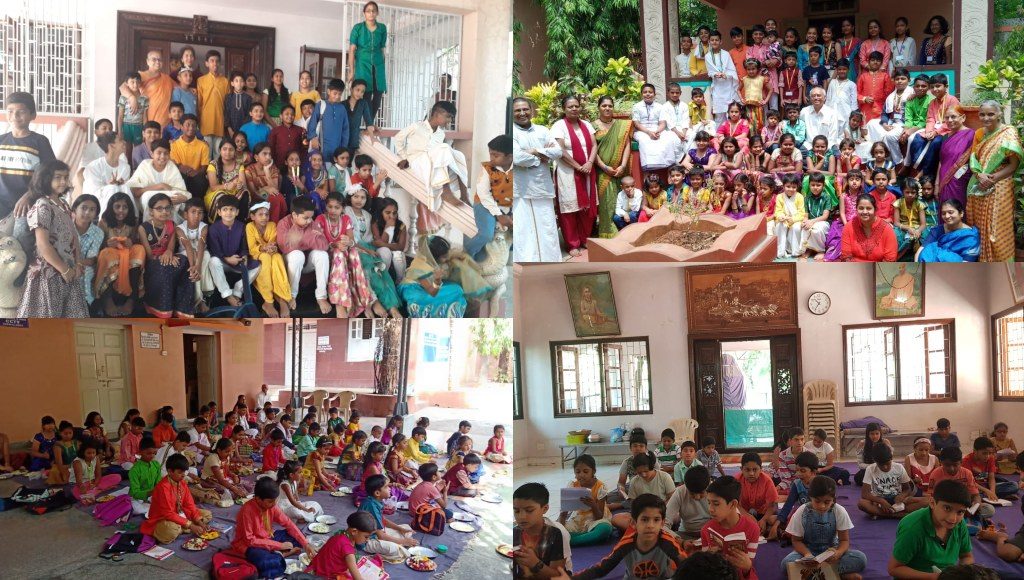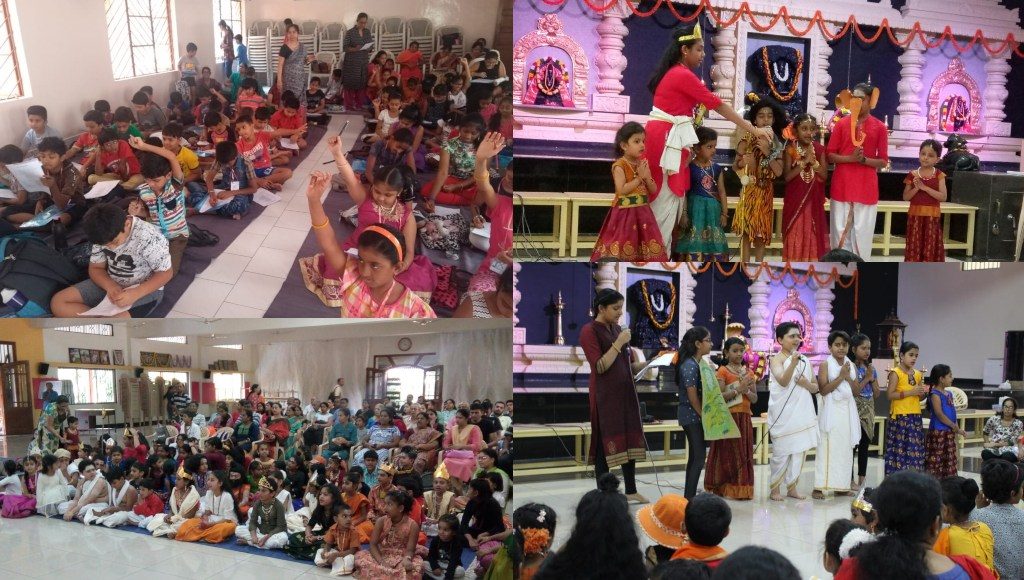 ---
Swami Chaitanyananda attains Samadhi
Dated : 2019/04/27

---

Hari Om!
27th April 2019, Swami Chaitanyananda of Chinmaya Mission Kolkata took final refuge at the feet of Pujya Gurudev, at Kolkata.
Swamiji joined the Vedanta course in Sandeepany (Himalaya), Sidhbari in 1986.  On the successful completion of the course in 1988 he was given the name Brahmachari Nandan Chaitanya.
From 1988 to March 2000, Swamiji served devotedly in various Chinmaya Mission centres – Assam, Andaman and Nicobar Islands, Madgaon (Goa) and Satna (Madhya Pradesh). He tirelessly applied himself to all the grass root levels activities of the Mission – Jnana Yagnas, camps and classes for children, youth, senior citizens and teachers.
Swamiji received Sannyasa Deeksha from Pujya Guruji Swami Tejomayananda in March 2000. Thereafter, as Swami Chaitanyananda, other than a short posting to Boston (USA), he continued to spread Pujya Gurudev's message of the scriptures in Allahabad, UP (2001 to 2010), and Kolkata, West Bengal (2011 till date).
Swamiji's dedication to the Mission was deep and unwavering. Ever smiling and always cheerful, he touched and transformed many a heart. He will be fondly remembered by those whose lives he impacted and his gentle presence will be greatly missed.
Our respectful homage to Swami Chaitanyananda.
At His Feet
Swami Swaroopananda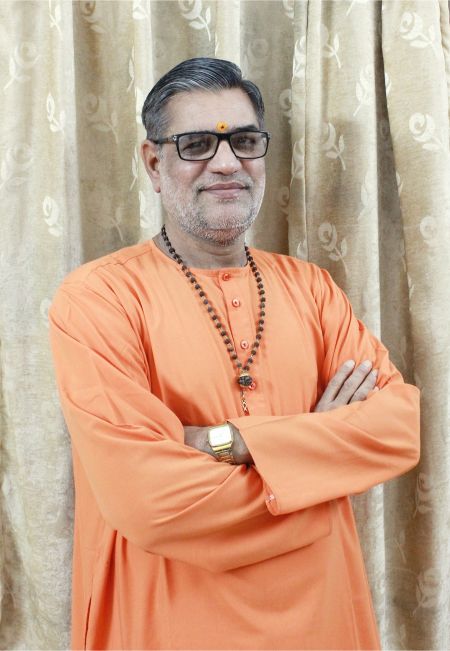 ---
Inauguration of Perth ashram by Pujya Swami Swaroopananda
Dated : 2019/03/24

---

Exciting news!!! By the Grace of the Lord and Pujya Gurudev our Chinmaya Mission has spread its wings further and opened our newest ashram in Perth, Australia.
In the auspicious presence of Pujya Swami Swaroopanandaji, puja and homa were performed in the early hours of the morning. Gurudev's Paduka puja was conducted by Swami Aparokshananda and Swami Shrikarananda.
The opening was well attended by the local community and distinguished guests including the Indian Consulate General, Amit Mishra and the local member of parliament, Yaz Mubarakei.
Pujya Swamiji addressed the audience and bestowed the name 'Chinmaya Prastha' – The place where Chinmaya abides. A place where Pujya Gurudev's presence can be felt and one can be immersed in the Bliss of Pure Consciousness.  Prastha also means to march or enter and Perth is the entry point from India to Australia. It also means a flat level expanse of land which perfectly describes the land on which the ashram is built.  He also mentioned that both Prastha and Perth start with a 'P'.
The Indian community is growing in Perth and with the opening of the ashram will now be nourished with the ancient wisdom of Vedanta. Although Perth is known for its sandy terrain, Pujya Gurudev had visited in 1992 and moistened and cultivated the land and sown the seeds of Vedanta. Under the diligent care of Pujya Swamiji for the last 20 years, he has nurtured that sapling addressing crowds of up to 400 people. Now it has come to its full fruition with an ashram of more than 3 acres, amidst beautiful peaceful greenery. An ideal place for meditation and contemplation.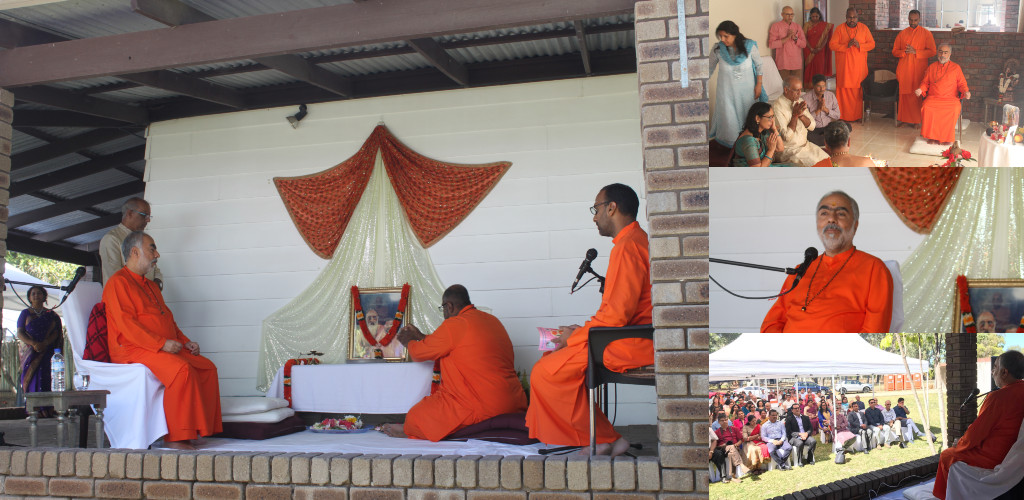 All are very excited and Pujya Swamiji will be in Perth conducting a 5 day discourse on Shri Ram Gita.
---
Respectful Shraddhanjali to Shailaja Nadkarni Amma
Dated : 2019/03/18

---

Swamins, Brahmacharins and Members of Chinmaya Mission Worldwide
Dear All,
Hari Om!
Shailaja Nadkarni Amma was a mentor and a mother figure at Chinmaya Mission Orlando. An ardent devotee and a committed disciple of Pujya Gurudev, Swami Chinmayanandaji, her entire life was devoted to the Mission.
A practicing paediatric cardiologist, her meeting with Pujya Gurudev was a life transforming moment. With His blessings and spiritual force, she started a Bala Vihar. This tiny enterprise has since grown into a large centre, now catering to the spiritual needs of 300 devoted families.
A fountain of love, she was the instrument that touched and changed many a life.  She always described herself as, "a tiny instrument in Gurudev's hands!" A perfect exemplar of his teachings, which she meticulously followed, she was engaged in spreading his message till her very end.
Shailaja Amma merged with the Lotus Feet of Pujya Gurudev and Her Beloved Lord at 1:50 am, on March 18, 2019 in Central Florida. In their hour of need, may Gurudev's blessings guide and support her family, friends and admirers.
At His Feet,
Swami Swaroopananda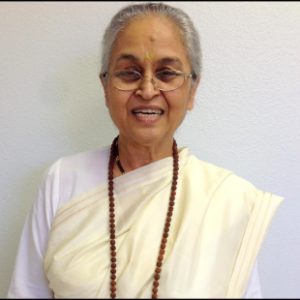 ---
Sad Demise of Ms Nirmala Challam on 3rd March 2019 at Coimbatore.
Dated : 2019/03/03

---

With deep regret we inform you of the demise of Ms Nirmala Challam (Nirmala aunty to hundreds of her Bala Vihar Children) on 3rd March 2019 at Coimbatore. She was fortunate to have the blessings and guidance of Pujya Gurudev and spent her life serving HIM. Her ability to organise and conduct innumerable Bala Vihar classes in Mumbai has been so effective that today most of her Bala Vihar students have grown to be responsible positive contributors to the Mission. She lived a life dedicated to spreading love and supporting underprivileged children. Nirmal Challam was a pillar of the Mission in Mumbai and later moved to our Coimbatore ashram where she spent her life in contemplation. We pray for her Satgati at the lotus feet of Pujya Gurudev.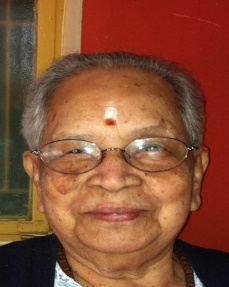 ---