News


To understand anything is to find in it something which is our own.
-Swami Chinmayananda
News This Week
Archival News/Other News
REPORT OF ARADHANA DAY
Dated : 2020/08/10

---

CHINMAYA VIDYALAYA, TRIPUNITHURA
REPORT OF ARADHANA DAY
The 27th Aradhana Day was observed in a befitting manner. The students presented a special online assembly in connection with this. The school choir started off with a prayer. Bhajans were rendered by the students of Class VI and VII. An anecdote from the life of Gurudev was presented by a student of class VII. Gurudev's speech was declaimed by the student of Class X. A tribute to Gurudev was offered through a dance performance saluting the great soul who merged with pure totality on this day.
Adhering to the COVID protocol, we conducted the Ashtothara Archana in the Vidyalaya wherein all the Office staff assembled and chanted Shanthi Mantra, Gurusthotram, Chinmaya Ashtotharam and 15th Chapter of Bhagavad Gita.
Link of Aradhana day celebration at Chinmaya Vidyalaya Tripunithura
---
Activities in Bengaluru during Jul 2020
Dated : 2020/07/05

---

Guru Poornima Celebration :
Guru Poornima was observed on 5th Jul, 2020 in Sripaadakshetra, J P Nagar with Pujya Swami Brahmananda himself performing the Paduka Puja and later conducting a Satsang. The programme was streamed on YouTube due to the prevailing restrictions on social gathering.
Although we have our parents, elders and institutions to give us knowledge and help in evolving our personality, it is only the Scriptures and Sadguru who can impart the true knowledge that can reveal our real Self. All our questions on the purpose of life, birth, death, etc., and the fact that external objects and circumstances can only give temporary satisfaction while the real happiness is our very nature can be explained only by the Guru. What needs is acceptance of our limitations and have an intense desire to seek the Truth when the Lord Himself will ensure that we meet the Guru who will guide us on the correct path. We need to understand that our own mind is our enemy as well as our true friend. The Sadguru helps us in realising our limitations and guides us to evolve and find the true meaning of life.

Gita Jnana Yajna in Jayanagar:
Pujya Swami Adityananda of Mandya centre conducted an online Jnana Yajna in Kannada from 6th to 13th Jul, 2020 on Guru Paduka Stotram composed by the 33rd pontiff of Shringeri , Jagadguru Sachidananda Shivabhinava Narasimha Bharati.
Pujya Swamiji took each stanza of Guru Paduka Stotram in detail explaining the meaning, significance and root of each word along with the philosophical relevance and the subtle adhyatmic truth removing all false understandings that the sadhak may have in his understanding of birth, meaning of life, death, Jagat, Jiva and Ishwara. The Guru Padukas signify the eternal Truth understood and experienced by the realised Master and just remembering the Padukas inspires the sadhak to sincerely tread the path of Guru with dedication to ultimately realise and experience the ultimate Truth. The wrong understanding that I am not the limited body, mind and intellect but the all pervading, eternal illuming Jyoti illumining the entire universe where no suffering is experienced can be revealed only by the Guru and Shastras. Worshipping the Guru Padukas constantly serve as a reminder to surrender the Ego with the understanding that real joy is not in the outer world but keeping the mind peaceful at all times.
The Yajna was very well attended by hundreds of sadhaks daily.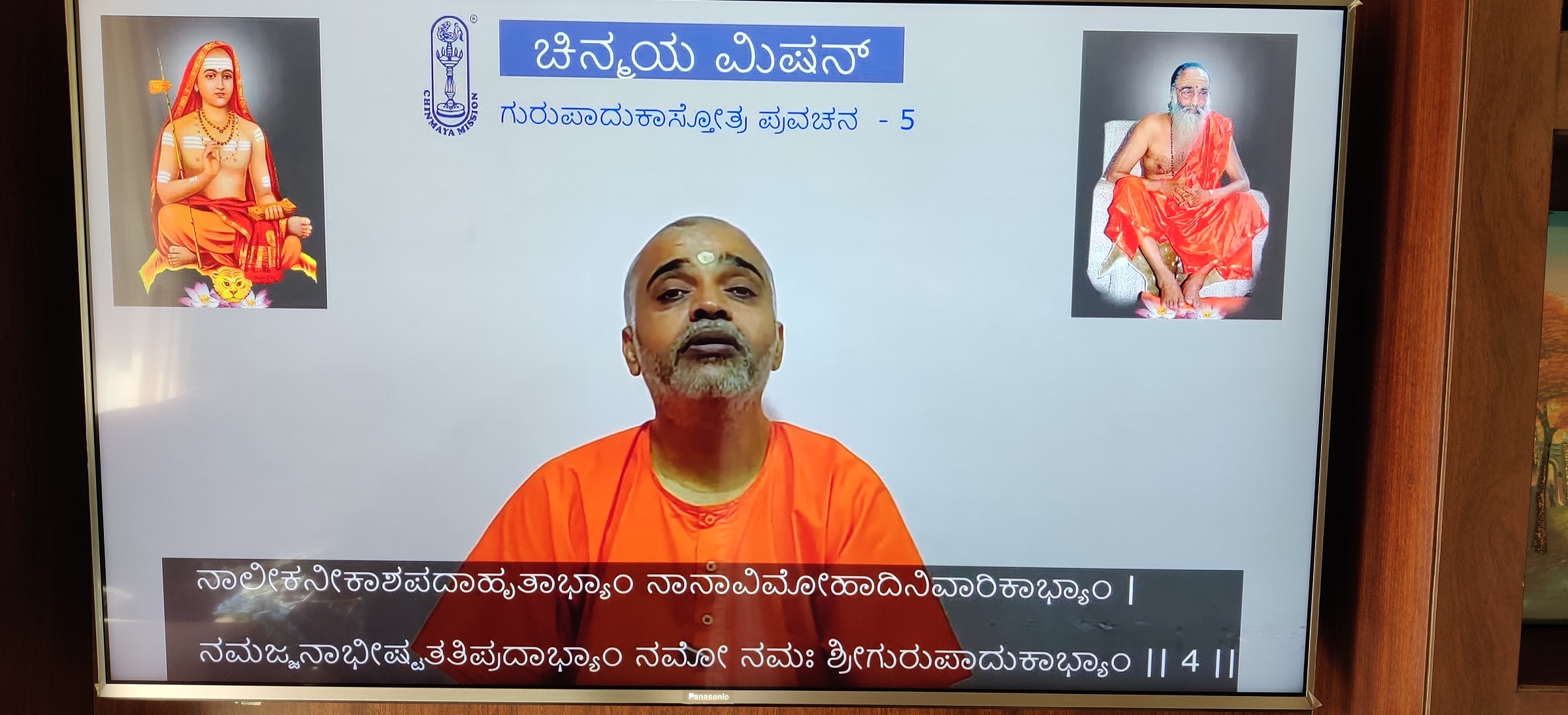 ---
2020 Youth Camp Report – Chinmaya Somnath VA
Dated : 2020/08/04

---

CMWRC Youth Camp 2020: "Our Culture in Pop Culture"
Anuradha Pajjur
Due to the Covid-19 situation, the Youth Camp was held online, from July 13 th – 17 th , from 3pm
to 5pm. The largest high school camp in Chinmaya Mission West came together daily for 2
hours of engaging discourse, discussion, dialogue, and dynamic activity. The camp's theme was
"Our Culture in Pop Culture."
Vivekji explained how movies were like maps for meaningful messages, just like our shastras.
Campers watched parts of the movies such as Unfiltered and The Dark Knight – exploring the
filters that we place on our own experiences and analyzing the evolution from
tamas/rajas/sattva and the "antidotes" for each guna. They learned that Media teaches us to
commune, Movies teach us to adapt, and Music teaches us to embrace — just like the sadguru!
They explored the messages embedded in music from MC Yogi's tracks, "Road Home" and
"Heaven is Here." They drew insights into the higher lessons we can learn from sports and
engaged in a photo walk – taking insightful photos showing agility, endurance, friendship,
communication, and vision. They also made a mini-zine, allowing them to do a self-love
inventory of their BMI, writing to their younger selves, and decorating the zine with a self-
portrait!
Overall, the students learned how to use every moment in their lives as an opportunity and use
pop culture in the best of ways by gaining a new perspective on how to enjoy media, music,
movies, and sports and drawing the connections between culture and Creator.
Campers reported having really enjoyed the camp and appreciated Vivekji's guidance.
---
Amphan Relief Seva Chinmaya Mission Kolkata
Dated : 2020/07/24

---

Some photographs of seva work undertaken in the Sunderbans by the Seva Project wing of Chinmaya Mission in the aftermath of the Amphan cyclone that hit West Bengal.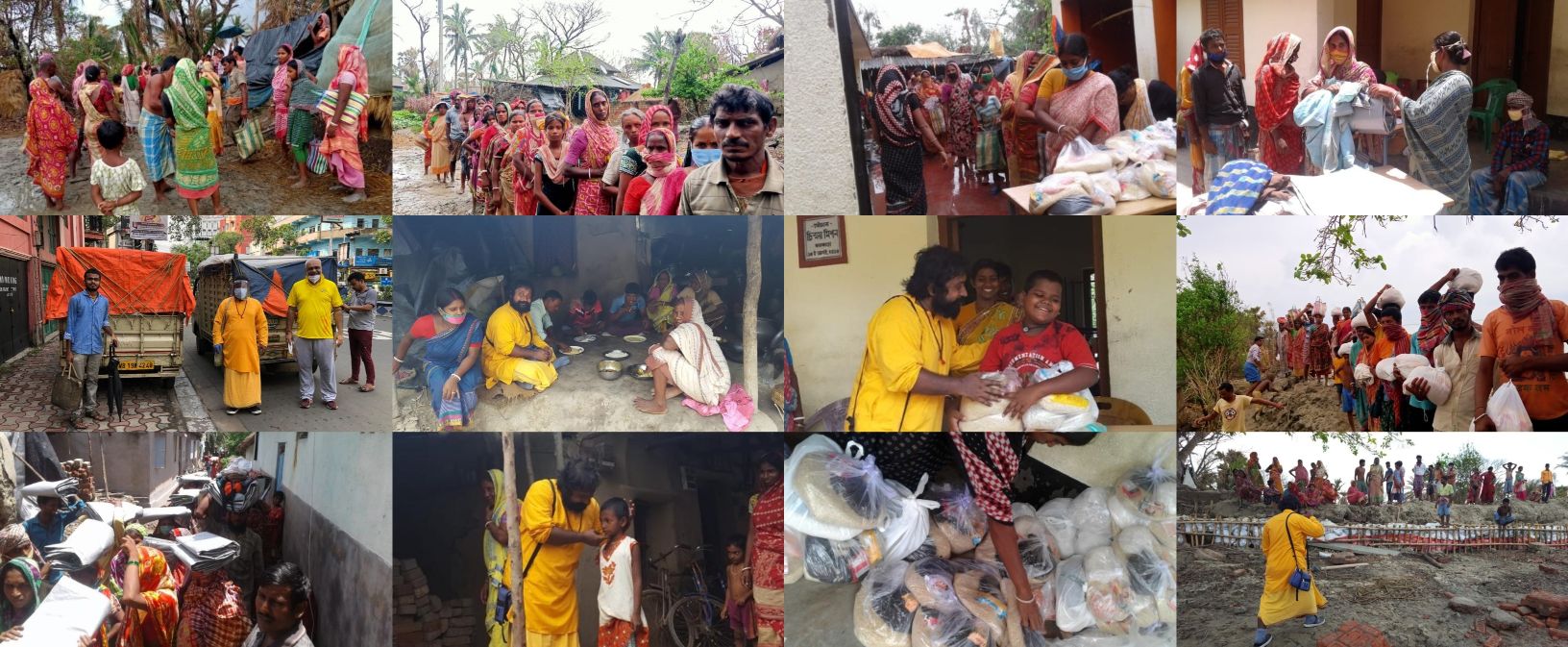 ---
Obituary for Shri Jairam Jaisinghani
Dated : 2020/07/11

---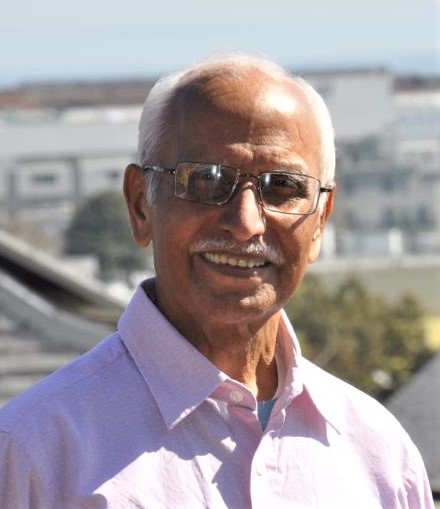 Shraddhanjali :
Shri Jairam Jaisinghani, an ardent devotee, attained the holy feet of Pujya Gurudev on July 9, 2020. A keen disciple of Gurudev's teachings, he would accompany his father to the jnana yajnas since the early sixties. It was Gurudev who arranged his match with his late wife Pushpa, who started the two Chinmaya Nursery schools in Mumbai.
After a short stint as a medical representative, Shri Jaisinghani joined Sandeepany Sadhanalaya as a full-time manager in 1980. A strict disciplinarian and a tireless worker, the ashram saw much growth and improvement under his tenure. He became the CEO and later a trustee of Tara Cultural Trust in 2005. Gurudev used to refer to 'Jairam' as his Hanumanji.
In 2006, Jairamji suffered a stroke and retired to his home. He was lovingly cared for by his son Jagdeesh, daughter Harsha and their families.
An online Shraddhanjali via Zoom was held on July 11, 2020. After kirtan, tributes were paid by Pujya Guruji and Swami Swatmananda followed by the marka ceremony, where rich tributes were again paid by family and friends from around the world.
The entire Chinmaya Family wishes the departed soul sadgati and offers its condolences and prayers to the family.
---
Gratitude From Chinmaya Mission to BMC teams and Metro Staff
Dated : 2020/05/06

---

We are happy and humbled to share that the 21.5 tonnes of dry rations, donated by Chinmaya Mission, made into 1500 food kits, were distributed in two BMC wards – F North and M West.
Our heartfelt thanks to the staff at Metro Borivali, where we sourced the food items from, for all their assistance. Special #gratitude to the BMC teams at the city and ward levels for guiding us all along, ensuring that the distribution happened in the red zones, even in the hot sun.
Without their support, this distribution would not have been possible. They meticulously carried out the #food distribution operation putting themselves on the line to ensure that no one goes hungry.
Our prayers for the well-being and health of all frontline and backstage Corona warriors and their families!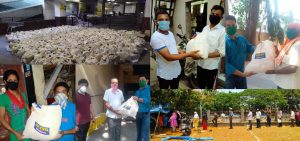 ---
CM Ukkunagaram for protection, relief and love ongoing covid19
Dated : 2020/04/22

---

1. Balavihar Sessions
Sunday Balavihar classes are conducted on zoom platform for about 40 minutes. Children enjoy these classes where in the first 20 minutes Balavihar Sevika teaches the children Geeta chanting and bhajans. The last 20minutes taken by Pujya Swami Raghuveerananda ji by their attention through stories with a vision and message and about the safety measures which has to be taken during these present times. Swamiji also elaborates on importance of prayer and cultivates the habit in children to be grateful to all the frontline warriors, milkman, vegetables and grocery vendors. He also talks to them about taking nutritious diet which increases immunity, much needed in the present scenario.
2. Seva by Study group members
Our study group members offered seva for couple of hours daily in the scorching heat at a gated society. They advice and educate people about the necessity of staying at home and also provide them with hand sanitizer to clean their hands and only then are allowed entry inside the society.
3. CHYK Seva
Our Chyks distributed lunch and dinner packets daily to the poor people and also to the police officers who are posted at the villages with minimum resources available. It started with a donation of Rs5000 by our chyk member due to whom the motivation has now started for the mother's of the Chyks and also Devi group member started cooking at home to feed the poor and needy.

4. Balavihar Talent challenge
Balavihar children were given one skill development activity each day. The children learnt to make flower bouquets, stitch a leaf plate, Dance, cooking and making of Ugadi pachadi, making mango leaf toranas, Rangoli,
Making thank you placards for frontline workers of covid19, making table mats and name boards, making of masks, offering bouquet thanking parents for sending them to Chinmaya Balavihar, awareness on stay home stay safe through a dance and dressing up of themselves in a funny way using vegetables and fruits etc.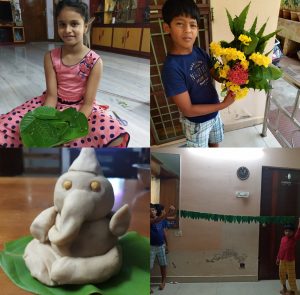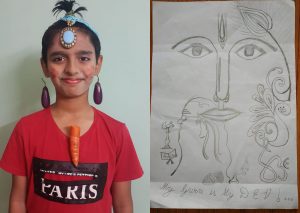 5. Talk for the executives of Cement Corporation of India.
An enlightening talk was given by Pujya Swami Raghuveerananda ji on zoom platform to the executives of Cement Corporation of India along with their families. Swamiji talked to them on facing fear in which he beautifully explained to them about how to walk from known to unknown with the inspiration only from within. If you are fearless you will be able to face challenges, accept it and also succeed in it. He also listed some points and requests on how to spend a quality time with family during lockdown.
---
Adi Sankara Jayanti celebrations at CIF – 28-04-2020
Dated : 2020/04/29

---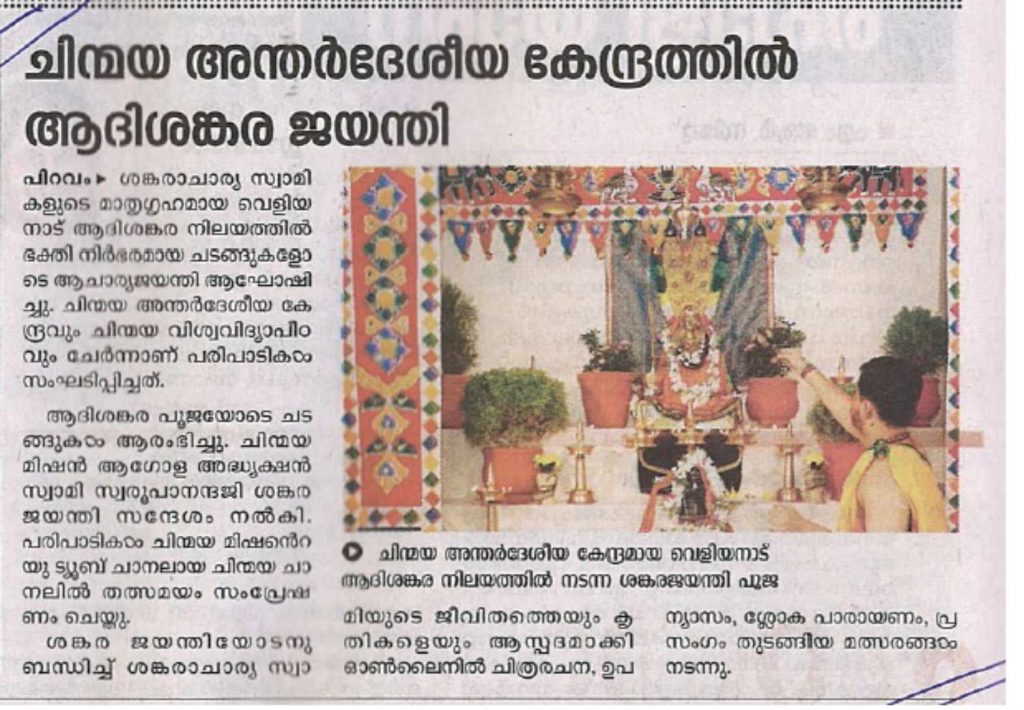 ---
Social Service Activities done by VBCV students.
Dated : 2020/04/17

---

      We give below the brief report of activities as part of  social service done by the       Vidyalaya during the lockdown period
       1. Awareness messages of COVID 19 done by
                (i)  Principal Message in the school website.
                (ii)  Display of Do's and Don'ts in prominent places near the school campus.
               (iii)  Awareness posters uploaded in the school website
                (iv) Principal's motivational message through Youtube.
         2. Making and distribution of 3000 nos. masks to Tata Motors Hospital.
       3. Distribution of food packets and essential groceries to needy people in the near by village by students  (CHYKsters) jointly with a social organisation, Muskan.  A few photographs are attached.
       4. The CHYKstars,  committed to spread awareness of COVID – 19  to the           community and protect  themselves and others.
        5.  Live streaming of Yoga,  through VBCV official Youtube channel , by our PT Teacher, Mr Shubham every day from 6.30 a.m to 7.15 a,m.  Photographs attached.
     6. The school through its website and teachers in whats app group intimated to all the parents and stakeholders about 24th hours Hanuman Chalisa chanting and Swamijee's sessions.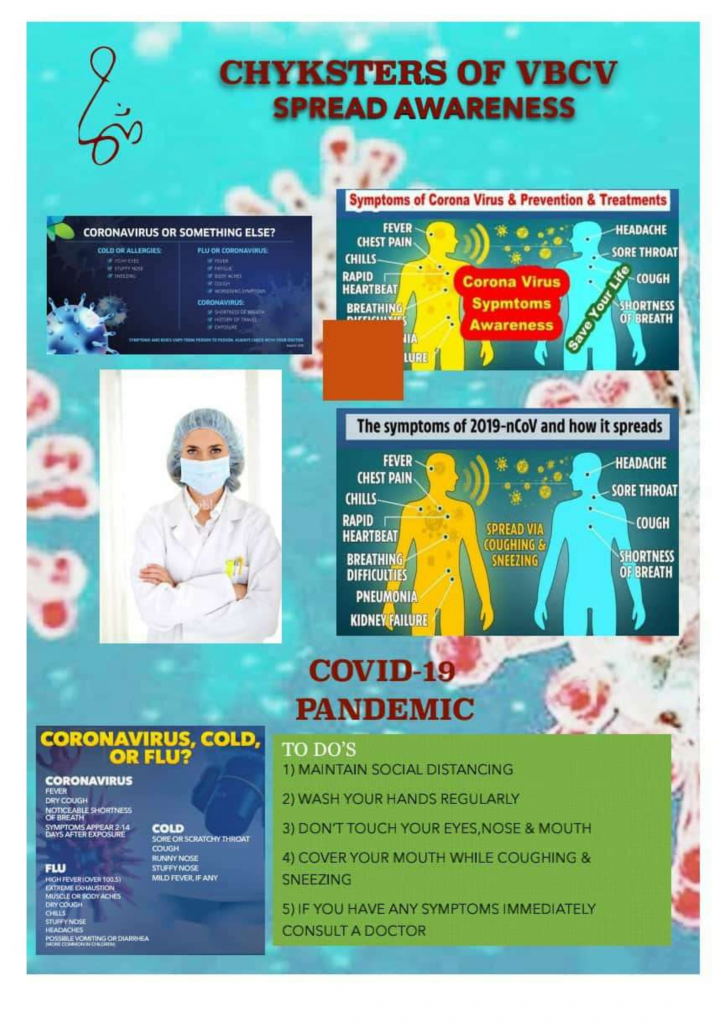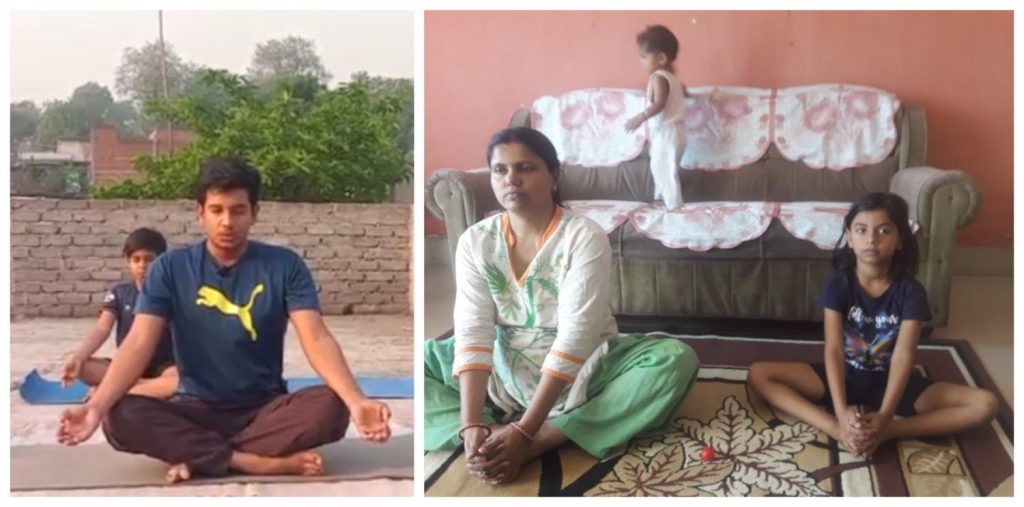 ---
Marathi Poem from one of our devotee, Veena Bhonsule Ji
Dated : 2020/04/25

---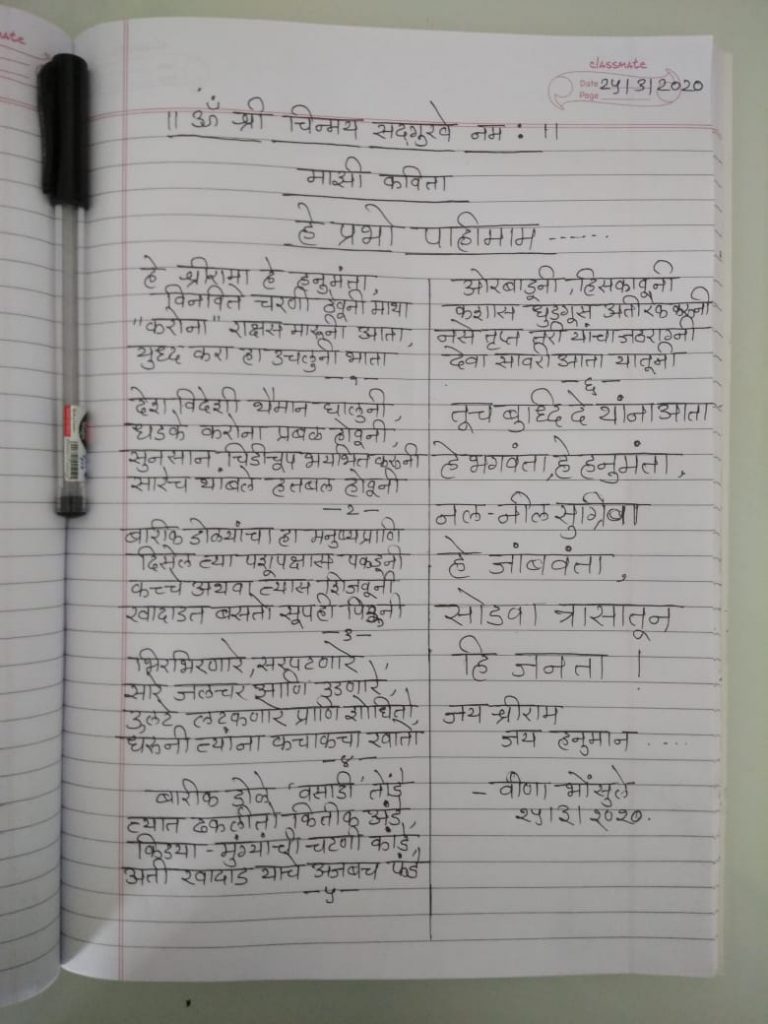 ---