News


To understand anything is to find in it something which is our own.
-Swami Chinmayananda
Archival News/Other News
Taking Time Out to Win the Mind & Win the World
Dated : 2019/11/05

---

Take Time Off – The musings of a converted skeptic
It's not everyday that one takes a giant leap of faith and plunges into the depths of the unknown. It takes courage and perhaps discrimination to perceive a gap in one's understanding of Vedanta and its ocean of knowledge. This unfortunately continues to remain an enigma to most in the world; and more so amongst some of us pseudo Indians who so easily gravitate to cultural influences of the western world and fail to look within at this vast repository of knowledge at our doorstep.
At the recent retreat held at the uniquely serene settings of Chinmaya Vibhooti; cradled within an expansive valley surrounded by nature (Kolwan) and solitude; Global Head of Chinmaya Mission Pujya Swami Swaroopananda hosted a 3.5 day camp on the Vibhishana Gita; a guide to understanding the virtues that make us a complete and resolute human being in any setting. The retreat took place from 1 to 4 November 2019 and was attended by 130 adults and 15 children.
'Take Time Off' turned out to be an antonym of sorts with a schedule rivalling our daily lives especially for us who come from a corporate setting; however what was uniquely surprising that making the choice to stay disconnected from our digital obsessions was hardly missed. The programme seamlessly blended guided meditation sessions, discourses, nature walks, musical evenings with Smt. Pramodini Rao, stargazing with Chinmaya Vibhooti's brand new telescope, and many impromptu interactions with Pujya Swamiji, exemplifying the overall experience for us all. One such interaction was the group activity at the amazing Swanubhooti Vatika which helped enunciate the key teachings of the Vibhishana Gita.
The future vision of Pujya Guruji Tejomayananda in creating Chinmaya Vibhooti and the award winning Swanubhooti Vatika, a reflective paradise (a splendorous botanical garden in verdant surroundings) seeded with pearls of wisdom for any seeker. Such creations reinforce Chinmaya Mission's effort in not only spreading this 'jyot' (light) of knowledge with the world but also creating hallmarks of excellence for society.
To encapsulate an experience in a few paragraphs doesn't do justice to all the learnings, interactions, shared moments and importantly the connect with our scriptures which enables a better You and Me on this journey of life.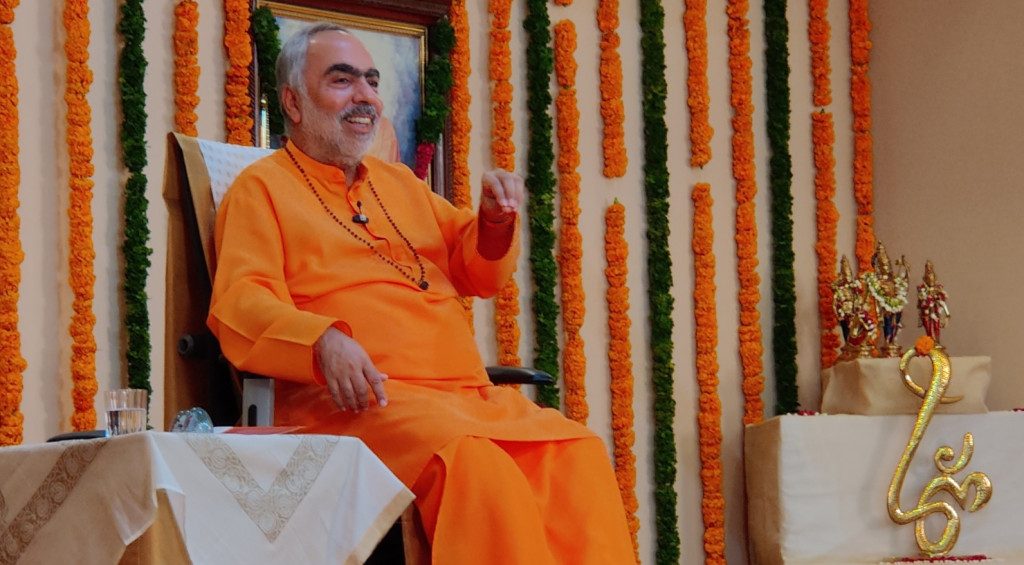 Events like 'Take Time Off' are a must do for anyone, from any sphere or stage of life; to reconnect with our inner selves… to tune in to the higher and more so at a destination like Chinmaya Vibhooti.
---
NO MORE DRAMA @ ParamDham
Dated : 2019/10/14

---

A beautiful psycho-spiritual one day workshop titled "No More Drama" was conducted by Dr. Leena Bahrani, a longstanding member of Chinmaya Mission and a leading psychiatrist from Mumbai on 12th and 13th of October 2019 at Paramdham, Chinmaya Mission Ahmedabad.
The workshop for ChYk and Setukaris (age group of 18 to 45 years) was focused on improving interpersonal relationship through synchronization of thoughts, feelings and behaviour i.e. our Body, Mind and Intellect. Spiritual concepts like 'Panchakosha' and 'Jagrat, Swapna and Sushupti avastha' were co-related with the concept in psychology. The workshop was focused on how one's psychological layer can be utilized to connect to one's deepest and subtlest spiritual layer.
Using role plays on various day-to-day situations of our life, the concepts related to different ego-states were explained. Simple exercises for self assessment of different personality types were also carried out. All the participants could see one's routine transactions from a totally different view point based on psychological and spiritual aspects. This made the knowledge of the "how the mind functions" directly utilizable in daily life.
Overall, it was a fulfilling experience for all as it made each one understand oneself better.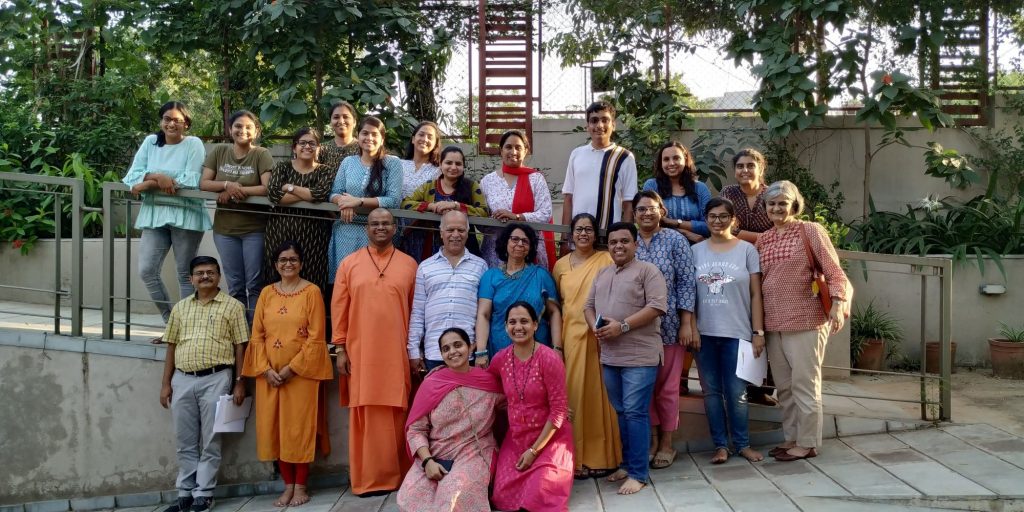 ---
7th Annual Divya Shakti Retreat
Dated : 2019/10/20

---

The 7th Annual Divya Shakti Retreat, held at Chinmaya Mission Orlando i n Florida, was deeplynourishing and i nsightful. Ninety women, thirty from other states, gathered for the three and a half day event from October 17-20, 2019. The theme of "Finding Your Path" i ncluded a balanced program of yoga asana, guided meditations, arts and games, and, most i mportantly, Vedanta discourses and workshops conducted by inspiring teachers Vilasiniji and Vivekji. Adi Shankaracarya's Shiva Manasa Puja was the retreat text. Both Vivekji and Vilasiniji expounded on this stotram i n practical ways. He explained how the offerings made during the puja ritual represent the virtues of the i deal which i s to be i nternalized. The key aspect of any action i s the feeling, or bhaava, supporting i t which makes that action efficient, effective and j oyful. Thus, when any action i s undertaken with the right bhaava, i t i s transformed i nto worship or puja, with Moksha, or Eternal Happiness, as the ultimate goal.
Vilasiniji used the stotram to guide the morning meditations and i nteractive workshops on finding a purpose and path i n l ife. She explained how paths vary, depending on temperaments and phases of life. Through discussions and small group sessions, she encouraged reflection of short-term and long-term goals, as well as the practices which could be undertaken to overcome obstacles along the way. In this fast-paced age of technology, self-inquiry is becoming a forgotten practice. This retreat helped the attendees realize the need to be intentional in thought as well as action. The overall atmosphere
which emerged during this retreat was conducive to spiritual reflection and evolution. Gratitude to the Guru parampara and our teachers.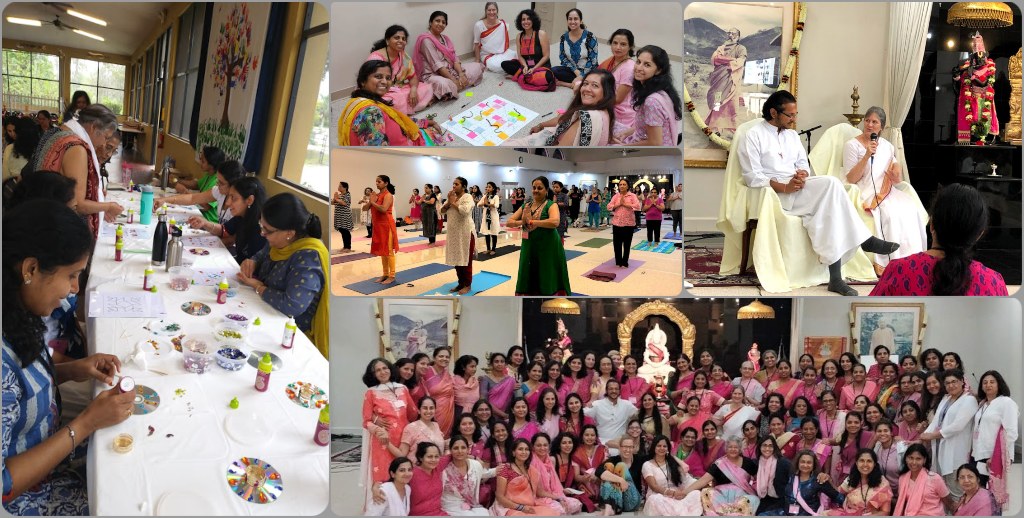 ---
Activities in Bengaluru during Oct 2019
Dated : 2019/11/01

---

Activities in Bengaluru during Oct 2019
Gita Jnana Yajna in Vijayanagar
Pujya Swamini Sampannananda of Malleswaram centre conducted a Jnana Yajna in Kannada taking Vakya Vritti at Chinmaya Mission Centre, Vijayanagar  from 13th to 19th Oct, 2019. The Yajna was inaugurated by Sri K B Kamath, senior member of the Mission.
Pujya Sampanamma explained how Bhagawan Shankara in Vakya Vritti has beautifully explained unity in diversity through the vision of oneness besides removing all wrong notions that 'I' am the body. His down to earth examples remove all misconceptions regarding death inspiring the sadhak to lead a fearless life full of meaning and gratefulness just as a Mahatma who revels in His inner peace amidst all the ups and downs in life.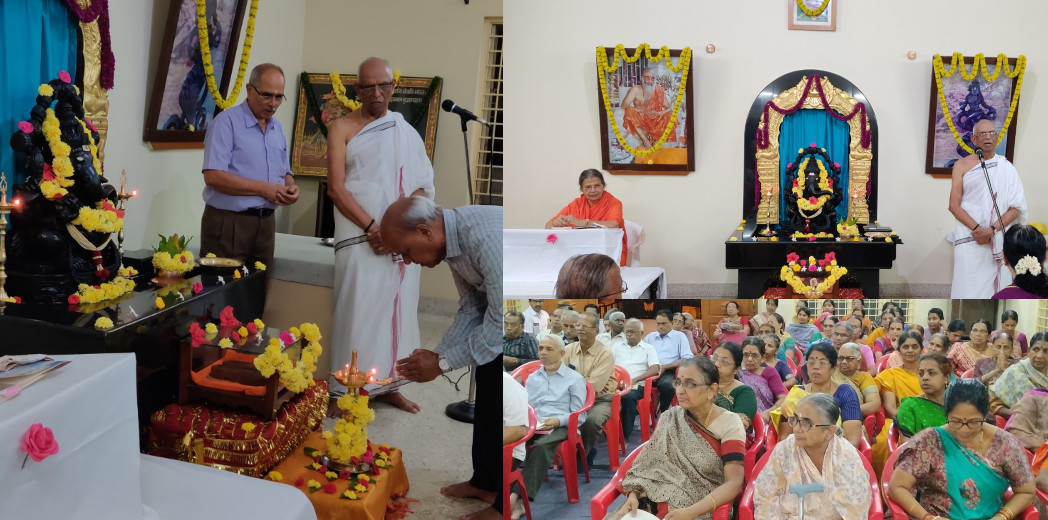 The Yajna was a grand success with participation of several sadhaks.
Gita Jnana Yajna in Indiranagar
Pujya Swami Chidrupananda of Noida centre conducted a Gita Jnana Yajna in English taking Bhagavad Gita Chapter – 13 at Deenabandhu Kalia Mardhana Krishna Temple, Indiranagar from 18th to 24th Oct, 2019. The Yajna was inaugurated by Smt Bharati and Sri Sunil, senior members of the Mission.
Pujya Swamiji gave a vivid explanation of how the study of Bhagavad Gita expands one's vision giving a crystal clear concept of life which is nothing but a series of challenges from womb to tomb and interaction with "I" the individual and outer world. All our suffering is mainly because of identification with the pluralistic world due to ignorance and wrong notions. Inculcation of positive values in life protect one from various situations, problems and onslaughts of society helping the sadhak navigate the sea of samsara to gain the supreme knowledge.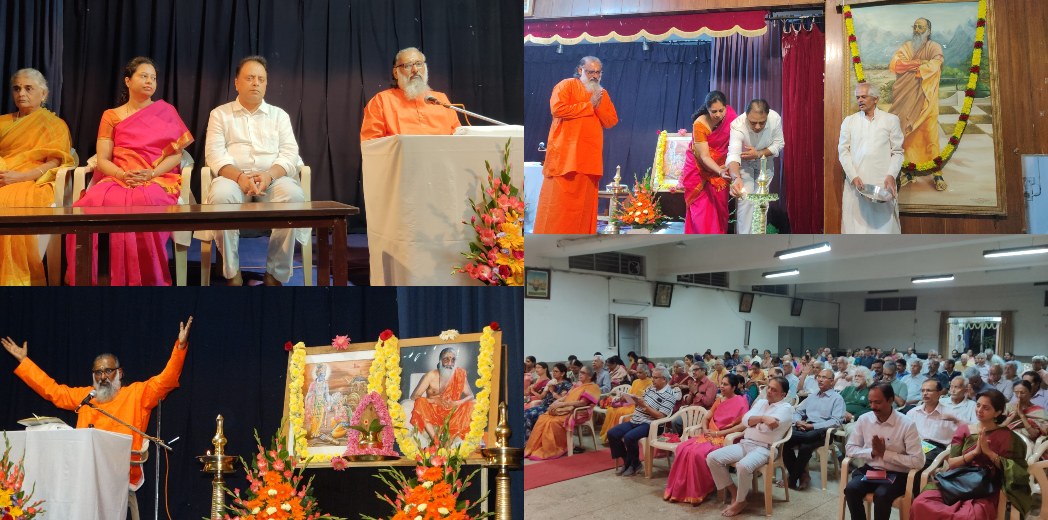 The Yajna was well attended with Pujya Swamiji also conducting a Youth workshop entitled – Making Success a Habit on Sunday, 20th October, 2019 which was attended by over 75 youngsters.

Navaratri and Deepavali Celebrations
Both Navaratri and Deepavali were celebrated in Sripaadakshetra, J P Nagar and Deenabandhu Temple, Indiranagar with all religious fervor under the guidance of Pujya Swamini Samatananda. Navaratri was observed with daily archana and special Devi puja followed by keertans, bhajans and classical music all the nine days from 1st to 9th Oct, 2019. Deepavali was observed as festival of lights with the entire complex beautifully lit up along with special puja and bhajans on all the four days from 26th to 30th Oct, 2019.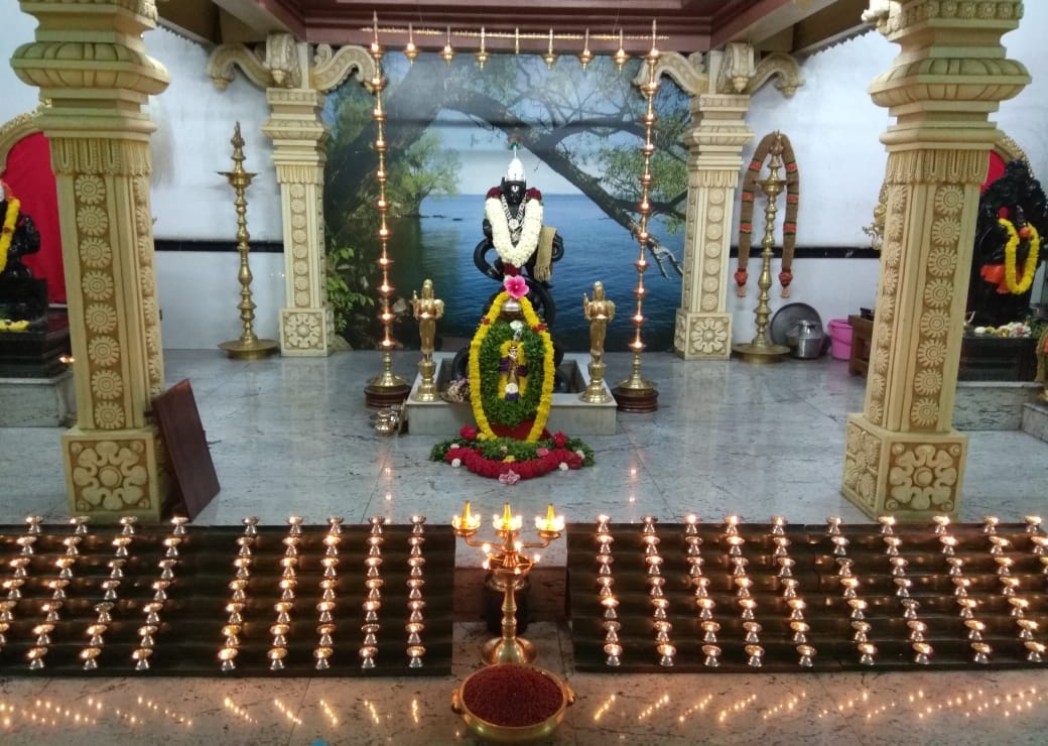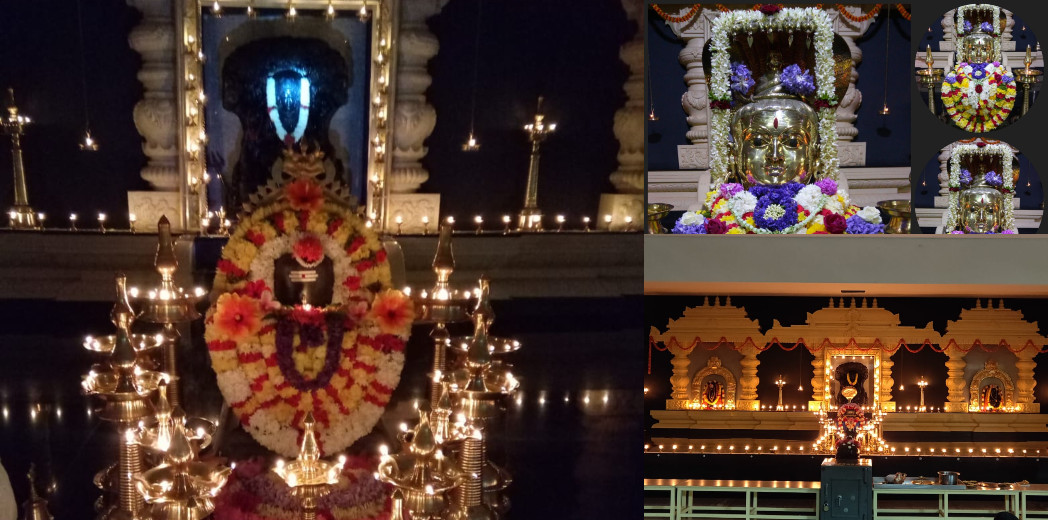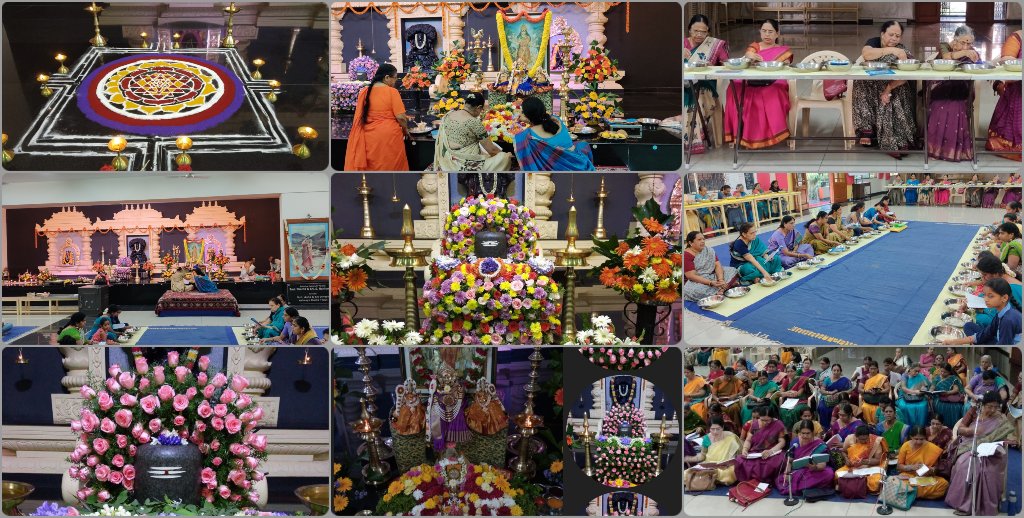 ---
Geeta Jnana Yajna at Thrissur
Dated : 2019/10/23

---

H.H.Swami Swaroopanandaji's Geeta Jnana Yajna was conducted in Thrissur from October 17th to 21st based on 12th Chapter, The Science of Love.  Some photos of the visit of H.H.Swami Swaroopanandaji in Thrissur is attached herewith.  Swamiji inaugurated the newly constructed KG Block in Kalladathur Chinmaya Vidyalaya.
H.H.Swami Swaroopanandaji unveiled the Ashtalakshmi Mural paintings in Chinmaya Bhuvaneswari Temple on 19th.  Morning talk was based on Maha Mrityunjaya Mantra in Neeranjali.
Swamiji met the Trust Board members of CSTK and CMECT, Vidyalaya and College Teachers, College Chyk, Balavihar Co-ordinators of Chinmaya Mission Centres in Kerala, Executive Committee members of various Centres in Kerala, the Yajna Committee members and school children. We all enjoyed the busy Schedule with Swamiji.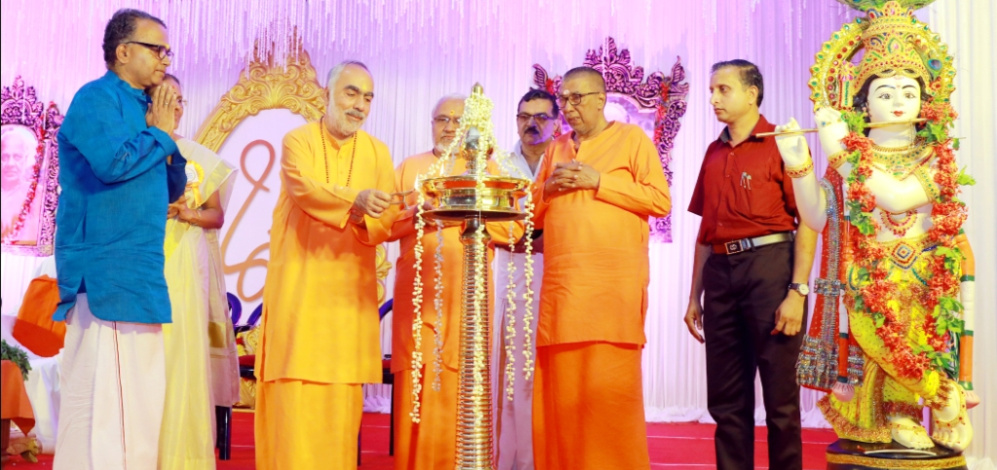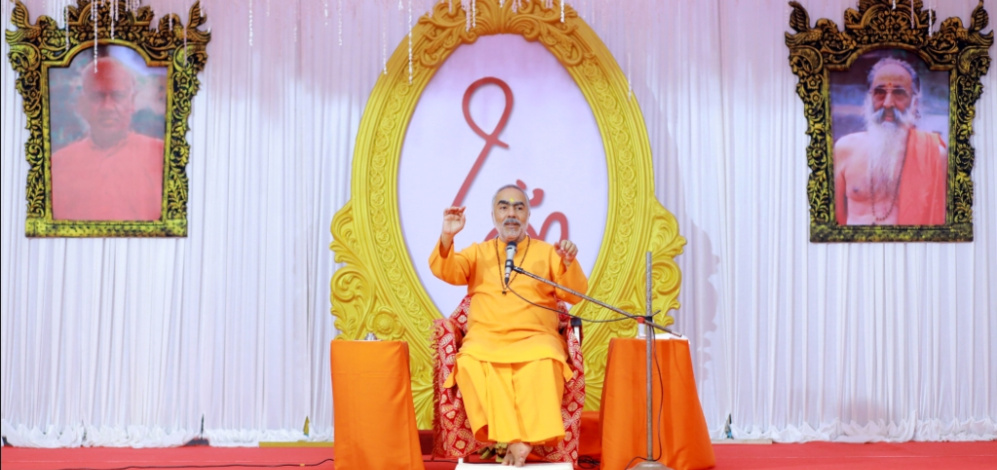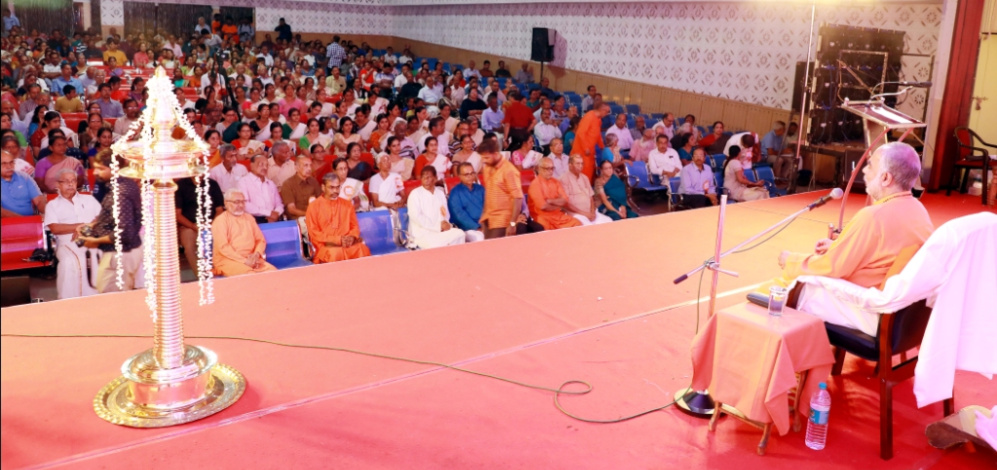 ---
Kathopanishad Jnan Yajna by Swami Siddheshananda at CM Pune
Dated : 2019/10/21

---

Chinmaya Mission Pune conducted an eight-day Jnana Yajna [lecture series] in Hindi on the popular Kathopanishad. The talks were given by Pujya Swami Siddheshanandaji every afternoon from 3.30 to 5 pm over a span of 8 days from 13th to 20th October in Aundh, Pune. More than 100 people benefited from the enlightening talks.
Swamiji delivered the lectures with great simplicity introducing the new listeners to our ancient Upanishadic wisdom and traditions. The main purport of every verse was well brought out in the precise delivery of his lectures, inspiring the listeners to tread the less traveled path.
Every session would start with some melodious bhajans sung by the devotees. A number of people benefited by spending personal quality time with Swamiji during the bhiksha visits to their homes. Families got opportunity to ask questions and gain clarity on various subjects and their approach towards the same.
The entire Yajna was very well organized by Smt. N.R. Radha , her son Anand and daughter-in-law Pushpa. Radha Amma took the main lead in enthusiastically making all the arrangements and she also sponsored the entire Yajna with great devotion.  Chinmaya Study Group members enjoyed the yajna spirit generated because of this yajna.
Entire week was joyously spent in Satsang and Jnana – Sadhana and every person left only wanting more such Satsangs by Chinmaya Mission.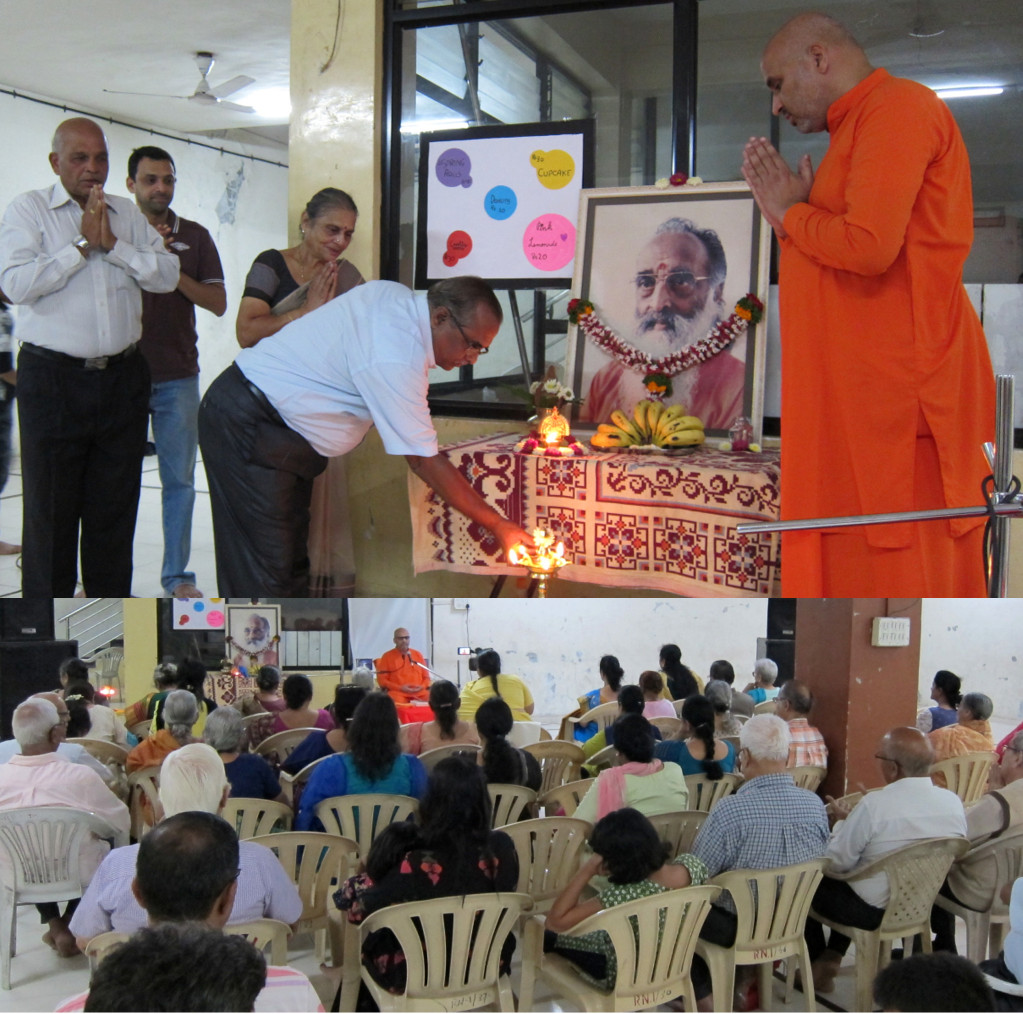 For detail report and more photographs Click
here
---
Diwali Tree Play on 20th October 2019 at Peepul Centre Leicester
Dated : 2019/10/24

---

'The World's First Diwali Tree Play', as Gursharn said in her opening intro to the Diwali Tree Play conceptualised and written by Anil Bhanot, was hugely successful starring our VIP children from the ages of 3 to 14 years.Diwali Tree is the Bay Tree which was launched last year at Peepul Centre. In the Ramayana epic the Sanjivani potion to revive the unconscious and wounded Lakshman on the battlefield was made from the herbal trees growing on the Drona-Giri hill and to this day Bay, Tulsi and Agni herbal trees grow there.
The Agni tree glows in the dark which was a sign Hanuman was given to spot the herbal trees cluster where he took that portion of the mountain and brought all the herb trees to the Ayurvedic doctor all those thousands of years ago.The Bay tree is 'conic' which can be beautifully adorned with lights to signify the Diwali lamps of 'light over darkness'.Gursharn Kaur choreographed the key parts performed by:Rama played by Yuvraj BrahmbhattSita played by Ishani KaurLakshman played by Anuskha ParmarRavana played by Khayani parmarDeer played by AvniVisbhan played by Ella-DhiyaHanuman played by Avani KThey did all the 3 dances – Sita's kidnapping dance, Diwali Tree dance, and the Diwali Song dance – taught and choreographed by Chandni Premji.Dimple and Hina from Little Peepul Day Nursery also helped to bring little children to come and join the play.Nigel and Nash did the recordings and marketing respectively, along with the Peepul Centre Team.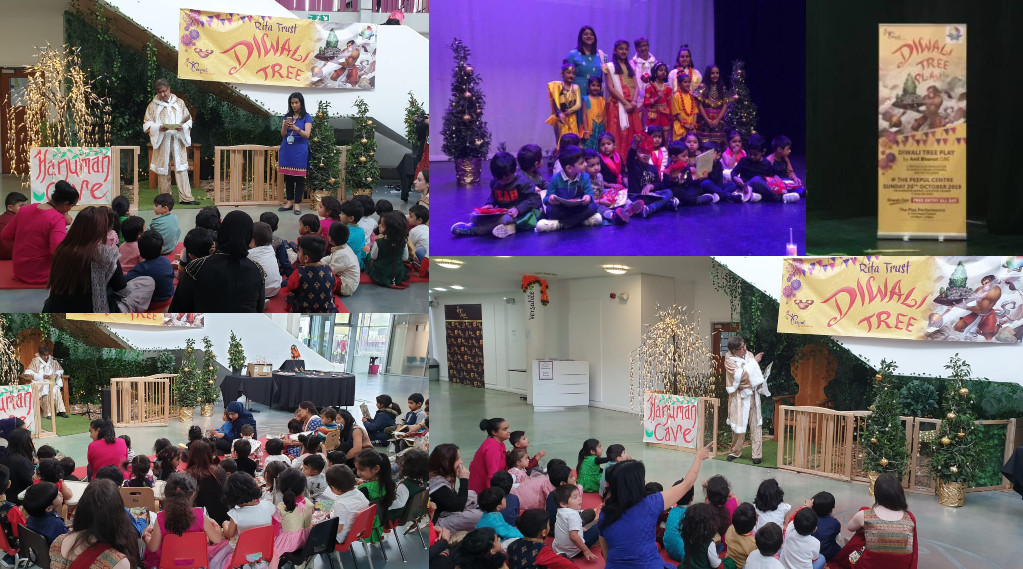 ---
Chinmaya Youth Festival 2019 at Chinmaya Mission Delhi
Dated : 2019/10/14

---

On October 14 th Swami Prakarshananda and Swamini Gurupriyananda of Chinmaya
Mission Delhi launched a five day Chinmaya Youth Festival for high school students from the
NCR. This program brought together twenty-eight schools in a joyful extravaganza of quiz,
extempore speaking, group discussion, dance, choir and skits. Approximately 550 students
visited the Mission Centre where the festival was organized and offered us a vibrant
experience of young talent and enthusiasm.
While 7000 children from thirty-five schools participated in the first round of the
quiz that was held in their own schools, the second and third rounds were held at the
Mission. Questions based on Indian history, culture and philosophy and also on the
environment, were remarkably well tackled by the finalists.
The extempore speakers offered their views on quotes of Gurudev and those of
eminent personalities from around the globe. Group Discussion topics compelled a fresh
look at prevailing attitudes and vision of life. The confidence and ability of students to
express themselves were impressive.
The choirs presented one devotional and one patriotic song each, in a variety of
genres. The dancers had the freedom to choose from classical, folk, modern or fusion styles.
The skits focussed on one of three themes: 'I can Make a Difference' which saw a range of
burning social issues depicted; 'Caring for the Elderly' where compassion and gratitude
towards grandparents was the message; and 'Dilli Meri Dilli' where the fun, fumes and
frowns that characterize Delhi were showcased.
There were cheers and tears, excitement and disappointment, laughter and grumble
but through it all an air of celebration prevailed throughout the week. Delhi Public School
Mathura Road carried away the Rolling Trophy! We already look forward to Chinmaya
Youth Festival 2020.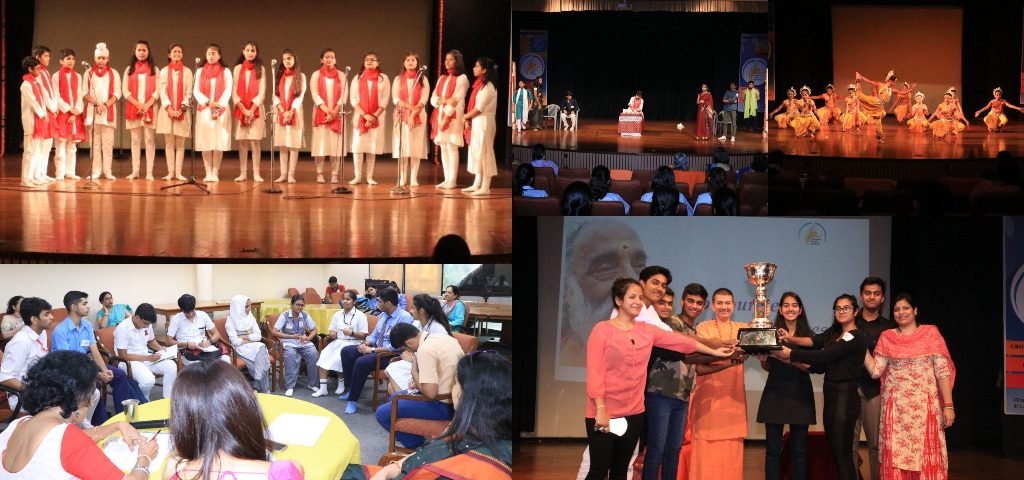 ---
Activities in Bengaluru during Sep 2019
Dated : 2019/10/01

---

Gita Jnana Yajna in Prashantanagar
Pujya Swami Adityananda of Mandya centre conducted a Gita Jnana Yajna in Kannada taking Bhagavad Gita for Daily Life at Sri Prasanna Ganapati Temple, Prashantanagar  from 18th to 24th Sep, 2019. The Yajna was inaugurated by Sri Purandhara Sharma, President of Chinmaya Mission.
Pujya Swamiji explained that it is important to imbibe the positive thoughts of our shastras in our daily life instead of blindly studying them. We should also cultivate the habit of thinking and analyzing which is the only way to bring a transformation in our attitude leading to mental development. We ought to realise that outer world can never give us peace of mind as it is our own true nature that is camouflaged by ignorance. This realisation that we do not belong to the body is possible only through Satsang, study of scriptures, grace of the Lord and blessings of Guru.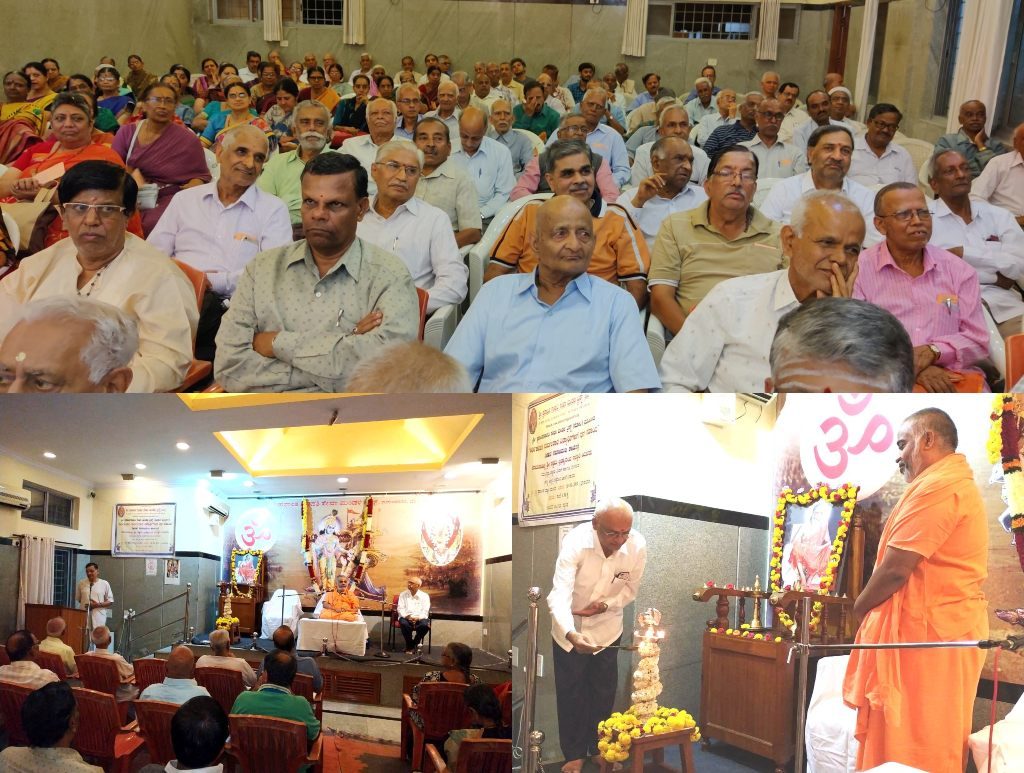 The Yajna was a grand success with participation of several sadhaks.
Jnana Yajna in Rajajinagar
Pujya Swami Krutatmananda conducted a Jnana Yajna in Kannada taking Bhagawan Adi Shankara's Sadhana Panchakam at Sri Sai College for Women, Rajajinagar from 22nd to 28th Sep, 2019. The Yajna was inaugurated by Sri R Anand, Chairman of Sri Sai Mandir Trust.
Pujya Swamiji explained how Adi Shankara has in a scientific and methodical way given out forty simple steps for evolvement in Brahmacharya, Grihasta, Vanaprastha and Sanyasa Ashrams through Sadhana Panchakam. The essence is to conquer the desire of the senses and work selflessly surrendering to a higher altar when positive thoughts blossom through purity of mind and concentration. It leads to avoiding of unnecessary talk and arguments resulting in transcending the dualities and total annihilation of Ego & understanding the truth of the one Reality beyond which nothing else exists.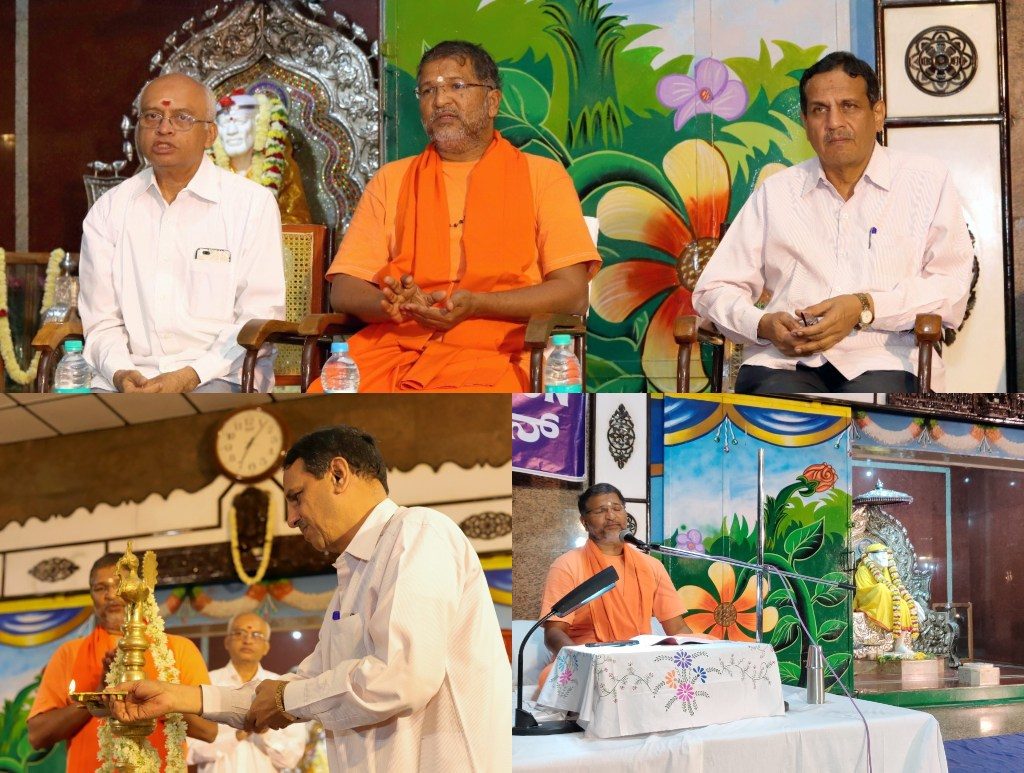 The Yajna was well attended.
SATSANG IN SRIPAADAKSHETRA
Pujya Swami Brahmananda conducted a special Satsang in Sripaadakshetra, J P Nagar on 29th September, 2019 for all study group members answering their queries on various topics. He stressed on following Pujya Gurudev's popular quote, "I have to improve upon myself". Chinmaya Mission is built on the strong foundation with its roots in every house of members where Balavihars, Study and Devi group classes are conducted. Study of scriptures makes us discover our real nature just as a mirror making us realise the Truth as it is. The outer world of plurality is just what we perceive due to ignorance and disturbance of the mind. It is only a calm mind that will have the ability to grasp the reality aided by a well trained intellect. It is important to understand the fact that the light enlivening all the three states of waking, dream and sleep as witness is one and the same.
Earlier Sri Narender Paul, Chief Operating Officer of CORD gave a wonderful presentation of activities in Chinmaya Organisation for Rural Development highlighting the birth, growth and development of rural activities undertaken in several places across the country especially in the field of women development, empowerment and rehabilitation.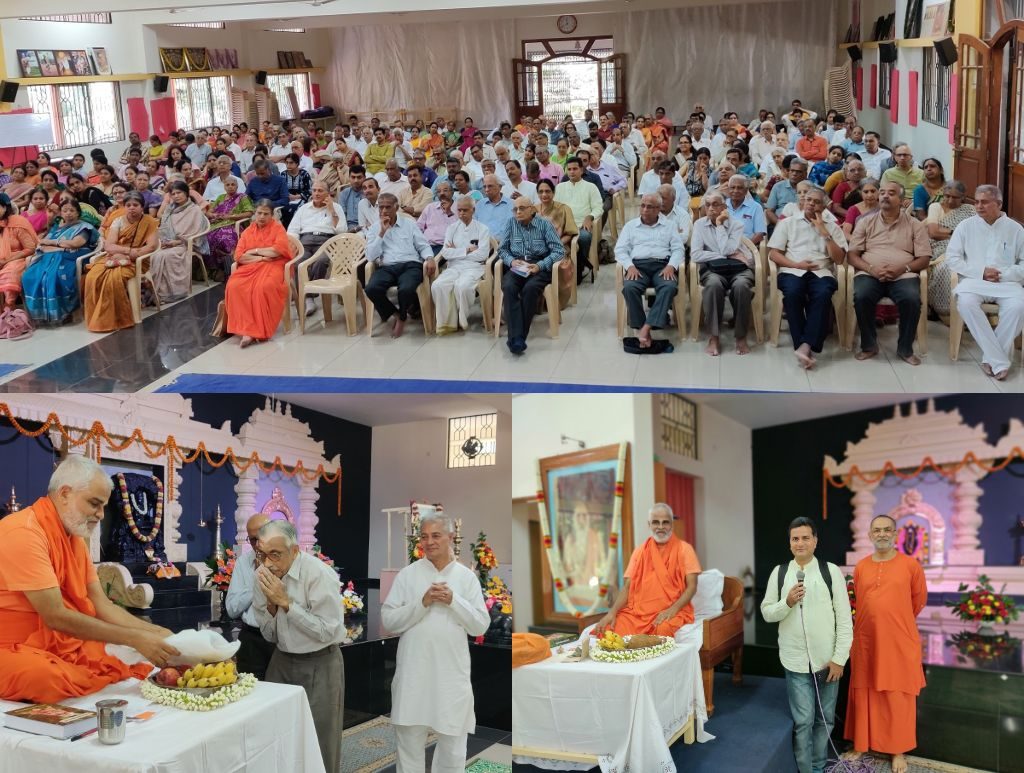 The Satsang was attended by Mission members from all parts of the city.
Annual Balavihar Bhajan Competition
The Annual Bhajan Competition was held on 8th Sep, 2019 in the holy presence of Pujya Swami Brahmananda at Sripaadakshetra, J P Nagar. Twenty two teams from different parts of the city participated taking the audience to heights of devotion by their renderings of bhajans selected from the popular CD Jeevakusuma of Pujya Swami Brahmananda in supreme bhakti bhava. Pujya Swamini Samatananda gave away the prizes to the winners.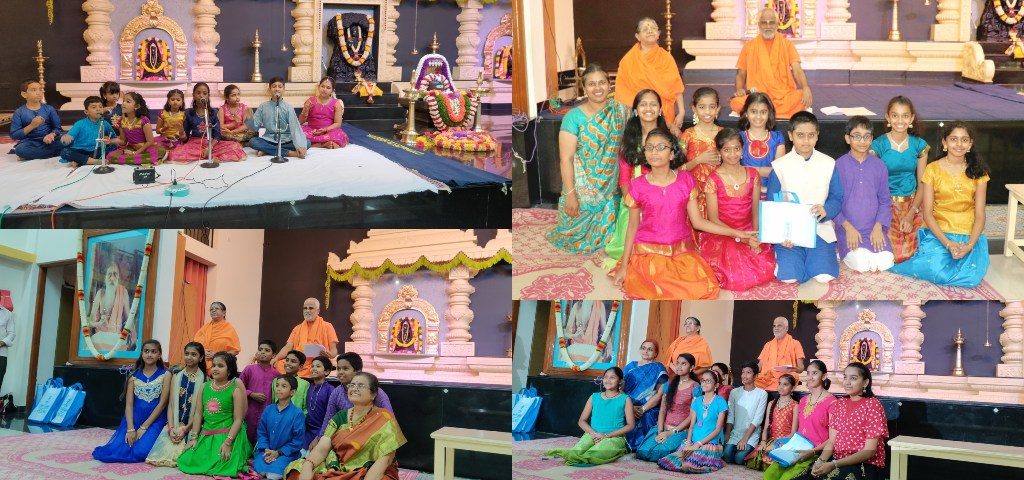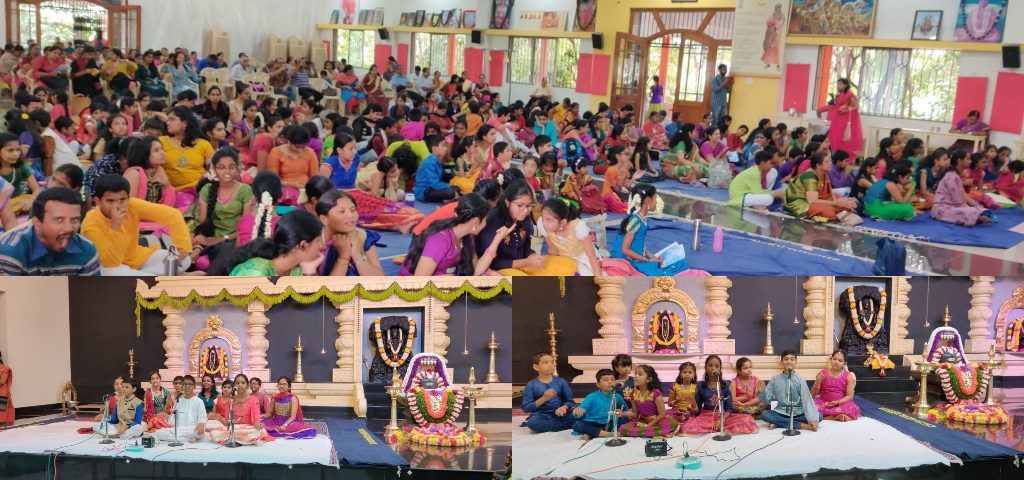 ---
Fun and Inspiring Youth Camp at Chinmaya Mission Boston
Dated : 2019/08/17

---

            Chinmaya Mission Boston successfully concluded a Youth Camp (JCHYK) titled 3D Living. The goal of the camp was to tap into the endless potential of our youth (rising 9th to 1st year college). Our youth can feel stress because their activities do not have direction. Introducing them to the divine and showing them direction will help them live up to their god-given potential and succeed in all walks of life. 3D Living – Dedication, Direction, Devotion was led by Vivekji, Shankarji and Shashiji and was held at the Chinmaya Mission Boston, Andover, MA  Aug. 12 – Aug. 16th 2019.
           The camp was based on 4 shlokas from the Bhagavad Gita, Chapter 12. The youngsters played games, participated in workshops, had group discussions and did seva while memorizing the four shlokas. It was amazing to see the joy in the faces of the children as they played soccer every day and visited Boda Borg, Boston where they were challenged with multiple mental or physical quests and had to learn to collaborate and work in teams. After the camp a young person felt "we all must incorporate God into our lives. God is neither a being nor a physical idol and we can find God all things, alive or non alive, black or white, poor or rich".
              Another said "the very modern attitude of Vivekji and Shankarji while teaching and making the material relate to situations in life" and "I set myself to dedicate my focus and time on the truly important things to me". Inspiring quotes like these validate Chinmaya Mission's mission of bringing maximum happiness to one and all. Helping the youth become confident individuals who do the right thing while achieving success in life is goal of this yearly weeklong volunteer run program at Chinmaya Mission Boston.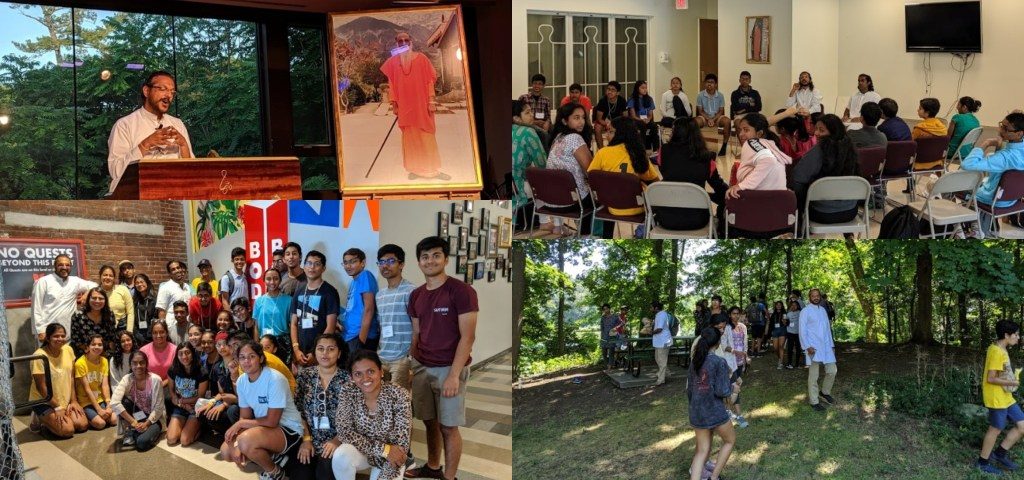 ---