News


To understand anything is to find in it something which is our own.
-Swami Chinmayananda
Archival News/Other News
Shri GM Rao, Chairman of the GMR Group visited SandepanySadhanalaya
Dated : 2019/05/15

---

On 15th May 2019, Shri GM Rao, the Founder-Chairman of the GMR Group, the global infrastructure developer and an acclaimed philanthropist who has also founded the GMR Varalakshmi Foundation which serves the various social causes of the nation visited Pujya Swami Swaroopananda.
He visited the temple to seek Lord Jagadeeshwara's blessings and was pleased to see the various publications of Chinmaya Mission and the souvenirs of Chinmaya Upahar.
He met Swami Bodhatmananda, the Resident Acharya of the Vedanta Course at Sandeepany Sadhanalaya and heard the students chant. Spending some quality time with Pujya Swami Swaroopananda, they spoke about how important it is to preserve our ancient and rich culture and had interesting discussions on the work being done by Chinmaya Mission.
Pujya Swami Swaroopananda also gifted Shri GM Rao some of our publications.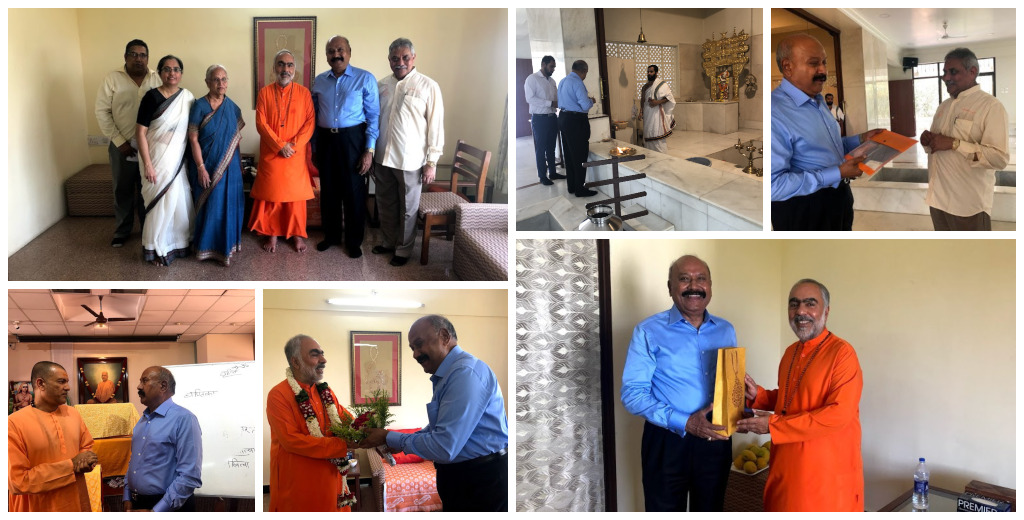 ---
Dasavatara Summer Camp
Dated : 2019/04/20

---

our five days Summer camp  (15th Apr-20th Apr 2019) was inaugurated by Srimaan Trust Sevak.Mrs.Lakshmi. we conducted camp for sixth and seventh standard students of Vivekananda vidyalaya,  around hundred students benefitted by this camp. 15 Chyk chapter volunteers and seven faculties co-ordinated the camp. They learnt the significance of avatar and learnt the value from it. They also learnt about our army, our country Akanda Bharatam, Pulwana, Siachen and the schemes of PM. Narendre Modi. They enjoyed the game session. They are so interested to do art and craft. They have a time to improve their talent like dance, act and sing. Final day they went to Dasavatar exhibition conducted by Kanchi Shankara Matt. They did Matru Pitru pooja for their parents and dedicate their performance to their parents and gifed the basket and art and craft which they prepared by themselves. Parents are so happy by seeing their children love and talent. They volunteerly express their joy and thanks to Chinmaya mission.
New year Celebration
We invited auspicious Vikaari varudam with Maha Thiruvillakku pooja. 160 members did the thiruvillakku pooja. six chyk chapter volunteers  and Devi group members organized the thiruvillakku pooja. Asuri. Sudha amma, Bagavan Ramanujar dynasty gave a valuable speech of villakku pooja and she mentioned that we deligently follow our culture and most importantly we protect our culture by selecting the correct person in the election.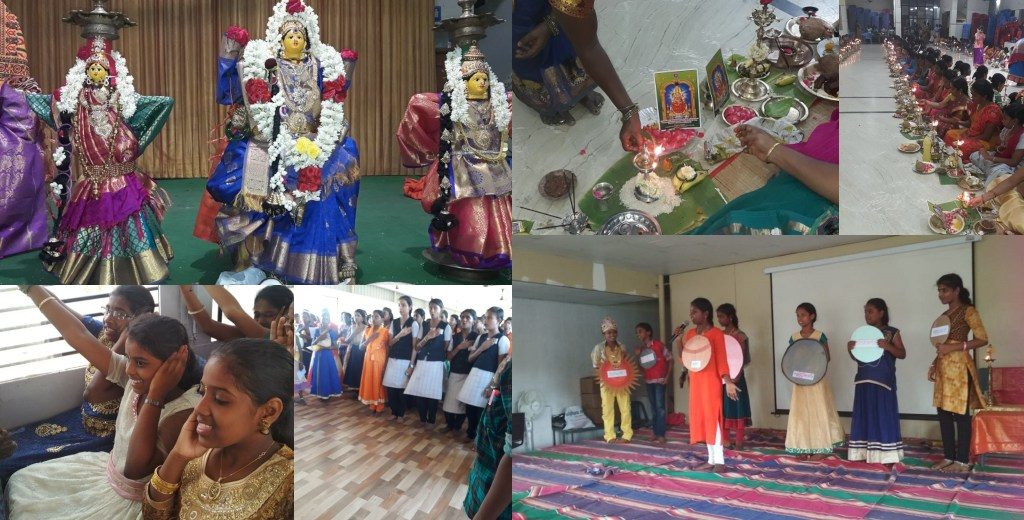 ---
Activities in Bengaluru during April 2019
Dated : 2019/04/30

---

Activities in Bengaluru during April 2019
Jnana Yajna in HSR Layout
Pujya Swami Krutatmananda of Hubli Dharwad centre conducted a Jnana Yajna in Kannada on Kulashekara Alwar's MUKUNDA MALA from 21/04/2019 to 27/04/2019 at Sri Vinayaka Temple, HSR Layout. The Yajna was inaugurated by the Vice President of the temple, Prof. M V Satyanarayana.
Pujya Swamiji highlighted the devotion of Kulashekara Alwar who although being a king capable of leading a luxurious life chose to be a benevolent emperor inspiring his subjects by his very living. A real devotee has clear understanding of the impermanency of outer world and does not run behind them for his mental calmness always reveling in the glory of the Lord. The mind always revels in pleasures of the outer world; true devotion is bringing the mind inwards trying to fix on the Lord. Real devotion is remembering the Lord wherever we are placed – whether in the hell of deep pain or heaven of supreme pleasure. All our rituals – puja, japa, tapa and bhajan help in silencing the turbulent mind and dissolve the ego when the seeker and the sought merge into one. This is Bhakti in its purest form when the mind becomes still and what remains is the supreme Lord alone.
The Yajna was well attended on all days.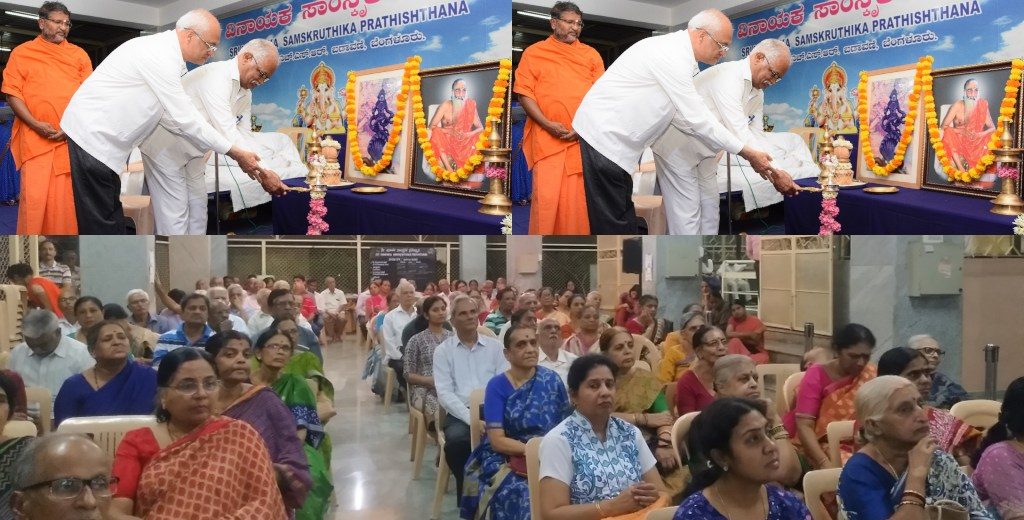 Balavihar Summer Camp
Balavihar summer camp organised in various areas of the city attracted not only our Balavihar children but also new children giving tremendous exposure to Balavihar activities. The theme of the camps was Glory of Lord Rama, Shiva, Krishna, Bala Ganapa and Dwadasha Jyotirlingas with main focus on imparting the values of brotherhood and how the three gunas manifest in the different characters of our great Epics.
The children learnt various Suktas & Stotrams, Pooja vidhi, bhajans and Bhagavad Geeta Chapter – 7. The Srimad Bhagavatam sessions were enjoyed thoroughly by the children. The children had various creative sessions of art & craft by various teachers and involved in solving few puzzles, crosswords and other activity sheets based on the theme of the Camp. The cultural programmes consisting of mesmerizing dance performance on the stories of Shabari, Ahalya & other incidents from Ramayana and the skits by children were appreciated and enjoyed by all. More than 400 children from different parts of the city participated in the camp.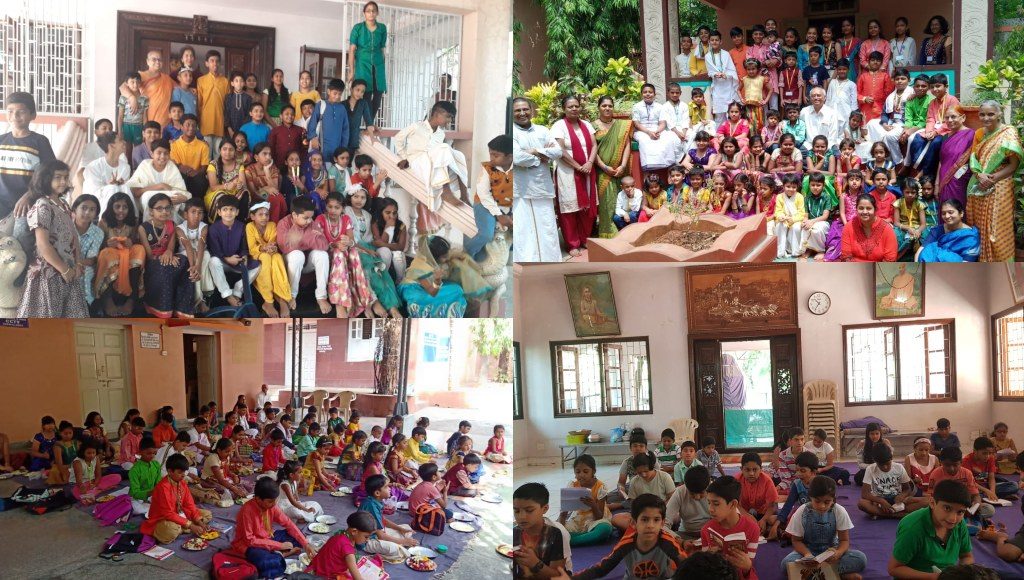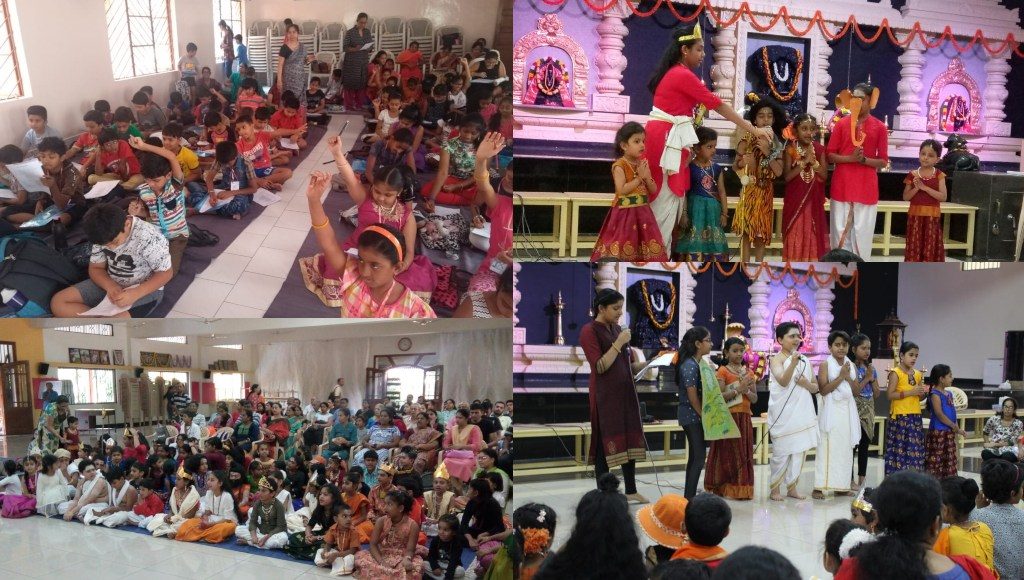 ---
Swami Chaitanyananda attains Samadhi
Dated : 2019/04/27

---

Hari Om!
27th April 2019, Swami Chaitanyananda of Chinmaya Mission Kolkata took final refuge at the feet of Pujya Gurudev, at Kolkata.
Swamiji joined the Vedanta course in Sandeepany (Himalaya), Sidhbari in 1986.  On the successful completion of the course in 1988 he was given the name Brahmachari Nandan Chaitanya.
From 1988 to March 2000, Swamiji served devotedly in various Chinmaya Mission centres – Assam, Andaman and Nicobar Islands, Madgaon (Goa) and Satna (Madhya Pradesh). He tirelessly applied himself to all the grass root levels activities of the Mission – Jnana Yagnas, camps and classes for children, youth, senior citizens and teachers.
Swamiji received Sannyasa Deeksha from Pujya Guruji Swami Tejomayananda in March 2000. Thereafter, as Swami Chaitanyananda, other than a short posting to Boston (USA), he continued to spread Pujya Gurudev's message of the scriptures in Allahabad, UP (2001 to 2010), and Kolkata, West Bengal (2011 till date).
Swamiji's dedication to the Mission was deep and unwavering. Ever smiling and always cheerful, he touched and transformed many a heart. He will be fondly remembered by those whose lives he impacted and his gentle presence will be greatly missed.
Our respectful homage to Swami Chaitanyananda.
At His Feet
Swami Swaroopananda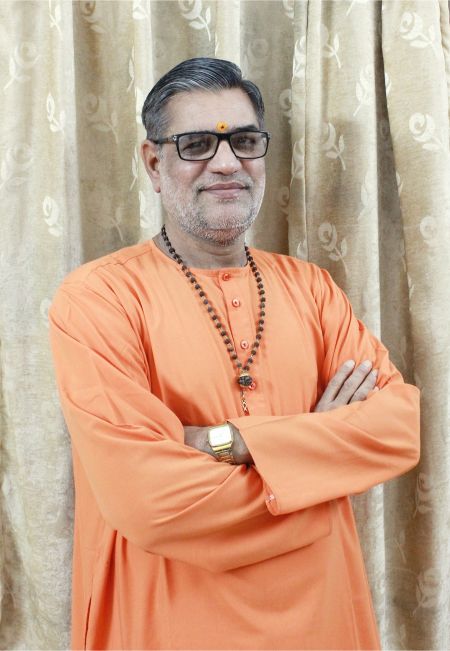 ---
Inauguration of Perth ashram by Pujya Swami Swaroopananda
Dated : 2019/03/24

---

Exciting news!!! By the Grace of the Lord and Pujya Gurudev our Chinmaya Mission has spread its wings further and opened our newest ashram in Perth, Australia.
In the auspicious presence of Pujya Swami Swaroopanandaji, puja and homa were performed in the early hours of the morning. Gurudev's Paduka puja was conducted by Swami Aparokshananda and Swami Shrikarananda.
The opening was well attended by the local community and distinguished guests including the Indian Consulate General, Amit Mishra and the local member of parliament, Yaz Mubarakei.
Pujya Swamiji addressed the audience and bestowed the name 'Chinmaya Prastha' – The place where Chinmaya abides. A place where Pujya Gurudev's presence can be felt and one can be immersed in the Bliss of Pure Consciousness.  Prastha also means to march or enter and Perth is the entry point from India to Australia. It also means a flat level expanse of land which perfectly describes the land on which the ashram is built.  He also mentioned that both Prastha and Perth start with a 'P'.
The Indian community is growing in Perth and with the opening of the ashram will now be nourished with the ancient wisdom of Vedanta. Although Perth is known for its sandy terrain, Pujya Gurudev had visited in 1992 and moistened and cultivated the land and sown the seeds of Vedanta. Under the diligent care of Pujya Swamiji for the last 20 years, he has nurtured that sapling addressing crowds of up to 400 people. Now it has come to its full fruition with an ashram of more than 3 acres, amidst beautiful peaceful greenery. An ideal place for meditation and contemplation.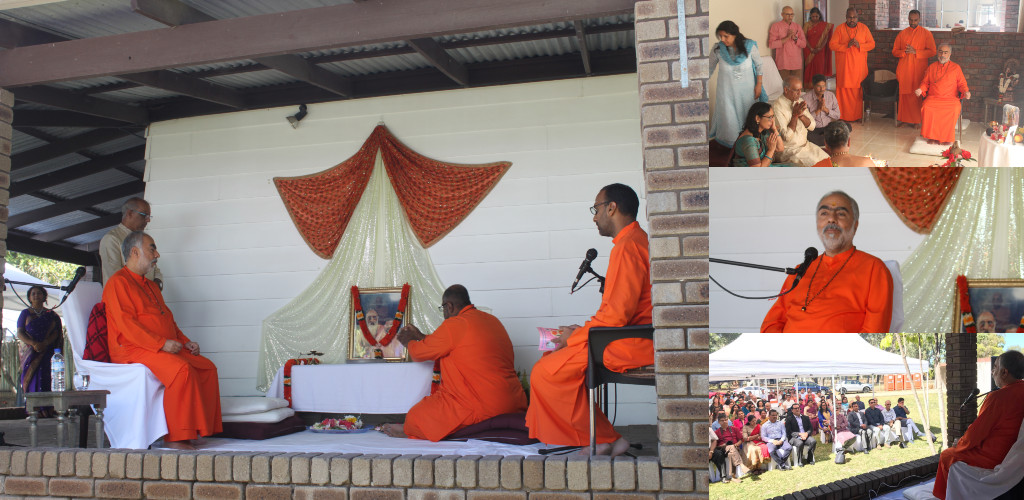 All are very excited and Pujya Swamiji will be in Perth conducting a 5 day discourse on Shri Ram Gita.
---
Respectful Shraddhanjali to Shailaja Nadkarni Amma
Dated : 2019/03/18

---

Swamins, Brahmacharins and Members of Chinmaya Mission Worldwide
Dear All,
Hari Om!
Shailaja Nadkarni Amma was a mentor and a mother figure at Chinmaya Mission Orlando. An ardent devotee and a committed disciple of Pujya Gurudev, Swami Chinmayanandaji, her entire life was devoted to the Mission.
A practicing paediatric cardiologist, her meeting with Pujya Gurudev was a life transforming moment. With His blessings and spiritual force, she started a Bala Vihar. This tiny enterprise has since grown into a large centre, now catering to the spiritual needs of 300 devoted families.
A fountain of love, she was the instrument that touched and changed many a life.  She always described herself as, "a tiny instrument in Gurudev's hands!" A perfect exemplar of his teachings, which she meticulously followed, she was engaged in spreading his message till her very end.
Shailaja Amma merged with the Lotus Feet of Pujya Gurudev and Her Beloved Lord at 1:50 am, on March 18, 2019 in Central Florida. In their hour of need, may Gurudev's blessings guide and support her family, friends and admirers.
At His Feet,
Swami Swaroopananda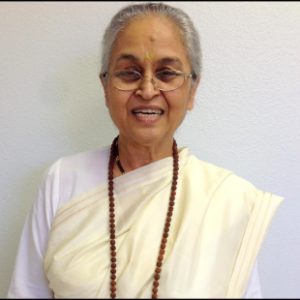 ---
Sad Demise of Ms Nirmala Challam on 3rd March 2019 at Coimbatore.
Dated : 2019/03/03

---

With deep regret we inform you of the demise of Ms Nirmala Challam (Nirmala aunty to hundreds of her Bala Vihar Children) on 3rd March 2019 at Coimbatore. She was fortunate to have the blessings and guidance of Pujya Gurudev and spent her life serving HIM. Her ability to organise and conduct innumerable Bala Vihar classes in Mumbai has been so effective that today most of her Bala Vihar students have grown to be responsible positive contributors to the Mission. She lived a life dedicated to spreading love and supporting underprivileged children. Nirmal Challam was a pillar of the Mission in Mumbai and later moved to our Coimbatore ashram where she spent her life in contemplation. We pray for her Satgati at the lotus feet of Pujya Gurudev.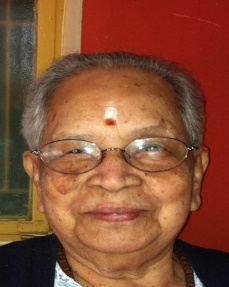 ---
Chinmaya Setukaris (CSK) Retreat in Durham, NC
Dated : 2019/02/17

---

Chinmaya Setukari (CSK) Retreat in Durham, NC, "Led by Love, Lead by Love"
On President's Day weekend (Feb 15th-17th, 2019), 67 Chinmaya Setukaris (CSKs) and 33 children participated in a Retreat titled "Led by Love, Lead by Love" conducted by Vivekji, Shankarji and Sumanji. Sumanji and Shankarji graduated from the 2016-2018 Vedanta Course in Trinidad under Swami Prakashananda. The retreat was hosted by Chinmaya Mission-Raleigh Durham and the CSK National Team.
CSKs are the bridge builders between the Yuva Kendra(young adult) and matured. Vivekji expressed the importance of CSKs embracing responsibilities. Through this retreat, attendees came together to learn how to invoke and live this vision. The theme of the retreat suggests that if we bring more love into our life, we will become more loving individuals. This was reflected through studying the Vibishana Gita, written by Sage Tulasidas with commentary by Swami Tejomayananda.
The scene of the Vibishana Gita is set during the Lanka Kanda in the Ramayana. After Ravana's entire army and relatives are crushed, Bhagawan Rama and Ravana prepare for the final battle. Ravana arrives fully armed with sophisticated weaponry and his special war chariot, the Yuddha-ratha. While Bhagawan Rama arrives with just His quiver, a few bows and arrows and bare feet! Upon seeing this, Ravana's brother, Vibhishana, is paralyzed with fear. Vibhishana then questions Bhagawan Rama about how He can defeat the physically-strong, well-equipped Ravana.
Bhagawan Rama lovingly imparts the Knowledge of His Dharma-ratha, Chariot of Dharma, to Vibishana. The Dharma-ratha includes all values which allows one to overcome the inner enemies and eventually leads to the true victory of fearlessness and love…
In order to make this knowledge most practical, Vivekji described the components of the Dharma-ratha, what value they represent and a simple take-away sadhana to remember:
Value
Representation
Meaning
Sadhana
Sauraja (Courage)
Wheel
All your responsibilities are custom designed

for YOU

Enjoy Waking
Satya (Honesty)
Flag
Cleanliness outside leads to cleanliness

inside

Enjoy Cleaning
Parahita (Caring)
Horse
Selflessness should be

natural

Enjoy Serving
Khsama (Forgiveness)
Rein
Focus on what others have done, not what

they haven't

Enjoy Praising
Bhaja (Depend)
Charioteer
Shift your dependency from the world to

Bhagawan

Enjoy Focusing
Birathi (Independence)
Shield
Comparing is a direct insult to the Creator; each person is created

perfectly

Waive Comparing
Buddhi (Intellect)
Lance
Don't do something for the sake of the action, do something

meaningful

Waive Busying
Yama (Discipline)
Arrows
Development is not possible without

discipline

Waive Materializing
Kavacha (Seva, Testing)
Armor
Loving oneself is

knowing oneself

BE Love
In addition to Discourse, Discussion and Dialogue, retreat attendees also participated in skits, activities and athletics which helped them better understand how to incorporate the Vibishana Gita into their lives. One highlight was the "Food Creations Activity." Participants were tasked with following simple recipes while engaging in an additional challenge (such as blindfolding, using only their dominant hand or chanting Mantras). Then, they discussed the importance of sattvic cooking and the promotion of a simple Indian cookbook facilitated by the CSKs coming out soon.
Overall, attendees learned that by practicing the values of the Vibishana Gita and embracing responsibilities, we can transform from Bishana (fearful) to Vibeshana (fearless) and learn to love what we are doing so we can love who we are becoming…
By: Lavanya Rao.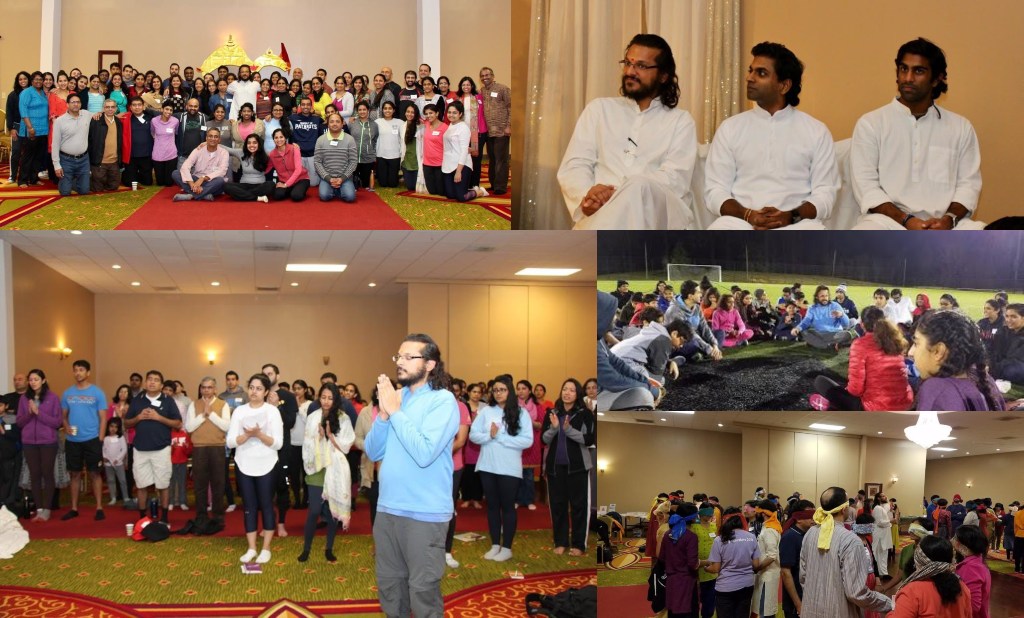 ---
Sannyasa Deeksha 2019
Dated : 2019/03/04

---

Swamins, Brahmacharins and Members of Chinmaya Mission Worldwide
in the holy precincts of Pujya Gurudev's kutia, in Sandeepany Sadhanalaya, Mumbai, 4 of our Brahmacharis took the holy vows of Sannyasa. They changed the colour of their robes to orange and dedicated themselves to spread Pujya Gurudev's message. I am happy to announce their new names:
Br Sankarshan – Swami Sadashivananda (CM Brahmapur, Odisha)
Br Garga – Swami Omkarananda (CM Jagatpur, Cuttack, Odisha)
Br Janardhan – Swami Ramapriyananda (CM Balangir, Odisha)
Br Piyush – Swami Chidghanananda (CM Bhubaneswar, Odisha)
May Lord Jagadeeshwara and Pujya Gurudev's grace and blessings be upon one and all.
A small video of the announcement of their new names can be viewed on the YouTube channel of Chinmaya Mission at:
https://www.youtube.com/watch?v=gLPsN_ip36M&feature=youtu.be
I am also glad to inform that arrangements have been made to do a live webcast of the Aarati of Lord Jagadeeshwara at 6.30pm IST followed by Abhishek and Pujas. The Pujas conclude with Maha Aarati at midnight.
The link for the live webcast will be:
Love,
At His Feet,
Swaroopananda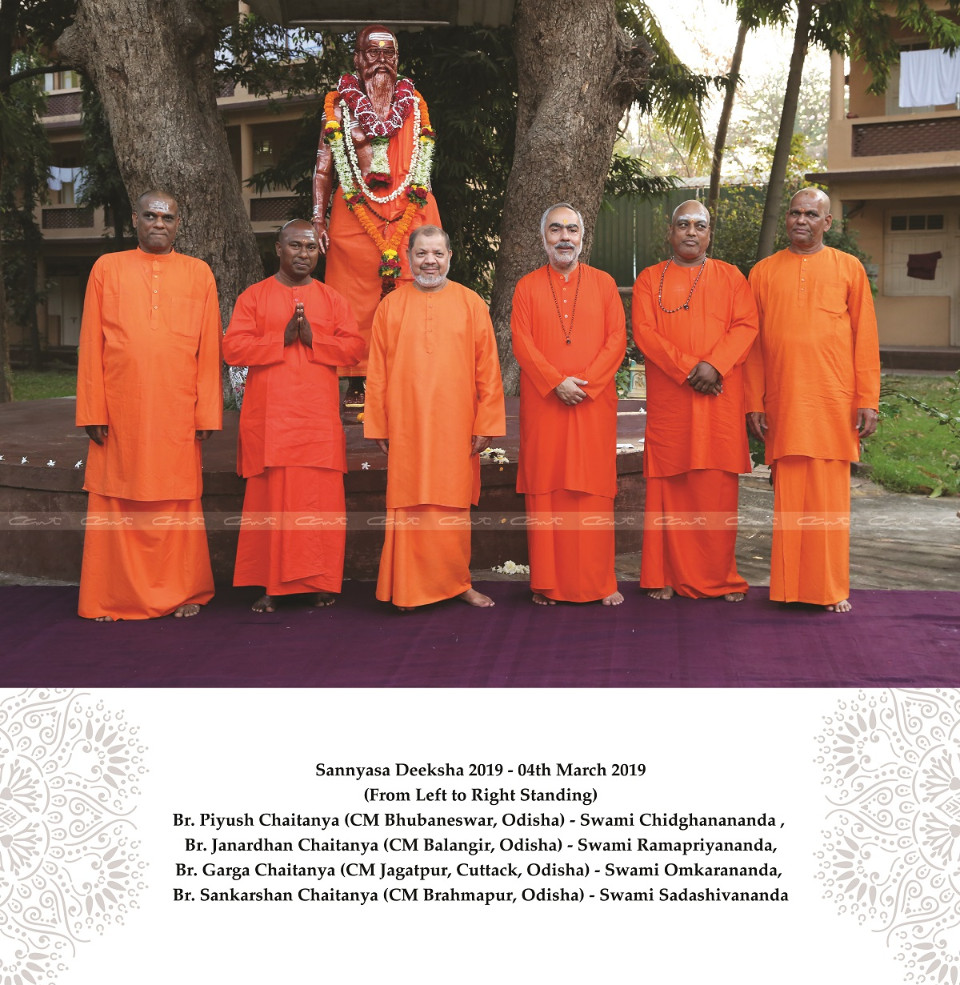 ---
Activities in Bengaluru during Jan 2019
Dated : 2019/01/31

---

Jnana Yajna in J P Nagar
Pujya Swamini Sampratishthananda of Coimbatore centre conducted a Jnana Yajna in English on Bhagawan Shankaracharya's Maneesha Panchakam from 30/12/2018 to 06/01/2019 at Sripaadakshetra, J P Nagar. The Yajna was inaugurated by Sri Purandhara Sharma, president of the Mission. The Yajna was organised as a part of the anniversary celebrations of Sripaadakshetra which completed 14 years of service to the spiritual fraternity on 01/01/2019.
Pujya Swamini Sampratishthananda explained how all differences that we perceive are because of delusion where the vision of divinity & oneness is absent and only division is seen. The realised Master sees the whole universe as Brahman alone where He and Brahman are complete – paripoorna with no limitations – The knower, known and knowing form the integrated combination to realise the supreme Truth. Brahman is the canvas on which Maya paints her creation using the three Gunas – Satwa, Rajas and Tamas. Maneesha Panchakam forms the essence of all Upanishads giving a complete analysis of Jiva, Jagat and Ishwara and the relationship through the four Mahavakyas giving complete clarity of the ssssSupreme Truth.

The Yajna was very well attended on all the days.
Gita Jnana Yajna in Nagarabhavi
Pujya Swami Gahanananda of Tumkur centre conducted a Gita Jnana Yajna in Kannada on Bhagavad Gita Chapter-12 at Twinklers' Vidaniketan, Nagarabhavi from 07/01/2019 to 13/01/2019. The Yajna was inaugurated by noted social reformist and writer Smt Hemalata.
Pujya Swamiji explained that the Bhagavad Gita acts as a manual showing the right path to be followed when confronted with cross roads in life. A sadhak who is confused with respect to choice regarding paths of knowledge and action is given confidence with the fact that both lead to the same Ultimate Truth but prescribed for individuals with different temperaments. What is needed is sincere attempt and attitude of mind with a strong sankalpa to realise the Self. This will calm the mind and the sadhak will view the world with equanimity never getting disturbed by the dualities.

The Yajna was well attended on all days.
Gita Jnana Yajna in N R Colony
Pujya Swami Brahmananda conducted a Gita Jnana Yajna in Kannada on Bhagavad Gita Chapter – 5 from 21/01/2019 to 27/01/2019 at Sri Rama Mandira, N R Colony. The Yajna was inaugurated by well known philanthropist and tabala player Vidwan Sri Venkatatanarayan.
Pujya Swamiji stressed the fact that happiness can never be achieved from the outer world but a state of our own inner Self which is the experience of a calm and serene mind. It is a wrong notion that renunciation of action will lead to realisation. It is necessary to only renounce the feeling of doership and continue performing action benefitting mankind. All Mahatmas led such a life of intense action without being attached to the fruits standing rooted in the fact that they are separate from the body, mind and intellect.
The Yajna was a grand success with several sadhaks deriving benefit.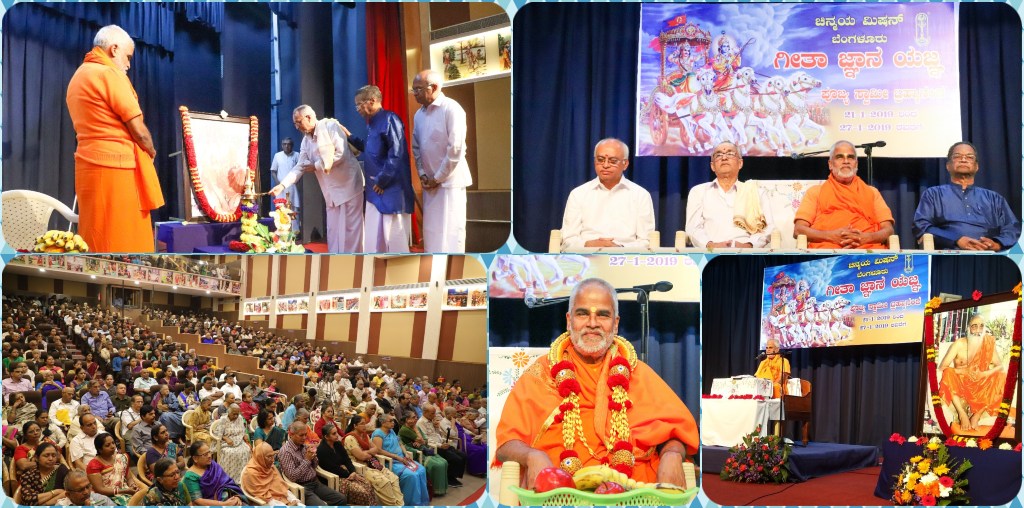 Annual Balavihar Competition
The Annual Chinmaya Balavihar competition for junior and senior children was held at Chinmaya Vidyalaya, Koramangala on January 6, 2019. Pujya Swamini Sampratishthananda from Coimbatore lit the inaugural lamp for the Junior & Senior competitions. Smt Saroja Sridharan, Principal, Chinmaya Vidyalaya Koramangala graced the occasion.
In her Inaugural address, Swamini Amma spoke about the importance of learning shlokas and Stotrams in our daily life. She stressed that chanting the Shlokas and Stotrams given to us by our Gurus helps us to become pure.
The topics for the competition were Krishnashtakam, Suryashtakam, Pratah Smaranam, Shiva Shadakshara Stotram, Bhagavad Gita Chapter-9, Achyutashtakam, Totakashtakam, Chinmayananda Shatkam,  Shivaparadha  Kshmapana Stotram,  Mankutimmana Kagga and Mantra Pushpam along with Storytelling both in English and Kannada. About 1200 children who participated in all these items left the Judges spellbound with their renditions, chanting and captivating stories.
In the holy presence of Pujya Swami Brahmanandaji, Smt Ranjitha Palanivelu and Smt Jyothi Krishnan, senior Mission members distributed the prizes.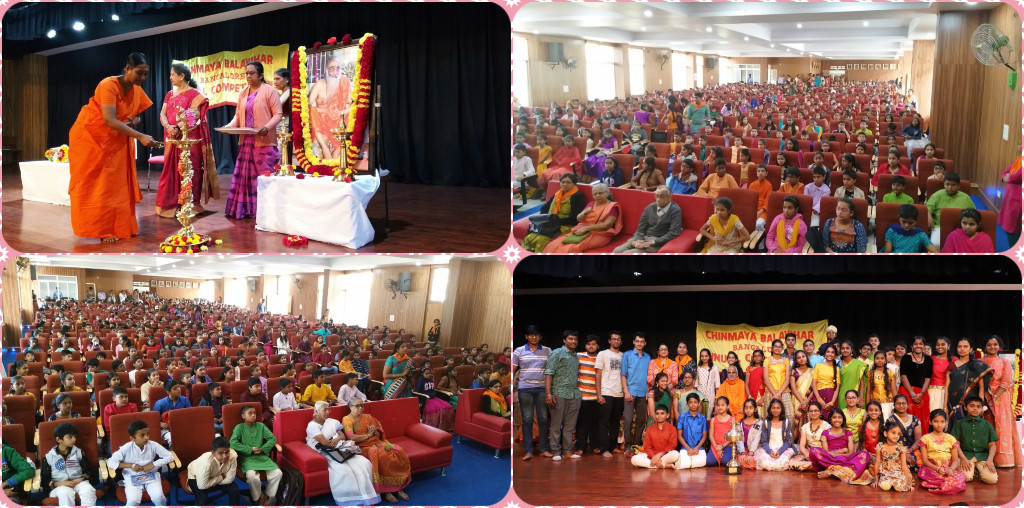 ---