News


To understand anything is to find in it something which is our own.
-Swami Chinmayananda
Archival News/Other News
Chinmaya Mission Cleveland's 5th Anniversary
Dated : 2019/11/30

---

Chinmaya Mission, Cleveland began with humble inception on January 18th, 2014. From meagre curious families that gathered that day, it has steadily grown to a solid community of almost 60 committed families over the last five years. With Gurudev's blessings and Vivekji's guidance the Cleveland Chapter has had tremendous opportunities to attend Vedanta in Ramayana classes, Bala Vihar classes and be part of various study groups, regularly.
In the true spirit of Guru-Shishya parampara, their focus has been knowledge, service and spiritual evolution. Three study groups meet every Thursday and have had privilege to formally study great texts like Self Unfoldment, Moha Mudgara, Atma Bodha and Upadesa Sara. Many seekers from Cleveland have been part of Advanced Vedanta course, Bhagvad Gita course and currently studying Meditation and Life on Tuesdays. The Cleveland Chapter has steadily grown in organizing various programs too. Such programs have included week long Jnana Yagnas on Hanuman Chalisa and Patanjali Yoga sutras, Chalisathon and Children camps. The Chapter has successfully organized two Weekend Family retreats and a Marriage retreat. Other inspirational programs have included- Beyond Bullying workshop, Devi workshop, Seva events and Yuva events. Some of the members have been fortunate to be part of Silence retreats and Chinmaya Inspiration Yatras organized by Vivekji.
With Vivekji's guidance, its first fundraiser was organized in November 2018 and was able to raise more than $50,000 due to generous contribution from community. The Chapter's vision is to have its own Ashram in near future. Cleveland Chinmaya community is inspired, committed and dedicated to live with ageless Vedantic vision and it is poised to spread it's wings further with blessings of Gurudev.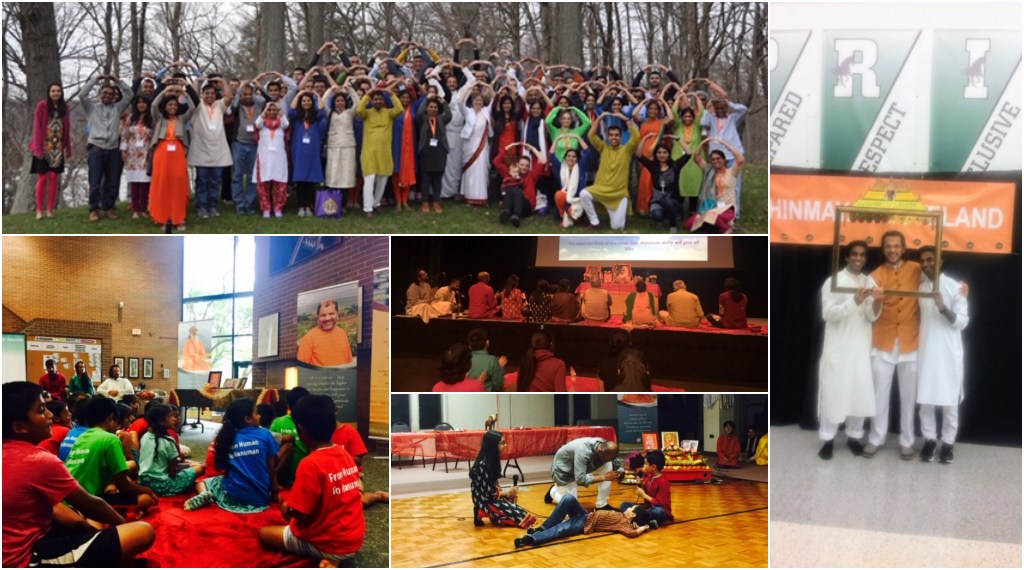 ---
Activities in CM Bengaluru during Dec 2018
Dated : 2018/12/31

---

Activities in Bengaluru during Dec 2018
Geeta Jnana Yajna in R T Nagar
Pujya Swami Aparajitananda of Mangalore center conducted a Geeta Jnana Yajna in English on Bhagavad Geeta Chapter – 2 in English at Vinayaka Temple, R T Nagar from 07/12/2018 to 13/12 2018.
Pujya Swamiji laid foundation to the subject stressing that Chapter 2 explains the nature of the Self which is nothing other than Brahma Vidya. Man has control only over action but not on the result. Expecting karmaphala will lead to bondage and birth death cycle to exhaust the vasanas. The only solution is to perform action righteously for the welfare of totality with a sense of gratitude to the Lord who has given us all the instruments and surroundings. The ladder of downfall actually starts with a single desire which builds up into intense craving for possessing which when not fulfilled turns to anger and delusion leading to loss of memory & discrimination culminating in total destruction of personality. The difference between a common man and a man of realisation is that the common man accepts the world as real being source of happiness whereas the Mahatma knows the world is unreal and happiness is his very nature. A man of wisdom is able to give up all desires of the mind as he is contended with himself for he knows that he is in reality immortal, ocean of peace & happiness – Sat Chit Ananda.
The Yajna was well attended on all the days.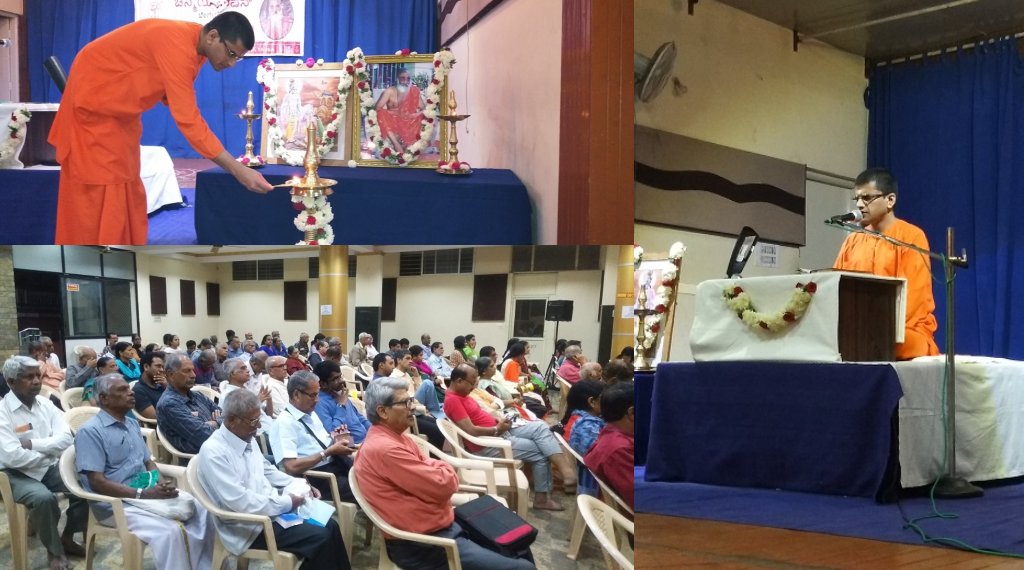 Geeta Jnana Yajna in Tyagarajanagar
Pujya Swami Gahanananda of Tumkur Center conducted a Geeta Jnana Yajna on Message of Bhagavd Geeta for Daily Living in Kannada from 11/12/2018 to 17/12/2018 at Shirdi Sai Mandir, Tyagarajanagar.
Pujya Swamiji took several shlokas during his discourse to drive home the fact that Geeta is the Reference Manual that can be applied for peaceful and meaningful living facing the ups and downs in life without getting agitated. The best way is to perform all activities selflessly with dedication without expecting any result but accepting what come as His prasada. This is possible only through complete surrender when the Lord Himself will help in removing our delusion and bless us with Self knowledge.
The Yajna was well attended.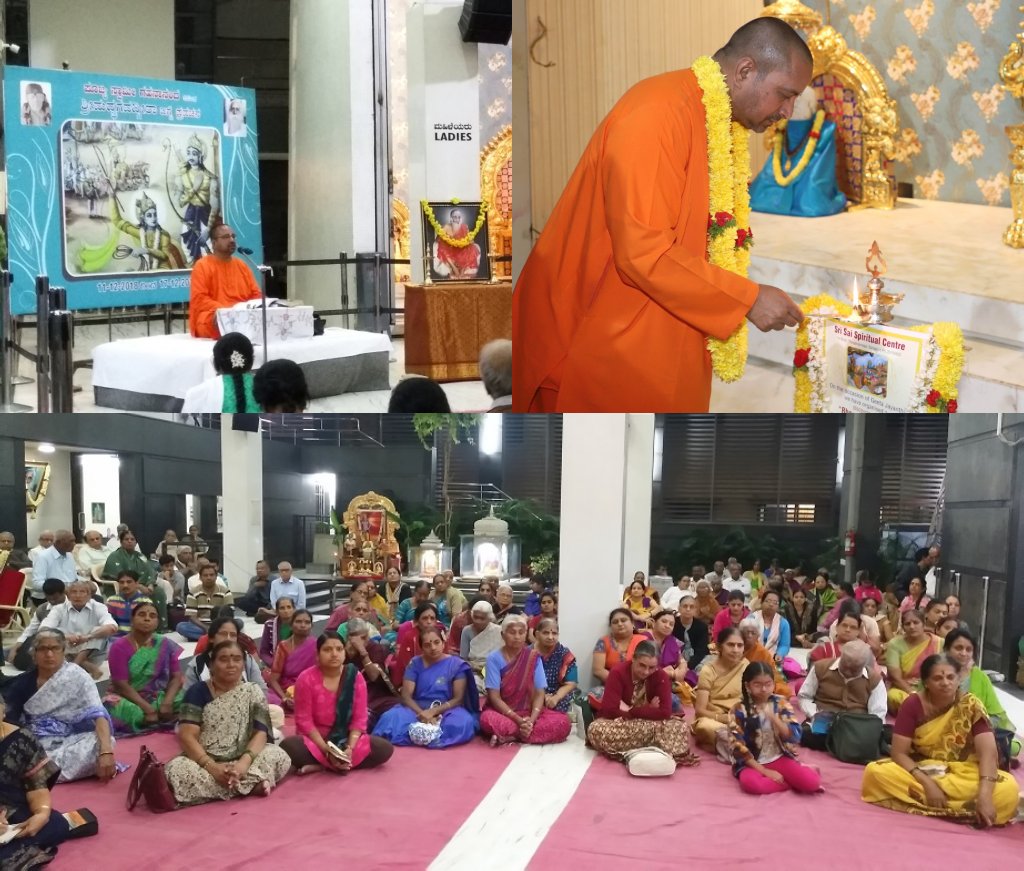 Geeta Jnana Yajna in Rajajinagar
Pujya Swami Brahmananda conducted a Geeta Jnana Yajna in Kannada on Bhagavad Geeta Chapter – 6 at Sri Sai College for Women, Rajajinagar from 16/12/2018 to 22/12/2018. The Yajna was inaugurated by Sri R Anand, chairman of Sri Sai Mandira Trust.
Pujya Swamiji emphasised that sanyasa is not the external appearance and renouncing society but performing all actions within the framework of society amidst all situations in life maintaining a calm and peaceful mind. We are responsible for our own lives and it is futile to blame the outer world of objects, persons and situations. He is a true karma yogi who can control his senses and remove all the negativities in the mind through daily puja, bhajan, dhyana and tapas. This attempt to purify the mind must be a regular practice and the only way to prevent the mind from getting disturbed by the petty daily situations. By living a perfect life in the present we prepare a blue print for our future.
The Yana was very well attended.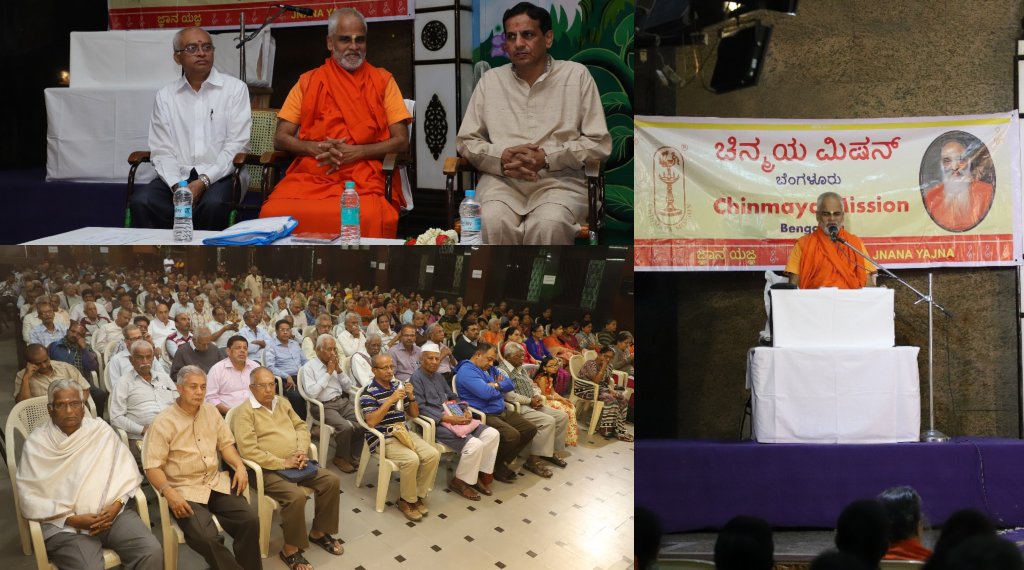 Geeta Jnana Yajna in Sahakaranagar
Pujya Swami Adityananda of Mandya centre conducted a Jnana Yajna in Kannada at SNEHA Bhavan, Sahakaranagar on Adi Shankara's Bhaja Govindam from 23/12/2018 to 30/12/2018. The Yajna was inaugurated by Sri B M Gopalakrishna senior member of the Mission.
Pujya Swamiji explained that Bhaja Govindam tries to remove the wrong impressions and worldly attachments imbedded in our mind through ignorance. Acharya Shankara advocates worshipping Govinda stressing the fact that Govinda is the inner Self who is the Chaitanya enlivening the inert body, mind and intellect. We with ignorance serve the body which in reality is not the real "Me". There is also a subtle warning here that we need to do what is necessary, apt and moral instead of performing acts that are useless & foolish having no meaning or relevance. Shankar justifies his stand through several day to day examples that magnify the futility of most of our regular activities inspiring us to understand the Reality. Once we start looking at life with the inner eye a totally new outlook blossoms in front of us with the understanding that only Chaitanya – Govinda exists.
The Yajna was well attended.


Gita Jayanti
Gita and Pujya Swami Tapovan Jayanti was observed in all the centres on 18/12/1019 through chanting of all the chapters of Bhagavad Gita along with Tapovan Shatkam and performing Paduka Puja. Satsangs were also conducted by Swamijis on the eternal message of Bhagavad Gita to humanity and Pujya Swami Tapovan Maharaj's contribution in making the subtle message of our scriptures available to common man.
---
Geeta Chanting Competition 2018 at CM Jaipur
Dated : 2018/12/09

---

On December 9, 2018 Sunday, Chinmaya Mission Jaipur organized the Inter
school level of "Geeta Chanting Competition" at Paramanand Hall, C- Scheme,
Jaipur. This competition is being successfully conducted annually by
Chinmaya Mission Jaipur since 1999. It was consecutive 20th year.
In this competition this year 2550 students from 13 eminent and prestigious
schools of Jaipur participated, out of which 29 participants reached the Inter
school level. Immense enthusiasm was seen in schools, parents and students
for this event.
The Chief guest of the event Dr. Rajendra Prasad Sharma, Professor & Head
of the Philosophy Department, Rajasthan University, graced the program with
his presence and guided everyone on the relevance of Shrimad Bhagwat
Geeta and it's usefulness in life.
In the competition, the first, second and third winners of each category A, B, S
& D were given award of cash prizes of 3000 /-, 2000 /- and 1000/-
respectively along with books and trophies. Four schools were given prizes
for overall best performance.
Certificates of participation were given to all the 2550 participants.
This year, all the participants gave a memorable presentation on the Geeta on
chapter 18.
The event coordinators were Dr. Ramesh Wadhwani, Sh. Mool chand Khatri
and special assistance was given by former treasurer Chinmaya Mission
Jaipur Sh. Ramjas Vaish. They were felicitated by the Chief guest and
President Smt. Mamta Mansingka for their dedicated contribution in
conducting the event successfully.
Senior Mission members along with Secretary and President were present
during the program.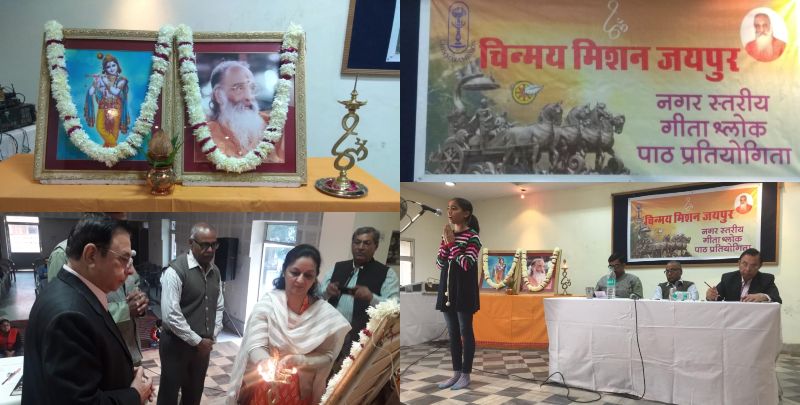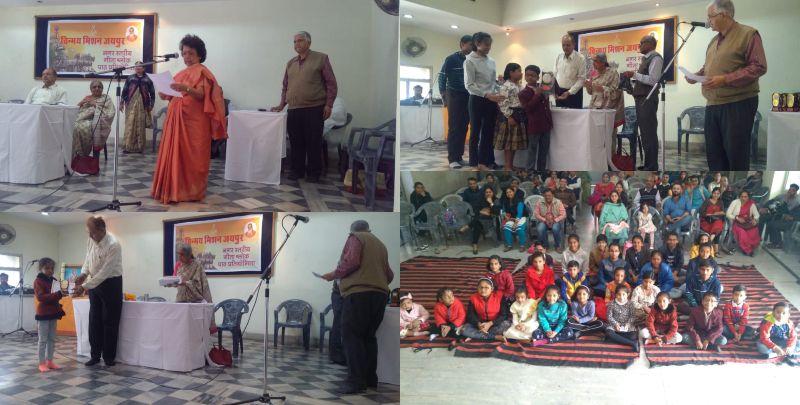 ---
"India, My Sacred Land" – Where Bala vihar students and saints came together!
Dated : 2018/12/08

---

From apprehension to appreciation, an Indian American teenager's gradual change of heart towards India was the premise of a captivating play performed on December 8th 2018, at Chinmaya Prabha Houston. In a compelling narrative of a few of India's saints, 115 Balavihar children  worked in harmony with live orchestra, modern technology, and visual effects to fly us across space and time to "India, My Sacred Land."
The play draws inspiration from Shri Darshana Nanavaty's sixth grade curriculum book, "India, The Sacred Land."  The common notion that saints are only ascetics living in solitude was systematically corrected as each act unfolded the story of a special saint who influenced the society of that time. After paying homage to the Chinmaya Guru Parampara, children embodied the spirits of Samartha Ramdas, the inspirational guru of Emperor Chatrapathi Shivaji and of the melodiously devotional Mirabai, the princess saint of Mewad. They portrayed Purandaradasa, the miserly diamond merchant who turned into a devoted musical saint; they made us revere the values that Kabirdas lived and mesmerized us with the power of the faith of Soordas, the blind poet-saint. They highlighted the great humility of Ramakrishna Paramahamsa and the missionary zeal of his disciple Swami Vivekananda–well remembered for his revolutionary address at the Parliament of World Religions in Chicago.  For the duration of the play, those performing were not just children but truly a representation of the saints themselves, worthy of respect and attention.
The bhajans and musical accompaniment of the live orchestra trained by Smt. Jamuna Murali and her team elevated the performance. Singers, tabla players, cellists, violinists, and pianists musically showcased the mood in every scene. Characters like the naughty mice, the perplexed disciple, and the enlightened masters were enlivened by creative sound effects that were mischievous, amusing, and deeply soulful respectively. Make-up and costumes for the 115 performers – for royalty, saints, peasants and devotees who all spanned different centuries, were breathtakingly realistic and true to character.
While the play was written entirely in English, the clever script by the Bala vihar play coordinators moved seamlessly between traditional and contemporary styles of speech. Relatable snippets of a young boy complaining about bedtime, referring to a saint as 'awesome,'or simply judging India by its outward gildings, struck a chord and often won plenty of laughs from the audience.
An IT-focused audio-visual team tied everything together brilliantly. Awe-inspiring, larger-than-life images and animations burst out from the massive LED-lit backdrop. It drew the audience into the inner sanctum of temples, allowed access into the most important of Shivaji's courtrooms and even took viewers to the Chicago Parliament of World Religions assembly of 1893.
The most impressive achievement is the diverse age range of the performers from as little as pre-K to twelfth grade. These artists kept the packed hall riveted to their seats. To come across an occasion where people from age two to ninety two can all thoroughly enjoy an evening together is rare. "India, My Sacred Land" is a true testimony to the devoted teamwork of all the volunteer groups of Chinmaya Mission Houston.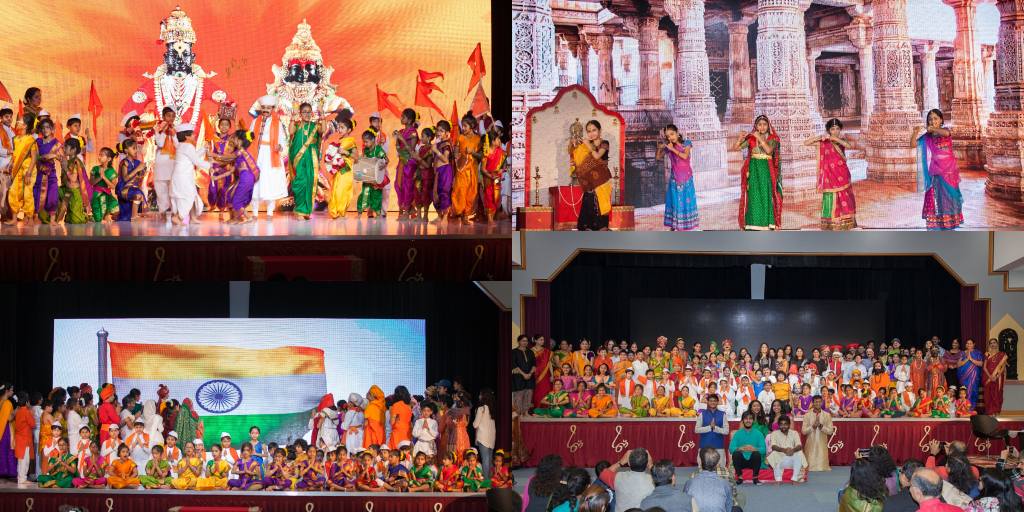 ---
Chinmaya Mission Ann Arbor held its 5th annual CHYK retreat in 2018.
Dated : 2018/11/04

---

With the blessings of Pujya Gurudev, Chinmaya Mission Ann Arbor held its 5th annual CHYK retreat in 2018. The retreat was held from November 2nd through 4th  with attendance from youth all over the United States. Sri Vivek Gupta of CM Niagara led the lively camp, titled"The Relevance of Ramayana," that revolved around a study of Pujya Guruji Swami Tejomayananda's Sri Rama's Reveries in Nature. This poetic and concise text contained the dialogue between Bhagvan Rama and Sri Lakshmana during their journey to find Mother Sita.
It was captured at a time when the two rested during the monsoon period. Lord Rama shared his thoughts, observations and analogies of the picturesque scene. Sri Vivekji walked the attendants through the scenes Lord Rama described and the noble thoughts He shared. Vivekji gave the students a vision, mission and action statement in correlation with the verses studied. This made the knowledge practical and applicable to students' everyday lives. The retreat was supplemented with workshops and thought-provoking discussion questions. It also included dynamic sports, seva in the ashram and a viewing of "The Jungle Book," reflecting the theme. The camp flowed in a seamless manner and was a weekend of satsanga, laughter and peace to the delight of the ever-dynamic Sri Vivekji and all the youth who attended.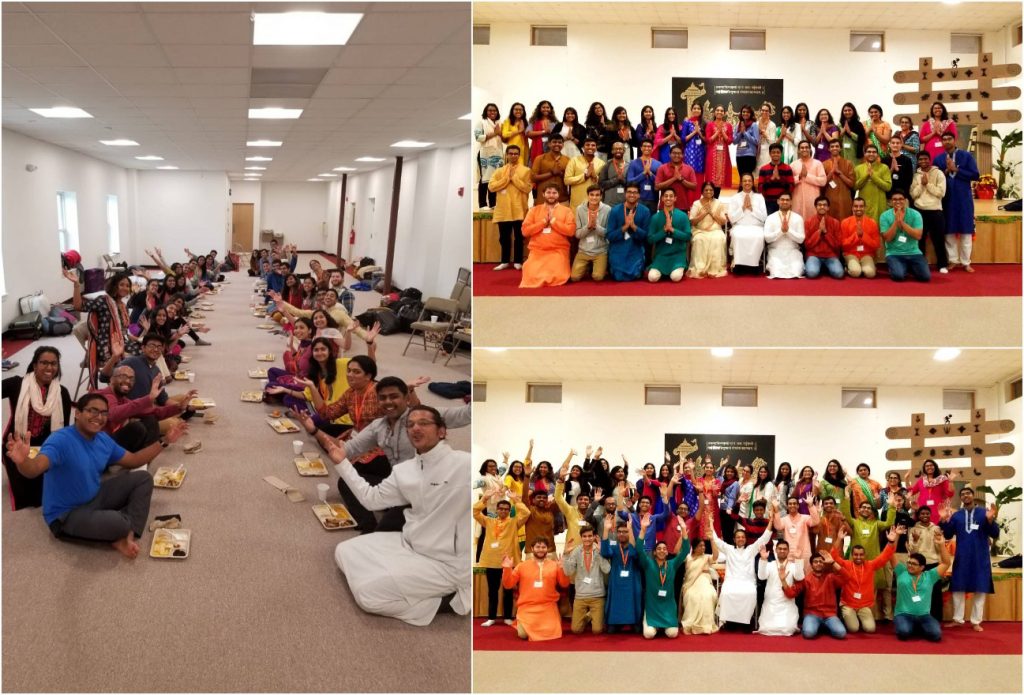 ---
Pujya Guruji's visit to MSSS Patiala
Dated : 2018/12/16

---

Hari Om.
Pujya Guruji visited Modern Senior Secondary School, Patiala.
The days events started with the school band escorting Guruji for the cultural program put up by the students. Ms. Nanki Singh, Trustee of the school introduced Guruji to the children and teachers. Shri Jujhar Singh – Chairman and trustee and Ms. Anjali Singh, Ms. Indu Shrikent, Ms. Kala Ramnath,  Ms. Aishna Sharma Chulani, Shri Chetan Sharma members of the School Managing Committee and devotees of Chinmaya Mission were also present. The cultural program presented included the primary school children singing nursery rhymes written by Guruji and the Aarti by Guru Nanak Dev ji. The skits invoked a love for God.
Thereafter Guruji addressed students of classes 6-8.
Speaking to students of classes 9-12 Guruji shared the 6As for success: Aptitude, Aspiration, Ability, Application, Attitude and Altar of dedication.
For the children of classes 3-5 Guruji told a story indicating how all work can be dedicated to God.
In the evening Guruji planted a sapling and had a session for teachers in which Guruji pointed out that the purpose of Education is manifesting the divinity in a person and to develop love for God.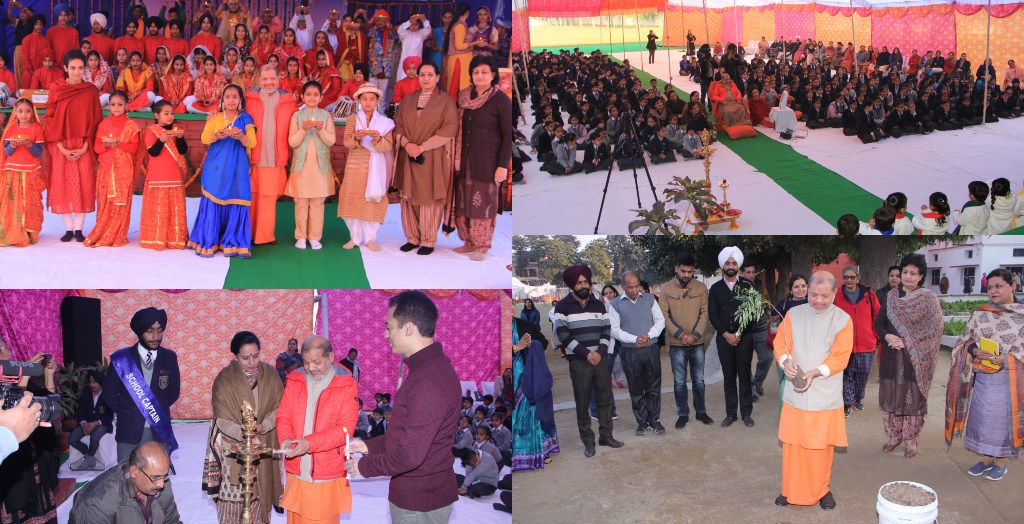 ---
Achievement in Chinmaya Khel Milan
Dated : 2018/11/17

---

Hari Om! Pranaams!!
We are extremely delighted to share a very happy news that our school has participated in the 8th  Chinmaya Khel Milan – The Badminton Tournament on the 15th ,16th  and 17th November 2018 at Chinmaya Vidyalaya Kunnumpuram (Kerala).
35 schools participated. Our school has won the 2nd  Runner up.
We wholeheartedly thank CCMT Education cell for having given us this wonderful opportunity.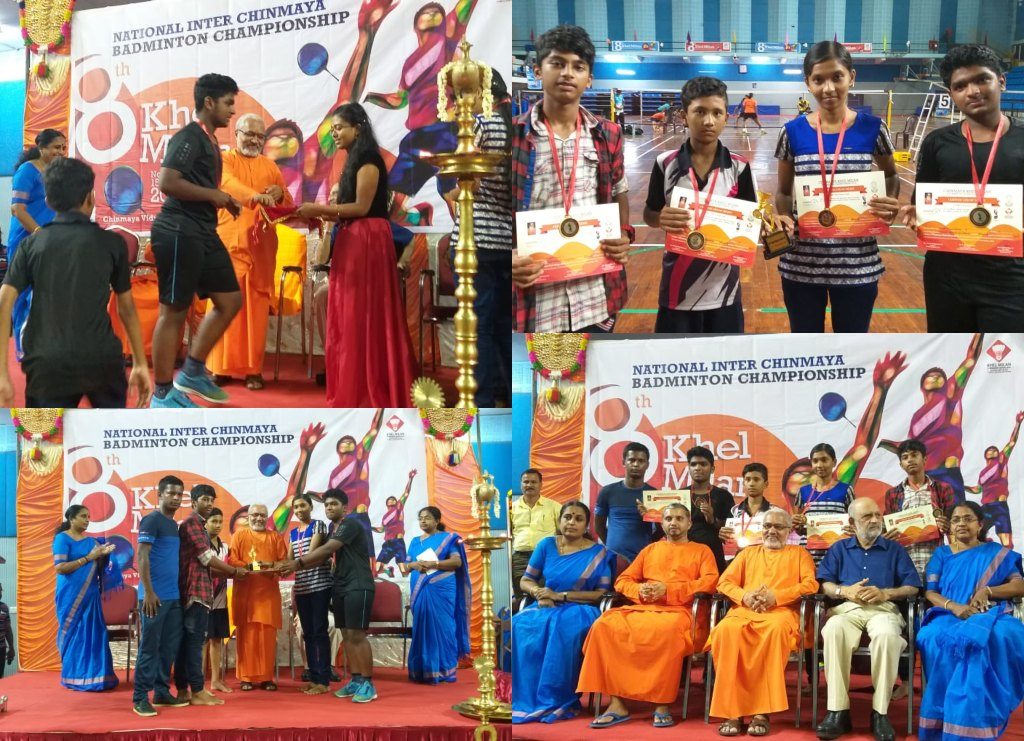 ---
My Happiness spiritual retreat at Chinmaya Vibhooti
Dated : 2018/11/25

---

From 23rd to 25th November 2018, a group of members of Rotary Club Kandivli West (Mumbai), and their friends and relatives, attended a spiritual retreat at Chinmaya Vibhooti, taken by Swami Swatmananda. The retreat was titled "My Happiness" and Swamiji guided the enthusiastic group through thought-provoking interactive sessions, yoga, silence, meditation, a movie workshop, Q&As, and lots of memorable and happy moments of inspired learning. The Rotarians and friends also enjoyed the spiritually-charged ambience at Chinmaya Vibhooti where they visited Chinmaya Jeevan Darshan, Swanubhooti Vatika, and all others areas. They were served sumptuous meals which they relished together, over lots of sattvic bonding and reflection. The group went back home after the retreat with only positive things to say, eager to apply the teachings received, and just as eager for the earliest opportunity to come together for more spiritual retreats through Chinmaya Mission.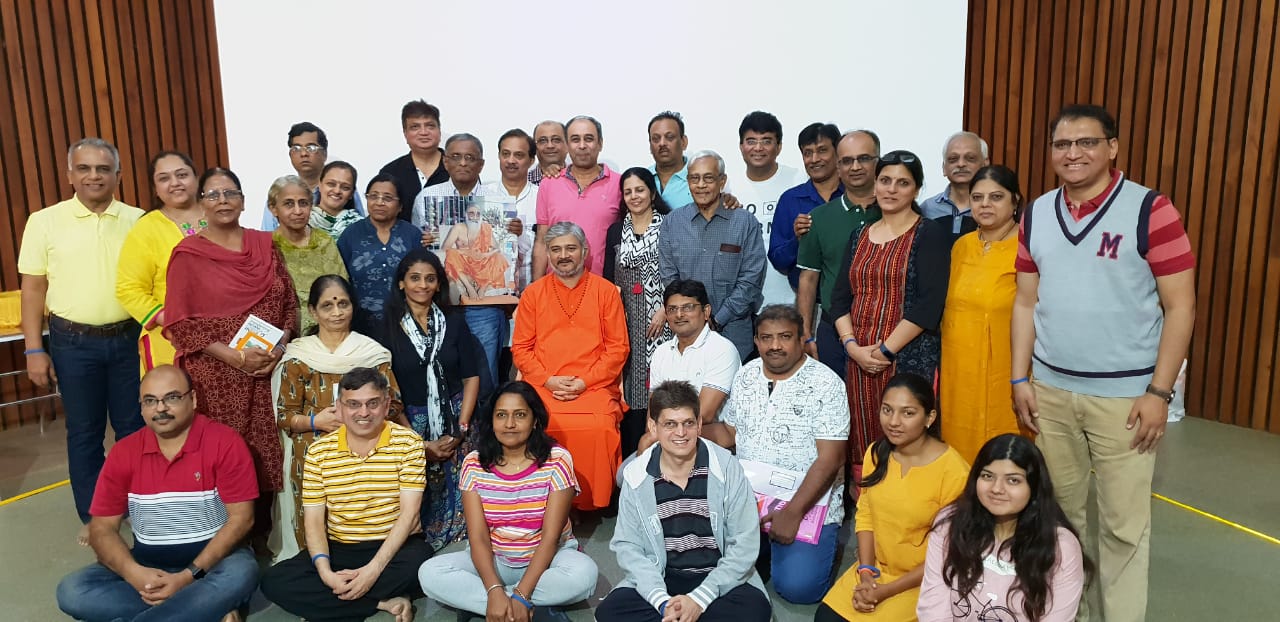 ---
Jnana Yajna at Chinmaya Mission Jaipur
Dated : 2018/11/17

---

Members of Chinmaya Mission Jaipur were transported to the realm of
Divine bliss by Pujya Swami Abhedananda ji, who kept his promise and dates
with us and once again in the Holy month of Kartik, successfully conducted a
7 day Gyan Yajna on Bhagwad Geeta chapter 5 and Kathopanishad Part 2
from 11th November to 17th November 2018.
The Yajna was ceremoniously inaugurated with shanti path and lighting of the
lamp and chanting of Guru Stotram. President Chinmaya Mission Jaipur
Smt.Mamta Mansingh welcomed Pujya Swamiji and all the seekers.
An erudite scholar, known for his lucid and articulate communication
skill,Swamiji began the morning session on the dialogue between Yamraj and
Nachiketa. Explaining the merits of the path of Shreyas as against the parh of
Preyas, he said that Shreyas, without depending on the circumstances takes
us closer to the Divine Self through renunciation. Whereas Preyas takes you
through desires to the world of sorrow.
Nachiketa who had more dispassion than Yamraj himself enquires about that
state which is beyond past and present, where one can remain permanently
focused on the path. Swamiji's exposition on a subject as serious as
Kathopanishad and Bhagawad Geeta was laced with wit and humour that
caught the attention of one and all.
In the evening sessions text taken was Bhagawad Geeta chapter 5. While
speaking about the path to Self-realization, Swamiji extolled the virtues of
Karma Yaga, Karma Sanyas Yoga and Gyan Karma Sanyas Yoga.
The secret of leading ones life skillfully, lies on these virtues. Unselfish action
performed in a spirit of surrender leads a spiritual seeker to a state of bliss.
As circumstances are not always in our hands attachments and expectations
lead to sorrow and helplessness, but when we surrender our effort with faith,
that there is someone behind taking care, our distress reduces. Giving up the
fruit of action is Puja is Karma yoga. Geeta speaks of Karana Yoga, Karma
Sanyas Yoga and Gyan Karma Sanyas Yoga. Without Karma Yoga
renunciation is difficult to attain.
The 7 days spiritual festivities ended on 17th November. On the last day of
Yajna, Secretary Chinmaya Mission Jaipur presented vote of thanks and
expressed gratitude towards Pujya Swamiji and all the seekers.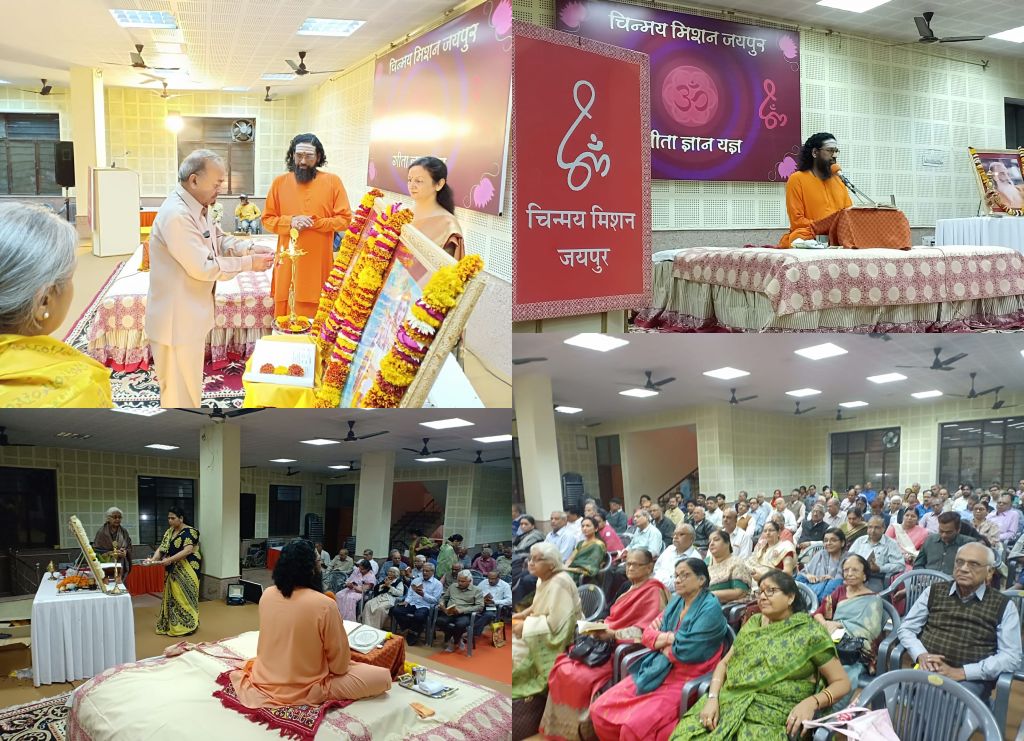 ---
Shraddhanjali For Shri R.L. Manchanda
Dated : 2018/11/26

---

Shri R.L. Manchanda, President Chinmaya Mission Patiala left suddenly for his heavenly abode on 26th Nov morning. He lived a "Life of Contributions". Being a civil engineer by profession, he supervised the construction of "Chinmaya Shatabadi Sabhagar" of Chinmaya Tapovan Trust, Sidhbari, constructed in memory of Param Pujya Gurudev during his Centenary year celebrations. He also supervised the construction of Chinmaya Jagriti Ashram and Shri Ram Mandir Patiala. He was a great personality with humane qualities and will be remembered with respect always by the present and future generations. His departure is a great loss to family, friends, society and Chinmaya Mission. May his soul rest in peace.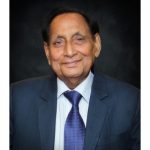 ---