News


To understand anything is to find in it something which is our own.
-Swami Chinmayananda
Archival News/Other News
Ramnavami Celebration at CM Delhi
Dated : 2018/03/25

---

Devotees and Mission members await the auspicious festival of Ramnavami. This year was no different. The Puja to celebrate Rama janam was led by Swami Prakarshananda at Chinmaya Mission Delhi. He was assisted by Anand Sharma and Brni. Mithlesh and Ranjana. The morning reverberated to the sound of bhajans and chanting. The celebrations reached a crescendo with the birth of Shri Rama as each one prayed to the Lord in their hearts. The invocation of blessings concluded with an Arati to Bhagavan and Pujya Gurudev. The icing on the cake was the sumptuous Bhandara thereafter.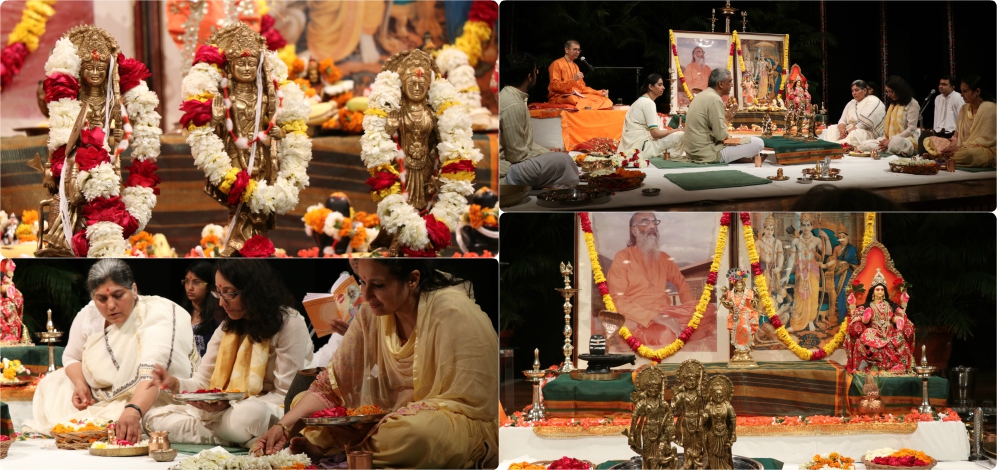 ---
Hanuman Jayanti celebrations at Chinmaya Seva Centre Singapore
Dated : 2018/03/31

---

The MANIFESTATION of GOD is not what we expect to see as a Cosmic Form appearing out of nowhere, to shock and awe and perhaps maybe to bless. But it is that unstoppable effervescent literally bubbling over feeling of ecstatic Joy that we experience within the caves of our own Hearts – when we offer ourselves to Him in complete devotion … lost to the world – just us and Him – a dialogue guised as an incantation that takes us to the depths of our own Being – where we FEEL Him in a feeling that is irrefutable!
And we ALL felt Him – pouring out as Love!
Our BIGGEST and MOST EXUBERANT gathering for Hanuman Jayanti yet – and we thank you all for your devotionally charged, energetic participation! Here's to many more occasions to come together as ONE and whole heartedly Praise the Lord! Stay tuned for our next exciting events!
---
Sita Rama Kalyanam Celebrations at Chinmaya Prabha
Dated : 2018/03/25

---

Sita Rama Kalyanam brings divine joy to Chinmaya Prabha
Rama Navami, the day Bhagavan Rama incarnated on earth, is a day of great joy. This year, the auspicious occasion of Chaitra Masa Shukla Paksha Navami was celebrated on March 25th. Conducting Sita Rama Kalyana Mahotsava on Rama Navami, Chinmaya Mission Houston (CMH) highlighted the great Agamika tradition of the divine wedding ceremony echoing the famous celebrations in South India, particularly in Bhadrachalam, Telangana.
Celebrating Sita Rama Kalyanam is a tradition where the utsava murti of Lord Rama and Sita Devi are brought forth in a procession and their marriage is performed as between a bride and bridegroom. Since Lord Rama represents Knowledge and Mother Sita personifies Devotion, this union symbolizes the secret to the most fulfilling way of life. Thus, through the holy ceremony of Sita Rama Kalyanam, the blessings of the divine couple are invoked for the welfare of the world.
CMH began preparations for this most significant event from weeks before, with multitudes of volunteers who poured their hearts and efforts to set the stage for the festivities. On Sunday, March 25th, the excitement started building up early with many eagerly gathering an hour before the event. The Saumyakasi Sivalaya courtyard was transformed into a giant wedding hall in Janakapuri, with a shining wedding mandap at its focus. There was an excitement of being at a wedding, one of divine royalty, yet there was inner serenity of being at a spiritual event. The event began with kids and women dancing to bring the bridegroom, Rama's utsava murti, from the gates. Every aspect of the ceremony was projected on a big screen to enable all the hundreds who were seated in the courtyard to witness and enjoy the entire proceedings. All the Bala Vihar children were given the pride of place to watch the Kalyanam since it portrayed Hindu culture at its festive best.
As Rama was ushered with petals, SriGanesh Satyanarayana officiated as the main Priest for the Kalyanam assisted by Priest Raghuram Bhatt. The procession to bring Maa Sita to the wedding mandap was led in by Brni. Shweta Chaitanya. As the Bhajan team added melodious music to the atmosphere, the steps of the wedding ceremony, complete with Mangala Sutra dharana transported all to Mithila. Acarya Gaurang Nanavaty, lovingly known as "Uncle," performed all the ceremonies as the hundreds assembled watched in rapt attention.
Even the weather participated gently, as a gentle breeze blew and the Houston skies balanced clouds and sunshine. CMH followed even the minutest detail of tradition as all devotees were served water, flavored majjige (buttermilk), lemonade, and sweets after the divine wedding. As the event came to a close, everyone had a special darshan and all were treated to a sumptuous mahaprasadam.
Sri Rama is the ideal representation of Dharma, and Rama Navami along with Sita Rama Kalyanam offers an awe-inspiring opportunity for all to reflect within and attempt to live His ideal traits. CMH's strong traditional connection, being rooted in Swami Chinmayananda's deep scriptural insights coupled with Karma yoga transformed a traditional event into a memorable spiritual journey filled with joy, also guiding one to focus on the inward expedition.
Wisdom of the ages, blended with practical application and fused with fun is the norm at Chinmaya Mission Houston, located at Chinmaya Prabha, 10353, Synott Road, Sugar Land, TX-77498. For more information, visit www.chinmayahouston.org or call Jay Deshmukh 832 541 0059.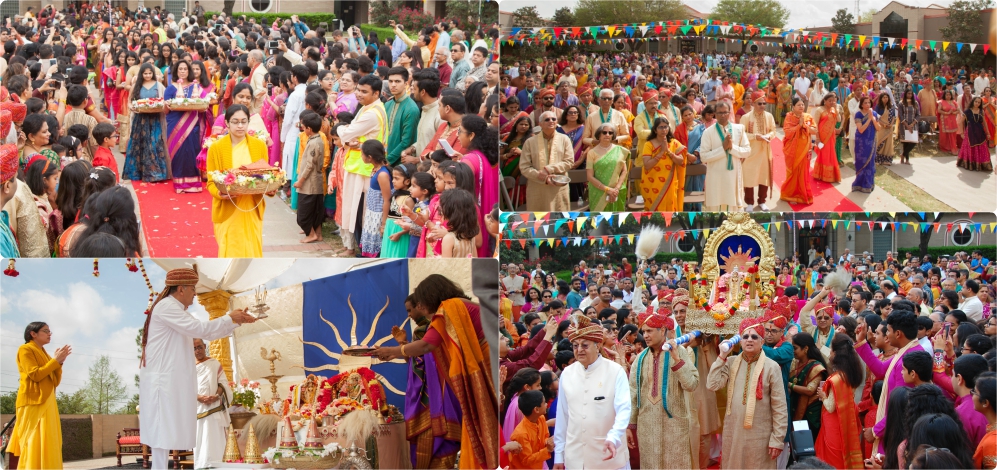 ---
Rama Navami Celebration 2018 @ Chinmaya Pradeep, Mumbai.
Dated : 2018/03/25

---

Around 45 enthusiastic members gathered together at Chinmaya Pradeep to celebrate the birth of the Ideal!
The day's events started out with a very interesting set of activities based on the 6 Kaands of the Ramayana. There were competitions between the teams as they learnt about Raama's role as an ideal in different stages of the Ramyana viz. Baal Kaand (Ideal Student), Ayodhya Kaand (Ideal Son), Aranya Kaand (Ideal Cultural warrior), Kishkinda Kaand (Ideal friend), Sundar Kaand (Ideal Leader), Yuddha Kaand (Ideal enemy). The activities involved relay races, archery, trust falls, sanskrit tongue twisters, treasure hunt, and so much more!
They also got a 'taste' of Raama's life in the forest in a very interesting way! This was followed by a debate on events in Uttara Kaand where the teams fiercely participated. Raama's role as an Ideal King and an Ideal Husband/ Father was discussed.
The celebration concluded with the chanting of Raama stuti, singing the verses from Tulsi Ramayan pertaining to the birth of Raama and aarti. The participants were very satisfied and many wished to know Ramayana in greater detail and understand Raama's character in more depth. Thus the birth of an Ideal was celebrated in the most Ideal way!!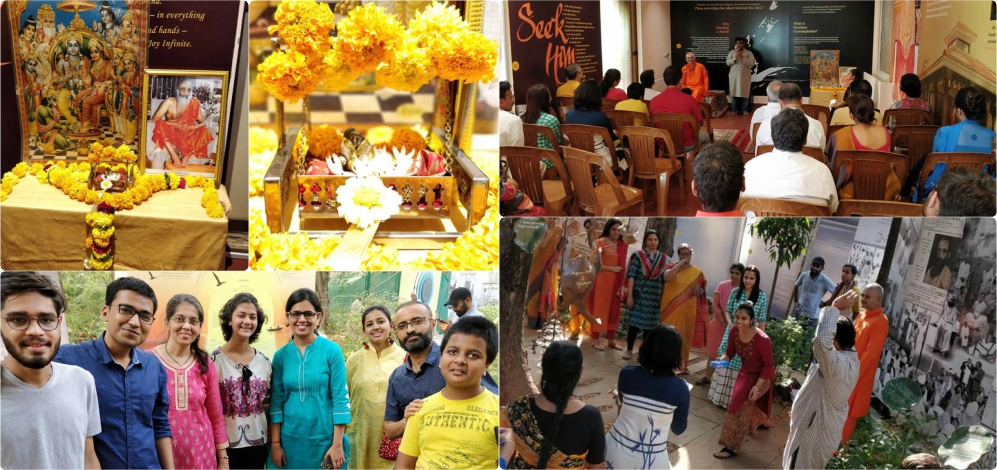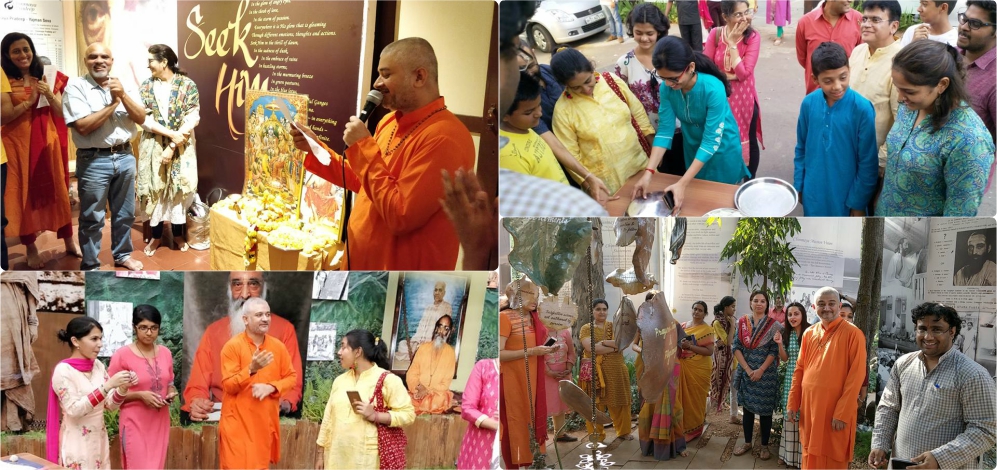 ---
Sita Rama Kalyanam at Chinmaya Mission Anantapur
Dated : 2018/03/26

---
Mathrubhumi Daily (Malayalam) carried a report on Adi Sankara Nilayam.
Dated : 2018/03/24

---
Shri Ram Navami at Chinmaya Seva Centre, Singapore.
Dated : 2018/03/25

---

On the blessed occasion of Shri Ram Navami, in the auspicious Presence of Pujya Swami Swaroopanandaji, at the tail end of the festive Navaratri, on a glorious Sunday … Chinmaya Seva Centre gathered 400 devotees to culminate the Soul-stirring discourses on the Incredible Powers of the Gayatri Mantra with a Maha Gayatri Havan this morning.
Replete with chants, holy smoke, sweat and tears – this our endeavour was blessed with a short but emphatic spell of torrential showers just as we began chanting the 108 rounds of the Gayatri at the end of which washed over and through us all waves of joy and bliss and deepest Gratitude.
Mission Accomplished! With the Grace of the Almighty and blessings of our entire Guru Parampara upon us, we were humbly able to bring maximum happiness to maximum people as maximally as we could … albeit in a minimum amount of time.
We wish you and your loved ones a Happy Ram Navami, and a whole lot of love and cheer forEver!!!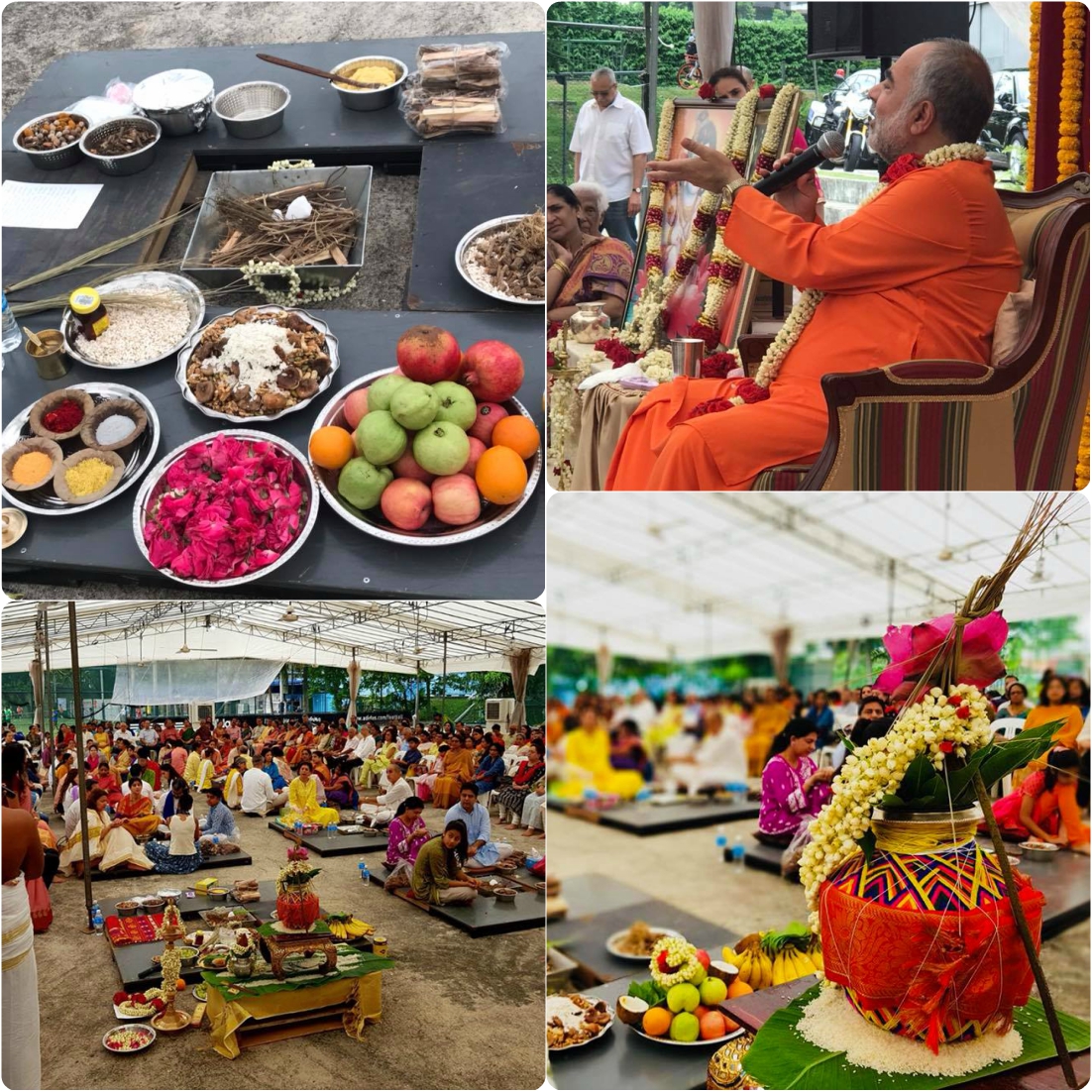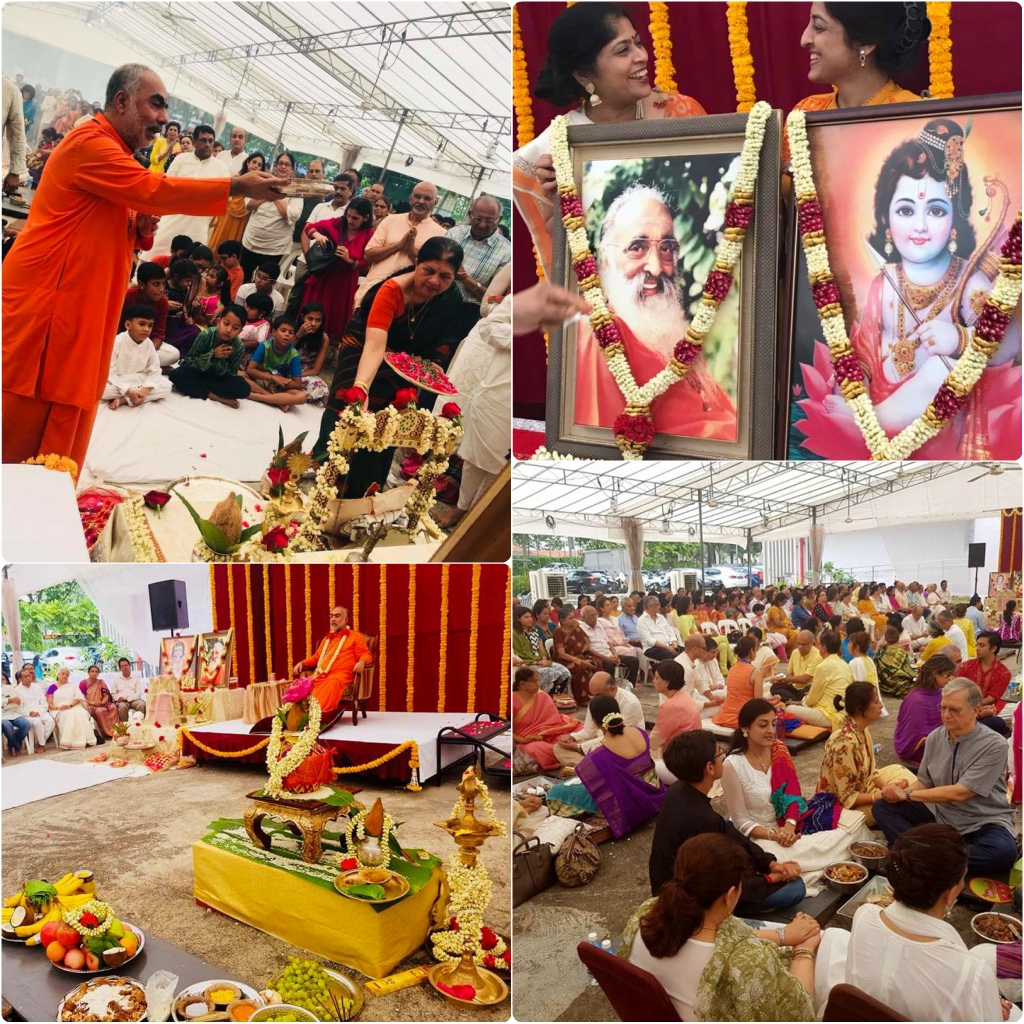 ---
Hudco Award to Chinmaya ParamDham in Green Category
Dated : 2018/03/11

---

We at Chinmaya Mission Ahmedabad are pleased to inform that with Pujya Gurudev's blessings, Pujya Guruji's guidance and Mukhya Swamiji"s good wishes, ParamDham, Chinmaya Mission Ahmedabad and its Architects– JMA Design Company Pvt. Ltd – have been awarded the first prize under the category "Green Buildings" by HUDCO.
A brief note on HUDCO and the award is as under:
Housing & Urban Development Corporation Ltd. (HUDCO), best known as a housing finance company has been playing a diverse and comprehensive role since its inception in 1970 to impact sustainable urban development. As an institution, HUDCO appreciates that 'design' is an important element to affect change. Designs, that accept acknowledge and respect the interconnectedness and interdependence between places, regions and communities as well as between man and nature shapes the foundation for sustainable development.
In order to appreciate the innovative design interventions that have been demonstrated by professionals in various projects across different sectors, HUDCO has instituted HUDCO Design Awards which has five categories viz.
(1) Cost Effective Rural / Urban Housing including Innovative / Emerging & Disaster Resistant Housing
(2) New & Innovative Town Design Solutions / Eco-Cities
(3) Conservation of Heritage
(4) Green Buildings and
(5) Landscape Planning & Design
 The objectives of the award are:
 To encourage professionals (architects, engineers, urban planners and other allied professionals) to be more creative and provide out of the box solutions.
To use creative design for improving the living environment in our cities.
iii. To document/showcase the best practices with possibility of replication and scalability.
To sensitize the decision makers regarding utility and applicability of innovative designs.
 Green Building Category
Rising carbon footprints and consequent climate change is a harsh reality that needs to be resisted and rectified by all concerned and at all levels possible. In a rapidly urbanising world and increasing built up space, energy efficiency of buildings is believed to play an important role in combating this menace. Research suggests that consumption of energy and consequent carbon footprints of buildings can be considerably reduced through adoption of efficient and sustainable design specifications, appropriate choice of materials and proficient construction practices. Designing green buildings i.e. a building that is green '…through its lifecycle. From planning its design, to construction, operation, maintenance, renovation and demolition' is the need of the hour to combat the climate change challenge and ensure sustainable development. "
The announcement by HUDCO in PDF file Click Here.
We offer this appreciation by HUDCO at the feet of Pujya Gurudev.
---
Holi- 2018 Celebrations at Chinmaya Mission Houston
Dated : 2018/03/04

---

Holi – traditional gala at Chinmaya Mission
Chinmaya Mission Houston (CMH) celebrated the most colorful of all Hindu festivals, "Holi" on Sunday, March 4th, to mark the commencement of spring. Phalguna Poornima of the Hindu calendar is the day of Holi. The day prior is celebrated as Holika Dahan or Chotti Holi, with the lighting of bonfires. Holika, the sister of Hiranyakashipu, schemed with her brother to get rid of her nephew, Prahalad, the role model of all devotees. Hiranyakashipu was annoyed at his son for incessantly thinking about Vishnu as the Supreme Lord, instead of himself. After repeated attempts to kill him in vain, Holika decides to tie herself to Prahalad and set them on fire. She had a boon from Brahma that fire would not harm her. Yet due to tapascharya of Prahalad and due to the grace of Vishnu, it is Holika who burns to death and Prahalad remains unharmed. Holi, thus marks the victory of good over evil.
            It is also believed Holi has its roots with Sri Krishna's pastimes with Gopis of Brindavan, where he applied colors on them and the tradition lives on. Some associate the killing of Pootana by Krishna as the beginning of Holi.
            The theme of all the legends revolve on victory of good and the commencement of great times, coinciding with spring and colorful flowers. CMH participants in the hundreds echoed the same zeal and spirit to make the festivities and the mood very colorful. The threat of possible rain did not dampen the enthusiasm of the volunteers who had made elaborate arrangements. The courtyard was festooned with colorful pennants all around the central holi fire. Gulal of many hues and other colors were provided to all the participants.
            As the weather cooperated to make it an awesome day, the celebrations and the fun competed to make it more memorable, the one punctuated with lots of singing and dancing besides the colors.
            Post noon, Pujya Gaurang Uncle lit the Holi fire and commenced the Holi Puja and celebrations. This was followed by a delicious, sumptuous lunch, cooked by the kitchen volunteers who had been at this seva, since morning. The lunch morphed into a picnic, with people enjoying it on the soft grass. The paan stall setup for the event, took the joy of lunch to a different level.
            The mood was instilled by flash mob dancing to melodious tunes. Kids could not curb their glee with many games to participate from lemon-spoon to water balloon tossing. The excitement was infectious as adults took part in a "tug of war". This was followed by the traditional coloring of each other in the real spirit of Holi.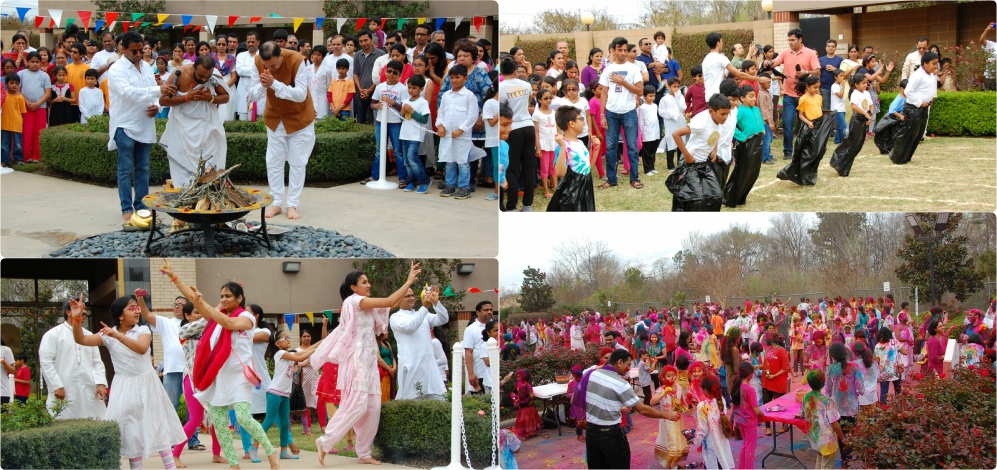 Tradition steeped in wisdom, diffused with fun is the norm at Chinmaya Mission Houston, located at Chinmaya Prabha, 10353, Synott Road, Sugar Land, TX-77498. For more information, visit www.chinmayahouston.org or call Jay Deshmukh 832 541 0059.
By Ruchi Verma
Photos by Rajesh Thatte and Nilesh Shah
---
Activities in Bengaluru during February 2018
Dated : 2018/02/28

---

Jnana Yajna by Pujya Swami Brahmananda
Pujya Swami Brahmananda conducted a Jnana Yajna in Kannada at Sri Prashanta Ganapati Temple, Prashantanagar from 4th to 11 February, 2018 taking Narada Bhakti Sutra. The Yajna was inaugurated by Pujya Sri Sri Advayanandendra Saraswati Swamiji of Sri Sacchidananda Advaita Ashrama who highlighted the salient features of what real Bhakti means and stressed that the way of Gopis of Brindavan, Dhruva, Gajendra and Prahlad who through total surrender attained the Lord is the purest form of devotion.
Pujya Swami Brahmananda stressed the need to understand that the entire creation is the Lord's manifestation and all turmoils in life are aimed at reforming the mind to cultivate positive tendencies. Even in worship we look upon God and ourselves as different. But as we progress in sadhana duality vanishes with the worshipper and the worshipped uniting to become one. This is true love termed as Bhakti. This is the experience of Saswaroopa that is the pinnacle of devotion in its deepest form where all agitations of the mind vanish. This identification with the supreme removes all duality, delusion and fear. True devotion is absence of all desire seeing the Lord everywhere and getting rooted in the inner peace and tranquility not getting disturbed by the ups and downs in life. This type of supreme Bhakti cannot be explained through words but has to be experienced through nama smarana, shravana, manana and nidhidhyasana when the mind becomes totally still free from all kinds of thoughts. Only such a true devotee with pure mind with intense longing for the Lord will be able to visualize Him in all creation and stand ever rooted at His Lotus Feet.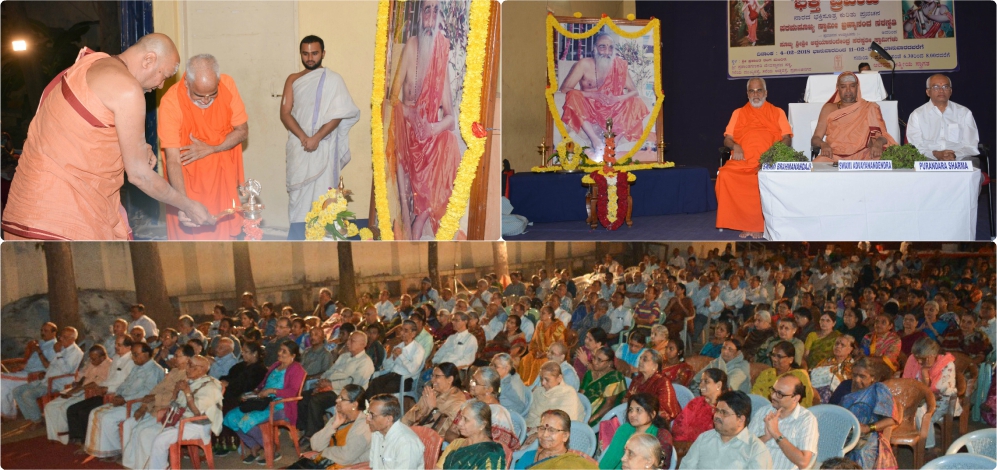 The Yajna was very well attended.
Geeta Jnana Yajna by Pujya Swami Aparajitananda
 Pujya Swami Aparajitananda (formerly Pujya Br, Sujay Chaitanya) of Mangalore centre conducted his first Geeta Jnana Yajna after receiving Sanyasa Deeksha in English on Bhagavad Geeta Chapter – 4 in Chinmaya Vidyalaya, Koramangala from 19th to 25th February, 2018. The Yajna was inaugurated by Pujya Swamiji himself along with Sri Purandhara Sharma, president of the Mission
Pujya Swamiji emphasised that the central message of the Geeta is a clear understanding that there is no difference between Jiva and Brahman. This knowledge of the supreme Self can be realised only through purification of mind through Karma Yoga when the sadhak becomes fit to practise the Jnana Yoga. The true knowledge that the entire pluralistic world is just a projection and there is in reality no difference between 'Me' and God can dawn only through study of scriptures. A Jnani with this knowledge just observes all happenings as just a witness without getting unduly attached and functions as an instrument with no doership attitude. Such a contended Jnani devoid of all wants and desires free from all sankalpas will have all his karmas burnt in the fire of knowledge. He lives and works for the welfare of society with an absolute selfless attitude.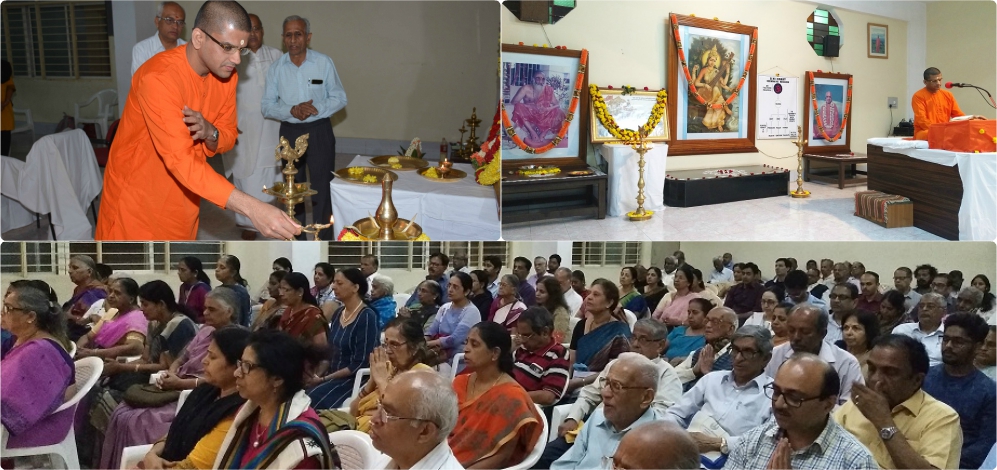 The Yajna was very well attended.
Satsang by Pujya Swami Brahmananda
Pujya Swami Brahmananda conducted a Satsang in Kannada at Gokhale Institute of Public Affairs, N R Colony yesterday  on 24th February, 2018 bringing out the salient features of DVG's Manku Timmana Kagga which is popularly termed as Bhagavad Gita in Kannada. Sri Ramaswamy, trustee of the Institute welcomed Swamiji paying glowing tribute to Pujya Gurudev Swami Chinmayananda as the pioneer in spreading the message of scriptures to masses. DVG's Manku Timmana Kagga which was unknown to the spiritual fraternity has been popularized by Pujya Swami Brahmananda who influenced by the adhyatmic thoughts therein started quoting it extensively in all his discourses.
Pujya Brahmaji in a power packed Satsang stressed that every shloka in Kagga is rich with philosophical background containing the essence of Upanishads and Bhagavad Geeta. The common questions posed by the human mind on evolution, birth, death, jiva, jagat and Ishwara are analysed with practical examples and beautifully answered in a systematic manner. Our common identification with the body, mind and intellect is termed as the biggest mistake coming out of ignorance and only the knowledge of the Self can reveal that we are in reality the all pervading everlasting Jyoti illumining the entire universe. This knowledge removes all duality enabling us to have a universal connection where nothing exists other than the Consciousness. A person with such knowledge is able to maintain equanimity amidst the ups and downs in life spreading joy to all who come near him.
(DVG – Sri D V Gundappa, a very popular poet, philanthropist and adhyatmic thinker)
Sadhana Day
Sadhana Day was observed on Sunday, 25th February, 2018 by study group members in the holy presence of Pujya Swami Brahmananda taking Bhagavad Geeta Chapter-4 for discussion. Pujya Swami Aparajitananda delivered the keynote address dwelling on the theme of a realised master who is able to perform action actively in the outer world and yet remain absolutely calm within.
The entire gathering was divided into seven groups and encouraged to discuss on particular shlokas allotted to each group for about an hour. Representative of each group presented the summary of discussions with clarity giving examples that was appreciated by all including Pujya Swamiji.
Pujya Brahmaji in His Aashirvachanam highlighted the need to understand that real happiness is not in the outer world but our very nature that is Sat Chit Ananda. He emphasised that acquiring of external knowledge needs effort whereas realising the Self in reality needs no effort at all. Infact any effort takes us away from reality. What we need to do is simply stay quiet at the feet of a Sadguru surrendering to the Shastras when knowledge dawns as mind gets purified through seva transcending the panchakoshas and the three Gunas.
The programme was well attended by over 150 sadhaks who got their doubts clarified on various questions through interaction with Acharyas and senior study group coordinators.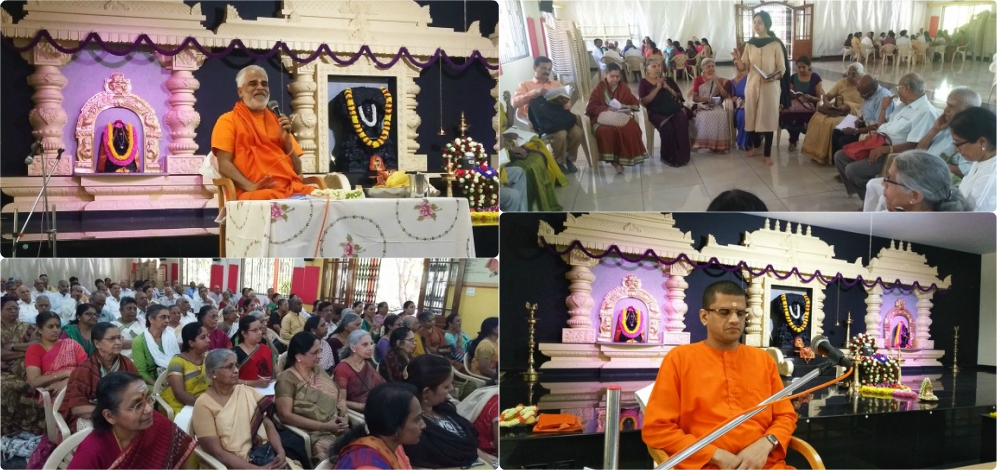 Maha Shivaratri in Sripaadakshetra
Shivaratri celebrations began in Sripaadakshetra, J P Nagar from 6th February, 2018 with daily archana in the mornings and evenings followed by musical programme of bhajans, devotional songs and classical music in the evenings. Hundreds of devotees visited the temple daily.
Maha Shivaratri was observed on 13th February, 2018 with due religious fervor throughout the day from 6.00 am to midnight. The day started with Mahanyasadi Poorvaka Rudrabhisheka from 6.00 am to 11.00 am followed by continuous bhajans and devotional songs till 6.00 pm. Ekadasha Rudrabhisheka was performed from 6.00 pm to 9.00 pm followed by devotional songs till 11.30 pm after which Om Namah Shivaya japa was chanted concluding with midnight Aarati. The entire temple complex wore a festive atmosphere with beautiful and colourful decoration of flowers, Rangoli and lights. The devotees thronged in thousands throughout the day seeking the blessings of Lord Dakksinamurthy Shiva, Ganesha and Subramanya.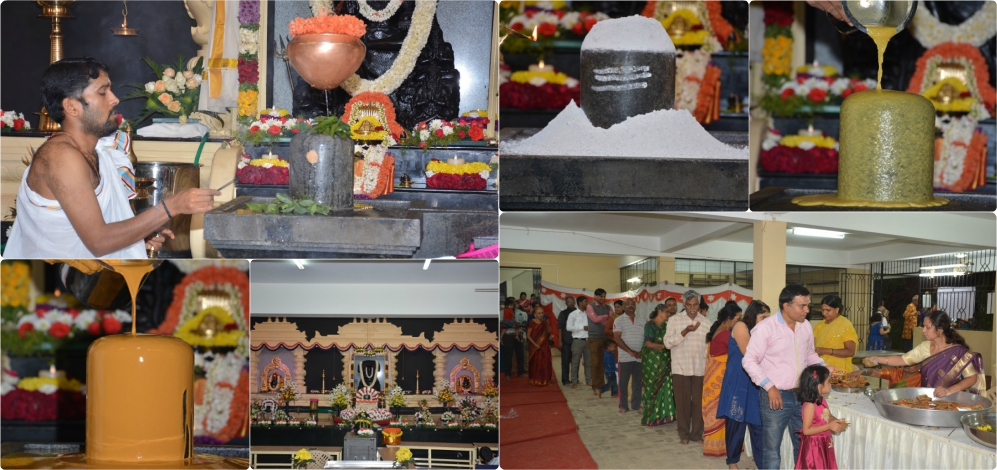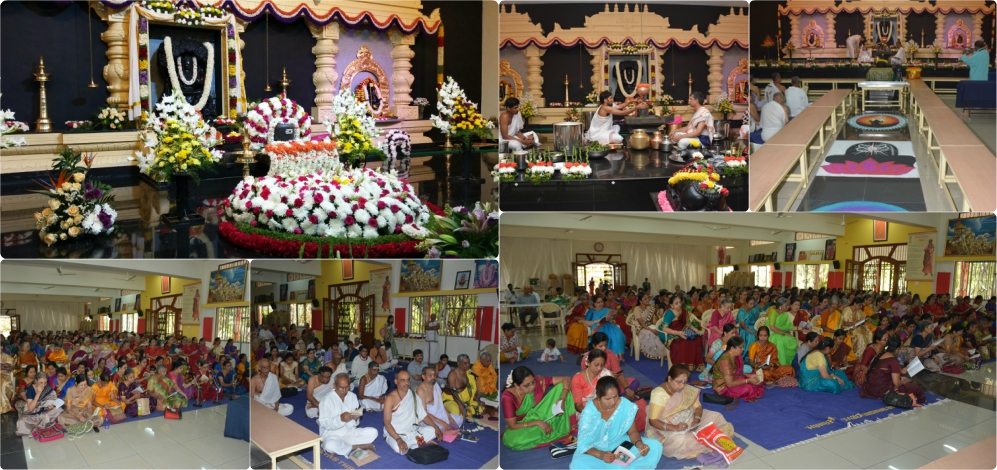 ---