News


To understand anything is to find in it something which is our own.
-Swami Chinmayananda
Archival News/Other News
Pujya Mukhya Swamiji's visit to Chinmaya Vidyalaya, New Delhi
Dated : 2018/02/16

---

Chinmaya Vidyalaya Vasant Vihar was blessed with Pujya Mukhya Swami Swaroopananda ji visiting the school on 16 Feb 2018. In the welcome address Ms. Archana Soni, Principal, quoted the above line and expressed how blessed staff and students of the Vidyalaya was to have Pujya Swamiji visit the school.
Mukhya Swamiji was escorted into the Vidyalaya premises by the energetic marching squad. Cheer and joy to have Swamiji on campus was visible through the smiles on the faces of all on campus.
A cultural presentation which included orchestra, choir group singing by Junior and Senior school, dance performances by students – including a Kathakali dance was greatly appreciated by Mukhya Swamiji and guests.
Principal, Ms. Archana Soni expressed gratitude towards Swami Swaroopanandaji for accepting the invitation and blessing the students with his benign presence.
Pujya Swami Swaroopanandaji enthusiastically interacted with the students and staff and shared some very valuable tips for life inspiring them to realise their real potential to identify and work upon their weaknesses. He explained the real meaning of actual happiness which has no relation with material success. He motivated the students to research, explore and gather knowledge. He stressed upon the importance of Guru in our life to develop our talents and skills. He emphasised the value of having faith in the Lord, confidence in the teacher within and our own potential to excel. He asked the students to set extremely high goals and work relentlessly towards achieving them.
To make the day immortal, Swamiji planted a sapling. Vote of thanks was proposed by the Vice-Head Girl, Nandita Chaturvedi. The program concluded with the National Song.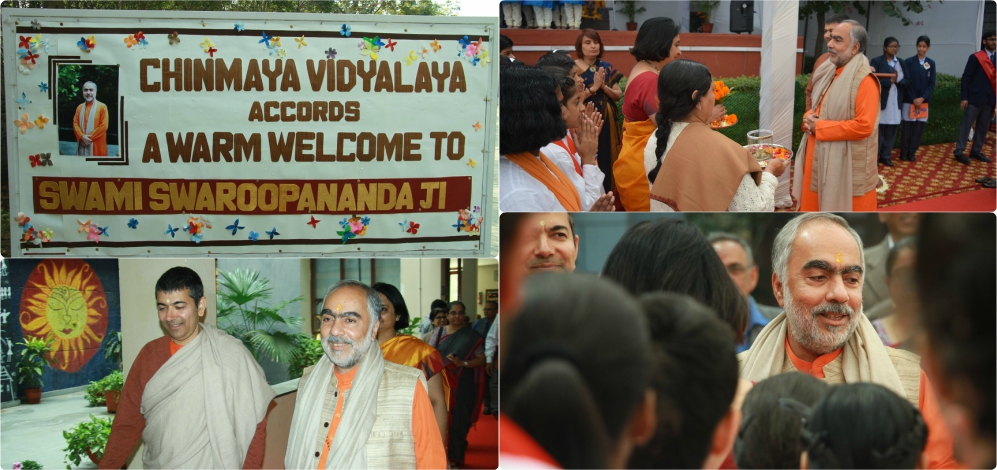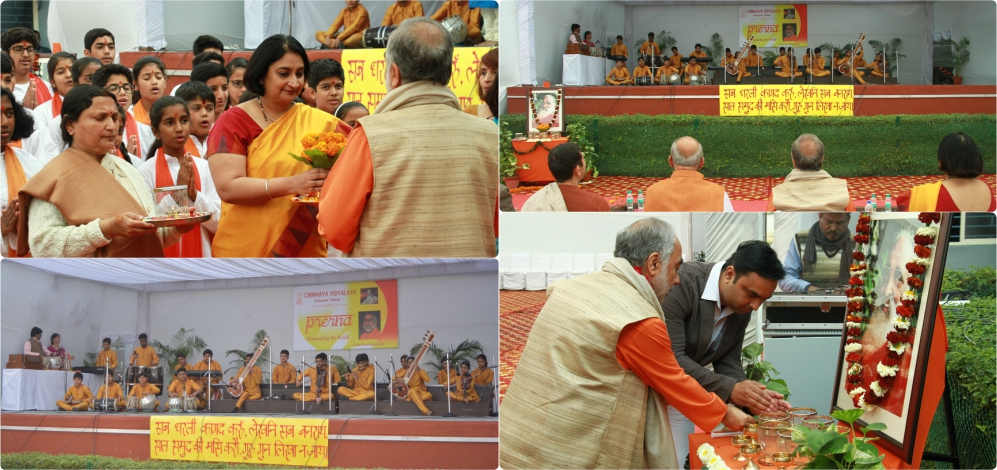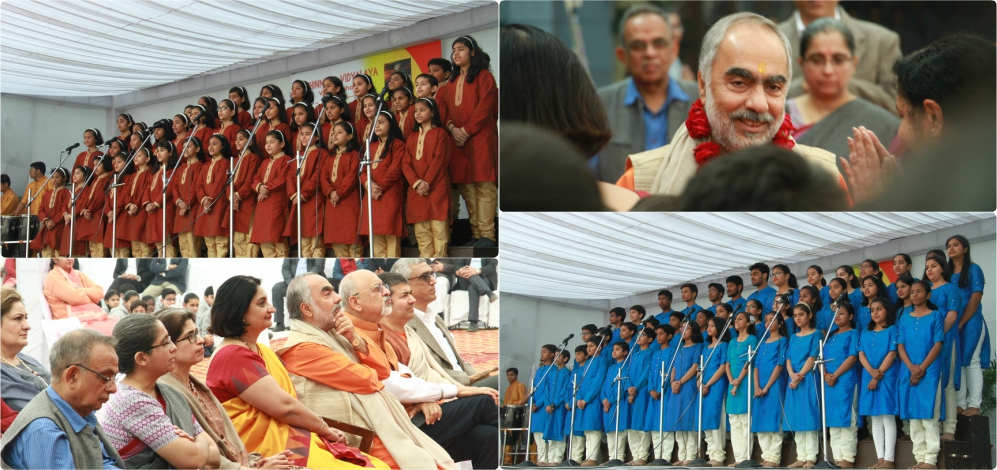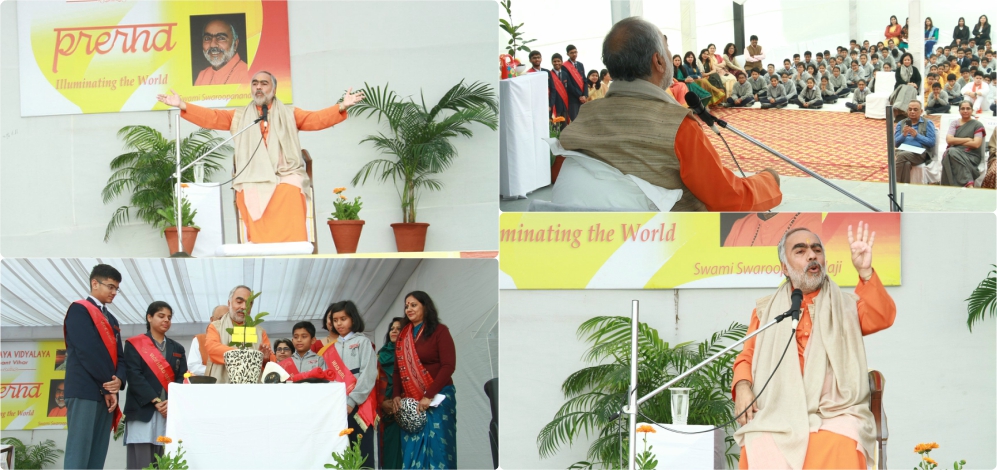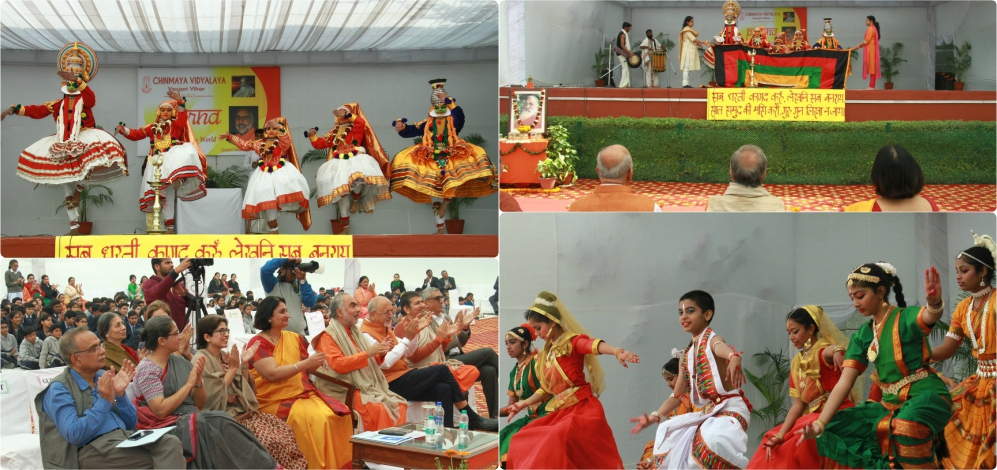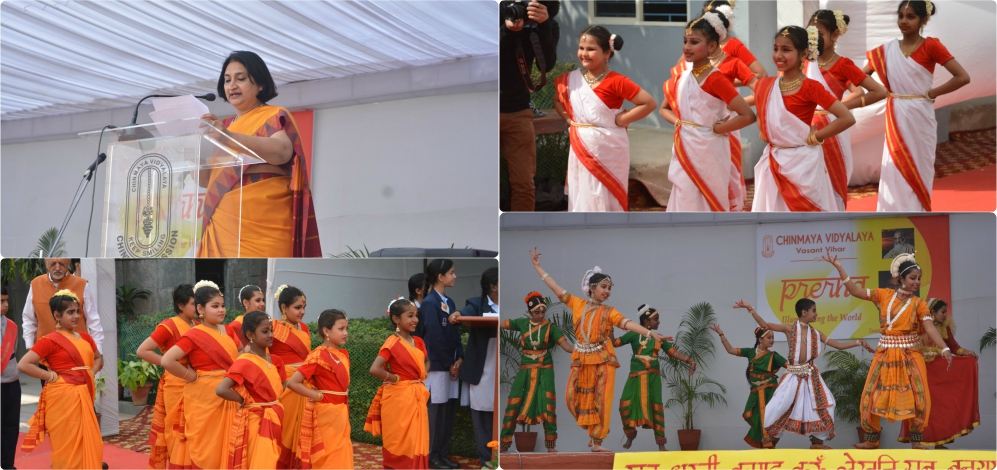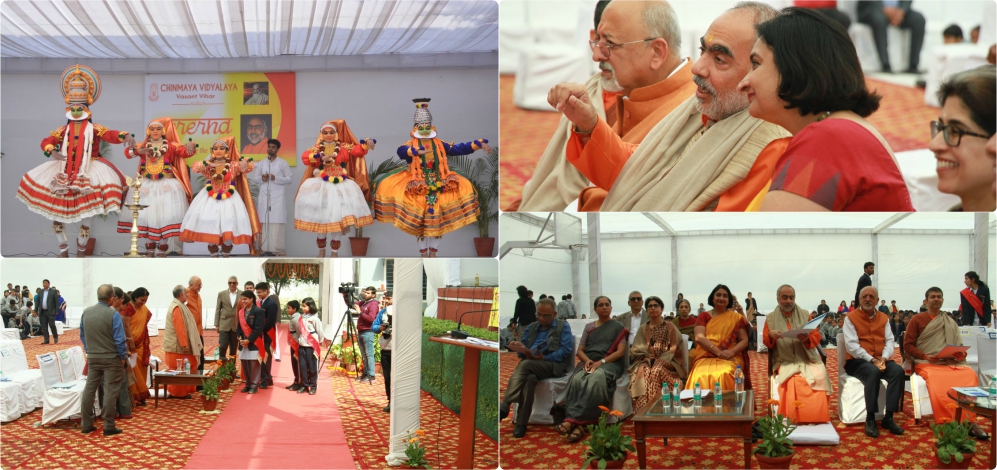 ---
Sampoorna Bhagavad Gita Camp in Hindi at Chinmaya Vibhooti
Dated : 2018/02/05

---

January 16 – February 5, 2018
Bhagwan Shri Krishna has said in Bhagavad Gita 18:69 that the one who distributes knowledge to devotees is most dear to Him and in doing so offers the ultimate service. Pujya Guruji Swami Tejomayananda, out of divine compassion, conducted a 21-day jnana yajna of the complete Bhagavad Gita at Chinmaya Vibhooti. 300 seekers attended the full camp and an additional 75-100 attended at least for one week if not more. Guruji paved the way by starting with the background of Mahabharat leading into the explanation of Gita Dhyanam, shlokas that were chanted at the commencement of every class. Guruji pointed out how blessed we are to study the ancient knowledge that the Lord gave to Surya (Sun), only because of Pujya Gurudev's tireless work. The objective of the study as enumerated by Guruji throughout the camp was to improve our life by self effort: Uddharet atmnaatmanam…6:5
Guruji said, "Gita is a manual of self unfoldment and how to live life to rise higher, inviting each and everyone at whatever stage of spiritual evolution one may be." Through Karma yoga, by offering every action to the Lord and accepting all results as prasad (His gift) one purifies the mind and that allows vichaar (reflection), tyaga (sacrifice) and sannyasa (renunciation) leading to jnana (knowledge) with the realisation that I am the Atma. Guruji said, "The wise man lives in the body, the ignorant live as the body."
During the course of the three-week camp, there were bhikshas, Paduka Pujas, aartis as well as many special celebrations. On January 21, the day started very early to celebrate Shri Ganesh Jayanti at Pranav Ganesh Mandir, with homa, abhishek, puja and archana. Chanting of the Ganapati Atharvashirsha 11 times created a most divine environment. Pujya Guruji's presence showered all devotees with the love and blessings of Pranav Ganesh Bhagwan. Republic Day, January 26 was also celebrated with flag hoisting by Guruji and singing of his patriotic composition – Dhanya Dhanya Bharat Maata as well as the national anthem and Vande Mataram.

The camp successfully concluded on February 5 with Guru Paduka Puja and ashtottara namavali of Gitaji. Guruji has composed Gita Kavita, a condensed composition in Hindi of the teachings of each chapter. He sang each chapter of Gita Kavita and released the book by handing a copy personally to all attendees as prasad. Many of us had heard discourses on the Bhagavad Gita in the past but Guruji methodically gave us a way of life, where all the pieces glided beautifully into the whole. Guruji commented, "Some were informed, others were transformed while a few were enlightened!" Jai Bhagavad Gita! Jai Gurudev!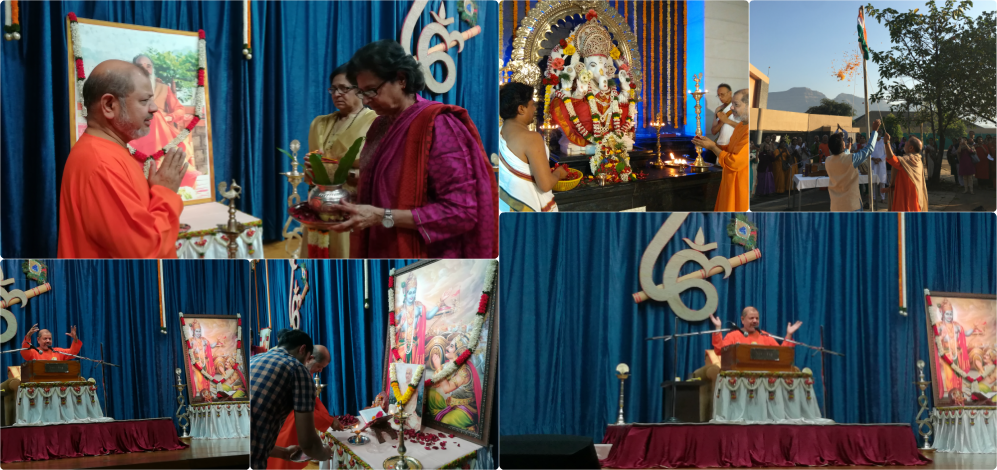 ---
Maha Shivratri 2018 at CM Vasai
Dated : 2018/02/13

---

MahaShivratri Mahotsav has been growing bigger & bigger every year since last 13 years in Vasai.
This year under the guidance of Swami Nirbhayananda Ji has seen yet another milestone at Shivratri Mahotsav by the grace of Lord Jagadeeshwara.
From Poojas to Lectures, Treks to social-service activities Chinmaya Mission Vasai is visualising the Vision of Poojya Gurudev Swami Chinmayananda.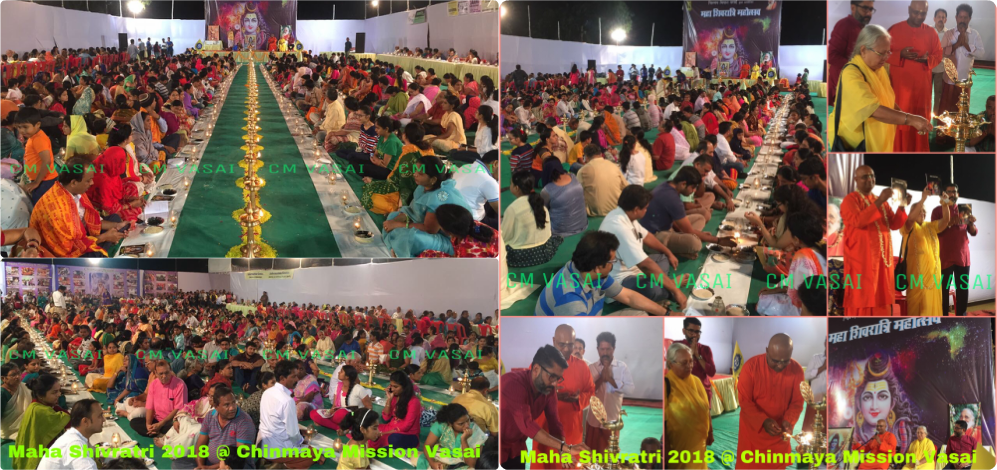 ---
Activities in Bengaluru during January 2018
Dated : 2018/01/31

---

Jnana Yajna by Pujya Swami Chidatmananda
Pujya Swami Chidatmananda, Regional Coordinator of Chinmaya Mission, Andhra Pradesh conducted a Jnana Yajna in English entitled "BE FEARLESS" based on Vedanta Sangraha from 31/12/2017 to 07/01/2018 at Sripaadakshetra, J P Nagar. The Yajna was inaugurated by Pujya Swamini Samatananda, from Sripaadakshetra.
Pujya Swamiji stressed that only delusion and ignorance creates and multiplies fear which can only be removed through right knowledge under the guidance of a Sadguru and total surrender at the feet of the Lord. The real vision is seeing the one imperishable Lord in all when we become free from anxiety, stress and fear with the firm understanding that the entire perishable world is supported by the changeless consciousness. The knower of Brahman becomes Brahman Himself which is an integral experience of all pervasiveness which is Sat Chit Ananda. The world of plurality projected on Brahman will not affect Him just as the screen is never bothered about the movies played on it. This clarity in understanding removes all sense of duality and fear of all kinds gets totally destroyed.
The yajna was a grand success with several sadhaks deriving benefit from Pujya Swamiji's thoughts.
Pujya Swamiji also conducted a Satsang in Telugu on "Vemana Padyalu" on Sunday, 7th January, 2018 which was attended by over 200 members of the Telugu Community. A Youth Meet on "Modern Model Mentor" on Saturday, 6th January, 2018 was attended by 150 youngsters from different parts of the city.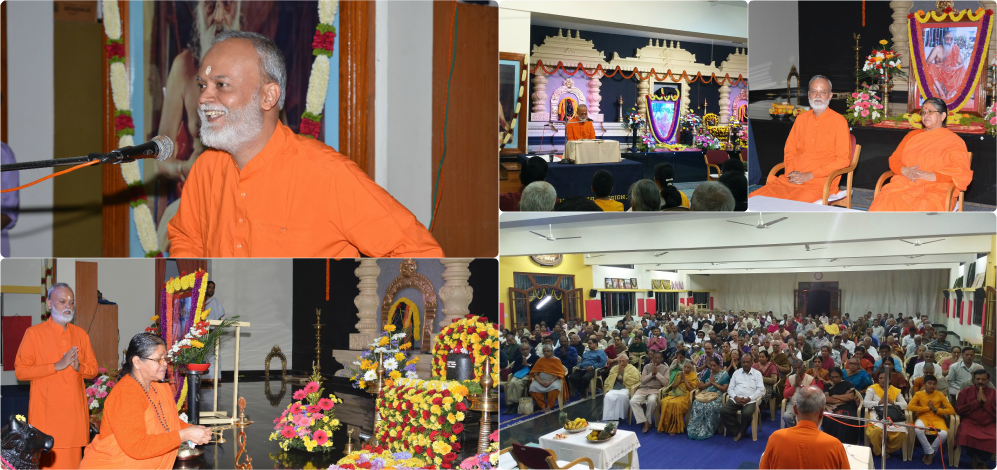 Gita Jnana Yajna by Pujya Swami Gahanananda
Pujya Swami Gahanananda of Tumkur centre conducted a Gita Jnana Yajna in Kannada on Bhagavad Gita Chapter – 17 from 10/01/2018 to 16/01/2018 at Dwaraka Convention Hall, Vidyaranyapuram. The Yajna was inaugurated by Sri Shamanna, senior member of the Mission.
Pujya Swamiji stressed the need to study the scriptures with sincere faith and dedication to lead a peaceful and contended life. It is of utmost importance to lead a calm life without getting disturbed by the dualities in life through right knowledge of the Self. One should strive to develop positive tendencies diluting all negative thoughts. This is possible only through surrender to a Guru and grace of the Lord.
Pujya Swamiji also took "Swaroopanusandhanashtakam" in the mornings. Both the sessions were well attended.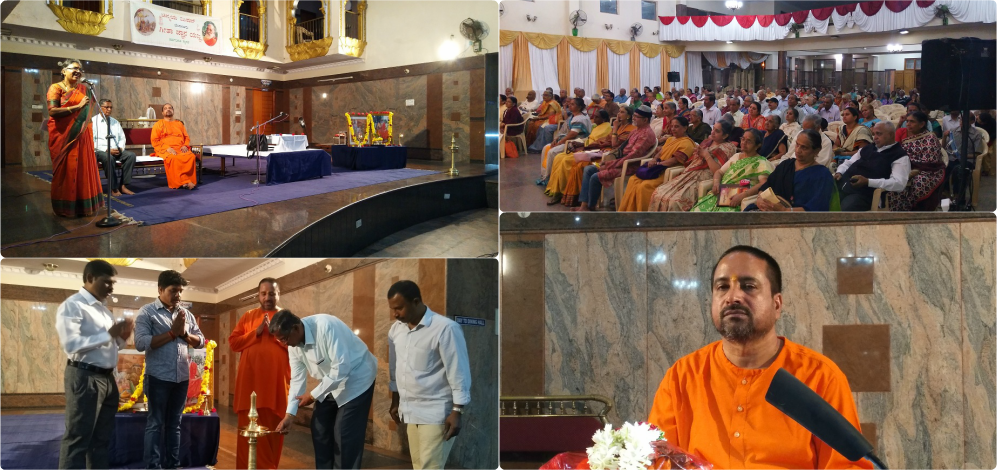 Annual Balavihar Competition
The annual Balavihar competition for the Junior (Class 5-7) and Senior (Class 8-10) age group took place on 7th January 2018 at Chinmaya Vidyalaya, Koramangala with a record participation of over 500 children. Pujya Swami Chidatmananda, Regional Coordinator of Chinmaya Mission, Andhra Pradesh   inaugurated the competition by lighting the lamp. He spoke to the children on how winning was not all about coming first or second but it was about participating. Competitions were held in Bhagawad Geeta Chapter 8, Matrustavanam, Meenakshi Pancharatnam and Kalabhairavashtakam for the juniors and Bhagawad Geeta Chapter 8, Ganapati Atharvasheersham, Rajarajeshwari Stotram and Mankutimmana Kagga for the seniors. An impromptu speech competition was also held followed by the prize distribution in the holy Presence of Pujya Swami Brahmananda. Sri Purandhara Sharma, President, Chinmaya Mission gave away the prizes.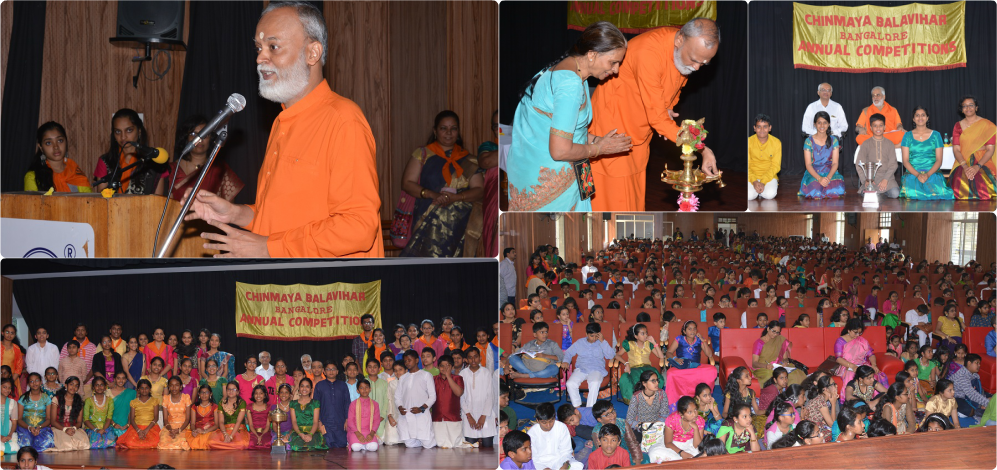 Youth Workshop
Chinmaya Yuva Kendra organised a workshop under the banner 'Train Thy Mind' on 26th of January 2018 at Chinmaya Mission, Malleshwaram. The one-day workshop was aimed at inculcating the paramount values of time management and stress management through fun-filled activities – Mannequin Challenge showcasing performance skills, Jigsaw Puzzle of famous personalities, 'X and Y', a game involving fortunes, convincing & mental prowess, Lateral Thinking aimed to arrive at various solutions for a question at hand which were then broken down to one single solution and Reverse Pictionary bringing out quick-thinking and artistic skills.
Sri Shivakumar, Mentor, CHYK elucidated about the importance of keeping a calm mind using interesting scenarios and spoke in length about the need to understand the importance of shlokas and cultural values in life.
The workshop drew more than 75 youngsters who appreciated the activities with the general sentiment being that they can be used in daily actions to improve performance quality.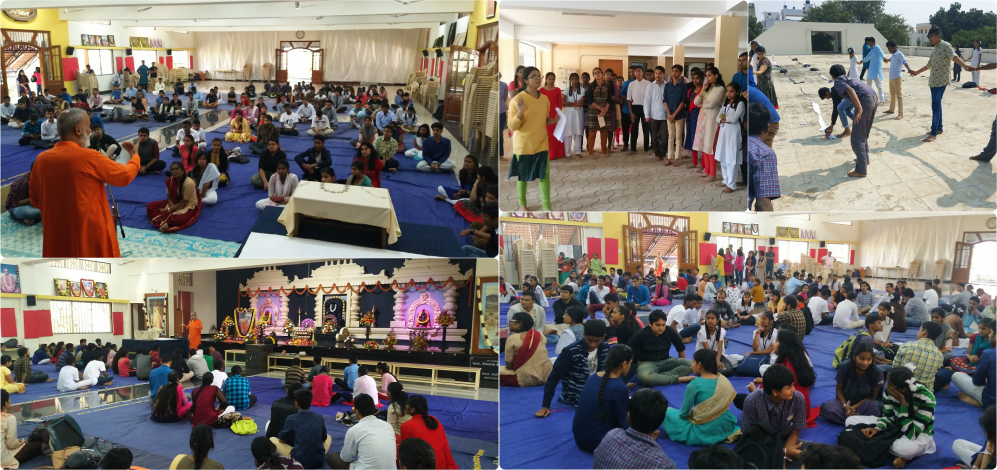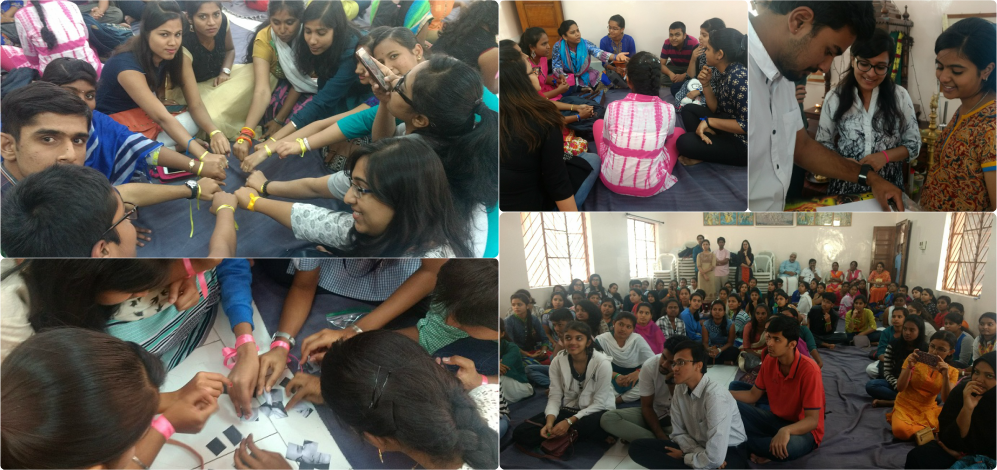 Inauguration of New Complex in Chinmaya Vidyalaya, Kolar
The new complex of Kolar Chinmaya Vidyalaya along with Smt Mani Shadakshari auditorium was inaugurated by Sri S Shadakshari, chairman of Ramanshree Group of Companies on 20th January, 2018 in the holy presence of Pujya Swami Brahmananda. Sri Shadakshari stressed the need to develop positive tendencies and remove all negative tendencies if one has to succeed in life. Pujya Swami Brahmananda urged the parents to set an example of right moral values so that the children automatically emulate them.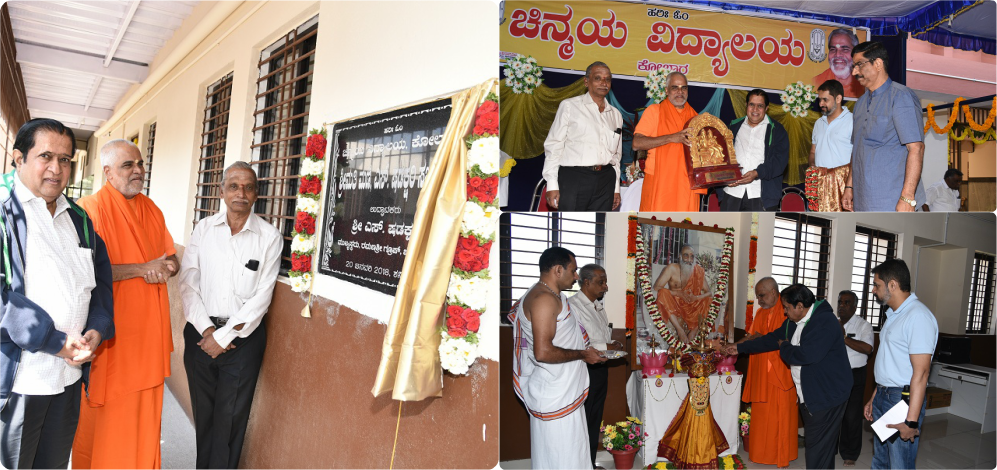 Gita Chanting Competition – 2018
Gita Chanting Competition with Bhagavad Gita Chapter 8 as the subject was conducted in Chinmaya Sandeepany, Chokkahalli  on 21st January  and Kengeri Satellite Town on 28th January, 2018. Out of 6000 participants from the districts of Kolar and Chikkaballapur 950 children could make it to the district level at Chokkahalli. Sri Hiremagalur Kannan who was the chief guest urged active interaction between children and teachers to ensure inculcating of our rich cultural heritage amongst the children. Kengeri Satellite Town also saw participation of 600 children with Sri Purandhara Sharma, president of Chinmaya Mission as the chief guest.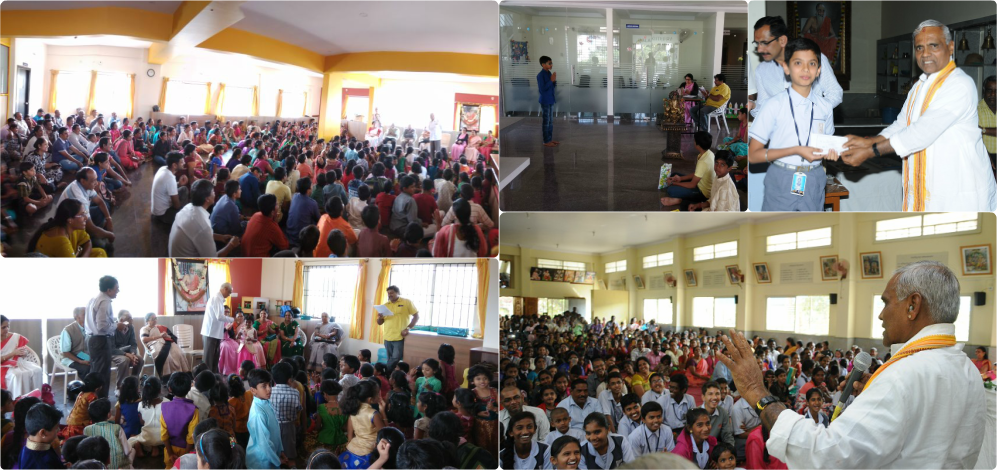 ---
Sannyasa Deeksha 2018
Dated : 2018/02/13

---

Chinmaya Mission Centres & Members
Blessed Chinmaya Family,
Hari Om!
Wishing all our Chinmaya Family members a blessed and blissful Mahashivaratri!
Today, on the auspicious occasion of Mahashivaratri, Chinmaya Mission obtained 9 more precious gems. I am glad to announce the initiation of yellow-clothed Brahmacharins into the flaming orange Sannyasa ashrama as Swamis and Swaminis on this auspicious morning at Sandeepany Sadhanalaya, Mumbai.
Swamis
Br Atharvana Chaitanya – Swami Avyayananda (CM Ahmedabad, Gujarat)
Br Darshan Chaitanya – Swami Gunatitananda (CM Colombo, Sri Lanka)
Br Dhruva Chaitanya – Swami Abhayananda (CM Trivandrum, Kerala)
Br Jagrat Chaitanya – Swami Chidakashananda (CM Jaffna, Sri Lanka)
Br Shaunak Chaitanya – Swami Turiyananda (CM Cudappah, Andhra Pradesh)
Br Sujay Chaitanya – Swami Aparajitananda (CM Mangalore, Karnataka)
Swaminis
Brni Poorvi Chaitanya – Swamini Poorvajananda (CM Eluru, Andhra Pradesh)
Brni Sandhya Chaitanya – Swamini Nishkalananda (CM Kalyan, Maharashtra)
Brni Sulabha Chaitanya – Swamini Svayamprabhananda (CM Hyderabad, Telengana)
May Lord Jagadeeshwara and Pujya Gurudev's grace and blessings be upon one and all!
A small video of the announcement of their new names can be viewed on the youtube channel of Chinmaya Mission at:
I am also glad to inform that arrangements have been made to do a live webcast of some of the celebrations of Mahashivaratri at Jagadeeshwara Temple. The timings of the webcast would be:
1800-1900 hours IST – this includes the evening Aarati
From around 2200 to just past midnight IST covering the Maha Aarati
The link for the live webcast will be:
Love,
At His Feet,
Swaroopananda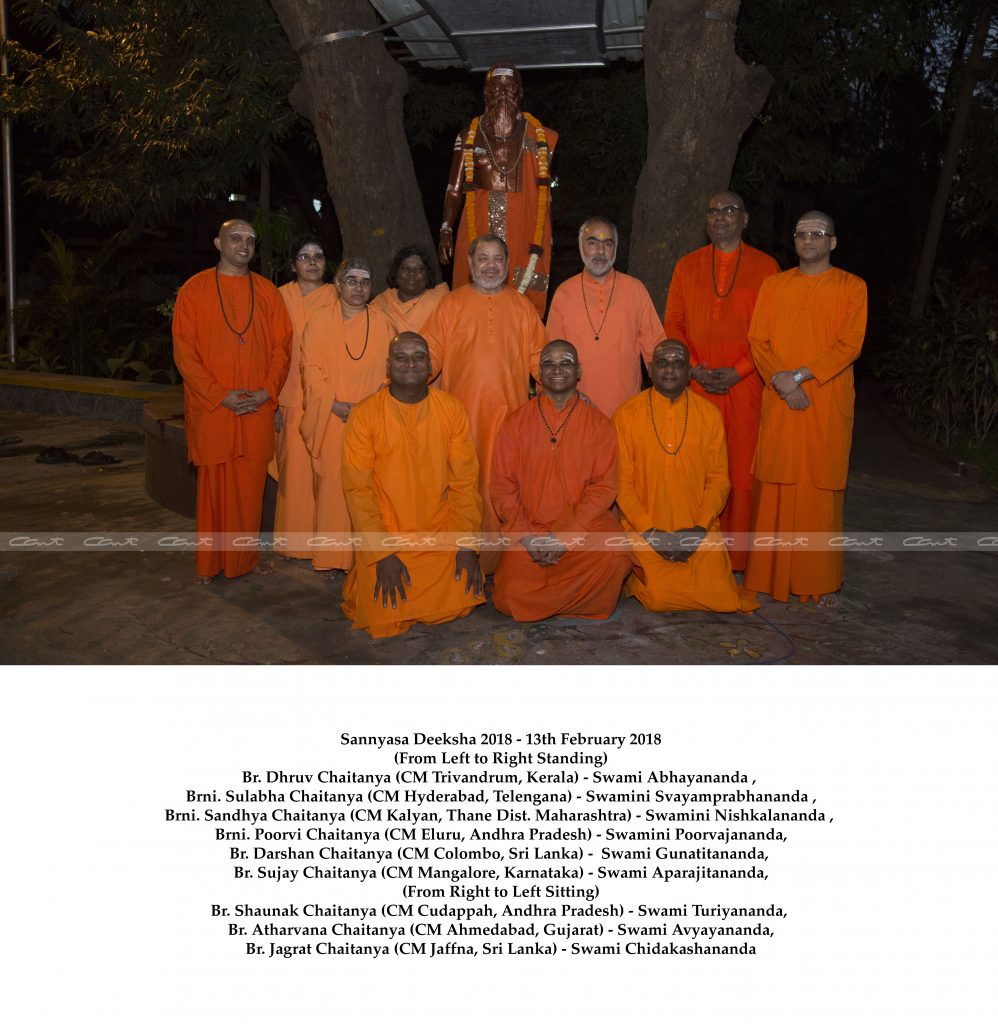 ---
Global CHYK Camp hosted by Pujya Swami Swaroopananda in CIRS.
Dated : 2018/01/01

---

GCC 10 – Outthinking Uncertainty (Bhaja Govindam)
 With the blessings of Puyja Gurudev, Guruji, Swamiji, family and friends, I was fortunate enough to be able to go to my 5th consecutive Global CHYK Camp (GCC) in 2017. That in itself is a reflection of how gripping these camps truly are. From my first camp in 2013 where we studied Kathopanishad, to my 5th in 2017 where we studied Bhaja Govindam, there has not been one dull moment. Our scriptures describe that the final goal for any spiritual seeker is Moksha, and I can honestly tell you that these camps are the closest experience I have ever gotten to the taste of that immortal nectar. Whether it is taking in the serene environment of being at the foot of giant mountain tops that seem to be at your doorstep, to the likeminded CHYKS from all over the world, to our loving and compassionate Acharyas, to finally, the presence of our beloved Master, Pujya Swami Swaroopananda, there is not a step in this camp where you are ever away from utter bliss. And this is all just describing the environment. Where do I even begin when it comes to the Knowledge?
 Bhaja Govindam is written by one of the greatest protectors and Gurus of Sanatan Dharma, Adi Shankaracharya. Before going to the camp, it was a text I had heard a lot about, but to be quite frank, knew pretty much nothing about. All I remembered and knew about it was the beautiful and melodious tune that we used to hear growing up and being taught in Balavihar. So the excitement was beyond measure when I knew I was finally getting the chance to learn about the depths of Knowledge and jewels of wisdom it contained, and that too, from our very own Swamiji.
 The theme of the camp was "Outthink Uncertainty". Pujya Swamiji always has a way with making the title of camps perfectly reflect what exactly the text will contain and teach us. Going to camp, I had quite an overwhelming year at University and was really struggling about where I was going with my future prospects. There were a lot of self-doubts and insecurities within my personality that I was not willing to deal with properly. Swamiji's first lecture itself exposed me completely. In His vivid and poetic ways, He used a metaphor of a dead rat unable to be found in our room to describe that we all have a dead, decaying rat within our personalities that is stinking up our entire being. Unless it is found and removed, the stink will never go. This rat was described to be "Moha" or delusion. The opening lecture itself taught us that delusion causes us to fall under the trap of the uncertainties in life, and anytime we fall into this trap, our lives feel like they are filled with the horrible stink of a dying rat when the solution is as simple as finding it and removing it.
 From here, the tone of the camp was set; it was going to be very reflective so that you could delve deep into your personality, find this decaying rat and remove it. The next 6 days were a journey through the inner-most parts of our personalities. Be it the yatras/activities, group discussions etc., everything at the camp was a reflection of our own inner journeys. For many of us, myself included, the stink within our personality was exposed. But this is the beautiful part about Bhaja Govindam. Not only is it a slap across the face of the spiritual seeker to wake up into the nature of Reality and get away from the nature of Maya, but it offers the solutions too. This is the beauty of our Gurus. They do not leave us hanging, feeling low and dejected about the nature of life being constant change and therefore leading to suffering. They offer us the very means to get to the state of permanent happiness.
 What I personally loved about this text is that it pointed out how important it is to discriminate between means to the goal and the goal itself. As seekers, we can often get trapped in the means, mistaking them to be the goal and thus our spiritual progress stagnates. We begin to treat money/wealth as a goal, relationships as a goal, fame as a goal, pleasures as a goal and we tend to forget that the nature of all these things is constant change. They go as quickly as they come. Therefore, Bhaja Govindam points out to us not to condemn wealth, pleasures etc., but rather condemn the greed for them which causes us to be attached and see them as goals rather than means. Wealth, pleasure, relationships themselves are not condemned but it is the attitude we have towards these things which are told to be carefully watched over.
 This inspired me because it blew away the ideas that to be spiritual means to live away from the material world. Rather, this text helps see the way we can be spiritual whilst living in the material world. So rather than thinking "why am I at university and what has this got to do with my spiritual growth", I now understand that the very degree I'm pursuing is a means to achieving certain kinds of disciplines to help me grow both materially and spiritually. There is no longer a separation or divide seen between the material means and the spiritual goal.
 Shankara emphasises that as long as we have Govinda as our highest vision/goal, all these material things which are filled with uncertainties can never affect us. As humans, change and uncertainty are things that cause us fear and anxiety and so He makes us enquire into the irony of seeking permanent happiness from impermanent things. The ultimate pointer is that once Govinda is sought, all becomes One and the impermanence and uncertainties of life can never disturb us. The text really made me realise how stupidly big I was making my tiny problems. Now I look back at my year and laugh at the very problems and uncertainties that were bogging me down. Such is the power of this Knowledge; that in the space of being surrounded by it for just one week, I was able to overcome uncertainties that were bothering me all year.
 Being from NZ and growing up in a western world, I feel that these kinds of camps are very important to show us the power and value of our roots. It is therefore with great emphasis that I recommend whoever reads this to come along and experience the effects of this Knowledge yourself. Hope to see you there this year!
By Vaidik Raj, CHYK New Zealand.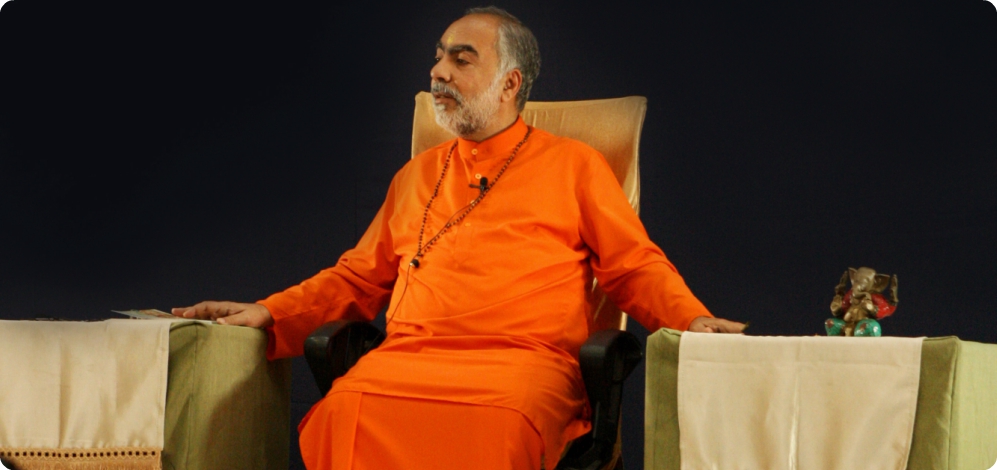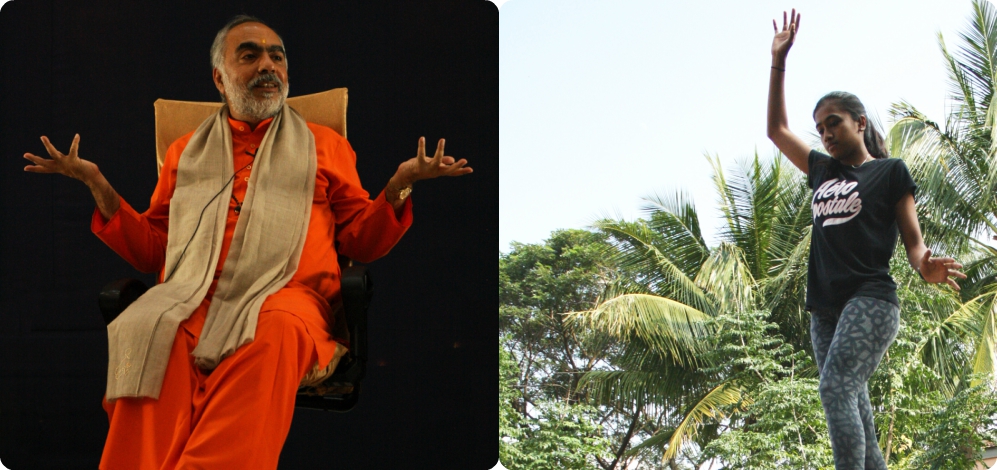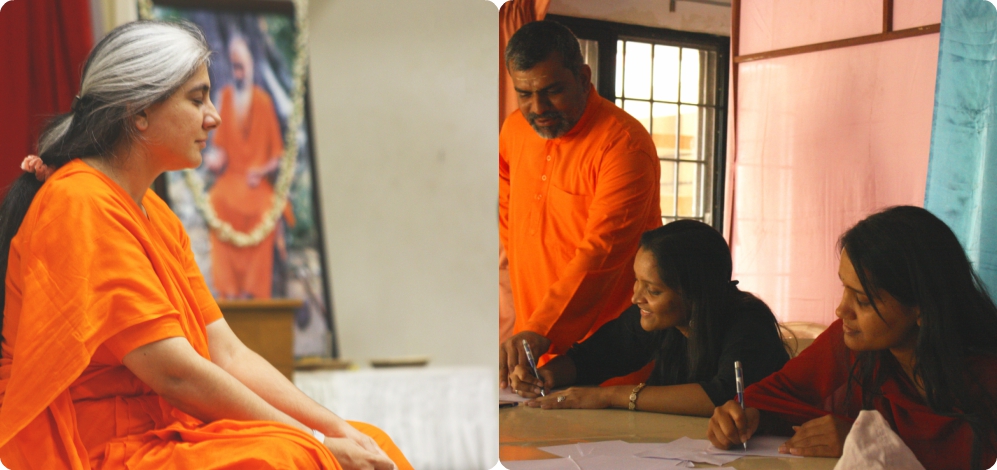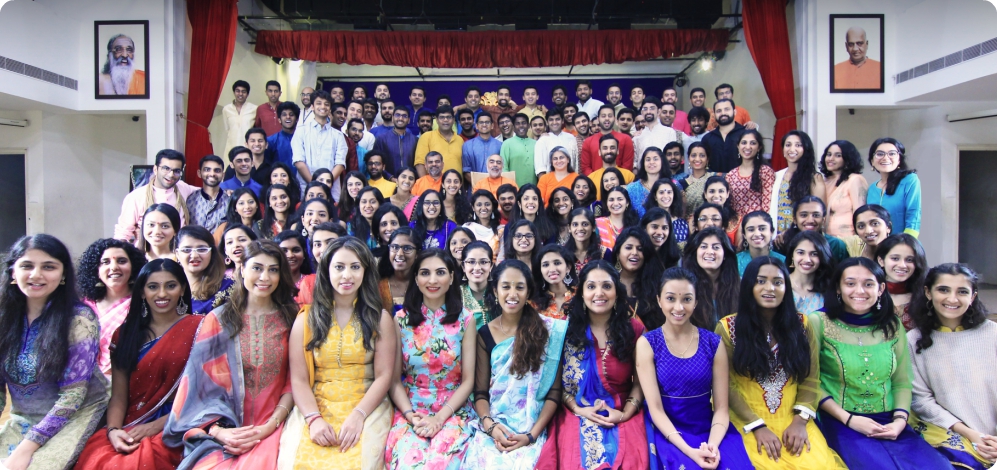 ---
Mukhya Swamiji's Visit to Jaffna, Sri Lanka
Dated : 2018/01/10

---

Chinmaya Mission Jaffna and People of Jaffna were blessed by Pujya Mukhya Swami Swaroopanandaji's visit to Jaffna – Northern part of Sri Lanka on the 9th of January 2018. Pujya Swamiji was cordially welcomed by the Brahmachari Jagrat Chaitanya and Chinmaya family members at Chinmaya Mission Jaffna. Then Swamiji visited the Chinmaya Gnanavel Ashram premises, donated by a largehearted couple named Mr & Mrs. Amuthavalli Amma Kurunathan and planted a Mango tree and blessed to build a new centre very soon. The Varuna Bhagavan (Devata for rain) also blessed this by drizzling.
                                                Pujya Swamiji delivered a talk on "Life Management Techniques" on the 9th of January from 5.30 to 7.00pm at Durka Mani Mandapam, Nallur, Jaffna which was organized by Chinmaya Mission Jaffna. Pujya Swamiji released the special issue of Chinmaya Nadham quarterly issue of Chinmaya Mission Jaffna which marks the Mukhya Swamiji's visit to Jaffna.  Nallai Athinam Swamiji has accepted the first copy. Nearly five hundred people were gathered at this function.  It was a good opportunity for Jaffna people to get darshan of a Mahathma and listening to his Satsang.
                                                Pujya Mukhya Swamiji blessed the devotees of Chinmaya Family Jaffna and answered their questions on 10th of January morning at the centre. Then the working committee of Chinmaya Mission Jaffna was met Pujya Swamiji and received blessings.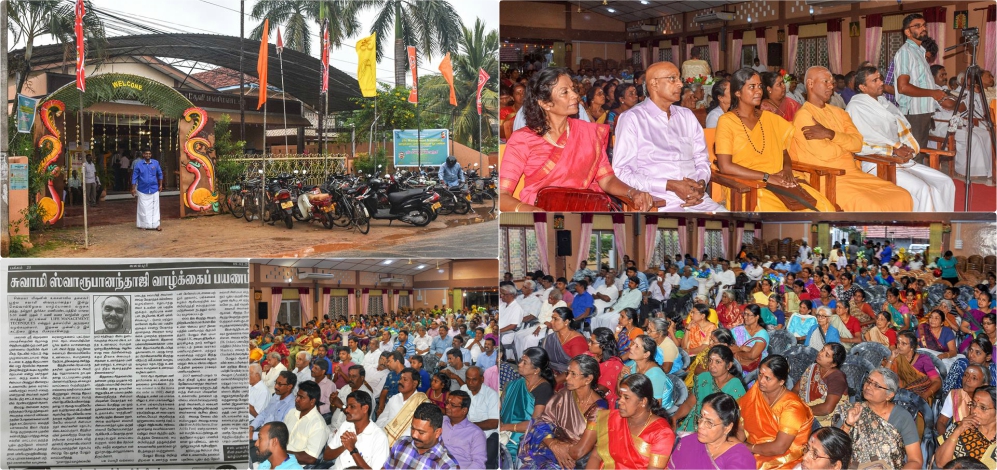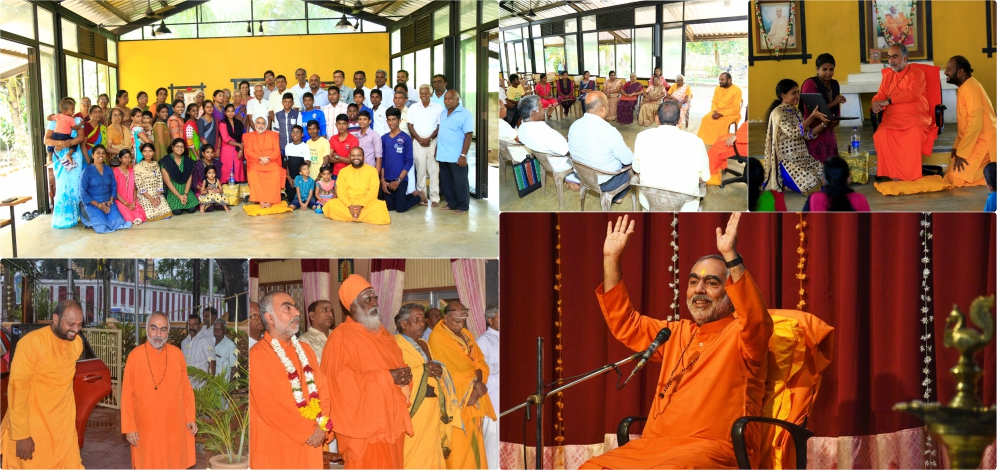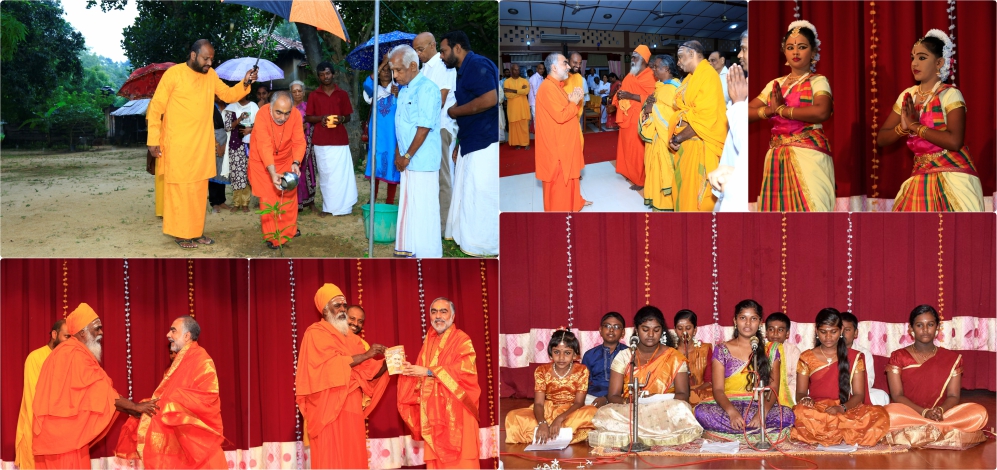 ---
Deeksha ceremony of Brammhacharini Thivyawadani
Dated : 2018/01/05

---

Pranams & Hari Om from Sri Lanka!
Brni Thivyawadani was given dDeekshaby Mukhya Swami Swaroopanandaji at Chinmaya Kovil, Rambodha, Sri Lanka on the 5th Jan 2018. She is now known as Brahmacharini Tanvi Chaitanya. This is the first ever Brahmacharya Deeksha given in Sri Lanka by Chinmaya Mission.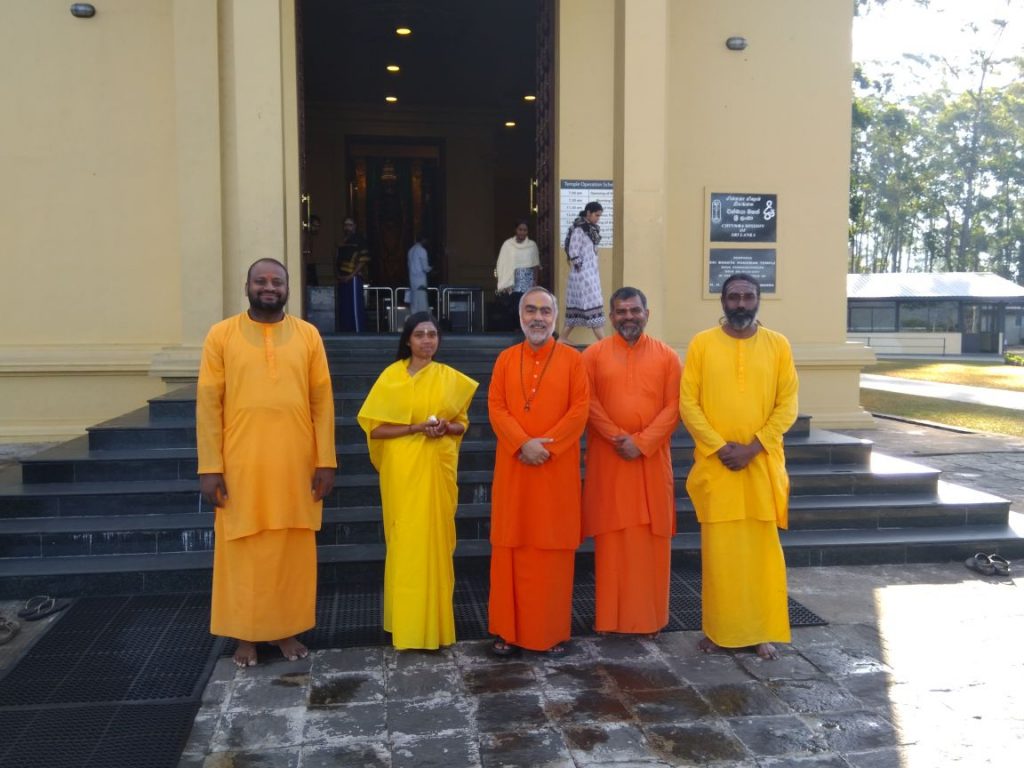 ---
Silence Retreat : Extraordinary Course for Extraordinary Thinkers
Dated : 2018/12/30

---

Since 2014, Vivekji, CM Niagara, has enabled seekers in the United States and Canada to experience and discover their true nature through four Silence Retreats. These annual retreats consist of no electronics, no writing, no reading, no speaking, and at times, no moving. It is up to individual participants to take the courageous path of going within.
The most recent of these experiential retreats was held in Pittsburgh during December 2017. Eleven seekers immersed in fifty hours of silence that were structured into ninety-minute sessions of either contemplation, reflection, or nutrition.
The ten contemplation sessions were the backbone of the retreat, involved complete physical stillness, and were designed to bring seekers deeper inward with each session. The first sessions guided seekers to slow down by unlearning engagement with the body and breath. Next, seekers were brought to step back by quietening the mind through Japa and following where thoughts come from and go to. From there, seekers were guided to see more by shifting the intellect from instructing to inquiring. The final goal and phase: smile on.
Although an up-close and personal look in the mirror can be uncomfortable, participants of the Silence Retreat learned and experienced that the journey to contemplation returns exponential rewards, that contemplation is the highest vocation, and that the ego can only be destroyed by pushing it inward into Brahman.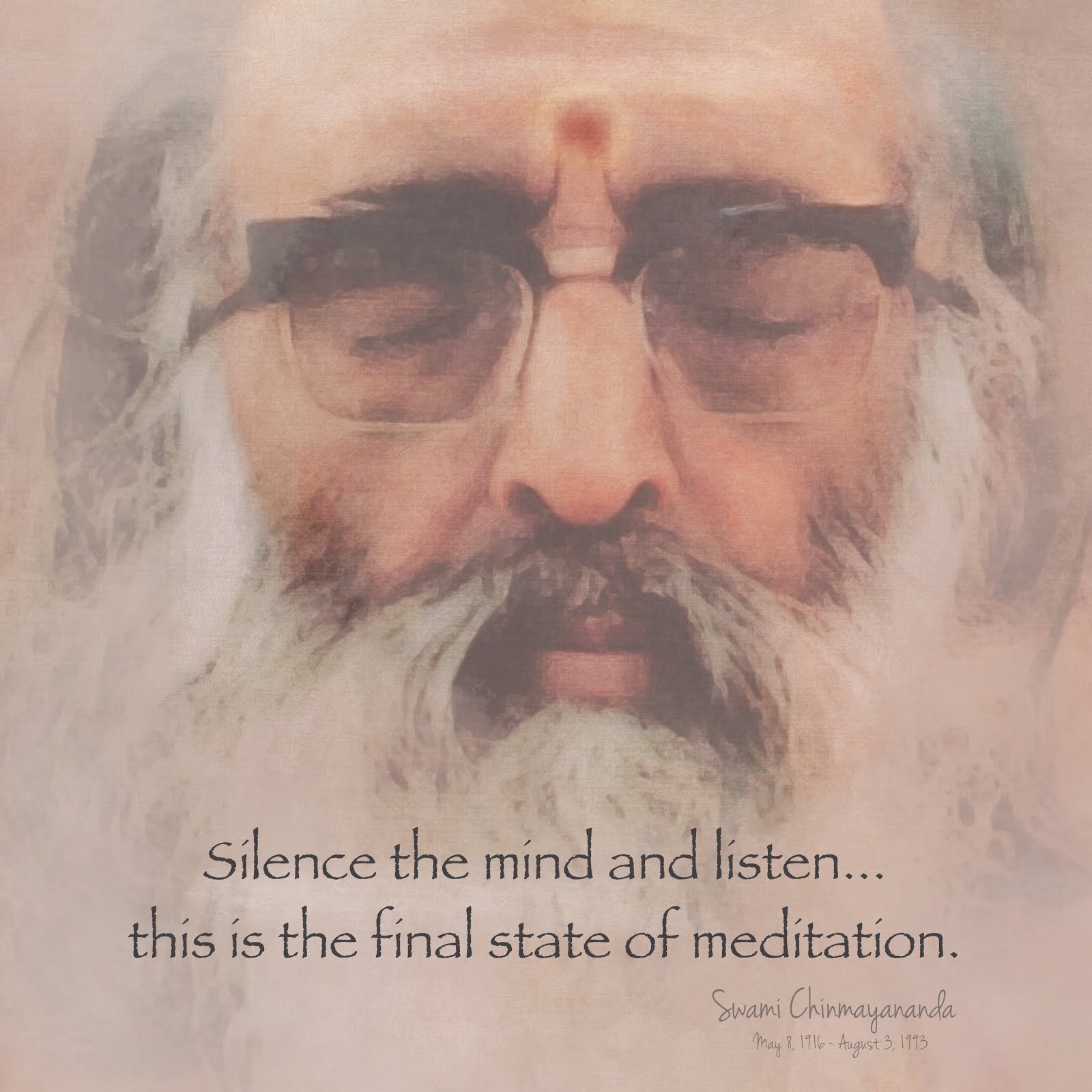 ---
Upanishad Ganga Camp – Chinmaya Vibhooti
Dated : 2017/12/31

---

Upanishad Ganga, the brilliant television series by Chinmaya Mission and Wisdomtree Productions, has been wowing television, DVD and YouTube audience for some time now, but no one could have imagined that there was so much more to it than what meets the eye. When Pujya Guruji Swami Tejomayananda announced that he would take a camp on it from 16th to 31st December 2017 at Chinmaya Vibhooti, including screenings and talks, no one knew quite what to expect.
 200+ full-time campers plus more than 100 part-timers were fortunate to listen to the story behind the story, as Guruji dived deep into the knowledge that made its way from the pages of the ancient scriptures to the living rooms of the modern viewer, with the same authenticity combined with an artistic approach. The classes brilliantly conveyed the depth that lies behind each 22 minute episode. During the 16 days of the camp, each of the 52 episodes was explained and screened. It was nothing less than an in-depth course in Vedic wisdom and culture.
 Campers were also treated to devotional evenings of bhajans, one by Chinmaya Naada Bindu Gurukul and one by none other than Pujya Guruji himself. Guruji sang many of his latest compositions, much to the delight of the audience. The performance by Bala Vihar children was another hit!
 One of the major highlights of the camp was a visit made by the director and writer of the series, Dr. Chandraprakash Dwivedi and his wife Mandira Kashyap, executive producer. Dr. Dwivedi was invited by Guruji to address the campers and to share his experiences and learnings. It offered a different perspective and the audience could really appreciate just what goes into the making of such a blockbuster series. Many attendees were also awe-inspired that Chinmaya Mission had ventured into a unknown field just so that the priceless wisdom of the Vedas could be shared with one and all.
 As this unique camp drew to a close, another treat awaited the campers – an evening of informal time with Guruji at the Vijayantra Amphitheatre at Chinmaya Vibhooti's Swanubhooti Vatika, which has been impressing and inspiring seekers since it was inaugurated in May 2017. The open air satsang took place as the sun set on New Years Eve, a memorable conclusion to the year. But that wasn't all. After dinner, the 400 people present assembled for the annual Vishnu Sahasranama Puja and Archana, followed by midnight aarti and upbeat bhajans as 2017 was bid farewell to, and 2018 was welcomed with great devotion.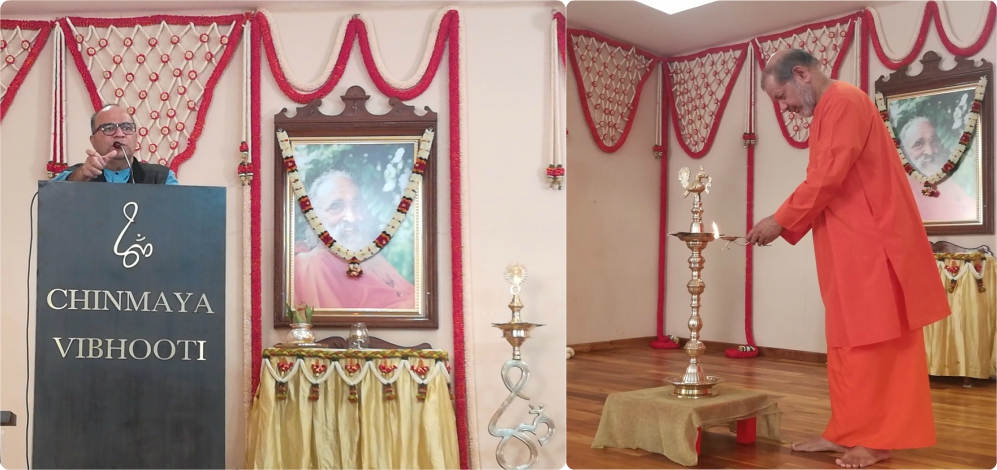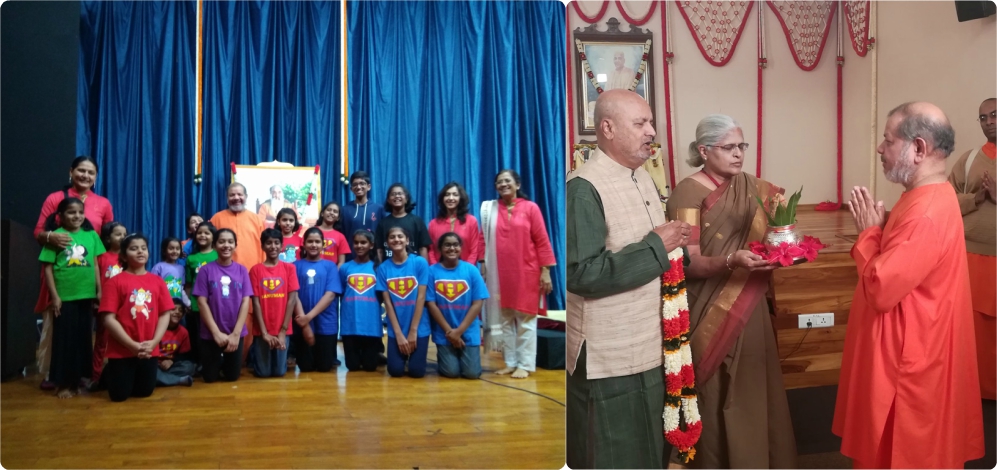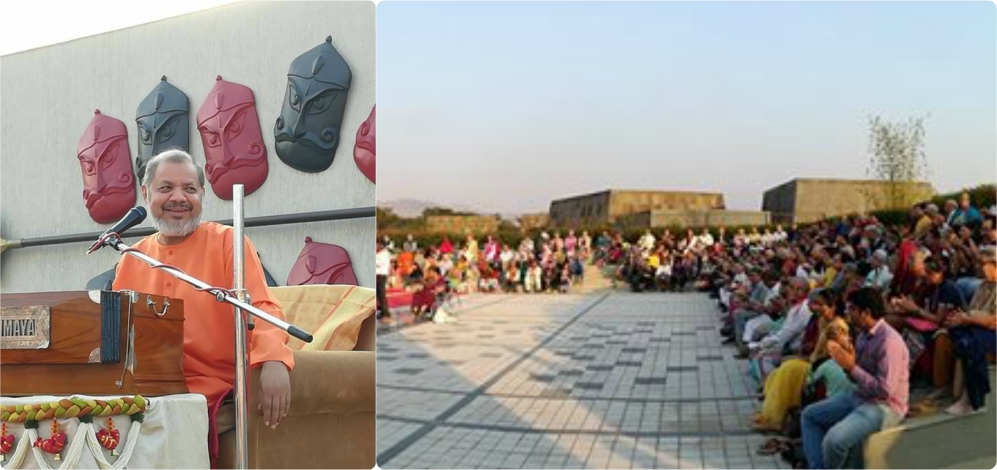 ---