News


To understand anything is to find in it something which is our own.
-Swami Chinmayananda
Archival News/Other News
Swanubhooti Vatika was awarded the AESA Award for the year 2017-2018.
Dated : 2018/10/30

---

The AESA – Architects Engineers Surveyors Association (Pune) – present awards for Best Project in various categories such as individual houses, multi-storey buildings, commercial complexes and industrial buildings, as well as an "Other" category for unique projects.
Swanubhooti Vatika has been chosen – among projects from all over India – as the Best Project in the "Other" category.
Chinmaya Mission is delighted with the recognition received for this unique Enlightenment Park at Chinmaya Vibhooti and its place as a space of self discovery. We look forward to welcoming you with your family and friends to visit Swanubhooti Vatika, to explore it for yourselves.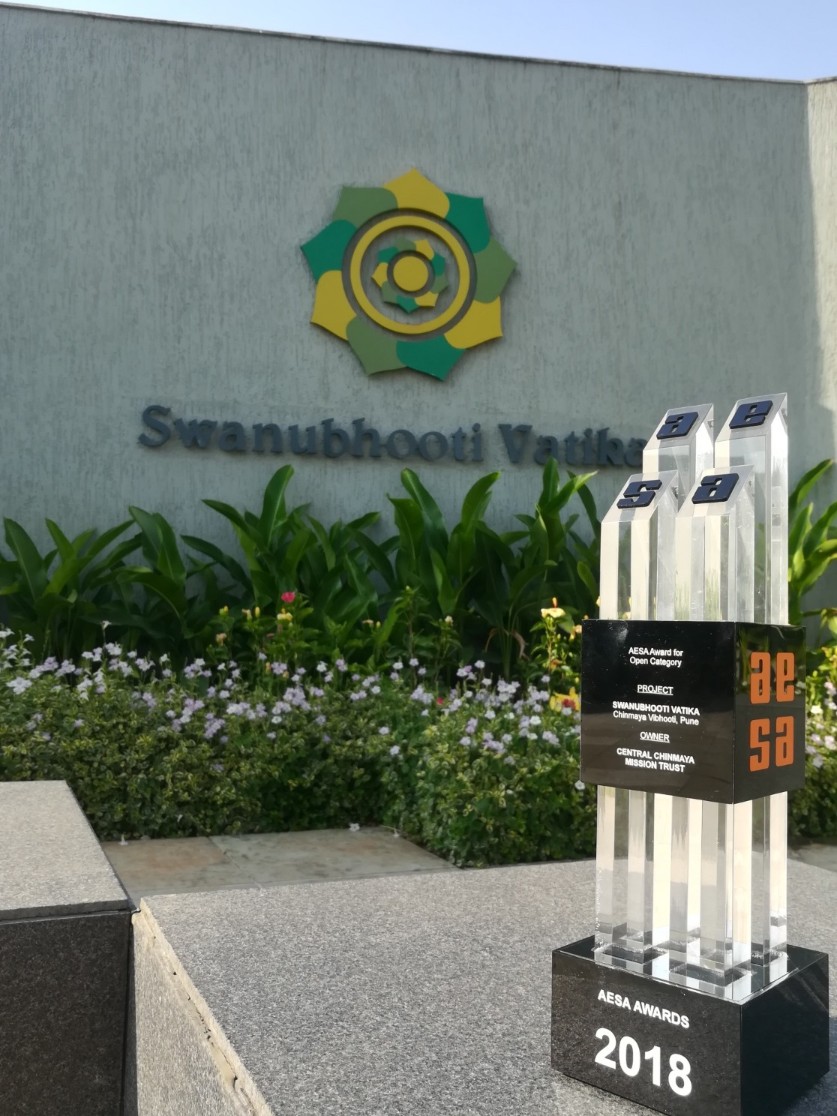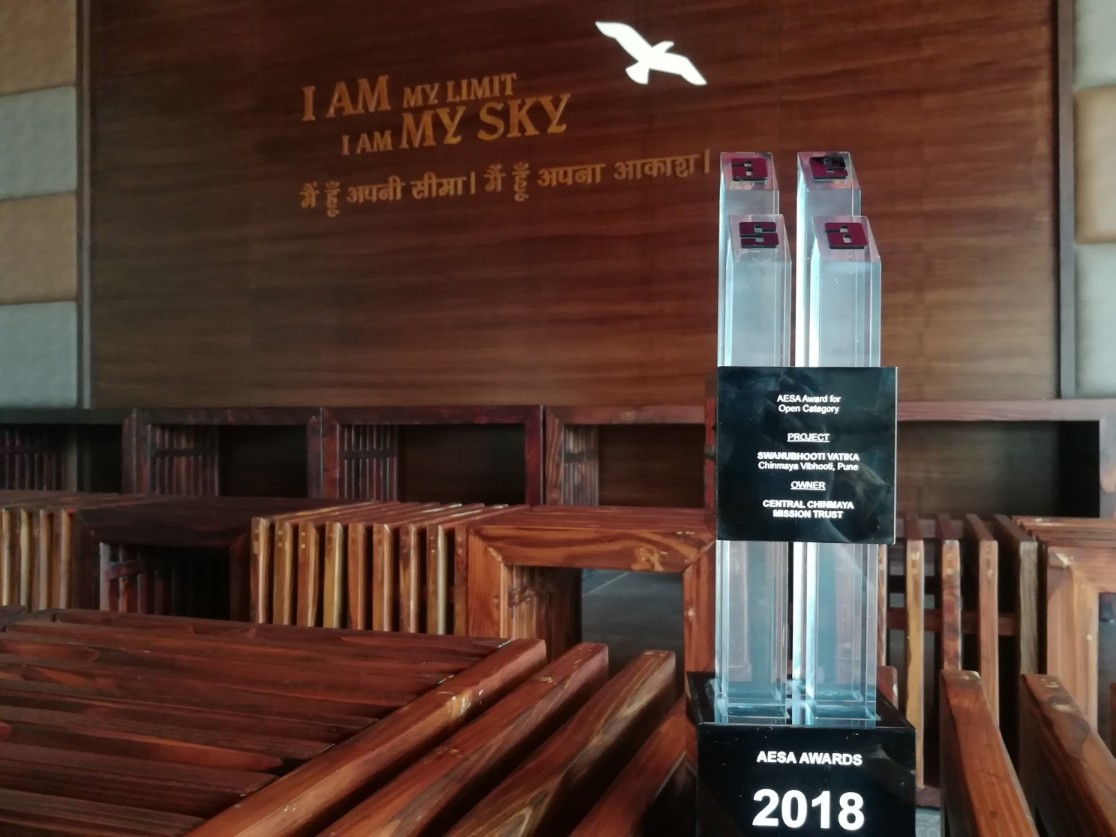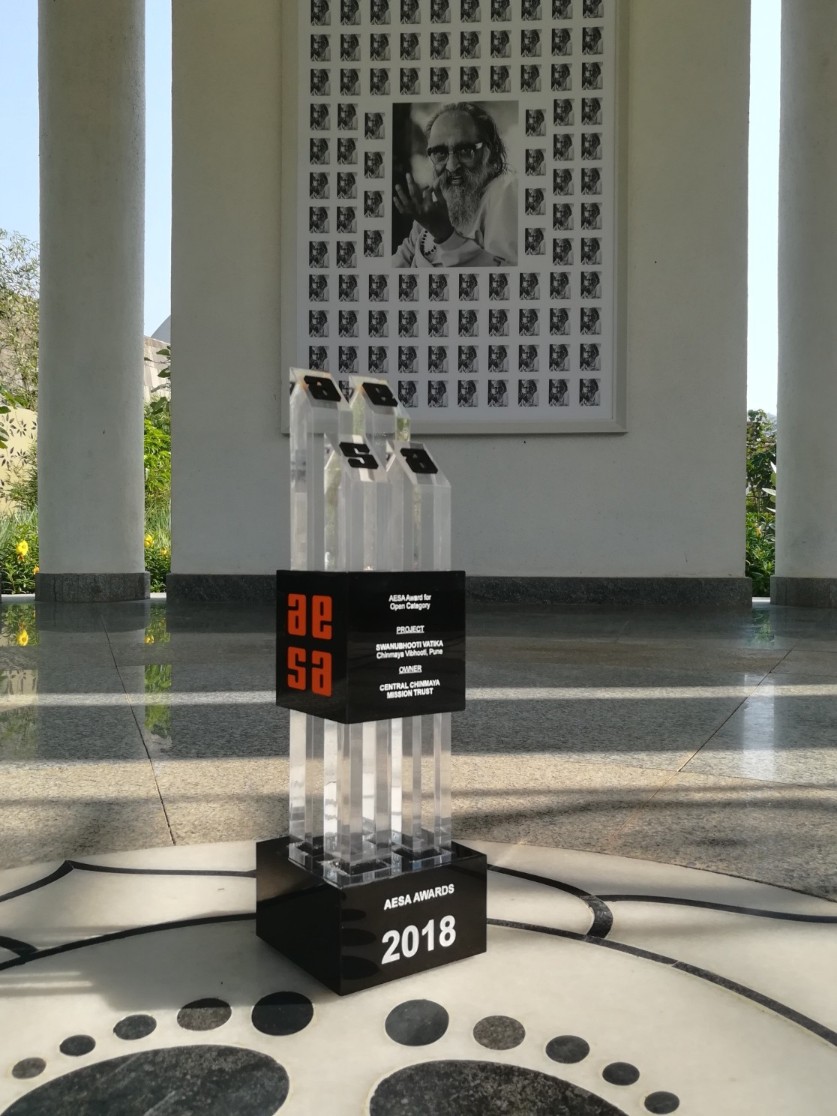 ---
CM Chicago Celebrates 25th Anniversary of Badri Narayana Murthi
Dated : 2018/10/21

---

Soon after Pujya Gurudev's Mahasamadhi, Chinmaya Mission Chicago – became home to Lord Badri Narayana. In the year 1987, Pujya Gurudev named the Chicago Center, Badri, A School of Vedantic Studies and advised to have prana pratishta of Lord Badri Narayana. On Sunday, October 24, 1993 the sthapana ceremony of Lord Badri Narayana was held in the holy presence of Pujya Guruji Swami Tejomayananda,
The weeklong silver jubilee celebrations included a spiritual discourse by Swami Ramakrishnanda on Brhamasutra: Theory of Superimposition from October 15-20. Followed by 108-Kalasa Puja, Homam, Abhishekam and Archana on Sunday, October 21 by devotees in the presence of Swami Sharananda (CM Chicago), Swami Sarveshanada (CM Dallas), Swami Ramakrishnanada, Shri Shanker Pillai (President CM Chicago), Shri Jetindra Nayar (Yamunotri Center) and Shri Dhiren Khattri (Gangotri Center).  Even Mother Nature celebrated Lord Badri Narayana with snow flurries making Chicago truly Badrinath.
Following the ceremonies, Swami Sarveshananda held a special session with Chinmaya Sethukaris, Yuva Kendra members and the high school students, the future generation to become Pujya Gurudev's torchbearers.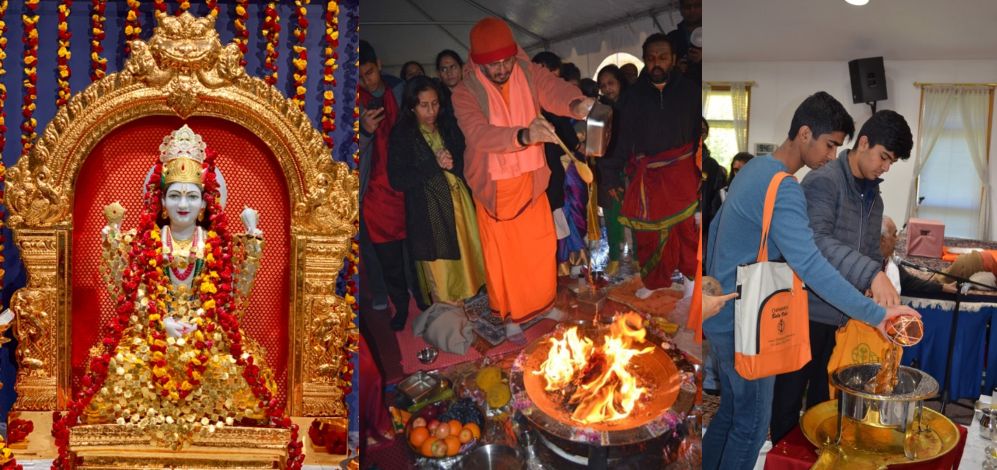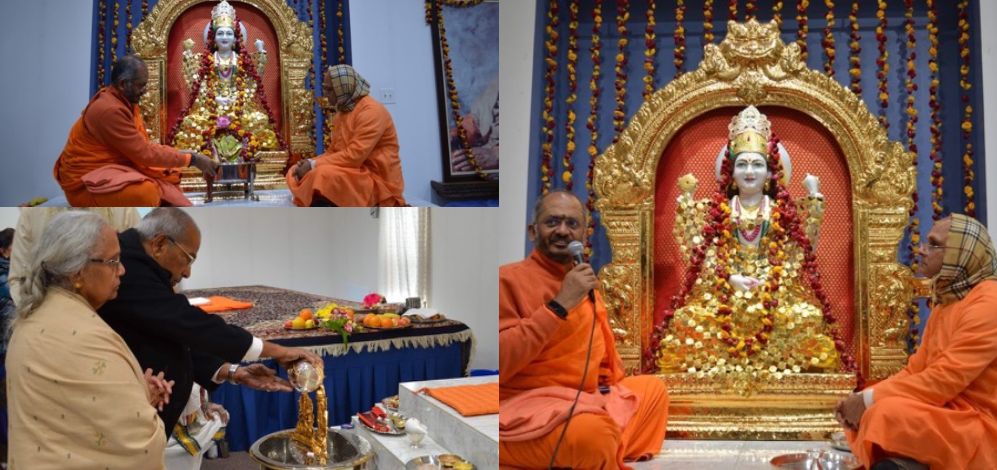 ---
Kailash Mansarovar Yatra-2018 With Swami Abhedananda
Dated : 2018/09/01

---

!! Om Namah Shivaya !!
During the auspicious Shravan month, under the meticulous guidance and loving care of Swami Abhedanandaji, a group of 77 delegates embarked on the much anticipated Kailash Mansarovar Yatra, and had a very fulfilling darshan of the magnificent Mount Kailash and the mesmerizing Mansarovar Lake.
The Yatra commenced on Aug 20th as the delegates gathered in Kathmandu from all parts of the world – South Africa, Singapore, India, USA, Australia, Hong Kong, Philippines, Guyana. Seeking gracious blessings of Lord Pashupatinath on the inaugural day, everyone witnessed the majestic Aarti of Lord Mahadev. Next day morning, the delegates were treated with a fabulous Ariel tour of Mt. Everest and the nearby peaks, followed by a visit of the famous Swayambhu sleeping Lord Budhaneelkantha Vishnu temple. During these two days in Kathmandu, there were soulful discourses conduced by Swami Abhedanandaji on the famous stuti of Lord Shiva – 'Rudrashtakam'. In his talks, Swamiji emphasized that we have come on this trip as Teerth Yatris and not as tourists or mountaineers, and thus the sole purpose & goal of the trip should be to please the Lord, invoke His infinite grace and express our gratitude towards Him.
On Aug 22nd, the group left from Kathmandu and began their journey towards Lord Kailashpati. First stop was Nepalgunj, followed by Simikot and Hilsa. As the helicopters took the delegates from Simikot to Hilsa in smaller groups of 5-6 people each, the outside mountain-top views were absolutely stunning and picturesque. From Hilsa, after crossing the border and clearing the Chinese immigration, there was a night stay scheduled in Purang (Tibet).
As everyone got acclimatized to the altitude and temperature change, the group then travelled from Purang to Mansarovar Lake via Rakshastaal. Awed by the divinity and vastness of Mansarovar Lake, all the devotees were spell-bound, and they offered prayers and prostrations with a grateful heart towards that Lord who made them see & touch the serene waters of the pious Mansarovar Lake. In Swamiji's words – "Mansarovar represents the Mind of Lord Shiva, and having darshan of Mansarovar externally or taking a dip in its water should not just remain as an outer act, rather it should be an attempt to make our small minds tune with the Lord's Total Mind!"
On Aug 26th, the delegates reached Darchen, the base camp of Mount Kailash and stayed overnight. Throughout the way, the whole group was provided with best-in-class hotel/guest house accommodation as per the location, and ample supply of delicious vegetarian food and mineral water. Even in the face of unexpected delays and other uncertainties, no one lost their focus & hope, and kept chanting the powerful Margabandhu stotra repeatedly as advised by Swamiji. The group remained in elevated high spirits as a result of Swamiji's inspiring satsangs where he constantly revealed the secrets of holding on to the Lord and getting more and more surrendered at His feet.
Finally came the most awaited day, Aug 27th, when the arduous 3-day Parikrama of Mount Kailash began. At the starting point of Parikrama, the devotees passed through the Yam Dwar, and embarked on the most difficult part of the yatra. Moving ahead tirelessly, some on foot, some of pony and chanting Lord's name with each step, the yatris had their first darshan of the beautiful Lord Kailash (West face) during this first day of Parikrama. Each yatri was mesmerized as they witnessed Lord's grandeur and beauty, unlike they have ever imaged. Indeed, it is rightly said that merits of several births and immense grace of the Lord alone can culminate in the possibility of such a yatra!
Deraphuk was the first halt in the 3-day Parikrama where the Lord, in His full magnanimity, revealed Himself through the North face. With tearful eyes and immense gratitude towards the benevolent Lord, the yatris performed Aarti of the gracious Lord upon arrival at Deraphuk. The twilight Aarti experience was beyond words to say the least! On the following day, everyone continued to Zuthulphuk, with the fulfilling darshan of Gauri Kund (Pool of great compassion) on the way. On the third and the last day of Parikrama, the group returned back to Darchen, thus completing the most memorable circumambulation of Lord Kailash.
Though there were numerous hurdles & unasked challenges, but with the presence of a Mahatma like Swami Abhedanandaji, every obstacle became an opportunity to perform austerity and call upon Bhagwan even more intensely. During this unbelievably arduous yatra, inspite of varied circumstances, each yatri felt the divine touch of Lord Mahadev deep in his heart.
Upon arrival in Kathmandu on Aug 31st, the yatra was concluded with a valedictory function wherein Swamiji elaborated on the importance of undertaking this beautiful yatra. Swamiji said in his concluding discourse – "Just as the outer journey was filled with constant anticipation of seeing Mount Kailash, asking everyone how long will it take, how far is it, or how is the darshan going to be like; similarly we must pursue our inward journey undeterred by outer circumstances, constantly seeking the Highest Goal of life, asking ourselves how long will we be stuck in the rut of life, how far is our Goal, and how is that ultimate experience going to be like!" Every delegate was presented by Swamiji with a small murthy of Nandi Bhagwan, one who is the symbol of service with complete surrender and no insistence.
Everyone left with a fulfilled and blissful heart, expressing their deepest gratitude towards Swamiji and towards all the organizers & volunteers for having gotten the once-in-a-lifetime opportunity to witness the beautiful Lord of Lords, Lord Kailashpati Mahadev!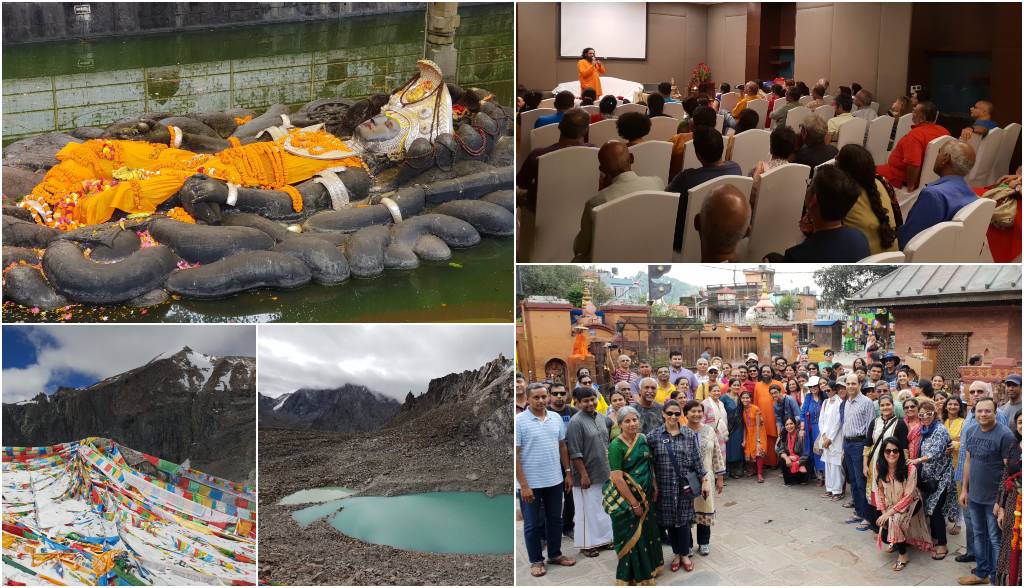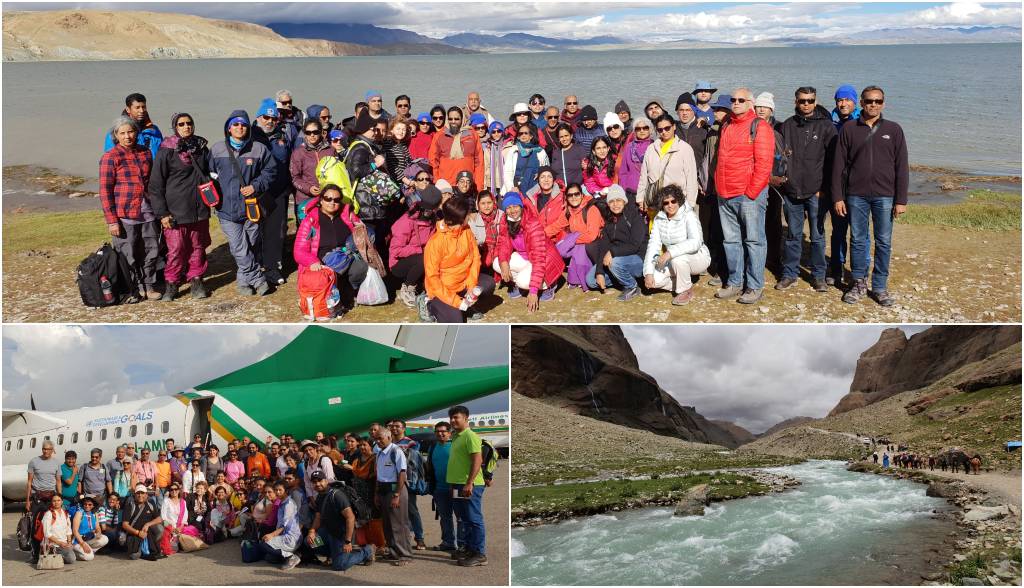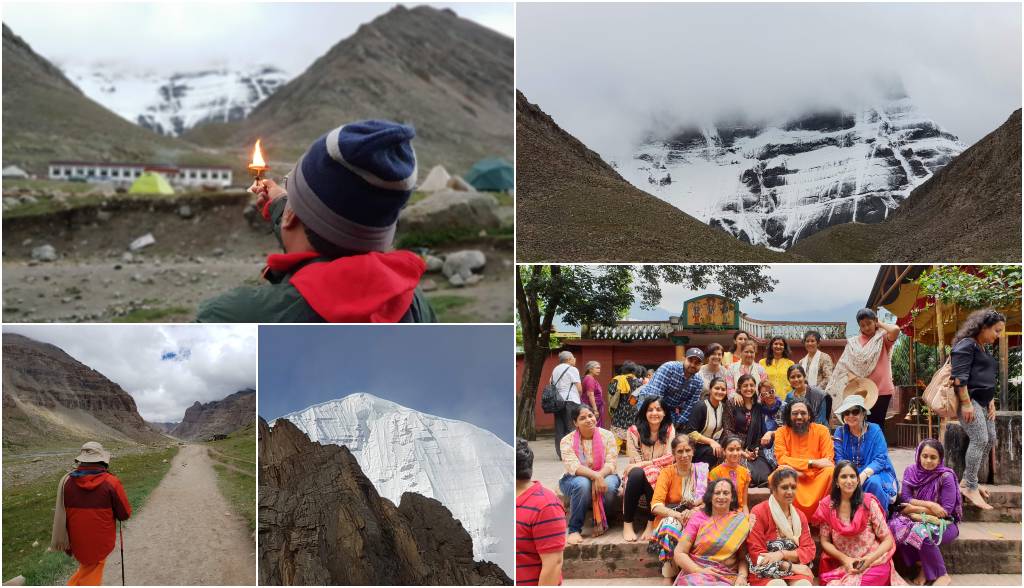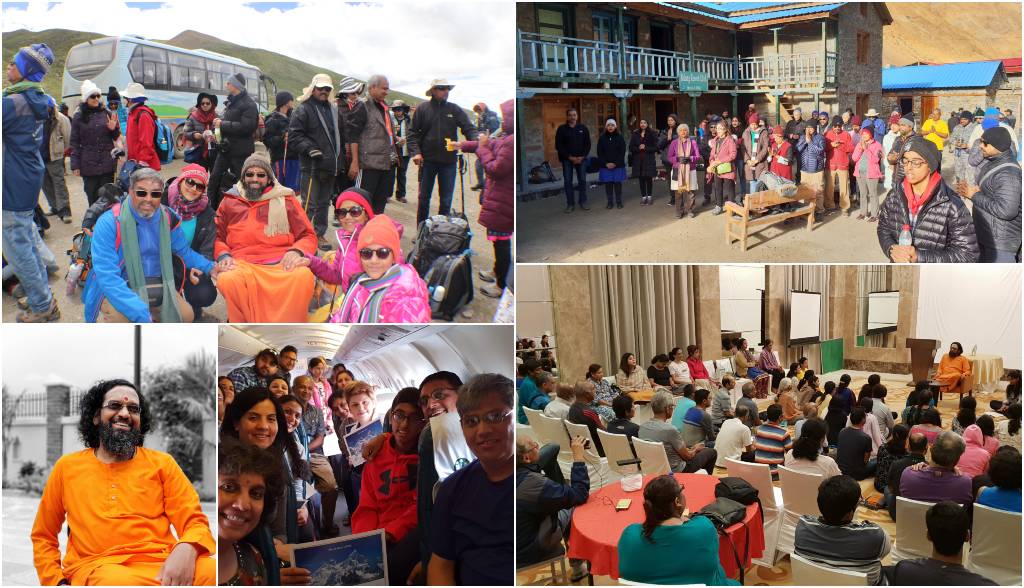 ---
Shraddhanjali For Dr. Smt Prakashwati Sharma ji
Dated : 2018/10/12

---

SHRADDHANJALI
Dr.Prakashwati Sharma, patron Chinmaya Mission Jaipur, breathed her last on 12th October 2018. A retired professor of philosophy got inspired by Pujya Gurudev's teachings and Mission activities in 2009-10 while on a visit to the USA to her son. On returning to India she joined Chinmaya Mission with a missionary zeal. Despite her advancing age and health problems she joined 2 years residential Vedanta Course at Sandeepany Sadhanalaya, Mumbai in 2011 under the guidance of Pujya Swami Advayananda Ji. She conducted regular classes on different scriptures after completing her course in the year 2103 along with serving almost all Mission activities as Vice President and later as Patron. She regularly visited Sandeepany to attend different sessions of ongoing Vedanta Courses whenever she could spare time.
Dr.Prakashwati Sharma Amma was a loving mentor and precious guide for Chinmaya Family Jaipur. Her ardent devotion for Advait Philosophy was a source of inspiration for all the devotees at Jaipur. Her demise is a great irreparable loss to us.
Chinmaya Family offers its condolences to the family.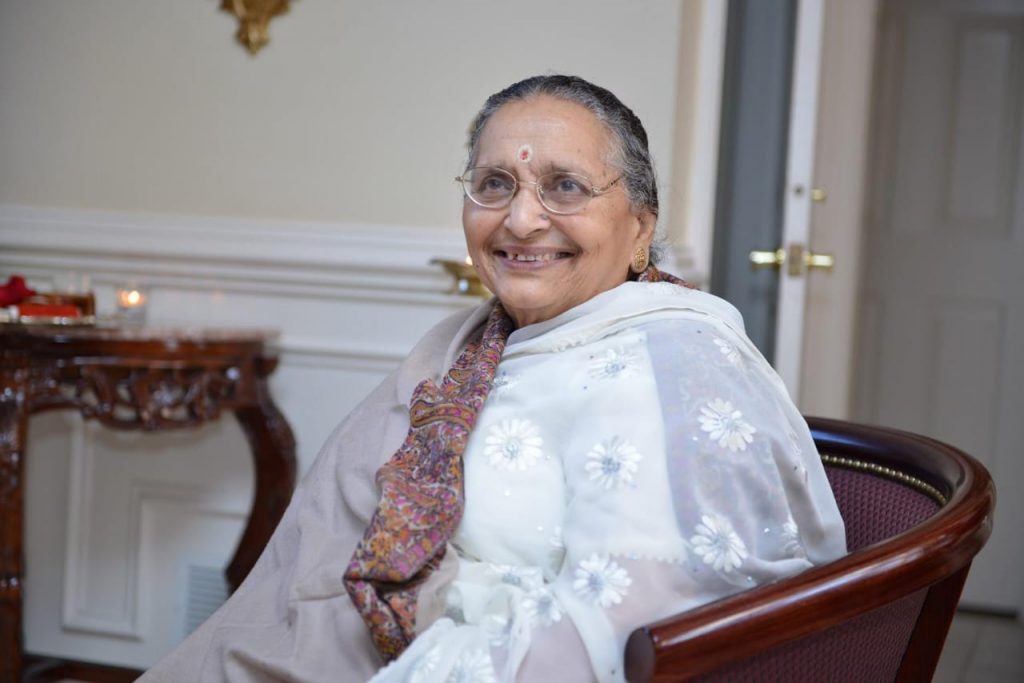 ---
100 Hours of SILENCE Retreat
Dated : 2018/09/19

---

During the period of Kali, all moves fast! The body is restless, the mind is often negative and the intellect seeks happiness externally. In efforts to evolve from being extroverted (dependently joyous) to being introverted (independently joyous), 18 Sadhakas (seekers) met on September 19th in Pittsburgh to be in SILENCE for 100 hours.
Several Sadhakas were SILENCE retreat pros having attended retreats in the past, while others were new to the experience. A few days prior, Sadhakas received clear instructions from their guide, Vivekji, on what/ what not to bring, how/ how not to come and most importantly, how to best be prepared for the intensity of SILENCE.
The packing list included loose clothing, basic toiletries, a simple alarm clock and a reusable water bottle. Phones were not permitted and water was the only substance that could be consumed at all times. Also on the list and arguably the most important of all packing items, were materials for a personal meditation seat.  Six hours were spent daily in a seated contemplation practice, so basic physical comfort was essential. Sadhakas were also instructed to not bring reading, writing, or ritual materials. They would come and go as monks and even in packing, were tactfully being prepared by Vivekji to reject dependencies and distractions of the outer world.
Each day, the schedule was cyclical – wake up, contemplation, nutrition, reflection, rinse and repeat. Sadhakas slept around 9pm for ~8 hours each night. Developing an introverted personality requires much energy and one of the first obstacles on the path of self-unfoldment is laya or sleepiness. Therefore, a good night's rest was essential for the sadhakas' internal growth. The regulated schedule also allowed sadhakas to break out of their usual limitations of space and time, so sadhakas were generally unaware of where they were or what time it was.
Contemplation sessions served as training grounds for the sadhakas' SILENCE journey, while nutrition and reflection sessions reflected testing environments. Where training and testing overlapped, sadhakas could identify truth. Vivekji led sadhakas through Vipassana meditation during contemplation sessions. Vippasana comes from the Sanskrit word vipashyana or vairagya, meaning to see things as they are, without color. This practice allows one to live in the present, experience positivity and even improve concentration.
Over the span of 100 hours, sadhakas acquainted themselves with this means of spiritual purification and by the end, found their bodies' to be calmer, their minds' quieter and their intellects' stiller. Purification prepares a sadhaka to ultimately transcend the same equipments to realize one's true nature of joy. In this process, sadhakas began to cultivate an appreciation for the role that their equipments (body, mind, intellect) play in liberation. Sadhakas caught a glimpse of what it feels like to be independently joyous.
With freshness in their hearts and clarity in their minds, sadhakas packed their belongings and returned home to their real testing environments. All returned back to their daily responsibilities, yet this time, with a new and peace-filled vision for life.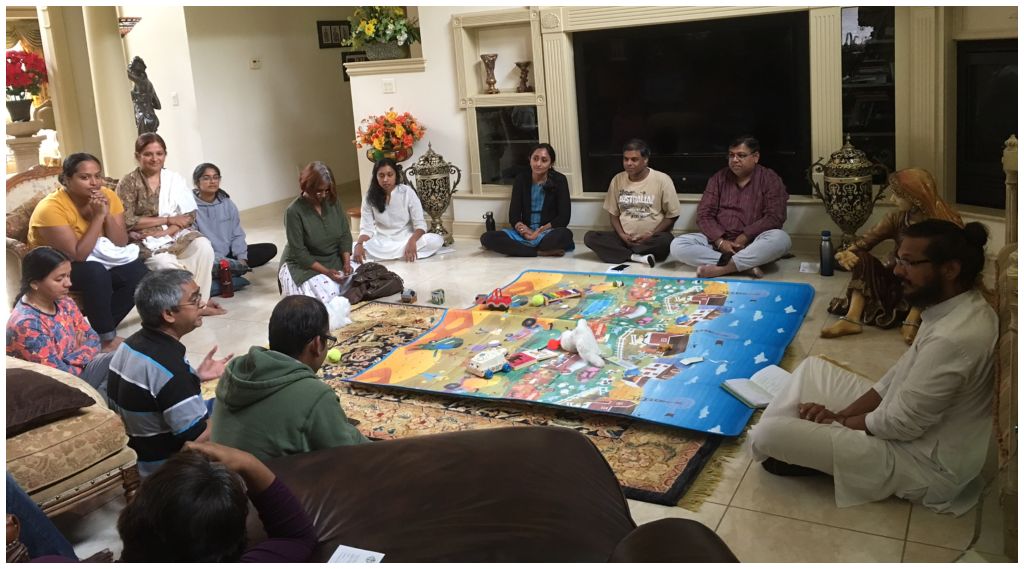 ---
Activities in Bengaluru During September 2018
Dated : 2018/09/30

---

Activities in Bengaluru during Sep 2018
Gita Jnana Yajna by Pujya Swami Gahanananda
Pujya Swami Gahanananda of Tumkur centre conducted a Gita Jnana Yajna in Kannada at Chinmaya Mission, Malleswaram  from 4th to 10th September, 2018 taking Bhagavad Geeta Chapter – 4. The Yajna was inaugurated by senior Mission member Smt Vijaya Byrappa.
Introducing the subject Pujya Swamiji explained how worldly knowledge fails in evolvement and only Self knowledge can help in attaining peace of mind. This knowledge can help in maintaining peace of mind while interacting with the outer world through control of the senses and right thinking that helps in removing several false understandings created due to misunderstanding. Lord Krishna compares this Self knowledge to a ship that can take us across the ocean of samsara, fire of knowledge that will burn all ignorance, the light that will dispel the darkness of ignorance and sword that will cut asunder all doubts.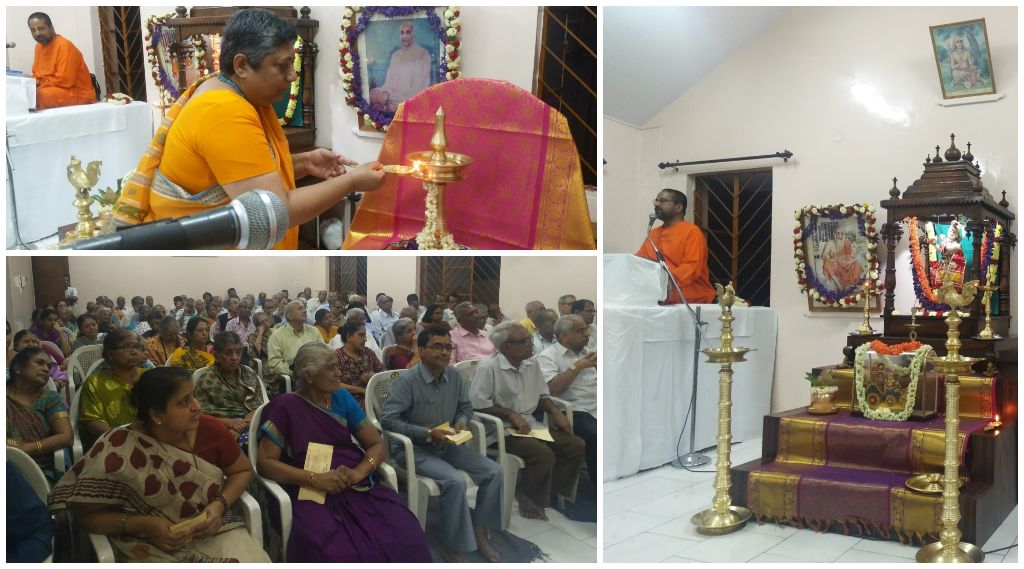 The Yajna was very well attended.
Gita Jnana Yajna by Pujya Swami Adityananda
Pujya Swami Adityananda of Mandya centre conducted a Gita Jnana Yajna in Kannada on Bhagavad Gita Chapter – 4 at Sri Varasiddhi Vinayaka Temple, HSR Layout from 17th to 23rd September, 2018. The Yajna was inaugurated by Sri Raghurama Reddy noted philanthropist and industrialist.
Pujya Swamiji explained how most scriptures contain subtle stories with deep meaning that kindle the mind of the student to think and attempt to discover the Reality. It is very important to understand the essence of the Real and Unreal  getting established firmly that 'I' am not the body but the all pervading entity enlivening the entire universe. This is possible only through Self knowledge and actions with yajna bhava when all bondage vanishes and the sadhak revels in an ocean of bliss and quietitude.
The Yajna was very well attended with Pujya Swamiji conducting Vedic Mathematics, Balavihar and Yuvakendra classes also during the course of Yajna.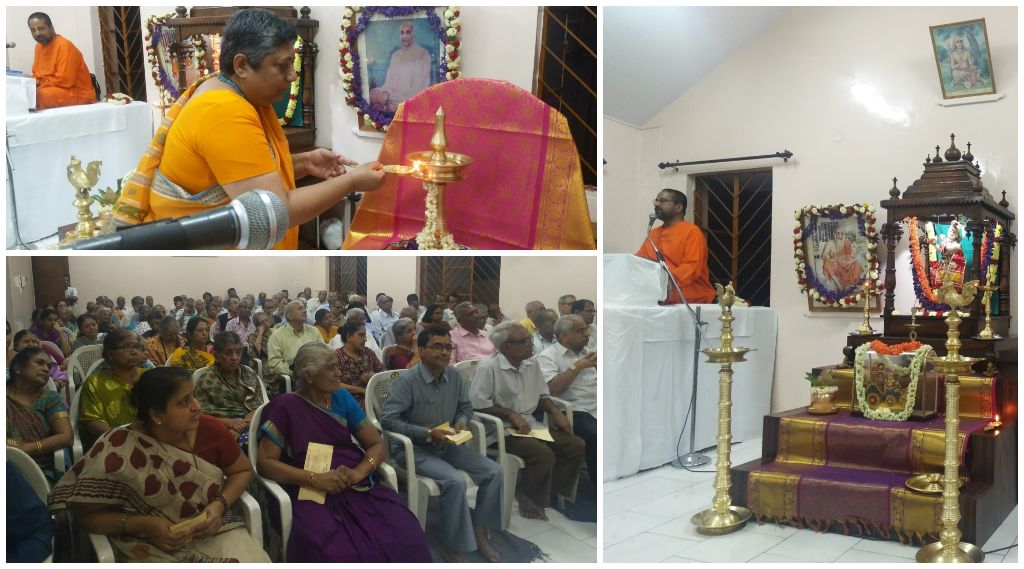 Annual Bhajan Competition
The annual Bhajan Competition for Balavihar children was held on Sunday, 9th September,2018 at Sripaadakshetra, J P Nagar where 20 teams participated. The entire complex reverberated with each group trying to excel the other as they sang bhajans selected from the famous album Gana Taranga. The preparation that had gone for the programme was clearly visible in the perfection and clarity of the children who tried their best to emulate Pujya Swami Brahmananda's golden voice. Pujya Swami Brahmananda gave away the prizes to the three best teams. Five groups were awarded consolation prizes.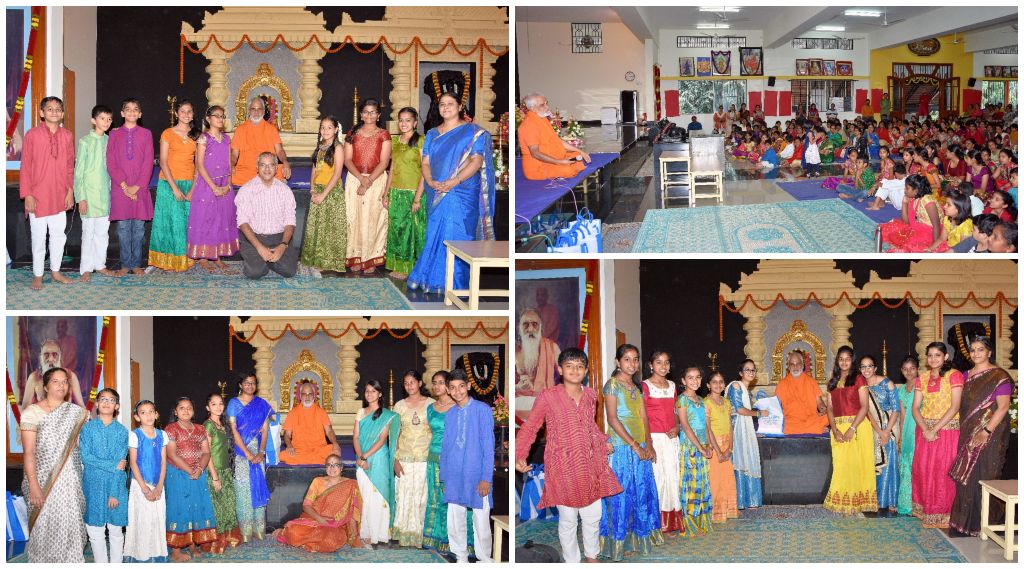 ---
Sanyasa Deeksha at CIF
Dated : 2018/10/02

---

Dear All,
 Hari Om! Greetings from Adi Sankara Nilayam, Veliyanad!
 Today, on this auspicious morning – 2ndOctober, 2018 – at Chinmaya International Foundation, Veliyanad, 5 more precious lives dedicated themselves to Chinmaya Mission and the vision of Pujya Gurudev. I am happy to announce the initiation of yellow-clothed Brahmacharins into the flaming orange Sannyasa ashram as Swamis and Swaminis. Their new names, preceded by their earlier names are:
Br Vamsi – Swami Vijayananda (CM Vijaynagaram)
Brni Vidya – Swamini Shreyananda (Chinmayaranyam)
Br Hrishikesh – Swami Sarvatmananda (CM Kothapatnam)
Brni Bhavana – Swamini Pavitrananda (CM Renigunta)
Brni Vibha – Swamini Supremananda (CM Kurnool)
Attached is a photograph of the new initiates.
May the grace of God and the blessings of our entire Guru Parampara lead them to the ultimate goal of Self-realisation.
A small video of the announcement of their new names can be viewed on the YouTube channel of Chinmaya Mission. The link is:
Today we have inaugurated the third Malayalam Vedanta course at Sandeepany Kerala, Adi Sankara Nilayam, Veliyanad. I invoke Bhagwan Sankaracharya and Gurudev's Blessings on Swami Sharadananda and the students.
Love,
At His Feet,
Swaroopananda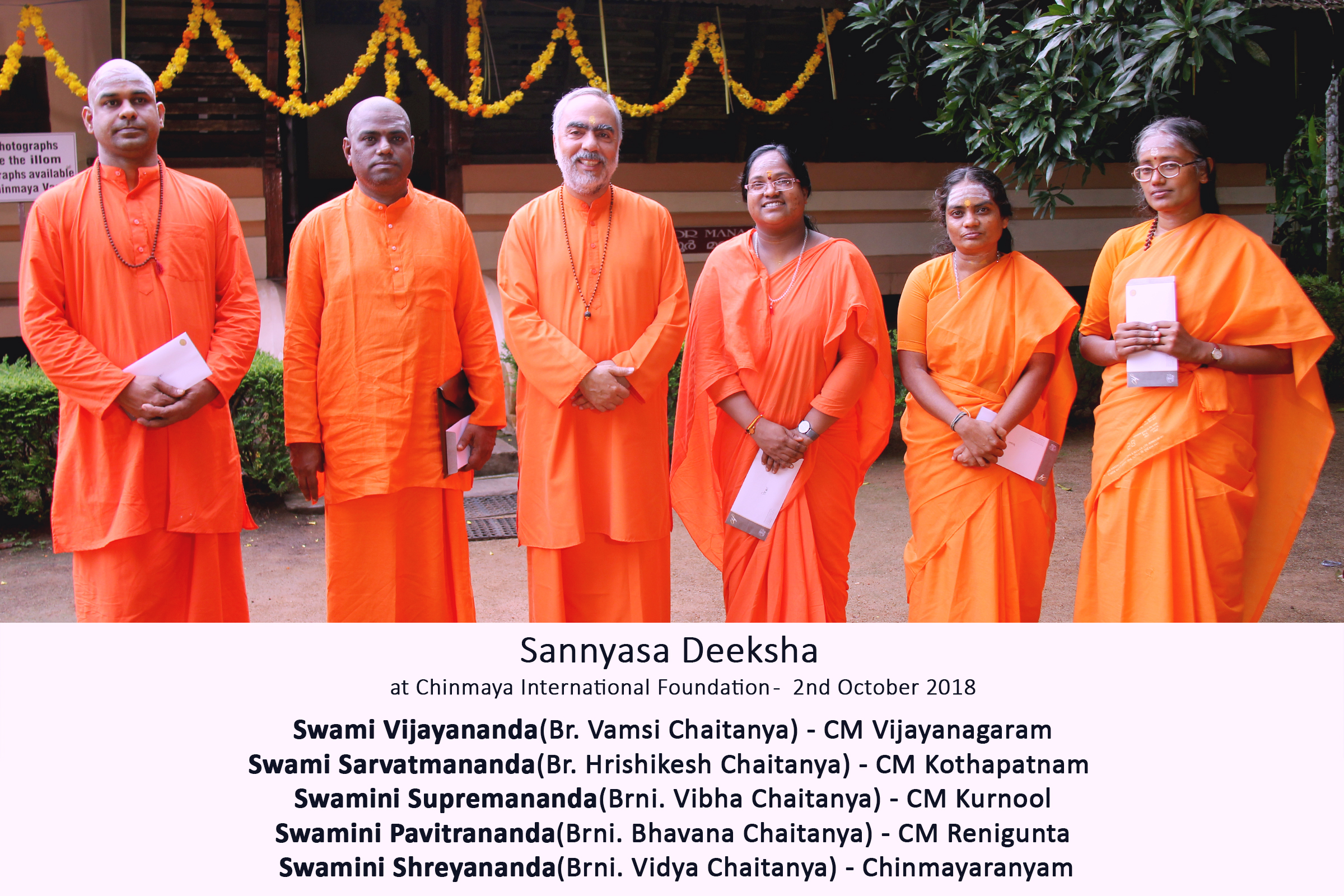 ---
Maharaja Agresen Rashtriya Samman for Chinmaya Mission
Dated : 2018/09/26

---

The work of Chinmaya Mission Worldwide has been appreciated and acknowledged by Swaraj Sansthana Sanchalaya, a division of the Ministry of Culture, Government of Madhya Pradesh. In recognition of the path breaking initiatives in the field of Spirituality and for spreading the ancient Knowledge of the scriptures to all age groups across the world, Chinmaya Mission, has been awarded the Maharaja Agresen Rashtriya Samman 2018-19.
As per the directions of Swami Swaroopanandaji, Swami Advayananda and Swami Raghavananda attended the award ceremony function on 15th August, in Bhopal since Swami Swaroopanandaji was travelling overseas. They received the citation as well as the purse of Rs 2.00 lakhs, on behalf of Chinmaya Mission. Both thanked the Government of Madhya Pradesh for this prestigious award, and the honour bestowed on Chinmaya Mission.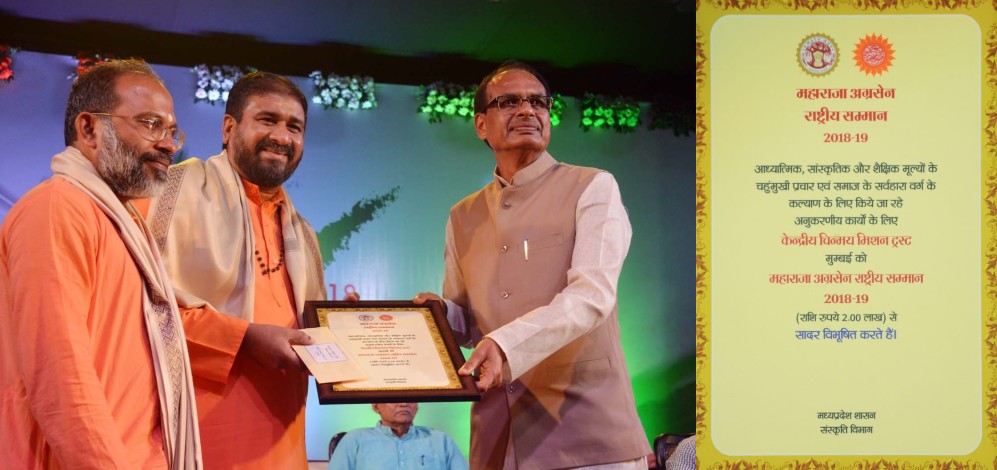 ---
JCHYK & CHYK Camp at CM Boston
Dated : 2018/09/10

---

JCHYK Camp
We had an amazing JCHYK Camp last week at CMB.  Vivekji kept the youth very occupied, teaching them as well as making them think independently to derive answers that are most practical and useful in life.  They learnt how to handle situations better and how to analyze and direct their thoughts to be positive and productive.  Under his guidance the youths discussed the importance of thinking before speaking and directing their own thoughts into action.  Vivekji also taught them to step out of their comfort zones and to learn and accept others – some very important qualities of being a leader!  Additionally, the kids had fun in Boston, enjoyed playing games, made new friendships and did lots of chores – an unbelieving amount of Seva for CMB!
Most importantly, all kids went home with a confident smile exhibiting that they had learnt unique lifelong lessons from the camp and knowing that they would be able to implement them to lead a fuller and a happier life.  They also mentioned that they would like to return to the camp next year.  In addition, some of them encouraged their older siblings to join Vivekji's CHYK camp.
It was a great success – a BIG thanks to Vivekji and we look forward seeing him again next year!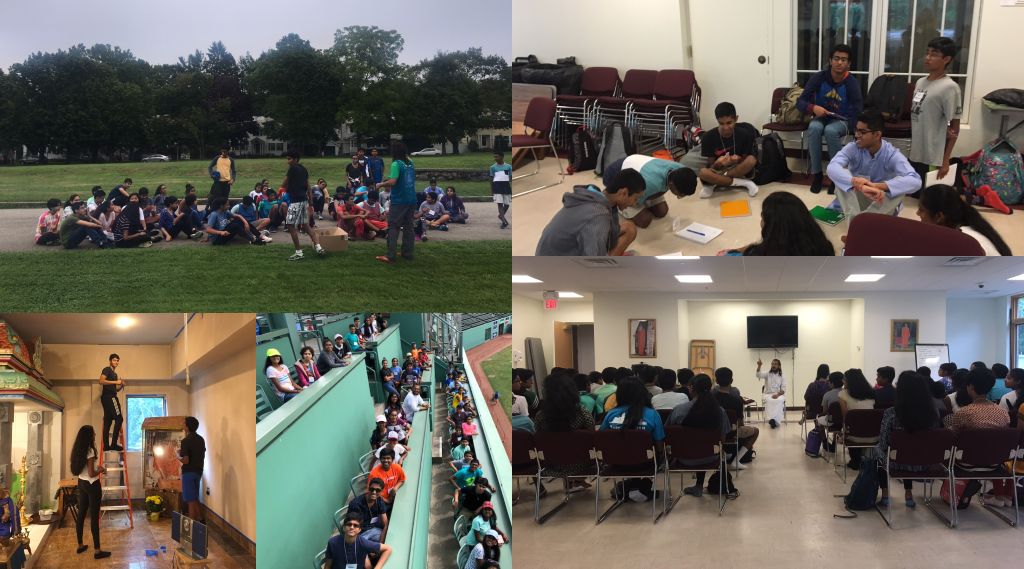 CHYK Camp
During the weekend of August 31 to Sept 2, CHYK Boston hosted a retreat titled "Unlearning to Learn". A small but dedicated group of CHYKs from around the US gathered to study lessons from Sri Rama Gita, under the guidance of  Vivekji. Sri Rama Gita is a teaching given by Sri Rama to his brother Lakshmana, answering questions that Lakshmana poses about knowledge, dispassion, maya, devotion, and God.
Vivekji guided the CHYKs through Sri Rama's answers on each of these topics and provided short "unlearnings" and "learnings" to overcome habits and tendencies that keep one from achieving happiness. Several individual and group activities throughout the weekend gave the CHYKs an opportunity to try out these learnings for themselves. A water-filled soccer (football) game in a nearby park was the perfect setting for getting out of one's comfort zone, while a cooking challenge with limited time and resources pushed the CHYKs to come to decisions more effectively as a group. On the final day of the camp, the CHYKs created charcoal drawings representing one word that summarized their learnings from the week; some of the chosen words included growth, detachment, redefine, and cleansing.
As autumn begins in the US along with the start of a new school year, the Unlearning to Learn retreat was an energizing opportunity for the CHYKs to set goals, try new things, and rededicate to learning and reflecting in the year ahead.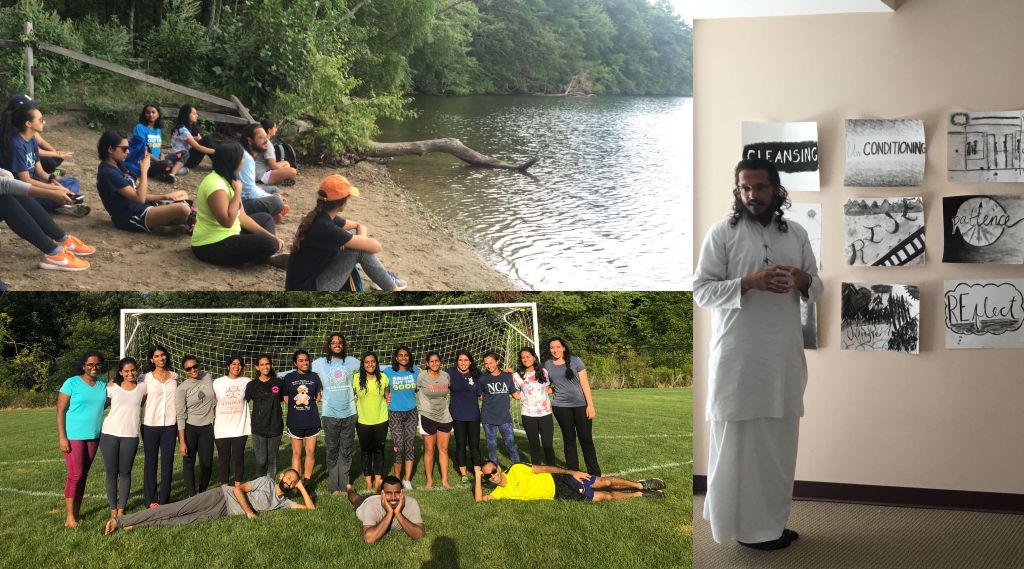 ---
Swami Advayananda's Jnana Yajna in Jaipur
Dated : 2018/09/08

---

Blessed indeed were the members of Chinmaya Mission Jaipur who had
amongst them the erudite scholar of Vedanta and acharya of CIF Veliyanad,
kerala, Pujya Swami Advayananda from 4th to 8th September 2018.
Adept in the pedagogics of a subject as profound as Advaita philosophy,
Swamiji explained Nasadiya Sukta or Hymn of Creation, from the Rig-Veda, in
the morning sessions and Bhagavad Geeta Ch. 15 in the evening sessions.
Yagna was ceremoniously inaugurated with shanti path and lighting of lamp.
President Mamta Mansingka welcomed Pujya Swamiji and all the seekers
present.
Dealing with the Pralaya kaala, Srushti kaala, and stithi kaala paramatma,
Swamiji explained how this Creation came to be.
In the evening, explaining the 15th chapter of the Bhagavad Geeta which is a
summary of the entire upanishad, Swamiji said that Krishna the greatest
strategist compares our lives to the ashwattha tree.
The realm of our life, our complexities is metaphorically presented as an
ashwattha tree, and just as an tree can be cut, so can we with the blade of
dispassion sharpened with the discrimination(Viveka) detach our mind from
the lower in the persuit of the Higher. SwamiJi explained what is the Supreme
State & steps in spiritual path to reach it.
On the last day Secretary, Chinmaya Mission Jaipur Dr. Uma Acharya
presented the vote of Thanks.
It was a blissful spiritual feast of Supreme Knowledge for the seekers of
Jaipur.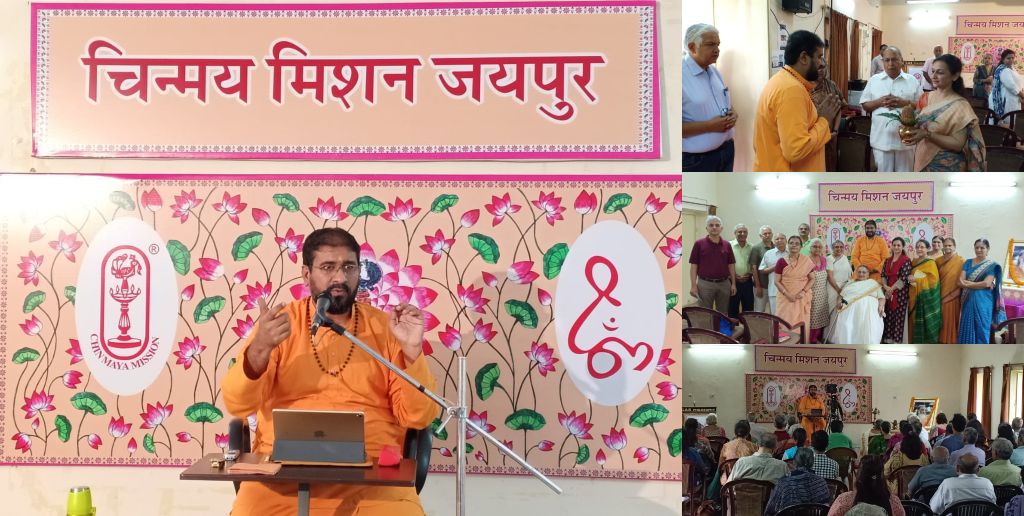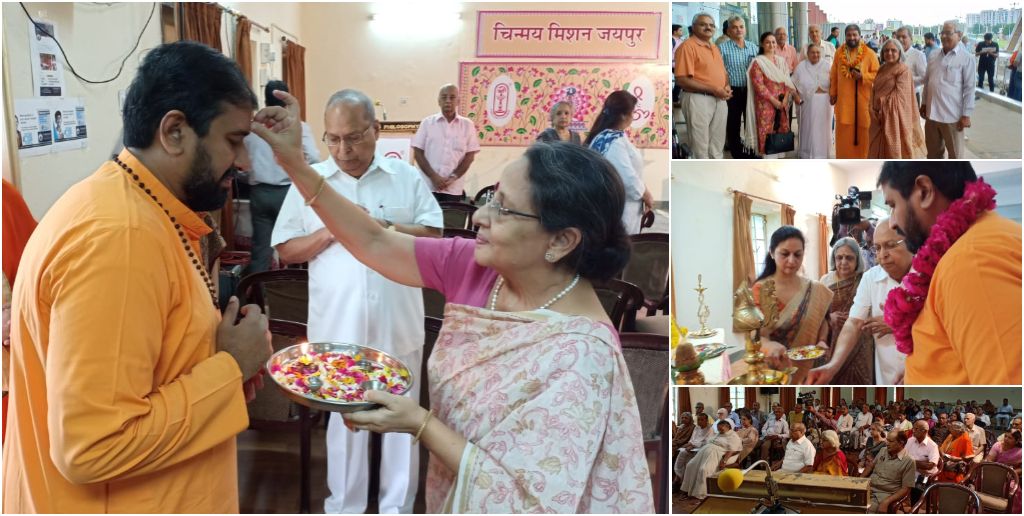 ---