News


To understand anything is to find in it something which is our own.
-Swami Chinmayananda
Archival News/Other News
Krishna Janmashtami in Chinmaya Mission Singapore.
Dated : 2018/09/03

---

"The Eternal, the Infinite, the Lord Murari. He is … IN YOU. Seek and Discover. ~ Swami Chinmayananda."
Krishna's BirthDay bash – just as it should be, overflowing with happy faces – adults and children, gleefully celebrating the birth of the little blue boy of Vrindavan in a spirit of joyful celebration and a whole lot of cheer. The largest ever turn out for Shri Krishna Janmashtami @ Chinmaya Seva Centre! Bolo … Krishna Kanhaiyalal ki Jai! Stay tuned for all our upcoming and exciting festivities!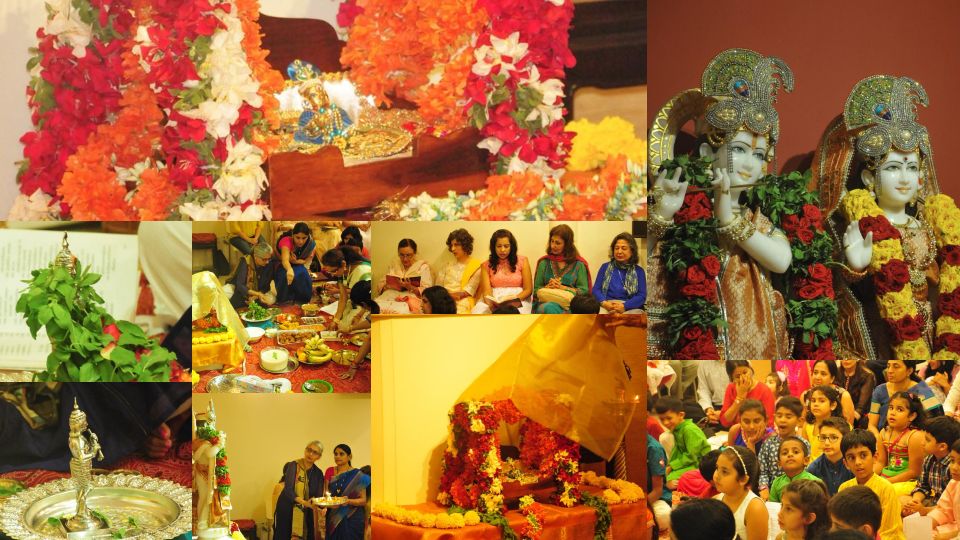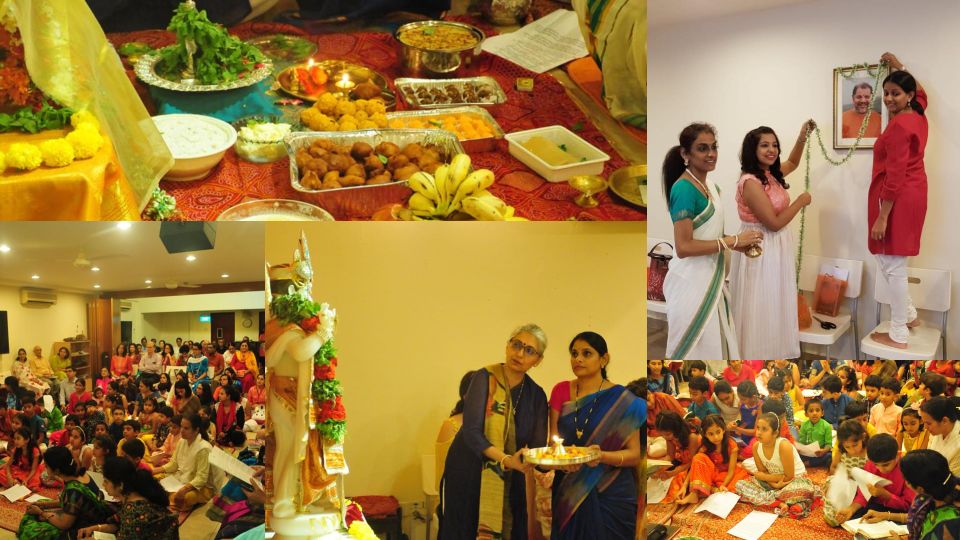 ---
Bhagwatam Yagna by Pujya Swami Subodhananda in Jaipur
Dated : 2018/08/19

---

CHINMAYA MISSION JAIPUR In the auspicious month of Shravan, from 13 -19 August 2018, devotees of Chinmaya Mission Jaipur were blessed with the divine nectar of Srimad Bhagwat Katha by Pujya Swami Subodhananda ji. Pujya Swamiji explained the Sixth Canto called Poshan Skandh of the Mahapurana. Mukhya yajman of the seven day divine festivity were Sh. Ashok Sodhani ji and Smt. Padma Sodhani ji, Books Incharge, Chinmaya Mission Jaipur.
All students of Gurukul Sidhbari Vedanta Course along with their Resident Acharya Pujya Br. Visharad Chaitanya ji (Acharya, Chinmaya Mission Jaipur), Pujya Swamini Achalananda ji and Br. Om Chaitanya ji also came to attend the program. Pujya Swami Abhedananda ji (Acharya, Durban, South Africa), Pujya Swamini Anaghananda ji (Acharya Chinmaya Mission Thane, Mumbai) also graced the occasion by their divine presence for two days. The program was ceremonially inaugurated with Shanti Path, chanting of Gurustotram and lighting of lamp.
A warm welcome of Pujya Swamiji and all sadhaks was done by the President, Chinmaya Mission Jaipur, Smt. Mamta Mansingka. Known for his scholarship and pedagogy, Swami ji kept his audience rapt in attention as he began with a description of Bhagwan who is Sat-Chit-Ananda Swaroop. Explaining the importance of expiation and repentance (prayashchit), Swami ji said that even the most sinful man is purified if he surrenders to the God of Love with utmost devotion. The mere Name of God has the power to save even the most depraved and so was the fallen Ajamil forgiven, freed from the bondage of Karma by the Lord Himself. God nourishes him with His Grace and 'poshanam' takes place. Swamiji then explained the meaning of 'Pravritti' and 'Nivritti' and spoke of the Haryasvas and the story of Vishwaroop and Vritasur. Insult of a Guru by his shishya is a grave sin leading to the Guru leaving his shishya. Thus was Indra punished and forgiven only when he repented for his actions. Finally, Swami ji spoke about how the grieving King Chitraketu was consoled by the wisdom of the sages Angira and Narada. As initiated by Narada, Chitraketu meditated and soon had a vision of the God of Love and he ultimately realised his unity with Brahman, exclaiming, "The blissful Self am I, I am Brahman."
On 3rd day of the program redemption of the book चतुःश्लोकी भागवत was done by Pujya Swami Subodhananda ji. Thus concluded the seven day divine discourse on the Sixth Canto of Srimad Bhagwatam. The relatively huge hall was packed to capacity everyday. Dr. Hanuman Sahai Sharma ji and his group presented classical Hari bhajans which were soul lifting and were appreciated by all the bhaktas. Pujya Swamiji felicitated Smt. and Sh. Ashok Sodhani with a shawl and Sriphal each.
In the end Dr. Uma Acharya Secretary, Chinmaya Mission Jaipur presented the Vote of Thanks. It was a memorable and Blissful week with invaluable gift of Divya Vedanta Gyana by our revered Pujya Swami Subodhananda ji.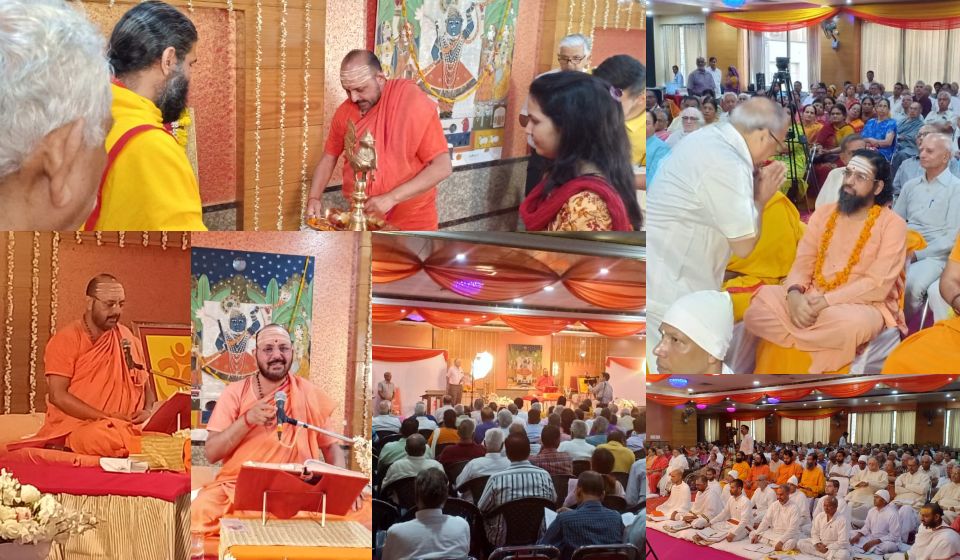 ---
Inter-School Patriotic Song Competition 2018
Dated : 2018/08/10

---

Chinmaya Yuva Kendra Jaipur with Chinmaya Mission Jaipur has been organising Inter-School Patriotic Competition "SHRADDHANJALI" every year for last 19 years. This year it was organized on 10th August.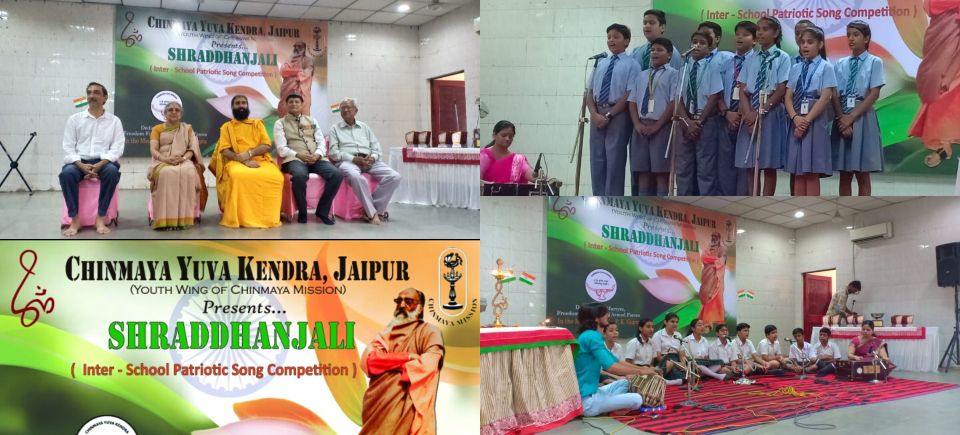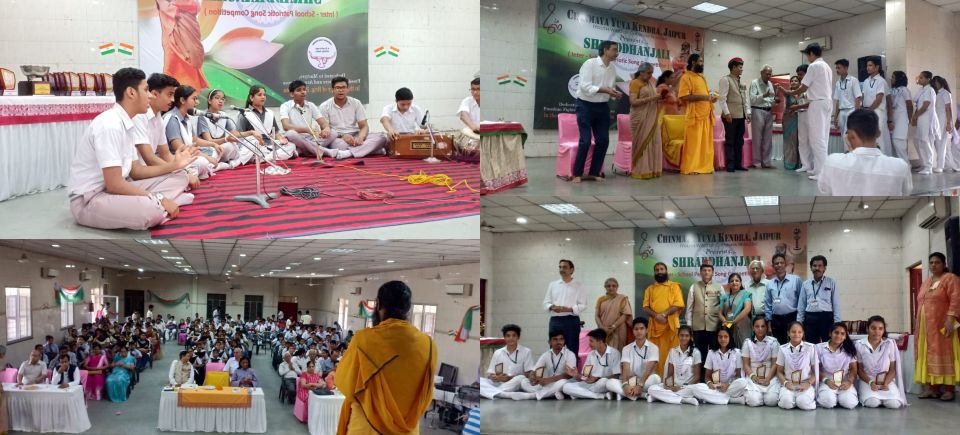 ---
Hari Sharanam camp at ParamDham for Vanaprasthis
Dated : 2018/08/19

---

Chinmaya Study groups of Ahmedabad organized a half day camp titled Hari Sharanam based on Bhakti Yoga for the Vanaprasthis of Ahmedabad at ParamDham by Swami Avyayananda ji. The devotees watched an episode on the life of Bhadrachala Ramadas from Upanishad Ganga and reflected on Bhakti as the means and the goal in Swamiji's talk based on Pujya Gurudev's BMI chart. 50 elders not only reflected on the wisdom of our scriptures on the Supreme love but also re-lived their childhood memories by playing many fun games and thereby rekindled the love for themselves in their own hearts. The activities of the camp were facilitated by the Chinmaya Yuva Kendra and Chinmaya Setukari members. Thus, the younger generation of the Chinmaya family spent quality time with the elders and got inspired by their spirit and depth of faith.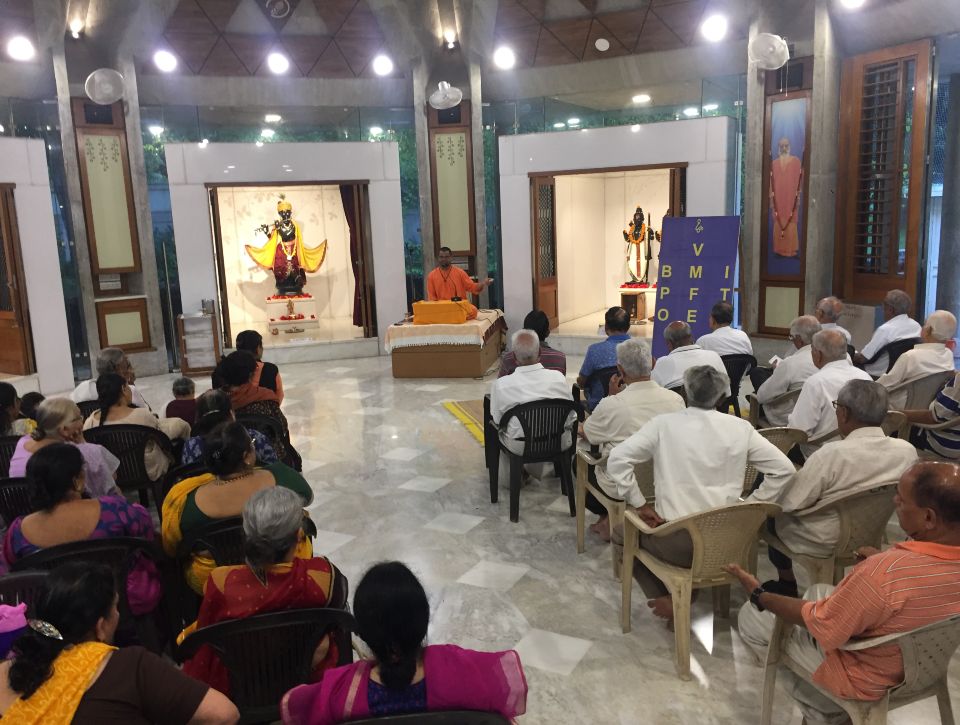 ---
Ageless Questions Timeless Answers Camp
Dated : 2018/08/09

---

For the occasion of Pujya Gurudev's 25th Mahasamadhi, Chinmaya Vibhooti hosted a camp in English called "Ageless Questions, Timeless Answers" by Swami Advayananda of CIF and Brahmachari Anand Chaitanya of Chennai. The camp, which covered Bhagavad Geeta Chapter 18, was well-attended with 115 campers from across India as well as from places as far off as USA, Australia, Singapore, Malaysia and Sri Lanka. The camp began on 3rd August 2018 with a splendid Paduka Puja at Pranav Ganesh Mandir, in the presence of the glorious Chinmaya Akhanda Jyoti. All campers, staff and sevaks participated in the archana. Swamiji spoke touching and uplifting words about the glory of the Guru and how blessed we all are to have a great Mahatma like Pujya Gurudev as our Guru.
The classes began on the same evening and the camp concluded on 9th August 2018. Brahmachari Anandji took morning meditation sessions as well as one session a day on the theme "In Tune With Swami Chinmayananda", in which he shared several anecdotes, video clippings and quotations. There were also daily screenings of video clippings, group discussions and time for questions and doubts to be cleared by Swamiji and Brahmachariji. The campers wholeheartedly came forward to offer Yajaman and Bhiksha Seva and the entire camp had an overall ambience of service and devotion. On the final day, there was a Bhagavad Geeta Archana and a Paduka Puja where the success of the camp was dedicated entirely unto Mother Geeta and Pujya Gurudev.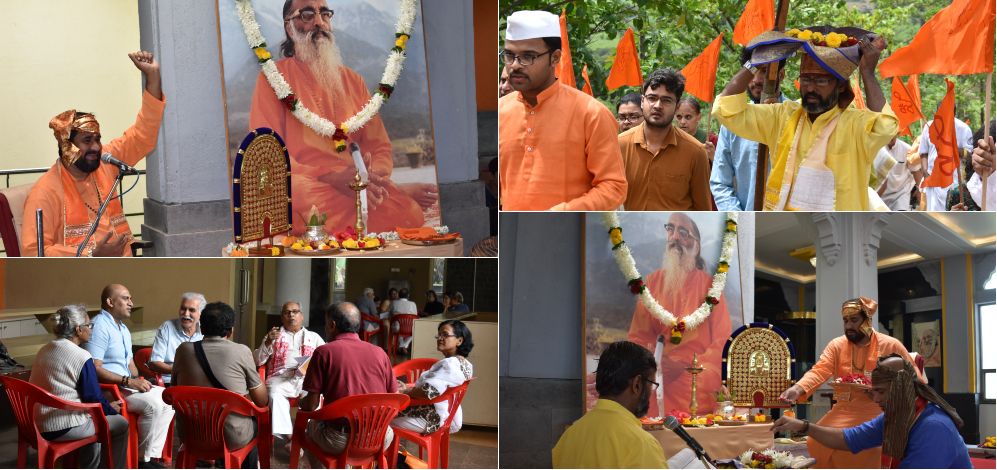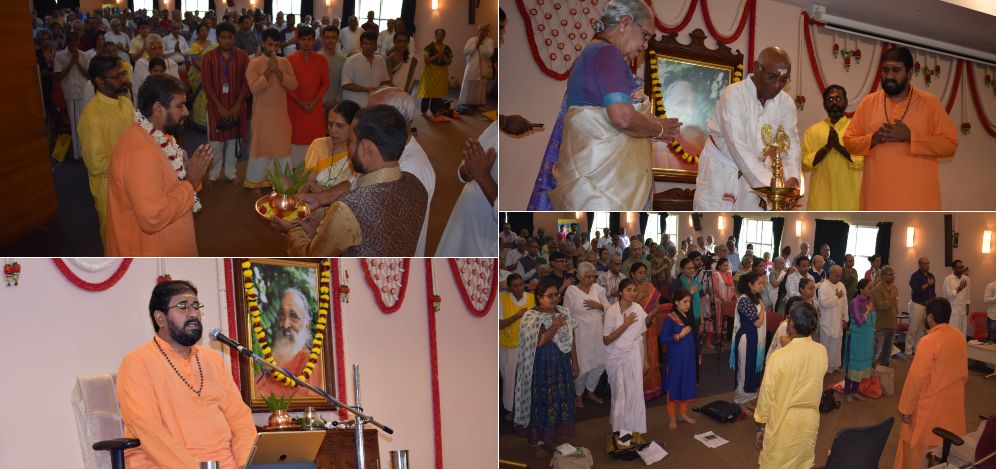 REFLECTIVE REPORT – Ageless Questions, Timeless Answers
3-9 August 2018 at Chinmaya Vibhooti, Kolwan
If there is one question that has defied the passage of time, it is, "What is my higher purpose as a human and how do I approach it?"
An ageless, universal question indeed. And if there is any expounding as an answer to this, it is encapsulated in a text that has traversed centuries in time; namely, the Bhagavad Geeta.
To seek timeless answers, what better setting than the sylvan expanse of Chinmaya Vibhooti Vision Centre, in Kolwan, Maharashtra; an ashram that nestles gently in a valley, hugged by rolling hills as far as the eye can see.  The hills transfix you with their moods… cloud-hidden and contemplative one moment and brilliant with sunshine the next. "The Switzerland of Pune" as one attendee put it!
As you enter the portals of learning, the setting transports you into a state of reflection and silence, in a natural way.
It is here that "Ageless Questions, Timeless Answers" began its journey deep into chapter 18 of Bhagavad Geeta, over a period of six days, from 3rd to 9th August, 2018, under the able guidance of Swami Advayananda. In attendance were 115 campers drawn from far-off parts of India and the world. (Namely, Australia, USA, Singapore, Malaysia and Sri Lanka.)
"This learning is neither for the old, nor for the young; neither for the sad, nor for the joyous; neither for the rich, nor for the poor, "Swamiji reminded gently, "It is for the spiritually sensitive."
What are the paving stones on our spiritual journey?  Karma Yoga was revealed to be the bedrock of the journey. And the litmus test of a Karma Yogi is to check if one is able to surrender one's very ownership of the Punya Phala (rewards) of the selflessly done karma!
Just when you thought that Karma Yoga was the clear way to liberation, the surprise is sprung on you. Through Karma Yoga you have established that you are neither the Karta (performer of action) nor the Bhogta (enjoyer of the fruits of action); and so you are free! But wait!
"What role do you think Karma Yoga plays in the attainment of the ultimate?" prodded Swamiji.
He continued, "Karma Yoga is not your shortcut to liberation." What then is the purpose of Karma Yoga?  It serves to purify your mind, i.e. Chitta Shuddhi. In Chitta Shuddhi, the mind dwells in the Saatvik (pure and noble) and is driven away from Kaamya-karma (desire-driven action), effortlessly.
So one has to keep one's life-vehicle on the karma yoga track and join another track for the long journey ahead. Another track?
Yes, having reached the second level, it is here, in the higher realm, that the  mountain river of scriptural knowledge pours forth as you do Shravanam (listening),  churn your mind through Mananam (contemplation) and  silence it in Nidhidhyaasanam (abidance in that knowledge) .
Thus, Karma Yoga acts as a launching pad to propel us into the realm of higher learning. The ground is prepared. The mind is ready to listen to the scriptures and words of wisdom that have come down the centuries like a clear river of knowledge, purifying, washing away, gushing on and impelling you to that final Union with the Ultimate, the immutable, the cosmic Consciousness.
With impeccable erudition the discourses of Swami Advayananda cut sharp and deep, as he used skilful logic to drive it.
It did occur to the listeners that like Lord Krishna in the final verses of the chapter and text, Swamiji too is endowed with immense compassion, walking with the seekers to unfold the answers, verse by verse and layer by layer, softening the weight of the profound knowledge with sparkling humour.
Each day, the answers drove the learning deeper and cut through the darkness with urgency and determination.
At each point the discourse led into group discussion and introspection. The knowledge dawned that at the Jeeva level, we differ greatly in the Gunaas that are our natural behavioural aspects, our personality. Each one of us in our thought, word, action, intelligence, and effort bring to the board Sattva, Rajo and Tamo Gunaa.
We thus carry our perfection and imperfections with us. We must gravitate towards our highest Sattva Gunaa if we are to attain the Ultimate. Thus, with this logic, the path to liberation lies with us!
A last leg of the journey remains. The part where we contemplate THAT energy which powers each of these functions and instruments of action. Knowing THAT power, one drops all that one has known, and abides in the pure Consciousness, suspending all thought and action, even seeking!
Thus, knowledge that at first seemed daunting was built brick by brick until the edifice stood luminescent in the light.
The enlightening camp had begun with an auspicious Paduka Puja on the occasion of the 25th Mahasamadhi of Pujya Gurudev Swami Chinmayananda.
Each day began with meditation, and was punctuated by an enlivening session by Brahmachari Anand Chaitanya who brought to the campers rarely seen clips and anecdotes of Pujya Gurudev in a series.
In the late evenings under starlit skies, seekers would troop into Swami Advayananda's kutiya to press him with more ageless questions. The questions poured in, the churning continued; and the timelessness of the answers held us transfixed. Each day was one step forward to propel us closer to our own true nature; pure Ananda.
---
Help To Flood Relief Camps by Chinmaya Vidyalaya
Dated : 2018/08/20

---

Parents and students of Chinmaya Vidyalaya,Trupunithura showed overwhelming response during the collection of relief materials for the recent flood situation in Kochi. Teachers and students under the guidance of Principal, Vice Principal and Academic Coordinators sorted the materials and divided themselves into groups to supply the  same in various relief camps. The initiative by our alumni in helping the Vidayalaya to coordinate the relief work was commendable.
Our Vidyalaya was able to supply materials to :
Chinmaya Vidyapeeth relief centre.
St Thomas relief centre, Perumanur
Nirmala College, Mulanthurathi
Manakunnam village office
Nadakavu relief centre.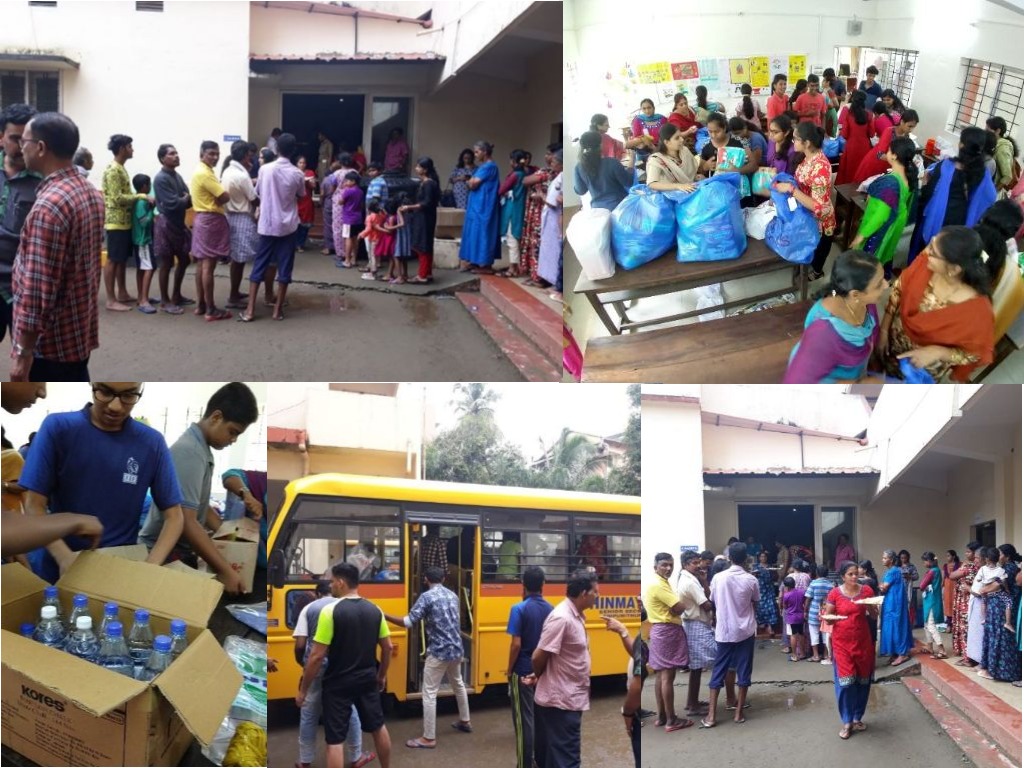 ---
Chinmaya Hanuman Centre Inauguration London(Ontario)
Dated : 2018/07/09

---

The Inauguration Of Chinmaya Hanuman
On July 9, 2018, Pujya Swami Swaroopananda visited London, Ontario to inaugurate London's ashram, Chinmaya Hanuman. Several Chinmaya Mission families along with community leaders attended the ceremony and had the opportunity to meet Swami ji. Among the community leaders were Harold Usher and Maureen Cassidy, two councilors for the City of London.  Swamiji gave a brief talk and unveiled a plaque mounted upon the wall in the shrine of the ashram. Swamiji took a walk around the ashram grounds and was very happy to see the enthusiastic and dedicated community. London is very grateful and humbled by Swamiji's visit, and hope he visits again in the near future.
Camp Dhronacharya Bala Vihar Camp
During the week of July 23- 27, 2018, Camp Dhronacharaya was held at Chinmaya Hanuman in London Ontario. Fifty five Balavihar students ranging from the ages of 5 to 13 attended the camp. The students were grouped into classes, named after the five Pandavas. Three CHYKS, Swati, Ardra and Priya, devoted their time to teach the younger three classes at the camp and Vivekji taught the eldest class. During the course of the week the students learnt the Yamas and Niyamas how they can be practiced in their daily lives. The Balavihar students participated in classes in the morning and cultural activities and sports in the afternoon.
Vivekji facilitated both opening and closing sessions held every day where all the students got together. The campers participated in a variety of activities such as playing soccer with Vivekji, learning Bharatnatyam and Bollywood dancing and everyone's favourite … archery!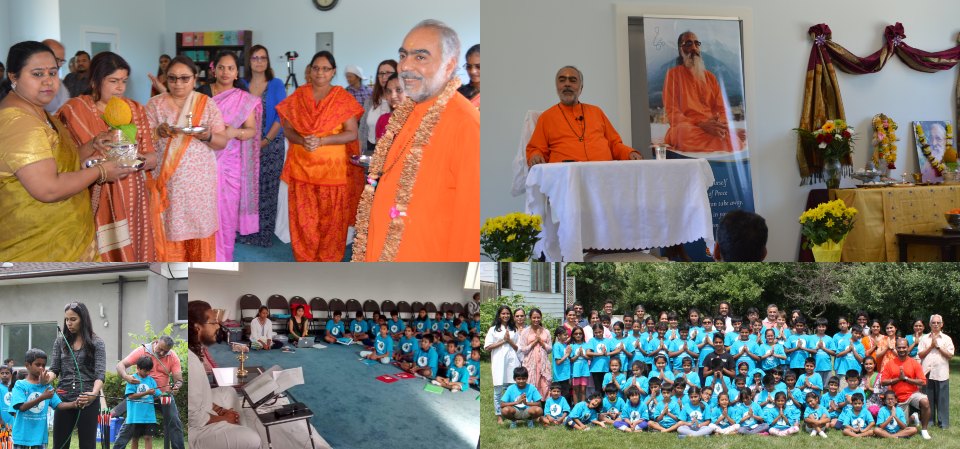 ---
Annual Youth Camp at Chinmaya Somnath
Dated : 2018/07/20

---

Chinmaya Somnath located in Virginia USA, successfully concluded the largest ever annual youth camp conducted by Vivekji from July 16 – 20, 2018.
This youth camp is a very unique opportunity for the youths not only in the DMV area, but also across the US and Canada to interact closely with undivided attention from Vivekji, one of the most highly respected and sought after Vedanta teachers, who instills Hindu spiritual knowledge by adapting more traditional Vedantic teaching techniques to better engage with the modern day youth.
This year Vivekji chose the yoga sutras by Pathanjali as the Vedantic topic of the camp, a topic that changes annually to better impart a wide spectrum of knowledge to the participants. Yoga is about asanas related to body, and entails controlling one's mind before conquering the body. In this camp, campers learned how to quiet their minds and maintain focus on their tasks. Furthermore, campers learned that being an extrovert is not always good and is often conducive with acting due to FOMO (fear of missing out) rather than focusing on JOMO (joy of missing out). This is very relevant, as these days campers and adults alike are often found glued to their phones and other devices in order to keep up with the daily activities of their peers rather than simply enjoying time spent alone and in the moment.
Vivekji meticulously planned the camp activities with not just Vedantic talks but also included many aspects like physical and seva activities. Through their seva, the campers learned to inculcate the helping attitude without expectation, providing a permanent sense of joy. With physical work, the body is strengthened, allowing for the effective completion of one's duties, whatever they may be.  During the camp, there were also numerous fun moments while the youth participated in athletics, which taught campers to team up and play in rain or shine, which they literally practiced by running in the pouring rain.
There are numerous ways that the campers got to focus their minds, such as learning about unit tasking while eating, in which they were told to focus on their eating rather than talking in order to appreciate their food and the Brahman in it. Campers were also taught about the 3 C's that they must avoid in their lives, which includes Criticizing, Crying unnecessarily and Complaining. Instead they learned to maintain one basic C, which is Contentment.  One of the biggest highlights of this camp was that it was also a residential camp. Many Virginia families hosted almost 35 – 40 campers from out of state, with youth coming from places such as Georgia, Illinois, Canada, Maryland, and Fredrick. This created a very unique opportunities for the families to learn to be a real "aditi" and find joy in serving their guests. Local campers who hosted other kids also found friendship and like-mindedness amongst their out-of-state peers.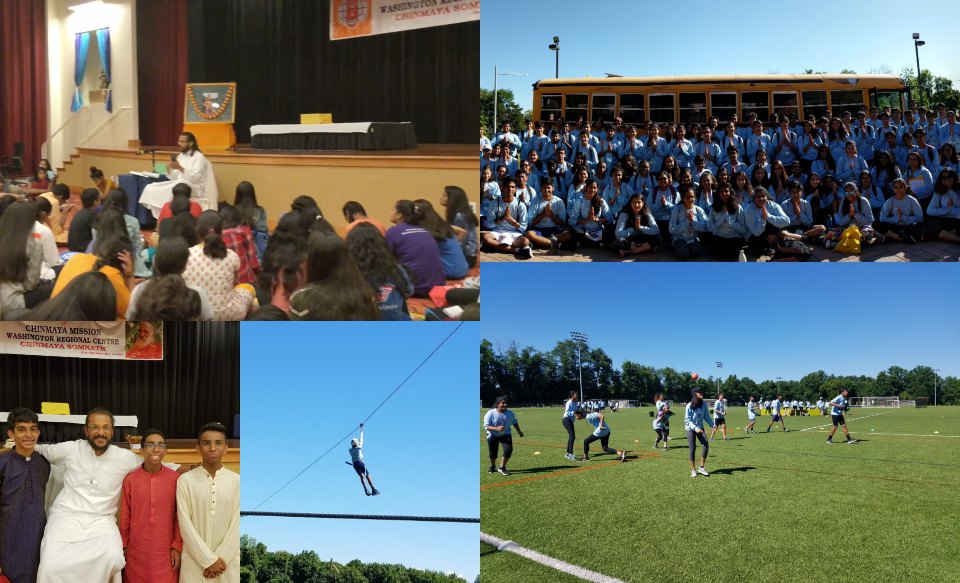 ---
Spiritual Parenting retreat-2018 at Chinmaya Somnath
Dated : 2018/08/15

---

Spiritual parenting may bring to mind a multitude of thoughts. Some parents in the midst of life with young children may even think the term is an oxymoron! How does one meld the powerful teachings of the Vedas with the intense marathon of parenting, one of the most commonly shared experiences among humankind, and one of the biggest responsibilities embraced in adulthood. Answering this question was the purpose of the Spiritual Parenting retreat, held on July  13-15, 2018 at Chinmaya Somnath in Chantilly, Virginia.
With the theme of "Vision of Balance," the weekend brought together approximately 60 people, both couples and families to enjoy a mix of discourses, participatory and practical sessions, individual reflection time and leisure activities. Dedicated Sevaks ran a parallel session for children, during the adult lectures, including sessions with Avinashji, yoga, and storytelling. The participants were grateful to have Vivekji and Vilasiniji to guide them through the topics covered.
Through Chapter 14 of the Bhagavad Gita on Gunas, Vivekji distilled the characteristics associated with the Gunas and translated them to simple and practical actions parents can take to invoke Vedantic philosophy in their parenting. Vilasiniji used entertaining comic strip images to illustrate the everyday challenges parents face, and sparked discussion on solutions for engaging cooperation from children and helping them manage their emotions. The weekend also included ideas on how to create a saathvic home, and a lively and participatory session on navigating technology and social media in children's lives, where parents had an opportunity to learn from each other and discuss their shared challenges.
Overall, parents had an opportunity to reflect on not only their parenting style, but also their own journey of self-development, and how both are intimately tied together in having the potential to positively impact and influence their children.
"The retreat provided specific steps and workable actions which each parent could take to have more peaceful and positive atmosphere at home. It also helped in opening our eyes on how we as parents are equally responsible for a negative environment at home. The retreat was a testimony to how self-improvement of each individual is a must to have a happy home. It takes a village to raise a kid. Retreat provided the opportunity to build that village for your child,  as every parent were dealing with similar situations with their kids and together we could build a community to support each other and our families."  ~ Testimonial from a participant.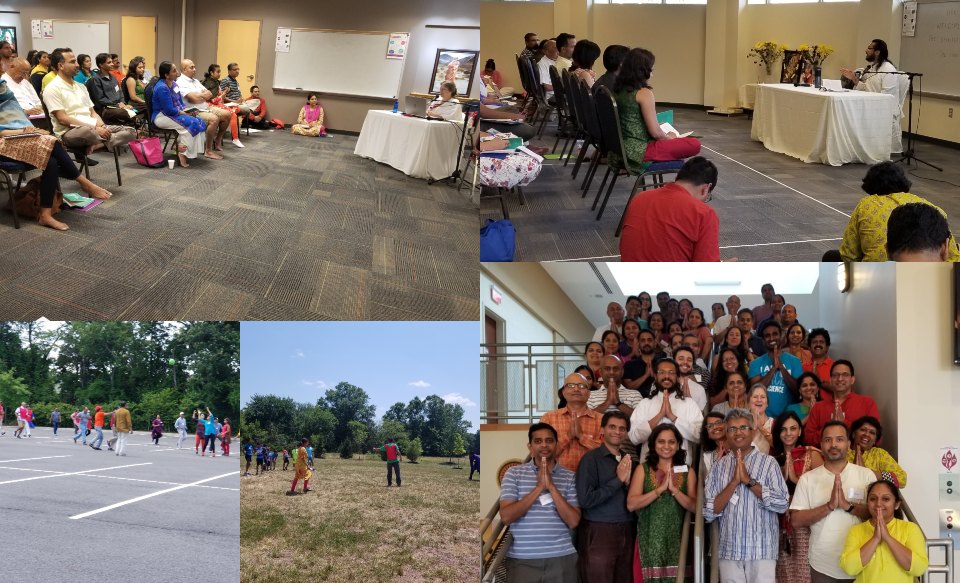 ---
Activities in Bengaluru during July 2018
Dated : 2018/07/31

---

Gita Jnana Yajna by Pujya Swami Gahanananda
Pujya Swami Gahanananda of Tiptur center conducted a Jnana Yajna in Kannada taking Sadhana Panchakam at Sri Kabirnath Ashram, Kengeri from 30th June to 7th July, 2018. The Yajna was inaugurated by Sri Vasudev Chauhan, secretary of the Ashram.
Pujya Swamiji stressed the importance of following the injunction of scriptures by daily practice through Shravana, manana and Nidhidhyasana to transcend the body, mind and intellect for attaining the ultimate Truth. It is necessary to understand the fact that outer world can never give eternal happiness which is our true nature. This knowledge can only come through sincere study of the scriptures under the guidance of a Guru and inculcating the values therein in our daily life.
The Yajna was well attended.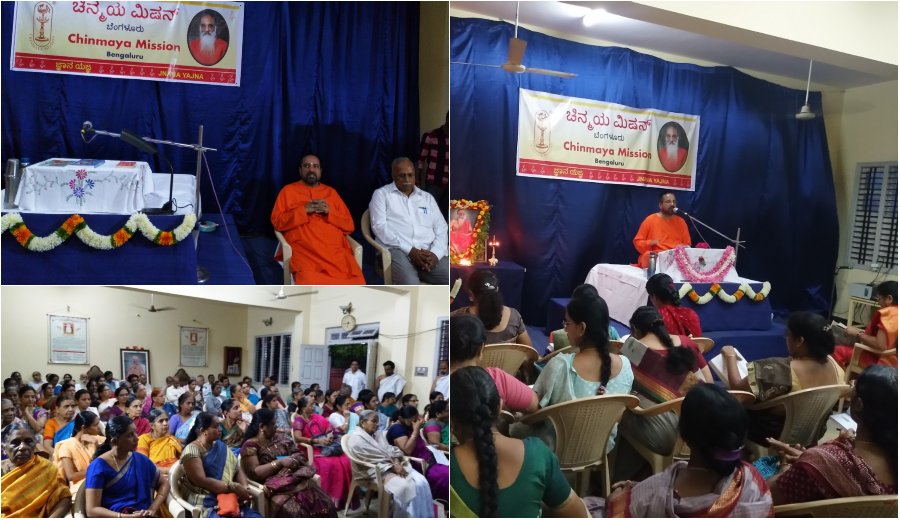 Jnana Yajna by Pujya Swami Brahmananda
Pujya Swami Brahmananda conducted a Jnana Yajna in Kannada at Bunts Sangha, Vijayanagar from 16/07/2018 to 22/07/2018 speaking on Message of Bhagavad Gita in Daily life. The Yajna was inaugurated by Sri Pathi Sridhara, well known industrialist and trustee of the Mission.
Pujya Swamiji explained that only Self knowledge can give clarity to the concept of Jiva, Jagat, Ishwara and the connection between them removing all ignorance throwing light on the fact that 'I' am the all pervading universal Jyoti enlivening the entire universe. Forgetting this supreme Truth we are creating a world of disturbance around us and getting bound by our self created egocentric actions. The only method is to lead a purposeful life serving society with a calm mind and accepting life as it unfolds.
The Yajna was very well attended.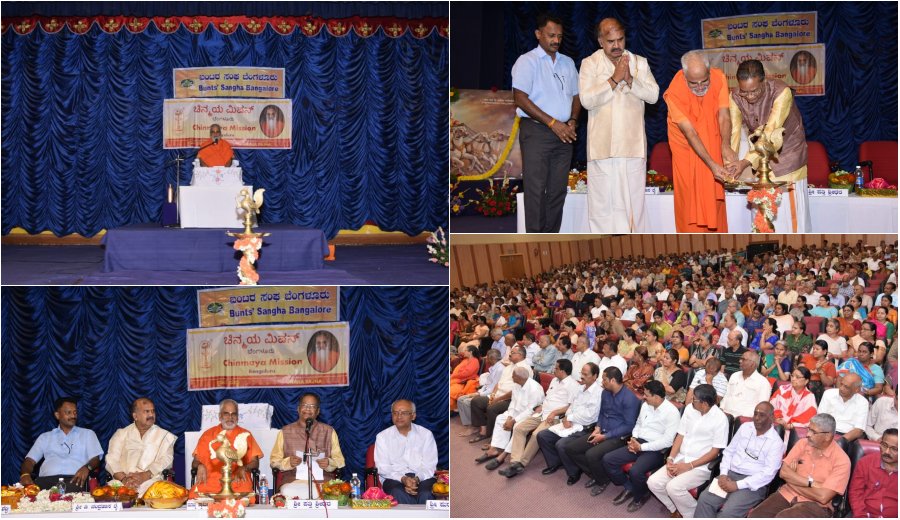 Guru Poornima Celebration
Guru Poornima was celebrated in Sripaadakshetra, J P Nagar on 29th July, 2018 in the holy presence of Pujya Swami Brahmananda with Bhajans, Paduka Puja with chanting of Vyasa & Chinmaya Ashtottara and Satsang by Pujya Swamiji.
Paying tributes to Bhagawan Veda Vyasa, Acharya Shankara and the entire Guru Parampara, Pujya Swamiji reminded that our scriptures have stressed the impermanence of body and preached the necessity to transcend the body, mind and intellect to get rooted in our real nature that is Satyam Jnanam Anantam Brahma. Our weakness has been the tendency to come out of our real nature that is Sat Chit Ananda and seek peace in the impermanent outer world. It is a pity that we who experience the bliss in our deep sleep when our mind is calm fail to realise that waking itself is an indication of turbulent mind which starts running behind the world of names and forms. We have to calm this turbulent mind through various sadhanas like puja, Japa, tapa, dhyana, etc., to experience the eternal peace and joy even in the waking state.
The function was well attended by hundreds of devotees from all over the city.

Guru Poornima in Tyagarajanagar
Pujya Swamini Samatananda conducted a Satsang in Shirdi Sai Mandir, Tyagaraja Nagar on 31/07/2018 in connection with the Guru Poornima celebrations. Pujya Amma explained the significance of Guru Poornima and how it came to be observed as our reverence and gratitude to the Guru Parampara who selflessly took upon themselves to remove the darkness of ignorance from the minds of devotes through the light of knowledge. Guru's grace is essential to lift us from bondage and once the devotee tastes the benefit of Satsang he will crave to have more of it.
Several devotees participated in the Satsang.

---