News


To understand anything is to find in it something which is our own.
-Swami Chinmayananda
Archival News/Other News
Devi Workshop at Chinmaya Mission Pittsburgh
Dated : 2018/04/28

---

A full day Devi Workshop was organized by Chinmaya Mission Pittsburgh on April 28th 2018 at the Berkshires Clubhouse in Pittsburgh. It was the first time that such a workshop was conducted in Pittsburgh. Fifty-three ladies attended this unique workshop under the guidance of Vivek Gupta from Chinmaya Mission Niagara.
The theme of the workshop was Divya Shakti: Being One's Own Best Friend. The workshop started with a Satsanga covering some selective verses from Amrta Bindu Upanishad. This was followed by a fun team building exercise, additional Satsangas, outside activities and Question & Answer sessions.
The essence that one's nature is happiness itself and is limitless, resonated during the workshop. Constant reflection and churning will lead one to discover their inner-self: Your Own Best Friend. Vivekji provided four practical pointers to the Devi-s.
Live for Values
Shop for generosity
Walk for Fun
Speak for Strength
Overall, the Devi-s had an enriching, refreshing, enlightening and unforgettable experience.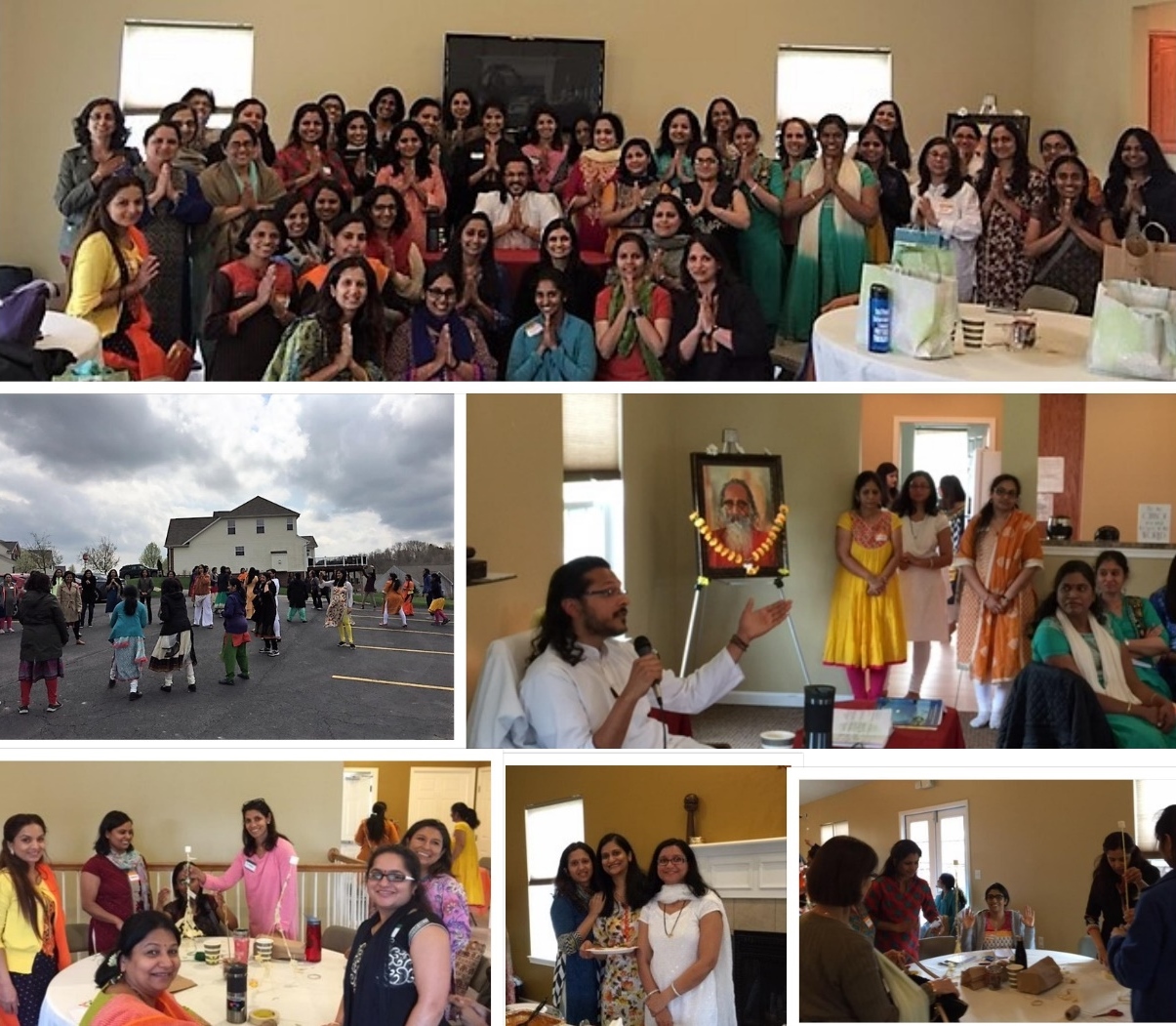 ---
Jnana Yajna at Chinmaya Hanuman CM London (Canada)
Dated : 2018/04/29

---

April 26, 2018 marked a landmark for Chinmaya Mission London in Canada as Gaurang Nanavatyji from Chinmaya Mission Houston conducted the first Jnana Yajna at the newly renovated Ashram, Chinmaya Hanuman. After a traditional welcome by  Vijay Gupta and Chinmaya Mission London families,  Gaurang ji expounded on Shri Ramana Maharshi's 'Upadesha Sara – the Advice of Lord Shiva' over 4 days from April 26, 2018 to April 29, 2018. He kept the audience spellbound through endearing stories and anecdotes while explaining the BMI chart with the utmost clarity. Gaurangji completed the Karma Yoga, Bhakti Yoga and the Ashtanga Yoga sections thus guiding the audience on their quest for realisation and understanding of a Yogi who is firmly rooted in his nature.
Chinmaya Mission London started with humble beginnings in 2011 in a Yoga studio and basements of sevaks. With the blessings of Bhagavan and the Guru-Sishya-Parampara, an Ashram, Chinmaya Hanuman was established in August 2017 within a short span of 6 years and the renovation work in the shrine was completed in April 2018. Our sevaks and sevikas, inspired by Vivek Gupta and Vijay Gupta are grateful for the platform provided to the community of London for the study and practice of Sanatana Dharma. Chinmaya Mission London is honoured and humbled by the visit of Pujya Guruji Swami Tejomayananda in 2016, Swami Prakashananda in 2017 and the much awaited visit by Mukhya Swami Swaroopananda in July 2018.
Sreelatha Varapravan
Chinmaya London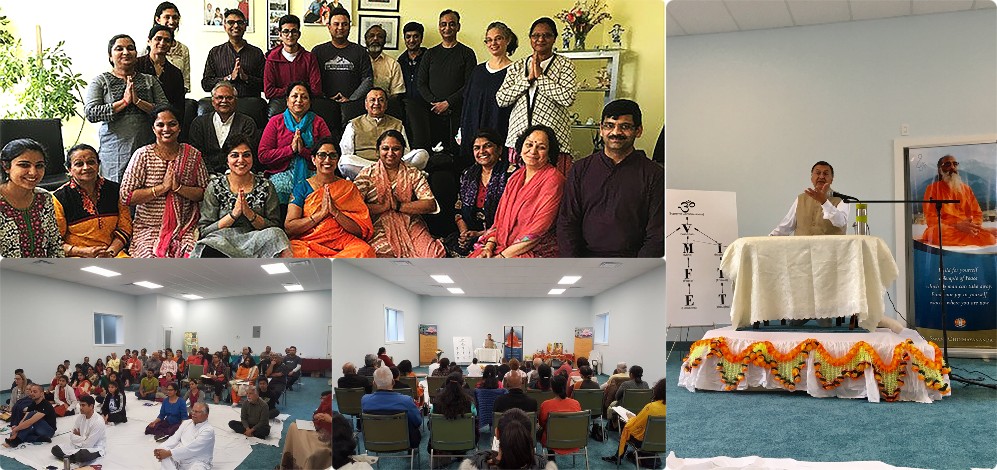 ---
Gita chanting competition 2018 at CM Houston
Dated : 2018/05/05

---

On the clear bright morning of Saturday, May 5th, Chinmaya Mission Houston conducted its annual Gita chanting competition to commemorate the 102nd birth anniversary of Pujya Gurudev Swami Chinmayananda. This year's selection was Chapter 16 "Daivasurasampad Vibhaga Yoga' and 87 children assembled in Chinmaya Prabha Smriti Hall at 8:30 am in readiness to participate in this event.    This event was preceded by months of preparation by students assisted by a team of dedicated teachers.
Sreedevi Gundamaraju, the Gita chanting coordinator, inaugurated the Competition welcoming all and invoking Pujya Gurudev's blessings. She then invited Sri Gaurang Nanavaty to address the competing children and audience. His inspiring and encouraging words reminded everyone assembled in the Smriti Hall that the very participation of children was the true gift for our Pujya Gurudev. Just by preparing for this special day with months of chanting the Gita Ch. 16, and showing up to participate, each child was already a winner.  He pointed out, "Children have a wonderful capacity to learn chanting; though their understanding may not be complete now, what they have learned will stay with them and be an inspiration to them as they advance into adulthood."
The children were enrolled in four groups divided according to their Bala Vihar grades. Judgement criteria included pronunciation, memory, chanting style, and overall presentation. Children also had to provide the meaning for chosen verses or words specific to the group.
In every group, the children awed the judges and listeners with their beautiful chanting and explanation. Once the competition which spanned over three and half hours was over, all children gathered in the Smriti Hall. Manasa Kethireddipalli, a lead Balavihar teacher, had the children play a very creative version of the game 'Hot Potato' where they recited verses that contained the Sanskrit words they got. It was such a special treat for parents and the BalaVihar teachers gathered in the Smriti Hall to watch the enthusiasm of the children as they played this game!
Then as the results were announced, Brahmacharini Shweta Chaitanya lovingly commended all children as winners and congratulated them for their amazing and inspiring performance. The specific prize winners in each group were then announced:
Group 1 (KG to Grade 2)
First place – Ahana Rao
Second place –  Shyam Jayant
Third place – Cira Parikh and Samarth Srivatsan
 Group 2 (Grades 3-5)
First place – Pranav Sriram
Second place –  Prakruti Shenoy
Third place – Harini Ganesh, Diya Parikh and Gayatri Thatte
 Group 3 (Grades 6-8)
First place – Meghana Prabhakaran
Second place – Aditi Chaubal
Third place – Ayush Manoj
 Group 4 (Grades 9-12)
First place – Bhavya Kethireddipalli
Second place – Saaketh Rao
Third place – Rohit Narra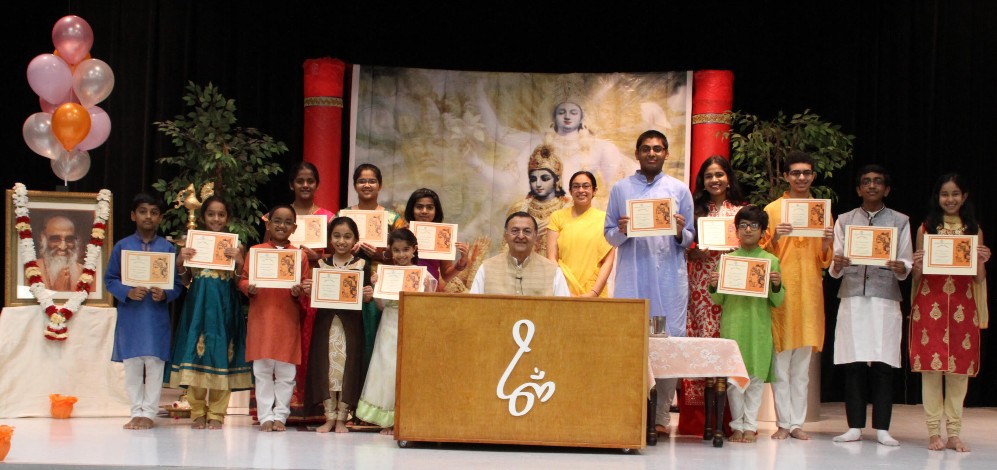 As this truly inspirational annual ritual drew to a close, everyone who were blessed to witness the competition were reminded yet again that children's lives are enriched in no small measure by drawing close to the glorious all-encompassing divine Bhagavad Gita.
Tradition steeped in wisdom, diffused with fun is the norm at Chinmaya Mission Houston, located at Chinmaya Prabha, 10353, Synott Road, Sugar Land, TX-77498. For more information, visit www.chinmayahouston.org or call Jay Deshmukh 832 541 0059.
---
Chinmya Utsav-2018, Celebrations at ParamDham, Ahmedabad
Dated : 2018/05/08

---

On the occasion of 102nd Janma Jayanti of Pujya Gurudev, Chinmaya Mission Ahmedabad celebrated "Chinmaya Utsav 2018" from 1st May to 8th May at ParamDham centre. Everyday of the Chinmaya Utsav began with early morning talks titled "Geeta for Yuva" by Swami Avyayananda. These talks for youth were based on the 18th Chapter of the Bhagavad Geeta. This was followed by a non-residential Balavihar Summer Camp "Bum Bum Bhole" led by Swami ji. The kids got to know Lord Shiva and adore him through beautiful stories and bhajans. Many fun games and activities such as snake show, clay modeling were also a part of the camp. In the evening a Jnana Yajna by Swami Avyayananda on "Tulasi na ShriRama" based on uttarakand of Shri Ramacharitamanasa was organized. Thus different programs were conducted for the entire Chinmaya family to come together and express their love and gratitude towards Pujya Gurudev.
On the 6th May a unique essay and drawing competition was organized across all age groups wherein in the youngest participant was of 4 years and the oldest was 85 years. The topics of the competition were inspiring quotes by Pujya Gurudev. It was a beautiful experience to see the whole family enjoying quality time together while painting or writing for Gurudev. During the week special Geeta chanting classes for learning 18th Chapter of the Bhagavad Geeta were also conducted by sevaks. The Chinmaya Utsav celebrations culminated into a grand finale on 8th May which included presentations by Chinmaya Balavihar kids, prize distribution to the winners of the completions, Pujya Gurudev's Paduka Puja and Mahaprasad. With more than 500 members of the Chinmaya family Ahmedabad coming together for the fulfilling Chinmaya Utsav 2018 celebrations, the event was a great success.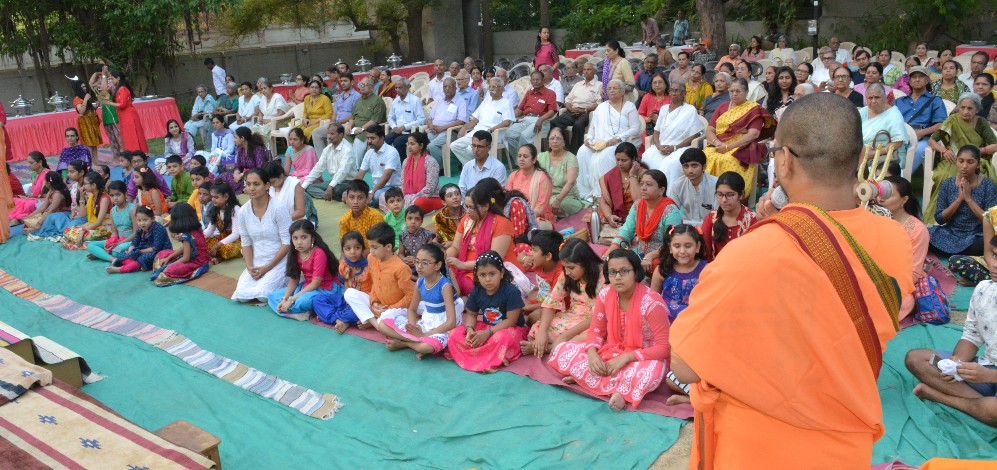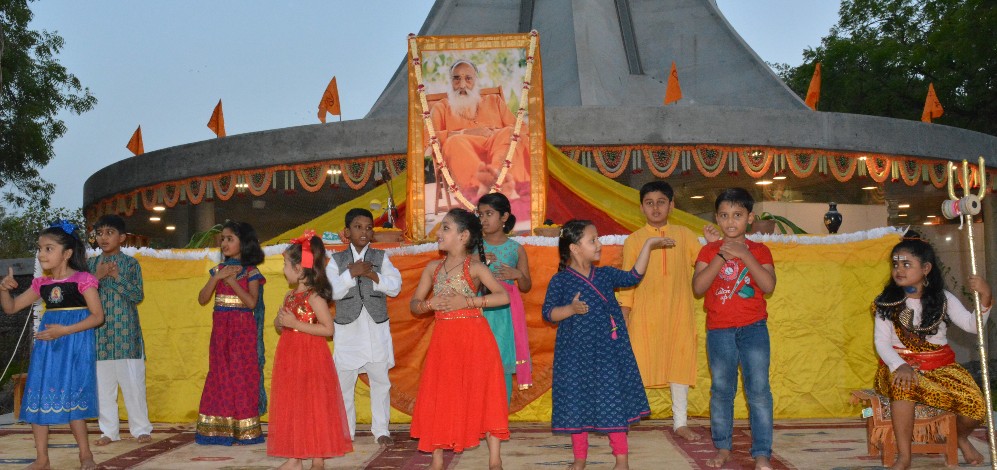 ---
Stay Tuned
Dated : 2018/05/05

---

Over 70 Chyks from Sydney staged an original theatrical production "Stay Tuned" for an audience of over 700.
A Story of a not so typical family as they discover their purpose and overcome the struggles to become free and happy.
A crisp, witty and meaningful production, with spectacular dance performances and subtle Vedantic messages conveyed of inspiration and empowerment urging audiences to understand themselves better and learn to enjoy their lives. Swami Swaroopananda, Global Head of Chinmaya Mission present there described the production as "brilliant".
The Chyks raised over $50000 from the show which will be donated towards CORD India and Sri Lanka and Chinmaya Education Cell.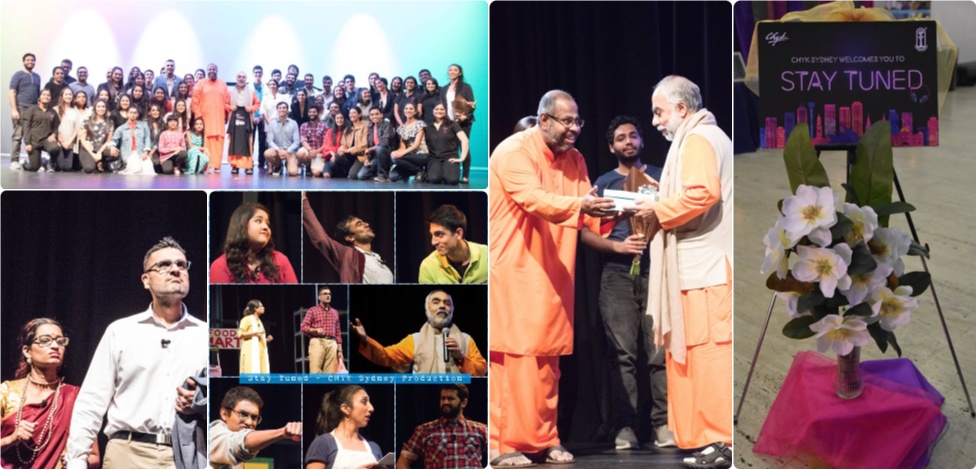 ---
Summer Camp 2018 at Chinmaya Vijaya, Vijayawada.
Dated : 2018/05/10

---

Come January, the Mumbai Bala Vihar  sevikas team headed by Smt. Shyamala Acharya ( comprising  Smt. Usha Sundaresan, Priti kadakia, Aruna Joshi and Manisha Deole) starts  gearing up for their annual camp at Chinmaya Vijaya, Kaza village, Vijayawada.
Year 2018 saw the 6th edition of the BV camp, titled 'Shakti'. Since these camps are held for 100-odd orphaned girls, all camp materials and essential basic necessities are procured at Mumbai and transported there. This year too, lots of stationery, lunch boxes and lunch bags, sanitary napkins, socks and undergarments were given to them. Of course all this was possible only through generous donations by scores of Mission members and well wishers.
Keeping up with the theme of 'Shakti', this year, we purchased 'kolu' steps and dolls, again thanks to the donors. Our 5 day camp included interactive workshops, hands on activities, physical exercise, work outs, a treasure hunt, BV sessions, a quiz and cultural presentations.
The highlight this year of course was kolu and the decoration of Devi.
Along with the children we too enjoy the entire process and the learning is mutual. We would like to mention here that this humble effort of ours is possible only through the blessings of Pujya Gurudev, Pujya Guruji , unwavering support from Swami Suveerananda , evergreen enthusiasm of  Drs. Sumati and Appa Rao and the help of support staff at the Vijaya ashram.
We hope to continue this spiritually satisfying endeavour in the years to come with the blessings of the Almighty and our revered Acharyas.
Enjoy a glimpse of the camp through photos attached.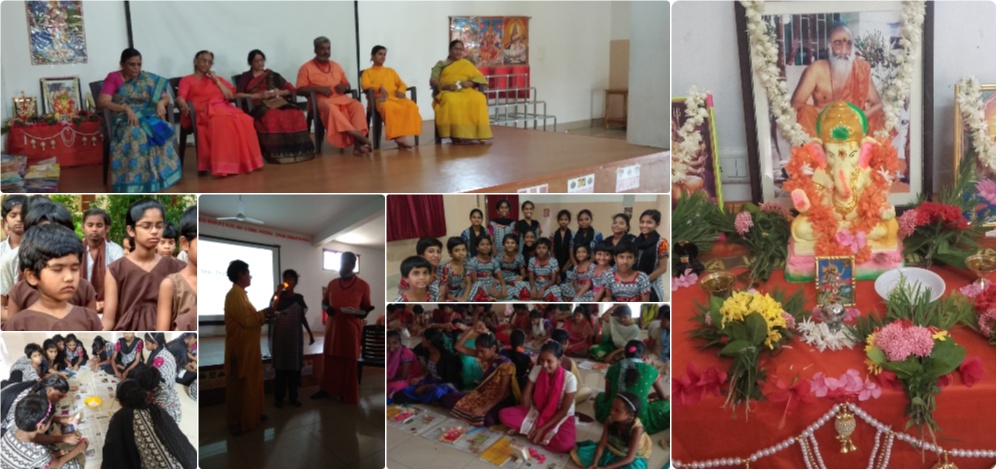 ---
Mother's Day Seva Project at Chinmaya Seva Centre, Singapore
Dated : 2018/05/13

---

Invaluable is the role of a Mother in her physical presence – but even higher and greater is that of the SHASTRAS in our lives. Both nurture and care for us guiding us to manifest our personal and highest best in life. The only difference being, a Mother is a benevolent gift of the Universe that comes to most of us unsolicited right when we take our first breath in this mortal realm – whereas the Shaastras, in spite of being ever-present … we have to consciously seek, relentlessly explore, passionately study and uncompromisingly implement to invoke its full Grace in our lives.
What better way to continue to love and serve in Pujya Gurudev Chinmayanandaji's name to commemorate His whole entire embodied life and the immortal legacy of wisdom, devotion and service He left behind than to conduct a Gnaan Daan in one of the most vibrant and Spiritually conducive spaces around, on the eve of Mother's Day – where KNOWLEDGE – encapsulated in the many wonderful Scriptural texts ingeniously expounded by our unparalleled Guru Parampara – the greatest gift to the human intellect, was handed out FREE to countless unsuspecting passer bys – initiating who knows, their first contact with understanding the Scriptures or helping them dive deeper with sounder wisdom into what they already know?
Yet another brilliant and immaculately executed Seva Project by Chinmaya Seva Centre, Singapore!
We wish you all a very Happy Mother's Day! May we revere and cherish both – the Mother that is in the physical form and the Mother that pulsates in and through the Om, thereby offering our sincerest gratitude to this life-giving, nourishing and sustaining SHAKTI of the Universe!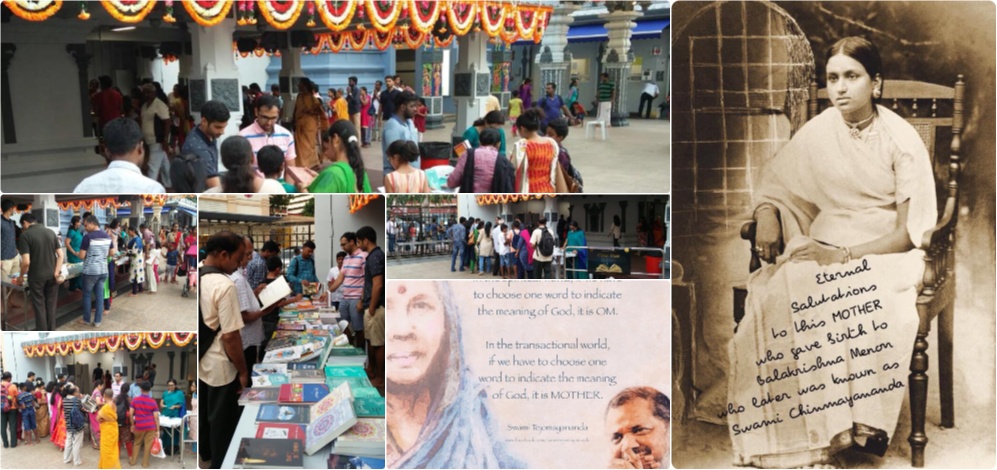 ---
Activities in Bengaluru during April 2018
Dated : 2018/04/30

---

Gita Jnana Yajna by Pujya Swami Krutatmananda
Pujya Swami Krutatmananda of Hubli & Dharwad centres conducted a Gita Jnana Yajna in Kannada at Deenabandhu Temple, Indiranagar from 22nd to 28th April, 2018 taking Bhagavad Gita Chapter – 14. The Yajna was inaugurated by Sri Ravikumar, senior devotee of the Mission. Pujya Swamiji explained that the essence of the Gita is to inspire us to know our own real nature. God is not somewhere outside but our very inner core. Each individual creates his own Jagat based on raga and dwesha. It is extremely important to rise above all the three Gunas and lead a calm life without getting perturbed by the dualities with the firm understanding that outer objects have no influence on our mind.
The Yajna was very well attended.
Geeta Jnana Yajna by Pujya Swami Aparajitananda
Pujya Swami Aparajitananda of Mangalore centre conducted a Geeta Jnana Yajna in English on Mukunda Mala in Snea Bhavan, Sahakaranagar from 24th to 30th April, 2018 The Yajna was inaugurated by Smt Thangam Nambiar, senior devotee of Pujya Gurudev.
Real devotion, Swamiji explained is in forgetting all body consciousness and trying to merge with the Self. Sin is not in any action, but the sense of doership which starts pricking the conscious. The greatest tragedy of the human mind is in associating with the body and the actions performed then leads to untold misery boosting one's ego. Total surrender at the lotus feet of the Lord or Guru helps in coming out of this shackle and all actions performed with the attitude of seva and non possessive nature gather beauty and efficiency in them. All our epics deal with such stalwarts who have shown the golden path by their very day to day living to inspire all future generations.
The Yajna was very well attended.
Deenabandhu Pratishta Day
Pratishta Day of Deenabandhu Kaliamardhana Krishna temple in Indiranagar was observed on Sunday, 29th April, 2018 with nonstop bhajans, abhisheka to Lord Ganesha, Krishna and Hanuman followed by alankara and aarati. The wonderful soul stirring melodious bhajans by various groups lent a unique divine atmosphere with Swamijis of Karnataka gracing the occasion.
Kalia Mardhana Krishna idol was first installed on 5th March, 1978 and was concecrated by Pujya Gurudev Swami Chinmayananda on 24th March, 1978. "You will realise the glory of this temple after 10 years", prophesized Pujya Gurudev. Extension of the temple hall was undertaken in 1987 and the pratishta of Lord Ganesha and Hanuman was done by Pujya Gurudev on 3rd March, 1988. The needs of the ever increasing devotees needed one more extension and the renovation was taken up in 2011 and the renovated temple was inaugurated by Pujya Swami Tejomayananda on 13th May, 2012.
The Kalia Mardhana Krishna idol is carved out in single black granite piece with the Lord dancing on seven hooded serpent representing the negative tendencies and only when we surrender completely to the Lord, He will ensure that we overcome the negative tendencies and in due course realise the Supreme Brahman. The significance of the Lord's triumph over the serpent is also the symbol of triumph of spirit over matter. Deenabandhu Krishna is flanked on the right by Lord Ganesha representing auspiciousness and on the left by Lord Hanuman representing valor and humility.
Satsang by Pujya Swami Brahmananda
Pujya Swami Brahmananda participated in the famous Ramanavami celebrations on Monday, 9th April, 2018 at N R Colony Rama Mandir where a galaxy of philanthropists from all over the city were present. Pujya Swamiji took Sharanagati extolling the glory and beauty of total surrender by Hanuman at the feet of his Lord. In a power packed emotional outpour, Pujya Swamiji took the audience to untold heights of divine ecstasy urging all to develop the qualities of Hanuman for a healthy family and society. The Satsang was attended by thousands of devotees from all over the city.
Balavihar Summer Camps in Bengaluru – 2018
Summer camps for children were organised in eight different venues across the city throughout the month of April – 2018 with duration of each camp ranging from 12 to 15 days. The camps were attended by not only the Balavihar children but also from the local neighbourhood with average attendance of 50 to 70 children. The theme of the camps also was unique – Humanity to Divinity, Great Rishis in our culture, characters of Ramayana, Bharatanatyam, different forms of painting, paper art, chalk art, rice art and puppet show. The camps also introduced several new bhajans, shlokas, stotrams, unheard stories from our puranas, quiz and unique character building techniques that were very well received by the children. The children also put up on the spot skits conceived, managed and staged in their own unimaginable perfection that left the elders dumbfounded. The camps also saw the children learning new chapters of the Bhagavad Geeta and participating in many social activities like street cleaning, creating awareness of traffic & law maintenance, gardening, language skills, cooperative living and working. Pujya Gurudev's vision of children being the nation builders was clearly visible.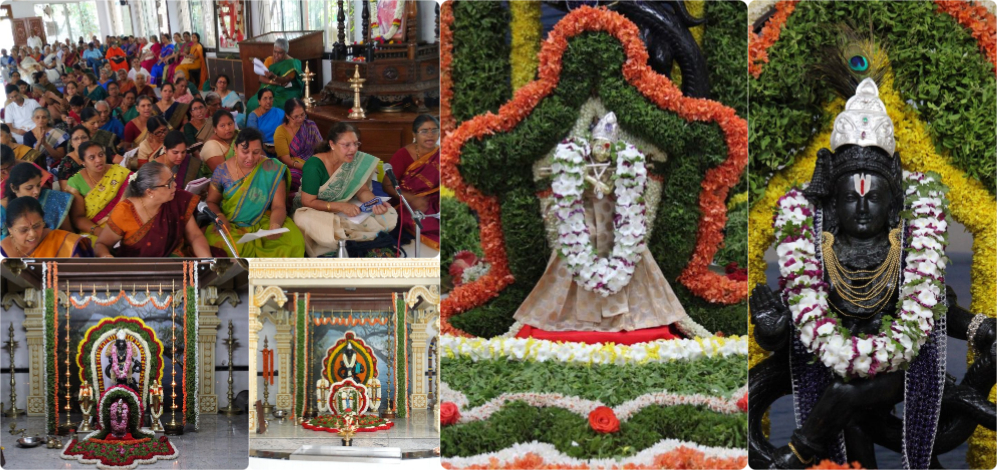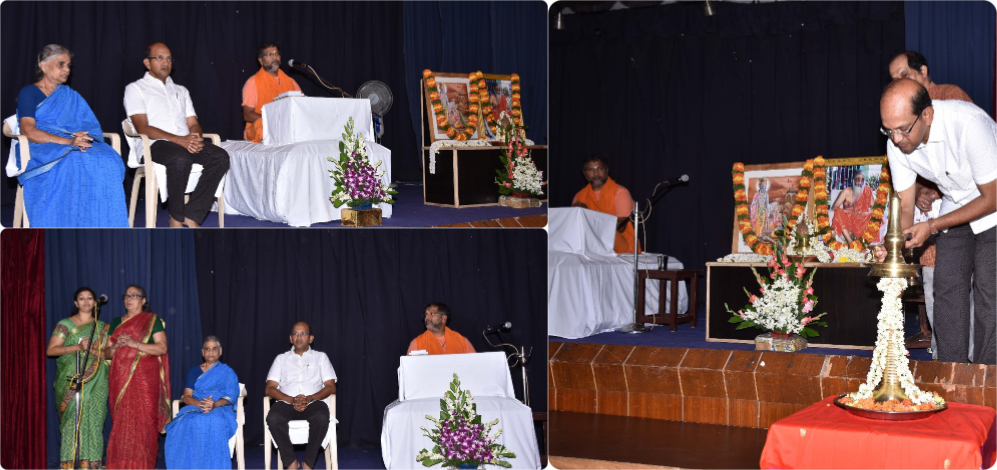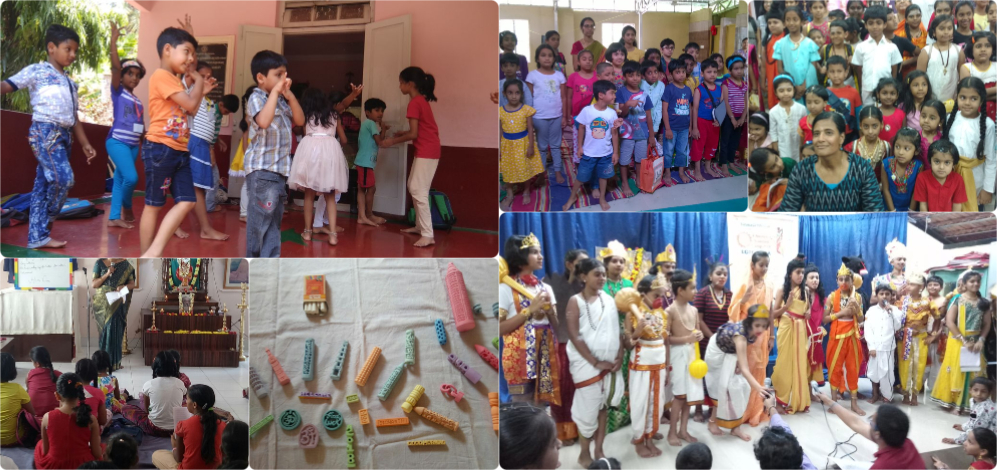 ---
Chinmaya Shubh Sahas 2018 – Adventure Camp for CV students
Dated : 2018/05/08

---

86 students from 11 CVs participated in this 16 th Shubh Sahas – adventure camp for organised by CCMT-EC at Chinmaya Gardens, Coimbatore from 5 th to 8 th May 2017. The camp was conducted by team from Sieger Training Consultants, Chennai. Swami Anukoolananda inspired the students in the inaugural talk to break the boundaries and achieve greatness with fearlessness. Students enjoyed the activities like flying fox, artificial wall climbing, archery, bamboo walk, Tarzan swing, commando net, fire and glass walk and Burma-bridge, overcoming fear and gaining self-confidence.
Students got an opportunity to learn basics of aerobics at CIRS. Br. Sanatan Chaitanya, Spiritual guide, CIRS motivated the students on growing from within. Evening Aarti, bhajans and Gayatri Hawan provided the inner strength and spiritual development to the students. Students celebrated Gurudev Jayanti with anecdotes of Pujya Gurudev and Paduka Pooja conducted by Swamini Sampratisthananda. The camp gifted numerous life skills not only the students and but also empowered the accompanying teachers.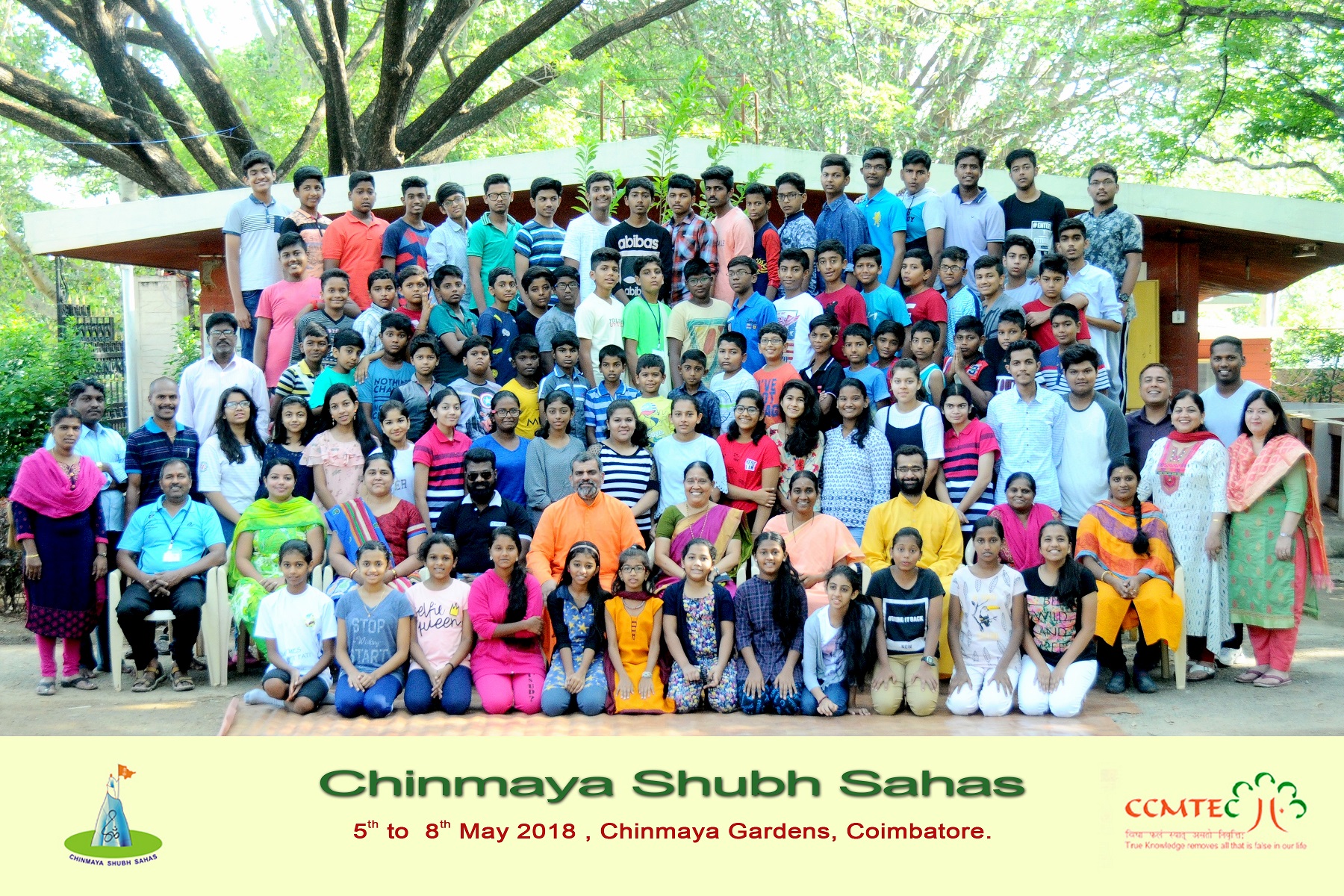 ---
2018 Chinmaya Jayanti Celebrations at Chinmaya Seva Centre, Singapore!
Dated : 2018/05/08

---

"I know nothing about others. I only love them ardently, fully, unreservedly. In that love I act shamelessly, freely, easily, openly. Whether they feel benefitted, degraded, roughed up or mishandled, I don't care! I enjoy such contacts – and I cherish such a life of pure and free love."
~ Gurudev
To such a Master – who is a never ending sea bed of pure love, a fathomless ocean of compassion, a firmly anchored lighthouse of serenity … our loving offering … incessant waves of heartfelt chants of His 108 names a 100,000 times.
He was there – His Grace invoked – we felt Him – beyond ALL doubt!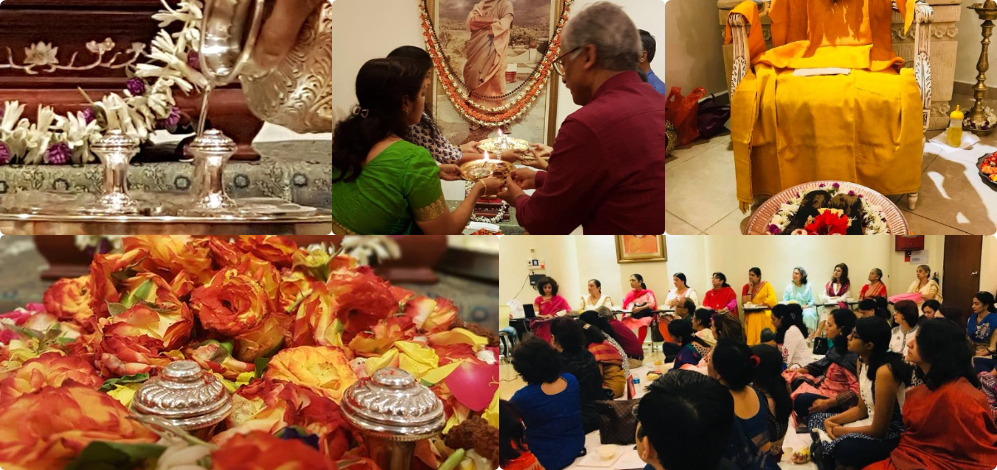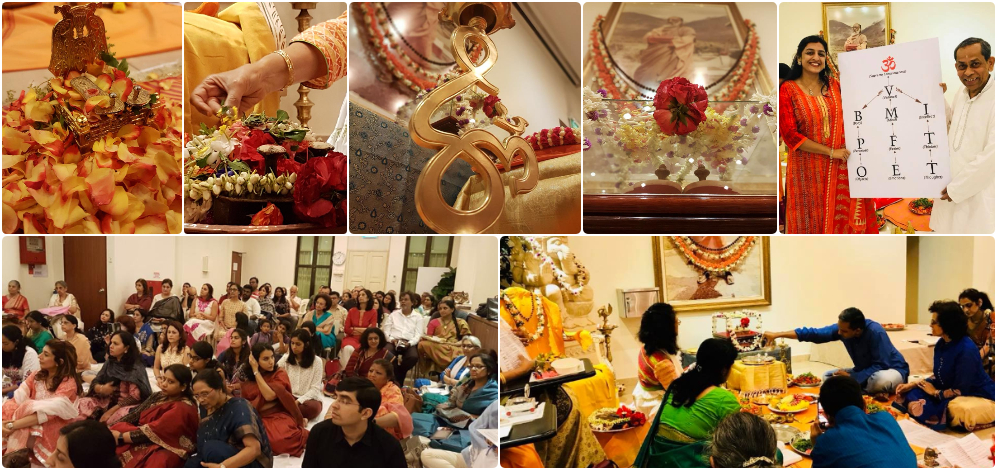 ---