News


To understand anything is to find in it something which is our own.
-Swami Chinmayananda
Archival News/Other News
Gurudev's Seva Day in Singapore
Dated : 2018/05/05

---

As Sevaks and Sevikas, our Mission motto that has been instilled into us through Vedantic teachings, devotional gatherings and the Seva we put our hands up to render, – "maximum happiness to maximum people for the maximum time"… which we then pass on to our students, through the countless classes we run right through the year, year after year, YET AGAIN – found the most BEAUTIFUL expression IN KIND today!
Our entire strength of Shishu Vihaar, Balavihar, JChyk and Chyk students from age 5 all the way through to age 35 came together, like never before, with an overwhelming show of generosity on ALL LEVELS to provide gift hampers of toiletries, fruits and delicious Indian sweets, to close to 700 TRANSIENT WORKERS who, having left their families behind in their home countries, come in search of bare minimum wages here to Singapore and tirelessly build the fancy condos we live in, construct the air conditioned public transports we roam around in, keep Singapore squeaky clean for us to enjoy our life in – for who, these bare essentials, which we, the privileged lot take so for granted, are but coveted luxuries – and what an exchange it turned out to be!
An avalanche of Gratitude from our side to give and give and give and tearful appreciation from them to receive in quite frankly a stupefied awe and simmering reverence.
Honouring our beloved Pujya Gurudev Chinmayanandaji's Vision in life – to learn, to spiritually grow, to love and to endlessly serve – TODAY, we the Balavihar Team of Chinmaya Seva Centre – Singapore, along with our students and their wonderful parents, commemorated Gurudev's 102nd BirthDay – just how He would have liked it best!
A heartfelt Thank You to ALL involved and we eagerly look forward to having you all join us.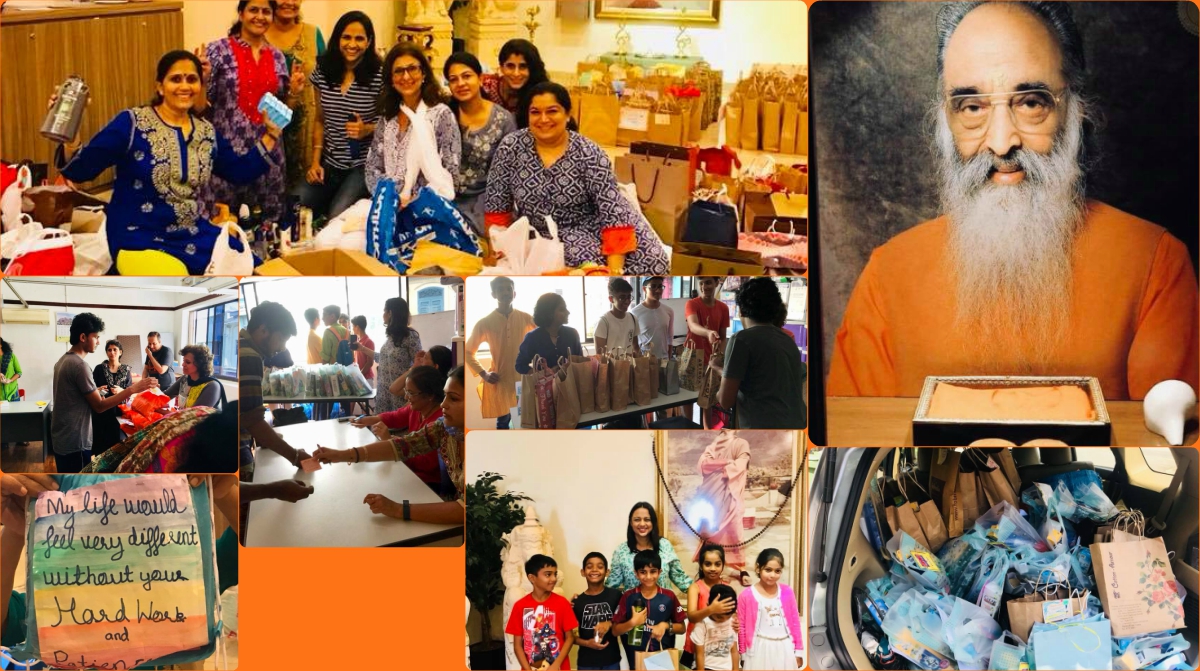 ---
Setukari Workshop held at Paramdham, Ahmedabad
Dated : 2018/04/29

---

On Sunday, 29th April 2018 a workshop led by Swami Avyayananda ji was conducted for Chinmaya Setukaris (31 to 45 years) at ParamDham.
The workshop started at 6:30 am in the morning with Gayatri Havan. Discussing the differences between the "Games in life" and the "Game of Life" Swami ji very beautifully explained that the Game of life can be won only when we are able to Love all (i.e. when the score is 0-0) which is the starting point of all games in life. The key to win is in unwinding and tracing back our roots. Swami ji guided all on this art of reaching the roots from empirical as well as absolute standpoint.
The workshop also included an interactive session with the members of Chinmaya Yuva Kendra in order to understand the younger generation better. Group discussions on certain leading questions made the participants reflect and identify the qualities one needs to cultivate in order to effectively build a bridge between the generation of Youth and elders. Through activities and fun games all learnt the practical ways of connecting with one's chore and re-kindling the child within. Thus shedding the layers of conditionings when we open up fully, only then can we really become a true Setukari and bridge the gaps.
The explanation through Pujya Gurudev's BMI chart and screening of relevant episodes of Upanishad Ganga television series, made all realise one's role as Setukaris in the big picture of life.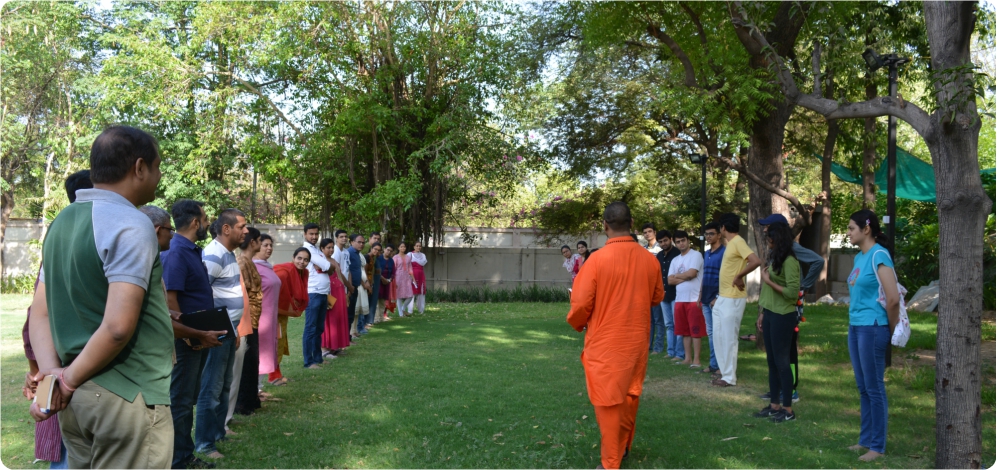 ---
Chinmaya Quotient 2017-18 – CQ – II
Dated : 2018/04/21

---

All CV CQ Quiz II' for the staff of CVs was organised by CCMT-Education Cell in 2017-18. With aims and objectives to strengthen understanding of Pujya Gurudev's Vision on Education and bond with the Chinmaya Vidyalayas
 All India Chinmaya Quotient Quiz 2017-18 was conducted in three stages based on the book 'Manifesting Divinity' and 'Chinmaya Drishtis. 2880 staff members from 65 schools participated in the first written round. 199 teachers took part in the second zonal round which was a written quiz. 26 teachers from 12 CV's were selected for the final round held on April 21st, 2018 at Chinmaya International Residential School, Coimbatore. Grand Finale witnessed 5 participants enthused with high Chinmaya Quotient. Swami Anukoolananda, the Resident Director, CIRS and the member, CCMT-EC was the Quizmaster. Swamini Samprathisthananda, Kum Manisha Khemlani and Smt. Meera Jackson were the judges for various rounds.
The final winners were:
Smt Rajeshwari, CIRS, secured the first position,
Smt. Ch. Swapna, Sricity CV, Tada the second position and
Smt. Vijaya Lakshmi Mohan, CV Virugambakkam the third position.
The Chinmaya Vidyalaya Bokaro sponsored the cash awards for the first, second and the third prizes; Rs. 30000, Rs. 20000 and Rs. 15000 respectively.  Smt. Manju Rawat, CV Unchahar and Ms.Sheeja Alakkat, CV Kannur secured the fourth and fifth positions respectively and were awarded Rs. 5000 each. All other finalists were awarded a cash prize of Rs. 1000 each. All the finalists also received a certificate signed by Pujya Swami Swaroopananda and Pujya Gurudev's Om lamp.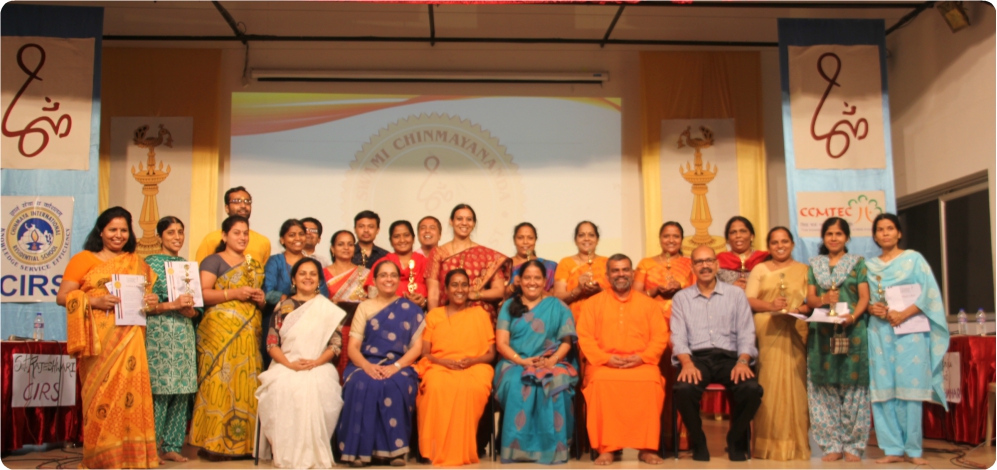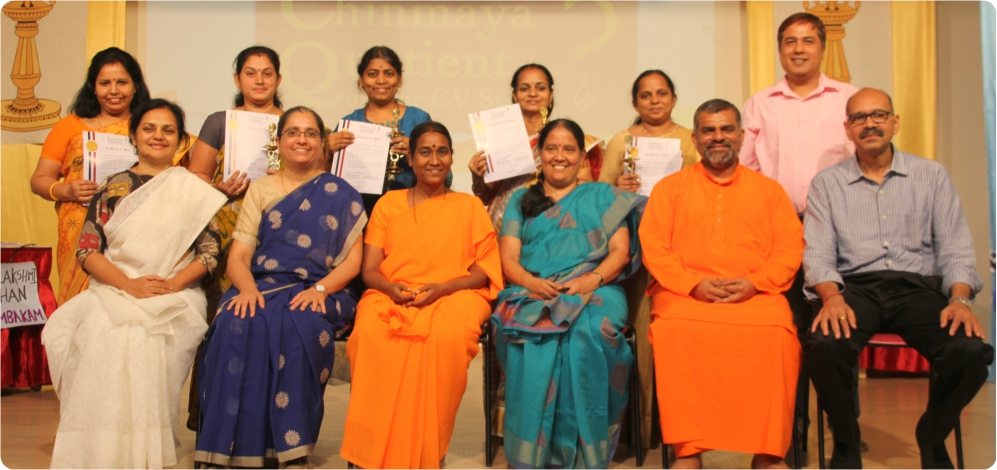 ---
NV Chinmaya Vidyalaya Student Won Gold Medal in AAF
Dated : 2018/05/02

---

NV Chinmaya Vidyalaya – Shegaon, is proud of Kumar Prajwal Lalit Chandak, their Std 3 student. Prajwal participated in the Asian Aerobics Championship 2018, organized by Asian Aerobics Federation (AAF), in Pattaya city, Thailand. 12 countries participated, and Prajwal won the Gold Medal, in the under 12 category.
Aerobics needs high stamina to test ones cardiorespiratory fitness. When a very active child is guided by the Vidyalaya & implicitly followed by the conscientious parents – the result is an achiever like Prajwal. Prajwal has shown his skills of body-mind balance, focus and concentrated practice.
The Director of the Vidyalaya, Swamini Ujjwalananda, along with the Principal, Shri PRS Chakravarthi, congratulate Prajwal and his supportive parents.
---
Swami Ramakrishnananda taught Life Management from Valmiki Ramayana
Dated : 2018/04/22

---

From 17th to 22nd April 2018, Swami Ramakrishnananda taught Life Management and Leadership Lessons from Valmiki Ramayana to 20 campers at Chinmaya Vibhooti Vision Centre. The camp was also attended by many Chinmaya Vibhooti and Chinmaya Naada Bindu Gurukula team members.

Swamiji took great efforts to impart life-orientated topics and values that are essential for not just one's career but also for one's life in general. Through various episodes of the epic, Swamiji shared thought-provoking insights into the subtlest of nuances of Sage Valmiki's masterpiece. During the camp, On A Quest was screened, as well as some Upanishad Ganga episodes.

Adi Sankaracharya Jayanti was celebrated on 20th April at Swanubhooti Vatika, the enlightenment park at the Vision Centre. 90 pracharaks of Rashtriya Swayamsevak Sangh (RSS) also attended the programme, which included short talks by Swamiji and Shri Suresh Soni of RSS. Shri Mohan Bhagwat (Sarsanghchalak or Chief of RSS) joined Swamiji in performing aarti to the majestic statue of Shri Adi Sankaracharya.

This and also the rest of the camp had a heartfelt feel to it, thanks to the presence of Swamiji, whose clarity and creativity was appreciated by all campers.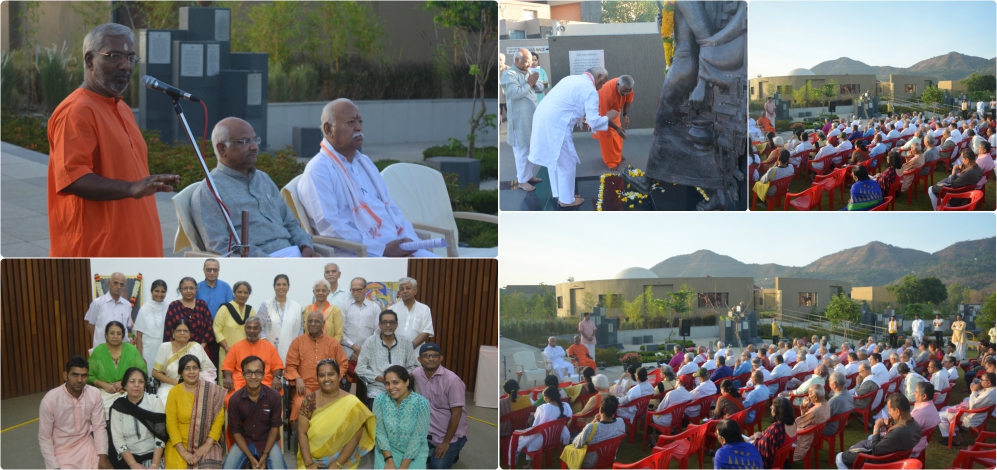 ---
Bhagwan Sri Adi Shankaracharya Jayanti celebrations in CM Singapore!
Dated : 2018/04/20

---

Another beautiful set of memories of another beautiful Day of Remembrance celebrated at Chinmaya Seva Centre – Bhagawan Sri Adi Shankaracharya Jayanti along with Pujya Gurudev's Paduka Puja.
May the blessings and Grace of our Guru Parampara keep us on the path of virtue courage and wisdom, bound to each other as one family as we join hands and hearts to serve their people – the highest service of all!
---
Sri Ramanavami celebration at CM Jaipur
Dated : 2018/03/25

---

Sri Ramanavami celebration at CM Jaipur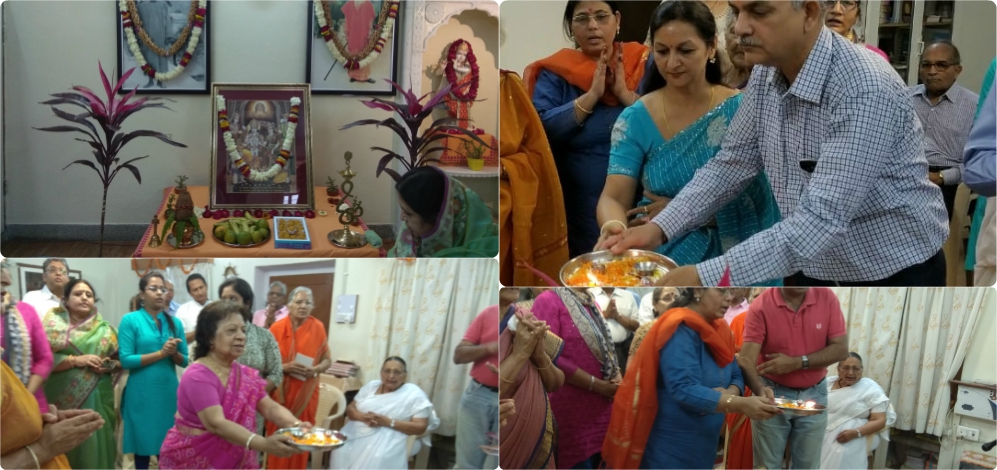 ---
Ramnavami Celebration at CM Delhi
Dated : 2018/03/25

---

Devotees and Mission members await the auspicious festival of Ramnavami. This year was no different. The Puja to celebrate Rama janam was led by Swami Prakarshananda at Chinmaya Mission Delhi. He was assisted by Anand Sharma and Brni. Mithlesh and Ranjana. The morning reverberated to the sound of bhajans and chanting. The celebrations reached a crescendo with the birth of Shri Rama as each one prayed to the Lord in their hearts. The invocation of blessings concluded with an Arati to Bhagavan and Pujya Gurudev. The icing on the cake was the sumptuous Bhandara thereafter.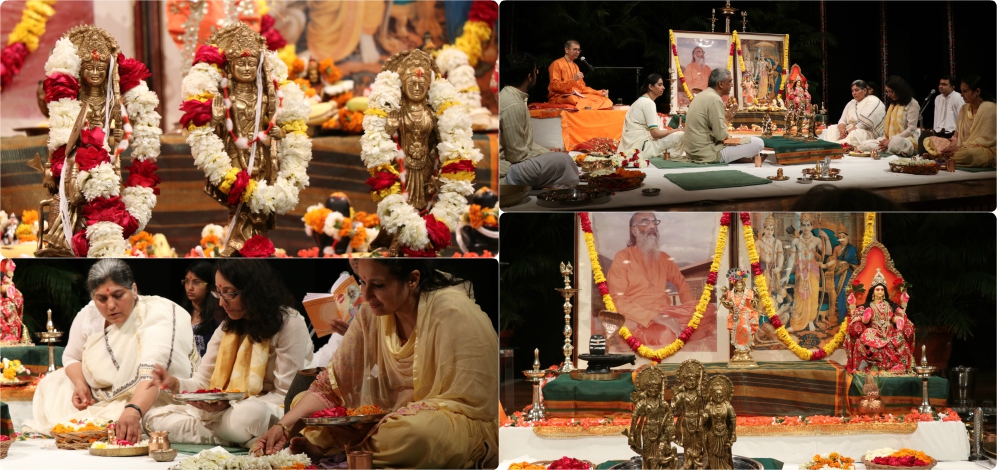 ---
Hanuman Jayanti celebrations at Chinmaya Seva Centre Singapore
Dated : 2018/03/31

---

The MANIFESTATION of GOD is not what we expect to see as a Cosmic Form appearing out of nowhere, to shock and awe and perhaps maybe to bless. But it is that unstoppable effervescent literally bubbling over feeling of ecstatic Joy that we experience within the caves of our own Hearts – when we offer ourselves to Him in complete devotion … lost to the world – just us and Him – a dialogue guised as an incantation that takes us to the depths of our own Being – where we FEEL Him in a feeling that is irrefutable!
And we ALL felt Him – pouring out as Love!
Our BIGGEST and MOST EXUBERANT gathering for Hanuman Jayanti yet – and we thank you all for your devotionally charged, energetic participation! Here's to many more occasions to come together as ONE and whole heartedly Praise the Lord! Stay tuned for our next exciting events!
---
Sita Rama Kalyanam Celebrations at Chinmaya Prabha
Dated : 2018/03/25

---

Sita Rama Kalyanam brings divine joy to Chinmaya Prabha
Rama Navami, the day Bhagavan Rama incarnated on earth, is a day of great joy. This year, the auspicious occasion of Chaitra Masa Shukla Paksha Navami was celebrated on March 25th. Conducting Sita Rama Kalyana Mahotsava on Rama Navami, Chinmaya Mission Houston (CMH) highlighted the great Agamika tradition of the divine wedding ceremony echoing the famous celebrations in South India, particularly in Bhadrachalam, Telangana.
Celebrating Sita Rama Kalyanam is a tradition where the utsava murti of Lord Rama and Sita Devi are brought forth in a procession and their marriage is performed as between a bride and bridegroom. Since Lord Rama represents Knowledge and Mother Sita personifies Devotion, this union symbolizes the secret to the most fulfilling way of life. Thus, through the holy ceremony of Sita Rama Kalyanam, the blessings of the divine couple are invoked for the welfare of the world.
CMH began preparations for this most significant event from weeks before, with multitudes of volunteers who poured their hearts and efforts to set the stage for the festivities. On Sunday, March 25th, the excitement started building up early with many eagerly gathering an hour before the event. The Saumyakasi Sivalaya courtyard was transformed into a giant wedding hall in Janakapuri, with a shining wedding mandap at its focus. There was an excitement of being at a wedding, one of divine royalty, yet there was inner serenity of being at a spiritual event. The event began with kids and women dancing to bring the bridegroom, Rama's utsava murti, from the gates. Every aspect of the ceremony was projected on a big screen to enable all the hundreds who were seated in the courtyard to witness and enjoy the entire proceedings. All the Bala Vihar children were given the pride of place to watch the Kalyanam since it portrayed Hindu culture at its festive best.
As Rama was ushered with petals, SriGanesh Satyanarayana officiated as the main Priest for the Kalyanam assisted by Priest Raghuram Bhatt. The procession to bring Maa Sita to the wedding mandap was led in by Brni. Shweta Chaitanya. As the Bhajan team added melodious music to the atmosphere, the steps of the wedding ceremony, complete with Mangala Sutra dharana transported all to Mithila. Acarya Gaurang Nanavaty, lovingly known as "Uncle," performed all the ceremonies as the hundreds assembled watched in rapt attention.
Even the weather participated gently, as a gentle breeze blew and the Houston skies balanced clouds and sunshine. CMH followed even the minutest detail of tradition as all devotees were served water, flavored majjige (buttermilk), lemonade, and sweets after the divine wedding. As the event came to a close, everyone had a special darshan and all were treated to a sumptuous mahaprasadam.
Sri Rama is the ideal representation of Dharma, and Rama Navami along with Sita Rama Kalyanam offers an awe-inspiring opportunity for all to reflect within and attempt to live His ideal traits. CMH's strong traditional connection, being rooted in Swami Chinmayananda's deep scriptural insights coupled with Karma yoga transformed a traditional event into a memorable spiritual journey filled with joy, also guiding one to focus on the inward expedition.
Wisdom of the ages, blended with practical application and fused with fun is the norm at Chinmaya Mission Houston, located at Chinmaya Prabha, 10353, Synott Road, Sugar Land, TX-77498. For more information, visit www.chinmayahouston.org or call Jay Deshmukh 832 541 0059.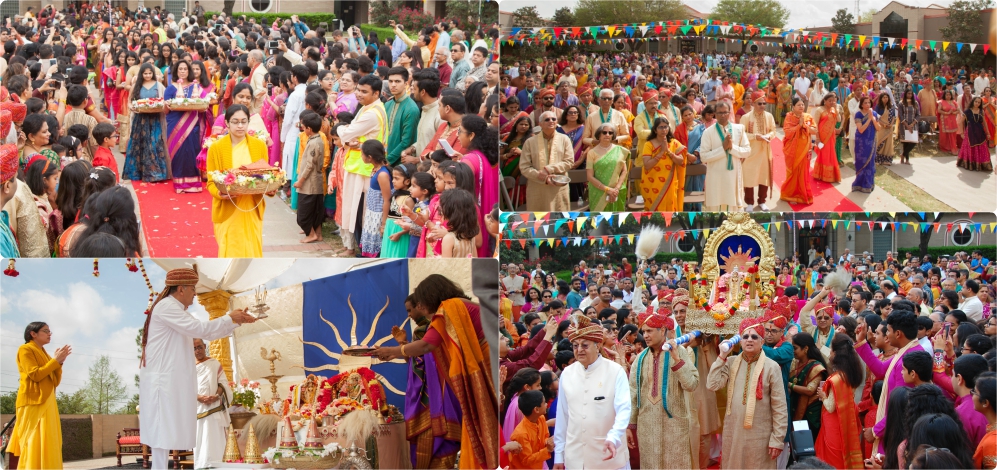 ---