Chinmaya Aradhana Puja at Chinmaya Centre of World Understanding, New Delhi
"Remembrance is the greatest form of love and worship…His (Gurudev) remembrance is a remembrance of the love, the joy, the happiness and ananda that He is." Swami Swaroopananda. On a very pleasant Thursday morning blessed by the cooling touch of Pavan Devata, devotees gathered at the Pratima Sthal to offer their gratitude and reverence to Pujya Gurudev on his Mahasamadhi day. Swami Prakarshananda performed the abhishek along with the mukhya yajman as the atmosphere resounded with the chanting of Vedic hymns led by Anand Sharmaji and Brni. Vrinda. The multi-faceted personality of Pujya Gurudev, his extraordinary karma, His Divine virtues, his Absolute nature – surfaced in the mind to the melody of Swami Prakarshananda's heartfelt chanting of the 108 names of Pujya Gurudev. The puja concluded with aarti and mahaprasad. An added blessing was a sip of the jal from the sacred Mansarovar – thanks to Pujya Swamiji who has recently returned from a succesfully concluded yatra to Kailash Mansarovar. Swamini Gurupriyananda was present, as always, to pay homage to her beloved Master. August 3 rd is observed as Sadhana Day worldwide in the Chinmaya Family. To help us on our path, Swami Prakarshanada's message enumerated three sadhanas that we should practice: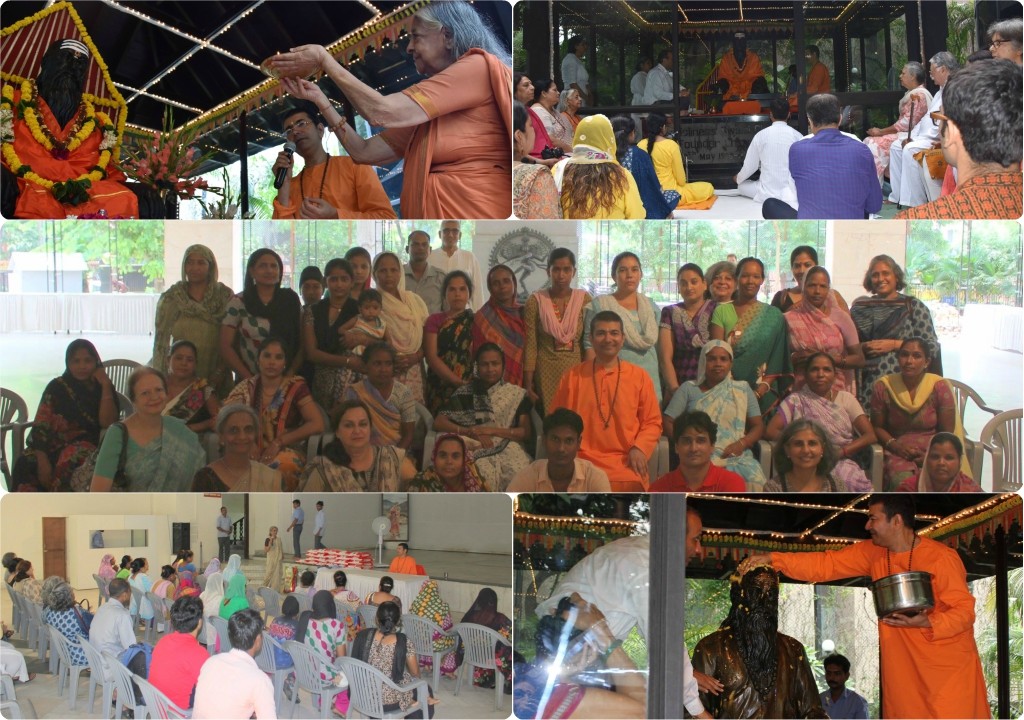  Maintain extreme awareness towards negative thoughts arising in the mind; to discipline the mind every time a negative thought crops up resolve to write, "Om Shri Chinmaya Sadgurave Namah" 108 times. This is the only way to root out negative thoughts; otherwise such thoughts will continue to grow unabated.
 Drop insistence; we can try our level best but after a point insistence (about a particular result) should be dropped from the mind. This is a very subtle sadhana.
 Be completely selfless. How do we know if the action is selfless? When we are not perturbed by any comments passed in relation to the action (because the action has been performed for the sake of the Lord, as His worship), then the action is selfless.
Following through on Swamiji's instructions will make every day a Sadhana Day, true worship of Our Pujya Gurudev.