23rd Annual Mahasamadhi Camp
Start Date : 31 Jul 2016 TO End Date : 04 Aug 2016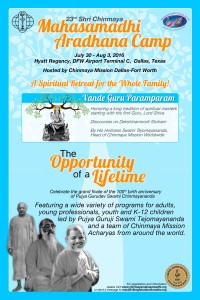 This camp will indeed be a special event, as it culminates the centenary birth celebrations of Pujya Gurudev Swami Chinmayananda. It is perfectly befitting that the theme of the camp chosen by Pujya Guruji is "Vande Guru Paramparam" enabling us to offer salutations to the gurus who helped us explore our rich cultural heritage.
The highlight of the 2016 Mahasamadhi camp, without doubt, will be Pujya Guruji Swami Tejomayananda's discourses; bringing us the principles of eternal truth of life in a straightforward manner. We are all in for a treat, rousing our thinking with the thunderous declarations of the Shrutis; answering the questions of life that have long been in our hearts and minds.
This will be an all-inclusive summer retreat for you and your family where each of you can discover yourself and your rich spiritual heritage.  You can look forward to a relaxing, spiritually enriching experience with engaging programs. Activities are designed for all ages including K-12 school age children, youth, young professionals, adults, and seniors. There will be ample opportunities to interact with Acharyas and other Chinmaya family members. The program will also include yoga, meditation and a daily cornucopia of sumptuous vegetarian meals.
Please visit: www.chinmayamahasamadhi.org for more details.
Other Details
| | |
| --- | --- |
| Facilitator | : Swami Tejomayananda |
| Type | : Camp |
| Venue | : |
| City | : Dallas |
| State | : Texas |
| Country | : USA |
| Centre | : Central Chinmaya Vanprasth Sansthan |
Contact
Quick Contact

--

msc2016registration@cmdfw.org