Chinmaya Birth Centenary Celebrations Global Launch.
Start Date : 2 Jan 1970 TO End Date : 01 Jan 1970
May 8, 2016 marks the birth centenary of Pujya Gurudev Swami Chinmayananda.
To commemorate this momentous occasion, Chinmaya Mission is setting in motion year-long celebrations on May 8, 2015. On this day, the Chinmaya Birth Centenary Celebrations (CBCC) worldwide will be launched, with a 3 day Global Launch Ceremony at Ernakulam, the birthplace of the Ageless Guru.Pujya Guruji Swami Tejomayananda, Head, Chinmaya Mission Worldwide will inaugurate the Birth Centenary Celebrations.
Highlights
Chanting the entire Bhagavad Gita by more than 30,000 people
Flagging off -the Chinmaya Sandesha Vahini by Pujya Guruji Swami Tejomayananda.
Discourses by eminent speakers and Acharyas from within and outside the Mission
Acharya Sangamarn
Daily Puja/Havan
 Exhibition, Book Stall and special food courts and excellent takeaways
Cultural programs by renowned artistes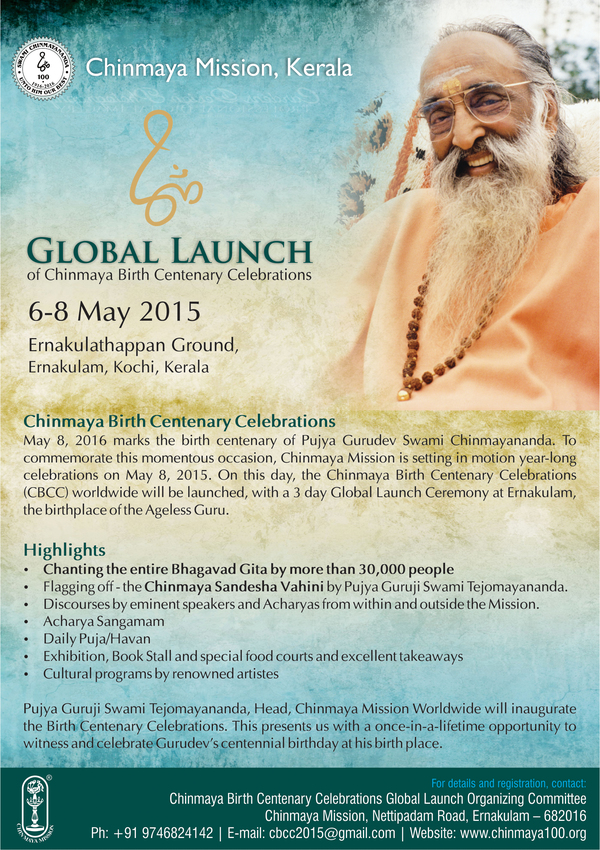 Other Details
| | |
| --- | --- |
| Facilitator | : Swami Tejomayananda |
| Type | : Other |
| Venue | : |
| City | : Ernakulam, Kochi, |
| State | : Kerala |
| Country | : India |
| Centre | : 630 : Chinmaya Mission Ernakulam |
Contact
Chinmaya Birth Centenary Celebrations Global Launch Organizing Committee
Quick Contact

+91 9746824142

cbcc2015@gmail.com