Chinmaya Mission Pune organises Geeta Ch 04 Camp in Marathi
Start Date : 23 Sep 2016 TO End Date : 25 Sep 2016
Chinmaya Mission Pune organises
Bhagavad Geeta Chapter 4 Study Camp in Marathi Language.
Camp Dates:
Saturday 23rd to 25th September 2016
Camp Acharya:
Swami Siddheshananda
Assisting Camp Acharya
Brahmacharini Maitreyi Chaitanya
Camp Venue:
Chinmaya Maauli Ashram:
Chinmaya Nagar, Survey No.16, Wadgaon Shinde Road,
Lohagaon, Pune - 411047.
Land Marks:
Behind Airport, Before MMIT College, Opposite Janardan Nagar,
[ For GPS / Google Maps search "chinmaya maauli". ]
For Transport assistance call on the numbers given below.
Camp Donation:
Rs. 1500 ( Includes stay and food arrangement )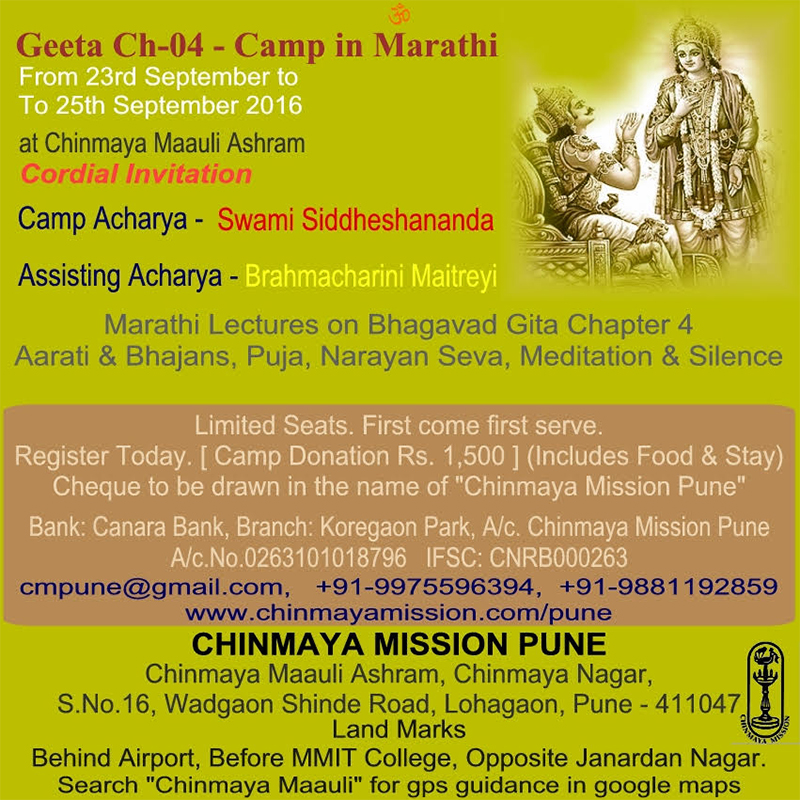 Other Details
| | |
| --- | --- |
| Facilitator | : - |
| | : |
| | : |
| Type | : null |
| Venue | : |
| City | : Pune |
| State | : Maharashtra |
| Country | : India |
| Centre | : Chinmaya Mission Pune |
Contact
+91-9881192859, +91-9975596394 cmpune@gmail.com
Quick Contact

+91-9881192859, +91-9975596394

cmpune@gmail.com