Tribute to the Guru Parampara
Start Date : 2 Apr 2016 TO End Date : 03 Apr 2016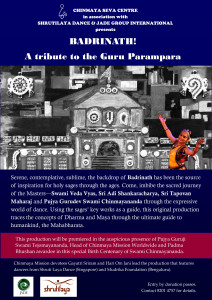 Serene and contemplative, the sublime backdrop of Badrinath has been the source of inspiration for holy sages and masters through the ages. Come, imbibe the sacred journey of the Masters— Veda Vyas, Sri Adi Shankaracharya, Sri Tapovan Maharaj through the expressive world of dance.
Using the sages' key works, this original production traces the complexities of Dharma as seen in the Mahabharata, through the entanglements of Maya, described in Maya Pančakam, and the final way out for Man as declared in the Bhagavad Gita.
This is after all the journey of all seekers, in particular, one young seeker who heard his calling in Badrinath...
 Please
download the flier
here.
Other Details
| | |
| --- | --- |
| Facilitator | : - |
| Type | : Other |
| Venue | : |
| City | : Singapore |
| Country | : Singapore |
| Centre | : Central Chinmaya Vanprasth Sansthan |
Contact
Quick Contact

+6582014757