Hanuman Carnival Family Fun Day
Start Date : 10 Jun 2016 TO End Date : 09 Jun 2016
The Hong Kong Chinmaya Foundation (HKCF) brings the first ever Hanuman carnival to Hong Kong on June 9th, 2016, to the Central Harbourfront Event Space. This mega family event, the first of its kind in the territory, aims to showcase Hindu culture and customs through a variety of interactive games, live entertainment, free storytelling, vegetarian food stalls and a yoga festival to over 1000 families, expected to attend.
The carnival is based on Hanuman, the Hindu Monkey God, one of the most famous and recognizable Hindu deities, who is depicted as a man with a monkey face. Throughout Southeast Asia, including in India, Sri Lanka, Thailand and Cambodia, there are many variations on the myths and legends of Hanuman. The carnival will incorporate all these stories into the many free games and activities. Since 2016 is the year of the monkey, the event will also highlight the Chinese Monkey King (Sun Wukong) to celebrate both cultures here in Hong Kong.
In the spirit of Hindu culture, there will also be a huge Mindfulness Yoga Festival alongside the Carnival, where hundreds of people will come together to do 108 sun salutations, 108 mantra chants and 1008 seconds of guided meditation. In addition, the event will also feature signature vegetarian dishes from various Hong Kong's most famous restaurants and a Shopping Village by a variety of different vendors.
ALL ARE WELCOME!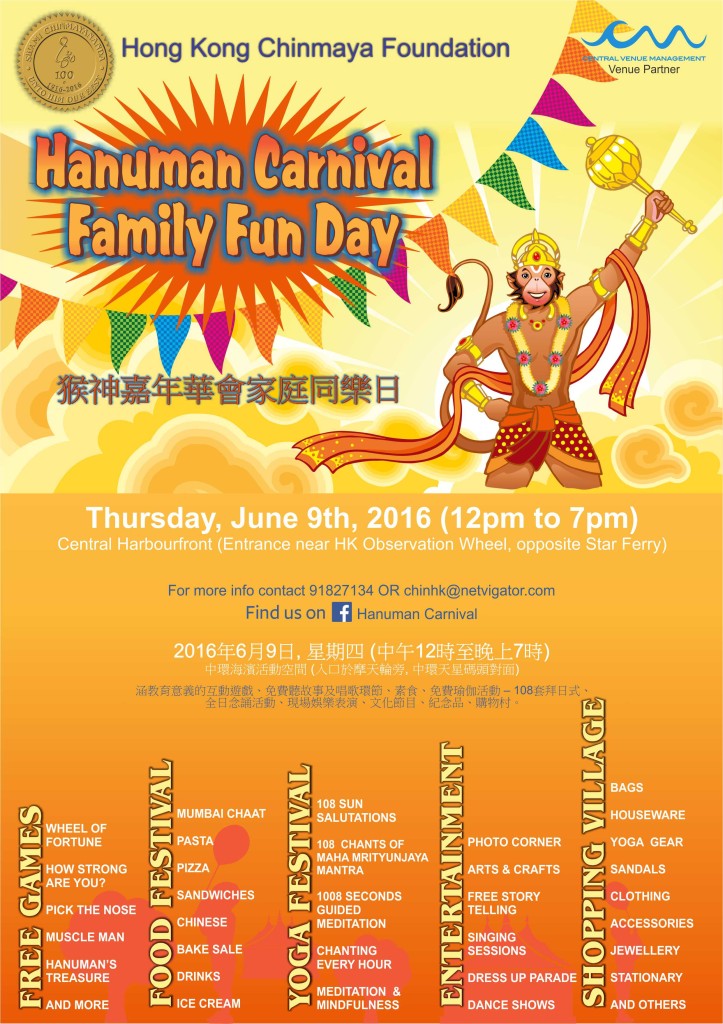 Other Details
| | |
| --- | --- |
| Facilitator | : Swamini Supriyananda |
| Type | : Camp |
| Venue | : |
| City | : Hongkong |
| Country | : Hongkong |
| Centre | : Central Chinmaya Vanprasth Sansthan |
Contact
91827134
Quick Contact

91827134

chinhk@netvigator.com