Invitation for Annual Geeta Gnana Yagna by Poojya Swami Swaroopanandaji fr 7th to 11th Feb 2020
Start Date : 07 Feb 2020 TO End Date : 13 Mar 2020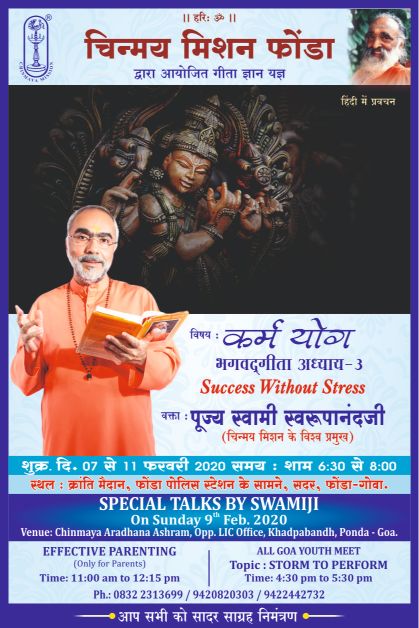 Hari Om! Pranams!
It gives me great joy in inviting you with your family and friends for our Annual Geeta Gnana Yagna in Hindi by Poojya Swami Swaroopanandaji, Head of Chinmaya Mission World Wide on from 7th to 11th Feb 2020 from 6.30 pm to 8.00 pm daily at Kranti Maidan Ponda Goa. The theme of this year's Gnana Yagna is Success without Stress based on Bhagawad Geeta Chapter 3 – Karma Yog.
We have also organized 3 special talks by Swamiji on Sunday 9th Feb in Chinmaya Aradhana ashram, Khadpabandh, Ponda - Goa.
1. Children's Meet - 10.00 am to 10.30 am
2. Parents Meet- Topic: Effective Parenting - 11.00 am to 12.15 pm
3. Youth Meet  Topic. Storm to perform - 4.30 pm to 5.30 pm
Such a mega event can attain heights of success by the collective efforts of members of our society such as you. I, therefore, appeal to each one to attend the above discourses in large numbers. You may also be a volunteer in the various of sevas such as bookstall, Seva in the ashram, publicity ie distribution of invitations, fundraising, stage set up, banner display, etc.
PFA an appeal letter for various avenues where you can financially support his event.
I once again welcome you for the Yagna on behalf of President of Chinmaya Mission Ponda Mr. Sandip Nigalye and all the Executive Committee members.
With Prem and Om
In the Lord's Service
Swami Sughoshananda
9422442732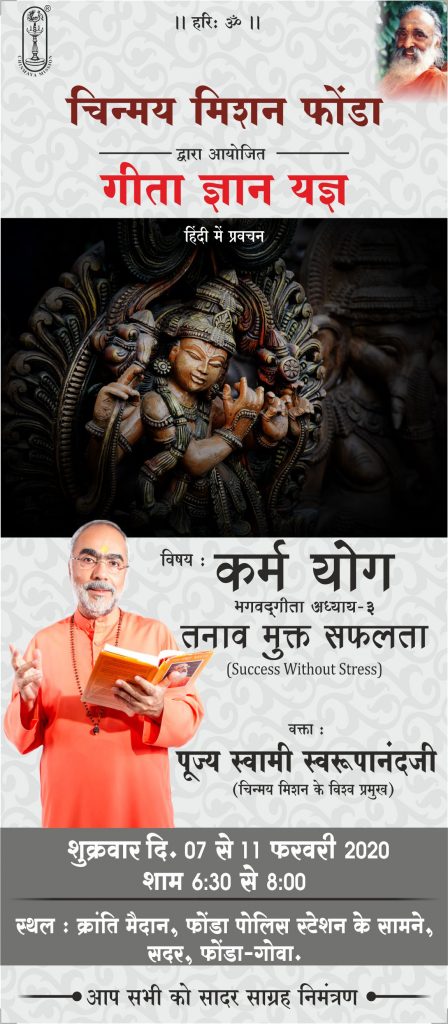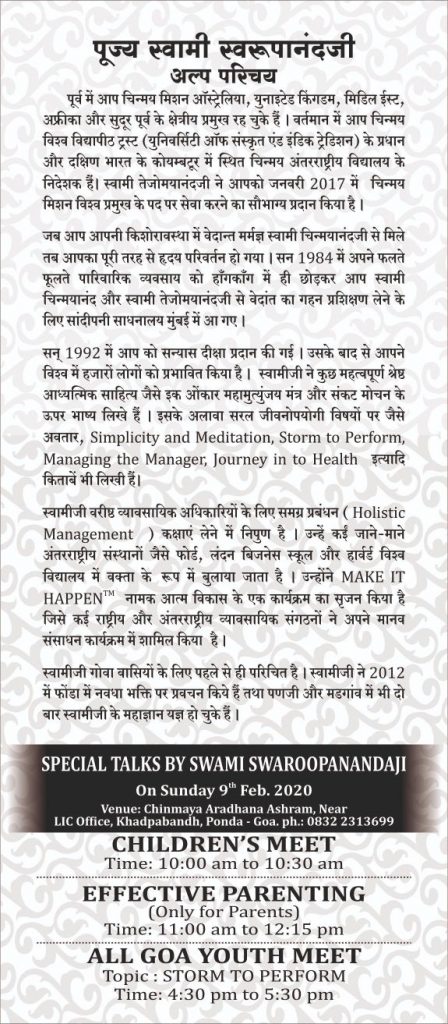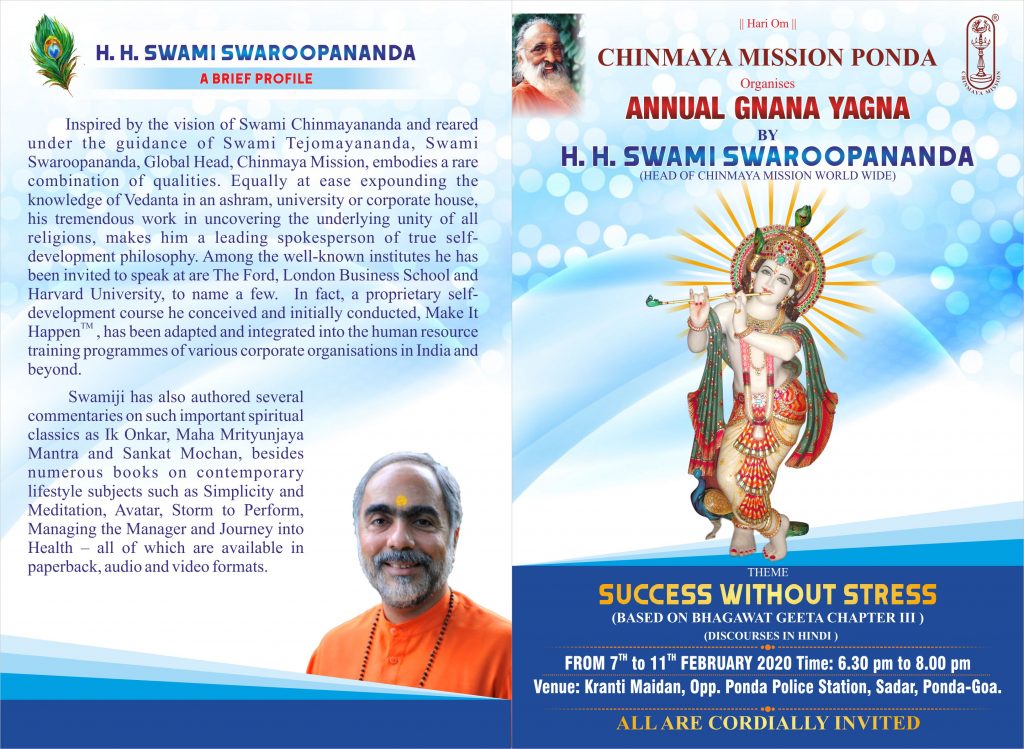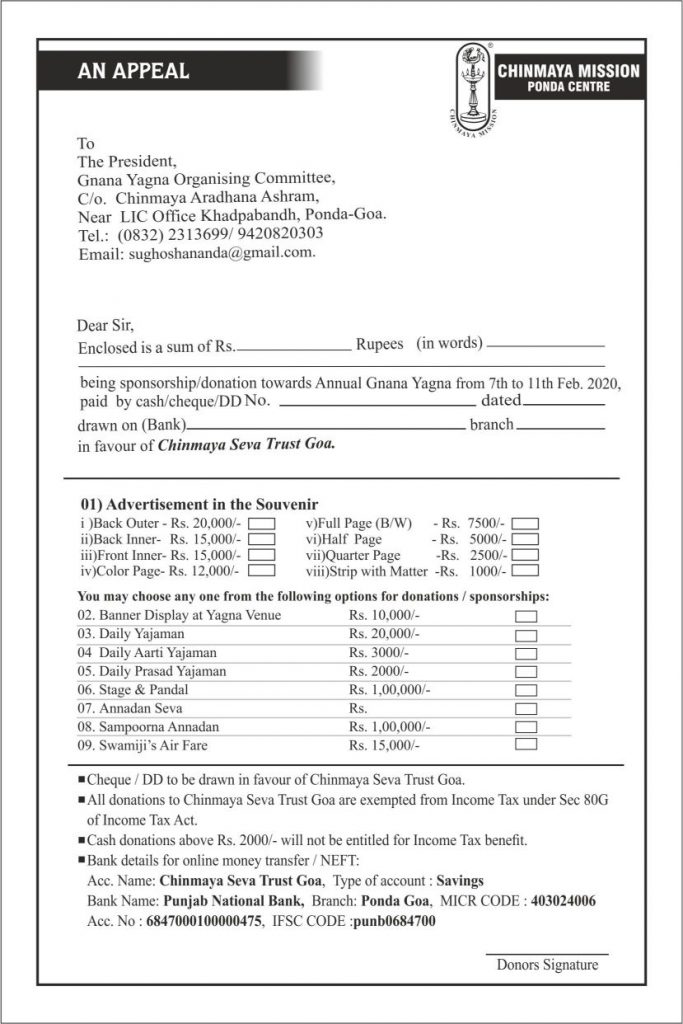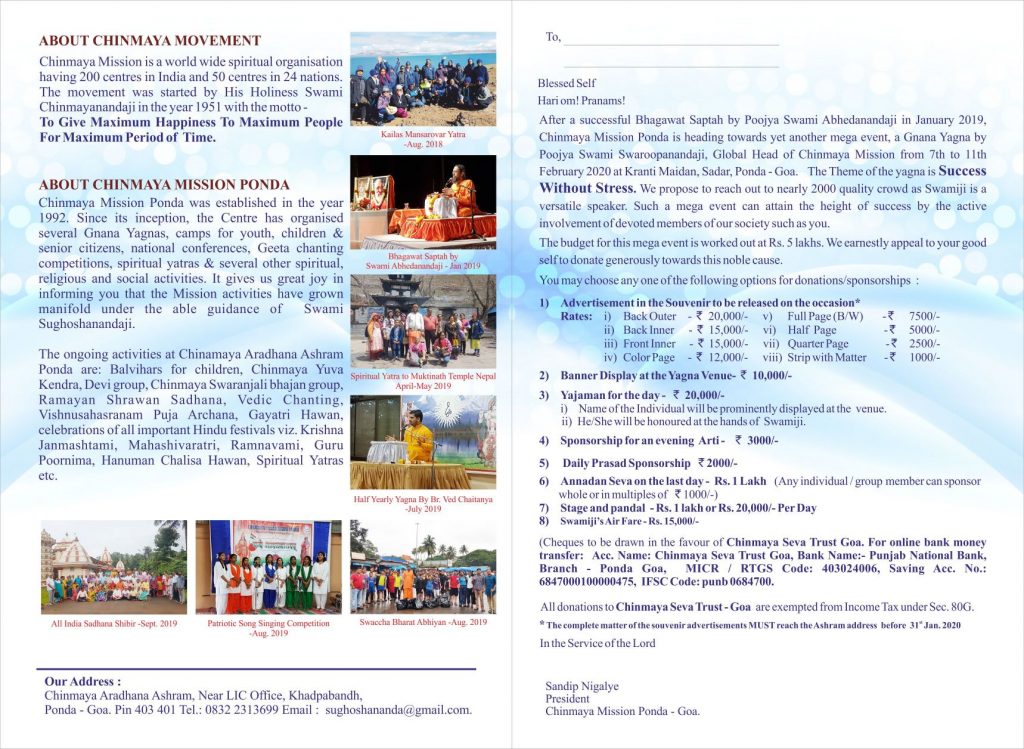 Other Details
| | |
| --- | --- |
| Facilitator | : Swami Swaroopananda |
| Type | : Yajna |
| State | : Goa |
| Country | : India |
| Charges | : |
| Centre | : Chinmaya Mission Ponda |
Contact
Swami Sughoshananda 9422442732
Quick Contact