Live Stream of Pujya Guruji's discourse on Yoga Vasistha Sara Sangrahah
Start Date : 2 Jan 1970 TO End Date : 01 Jan 1970
Yoga Vasistha Sara Sangrahah for 16th batch Vedanta Course-Session 13
Yoga Vasistha Sara Sangrahah for 16th batch Vedanta Course - Session 14
Dear all
Hari Om!
We are pleased to inform you that the talks on Yoga Vasistha Sara Sangrahah by Pujya Guruji for the 16th batch Vedanta Course students will be streamed live.
The sessions will commence from 1 September 2015 to 7 September 2015.
Each of the links below accesses separate sessions. The timings for the sessions are
4:30-5:30pm
IST and
7-8pm
IST over the 6 days.
1 September
Session 1 - Yoga Vasistha Sara Sangrahah - Talks by Swami Tejomayananda - Session  1
Session 2 - Yoga vasishta sara sangarahah - Talks by Swami Tejomayananda - Session 2 Link :  href="https://www.youtube.com/watch?v=C25h0Oc1DxY" target="_blank">https://www.youtube.com/watch?v=C25h0Oc1DxY
2 September
Session 3 - Yoga vasishta sara sangarahah - Talks by Swami Tejomayananda - Session 2
Session 4 -Yoga vasishta sara sangarahah-Talks by Swami Tejomayananda -Session 4  href="http://www.youtube.com/watch?v=S0uGCJ0hyXk" target="_blank">http://www.youtube.com/watch?v=S0uGCJ0hyXk
3 September
Session 5 - Yoga vasishta sara sangarahah-Talks by Swami Tejomayananda - Session 5                            href="http://www.youtube.com/watch?v=7Smv4Jp2cDc" target="_blank">http://www.youtube.com/watch?v=7Smv4Jp2cDc
Session 6 -Yoga vasishta sara sangarahah-Talks by Swami Tejomayananda -   href="http://www.youtube.com/watch?v=e_QQV7OV6QQ" target="_blank">http://www.youtube.com/watch?v=e_QQV7OV6QQ
4 September
Session 7 - Yoga vasishta sara sangarahah -Talks by Swami Tejomayananda - Session 7                            href="http://www.youtube.com/watch?v=-0KI9ozEMtM" target="_blank">http://www.youtube.com/watch?v=-0KI9ozEMtM
Session 8 - Yoga vasishta sara sangarahah -Talks by Swami Tejomayananda - Session 8 href="http://www.youtube.com/watch?v=6giCyQAgRZ4" target="_blank">http://www.youtube.com/watch?v=6giCyQAgRZ4
6 September
Session 9 -Yoga vasishta sara sangarahah -Talks by Swami Tejomayananda - Session 9                                  href="http://www.youtube.com/watch?v=fRrS0rRXwSU" target="_blank">http://www.youtube.com/watch?v=fRrS0rRXwSU Session 10 -Yoga vasishta sara sangarahah,Talks by Swami Tejomayananda -                                                  href="http://www.youtube.com/watch?v=JRrzIywLTVw" target="_blank">http://www.youtube.com/watch?v=JRrzIywLTVw
7 September
Session 11 - Yoga vasishta sara sangarahah -Talks by Swami Tejomayananda - Session 11:                         href="http://www.youtube.com/watch?v=_8-lgK9rz0w" target="_blank">http://www.youtube.com/watch?v=_8-lgK9rz0w
Session 12 - Yoga vasishta sara sangarahah - Talks by Swami Tejomayananda - Session 12 :  href="http://www.youtube.com/watch?v=I07KN0CU84k" target="_blank">http://www.youtube.com/watch?v=I07KN0CU84k
8 September
Session 13 - Yoga vasishta sara sangarahah - Talks by Swami Tejomayananda - Session 13 :  href="http://www.youtube.com/watch?v=UvTlg6SY-KE" target="_blank">http://www.youtube.com/watch?v=UvTlg6SY-KE
Details of any changes to the sessions will be advised on: Website: www.chinmayamission.com
Facebook: Chinmaya Mission - https://www.facebook.com/ChinmayaMission Swami Chinmayananda - https://www.facebook.com/SwamiChinmayananda Swami Tejomayananda - https://www.facebook.com/SwamiTejomayananda<br>
Twitter: Chinmaya Mission - https://twitter.com/chinmayamission Swami Chinmayananda - https://twitter.com/Chinmayananda Swami Tejomayananda - https://twitter.com/Tejomayananda<br>
Google+ Chinmaya Mission - https://plus.google.com/u/0/b/111948194878299663240/111948194878299663240/posts<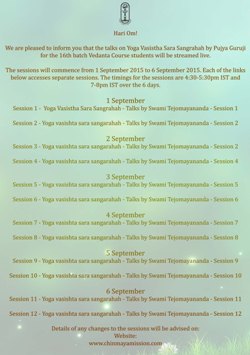 Other Details
| | |
| --- | --- |
| Facilitator | : Swami Tejomayananda |
| Type | : Talk |
| Venue | : |
Contact
Quick Contact