What would Sita do? Women's retreat in Oxfordshire
Start Date : 2 Jan 1970 TO End Date : 01 Jan 1970
What would Sita do? Women's retreat in Oxfordshire
Is a woman's place in the home...?
Or in the workplace? Are both possible? Should home and work be a shared responsibility?
Whatever your views on this controversial topic, one thing is certain, today's women are faced with greater choices and tougher decisions than ever before.
If you are a woman aged 18 and above, join us for a unique retreat with Swamini Umananda during which we will explore these (and other) modern female dilemmas through a spiritual lens.
This weekend retreat will focus on the teachings from the 'Naari Dharma' (Dharma for women) portion of the Tulsi Ramayana, which is a conversation between Sita and the wife of a sage, Anasuya.
Dates: Friday, 30th October to Sunday, 1st November (residential retreat)
Venue: Chinmaya Vidya Nagari, Hanney Road, Steventon, Oxfordshire OX13 6 AP
Price: £250 (including meals and accommodation at nearby De Vere venue)
For more information and to register please visit our website or email vishva@mac.com.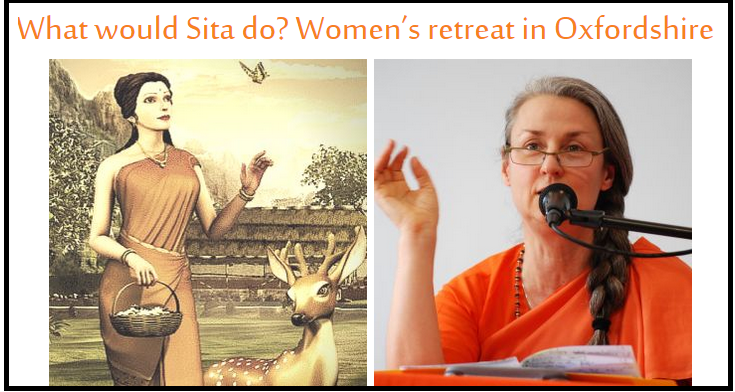 Other Details
| | |
| --- | --- |
| Facilitator | : Swamini Umananda |
| Type | : Camp |
| Venue | : |
Contact
Quick Contact