Speak Sanskrit Through Cricket
Start Date : 2 Jan 1970 TO End Date : 01 Jan 1970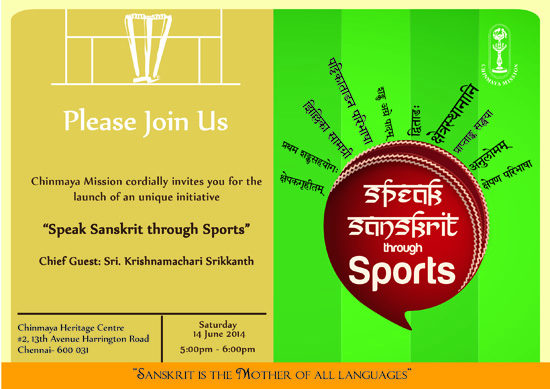 Chinmaya Mission, Chennai has initiated an unique project "Speak Sanskrit through Sports" to promote Sanskrit, the most ancient, "simple and beautiful" language of India. The programme has been taken up as one of the activities in the celebration of the birth centenary of Gurudev Swami Chinmayananda.
"Speak Sanskrit through Sports" is an elocution competition that involves giving running commentary on variety of sports, in Sanskrit.
The vision behind the programme is to make a few hundred Sanskrit words familiar to non-Sanskrit speakers.
Through this playful initiative, the attempt is to provide children, youth and sports enthusiasts a glimpse into the depth and beauty of Sanskrit language such that they may be inspired to learn the language.
In India, the way cricket has seeped into living room and dining table conversations, shows how significant the game has become in the country's collective mindset. Taking this excitement a notch higher, series 1 is "Speak Sanskrit through Cricket" which will garnish these conversations will the liberal dose of Sanskrit terms.
To aid the participants, a series of books have been conceptualised. The first in this series is this book on Cricket.
Other Details
| | |
| --- | --- |
| Facilitator | : Swami Mitrananda |
| Type | : Courses |
| Venue | : |
| City | : Chennai |
| State | : Tamil Nadu |
| Country | : India |
| Centre | : 743 : Chinmaya Mission Chennai |
Contact
#2, 13th Avenue Harrington Road, Chetpet, Chennai 600031
Quick Contact

+91-9840715165

psundar@ymail.com