Swami Swaroopananda's talks at Kuala lumpur
Start Date : 2 Jan 1970 TO End Date : 01 Jan 1970
Chinmaya Mission Kuala Lumpur invites everyone to a talk series by Swami Swaroopananda on various topics from 15th Jan, 2015 to 20th Jan, 2015.
Details of the talks are as under:
The Yoga of Meditation
What is meditation? Why should we meditate? How? What is the goal? What are the pitfalls and how can we avoid them successfully? These intriguing questions will be answered in easy steps, taking us into a mystic journey into ourselves.
Date: 15/1/2015 (Thursday)  to 20/1/2015 (Tuesday) Time: 8 PM
Venue: Shri Lakshmi Narayan Temple, Jalan Kasipillary, Off Jalan  Ipoh, KL
Meditation Workshop
In this workshop alongwith guided meditation, in two hours swamiji will teach you basics of meditation, easy to learn techniques used by yogis for centuries to get you started on your practice.
Date: 18/1/2015 (Sunday) Time: 9 -11:30 AM
Venue: Chinmaya Alankar, 41 Jalan Terasilk, Bangsar
Shiv - vivah: The essence of a happy marriage
The story of Lord Shiva and Mother Parvati is an epic of love, faith and devotion. It is an endearing tale and an expression of the sanctity of joy and marriage.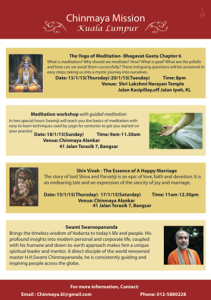 Other Details
| | |
| --- | --- |
| Facilitator | : Swami Swaroopananda |
| Type | : null |
| Venue | : |
| City | : Kuala Lumpur |
| Country | : Malaysia |
Contact
Quick Contact

+60-12-5880228

chinmaya.kl@gmail.com