"Timeless Questions, Eternal Answers" by Pujya Guruji at London
Start Date : 2 Jan 1970 TO End Date : 01 Jan 1970
Swami Tejomayanandaji
, Global Head of Chinmaya Mission, will be visiting
London in August 2015
. During His visit, Guruji will be giving a series of FREE evening talks in English from 5th to 9th August at Logan Hall in Central London entitled
'Timeless Questions, Eternal Answers'
.
These talks are based on key verses from the Sri Rama Gita from the Ramayana by Saint Tulsidas. Lakshmana approaches his brother and guide, Lord Rama, whilst they are in exile in the forest and enquires as to the nature of devotion, inner growth, Truth and God. Lakshmana, himself a knowledgeable person, is asking these questions for the benefit of mankind.
Lakshmana's questions capture the essence of a seeker's path of enquiry and remain as relevant today as they always have been. Over 5 evenings in Central London, Swami Tejomayananda (Guruji) will reveal the profound answers to these timeless questions in a simple, humourous and captivating manner.
Live streaming from Leicester
We are delighted to announce that these talks will be streamed live from the Gordhan Parmar Function Suite, Peepul Centre in Leicester (LE4 6DP) from 7.15pm onwards. A special live devotional concert of Indian and Western music will also be live streamed on 9th August from 6.30pm. For more information contact Dr Manoj Pradhan on 0116 332 2854.
Please do continue to spread the word to your friends, family and other contacts about this upcoming event so that this most subtle of Knowledge can be spread to the widest audience possible. For further information, please e-mail ramgitatalks@chinmayauk.org or call 07810 384 311.
For further information, please e-mail ramagitatalks@chinmayauk.org or call 07810 384 311.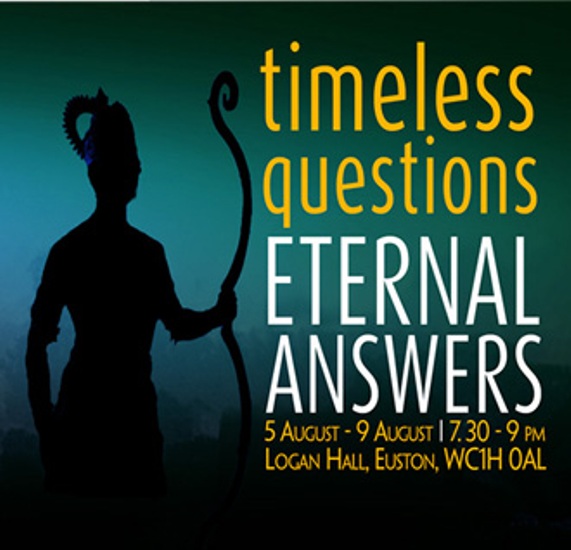 Other Details
| | |
| --- | --- |
| Facilitator | : Swami Tejomayananda |
| Type | : Talk |
| Venue | : |
Contact
Quick Contact