Youth Empowerment Program (YEP -9)
Start Date : 2 Jan 1970 TO End Date : 01 Jan 1970
"A unique, value-based leadership programme for the dynamic youth." The course will be conducted in Chinmaya Vibhooti,which is a vision and resource centre that spans over 70 acressurrounded by theSahyadri Mountains. It is situated in Kolwan  Village, housed between Mumbai  and Pune, India.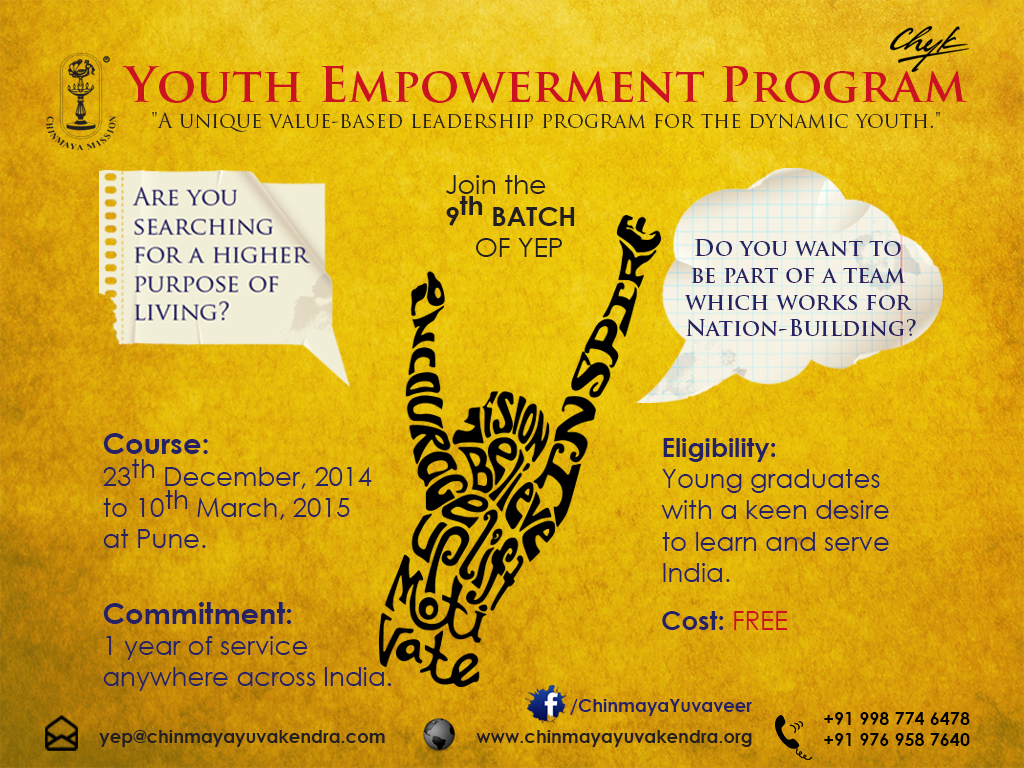 In YEP's two and a half month intensive course, the participants are trained in spiritual philosophy, Indian culture, principles of management, ethics, and organizational skills followed with one year of service anywhere across India.
•Workshops from professionals in various fields
•Outdoor experiential learning
•Lectures and active discussion on selected texts
Learn
•Conducting workshops and seminars
•Interacting and inspiring the masses through theatre, camps, and other innovative methods
•Working on nation- building projects
Grow
•Make a difference
•Find your --"true calling"
•Live your dream Serve
Upon the successful completion of the training, the newly appointed Yuva Veers have various tasks on hand.
Download the brochure
Other Details
| | |
| --- | --- |
| Facilitator | : Swami Mitrananda |
| Type | : Courses |
| Venue | : |
| City | : Pune |
| State | : Maharashtra |
| Country | : India |
| Centre | : 843 : Chinmaya Vibhooti |
Contact
Chinmaya Vibhooti, P.O. Kolwan Taluka Mulshi Dist: Pune, Maharashtra, India ,
Quick Contact

+91-998-774-6478 / 976-958-7640

yep@chinmayayuvakendra.com