Pujya Swami Jitatmananda of Ottapalam (Palakkad) centre conducted a Jnana Yajna in Malayalam from 1st July to 7th July 2017 on Narada Bhakti Sootram at Deenabandhu Temple, Indiranagar. The Yajna was inaugurated by Smt Nirmala Menon, senior devotee of Pujya Gurudev.
Pujya Swamiji introduced the text as concepts of devotion laid down by Sage Narada who is the greatest devotee the world has seen. Narada Bhakti Sootra contains beautiful tips to remove ignorance and impart the highest Self knowledge through the medium of Bhakti. The true meaning of Bhakti is unflinching love to the Lord with no trace of any selfishness. True devotion to the Lord in any form be it for worldly comforts or the highest Brahma Vidya will lead to chitta shuddhi that ultimately helps the devotee to become one with the Lord. A real devotee is never tormented by the past or worried about the present and future but leads an exemplary life firmly rooted at the lotus feet of the Lord conquering all odds with a calm and serene mind. This is the only way to find our true purpose in life and serve society selflessly and become one with the Lord.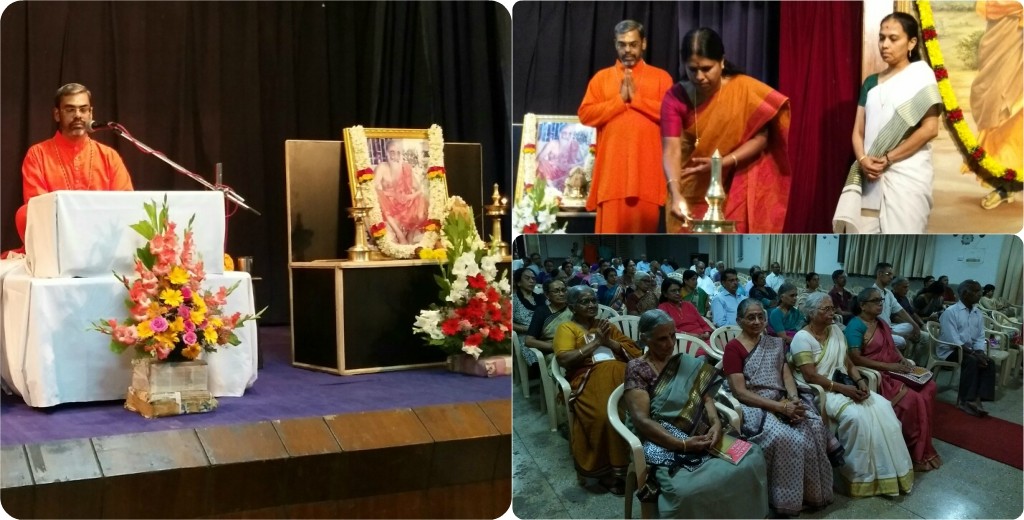 The Yajna was well attended.