Raghavendraji address on 17 August 2017 at Gurukul Educational Institute Middle school Uncha Bhilwara Rajasthan
Br. Raghavendra Chaitanya Ji of Jhansi Chinmaya Mission  addressed the students of Gurukul Educational Institute's Middle school at Uncha, Bhilwara Rajasthan after the morning assembly on the 17.8.2017. Raghavendraji was welcomed by the Director of the Gurukul Institute Shri Yogesh Soni and Principal Shri Sampat Sharma ji by garlanding, and he then performed the Saraswati Puja and lighted the Lamp.
The children were then explained about Karma and its result by the Raghavendraji, who also elaborated on the difference between Prarabadh, sanchit Karma and Aagami Karma with the help of examples. Swamiji also discussed the causes of sadness and distress in life in very simple terms.
He advised the children to learn to accept their mistakes and follow the path of truth and righteous behaviour. The children then pledged to make God their closest friend and guide. The parents of the students and other dignitaries of the city also attended the talk. Raghavendraji also introduced Chinmaya Mission and the various welfare activities undertaken by it to the gathering.
This was followed by Principal Shri Sampat Sharmaji's advice to the students on how to be successful in life and expressing his thanks to Raghavendraji. About 300 students attended the function.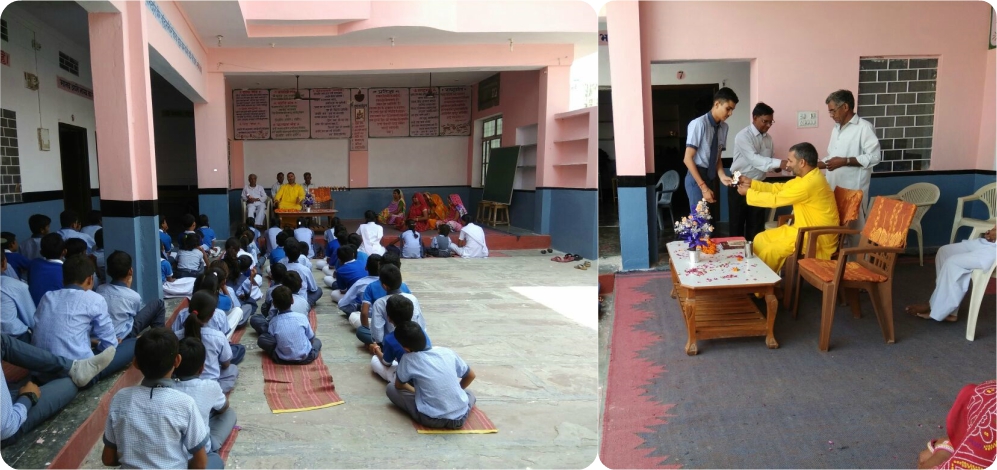 Tagore Public School Inspiring talk by Br. Raghavendra Chaitanya ji  16th August 2017
Brahmchari Raghavendra Chaitanyaji, of Chinmaya Mission Jhansi gave a talk on 16th August 2017 at Tagore Public Middle School Deoli Rajasthan. The subject of his inspiring address to the students was "How to lead a cultured and dedicated life working according to our traditional Indian values and Culture".
He narrated a story through which he told the students the process by means of which they could lead an organized useful and successful life. He also stated that the body, mind and intellect are equipments which can be kept healthy and radiant by following the traditional wisdom provided by our scriptures. The mantra for success in life is to train the body to follow the intellect instead of the mind. Pujya swamiji also shed light on "The Chinmaya Mission" and its various activities undertaken in the country and abroad.
The principal Shri Prahlad Sen welcomed the swamiji by the traditional Vedic welcome prior to the address and the function ended with the prize distribution to the students by the Raghavendraji. In addition to the teachers about 100 students participated in the function