JCHYK Camp
We had an amazing JCHYK Camp last week at CMB.  Vivekji kept the youth very occupied, teaching them as well as making them think independently to derive answers that are most practical and useful in life.  They learnt how to handle situations better and how to analyze and direct their thoughts to be positive and productive.  Under his guidance the youths discussed the importance of thinking before speaking and directing their own thoughts into action.  Vivekji also taught them to step out of their comfort zones and to learn and accept others – some very important qualities of being a leader!  Additionally, the kids had fun in Boston, enjoyed playing games, made new friendships and did lots of chores – an unbelieving amount of Seva for CMB!
Most importantly, all kids went home with a confident smile exhibiting that they had learnt unique lifelong lessons from the camp and knowing that they would be able to implement them to lead a fuller and a happier life.  They also mentioned that they would like to return to the camp next year.  In addition, some of them encouraged their older siblings to join Vivekji's CHYK camp.
It was a great success – a BIG thanks to Vivekji and we look forward seeing him again next year!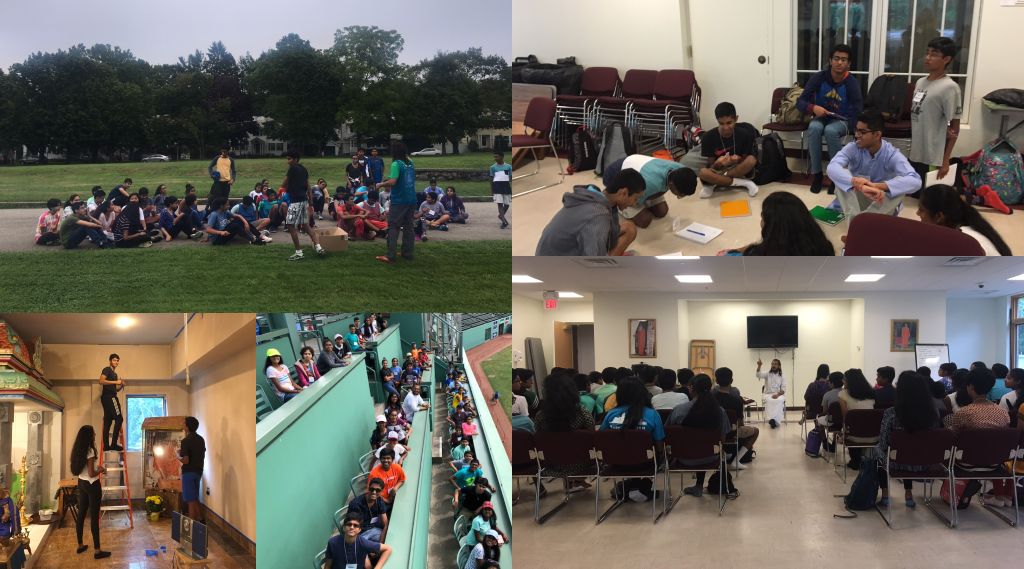 CHYK Camp
During the weekend of August 31 to Sept 2, CHYK Boston hosted a retreat titled "Unlearning to Learn". A small but dedicated group of CHYKs from around the US gathered to study lessons from Sri Rama Gita, under the guidance of  Vivekji. Sri Rama Gita is a teaching given by Sri Rama to his brother Lakshmana, answering questions that Lakshmana poses about knowledge, dispassion, maya, devotion, and God.
Vivekji guided the CHYKs through Sri Rama's answers on each of these topics and provided short "unlearnings" and "learnings" to overcome habits and tendencies that keep one from achieving happiness. Several individual and group activities throughout the weekend gave the CHYKs an opportunity to try out these learnings for themselves. A water-filled soccer (football) game in a nearby park was the perfect setting for getting out of one's comfort zone, while a cooking challenge with limited time and resources pushed the CHYKs to come to decisions more effectively as a group. On the final day of the camp, the CHYKs created charcoal drawings representing one word that summarized their learnings from the week; some of the chosen words included growth, detachment, redefine, and cleansing.
As autumn begins in the US along with the start of a new school year, the Unlearning to Learn retreat was an energizing opportunity for the CHYKs to set goals, try new things, and rededicate to learning and reflecting in the year ahead.