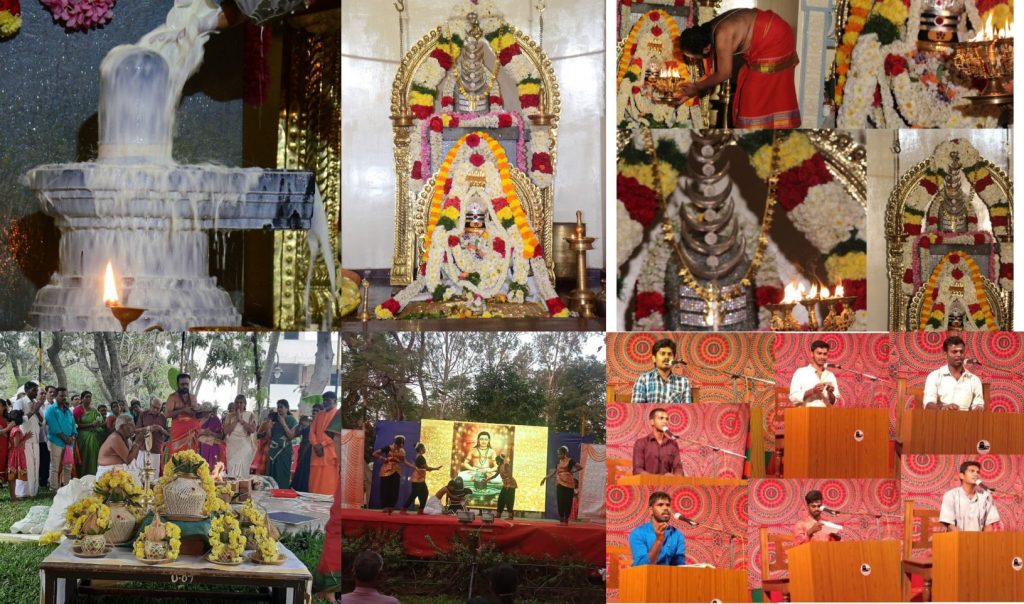 1. Maha Shivaratri Mahotsavam – February 2020
February 21, 2020
Maha Shivaratri was celebrated at Chinmaya Sarveshvara in a grand manner like every year. Lord Sarveshwara temple witnessed thousands of devotees worshipping and participating in various programs right from 5.30 am to 6.30 am the following day. The day started with Ganapati Homam followed by Ekadashi Rudra pArAyanam, Homam and Rudra abhishekam. The temple prAhAram was resounding with divine chants of Om Namaha Shivaya sung by the children of Hari Hara Vidyalaya throughout the day.
On this auspicious day, devotees get to perform KalasA Abhishekam with their own hands to the SphatikaLingam. The Kalsa abhishekam culminated with a Maha Aarathi to Lord Sarveshvara at around 2 pm in the afternoon. Annadanam was also done to all devotees who visited the temple.
The Utsavam continued in the evening from 5 pm when around 150 school children from 4 villages participated in a cultural bonanza bringing out the divinity of Lord Shiva through dances, skits, etc.,
At 9 pm, Lord Sarveshvara was worshipped by devotees who performed Abhishekam with punya tirthams collected from various rivers of India (Ganga, Brahmaputra, Yamuna, Godavari etc.,). This was followed by the 4 Yaama Poojas through the night to morning 6am. Hundreds of devotees stayed awake through the Yama Pooja and witnessed the poojas. Live telecasting of the abhishekam, Pooja and midnight aarathi at the sanctum sanctorum helped the devotees to peacefully revel in devotion.
The Tamaraipakkam Chyks showed their devotion to Lord Shiva by doing a relay Yajna on the NAyanmArs of Lord Shiva which was well appreciated.
All the preparatory work, poojas, Kalasa abhishekam and all other programs could not have been a success without Lord Sarveshvara's Grace and Pujya Gurudev's grace. The vanara sena comprising of HHV
school students, teachers, parents, chyks and other devotees worked together for this great divine festive worship. Thanks to all supporters, well-wishers, sevaks and donors.