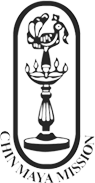 Chinmaya Mission's emblem comprises the lamp of knowledge with the hamsa bird of wisdom at its crown, both denoting the Mission's spiritual and social services to the world. The purpose of the Mission's Vedantic teachings is to help seekers learn ethical values and cultivate a discriminating power - learn the art of distinguishing the changeless, infinite Substratum from the changing, finite world.
The oil lamp symbolizes the ethical life needed to light the flame of Knowledge within. The Lord is the "Knowledge Principle" (Chaitanya) who is the source, the enlivener and the illuminator of all knowledge. Hence light is worshipped as the Lord himself. Knowledge removes ignorance just as light removes darkness.
A single lamp can light hundreds of others, just as a single realised master can enlighten thousands. Despite sharing its light to other lamps, the original lamp loses none of its brilliance. In the same way, sharing knowledge will not result in the loss of that knowledge; on the contrary, upon giving knowledge, we begin to understand it clearer and it benefits all.
In the light of knowledge and wisdom, the faculty of discrimination stands out in clarity, represented by the Hamsa bird. Just as this bird has the proverbial ability to separate the substance of milk from water, a spiritual seeker is able to discriminate the true from the false, the good from the bad, the profound from the superficial and the permanent Reality from the impermanent world.