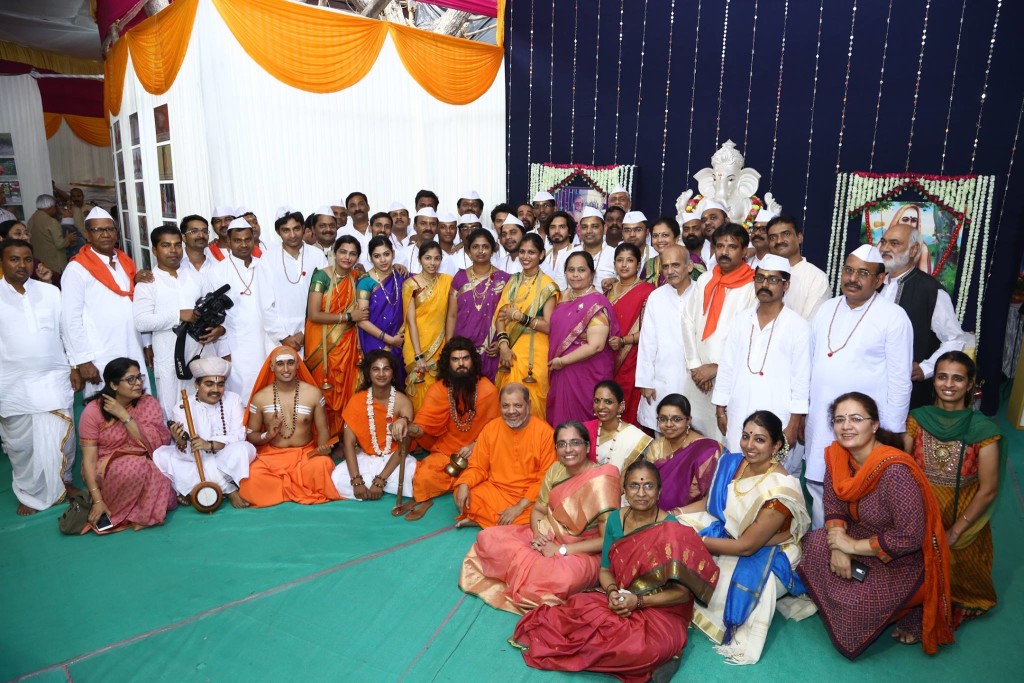 The staff and sevaks of Central Chinmaya Mission Trust, Tara Cultural Trust and Chinmaya Ashish Trust organised a special programme at Sandeepany Sadhanalaya (Mumbai) on 20 January 2017, to shower an abundance of love on Pujya Guruji Swami Tejomayananda and to offer a hearty welcome to Pujya Swami Swaroopananda.
Indeed it was a family event full of fun and feelings, and joyful smiles welcomed Guruji and Swamiji at the start of the Dindi procession near Anand Vihar, in which staff members participated with great enthusiasm and devotion. With Shri Subhash Ghete and group leading the "gajar" chants, it was as though Anand Vihar had been transported to Alandi and indeed Powai became Pandarpur. All devotees present joined in with the merriment, holding flags and clapping and dancing to the divine, elevating music.
The procession reached Tapovan auditorium for the start of the programme, brilliantly anchored by Swamini Aaradhanananda and Brahmachari Atharvana Chaitanya. Two Chinmaya Mission nightingales Pramodini Rao and Aparna Devi sang a beautiful stuti created especially for the occasion, in praise of Pujya Gurudev Swami Chinmayanandaji, Pujya Guruji and Pujya Swamiji.
Blessings poured forth next as Sant Tukaram, Jnaneshwar Maharaj, Sant Tulsidas, Samarth Ramdas and Adi Sankaracharya came to the stage one by one with their brilliant texts as gifts. The delight on the faces of Guruji and Swamiji was so wonderful to behold.
That wasn't all. Due to the outstanding effort by the Audio-Visuals team, the next item had everyone enthralled, for we looked at the LED screens only to see our very own Pujya Gurudev seated between Guruji and Swamiji. Wow! Gratitude to modern technology and the creative team for that wonderful experience!
"Atma on a Self Trip" was played next, which is a video presentation that has cleverly incorporated sketches, videos and photos of Gurudev, Guruji and Swamiji, with witty words and set against the background music of "On A Quest."
The team had yet more treats up their sleeves. One segment was a very humorous skit about Guruji's post-retirement plans, or rather Guruji being sought after by head-hunters in the fields of travel, music, photography food and conflict solutions! People were almost rolling in the aisles with laugher.
The Story Continues… yes it does as that's the title of the next video presentation and how mind-blowing it was. The very same story-example is narrated by Gurudev, Guruji and Swamiji in it, brilliantly edited into a seamless narrative, seemingly in relay style. This one is going to go viral for sure!
The grand finale was a theatrical style offering by Ramaa Bharadvaj, a monologue to celebrate light, and the glowing presence of the Guru. Ramaaji shared short and sweet anecdotes about Guruji and Swamiji, containing meaningful learnings that were loved by all. Ramaaji had also trained the CCMT girls to perform a very special dance, their faces aglow with devotion as they skipped and swayed gracefully to a Marathi Guru bhajan.
At the end, both Guruji and Swamiji spoke words of love and appreciation for the teams behind the stupendous effort, before they were led to a gallery of specially selected photos and captions. The staff then posed for a very memorable group photo with Guruji, while the campers excitedly scrambled forward to pose with the digitally-created Gurudev!
A heartwarming and fulfilling family day for all!