Date : 01 Oct 2019
Gita Jnana Yajna in Prashantanagar
Pujya Swami Adityananda of Mandya centre conducted a Gita Jnana Yajna in Kannada taking Bhagavad Gita for Daily Life at Sri Prasanna Ganapati Temple, Prashantanagar  from 18th to 24th Sep, 2019. The Yajna was inaugurated by Sri Purandhara Sharma, President of Chinmaya Mission.
Pujya Swamiji explained that it is important to imbibe the positive thoughts of our shastras in our daily life instead of blindly studying them. We should also cultivate the habit of thinking and analyzing which is the only way to bring a transformation in our attitude leading to mental development. We ought to realise that outer world can never give us peace of mind as it is our own true nature that is camouflaged by ignorance. This realisation that we do not belong to the body is possible only through Satsang, study of scriptures, grace of the Lord and blessings of Guru.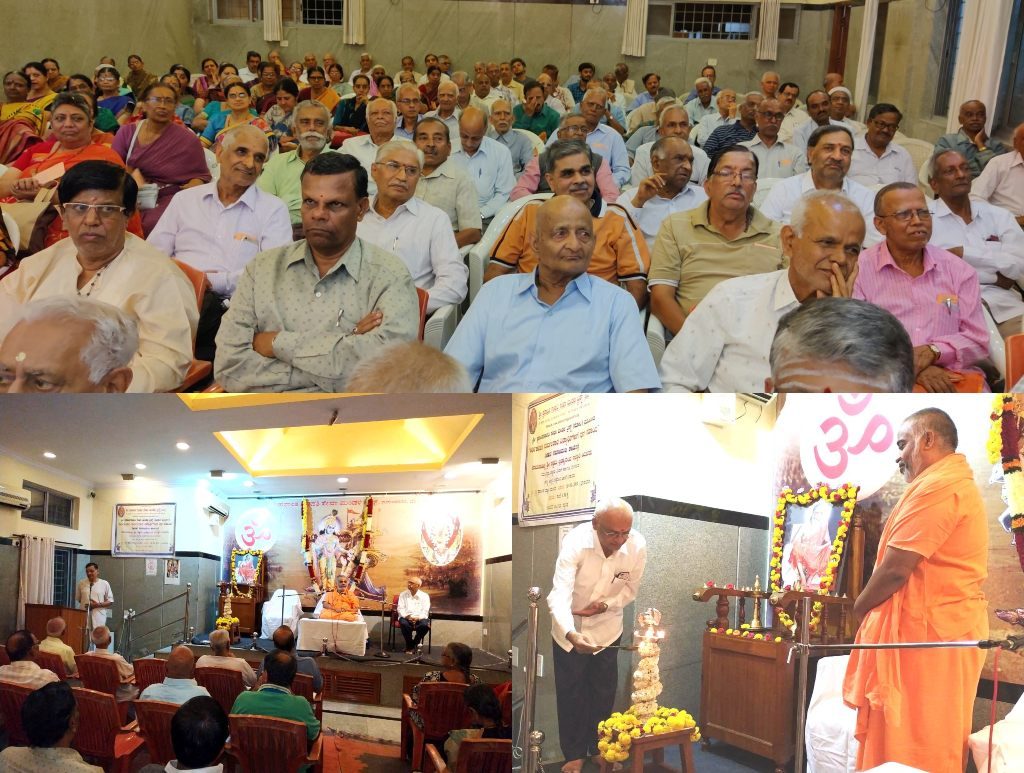 The Yajna was a grand success with participation of several sadhaks.
Jnana Yajna in Rajajinagar
Pujya Swami Krutatmananda conducted a Jnana Yajna in Kannada taking Bhagawan Adi Shankara's Sadhana Panchakam at Sri Sai College for Women, Rajajinagar from 22nd to 28th Sep, 2019. The Yajna was inaugurated by Sri R Anand, Chairman of Sri Sai Mandir Trust.
Pujya Swamiji explained how Adi Shankara has in a scientific and methodical way given out forty simple steps for evolvement in Brahmacharya, Grihasta, Vanaprastha and Sanyasa Ashrams through Sadhana Panchakam. The essence is to conquer the desire of the senses and work selflessly surrendering to a higher altar when positive thoughts blossom through purity of mind and concentration. It leads to avoiding of unnecessary talk and arguments resulting in transcending the dualities and total annihilation of Ego & understanding the truth of the one Reality beyond which nothing else exists.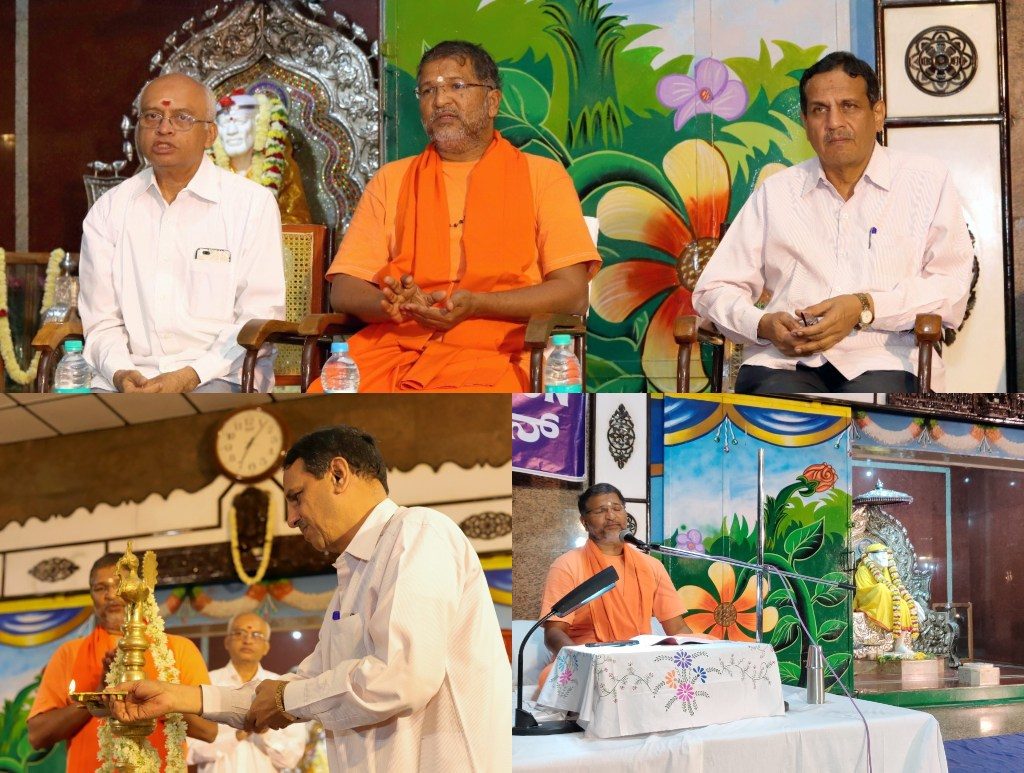 The Yajna was well attended.
SATSANG IN SRIPAADAKSHETRA
Pujya Swami Brahmananda conducted a special Satsang in Sripaadakshetra, J P Nagar on 29th September, 2019 for all study group members answering their queries on various topics. He stressed on following Pujya Gurudev's popular quote, "I have to improve upon myself". Chinmaya Mission is built on the strong foundation with its roots in every house of members where Balavihars, Study and Devi group classes are conducted. Study of scriptures makes us discover our real nature just as a mirror making us realise the Truth as it is. The outer world of plurality is just what we perceive due to ignorance and disturbance of the mind. It is only a calm mind that will have the ability to grasp the reality aided by a well trained intellect. It is important to understand the fact that the light enlivening all the three states of waking, dream and sleep as witness is one and the same.
Earlier Sri Narender Paul, Chief Operating Officer of CORD gave a wonderful presentation of activities in Chinmaya Organisation for Rural Development highlighting the birth, growth and development of rural activities undertaken in several places across the country especially in the field of women development, empowerment and rehabilitation.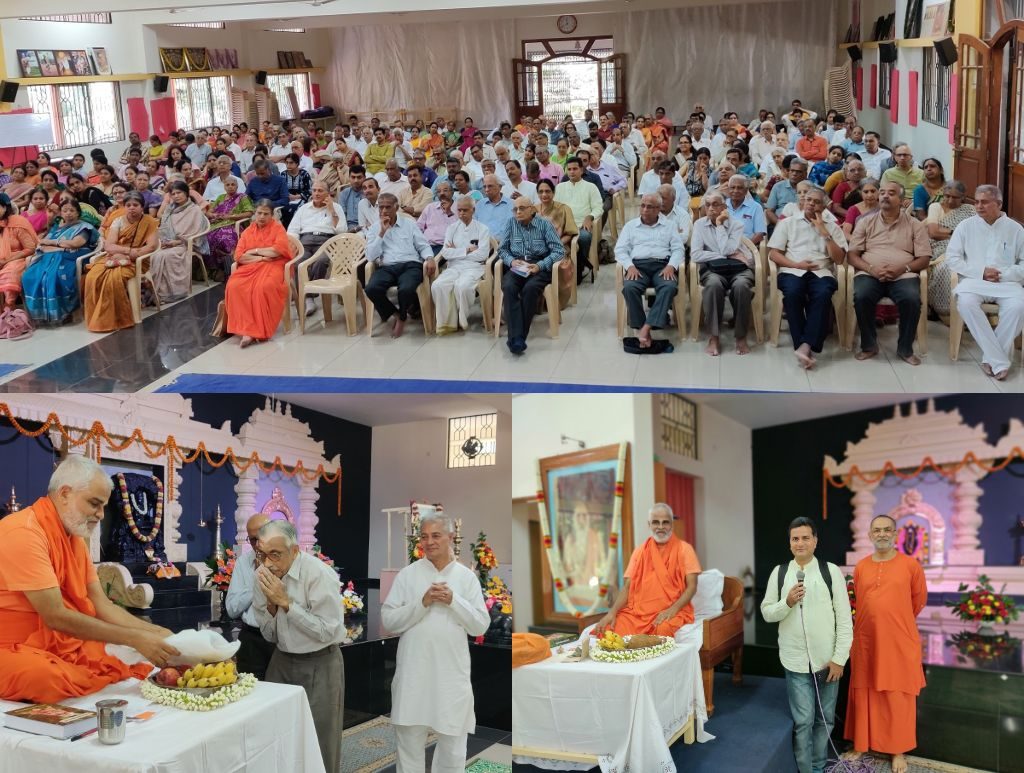 The Satsang was attended by Mission members from all parts of the city.
Annual Balavihar Bhajan Competition
The Annual Bhajan Competition was held on 8th Sep, 2019 in the holy presence of Pujya Swami Brahmananda at Sripaadakshetra, J P Nagar. Twenty two teams from different parts of the city participated taking the audience to heights of devotion by their renderings of bhajans selected from the popular CD Jeevakusuma of Pujya Swami Brahmananda in supreme bhakti bhava. Pujya Swamini Samatananda gave away the prizes to the winners.