Date : 05 Nov 2019
Take Time Off – The musings of a converted skeptic
It's not everyday that one takes a giant leap of faith and plunges into the depths of the unknown. It takes courage and perhaps discrimination to perceive a gap in one's understanding of Vedanta and its ocean of knowledge. This unfortunately continues to remain an enigma to most in the world; and more so amongst some of us pseudo Indians who so easily gravitate to cultural influences of the western world and fail to look within at this vast repository of knowledge at our doorstep.
At the recent retreat held at the uniquely serene settings of Chinmaya Vibhooti; cradled within an expansive valley surrounded by nature (Kolwan) and solitude; Global Head of Chinmaya Mission Pujya Swami Swaroopananda hosted a 3.5 day camp on the Vibhishana Gita; a guide to understanding the virtues that make us a complete and resolute human being in any setting. The retreat took place from 1 to 4 November 2019 and was attended by 130 adults and 15 children.
'Take Time Off' turned out to be an antonym of sorts with a schedule rivalling our daily lives especially for us who come from a corporate setting; however what was uniquely surprising that making the choice to stay disconnected from our digital obsessions was hardly missed. The programme seamlessly blended guided meditation sessions, discourses, nature walks, musical evenings with Smt. Pramodini Rao, stargazing with Chinmaya Vibhooti's brand new telescope, and many impromptu interactions with Pujya Swamiji, exemplifying the overall experience for us all. One such interaction was the group activity at the amazing Swanubhooti Vatika which helped enunciate the key teachings of the Vibhishana Gita.
The future vision of Pujya Guruji Tejomayananda in creating Chinmaya Vibhooti and the award winning Swanubhooti Vatika, a reflective paradise (a splendorous botanical garden in verdant surroundings) seeded with pearls of wisdom for any seeker. Such creations reinforce Chinmaya Mission's effort in not only spreading this 'jyot' (light) of knowledge with the world but also creating hallmarks of excellence for society.
To encapsulate an experience in a few paragraphs doesn't do justice to all the learnings, interactions, shared moments and importantly the connect with our scriptures which enables a better You and Me on this journey of life.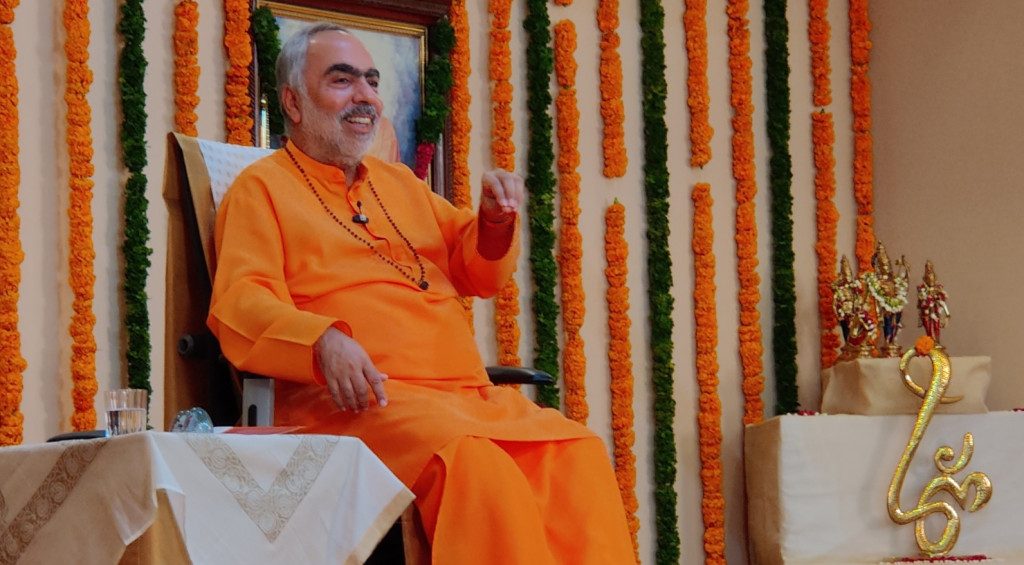 Events like 'Take Time Off' are a must do for anyone, from any sphere or stage of life; to reconnect with our inner selves… to tune in to the higher and more so at a destination like Chinmaya Vibhooti.