Date : 01 Dec 2019
Gita Jnana Yajna in Tyagarajanagar
Pujya Swami Adityananda of Mandya conducted a Gita Jnana Yajna in Kannada from 1st to 7th December 2019 at Sri Shirdi Sai Mandir, Tyagarajanagar taking Bhagavad Gita Chapter 15. The Yajna was inaugurated by Pujya Swamiji himself in the presence of Sri Gopinath, secretary of the temple.
Pujya Swamiji explained that the main cause of all misery is our acceptance of the unreal as real and leading an impractical life full of delusion with attachment. It is necessary to severe this attachment with Self-knowledge and leads a life of peace under all circumstances with a vision of oneness. Only then we can transcend the world of plurality and appreciate the fact that nothing other than the Self exists.
The Yajna was well attended.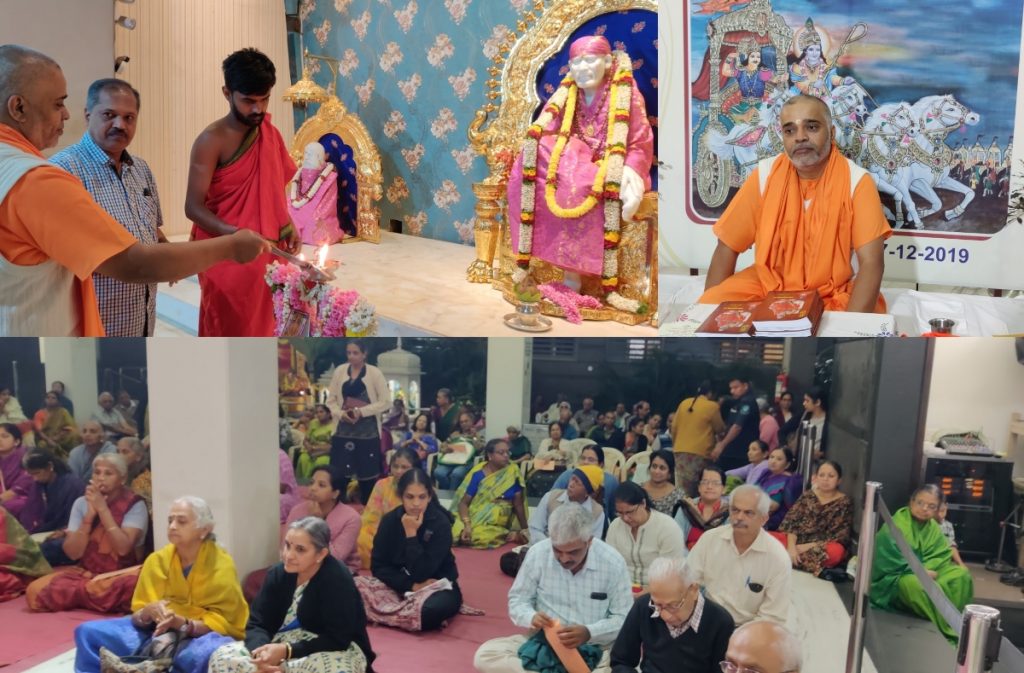 Gita Jayanti and Tapovan Jayanti
Gita Jayanti along with Tapovan Jayanti was observed all over Bengaluru on Saturday, 7th December 2019 with chanting of all the 18 chapters of Bhagavad Gita followed by Tapovan Shatkam and Paduka Puja. Mission members participated in all centers with Acharyas at respective centers conducting Satsang on the significance of the Bhagavad Geeta and contribution of Pujya Swami Tapovan Maharaj in propagating the message of our scriptures to sadhaks.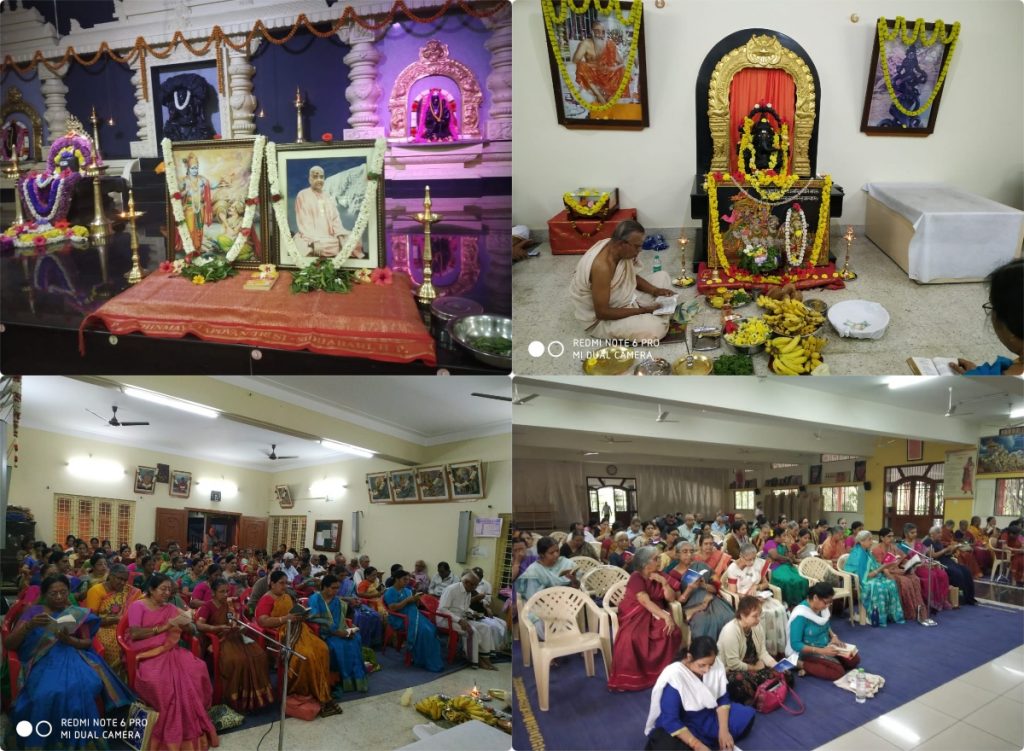 Gita Jnana Yajna in J P Nagar
Pujya Swami Brahmananda conducted a Jnana Yajna in Kannada from 22nd Dec 2019 to 2nd Jan 2020 at Sripaadakshetra, J P Nagar taking Bhagawan Ramana Maharshi's Saddarshana. The Yajna was conducted as a part of the anniversary celebrations of Sripaadakshetra which was inaugurated 15 years ago by Pujya Guruji on 1st January 2005. The Yajna was given a devotional start by the Balavihar children offering flowers to Guru Paduka with the chanting of Guru Paduka Stotram.
Pujya Swamiji took the listeners to ecstatic heights of Ramana's thoughts as he gave a vivid description of how the mind hijacks the sadhaks from reality into an ignorant world of plurality where peace of mind is expected from the finite impermanent ever-changing world. It is only when we go into the reality of the person seeking answers to all his questions that we realize that the questioner himself needs to be destroyed with right thinking when only the absolute Truth that enlivens the entire universe remains. The restless mind can never realize the Truth; the calm mind itself is an ocean of peace and joy where all questions cease to exist.
The Yajna was a grand success with several sadhaks attending daily.