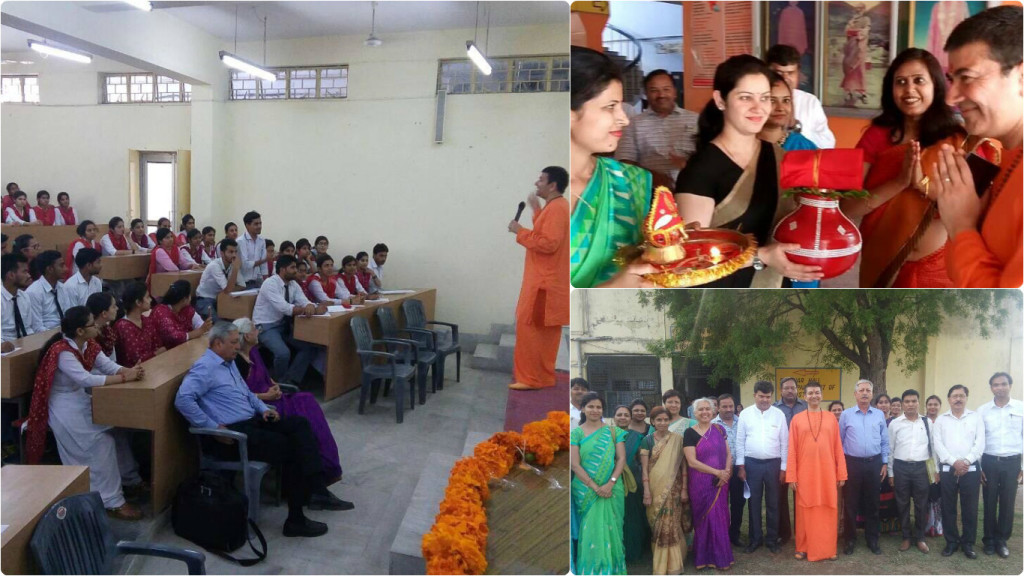 Swami Prakarshananda Visits Chinmaya Degree College, Haridwar On Saturday morning, 22 April 2017, Chinmaya Degree College was blessed with a visit by Swami Prakarshananda, of Chinmaya Centre of World Understanding, Delhi. He was welcomed and greeted with the "Purna Kumbh" by the entire staff of the College and then escorted to the seminar hall- where more than 100 students were waiting for him. Aarti Chaudhary (MSc – Zoology) welcomed Swamiji and requested him to light the lamp. Saraswati Vandana was sung by a group of students. Thereafter, Swamiji was introduced to the audience.
Swamiji established a good rapport with the listeners and made them feel at ease. He spoke briefly on the subject of "Life" and how it could be made beautiful. He emphasised that our studies must have relevance to our day to day living and pointed out that the college years are is the best ground for the training and management of mind. Laziness must be removed by hard work to achieve success. Swamiji answered some questions raised by the students.
After a short break, Swamiji spoke to the faculty in the seminar hall. Dr PK Sharma conducted the program. Swamiji was welcomed with a bouquet of flowers – first by the Principal and then by the Chairman, Managing Committee. He touched upon the dynamics of the teaching / learning process and also stressed on the importance of the factor of 'love' in every field. Swamiji urged the faculty members to consider the students as their own children and treat them with sensitivity. After the Vote of Thanks was given, Swamiji was given a tour of the College.