Pujya Guruji Swami Tejomayanandaji's 66th birthday was celebrated at Chinmaya Maauli Ashram, Lohagaon, Pune.
Started with "Aayushya Homa" meticulously organised by Brahmacharini Maitreyi. This was first time that such a homa was conducted at this ashram for long and healthy life of Pujya Guruji Swami Tejomayanandaji. With chanting of "Ayushya Sooktam" offerings were done in agnikunda. Each one present participated in these offerings and prayed from the bottom of their heart.
Brahmacharini Shanti from Chinmaya Vibhooti, Kolwan, Pune, spoke on the topic "Pujya Guruji as I know him".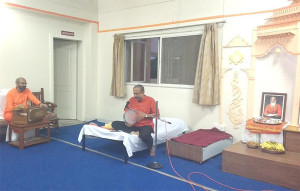 She shared very inspiring thoughts, incidents and experiences with many anecdotes having lots to learn from Pujya Guruji. Each one present was taken very close to Pujya Guruji with lots of emotions and great reverence. Quotations from scriptures and humble narrations touched everyone's heart.
Bhajans composed and set to music by Pujya Guruji himself was rendered by Shri. Ramdas. With his melodious & inspired renderings, he created very divine environment.
With Shanti Path and Prasad for all programme was concluded.