Whenever children need some freedom to do what they want, like to have someone listen to what they say, and desire to have a person who is ever willing to share their experience and knowledge with them , they  have this tendency  to run towards their grandparents, who through their unconditional love, , humour and patience, , share stories, anecdotes, values, etc.
Likewise, whenever, we face oppressive heat, we run under the shade provided by trees, Today someone is sitting under the shade of a tree because someone planted the tree a long time ago.
Taking the analogy further, Allenhouse Public School, Jhansi in association with Chinmaya Mission, Jhansi, decided to celebrate a day where the seeds of wisdom are sown in young minds so that they grow up and give shade to many. Towards this, the grandparents of the children were invited, and tree plantation was planned on 8th October 2018.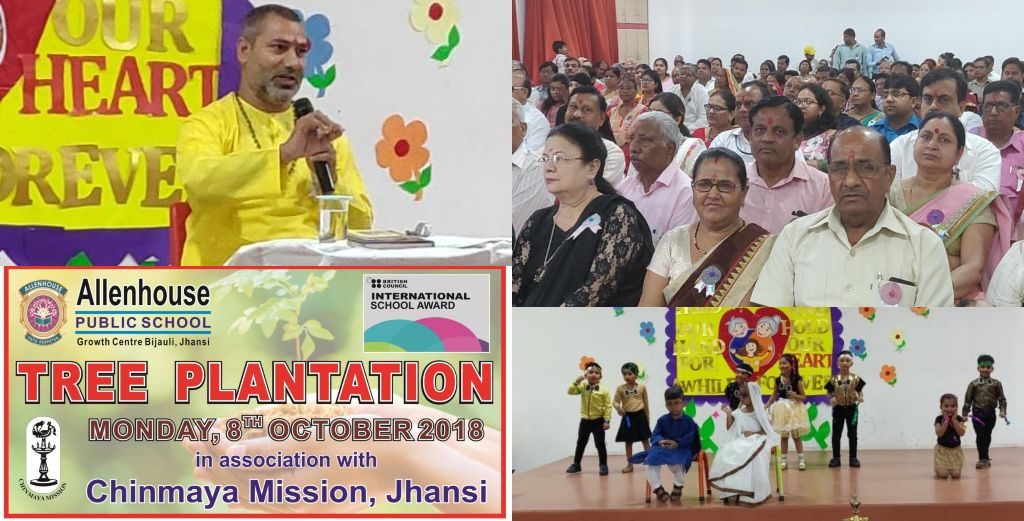 Pujya Brahmachari Raghavendra Chaithanya Ji, Chinmaya Mission, Jhansi, had kindly consented to grace the occasion with his divine presence and also share profound wisdom.
The programme started at 10.30 AM on the 8th of October 2018 by lighting the lamp.
Pujya Brahmachari Raghavendra Chaithanyaji invoked the blessings of Guruji, addressed the group and shared on what Chinmayananda always used to say
"Children are not vessels to be filled, but lamps to be lit" "Children are not careless, but are cared less ".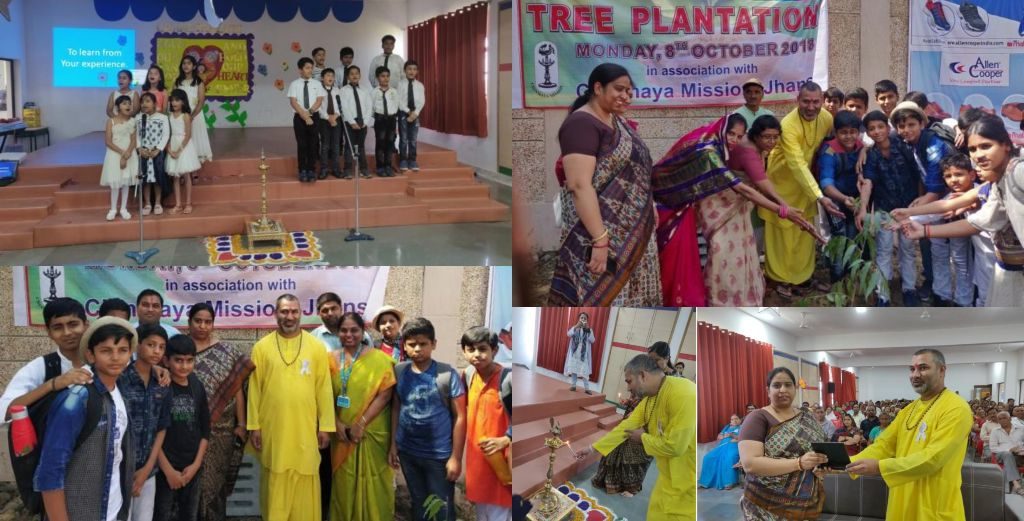 Everyone present was informed of how different aspects of our ancient culture, in terms of moral, spiritual, family and social values; can enrich the lives of children, and how they can move ahead in life, by focussing on core values.
Subsequently, the children performed a skit and showcased the values they had learnt from their grandparents, recited poems to show their love and affection, prepared greeting cards, sang songs, etc.
The programme ended with children planting tree saplings of guava, mango, neem, ashoka, jack fruit, jamoon, etc. around the school.