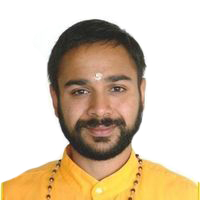 Chinmaya Mission - Nelson
49 A, Arundel St.
Hills Brough, Auckland
Auckland
North Island , New Zealand


Born and brought up in Mumbai, Br. Adarshji ventured overseas and completed his Commerce degree from the University of Sydney. After attending a Chinmaya Mission Youth camp, Adarshji began his journey into spirituality. Under the guidance of Swami Swaroopananda, he became an active member of the Chinmaya Yuva Kendra in Sydney. Thus, under Swamiji's guidance grew his quest to make the journey within. Thereafter, he became inspired by the life and vision of Pujya Gurudev Swami Chinmayananda, which lead him to Sandeepany Sadhanalaya, Mumbai. There he completed a two year intensive Vedanta Course [2002-2004] under the able tutelage of Swami Ishwarananda. Currently he is the Resident Acharya of Auckland and is conducting spiritual classes for children, youth and adults.
Upcoming Events
Sorry, no events found!
Articles by Acharya
Swami AtulanandaSorry, no articles found!