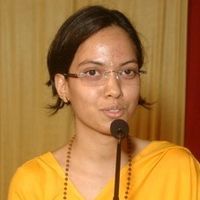 Chinmaya Mission Andheri
Chinmaya Priyam
Jain Vihar Swastik Society
NS Road #3 Juhu Scheme
400049
MUMBAI
Maharashtra , India


Brni.Nidhi Chaitanya,
Acharya, Chinmaya Mission, Andheri West &
Juhu Acharya-in-Charge, Balavihar Movement, Mumbai Secretary,
Chinmaya Mission, Mumbai
Formerly a journalist, Nidhiji is one of the young dynamic monks of Chinmaya Mission inspired deeply by the life and vision of Swami Chinmayananda.
She conducts sessions on Geeta, Upanishads & Meditation. Her Geeta & Vedanta Courses have been trend-setters in the new-age approach to Spiritual study. She is also highly appreciated Corporate Speaker.
Her sessions and workshops customised for 25-45 year olds are extremely popular and practical. And when she is with the children, she can give Pied Piper a run for his money! Ladies groups she works with have led to many empowered ladies and transformed families.
Nidhiji is known to seekers all over the world for her super-hit whatsapp Satsang groups!
An avid Facebooker & Blogger, Nidhiji blends her vivid experience in Media & Corporate world with her spiritual depth in a way that leaves thousands of minds kindled, hearts inspired and lives transformed.
She is young, simple, deep and simply awesome! That's Brni.Nidhi Chaitanya for you!
Like her on www.facebook.com/brni.nidhi
Follow her on her Twitter handle @nidhichaitanya
Read her blogs on http://soul-puri.blogspot.in
Articles by Acharya
Brni Nidhi ChaitanyaSorry, no articles found!