Swami Nikhilananda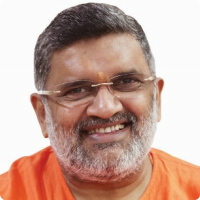 Chinmaya Mission Margaon
Chinmaya Krishna Ashram

Off Swami Chinmayananda Marg
Margao
403601
Goa , India

+91-8322752297/ 7875024550

nikhilananda@gmail.com
According to Swami Nikhilananda spirituality is leading a highly rational, value based and active life culminating in Self-Knowledge. While studying for a Masters degree in Geology at St. Xavier's College Mumbai, Swami Nikhilananda took the momentous decision of changing the direction of his life. Following an inner calling he quit his formal education and joined the Vedanta course at the Mumbai Ashram of the Chinmaya Mission in the year 1984. He spent two and half years in intense study of the scriptures under the guidance of Swami Tejomayananda. He also had the good fortune to learn the entire Bhagavad Geeta and several Upanishads and other Vedanta text directly from Swami Chinmayananda.
He first began working as a spiritual teacher in 1986 at Ahmedabad. He has served in the Mission centres at Goa, San Jose (California) and Dallas (Texas).
Presently he is the spiritual head of Chinmaya Mission New Delhi, Noida and Gurgaon. He is actively involved in the various activities and projects of the Mission. He also oversees and manages the affairs of two Chinmaya Vidyalayas and a Chinmaya Degree College.
Fluent both in Hindi and English, he conveys the deep philosophical truth of the Upanishads, Bhagawad Geeta and Ramacharitamanas with clarity, originality and ease accompanied by wit and humor. He speaks at management institutes, schools, colleges and medical forums with equal ease and expertise – forming an instant rapport with people from different walks of life!He has written several articles on varied subjects of spirituality for the different magazines and newspapers.
He is a born teacher with an inexhaustible supply of patience and compassion. Ruthlessly logical and systematic, he opens the doors to understanding the Truth, as it is, reaching the sadak or seeker at his or her own level.
Upcoming Events
Sorry, no events found!