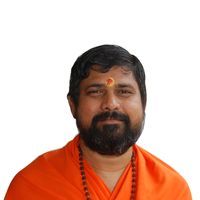 Tara Cultural Trust
Central Chinmaya Mission Trust
Sandeepany Sadhanalaya
Saki Vihar Road, Powai
400 072
Mumbai
Maharashtra , India


In his purvashrama, Swami Sacchidananda, was known as Shri Jagadish Acharya. After completing his academic studies in his hometown Mangalore, he left for Mumbai in 1977 and worked as an interior decorator with Bhabha Atomic Research Centre. As an atheist, Shri Jagadish Acharya was not aware of the spiritual way of life. According to him, religion was nothing but bundle of superstition and escapism from dynamic life. However, after attending one of Swami Chinmayananda's talks, his way of thinking was transformed and he decided to join Chinmaya Mission for deeper study of Hindu Religion and Indian Culture.
He joined Sandeepany Sadhanalaya, Mumbai for Brahmacharins course in 1986 and after three years study of Vedanta and Sadhana, Shri Jagadish Acharya was initiated into Brahamcharya Deeksha and became Br. Sarwatma Chaitanya. Initially he was the Acharya-In-Charge of Chinmaya Mission, Mulund, Mumbai and served there for six years. He also served as the Director of Hong Kong Chinmaya Foundation for six years.At present he is the Acharya-In-Charge of Chinmaya Vidyalaya, Koramangala, Bangalore and looking after various activities of Chinmaya Mission.
He is a versatile speaker and his uniqueness is that he can relate well with people of all the age groups. His talks are very humorous and in his unique style he explains subtle Vedanta in a simple manner. Swamiji has visited UK, Singapore, China, Indonesia and many Far East countries and spread Vedanta to the modern world. He conducts jnana yajnas for spiritual seekers, camps for children, workshops for youth and business executives. He is very popular with youth. His talks on "Live-In-Style" have transformed the lives of many people, especially youth in India and abroad.
Upcoming Events
Sorry, no events found!
Articles by Acharya
Swami SacchidanandaSorry, no articles found!