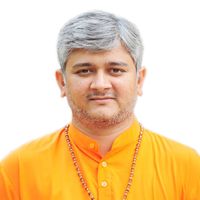 Chinmaya Mission Worli
CHINMAYA SHIVAM 304
3RD FLR

SHIV - SHAILA APPTS, NEXT TO KONARK EMPRESS BLDG
DR. E MOSES ROAD, WORLI NAKA
400 018
MUMBAI
Maharashtra , India


Swami Swatmananda is one of the most dynamic leaders of Chinmaya Mission.

An Acharya of Chinmaya Mission-South Mumbai and Director of All India Chinmaya Yuva Kendra(West-Zone), he completed the Vedanta Course from Powai from 1998-2000

He has been serving in Chinmaya Mission Mumbai since 2000.

He expounds the philosophy of Advaita Vedanta through talks on the Bhagavad Geeta, Upanishads and other texts of Vedanta & bhakti through camps, meditation retreats, interactive sessions and discussions for youth & adults.

Children love him dearly and look forward to his annual summer camps on various themes of spirituality, India, Hindu Culture etc.

He inspires the youth with dynamic spirituality, encourages them to think & question. Various mediums like theatre plays, treks, outdoor experiential learning programmes, music etc. are used by him to inspire the Chinmaya Yuva Kendra Mumbai, whichi is very dynamic under his leadership.

He is also one of the residential faculties for the Youth Empowerment Programme(YEP) which is a value-based leadership programme for youth who want to serve the Nation & Culture. He has assisted in 8 batches so far.

Several corporates like PwC, Reliance, Mahindra & Mahindra, Tata Motors, Toyota etc. have been addressed by him.  He holds weekly discussion groups on the Bhagavad Geeta for some of the top industrialists of India.

He is also a playwrite and has written and directed the play – "Adrshya – Quest for the Unseen" based on Saraswati Civilzation & Developed India. 9 shows of Adrshya have been performed by Chinmaya Yuva Kendra Mumbai in Mumbai, Pune, Allahabad and Chennai.

His simplicity, foresight, peaceful nature and a balanced approach endear him to everyone.