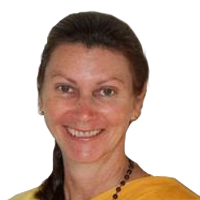 Chinmaya Mission Nelson
Chinmaya Darshan
6, Valley Hieghts Road
Stepniville, Nelson South Island
7010 NZ
Nelson
Southland , New Zealand


Brahmacharini Bhakti Chaitanya, from her very childhood was inclined to finding answers to the deeper questions of life. Finally, It was in Sidhbari, where she met Swami Chinmayananda and ask for clarifications on these questions. Swamiji directed her to go to Bombay where she would meet an exquisite Teacher who would answer her doubts and that Teacher was none other than Swami Tejomayananda who is the current successor of Swami Chinmayananda. She subsequently did the Vedanta course for 3 years before coming back to Melbourne, Australia to spread the message of Vedanta as a practical way of living. Currently, Bhaktiji is the Acharya-in-charge of Chinmaya Mission, New Zealand. She runs Chinmaya Mission activities in Nelson, where she conducts regular yoga classes, meditation sessions & Vedanta study group for adults & children. She is also a qualified YOGA teacher trained in Sivananda Yoga Centre, India.
Upcoming Events
Sorry, no events found!
Articles by Acharya
Swamini AmritanandaSorry, no articles found!