Swamini Vimalananda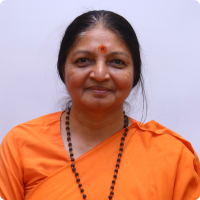 Chinmaya Gardens
Nallur Vayal Post
Siruvani Main Road
Coimbatore
641114
Tamil Nadu , India

+91-422-2615637/2613493.

sw.vimalananda@gmail.com
Chinmaya Mission is an international spiritual organization, which has over 250 centres in India and 75 centres abroad. Param Pujya Swami Chinmayanandaji is the founder of this organization. The Mission is engaged in various spiritual, educational, cultural and social activities thereby serving its cause of 'Giving maximum happiness to the maximum number for the maximum period of time'.
Swamini Vimalanandaji is a brilliant disciple of Pujya Gurudev Swami Chinmayanandaji. Swaminiji had her early education at Mumbai and graduated with honours from the J. J. College of Architecture with a B. Arch. Degree. She has traveled widely and has conducted many Gyana yagnas (spiritual discourses) in English, Hindi and Gujarati and camps for children, youth and elders all over the world. Her simple style of talking has captivated the intellectual and faithful alike.
She has given talks in over 2000 schools, colleges and other institutions on various spiritual, cultural and socially relevant topics. She has also given talks on various management topics to corporate bodies and management institutions and in management seminars.
She has authored many books including the very popular book 'In Indian Culture – Why do We?' and 'Meditation Techniques-15 Portals to the Supreme'. She has attended and addresses various International Conferences.
She is a member of the Educational Cell of the Central Chinmaya Mission Trust (CCMT), which has over 80 Chinmaya Vidyalayas and Colleges. She is the Director of the Chinmaya Vision Programme, which has a holistic approach to education. She has introduced the programme in over 2500 schools and colleges in India through various Seminars and workshops and is actively involved in its implementation in all the Chinmaya Educational Institutions.
She was awarded by the Architects Association of India in the year 1999 as an Architect for achieving success in another field. The award was for her contribution to the field of Education. She was the keynote speaker at International Baccaulereate (IB) Conference in Hanoi Vietnam in Oct 2006 on the topic of "Values and Internationalism"
She is presently in charge of Chinmaya Mission, Coimbatore and is one of the Directors of Chinmaya International Residential School.
Upcoming Events
Sorry, no events found!