News


To understand anything is to find in it something which is our own.
-Swami Chinmayananda
Archival News/Other News
Johannesburg Ashram Inauguration Ceremony
Dated : 2020/11/26

---


Chinmaya Mission South Africa
The grace of Lord Shiva and blessings of our sacred Guru Parampara fructified! Even in the midst of a pandemic situation, this was the day when our rejoicing hearts were overwhelmed with gratitude to our worshipful Pujya Gurudev, to Pujya Guruji Swami Tejomayanandaji and Mukhya Swami Pujya Swaroopanandaji.
It was in June 2006 when Pujya Swami Abhedanandaji first landed in Johannesburg. Swamiji thought that he would be taken to the Johannesburg center, but much to his surprise, he was taken to a devotee's home as there was no Johannesburg center. Swamiji thought, that a city so big with so many Indians should have a well-established Chinmaya Mission center which could become a center of Learning, Loving and Serving for one and all. And it was at that moment, that the Sankalp for CMSA Johannesburg, was born!!!
Fourteen years later, after building of the most glorious Chinmaya Shivam temple in Durban, and emergence of several Brahmacharins from the land of South Africa, that the permanent abode of Pujya Gurudev, in Johannesburg, was found!
On the auspicious day of 26th November 2020, amid great joy and celebration, Chinmaya Mission Johannesburg's sprawling new ashram property in the heartland of the city was officially inaugurated by Swami Abhedanandaji. On this beautiful, sunny, spring day in Johannesburg, the programme started with elaborate Pooja and Hawan. Even COVID-19 could not limit the joy of the devotees that joined us on the festive occasion. The face masks, could not hide the happiness in every devotees' eyes, and in their very being. The picture of Pujya Gurudev, placed above the mantle, made everyone feel like HE was presiding over the whole ceremony.
After the Pooja and Hawan, Pujya Swamiji addressed the congregation, which installed the timeless glory and importance of Ashrams in everyone's mind. Swamiji beautifully explained how such Ashrams are the epicenter of Faith, Knowledge and Love for all in a society. The effect of Swamiji's inspiring address, could be seen on the beaming faces, of all present. Melodious bhajans were rendered by Pradosh Maharaj, after which, lunch prasad was served.
Brni. Keertida Chaitanya who completed her 2-year Vedanta Course in 2017 under the tutelage of Swami Abhedanandaji, resides in Joburg ashram and takes care of all the activities. From the new Ashram Building, may Pujya Gurudev's glory be spread far and wide!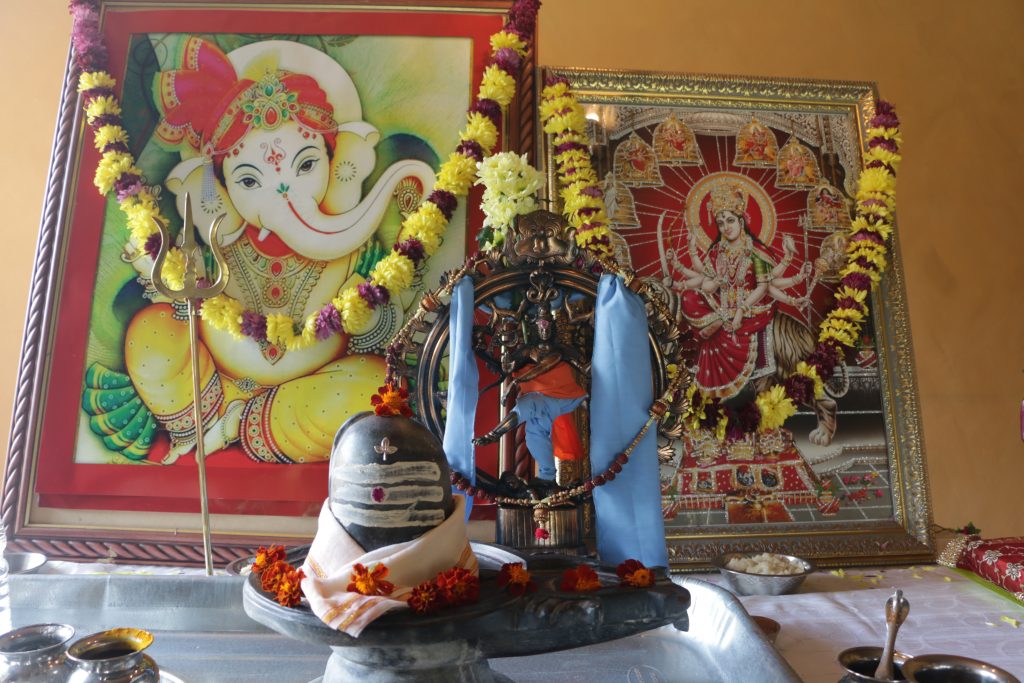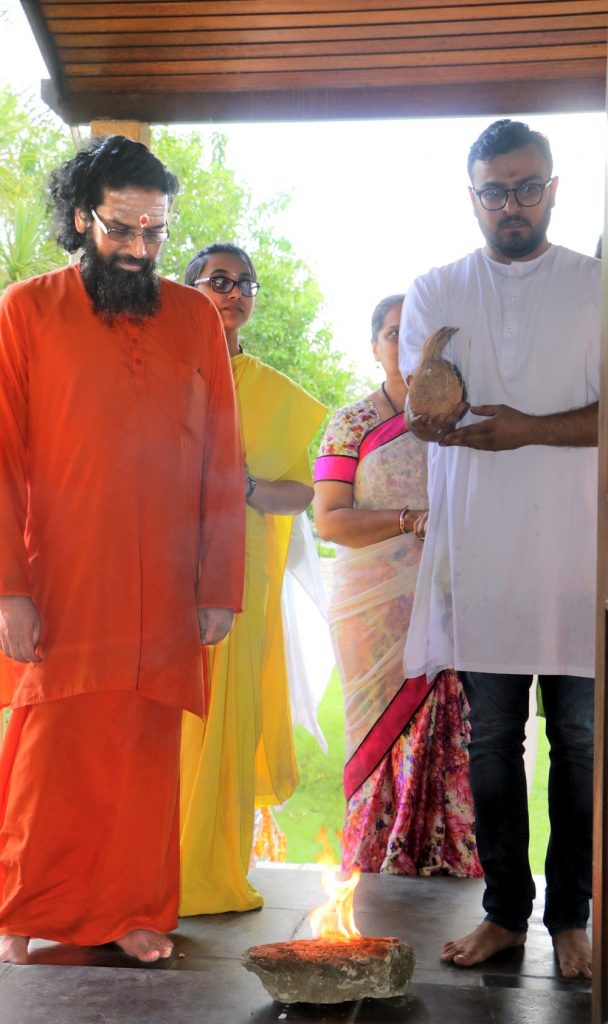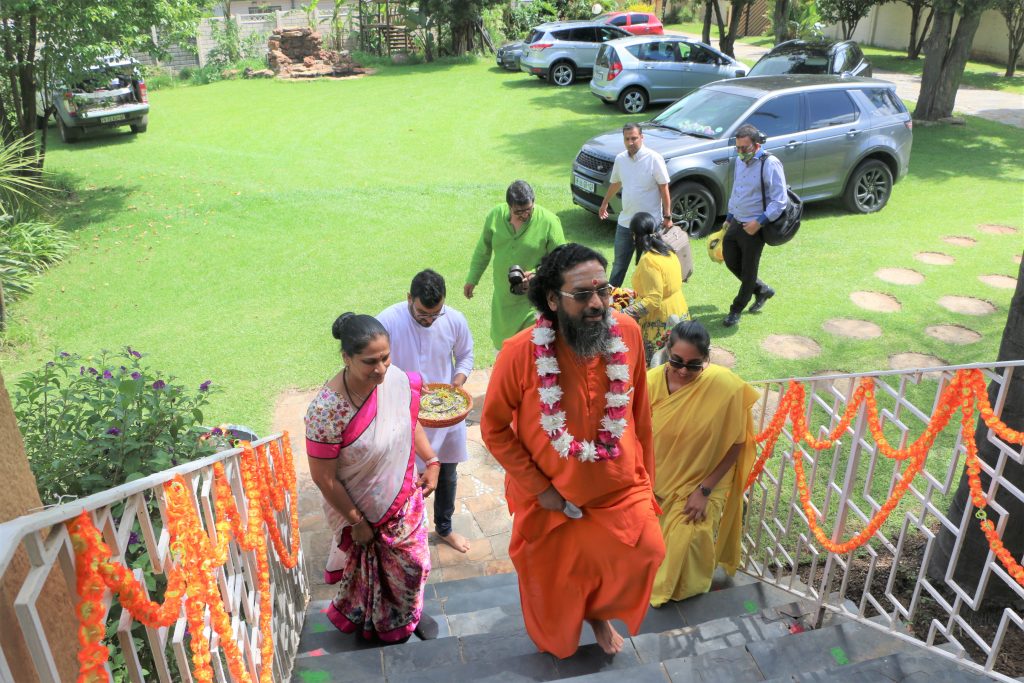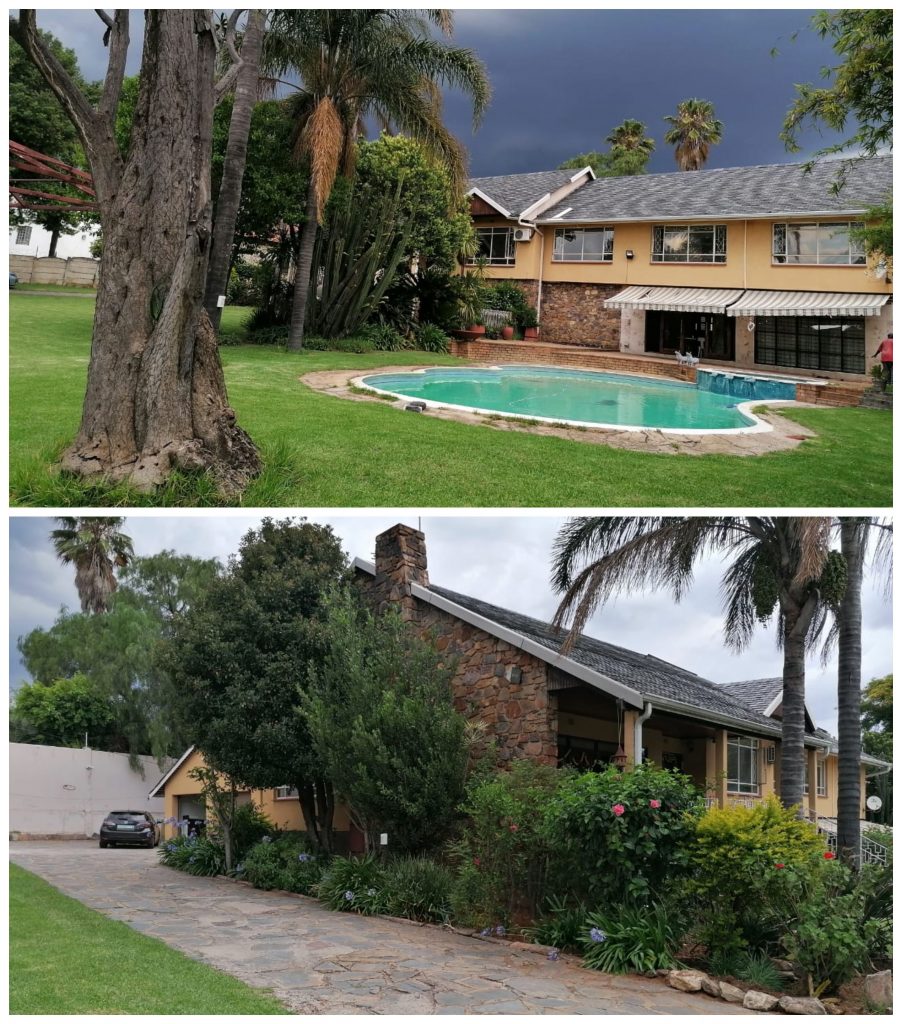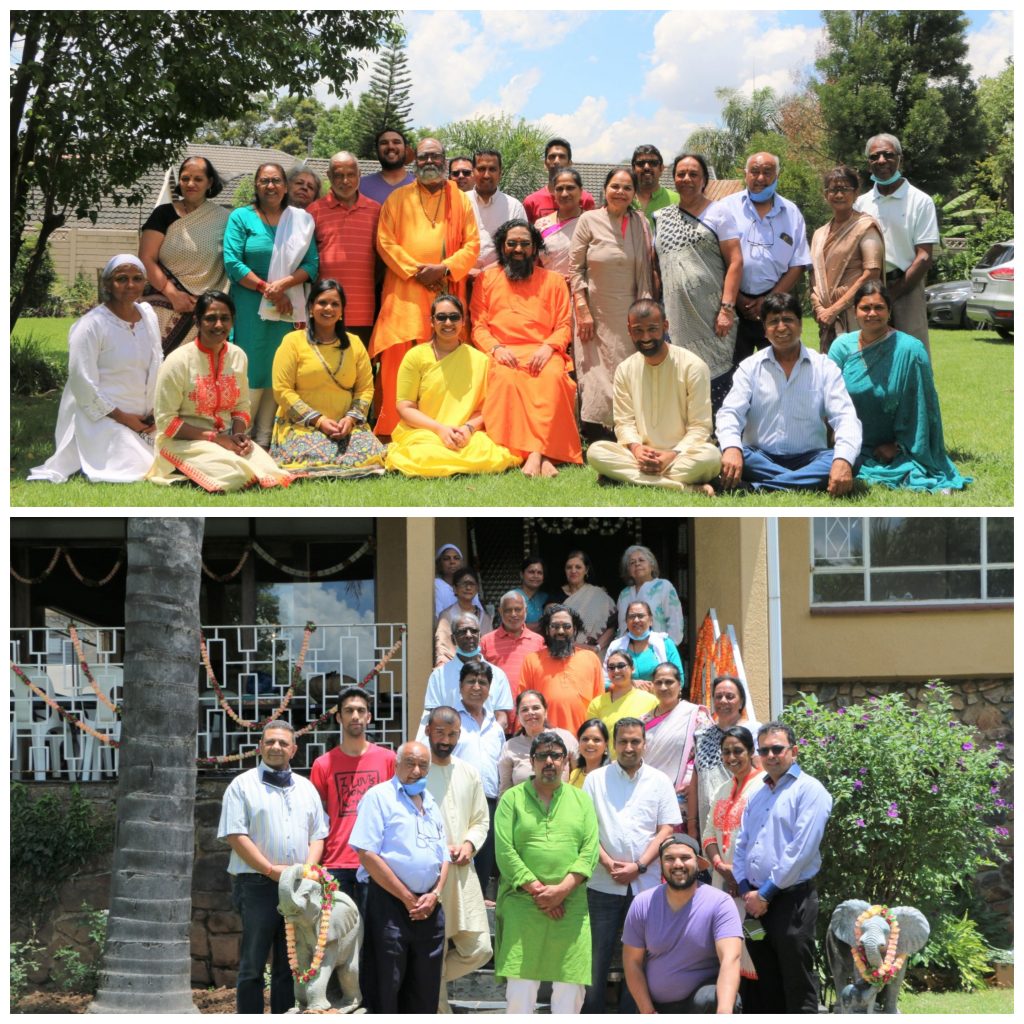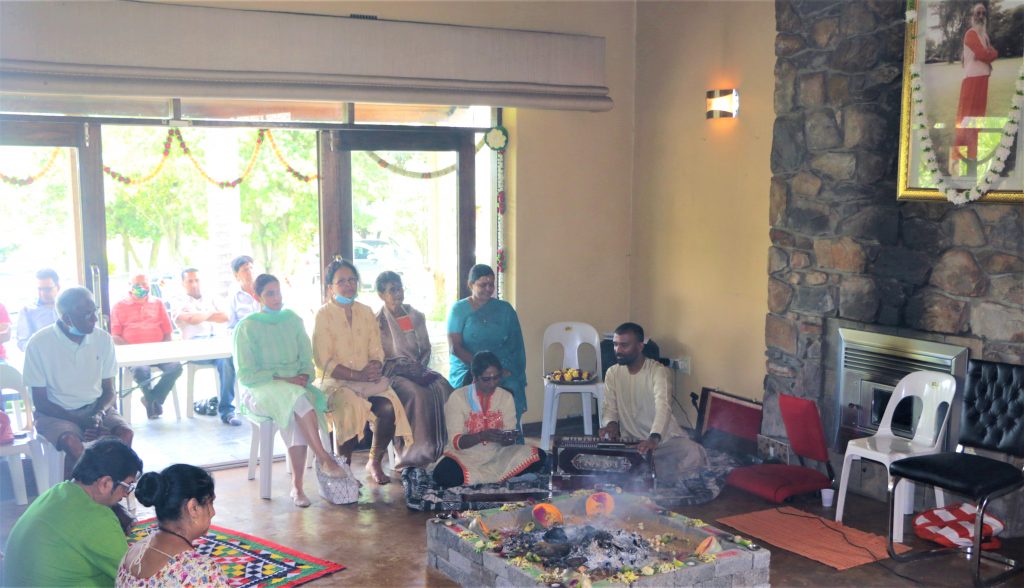 ---
Navaratri Mahotsav of Sri Lalita Panchayatana Temple in Chinmaya Srividyashramam
Dated : 2020/10/25

---

Hari Om!
Pranams!
With the blessings of Divine Mother, Pujya Gurudev & Pujya Guruji, the Navaratri Mahotsav of Sri Lalita Panchayatana Temple in Chinmaya Srividyashramam of our Chinmaya Mission – Kadapa, Andhra Pradesh concluded in a grand manner. Keeping in the view of COVID guidelines, preparations were made well in advance. On 17th Oct the first day of Navaratri Mahotsav began with Abhishekam to Divine Mother with Panchamruta & Mangala Dravyas. All 9 days various Special Sevas like Chandi Homa, Srichakrarchana, Kumkumarchana, Vishesha Alankara Puja, Maha Mangala Aarati & Veda Swasti were offered to Divine Mother as per Aagama Shastra. Last day, some more special Sevas like Kumari Puja, Suvaasini Puja, Maha Poornahuti & Kalasha Jala Prokshana were performed. And of course it was an eye feast to see Divine Mother's spendor & glory in Rathotsavam on Vijaya Dasami night.
Swami Turiyanandaji and his team say that it's really Divine Mother's grace for smooth functioning of a 9 days program without any incident in this COVID time.
Some pictures are shared in the link attached here …
---
Deeksha Ceremony and Valedictory Function of the 3rd Malayalam Vedanta Course
Dated : 2020/10/02

---

Report – Deeksha Ceremony and Valedictory Function of the 3rd Malayalam Vedanta Course at Chinmaya International Foundation (CIF), Adi Sankara Nilayam, held on 2 October 2020.
The ceremony and function took place in the presence of Global Head of Chinmaya Mission, Pujya Swami Swaroopananda, Swami Viviktananda (Regional Head of Chinmaya Mission Kerala) and other Swamins, Brahmacharins and devotees of Chinmaya Mission.
Three student Brahmacharis were given Brahmachari Deeksha by Swami Swaroopananda:
Old Name New Name Posting
Ramesh Br. Shankara Chaitanya CM Thiruvananthapuram
Raghu Ganesh Br. Prahlad Chaitanya CM Palakkad
Adarsh Br. Vishnu Chaitanya CM Chengannur
Three student Brahmacharis will serve Chinmaya Mission in white clothes:
Name Posting
Br. Sudheesh CM Alappuzha
Br. Vinay CM Taliparamba
Br. Sudhir CM Tripunithura
The Valedictory Function commenced with Pujya Gurudev Swami Chinmayananda's Ashtottara-shatanamavalih Archana, offered by Swami Swaroopananda and Swami Viviktananda. This was followed by a welcome address by Shri Suresh Mohan (Chief Sevak, CSTK). Thereafter, Swami Sharadananda, Course Acharya, presented a report about the 3rd batch of Kerala Sandeepany. After the Deeksha ceremony, Swami Swaroopananda delivered the Valedictory address.
The programme included two benedictory addresses – the first by Pujya Guruji Swami Tejomayananda in Sanskrit and the second by Swami Viviktananda. Swami Gabheerananda, Swami Aseshananda, Swami Satyananda and Swami Advayananda blessed the Brahmacharis with their words of wisdom, after which Shri T. M. Reghunandan (Trustee-Treasurer, CSTK) delivered the vote of thanks.
The event concluded with Shanti Path followed by recitation of the Chinmaya Mission Pledge.
The Brahmacharis have been initiated to serve the noble vision of Pujya Gurudev, bringing joy, fulfillment and wisdom into the lives of those they touch by their selfless, dedicated seva.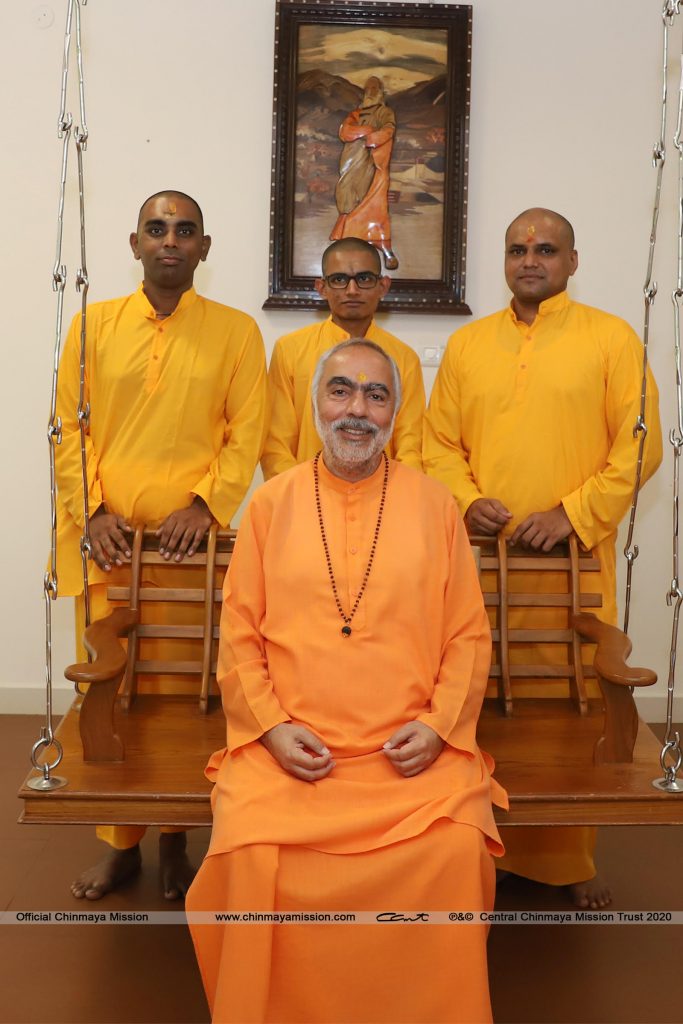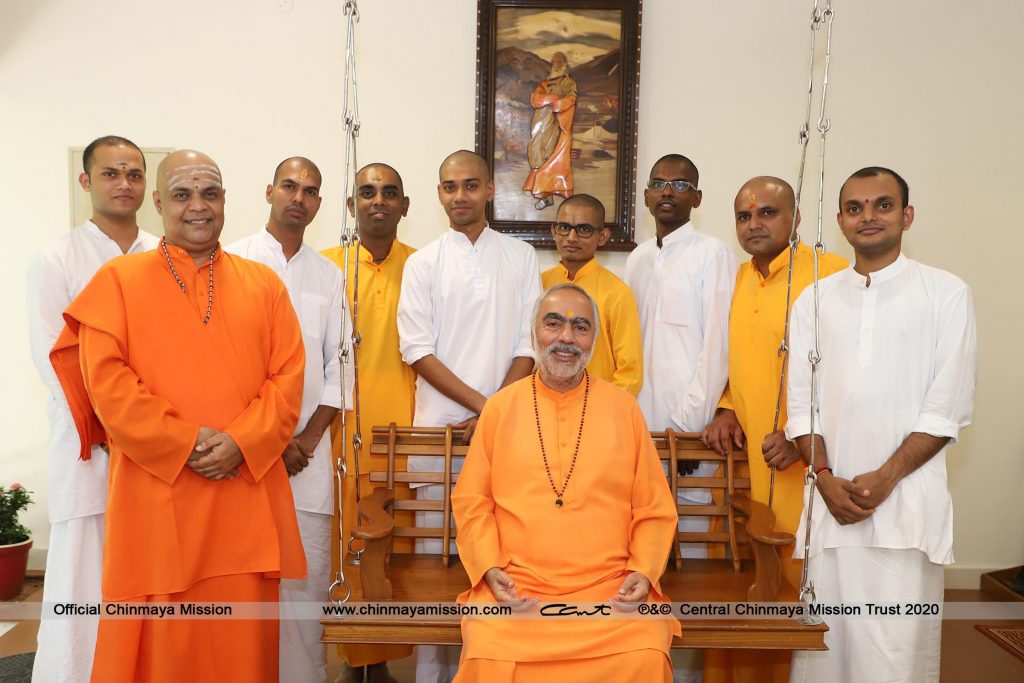 ---
Swami Subodhananda attains Mahasamadhi
Dated : 2020/09/27

---

Hari Om!
It is with a heavy heart that we inform all devotees of Chinmaya Mission that our dear and respected Swami Subodhananda, Regional Head of Chinmaya Mission Centres of North India, attained Mahasamadhi in Sidhbari in the early hours of 27 September 2020, having suffered a cardiac arrest. He has reached the Lotus Feet of Pujya Gurudev.
Swami Subodhananda's natural and deep interest in Vedanta brought him to the portals of Sandeepany Himalayas, Sidhbari, in 1981, where he attended the first Hindi Vedanta Course under the tutelage of Pujya Guruji. After the Vedanta course he worked at Prayagraj as Brahmachari Vishal Chaitanya. Later on, Pujya Gurudev himself initiated him into the order of Sannyasa, bestowing on him the name Swami Subodhananda.
Swami Subodhananda had taught Hindi Vedanta Courses in Sandeepany Prayag and Sandeepany Himalayas. He remained in Sidhbari and taught and guided students of several batches.
With deep and reverential devotion, Swami Subodhananda served Pujya Gurudev when he was unwell in Sidhbari.
Swami Subodhananda was known for his in-depth and scholarly knowledge of Vedanta. His talks on Bhagavad Gita, Ramayana and Bhagavata were very popular. He was fond of discussing Vedantic topics with students and would encourage reflection on such topics.
Our respectful homage to Swami Subodhananda.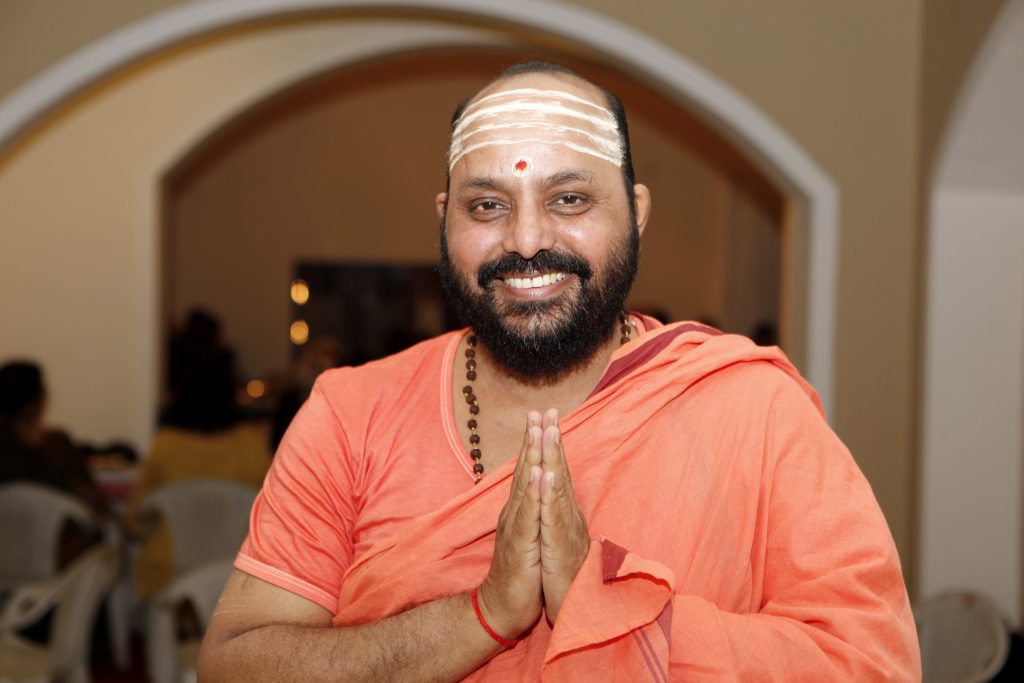 ---
Vande Bharat Camp
Dated : 2020/08/29

---

Chinmaya mission, Sriperumbudur organized an online Balvihar camp on 29 & 30th Aug and 5th, 6th September to inculcate moral values impart knowledge and patriotism. Approximately fifty students participated in the camp. The camp began with camp songs rendered by Chicks. Following this Ganesha, Subramani, and Devi Gayatri were taught to the kids.
The first-day Punniyavathy sevika told puri Jagannathar temple and its history, glory to inculcate spirituality and devotion. To kindle their creative art and craft works were taught. Students made colorful crowns, mini note-book, and beautiful emoji using paper cups.
Festival like Onam and Deshara were explained by Sevika Banu to understand the tradition of India. To learn culinary skills they were taught to make tasty cakes without preservatives. To calculate Patriotism Captain Deepak Vasanth Sathe's heroism of saving many lives without minding his own life in Calicut.
As part of the event, Quiz competitions were held every day. Really Vande Bharat camp was a grand and successful program.


---
CM Boston JCHYK Camp
Dated : 2020/09/04

---

The 2020 JCHYK virtual Camp at Chinmaya Mission Boston was hosted by
Vivek-ji. Life Balance: Hacks to Wholeness had 55 JCHYKs from all over the
country attend the camp virtually. It allowed for campers to reflect upon small yet
vital details to improve their daily lives. This was done by utilizing the 4Ds
(Discourse, Discussion, Dialogue, and Dynamics) and by engaging in open and
honest conversations with Vivek-ji. The week began with analyzing their own
personality traits according to their Gunas. Age-related discussions helped young
campers understand the importance of achieving a more balanced and a peaceful
mind. Finally, different methods, such as sleep and wake early, forgive early,
utilize planners, etc. were explored to implement the hacks into their lives. Vivek-ji
made this camp inspiring and fun to all campers.
-Anushka Bhat
---
Chinmaya Mission Boston: Paving the Way
Dated : 2020/09/03

---

From August 21 – 23, Chinmaya Yuva Kendra (CHYK) and Chinmaya Setukaris (CSK) gathered for a virtual
Retreat, hosted by Chinmaya Mission Boston. Guided by Vivekji and greater Boston's resident teacher,
Shashikalaji, the weekend consisted of daily discourses, guided walks and meditations, and several opportunities to engage in reflection, art, movement, and self-care. Over 75 participants communed together, across a wide age range; the youngest at 19 and the eldest at 60 years. The virtual format made the retreat particularly accessible, with participants tuning in from 5 countries!
The Retreat's theme, "Paving the Way: Our journey from values to Virtues" focused on moving from intellectual understanding of values to internalization and integration of these into one's life. Prior to the retreat, each participant was given one virtue on which to focus their reflections throughout the weekend. Participants connected with others given the same virtue via an online Forum, sharing their thoughts and engaging in virtual dialogue. Vivekji and Shashikalaji guided participants through a rich set of Texts and materials; teachings from Chapter 17 of the Bhagavad Gita, verses from Tao te Ching,
excerpts from the Peace Pilgrim, Native American prayers, and their own life experiences from practicing medicine, gardening, and parenting.
Several participants shared sentiments of feeling connected and part of the shared community despite the physical distance. Notably, tuning into the Retreat from home encouraged a Realness to the integration of virtues into one's life; learning and reflecting in one's own space naturally leads to action in the same. Deep gratitude to the Retreat Guides, Vivekji and Shashikalaji, for the priceless learnings and experience.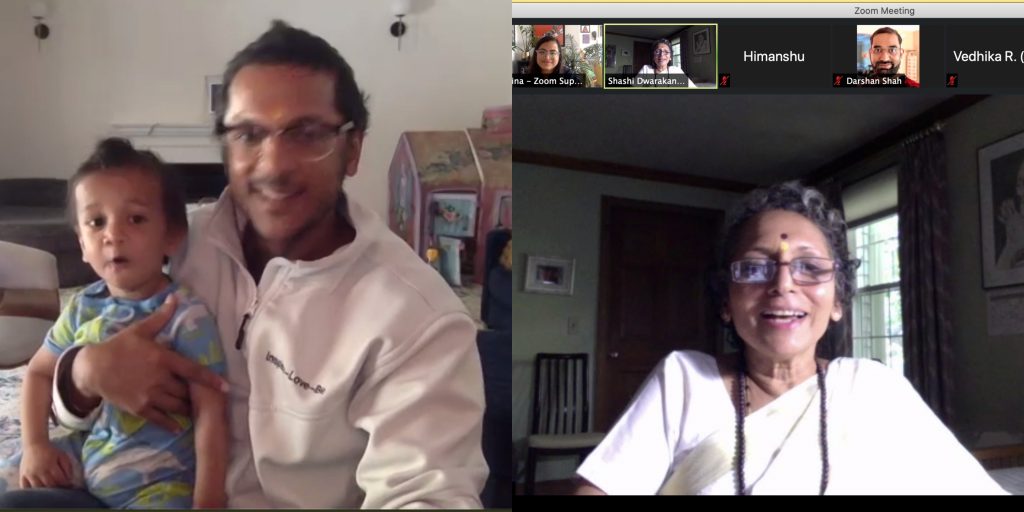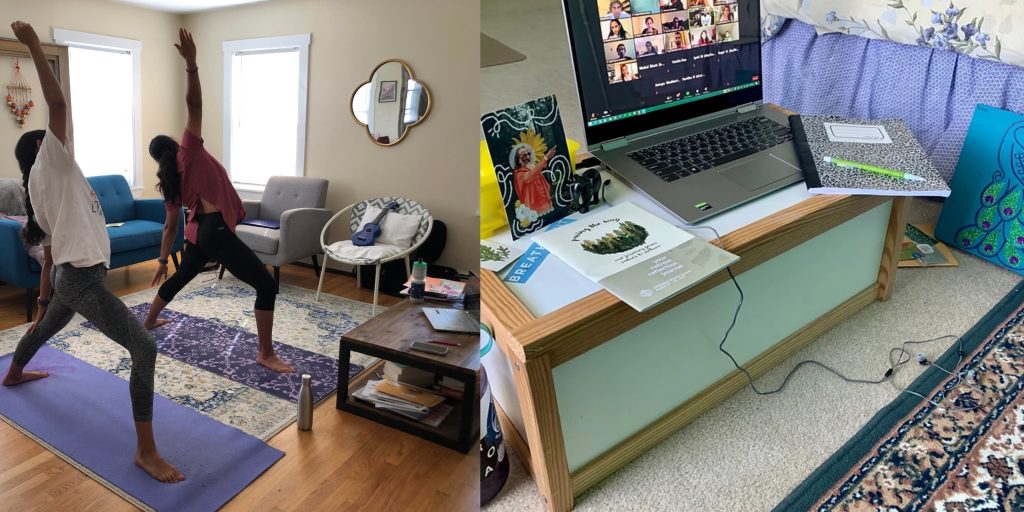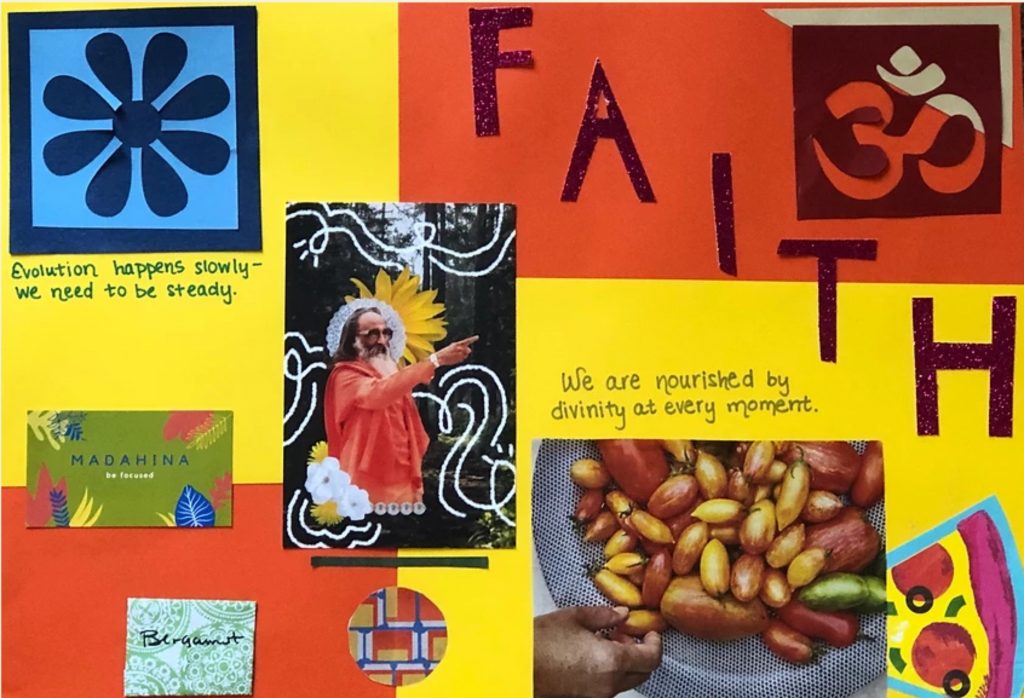 ---
Ganesh Chaturthi celebrations
Dated : 2020/09/02

---

Shri Ganesh Chaturthi online celebrations from the Pranav Ganesh Mandir were streamed live on Chinmaya Channel (YouTube) and Facebook Live on August 22, delighting viewers all over the world.
The welcome was in the form of a short documentary about the majestic Mandir. After the Sankalpa, an elaborate abhisheka was offered, bathing the Lord with various dravyas amidst sonorous chants of Ganapati Atharvashirsha. Devotees could chant along from home, using this PDF booklet which was shared with all:
http://share.chinmayamission.com/docs/Ganesh-Chaturthi-Utsav.pdf
Melodious bhajans were offered as the Lord was adorned. Ashtottara Archana followed with floral offerings. Pujya Guruji Swami Tejomayananda's beautiful composition expressing gratitude to Lord Ganapati – 'Varsha Kripa ki …' was a highlight for all, as was Pujya Swami Swaroopananda's inspiring talk explaining the power of Ganesha, the power of leadership and determination to reach the goal, through the symbolism of the form of Vinayaka.
The puja concluded with naivedya and maha arati to the resplendent Lord. The Chinmaya Vibhooti team thanks all the Yajamans and sponsors from around the world who made loving offerings on the glorious occasion.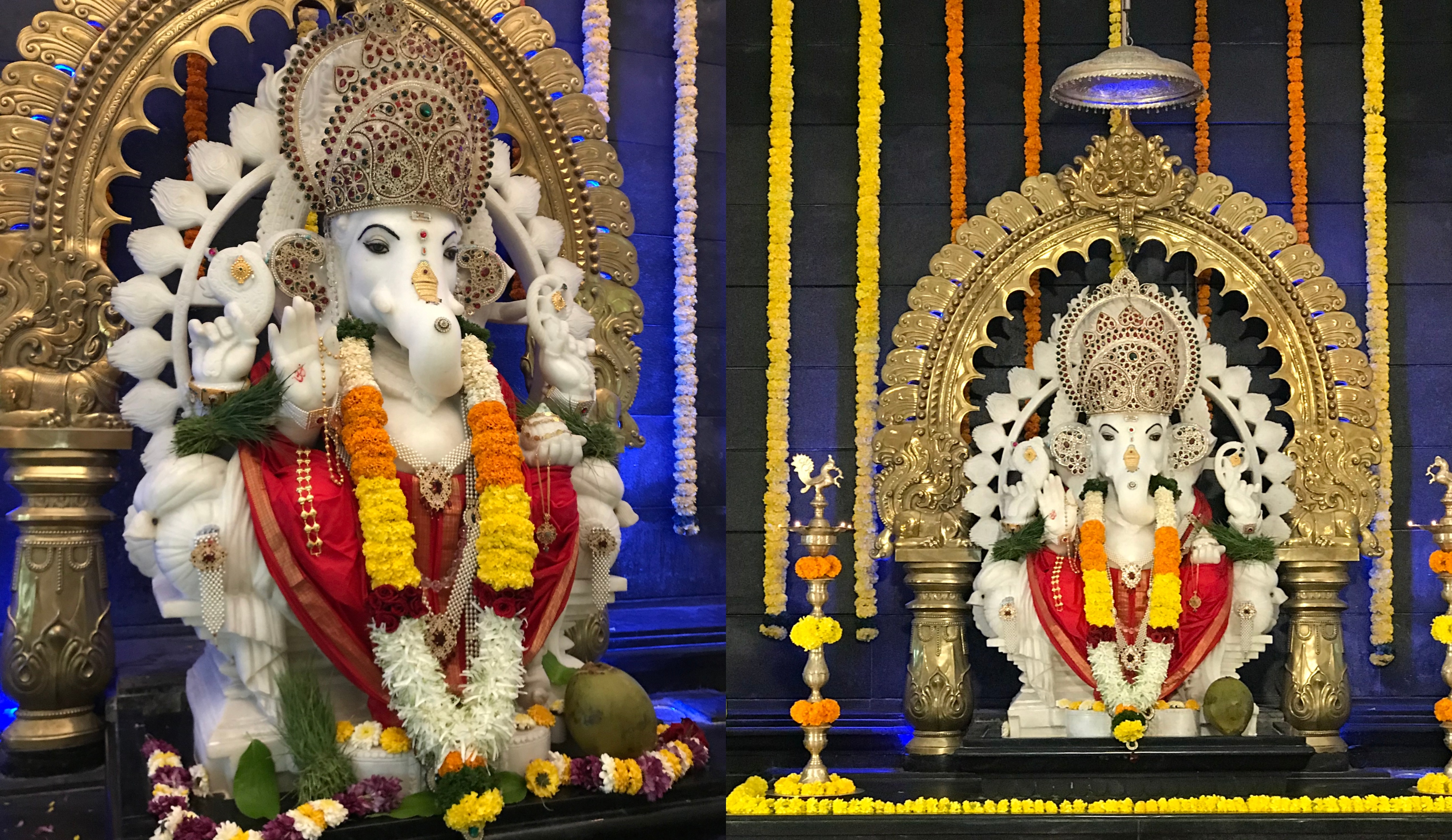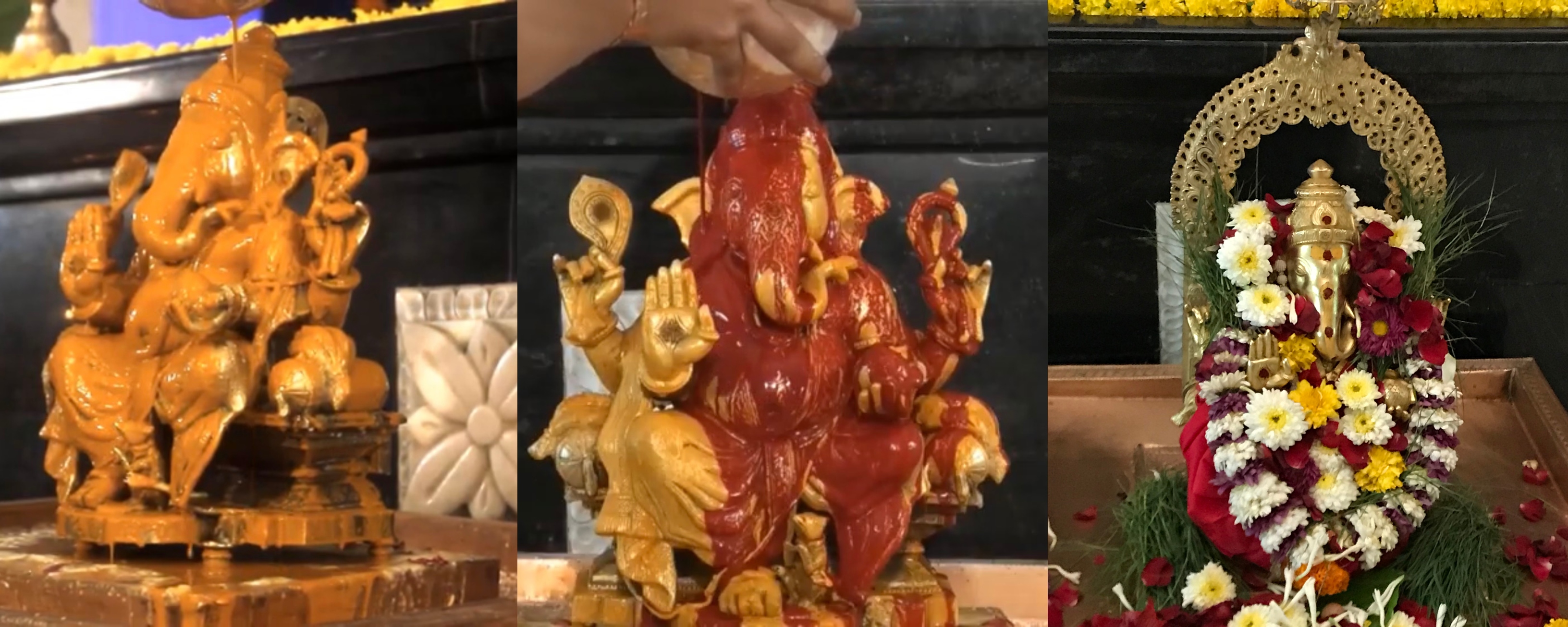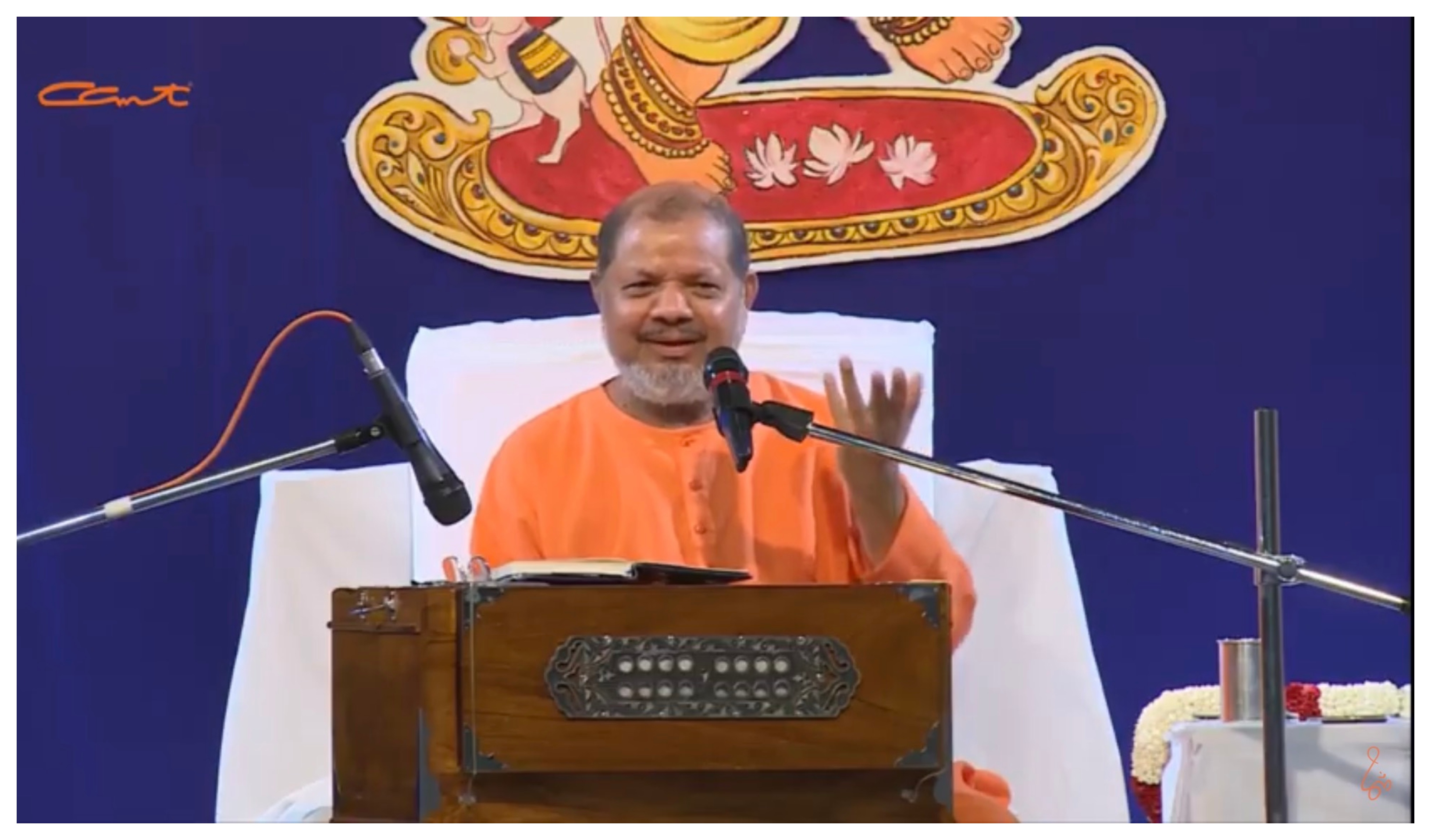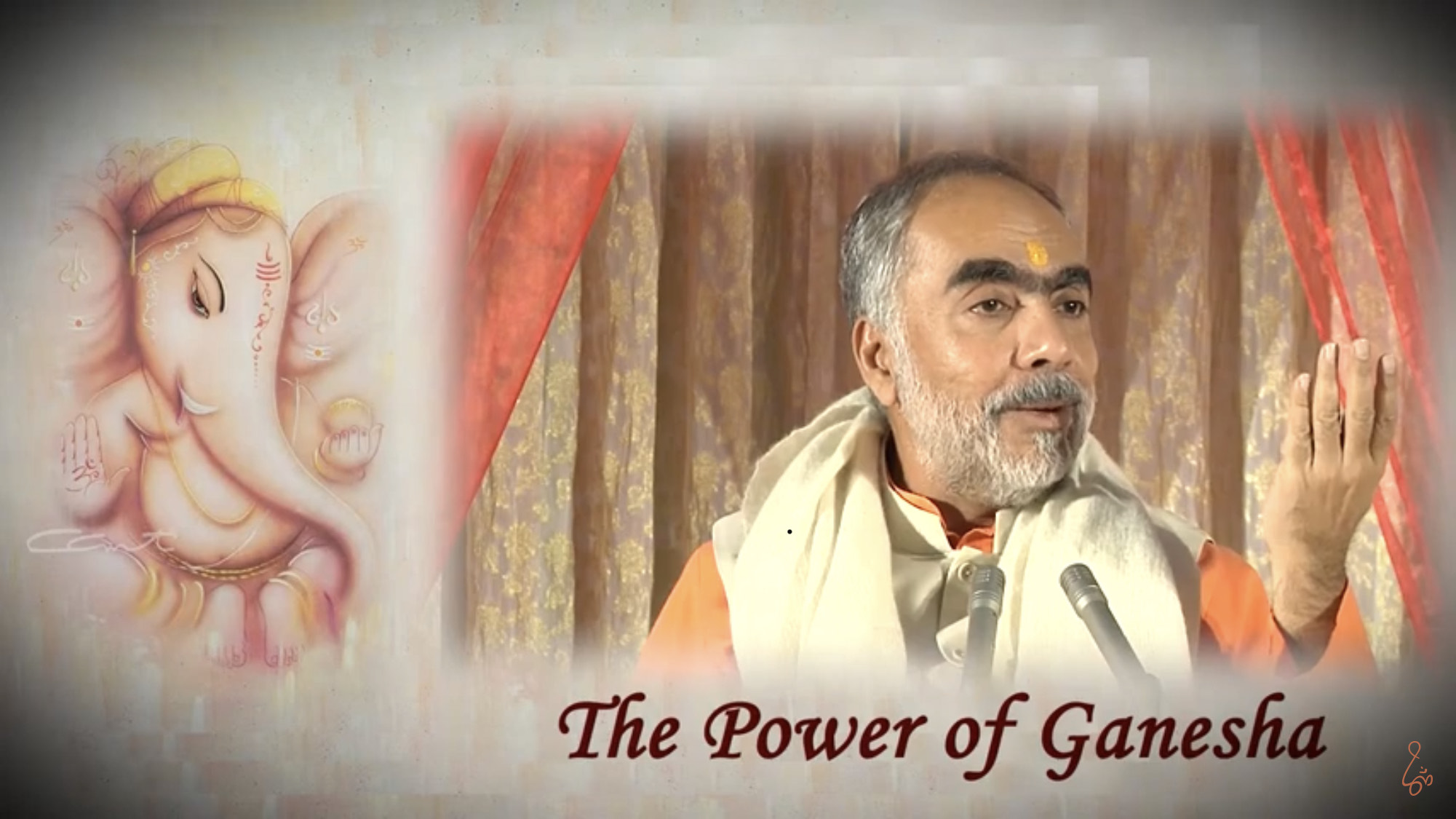 ---